Mae Haad Bay Koh Tao (Ao Mae Haad)
Mae Haad Bay ist der Startpunkt für alle Ankünfte und Abfahrten in Koh Tao und liegt vor dem Dorf Mae Haad.
Mae Haad Beach
In Mae Haad befinden sich die wichtigsten Fähranleger, bei denen alle Passagierfähren und Frachtschiffe ankommen. Es ist ein geschäftiges kleines Dorf, das leicht zu Fuß zu erkunden ist.
Der Strand von Mae Haad in der Bucht erstreckt sich nördlich und südlich der Piers über eine Länge von ca. 800 m. Obwohl er direkt neben dem Hauptdorf liegt, ist er nur selten belebt.
Während der Strand an der Südseite der Piers breiter ist, erstreckt er sich an der Nordseite, wo er in die felsige Landzunge mündet, etwas weiter.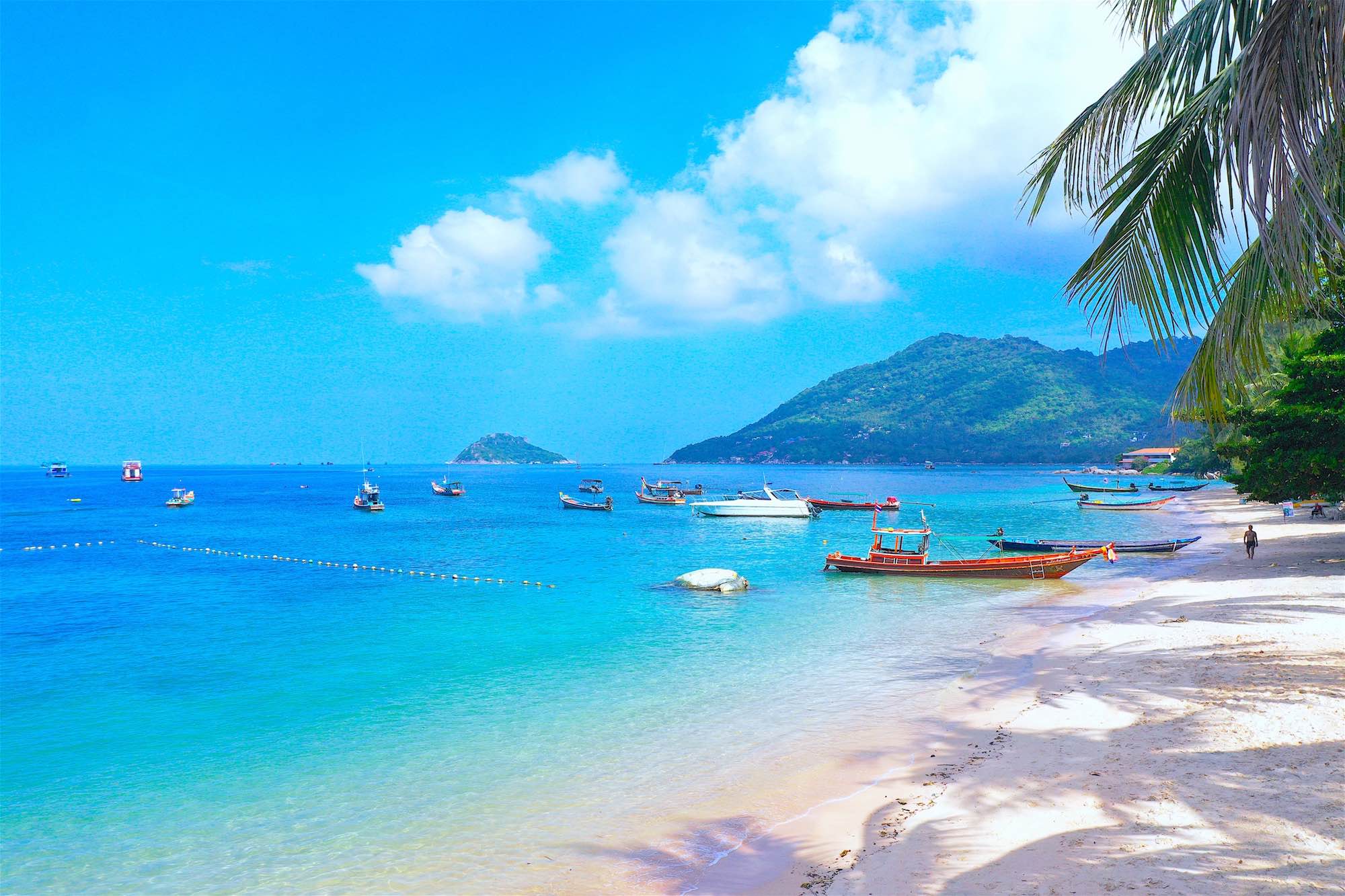 Mae Haad Ferry Pier auf Koh Tao
Das Wasser in der Bucht ist sehr sauber, obwohl die Fähren täglich ein- und auslaufen. Viele Tauchschulen nutzen den Pier auch zum Laden von Ausrüstung und Schülern auf Tauchboote, bevor sie zu den Tauchplätzen aufbrechen.
Zum Schnorcheln solltet ihr am Besten zum südlichen Ende der Bucht gehen, wo es Felsvorsprünge und ein Schiffswrack im Flachwasser gibt, das normalerweise voller verschiedener Arten von Meereslebewesen umgeben ist.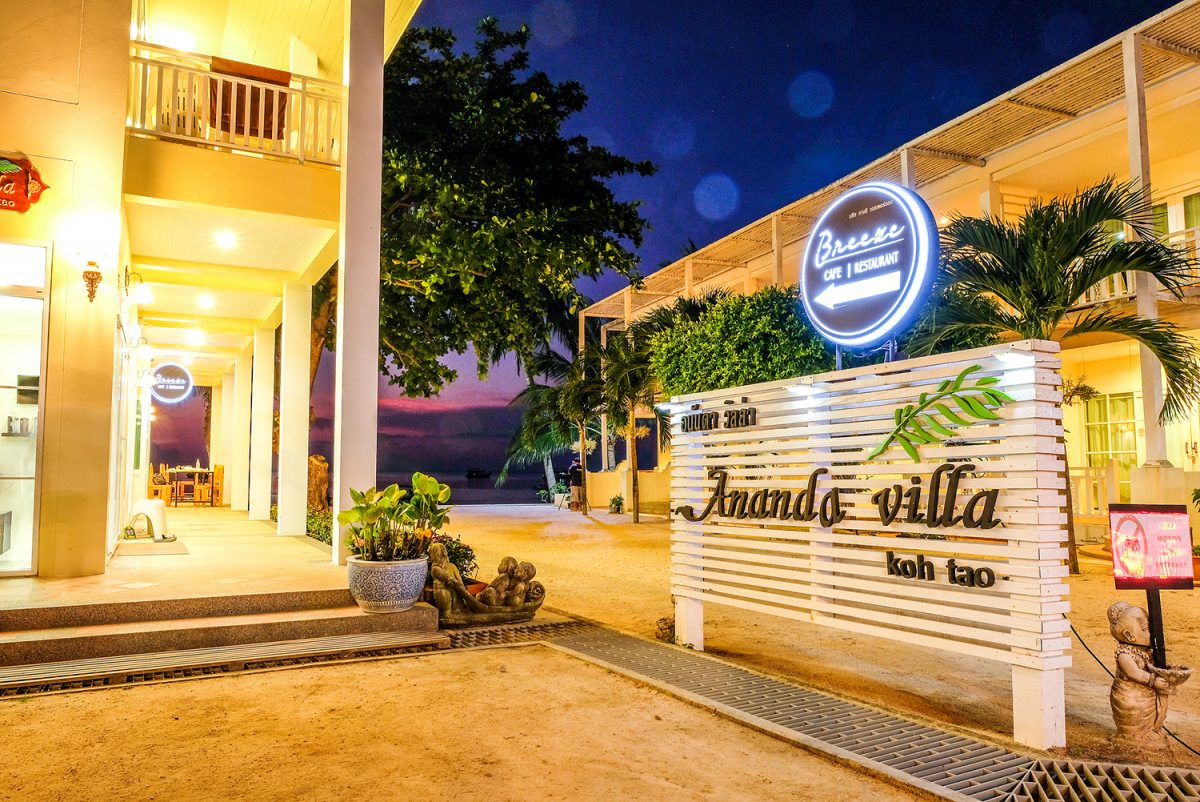 Mae Haad Unterkunftsmöglichkeiten
Das Dorf Mae Haad bietet eine große Auswahl an Unterkünften, darunter Hostels, Bungalows, Hotels und Resorts. Viele davon befinden sich direkt am Strand oder in unmittelbarer Nähe.
Wenn ihr euch in Mae Haad niederlasst, seid ihr nie mehr als 15-20 Minuten von anderen Teilen der Insel entfernt, die ihr mit einem Roller besuchen könnt.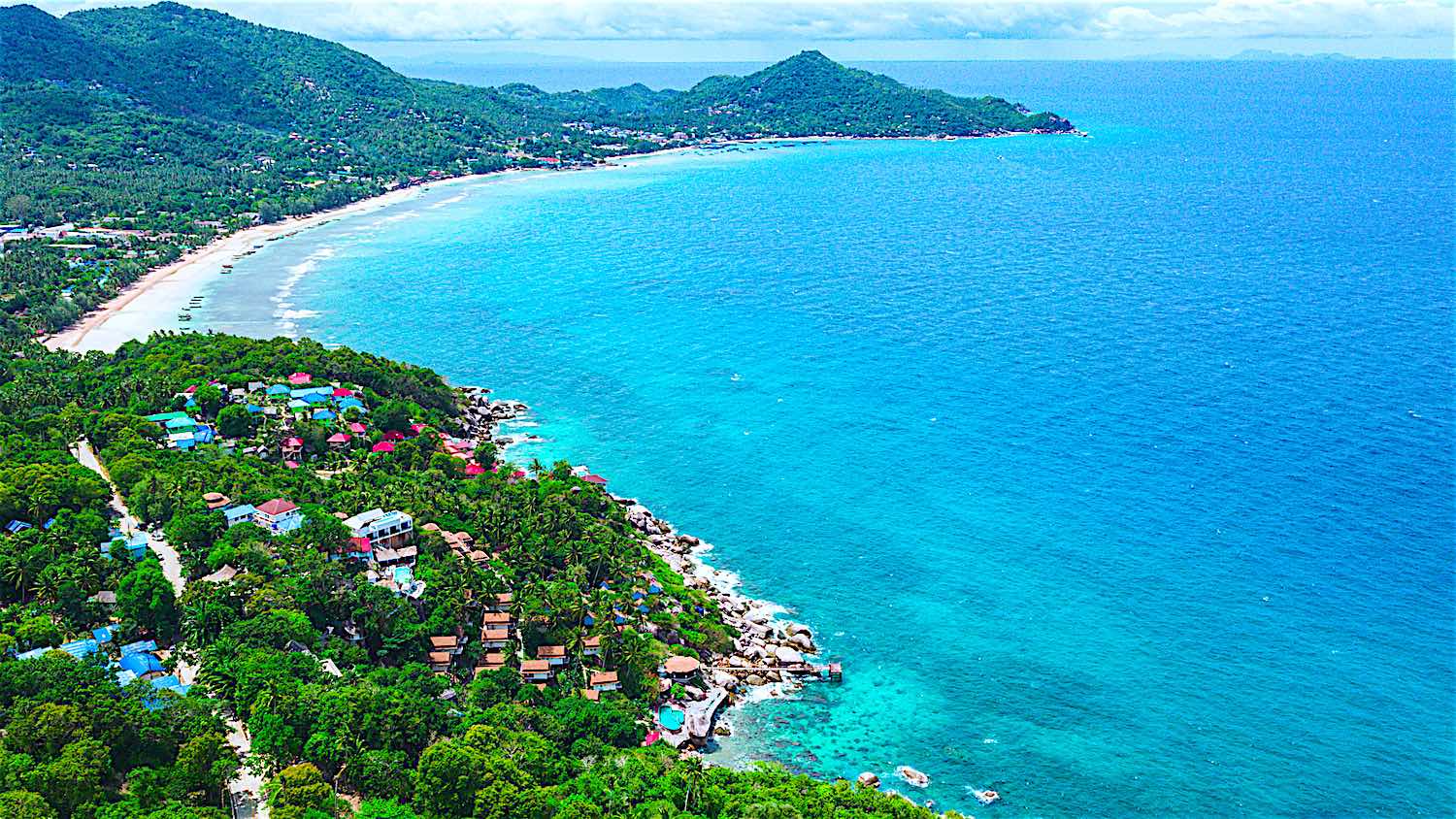 Longtail-Taxiboot Mae Haad Bay
Die meisten Resorts bieten private Taxis an, und Mae Haad verfügt über eine Fülle von privaten Taxis, sodass ihr euch sicher fortbewegen könnt.
In Mae Haad gibt es auch viele Longtail-Bootstaxis und Fahrer, die euch überall gerne hinbringen.
Von Mae Haad aus könnt ihr die Insel Koh Nangyuan besuchen oder eine Tour um die Landspitze unternehmen, um entweder Mango Bay, Shark Bay, Saideng oder eine der anderen Buchten ,und Schnorchelplätze zu besuchen.
Denkt nur daran, den Preis auszuhandeln, bevor ihr an Bord geht, damit es keine Missverständnisse gibt und alle Parteien mit dem Arrangement zufrieden sind.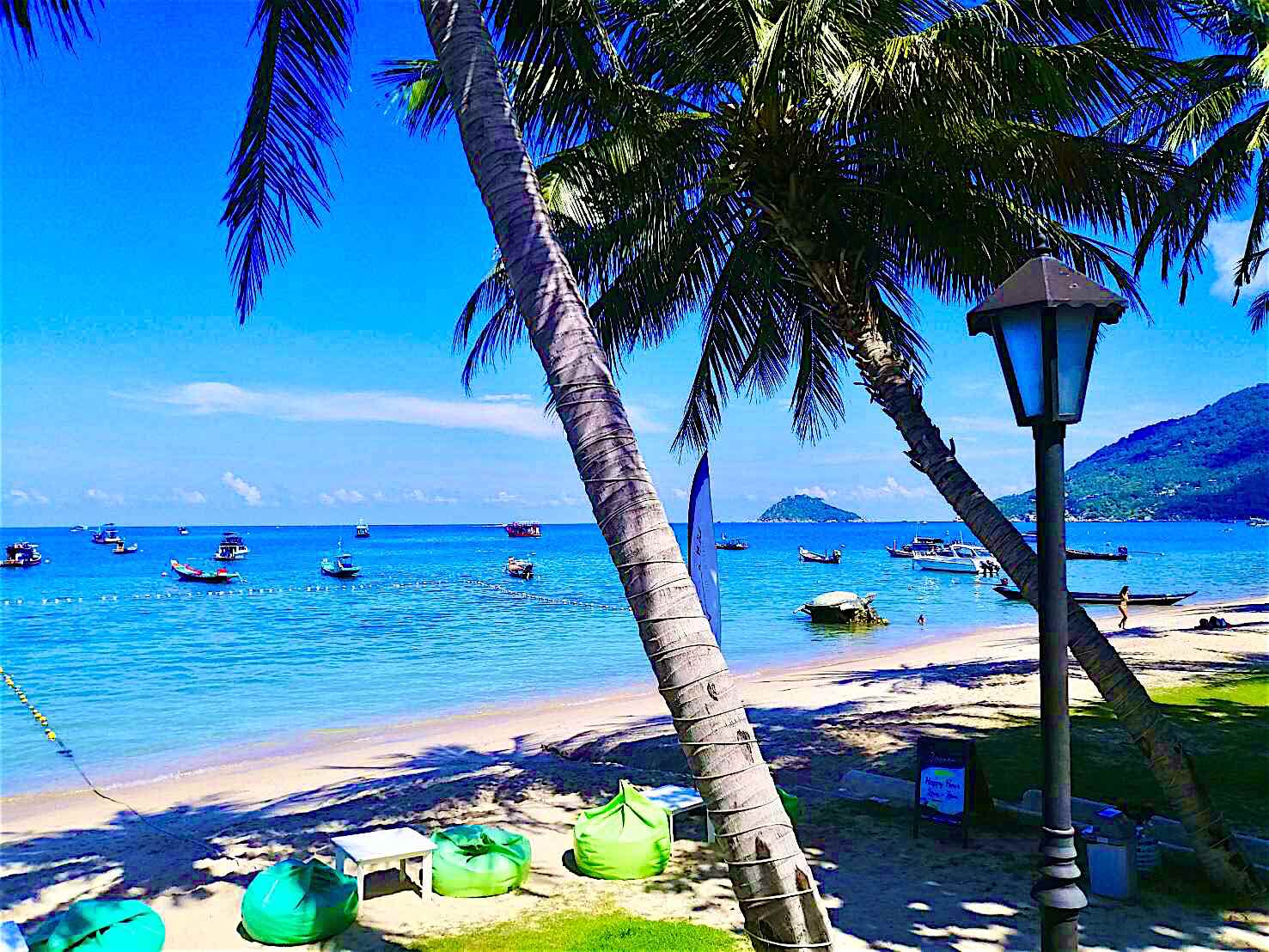 Mae Haad Bars & Restaurants
Mae Haad Village bietet auch eine gute Auswahl an Bars und Restaurants, von denen viele einen Blick auf den Strand bieten, für diejenigen, die thailändisches Essen oder westliche internationale Küche probieren möchten.
Wenn ihr auf traditionelle westliche Gerichte nicht verzichten wollt, stehen Cafés, Pizzas, Pfannkuchen, Sandwiches, Wraps, Burger, Pommes, Steaks, Fisch und eine ganze Reihe anderer westlicher Gerichte zur Auswahl.
Wenn ihr hier seid, um das beste thailändische Essen zu probieren, könnt ihr aus einer Reihe traditioneller thailändischer Restaurants und Straßenstände wählen.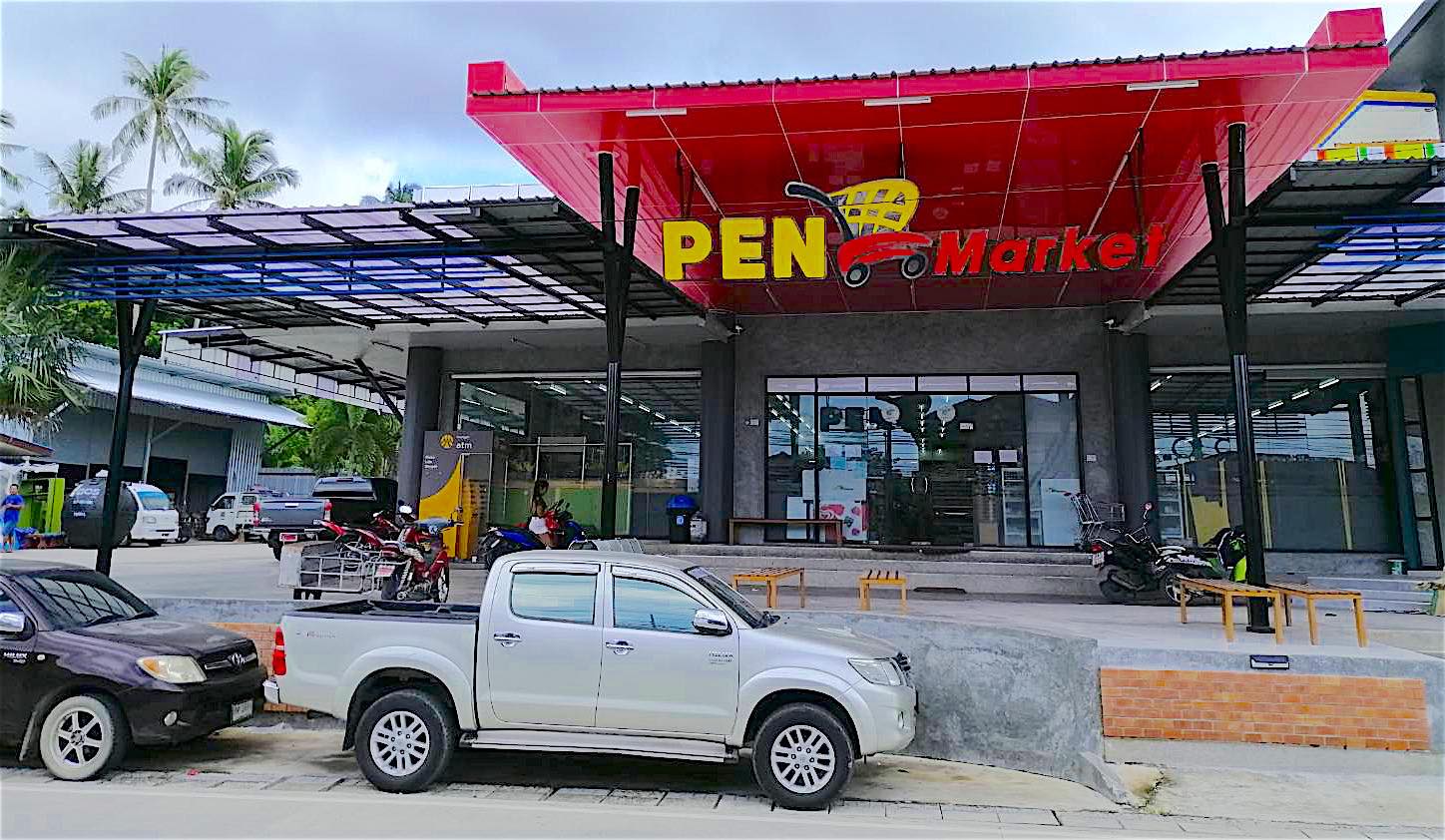 Mae Haad Koh Tao Banken, Postämter, Geschäfte und Krankenhäuser
Der Aufenthalt in der Bucht von Mae Haad kann sehr praktisch sein, da ihr nicht weit von den Piers entfernt seid, und auch das örtliche Regierungsgebäude, Krankenhaus, die Banken, Post und den Tempel von Koh Tao in der Nähe habt.
Es gibt Geldautomaten an fast jeder Ecke und die 4 Hauptbanken haben ihre Filialen in Mae Haad.
Das Hauptpostamt befindet sich in Mae Haad an der "Down-Road" und das Koh Tao-Krankenhaus ist nur 2 Gehminuten vom Hauptpier entfernt, auf halber Höhe der "Up-Road" in Mae Haad.
Es gibt auch viele Geschäfte in der Umgebung, die Souvenirs, Strandbekleidung, handgefertigten Schmuck, Kleidung, Tauch– und Schnorchelausrüstung verkaufen.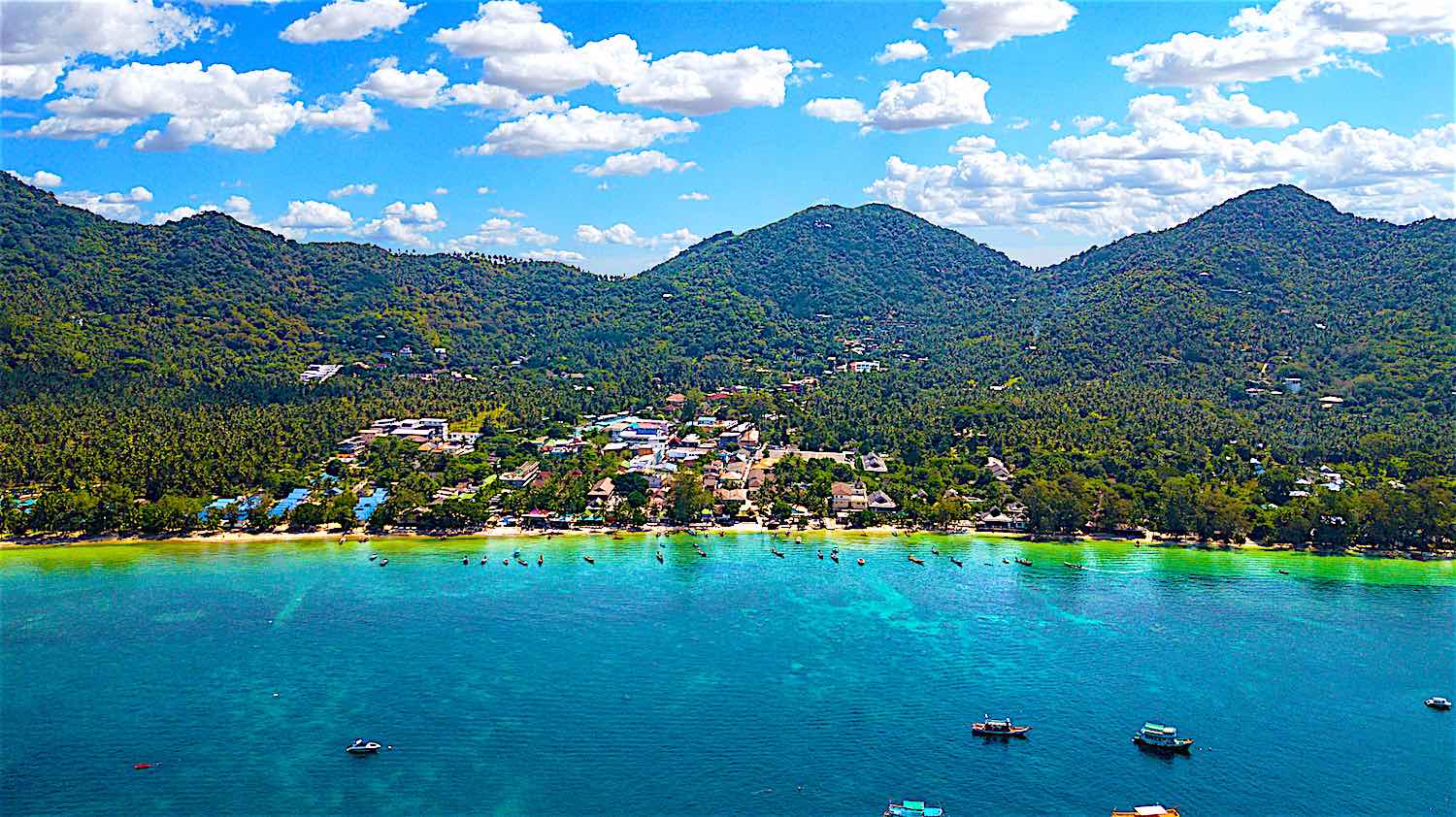 Von Mae Haad nach Sairee Village laufen
In Mae Haad zu wohnen bietet nicht nur den Komfort, so viele Einrichtungen in der Nähe zu haben, sondern auch eine gute Lage, um andere Gegenden der Insel zu Fuß zu erkunden.
Von hier aus erreicht ihr Sairee in nur 20 Minuten zu Fuß. Einige der Strände und Buchten im Süden der Insel liegen weniger als eine Stunde entfernt.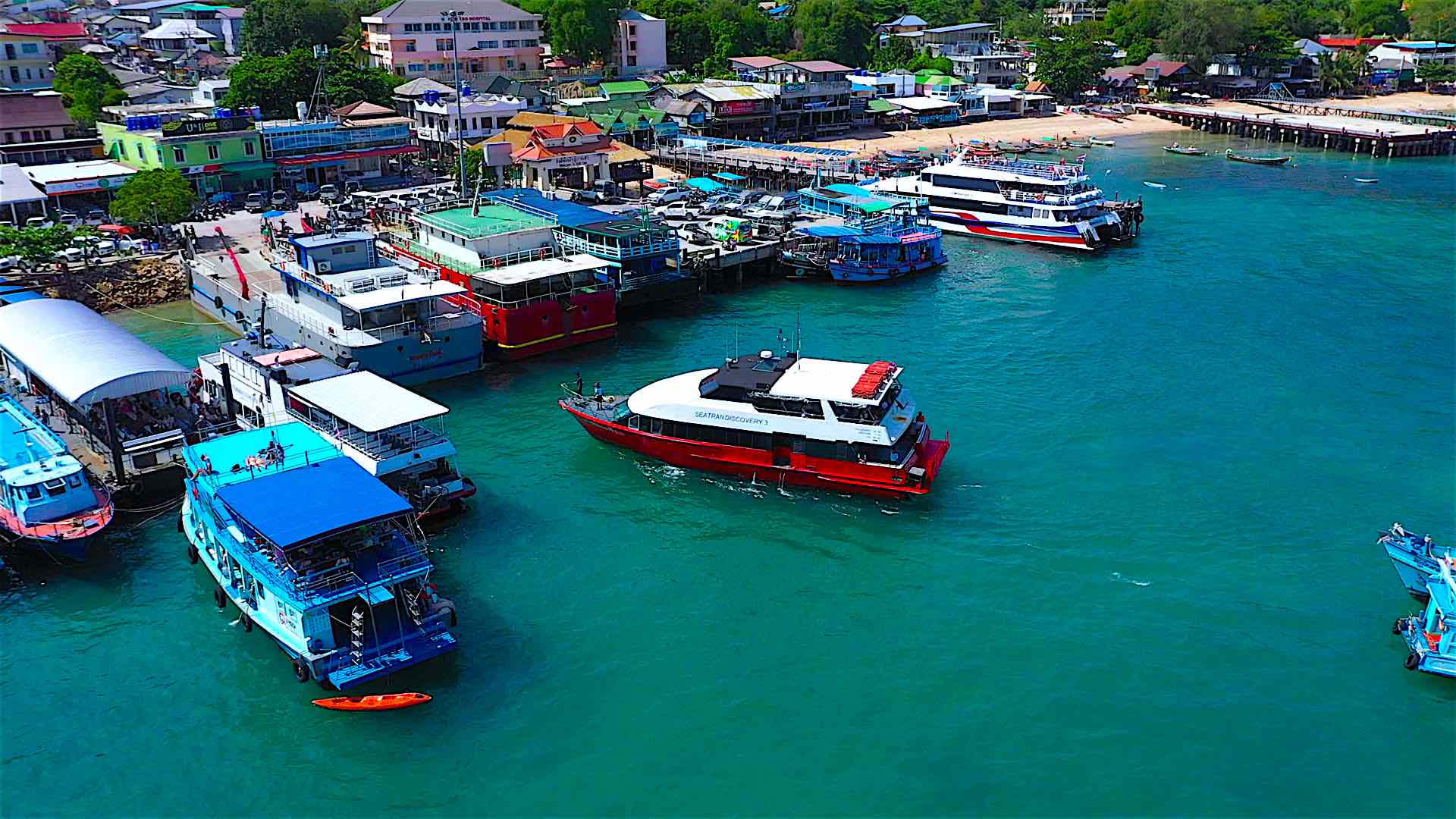 Von Mae Haad nach Chalok Baan Kao laufen
Mae Haad ist ein großartiger Ausgangspunkt für Wanderungen entlang des Westküstenwegs zum Strand von Sainuan, Banana Rock, Tao Thong und um die südliche Landspitze nach Chalok Baan Kao.
Ihr müsst das Resort Charm Churee Villa in der Jansom Bucht passieren und an manchen Stellen kann eine Gebühr anfallen, abhängig von der Route, die ihr nehmt.
Bitte achtet auf die Schilder und lest diese, bevor ihr euch auf das Privatland anderer Leute begebt.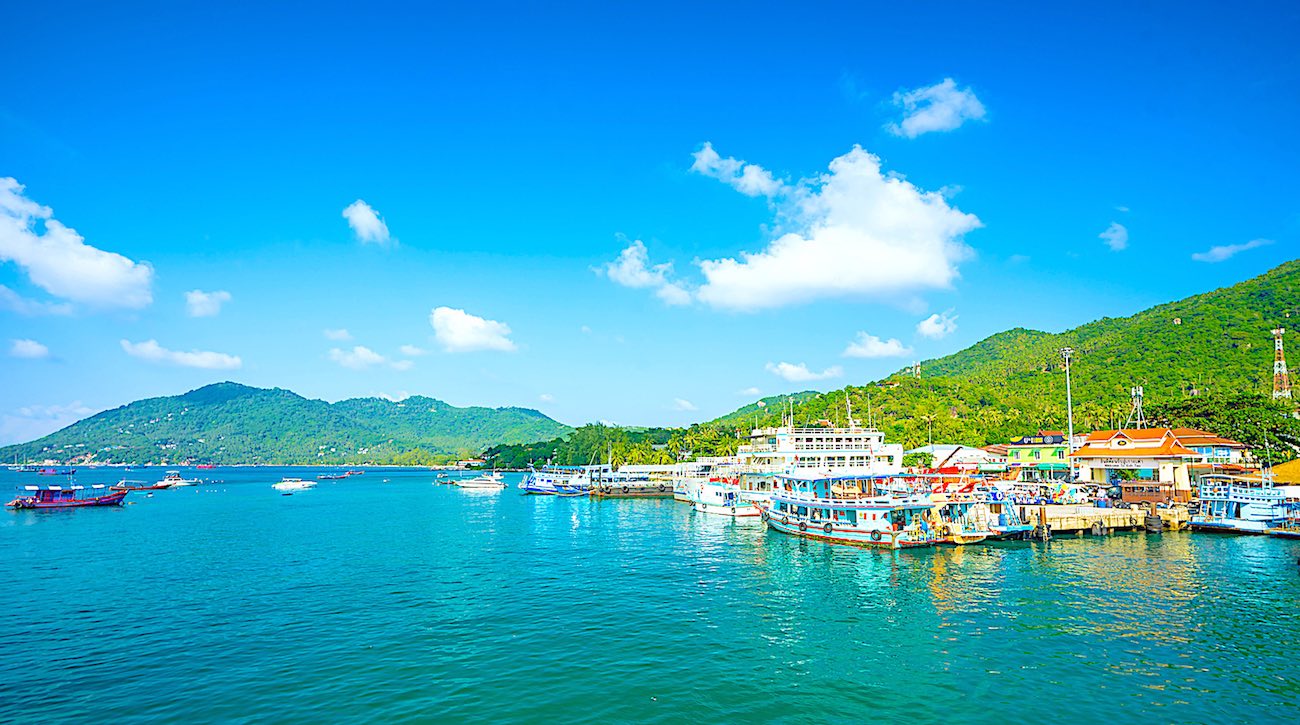 Karten überprüfen
Es ist wichtig zu wissen, dass Google Maps und Maps.Me möglicherweise nicht immer genau sind und ihr euch versehentlich auf privatem Land wiederfindet.
Wenn ihr Richtungs-Apps auf eurem Telefon verwendet, nutzt bitte gesunden Menschenverstand, zumal einige dieser Karten ohne tatsächliche Überprüfung von Mitgliedern hochgeladen wurden.
Yellow Brick Road" nach Sairee
Mae Haad hat auch eine kleine Straße, die von Einheimischen und Einwohnern als "Yellow Brick Road" bezeichnet wird. Sie ist alles andere als gelb, aber ein direkter Fußweg zum Sairee Beach und Village und dauert ungefähr 15-20 Minuten zu Fuß.
Wenn ihr von Mae Haad nach Sairee lauft, kommt ihr an einer Vielzahl von Geschäften, Ständen, Bars, Tauchschulen und vielen anderen Geschäften vorbei, sodass ihr euch unterwegs Zeit nehmen und eine Pause einlegen könnt, um euch zu erfrischen.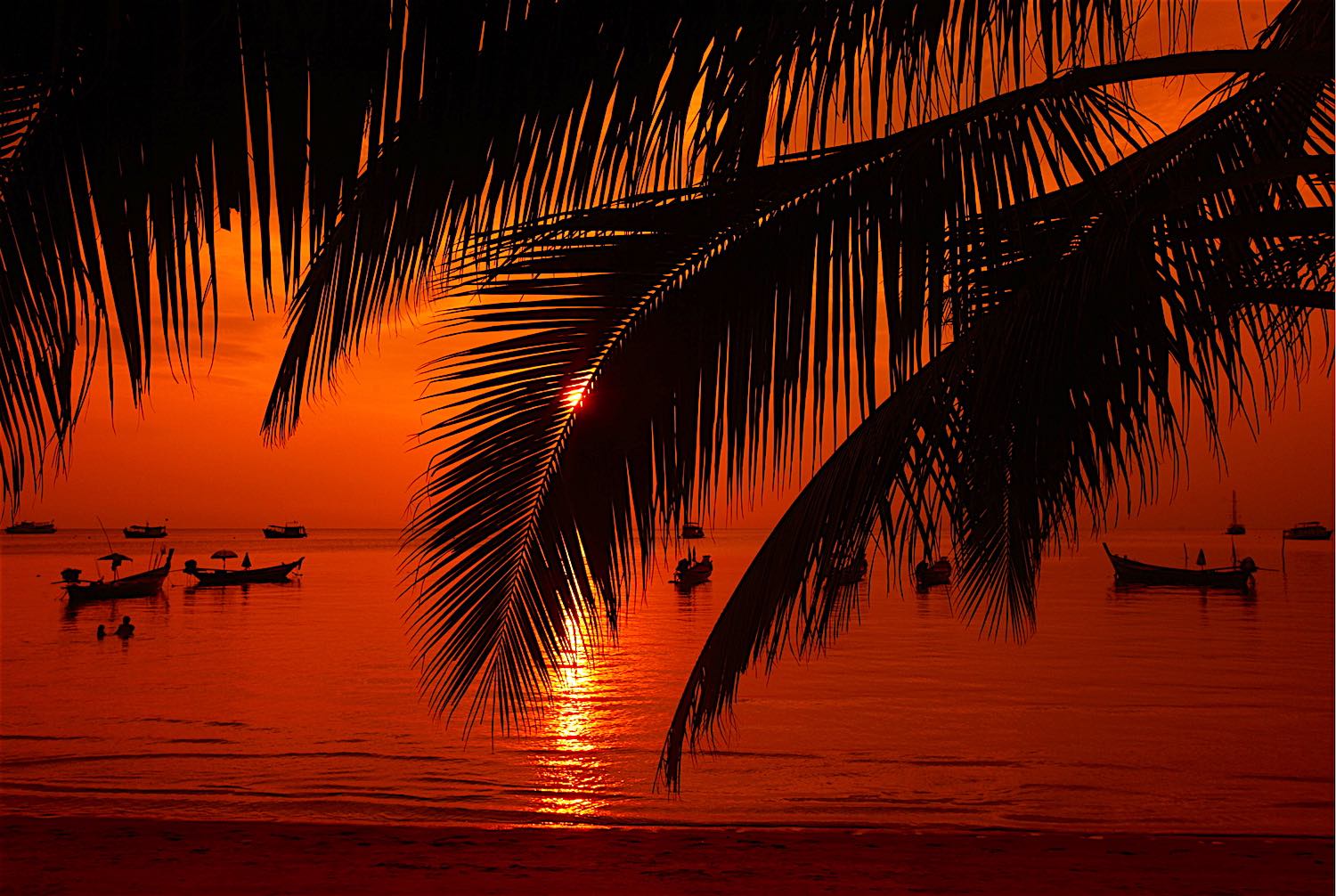 Sonnenuntergang auf Koh Tao von Mae Haad Bay
Mae Haad ist auch ein großartiger Platz, wenn ihr eine Stunde verweilen und einen der spektakulären Sonnenuntergänge auf Koh Tao beobachten möchtet.
Mae Haad liegt nach Westen ausgerichtet, sodaß ihr hier essen oder einen Cocktail trinken könnt oder das macht, was viele Leute tun: einfach hierhin kommen und die Sonne beobachten, wie sie über dem Horizont untergeht.
Unser Büro befindet sich 1 Gehminute von den Hauptfähranlegestellen entfernt. Achtet daher auf das Logo, oder kontaktiert uns im Voraus, wenn ihr Fragen habt.
Ihr könnt gerne hereinkommen, eure Telefone aufladen, etwas trinken und nach den Dingen fragen, die ihr gerne machen würdet, oder nach Orten, an denen ihr übernachten möchtet. Wir sind hier, um zu helfen.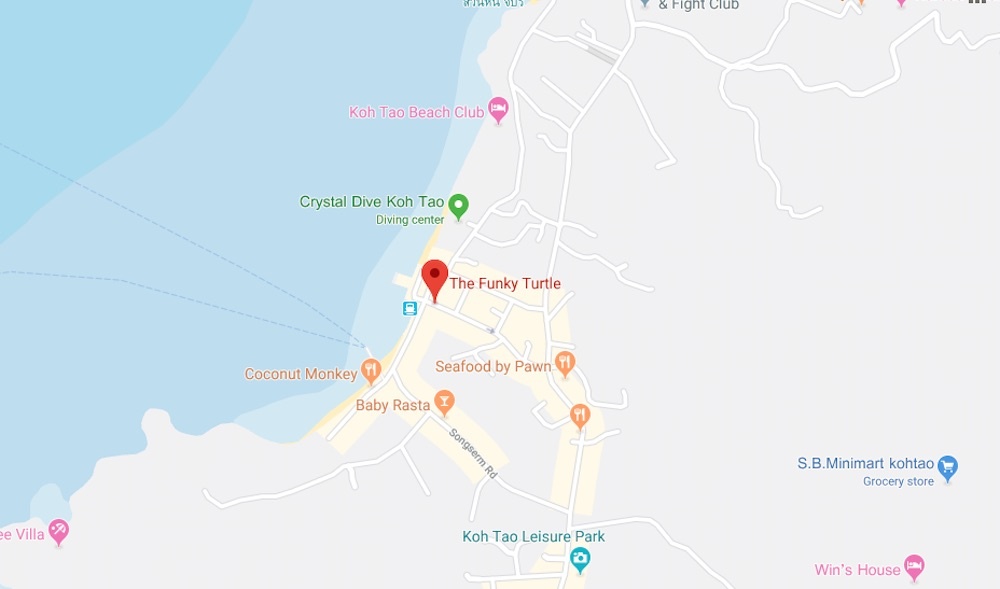 Frequently Asked Questions
Are there ATM machines in Mae Haad ?
There are lots of ATM machines located in Mae Haad on every street. Mae Haad is the main ferry port and village where you will disembark upon your arrival. It is also the location for all the Thai bank branches available on Koh Tao.
How long does it take to walk to Sairee from Mae Haad?
You can walk from Mae Haad to Sairee beach in 15 minutes along the small brick made beach road. Locals call this road 'the yellow brick road' and it is used for walking along and by scooters, so be aware of what is approaching you from both directions.
Is the accommodation expensive in Mae Haad?
There is a huge choice of accommodation in Mae Haad from budget hostels at 200 – 300baht a night per person, to luxury hotels and resorts with swimming pools from 1000 – 5000+baht a night. What you choose will depend on your budget, however, you can contact us for the best recommendations and to discuss your itinerary.
Where can I buy western food in Mae Haad Koh Tao?
Mae Haad village offers visitors a wide choice of restaurants, café's and street food to everyone's tastes. You can buy western food from many of the reputable establishments and enjoy an ocean view or watch live sports.
Are there pharmacies in Mae Haad?
As the main pier town on Koh Tao, Mae Haad has many pharmacies and they provide a wide choice of prescription medications. The Koh Tao hospital is also located in Mae Haad with a dispensary and there are many private medical clinics in the village.
Can I use the local hospital in Mae Haad as a visitor?
Visitors to Koh Tao and local residents can use the local government hospital located in Mae Haad village. Travellers who want to see a doctor will need to bring their passport to register and provide satisfactory identification.
Can I book a scuba diving course in Mae Haad?
There are many dive centres located in Mae Haad who offer visitors a range of diving courses with different dive centres. If you are want to book a diving course, contact us to discuss your travel plans and we can book your course with a 10% deposit.
How do I get to my hotel from the pier in Mae Haad Koh Tao?
If you have pre-booked accommodation with a resort or hotel, many of them will provide a shuttle and transfer service to and from the ferry pier. If you are unsure of where to stay, contact us to discuss your travel plans and we can arrange the accommodation and transfers to and from the pier with your luggage.