Junior Open Water Diver Koh Tao
Are you planning a holiday to Koh Tao and looking at some activities that will keep your kids active, away from their tablets and smart phones and enjoying the great outdoors?
Are your children 10 years of age or older and comfortable in water? If yes, why not enrol them in a PADI Junior Open Water course.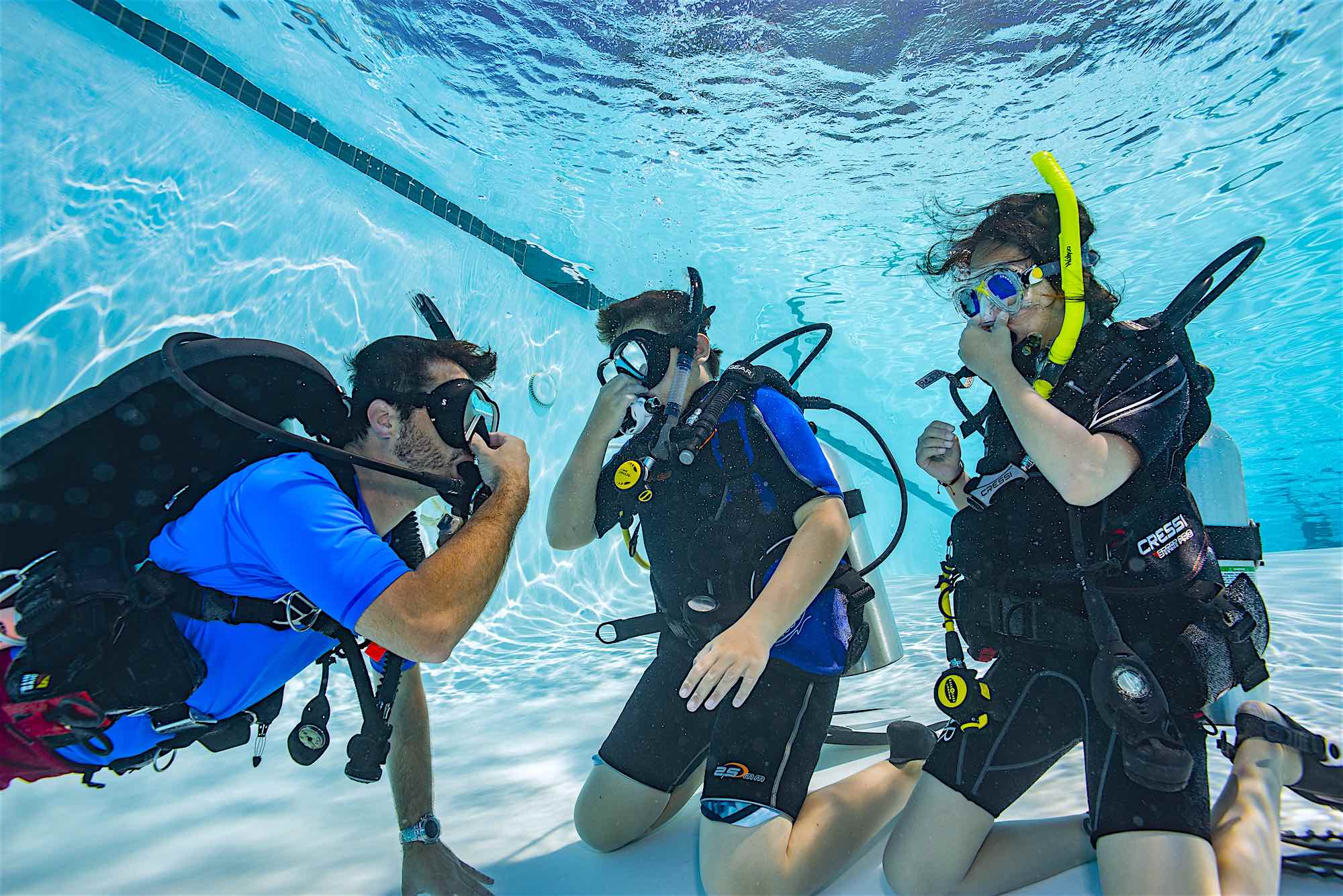 Lots of Fun
Scheduled over 4 days this course offers a little bit of everything that any parent would want from a holiday activity for their kids. Education, structure, exercise, a little team work and plenty of fun in the sun.
The Junior Open Water course is based on the same structure as the full Open Water course with a minimum age of 15 years. The course provides a great foundation to prepare kids to become fully fledged Open Water divers when they turn 15 years of age.
This also means that if mum and dad would like to complete the course alongside your children, you can.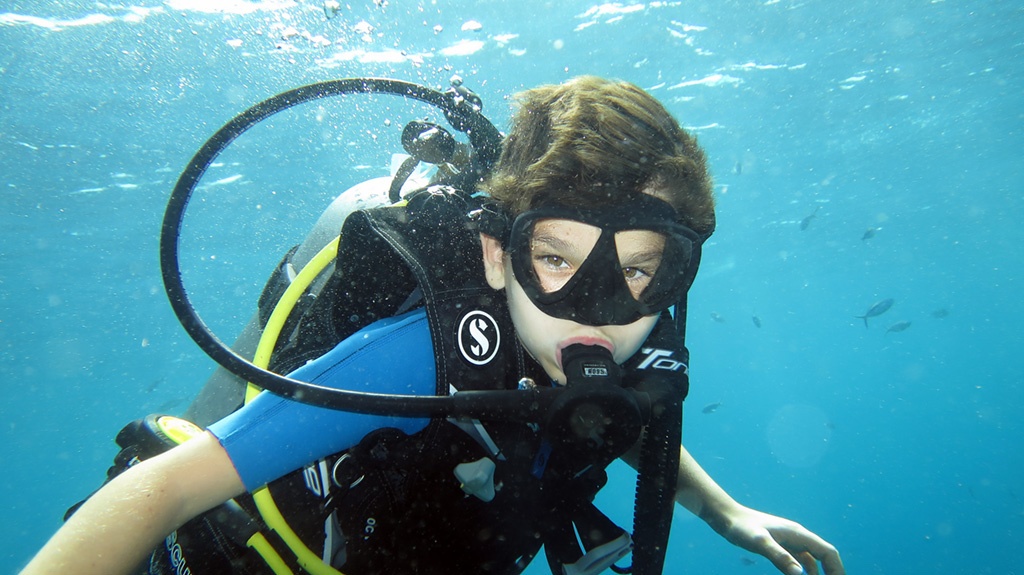 Junior Open Water Diver Course Curriculum
Consisting of three sections; knowledge development, confined water and open water, your kids can utilise the e-learning online option, if local law allows and complete the knowledge development prior to arrival.
This allows you to focus on the fun part of the course – getting wet – during your precious time on Koh Tao.
Alternatively, the knowledge development can be conducted on Koh Tao with a series of Instructor led classrooms, backed up by some videos and a series of quizzes and exams.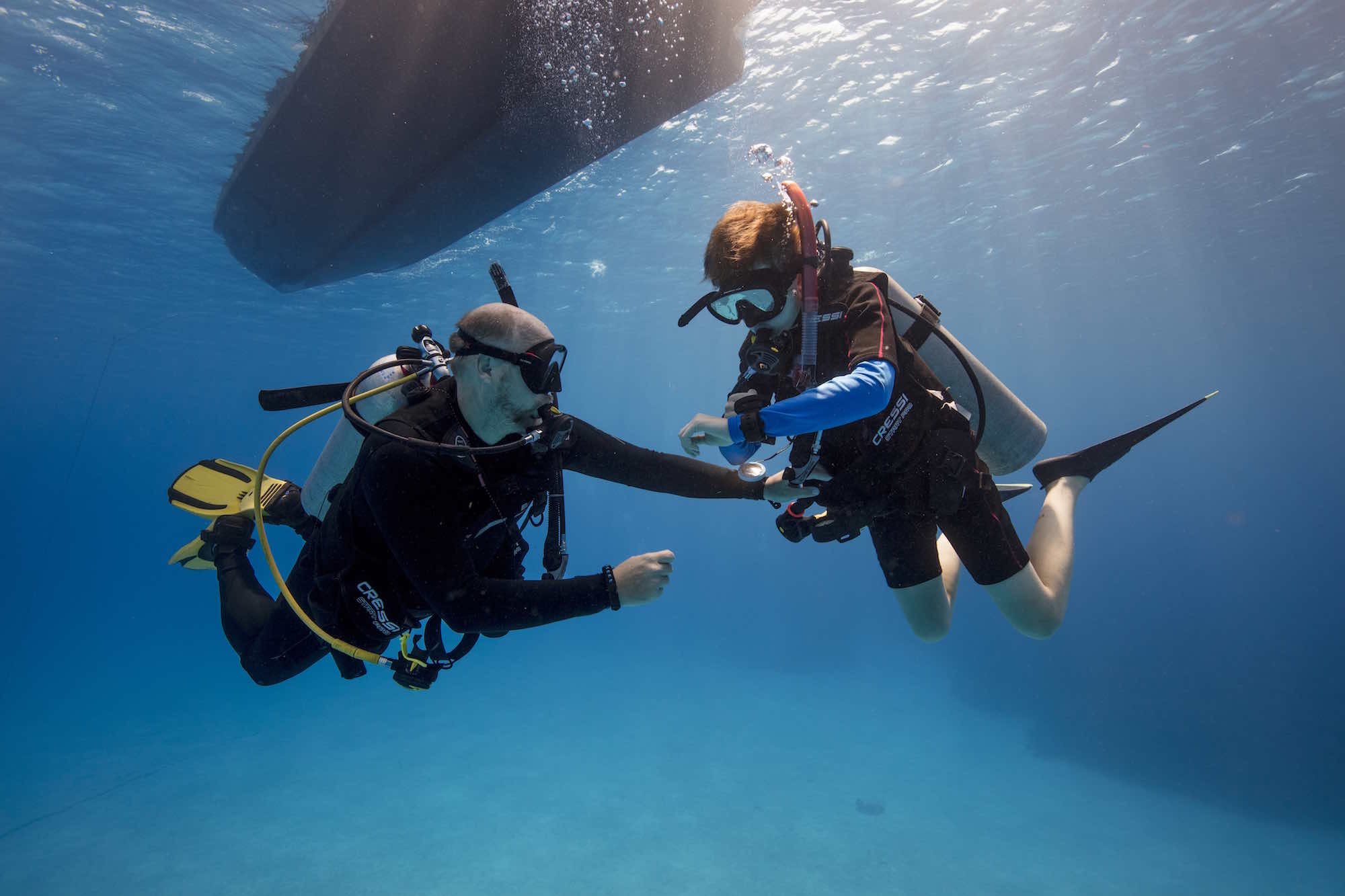 Confined Water Training Dives for Juniors
The confined water training dives can be completed either in a swimming pool, or one of the many stunning shallow bays around Koh Tao that offer aquarium like conditions to scuba divers.
This section consists of five training dives each consisting of a series of scuba skills, slowly progressing from simple through to more complex.
Scuba Skills
Some of these initial skills include correct breathing techniques through a regulator, followed by clearing a regulator and recovering a regulator from behind the shoulder.
The mask clearing skills follow a similar pattern culminating in removing and replacing the mask underwater and swimming without the mask on.
Later sessions focus on safety skills and the confined water training section finishes with a mini dive.
This gives your child an opportunity to put everything they have learnt into practice, before progressing into the deeper open water environment.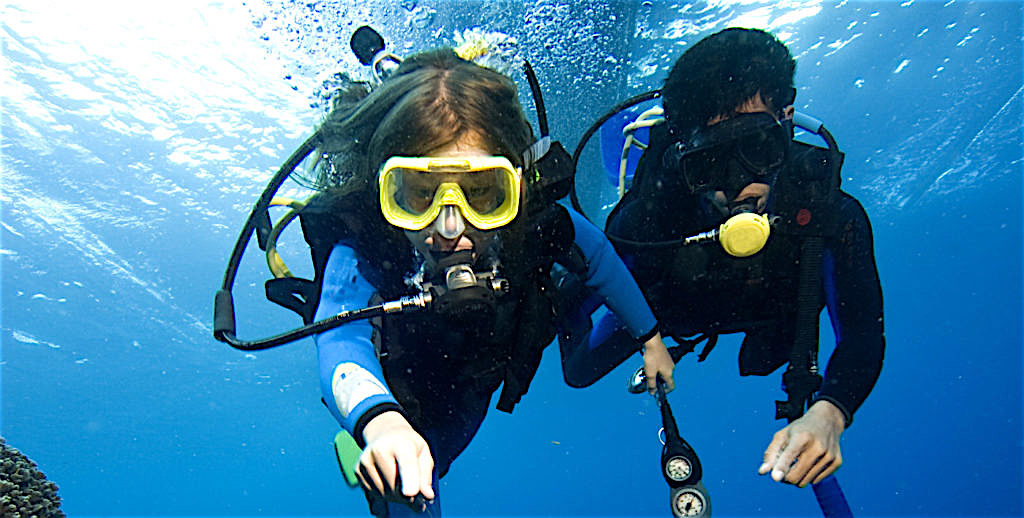 Open Water Training Dives for Juniors
The Junior Open Water certification does come with restrictions, one of which is maximum depth.
During the four open water training dives children under the age of 12 cannot exceed 12 metres.
The four training dives they must complete to become certified include the exact same skills and they must meet the exact same performance requirements as adults.
12 Metres Depth
This does not spoil the fun and certainly not here on Koh Tao where there are a variety of great dive sites offering fantastic conditions and an abundance of marine life, all within 12 metres depth.
Other restrictions include children of 10 & 11 years of age must dive with a PADI Professional or a parent or guardian that is also a certified diver.
Once certified these younger divers can continue to increase their experience, either via some fun dives, within these restrictions or by continuing their education with some adventure dives.
When they turn 12 years old they can become a Junior Advanced Open Water diver and also complete Rescue training although still restricted in depth, they are now able to dive down to 18 metres.
Once they hit 14 years old they can dive to 21 metres and at 15 years old depth and buddy restrictions become the same as a regular adult Open Water diver.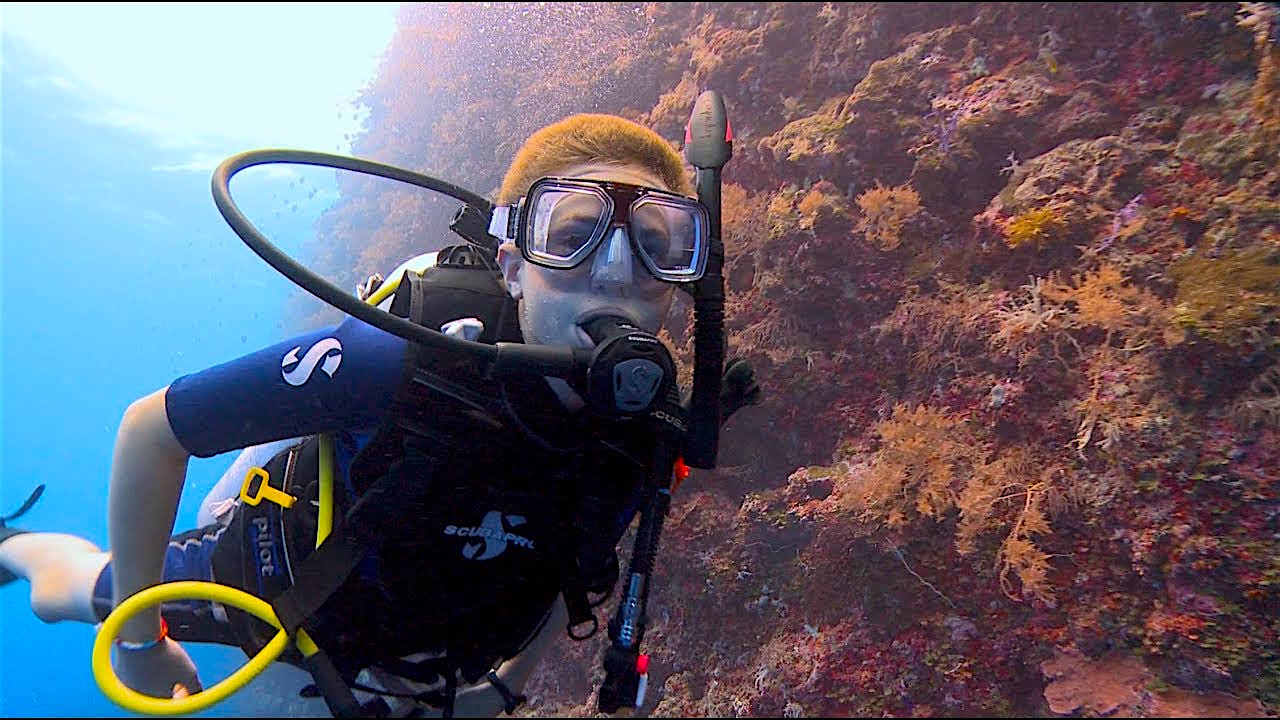 Junior Open Water Course Price Includes
Rental of all SCUBA equipment
Qualified scuba diving instructor working in small groups (maximum 4)
5 confined water training dives in a swimming pool
4 Open Water training dives at a variety of beautiful dive sites around Koh Tao
Insurance
PADI certification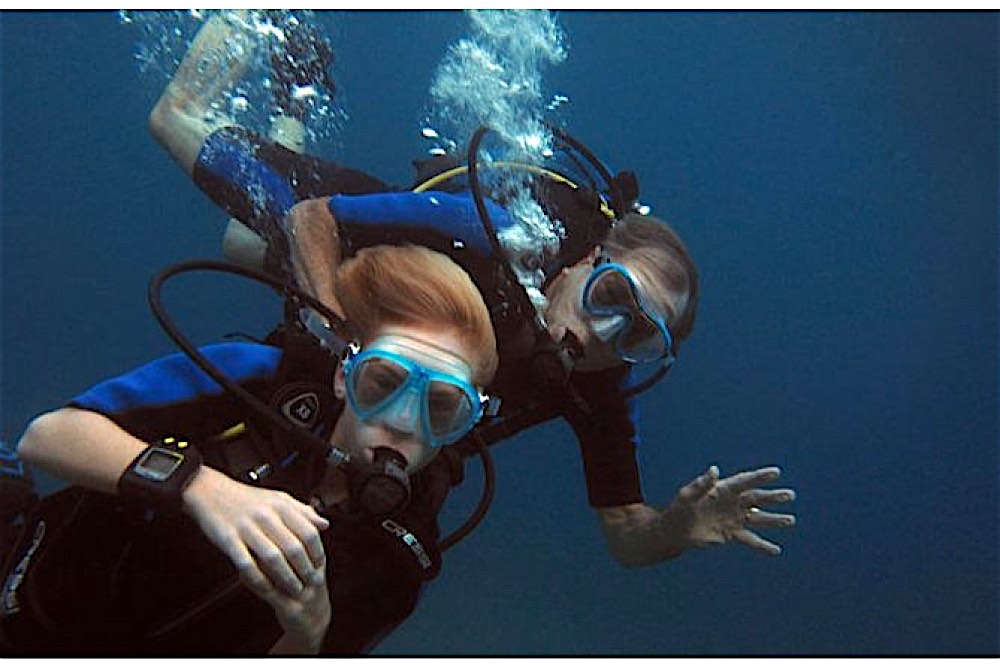 Junior Open Water Diver Course Schedule
We take a flexible approach to all course schedules and can tailor this program around your family's holiday here on Koh Tao. We can also schedule a personalised family course.
If your child has completed the knowledge development before arriving a sample schedule would look something like this:
Day 1:
Review e-learning and complete e-learning review
Confined water training dives 1-3
Lunch
Confined water training dives 4-5
Day 2: (morning or afternoon)
Open water training dives 1 & 2
Day 3: (morning or afternoon)
Open water training dives 3 & 4
If your child needs to complete the knowledge development here on Koh Tao in a more traditional classroom setting a sample schedule would look like this.
Day 1
Knowledge development 1-3
Lunch
Confined water training dives 1-3
Day 2
Knowledge development 4 & 5
Lunch
Confined water training dives 4 & 5
Day 3
Final Exam
Lunch
Open water training dives 1 & 2
Day 4
Open water training dives 3 & 4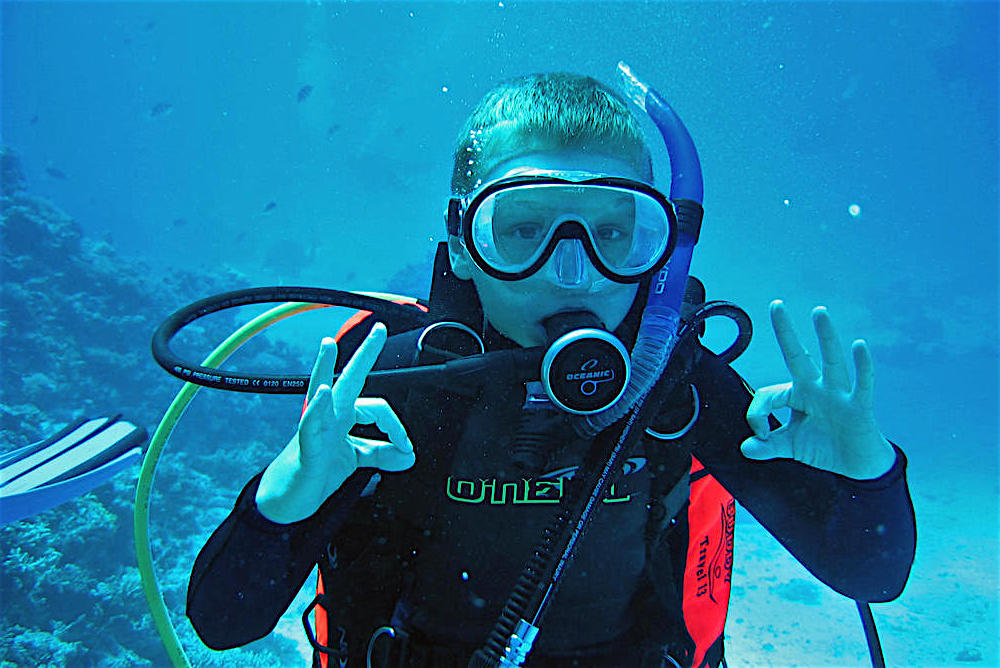 Junior Open Water Diver Course – Fit to Dive Medical
Scuba diving is an extremely safe activity but it's important that all participants are fit to dive and don't have any medical conditions that may be incompatible with diving.
You will be asked to complete the medical statement. If you answer 'Yes' to any of the medical questions please print off the statement and visit your family doctor who will assess your child's fitness to dive.
For more information about scuba diving for your children or any other fun activities on Koh Tao, contact us to discuss your itinerary.