West Coast Viewpoint Koh Tao
Direkt im Zentrum von Koh Tao gelegen, liegt West Coast Viewpoint nah bei Two View Rock und hoch über Sairee Beach und ist einer der unbekanntesten Aussichtspunkte der Insel.
Blick auf den Sonnenuntergang
West Coast Viewpoint ist ein weiterer großartiger Platz, um den Sonnenuntergang über der Westküste zu beobachten. Die Tatsache, dass er recht unbekannt ist, bedeutet, dass es im Allgemeinen ruhig ist.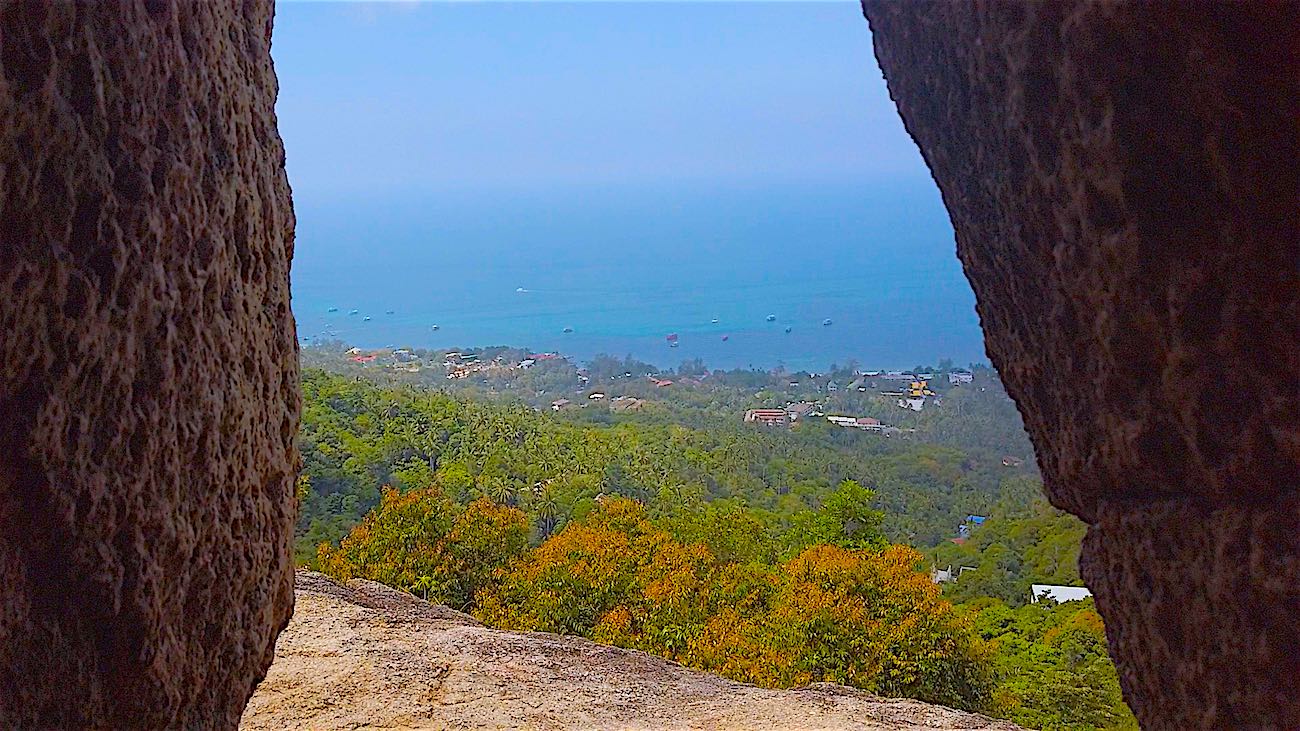 Wie kommt man zum West Coast Viewpoint von Sairee
Um von Sairee zum West Coast Viewpoint zu gelangen, müsst ihr von Sairee Soi 1 in Richtung Twin View Rock abbiegen, der sich zwischen Sairee Beach und den Moonlight Bungalows befindet.
Nur bis zu dieser Abzweigung könnt ihr einen Roller nehmen, ihr müsst also hier parken und zu Fuß weitergehen.
Nachdem ihr die Abzweigung genommen habt, folgt dem Pfad (der kaum mehr als ein Feldweg ist) den Hügel hinauf, bis ihr die Twin Rock-Kreuzung erreicht.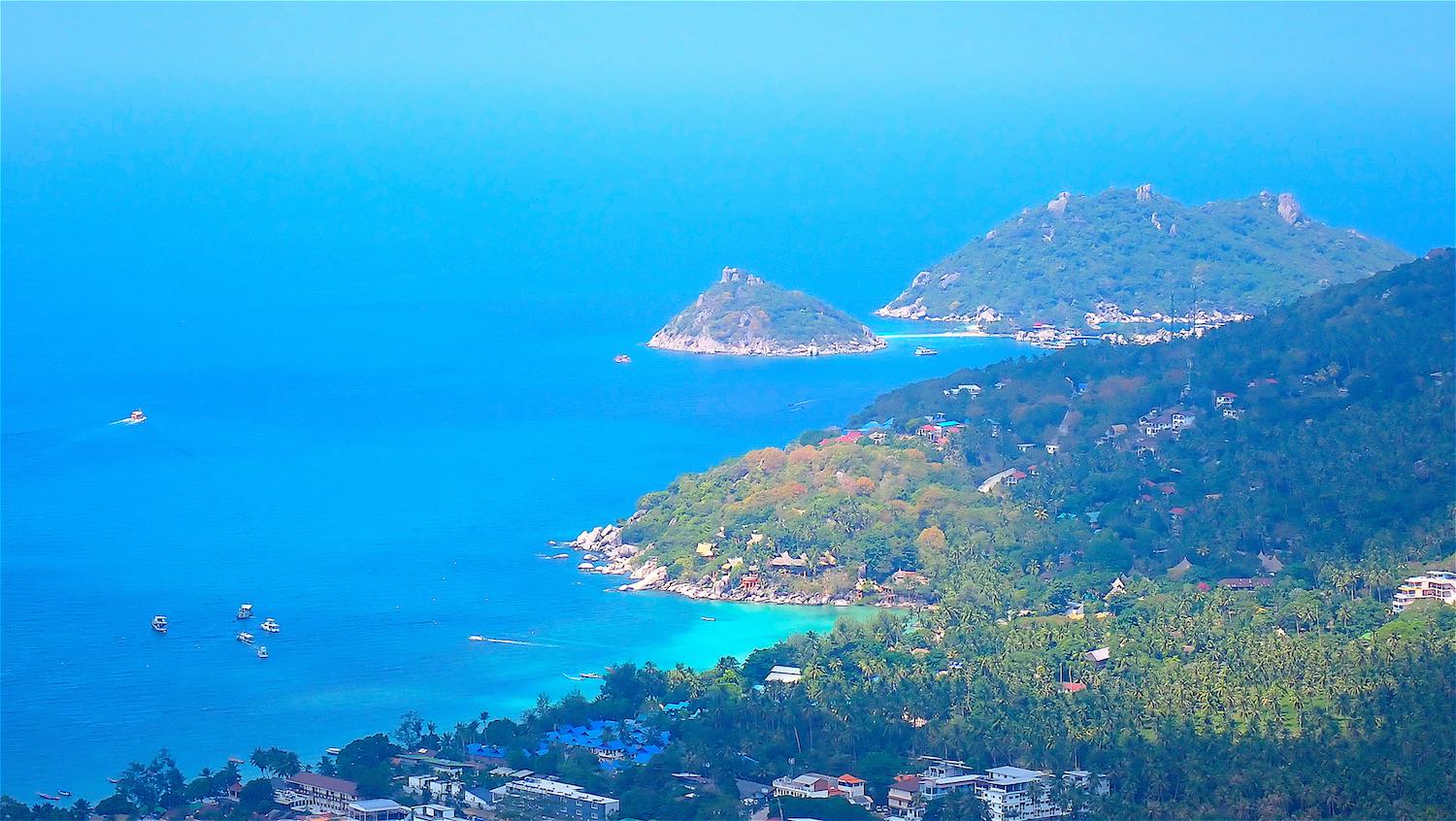 West Coast Viewpoint von Tanote Bay
Wenn ihr von der Ostküste herüberfahrt, nehmt ihr alternativ die Tanote Bay Road bis zur Abzweigung zum Reservoir und Love Koh Tao.
Nehmt diese Abzweigung und folgt dem Weg am Stausee vorbei, bis ihr die Twin Rock Kreuzung erreicht.
Ihr habt einen Blick über die Ost- und Westküste der Insel. Dies ist also ein großartiger Ort, um anzuhalten und ein paar Bilder zu machen.
Ihr müsst dann an der Kreuzung links abbiegen und nach Westen fahren, um die linke Seite des West Coast Viewpoint zu erreichen.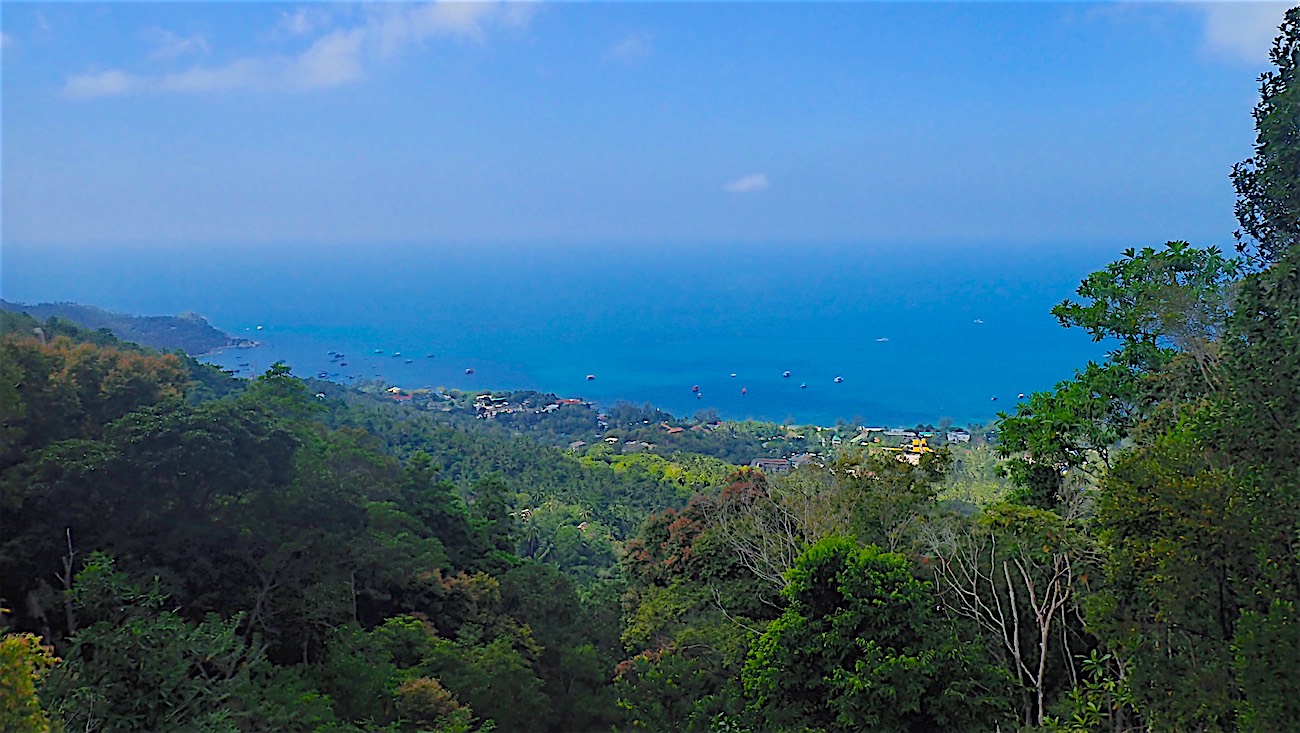 West Coast Viewpoint
Geht ungefähr 5 Minuten die Straße hinunter und ihr werdet zu zwei Felsblöcken kommen, die sich aneinander lehnen. Lauft durch die Felsbrocken und ihr seid angekommen.
Der Aussichtspunkt selbst ist ein großer, flacher Felsen, der bis zu 10 Personen aufnehmen kann. Ihr müsst jedoch vorsichtig sein, da es rundherum keine Geländer gibt.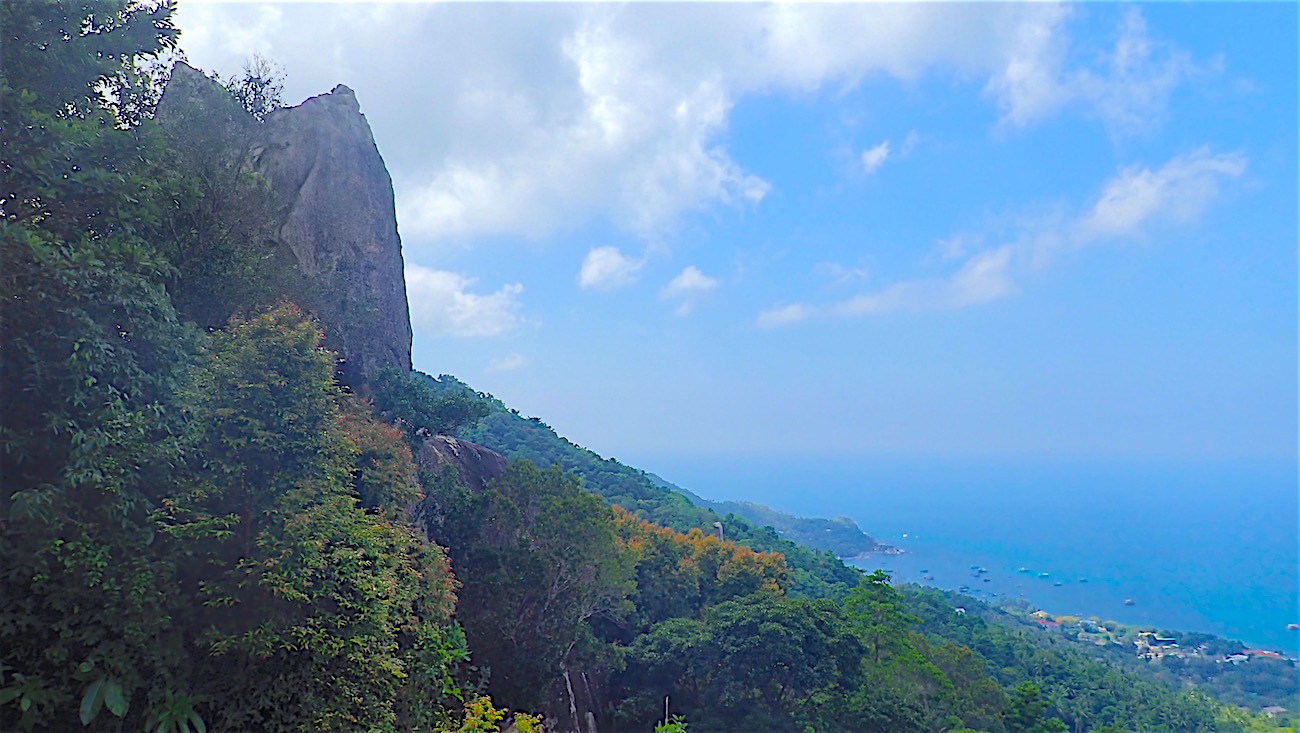 Panoramablick vom West Coast Viewpoint
Die fantastische Aussicht auf die Westküste von Koh Tao erstreckt sich über Koh Nangyuan, Sairee Beach, Mae Haad Bay und sogar bis zur Jansom Bay im Süden.
Während dies ein großartiger Ort ist, um den Sonnenuntergang einzufangen, und ein romantischerer Ort für Paare, können die Bedingungen für Fotos am Morgen am besten sein, aber lasst euch nicht davon abhalten, die Reise anzutreten.
Festes Schuhwerk
Die Straße ist kaum mehr als ein Feldweg und enthält viel losen Kies, der rutschig sein kann. Daher ist es sicherer, bequeme Schuhe mit gutem Grip zu tragen, wenn ihr zum West Coast Viewpoint wandert.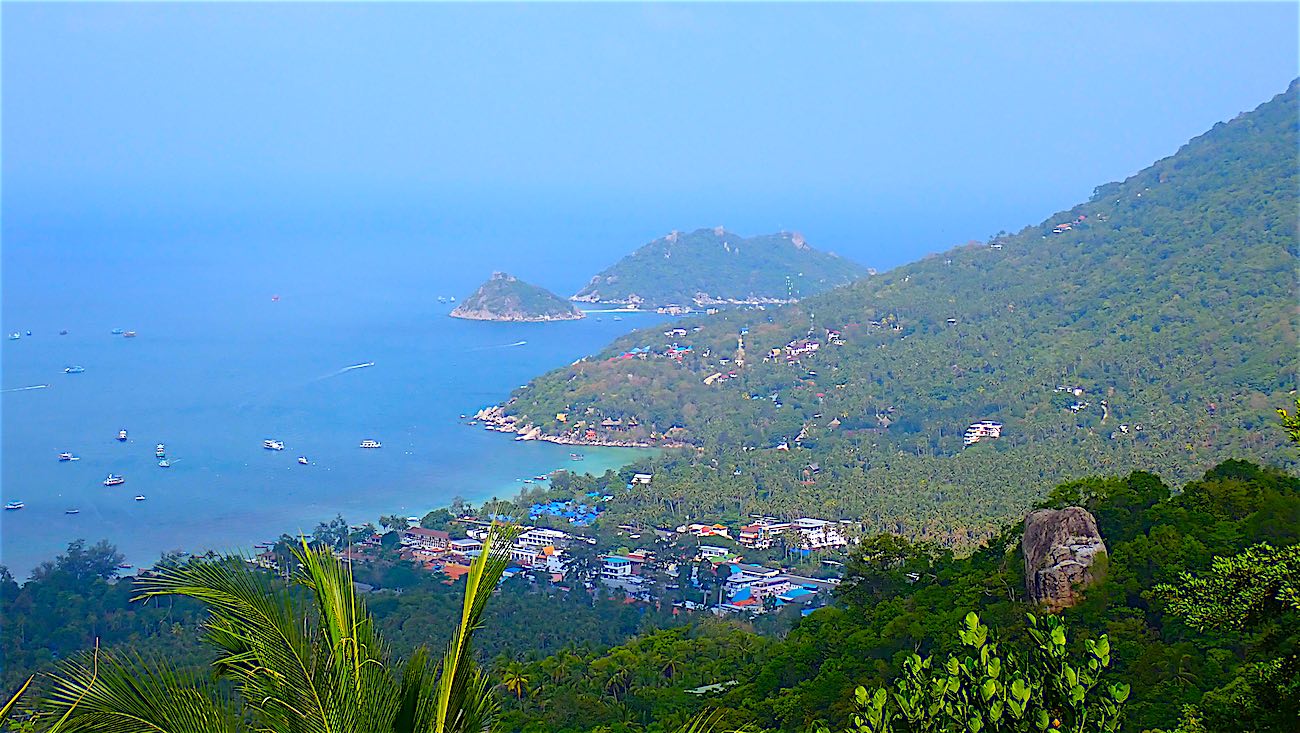 Trinkt genug
Ihr müsst Wasser mit euch führen, da es unterwegs keinen Platz gibt, an dem ihr es kaufen könnt, ohne dass ein Umweg erforderlich wird. Eine Sonnenbrille oder ein Hut sind ebenfalls empfehlenswert.
Oben auf den Aussichtspunkten auf Koh Tao wird es sehr heiß. Plant eure Tour also sorgfältig und teilt jemandem eure Pläne mit.
Großartige Fotomöglichkeiten
Wenn ihr auch nach guten Fotomotiven der Ostküste sucht, könnt ihr den Tanote Peak besuchen, der etwa 300 m von der Twin Rock-Kreuzung entfernt liegt. Vom West Coast Viewpoint sind es ungefähr 10 Gehminuten.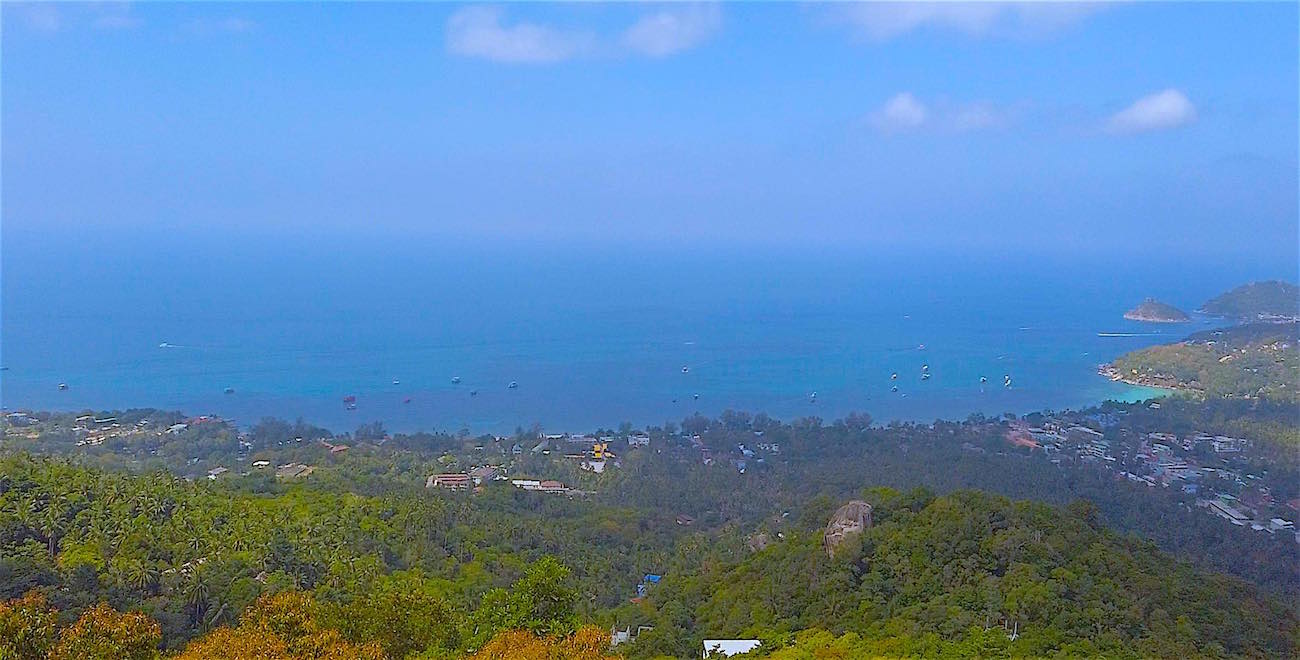 Koh Tao Two Views Café & Restaurant
Koh Tao Two Views ist ein weiterer großartiger Platz, um die atemberaubende Schönheit der Westküste von Koh Tao zu erleben. Ihr könnt auch Erfrischungen kaufen, während ihr euch entspannt und die atemberaubende Aussicht genießt.
For more information about West Coast Viewpoint and how to get there, visit our office in Mae Haad or contact us to discuss your itinerary.
Für weitere Informationen über West Coast Viewpoint und wie ihr dorthin gelangt, besucht unser Büro in Mae Haad oder kontaktiert uns, um eure Reiseroute zu besprechen.
FAQ - Häufig gestellte Fragen
Wie lange dauert es, zum West Coast Viewpoint zu gelangen?
Um von Mae Haad aus zu Fuß zum West Coast Viewpoint zu gelangen, benötigt ihr ungefähr 1 Stunde, da sich der Aussichtspunkt an einem der höchsten Punkte im Zentrum der Insel befindet.
Kann ich mit einem Roller zum West Coast Viewpoint fahren?
Ihr könnt einen Roller auf dem Weg zum Aussichtspunkt nehmen und müsst für den Rest der Reise wandern. Für die letzte Etappe der Wanderung gibt es keinen direkten Zugang mit dem Roller.
Kann ich am West Coast Viewpoint Erfrischungen kaufen?
An diesem Aussichtspunkt könnt ihr keine Erfrischungen kaufen, aber am Aussichtspunkt Two Views befindet sich ein Café in der Nähe. Ihr solltet immer Trinkwasser und ein paar Energiesnacks mit euch führen, wenn ihr zu den Aussichtspunkten auf Koh Tao wandert.
Wo ist der West Coast Viewpoint Koh Tao?
Der West Coast Viewpoint befindet sich mitten in Koh Tao, in der Nähe des Two View Rock. Dieser Aussichtspunkt bietet einen atemberaubenden Blick auf Koh Tao und die Westküste, einschließlich eines atemberaubenden Blicks auf Koh Nangyuan.