Mae Haad Bay Koh Tao (Ao Mae Haad)
Mae Haad Bay is the entry point to Koh Tao for all arrivals and departures and is situated in front of Mae Haad village.
Mae Haad village is home to the main ferry piers and where all incoming passenger ferries and freight arrives. It is a busy little village that is easy to get around on foot.
Mae Haad Beach
Mae Haad beach within the bay stretches north and south of the main piers, covering around 800m and despite being right next to the main village, it is rarely busy.
Whilst the beach is wider on the south side of the main piers, it extends a bit further on the north side where it runs into a small rocky headland.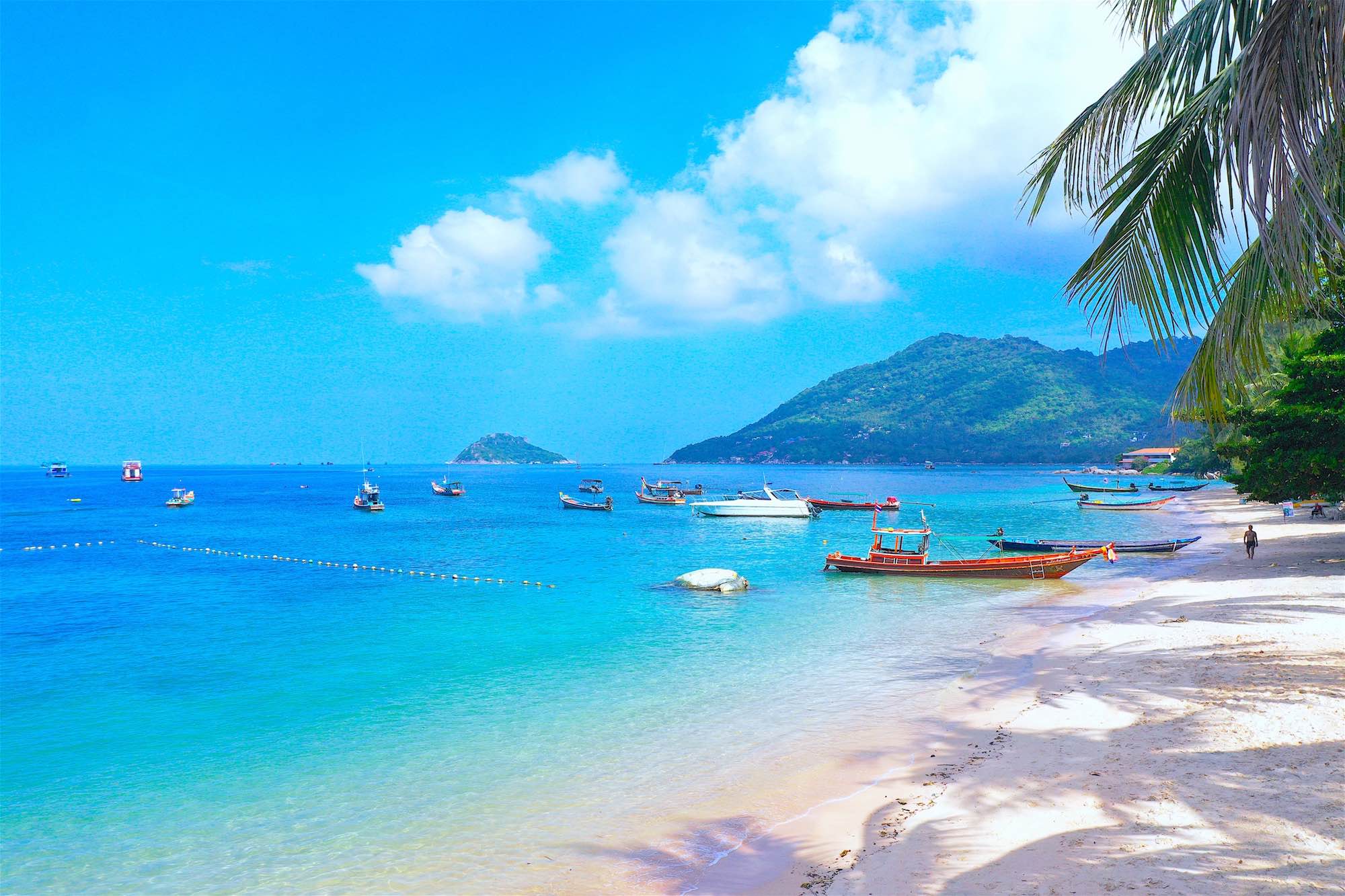 Mae Haad Ferry Pier on Koh Tao
The water in the bay is very clean, despite the ferries running in and out on a daily basis. Many of the scuba diving schools also use the pier for loading equipment and students onto dive boats, before heading out to the dive sites.
For the best snorkeling you should head to the south end of the bay where there are rocky outcrops and a shallow shipwreck that is usually teeming with various species of marine life.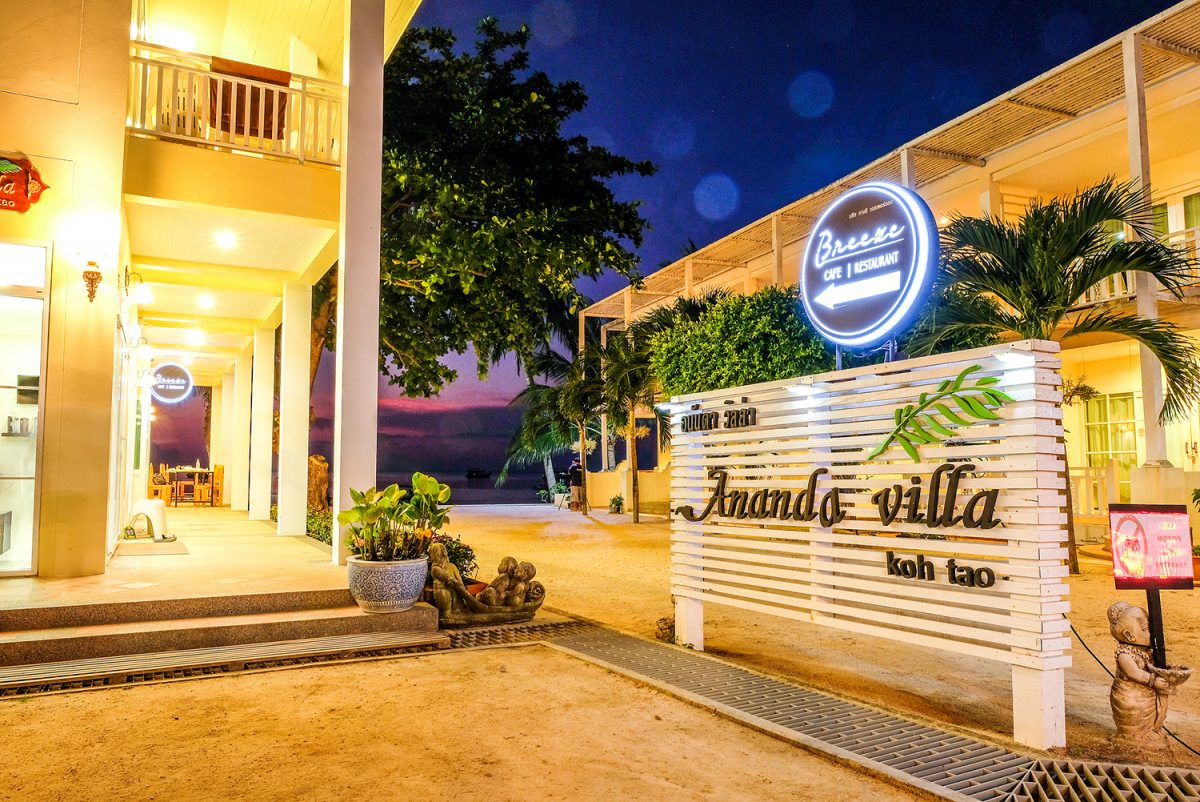 Mae Haad Accommodation Options
Mae Haad village offers a huge choice of accommodation options, from hostels, bungalows, hotels, resorts and many of them are on or very close to the beach.
If you locate yourself in Mae Haad, you are never more than 15-20 mins away from other parts of the island that you can visit on a rented scooter.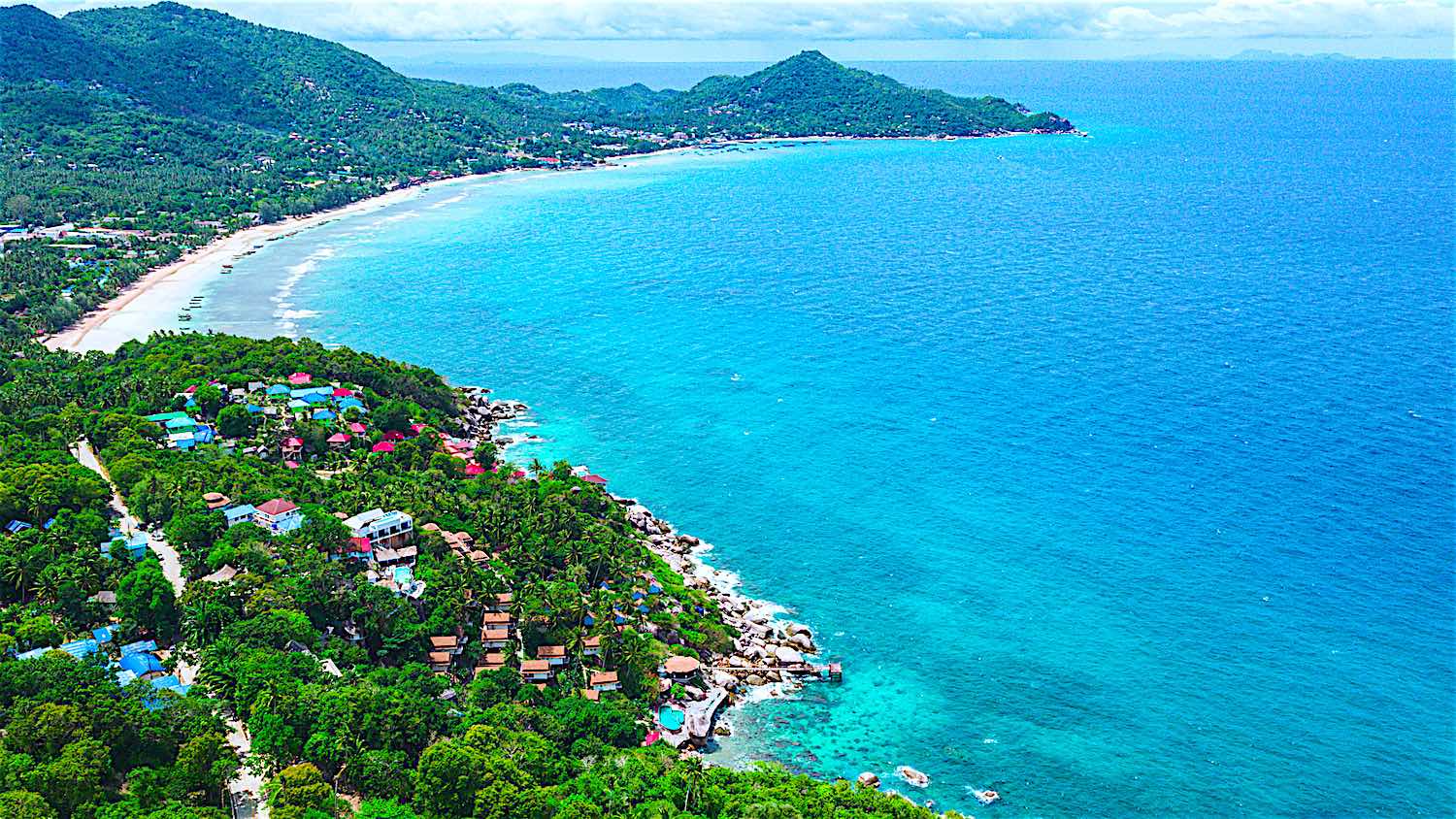 Longtail Taxi Boat Mae Haad Bay
Most of the resorts offer private resort taxis and Mae Haad has an abundance of private taxis, so you can travel around safely.
Mae Haad village also has many longtail boat taxis and drivers eager to please and ready to take you anywhere you want to go.
From Mae Haad you can visit Koh Nangyuan island or take a tour around the headland to visit either Mango bay, Shark bay, Saideng or any of the other bays and snorkeling spots.
Just remember to discuss and agree the price before you board, so there are no misunderstandings and all parties are happy with the arrangement.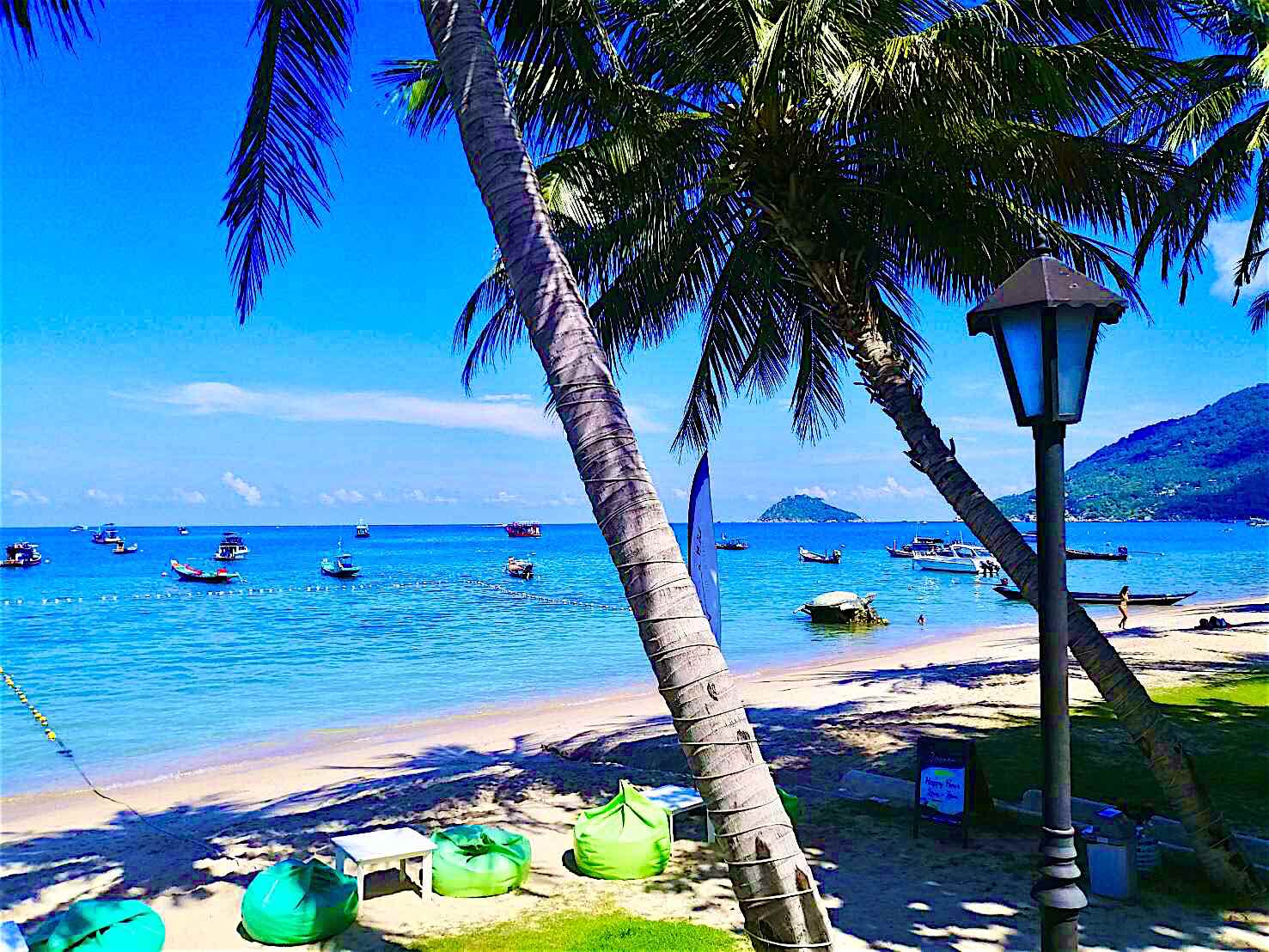 Mae Haad Bars & Restaurants
Mae Haad village also has a good selection of bars and restaurants to cater to those who want to try Thai food or western international cuisine, many of which offer a beach front view.
If you are a visitor that can't go without traditional western foods, there are café's, pizza's, pancakes, sandwiches, wraps, burgers, fries, steaks, fish and a whole host of western style food to choose from.
If you are here on a mission to try the best Thai food that Thailand has to offer, you can choose from a range of traditional Thai restaurants and street stalls.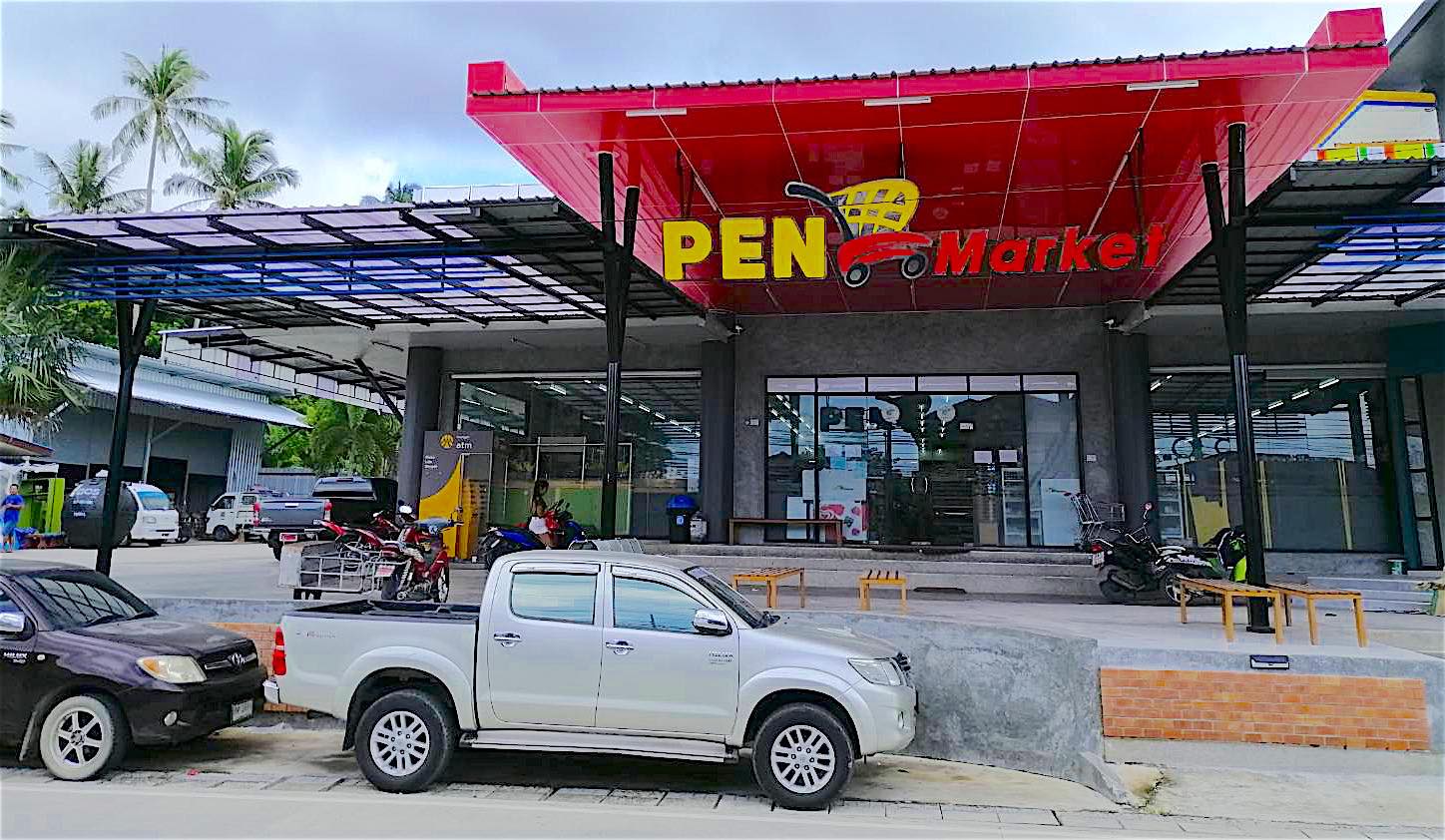 Mae Haad Koh Tao Banks, Post Offices, Shops and Hospital
Staying in Mae Haad bay can be very convenient as you are very close to the piers, but also to the local government office, hospital, banks, post office and the Koh Tao temple.
There are ATM machines on almost every corner and the 4 main banks have their main branches in Mae Haad.
The main Post Office is near the top of the 'down road' in Mae Haad and the local government 'Koh Tao' Hospital is just a 2 minute walk from the main pier, halfway up the 'up road' in Mae Haad.
There are also lots of shops in the area selling souvenirs, beachwear, handmade jewellery, clothing, scuba diving and snorkeling equipment.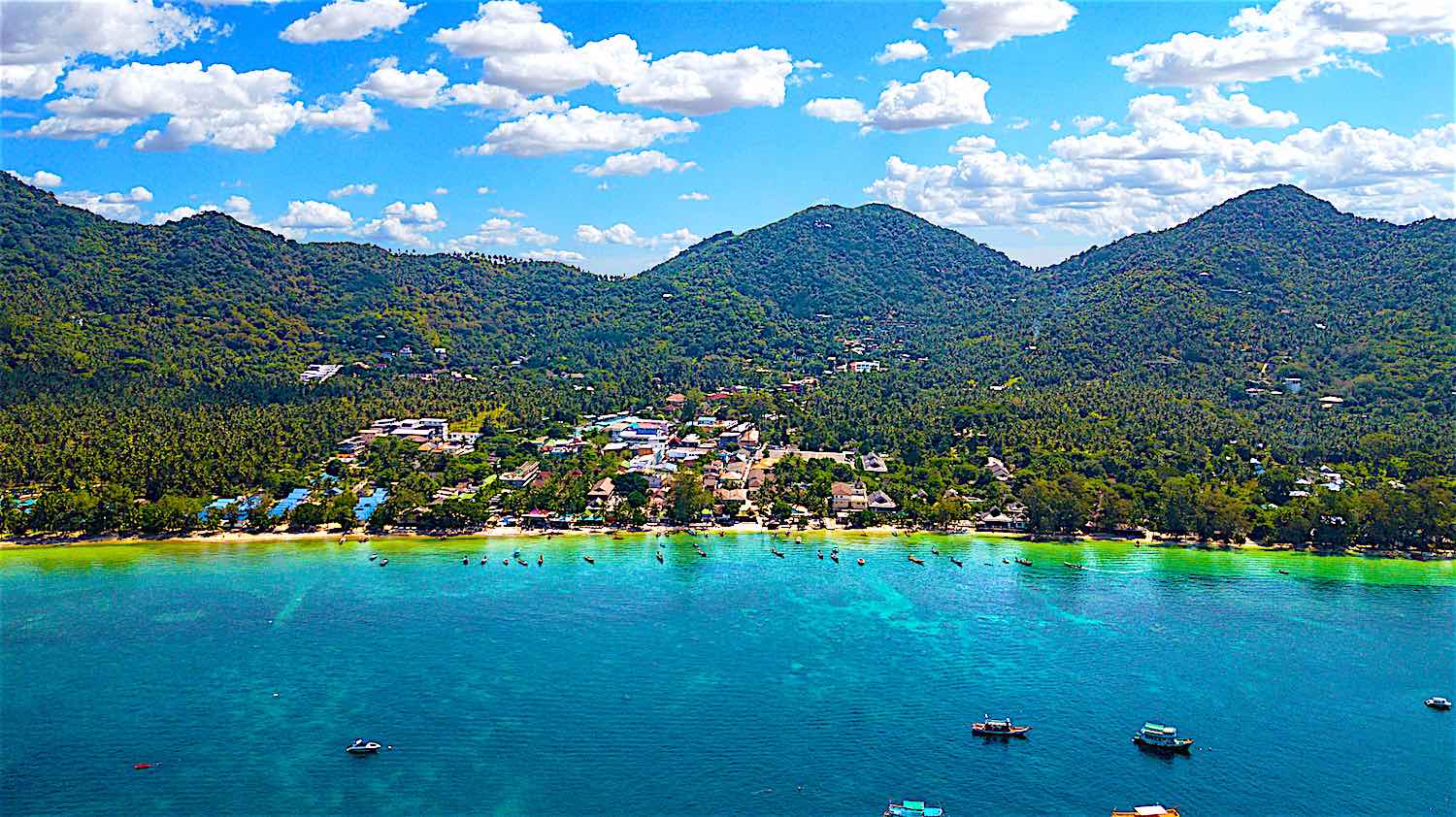 Walking from Mae Haad to Sairee Village
In addition to the convenience of having so many amenities nearby, staying in Mae Haad puts you in a good location for visiting other areas on the island by foot.
It is just a 20-minute walk to get to Sairee beach from here and you can walk to some of the beaches and beautiful bays in the south of the island in less than an hour.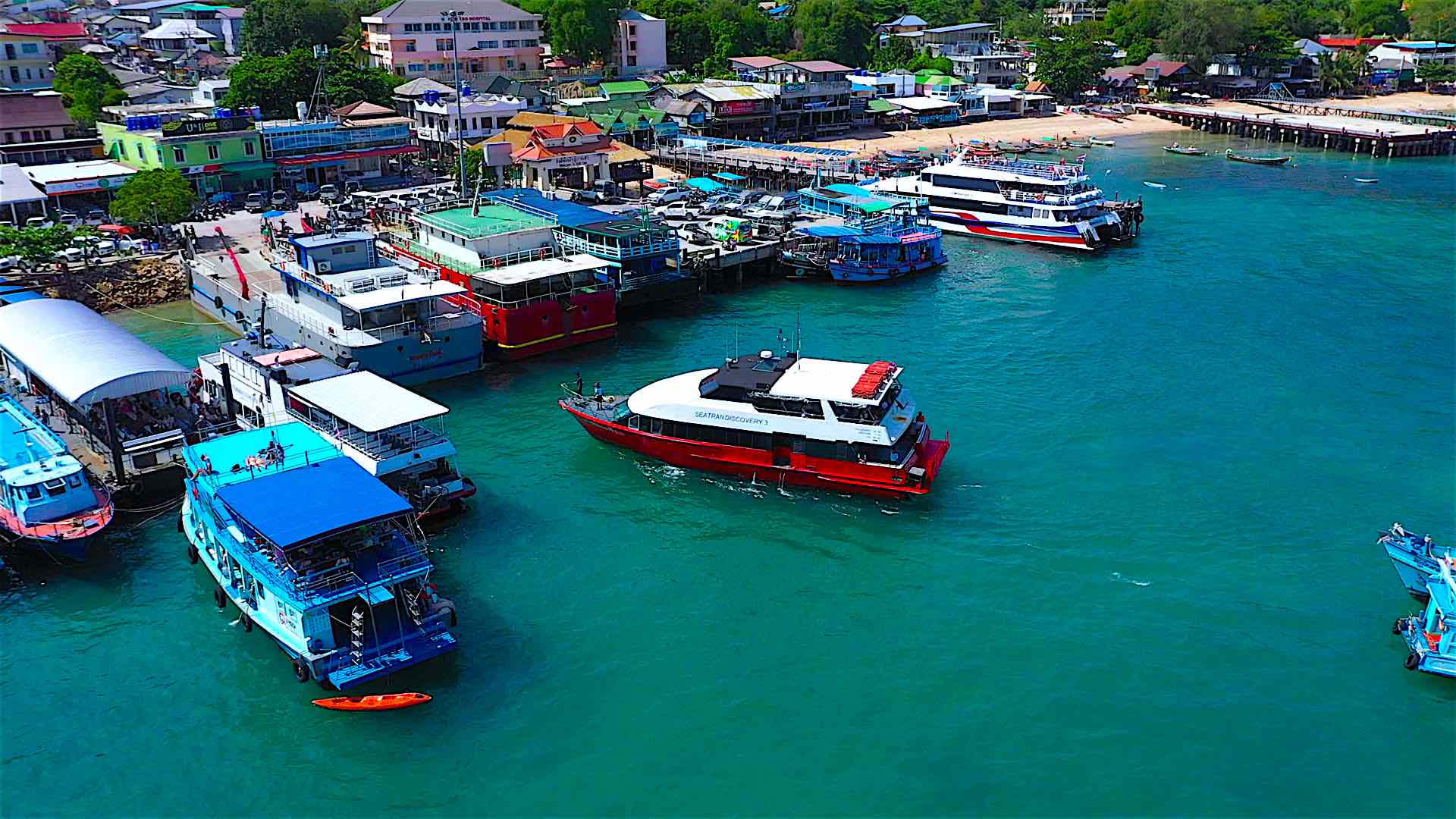 Walking from Mae Haad to Chalok Baan Kao
Mae Haad is a great starting point for hiking along the west coast trail to Sainuan beach, Banana Rock, Tao Thong and around the southern headland to Chalok Baan Kao.
You will need to pass through resort properties at Charm Churee villa's, Jansom bay and in places there can be a charge, depending on what route you take.
Please look out for the signs and check before venturing onto other people's private land.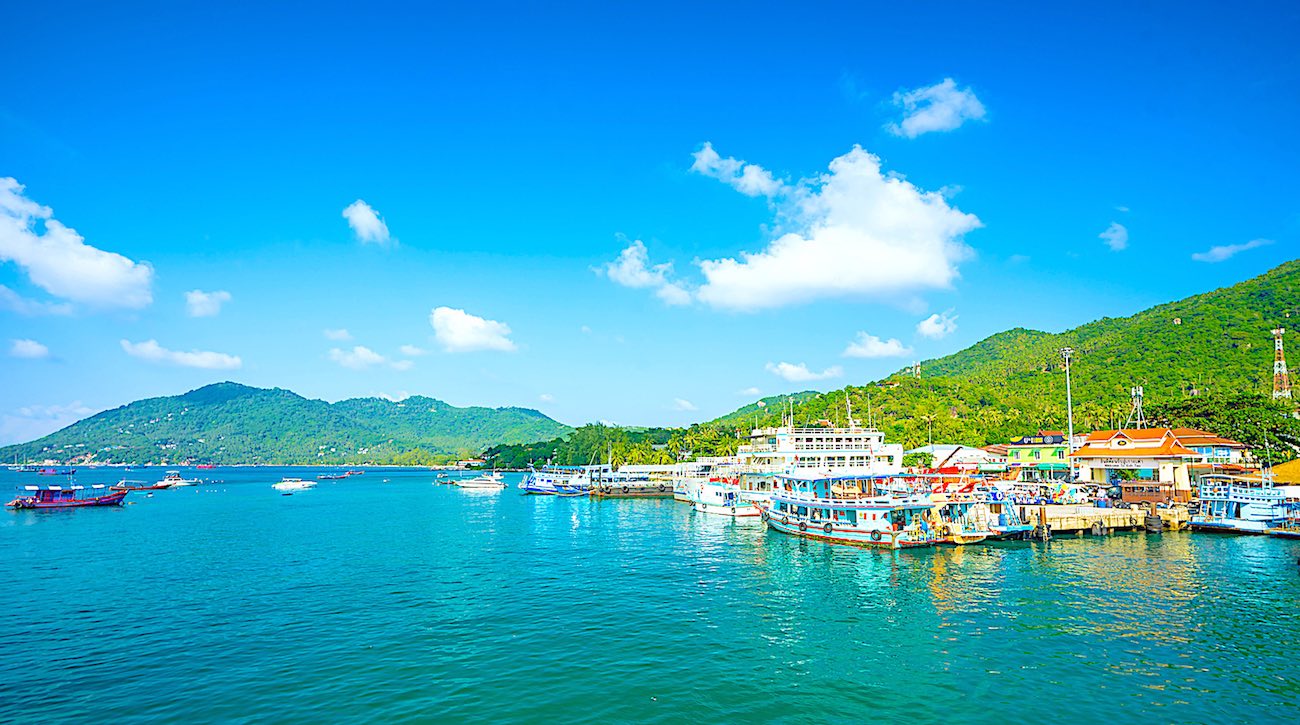 Checking Maps
It is important to remember that Google Maps and Maps.Me may not always be accurate and you may accidentally find yourself on private land.
When using directional Apps on your phone please use common sense, especially as some of these locations have been uploaded by members of the public without fact checking.
Yellow Brick Road to Sairee
Mae Haad also has a small road that locals and residents call, the 'yellow brick road'. Its far from being yellow but it's a direct walking route to Sairee beach and village and takes around 15-20 minutes to walk.
Walking to Sairee from Mae Haad you will pass an abundance of shops, stalls, bars, diving schools and many other businesses, so you can take your time and stop for refreshments along the way.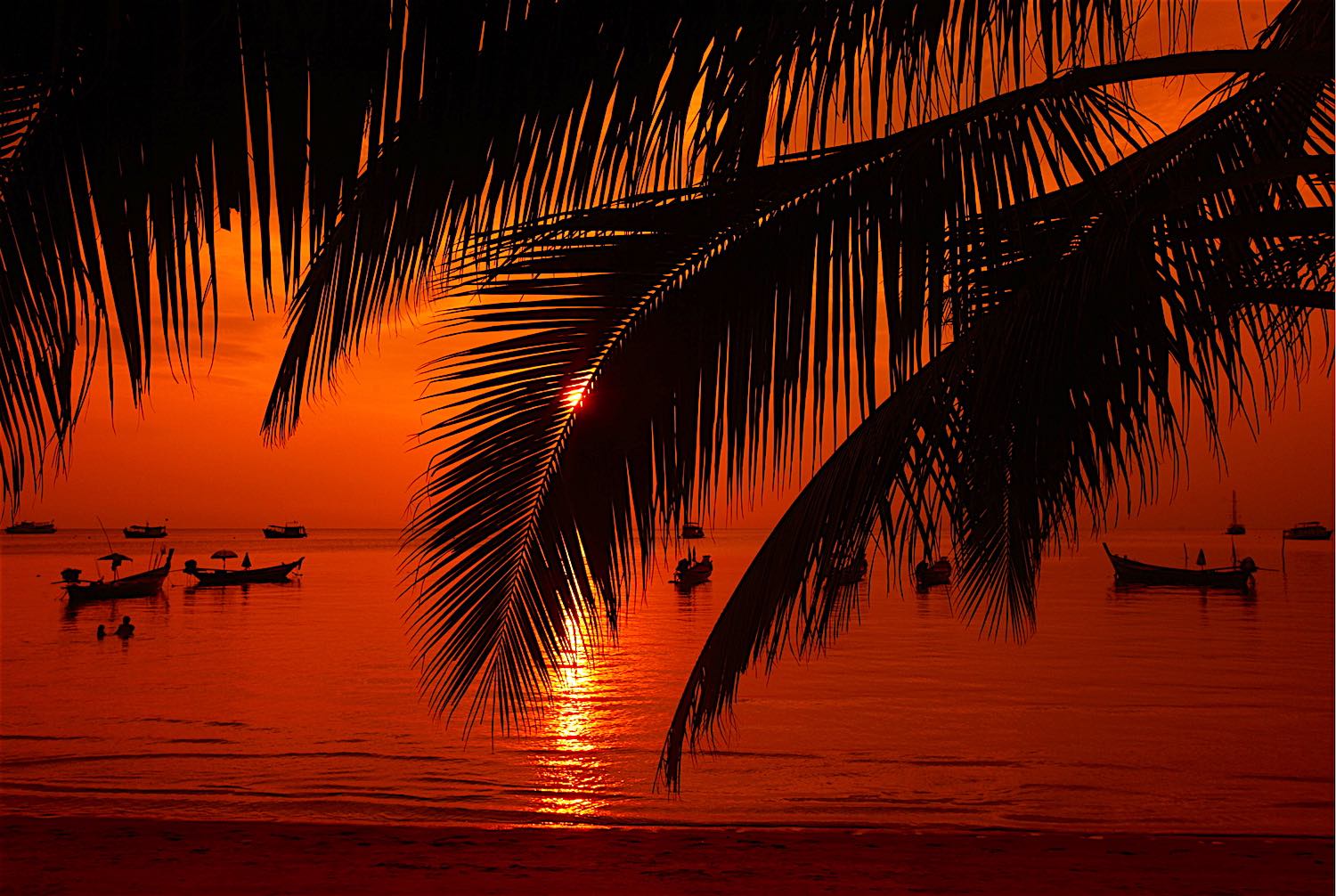 Sunset on Koh Tao from Mae Haad Bay
Mae Haad is also a great location if you want to while away an hour and watch one of Koh Tao's spectacular sunsets.
Mae Haad faces west so you can enjoy food, grab a cocktail or do what many people do, just come down and watch the sun as it sets over the horizon.
Our office is located a 1 minute walk from the main ferry piers, so look out for the logo or you can contact us in advance with your questions.
You are welcome to come in, recharge your phones, grab a drink and ask about the things you would like to do or places you want to stay, we are here to help.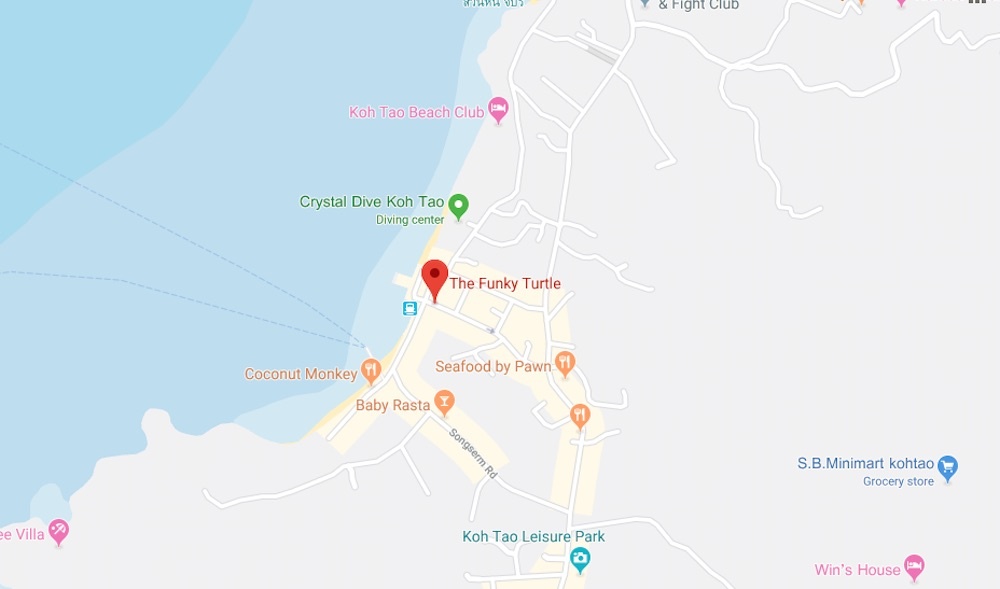 Frequently Asked Questions
Are there ATM machines in Mae Haad Koh Tao?
There are lots of ATM machines located in Mae Haad on every street. Mae Haad is the main ferry port and village where you will disembark upon your arrival.
It is also the location for all the Thai bank branches available on Koh Tao.
How long does it take to walk to Sairee from Mae Haad Koh Tao?
You can walk from Mae Haad to Sairee beach in 15 minutes along the small brick made beach road.
Locals call this road 'the yellow brick road' and it is used for walking along and by scooters, so be aware of what is approaching you from both directions.
Is the accommodation expensive in Mae Haad Koh Tao?
There is a huge choice of accommodation in Mae Haad from budget hostels at 200 – 300baht a night per person, to luxury hotels and resorts with swimming pools from 1000 – 5000+baht a night.
What you choose will depend on your budget, however, you can contact us for the best recommendations and to discuss your itinerary.
Where can I buy western food in Mae Haad Koh Tao?
Mae Haad village offers visitors a wide choice of restaurants, café's and street food to everyone's tastes. You can buy western food from many of the reputable establishments and enjoy an ocean view or watch live sports.
Are there pharmacies in Mae Haad Koh Tao?
As the main pier town on Koh Tao, Mae Haad has many pharmacies and they provide a wide choice of prescription medications.
The Koh Tao hospital is also located in Mae Haad with a dispensary and there are many private medical clinics in the village.
Can I use the local hospital in Mae Haad Koh Tao as a visitor?
Visitors to Koh Tao and local residents can use the local government hospital located in Mae Haad village.
Travellers who want to see a doctor will need to bring their passport to register and provide satisfactory identification.
Can I book a scuba diving course in Mae Haad Koh Tao?
There are many dive centres located in Mae Haad that offer visitors a range of diving courses with different levels of service.
If you want to book a diving course, contact us to discuss your travel plans and we can book your course with a 10% deposit.
How do I get to my hotel from the pier in Mae Haad Koh Tao?
If you have pre-booked accommodation with a resort or hotel, many of them will provide a shuttle and transfer service to and from the ferry pier. If you are unsure of where to stay, contact us to discuss your travel plans and we can arrange the accommodation and transfers to and from the pier with your luggage.