Wie man zum Fraggle Rock Viewpoint Koh Tao kommt
Fraggle Rock Viewpoint befindet sich in Richtung Zentrum von Koh Tao, hoch über dem Strand von Sairee und bietet einen atemberaubenden Blick über die Westküste der Insel.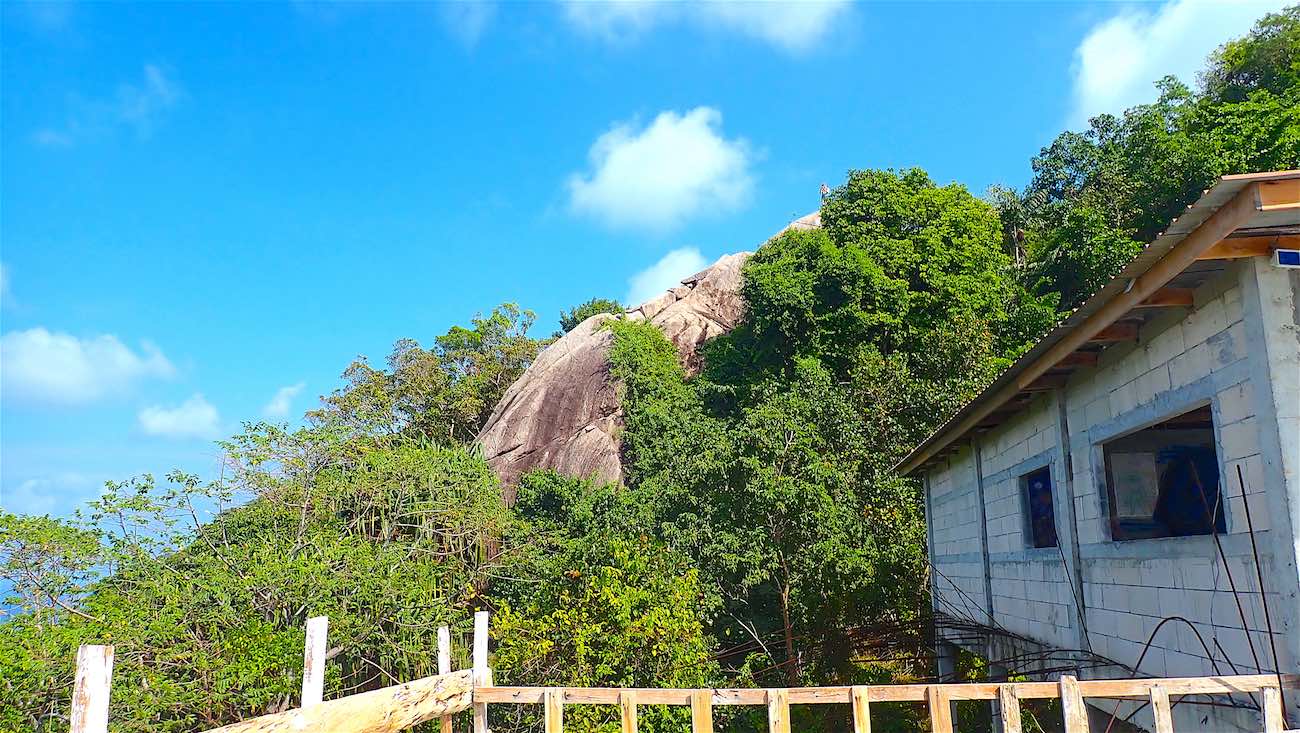 Wunderschöne Sonnenuntergänge
Der Aussichtspunkt ist ein ausgezeichneter Platz für Besucher, um einen der atemberaubenden Sonnenuntergänge im Golf von Thailand zu erleben.
Es ist möglich, Fraggle Rock mit dem Roller zu erreichen. Wenn ihr jedoch eine anspruchsvolle Wanderung unternehmen möchtet, könnt ihr die gesamte Reise zu Fuß unternehmen.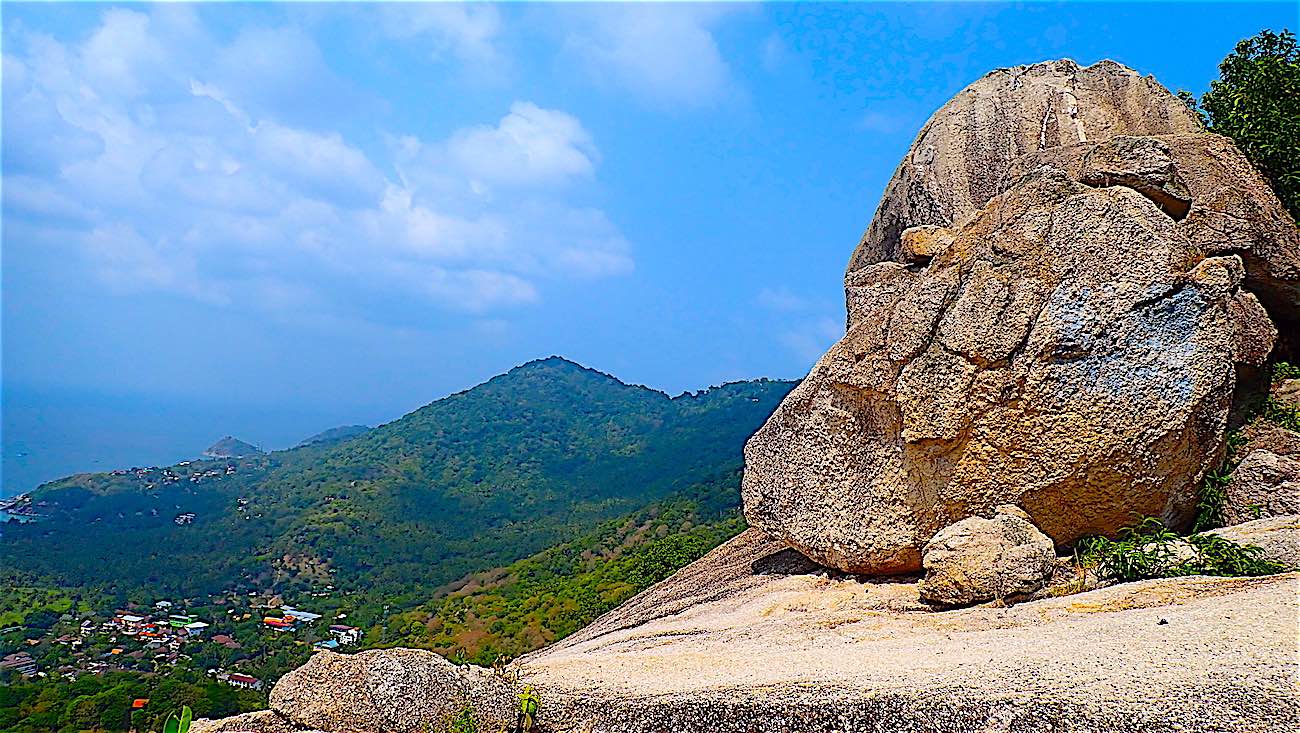 Sairee Beach zum Fraggle Rock Viewpoint
It takes approximately an hour to hike to Fraggle Rock starting from Sairee village crossroads next to the 7/11 shop and is uphill all the way.
Es dauert ungefähr eine Stunde, um zum Fraggle Rock zu wandern, beginnend an der Kreuzung des Dorfes Sairee neben dem 7/11-Laden, und es geht den ganzen Weg bergauf.
Wenn ihr der Betonstraße zur Bucht von Hin Wong folgt, biegt links ab in Richtung Jims Bar und Mango Bay Viewpoint und haltet Ausschau nach der rechten Abzweigung auf den Pfad nach Fraggle Rock.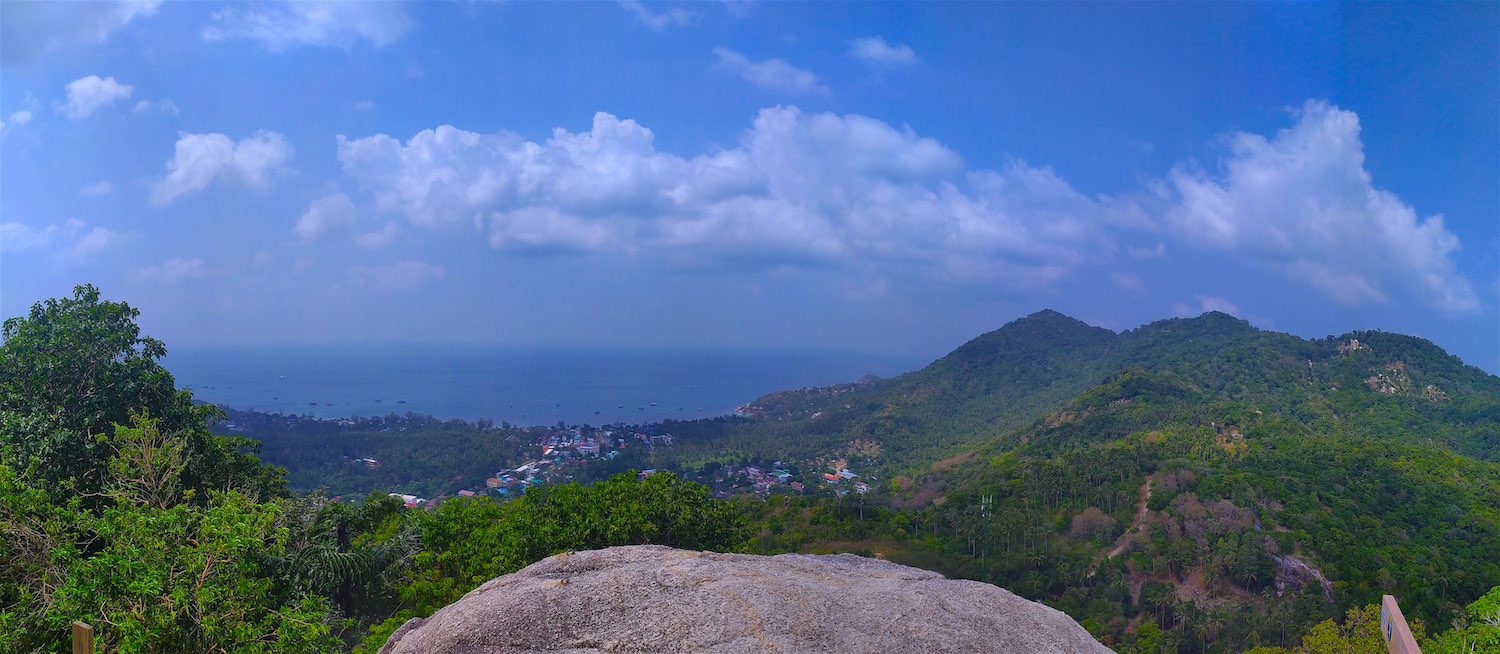 Meks Berg
Sobald ihr auf diesem Weg seid, wandert weiter, bis ihr die Funkantenne erreicht. Nebenan findet ihr eine weitere Rechtskurve, die euch zum Mek's Mountain führt, einem Aussichtspunkt, der viel kleiner als der Fraggle Rock ist.
Nehmt diese Kurve und wenn ihr Zeit habt, klettert auf die Strickleiter, die am Granitfelsen befestigt ist, und genießt den Blick über die Bucht von Hin Wong.
Der letzte Teil des Weges, der am steilsten ist, hat Seile, die euch helfen. Wenn ihr mit dem Roller zu diesem Punkt gekommen seid, müsst ihr ihn parken und den letzten Abschnitt zu Fuß zurücklegen.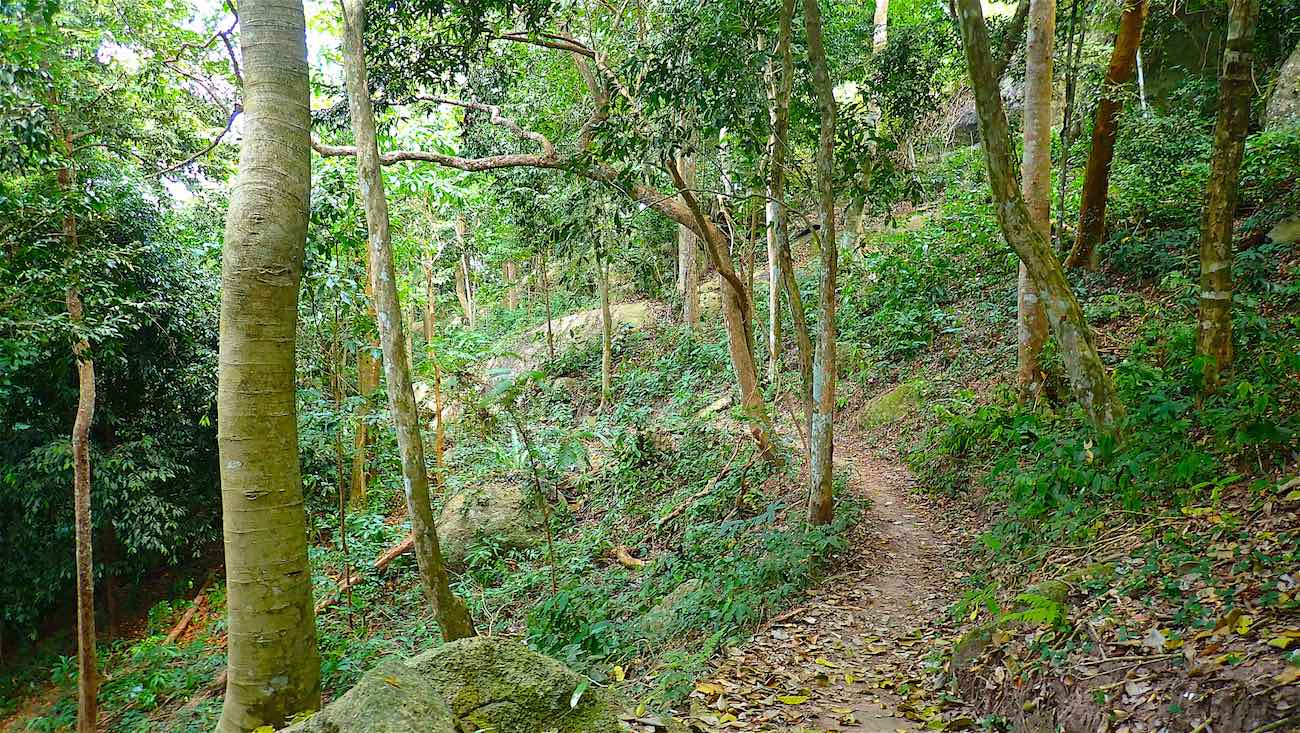 Wandern zum Fraggle Rock Viewpoint
Sobald ihr Fraggle Rock erreicht habt, müsst ihr hochklettern, um an die Spitze zu gelangen, aber der Blick auf den Strand von Sairee und über das Meer ist die Mühe wert.
Sobald ihr den Sairee-Bereich verlasst, gibt es keine Geschäfte mehr. Ihr müsst daher sicherstellen, dass ihr Trinkwasser, Insektenschutzmittel, umweltfreundliche Sonnencreme und Snacks mit euch bringt.
Abhängig von eurer Fitness kann es eine herausfordernde Wanderung sein. Tragt daher vernünftige Schuhe, keine Flip-Flops und nehmt ein kleines Handtuch mit, da ihr schwitzen werdet.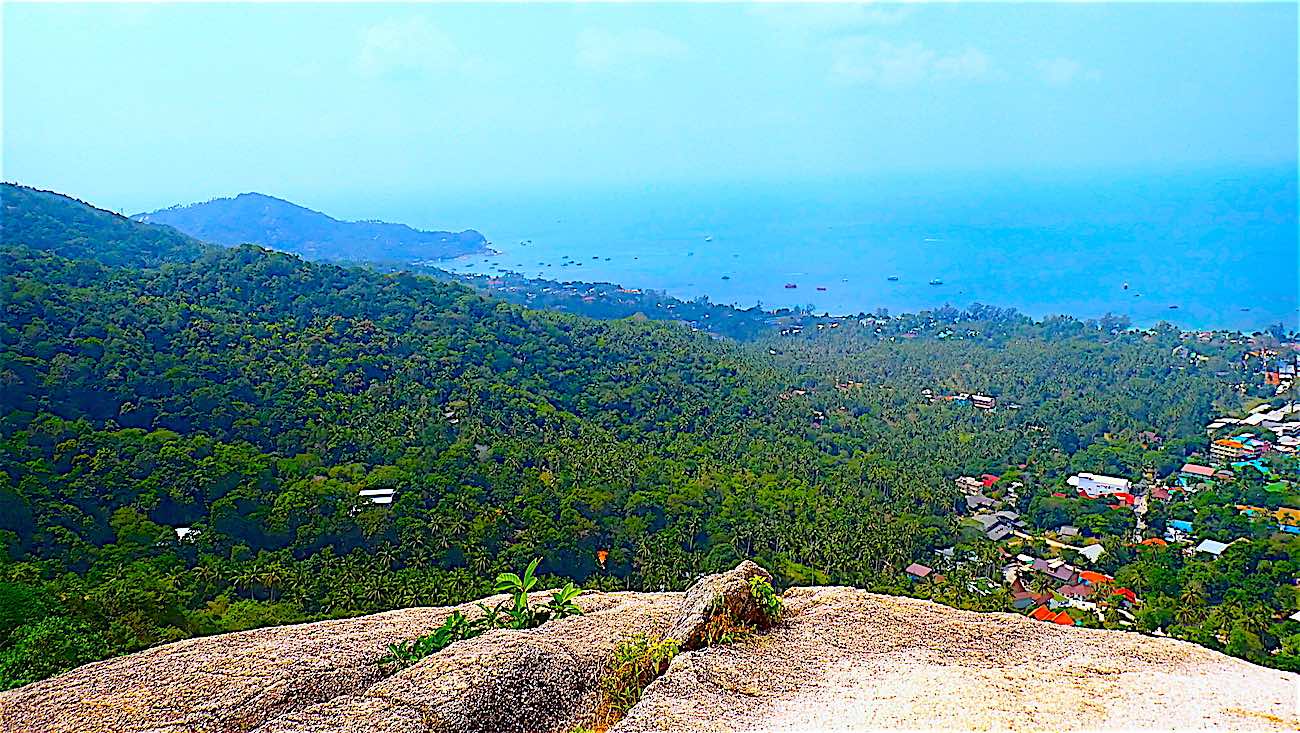 Atemberaubende Sonnenuntergänge vom Fraggle Rock Viewpoint
Wenn ihr den Aussichtspunkt besuchen möchtet, um den Sonnenuntergang zu genießen, müsst ihr für den Rückweg eine Taschenlampe mitnehmen, da es keine Straßenlaternen gibt, die euch helfen, den Weg zurück nach unten zu finden.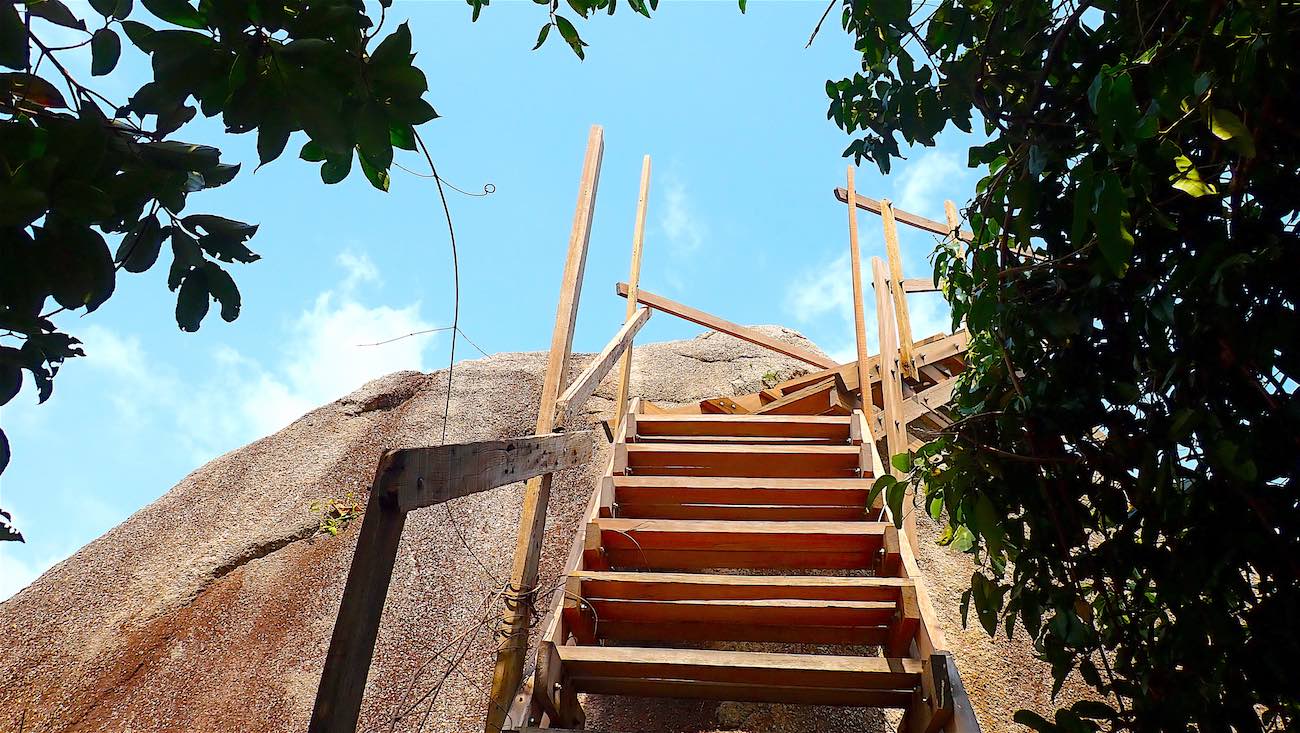 Entdeckt die Aussichtspunkte von Koh Tao
Der Besuch des Aussichtspunkts Fraggle Rock ist eine großartige Möglichkeit, den Dschungel und das raue Gelände an der Nordostküste von Koh Tao zu erkunden.
Es kann in einem halben Tag abgeschlossen werden und es lohnt sich, am Morgen dorthin zu wandern, bevor die Sonne zu heiß wird.