Seal Team Scuba Diving for Kids
The Seal Team program is a series of underwater scuba adventures specifically for children that are at least 8 years of age that initially cover basic scuba skills.
The adventures progress onto more specialised underwater activities such as learning how to navigate underwater, taking underwater photos, practicing and fine tuning buoyancy and learning about the importance of environmental awareness.
This structured, safe and supervised program is the perfect holiday activity for your children whilst you relax by the pool, watch and record or even get involved yourself.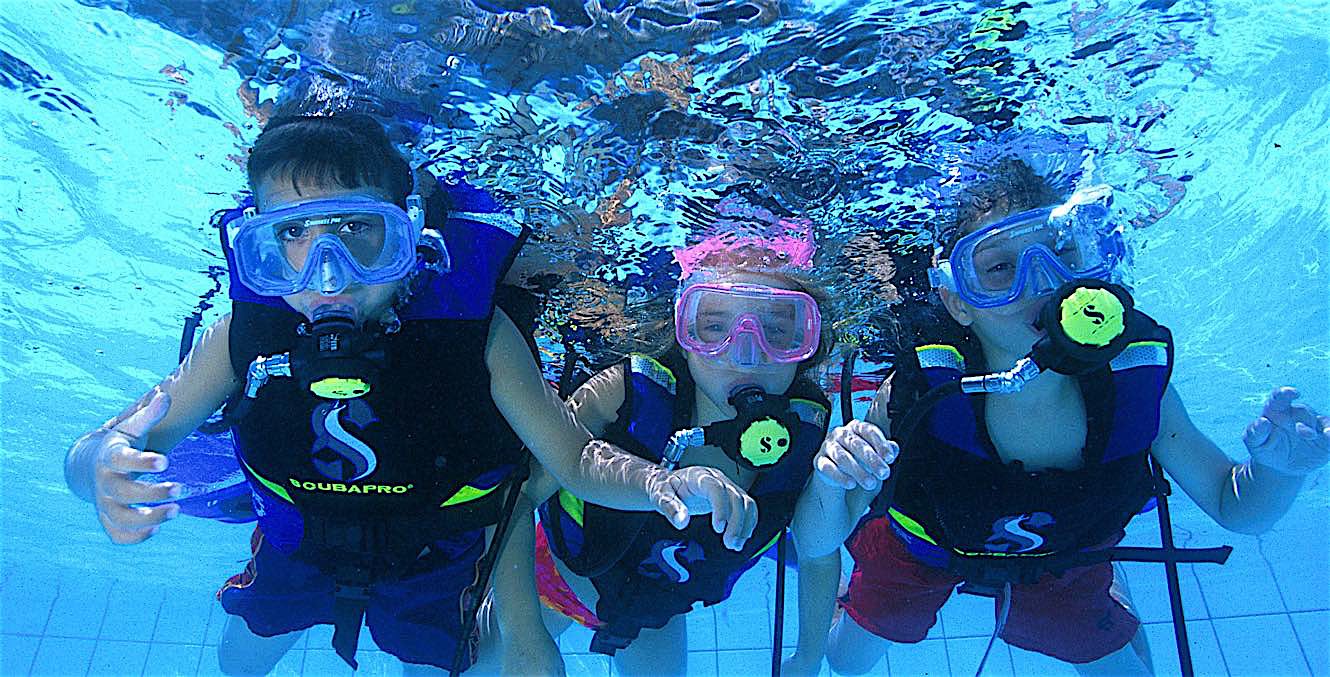 Seal Team Aquamissions for Kids on Koh Tao
The Seal Team Aqua missions are a great follow on for any child that has already completed the Bubblemaker program.
Even if they haven't, your kids can start their scuba experience taking their first breaths underwater, with Seal Team Aqua mission 1 and like the Bubblemaker program has a maximum depth limit of 2 metres.
Aquamissions introduce concepts such as equalisation of ears and mask, underwater communication, monitoring air supply and swimming in scuba gear and controlling depth.
Participants then progress through Aquamissions 2 to 5 where they can move into deeper water, eventually getting to a maximum depth of 4 metres.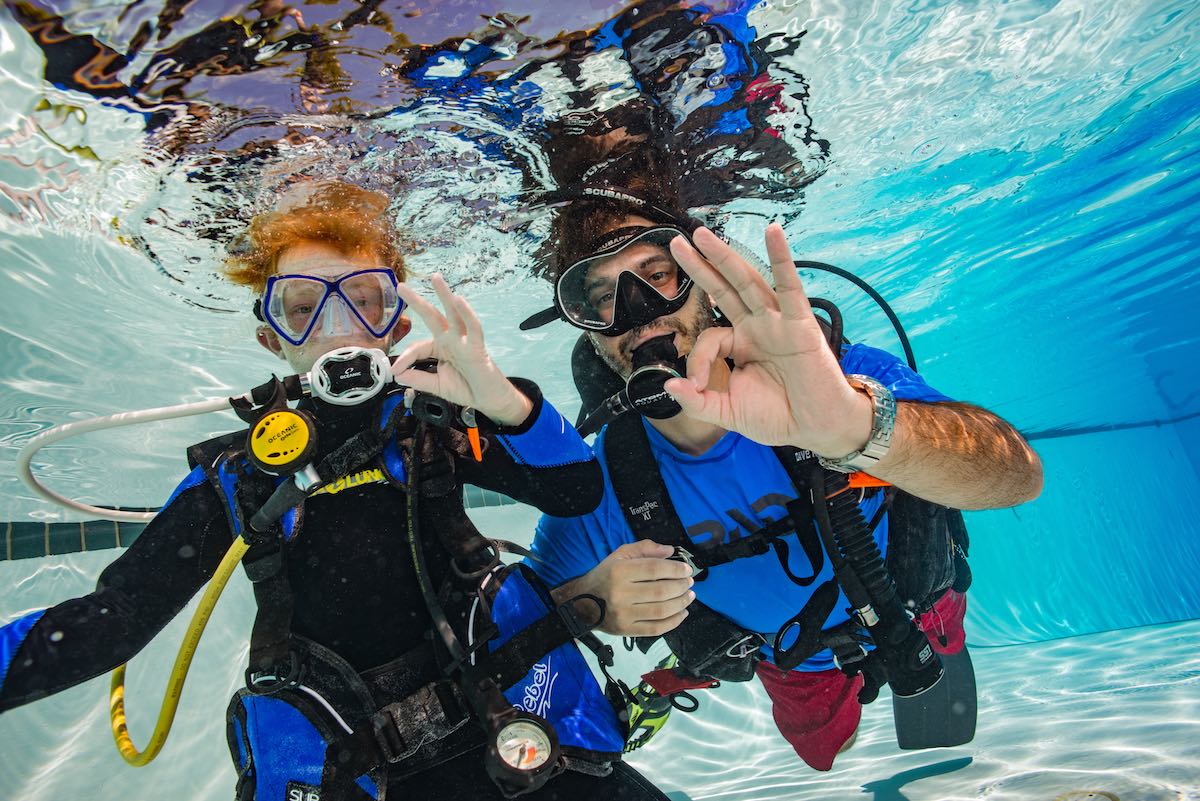 Fun Activities
As part of the Seal team program your child will receive an activity pack full of fun and games and there are some short classroom sessions, where your child will learn about their Aquamission.
The Aquamissions are designed with cartoons and games as well as mazes and an obstacle course.  As some of the missions are quite complex all Seal team dives are conducted in a swimming pool.
During these Aquamissions we introduce more complex skills such as mask and regulator clearing, out of air emergency procedures and neutral buoyancy skills.
Skill practice also includes mid water hovering where your kids resemble Yoda from Star Wars sat in a buddha position just hanging there.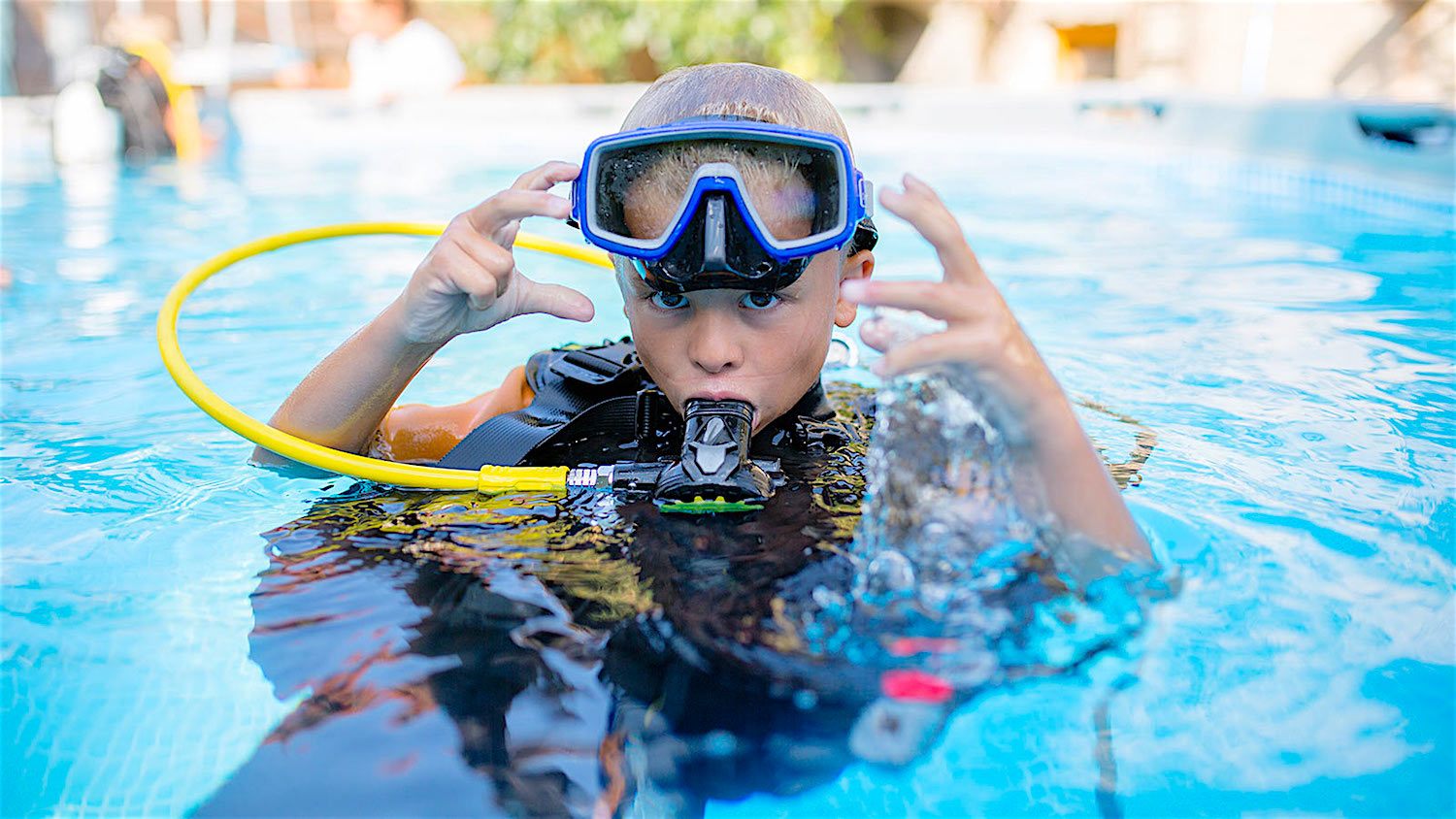 Seal Team Aquamission Membership
Successful completion of these 5 Aqua missions qualifies your child for Seal Team membership.
The great thing with the Seal Team program is you can complete as many Aquamissions as you can, then pick things back up again on subsequent trips to scuba diving destinations around the world.
Of course, you can continue on a return visit to Koh Tao like many of our repeat visitors, as they tend to enjoy the Rock so much.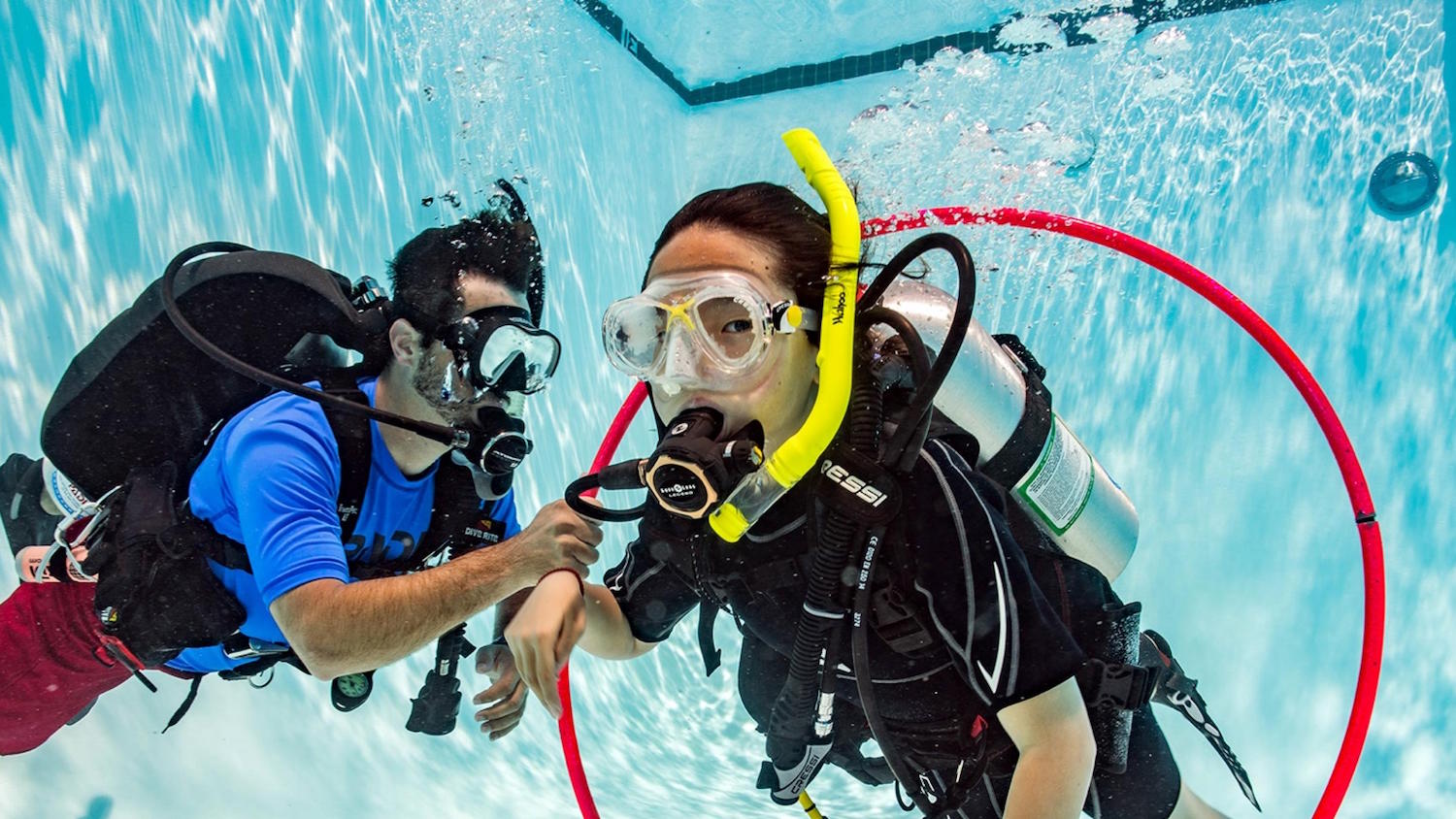 Aquamission Specialist
Once a Seal team member, your child's next step is to start the Aquamission Specialist program.
For PADI Master Seal Team membership, PADI Seal Team members complete an additional 10 Specialty AquaMissions, which presents some very cool challenges.
Challenges can include problem solving exercises, additional knowledge of the marine environment and learning the importance of marine conservation.
Your child will also have to independently assemble and disassemble equipment.
Specialty Aqua Mission skills for kids
AquaMission Creature ID Specialist – we will teach your kids how to identify marine life by name and some fun hand signals we can use whilst underwater to communicate that information.
AquaMission Environmental Specialist – we will teach your children the importance of taking care of the marine environment. They will learn new skills including a feet high, head low search position we use in underwater clean ups as well as other basic search patterns.
AquaMission Inner Space Specialist – is where we delve into more buoyancy skills, using the the low-pressure inflator to become neutrally buoyant. We will focus more on that Yoda position again where your child will be perfecting their Hover without kicking or sculling.
AquaMission Navigation Specialist – is exactly what is sounds like. We will be teaching your child how to navigate underwater.
AquaMission Night Specialist –  is lights off in the swimming pool and we will be demonstrating how to use a dive light whilst swimming and navigating around.
AquaMission Safety Specialist –  involves a series of safety related exercises including pre-dive safety checks, cramp removal on self and buddy and towing a tired diver.
AquaMission Search and Recovery Specialist – is essentially a problem solving dive where your child will learn how to use an underwater search pattern to find lost objects. When they have found the object we will show them how to safely lift the object using a lift bag. Lots of fun this one and great to keep the kids super focused.
AquaMission Snapshot Specialist – for the more artistic kids they have the opportunity to use an underwater camera using basic underwater photo composition principles.
AquaMission Wreck Specialist – for the more adventurous, another favourite is to practice more buoyancy and measure a submerged simulated wreck and record measurements on a slate.
AquaMission Skin Diver Specialist – of course, it's not all scuba diving. We will teach the kids several snorkel skills that will be invaluable on every summer holiday you take them on. Some of the skills your children will learn on this Aquamission include airway control while breathing through a snorkel, clearing their snorkel using the blast method and mask clearing while snorkeling on the surface.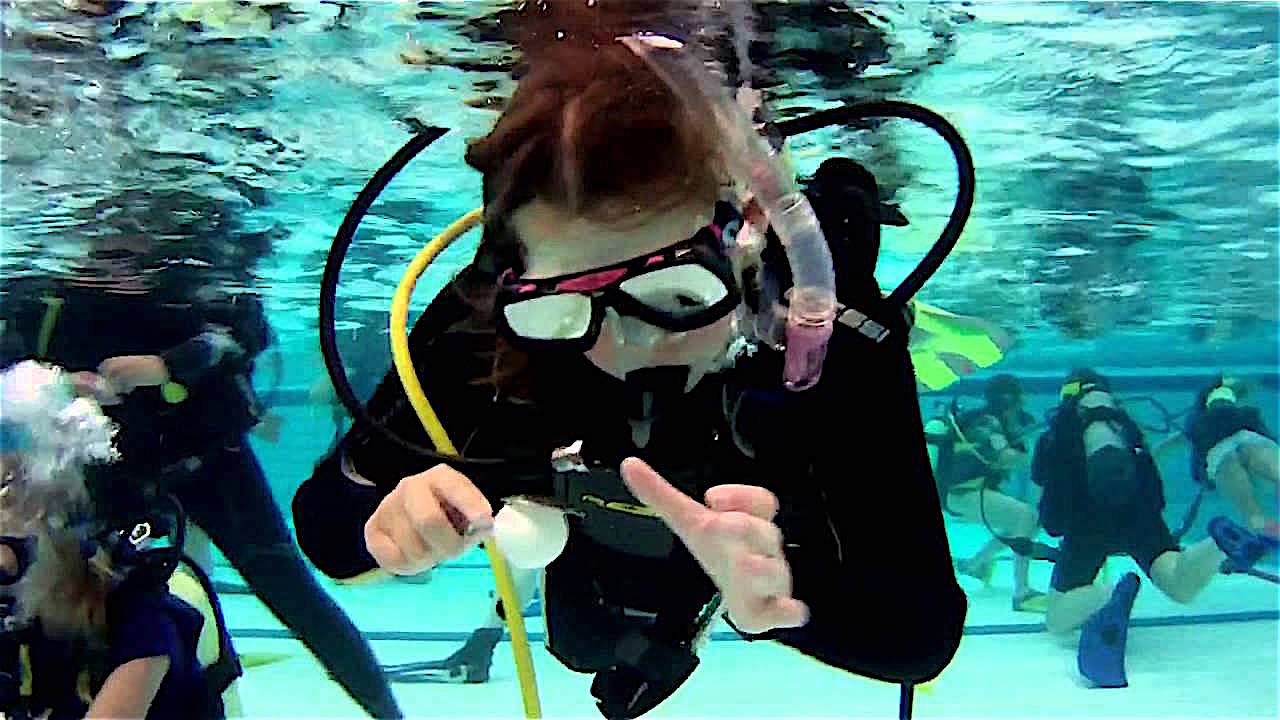 Seal Team Aquamission Schedule
We take a flexible approach to all course schedules and can tailor this program around your family holiday here on Koh Tao. The length of each Aquamission depends on each individual child but we can schedule half day and a full day session.
Seal Team Aquamissions Fit to Dive
Scuba diving is an extremely safe activity but its important that all participants are fit to dive and don't have any medical conditions that may be incompatible with diving.
You will be asked to complete the Seal team medical statement. If you answer 'Yes' to any medical question, please print off the statement and visit your family doctor who will assess your child's fitness to dive.
For more information on scuba for kids and other amazing activities that your children can get involved with on Koh Tao, contact us to discuss your plans.