Die Beer Masons Bar Koh Tao
Das freundliche Team des Beer Masons Koh Tao hat seine Leidenschaft für Qualitäts-Craftbier in ein erfolgreiches Geschäft verwandelt.
Craft Beer Drinking Bar in Sairee Koh Tao
Die Beer Masons beziehen einzigartige Biere aus der ganzen Welt und führen eine große Auswahl an Craft-Bieren, von Weißbier bis zu IPAs, Weizenbieren, Stouts, Sours, ESBs, Amber-Bieren, Lambic-Fruchtbieren und Saison-Bauernbieren.
Diese kleine Boutique-Bar befindet sich am Strip, 100 m von der Sairee Cross Road entfernt und bietet die größte Auswahl an Craft Beer und Cidre außerhalb von Bangkok.
Craft Beer vom Fass
The Beer Masons wurde 2014 gegründet und führte Craft Beer in Koh Tao ein. Vor dem beliebten indischen Restaurant Shalimar gelegen, bekommen Gäste beim Essen im Shalimar eine Ermäßigung von 20% auf Craft-Biere vom Fass.
Was gibt es Schöneres, als ein gutes Craft Beer mit einem hervorragenden indischen Curry zu genießen.
Er ist ein sehr beliebter Ort für Leute, die vor oder nach dem Abendessen einen Drink genießen möchten. Das gemütliche und klimatisierte Interieur ist perfekt, wenn ihr euch nach einem heißen Tag auf Koh Tao abkühlen und ein kühles Bier genießen möchtet.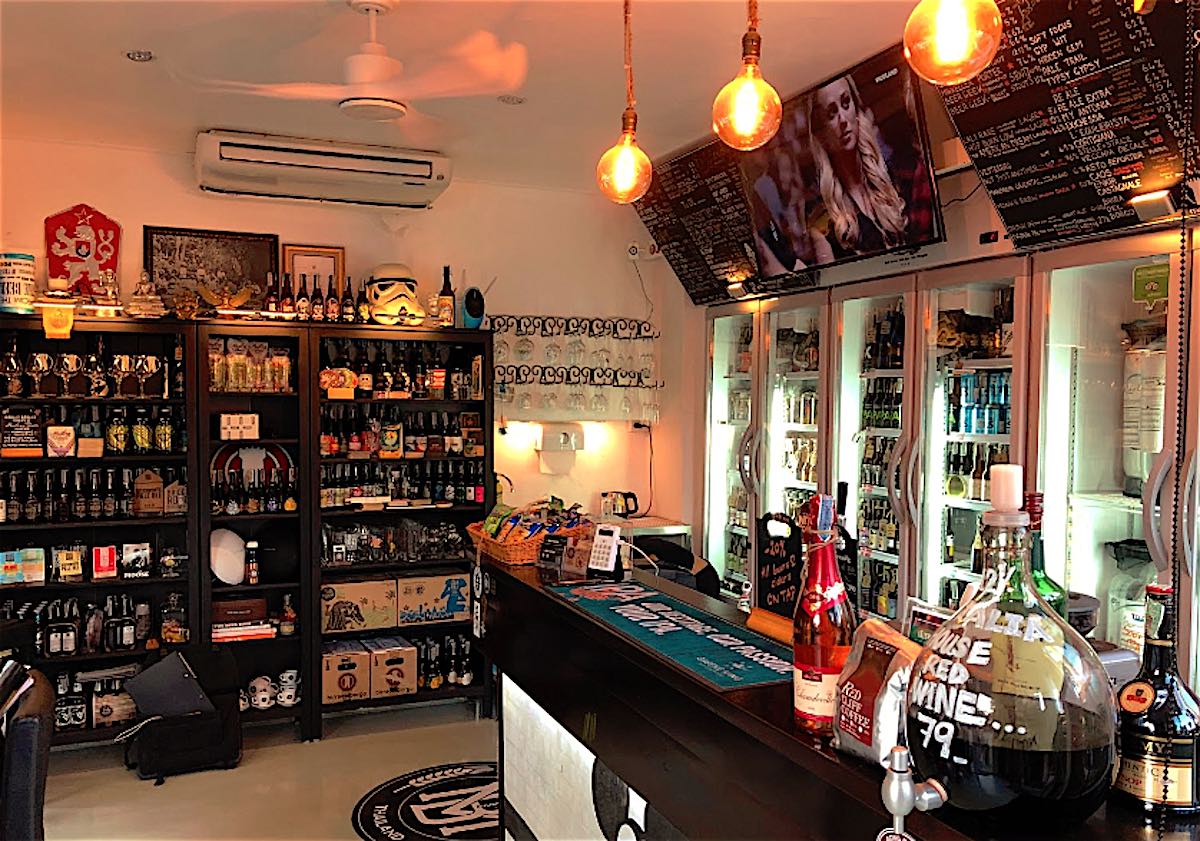 Die beliebte Beer Masons Bar Koh Tao
Für Besucher, die eine Umgebung im Freien bevorzugen, bietet das Beer Masons eine kleine Außenterrasse mit einem großartigen Soundsystem, das den ganzen Abend über Musik spielt.
Es ist an sieben Tagen in der Woche von 17:00 Uhr bis Mitternacht geöffnet und der perfekte Ort, um Leute auf der Hauptstraße von Sairee zu beobachten. Genießen Sie ein Bier mit Aussicht.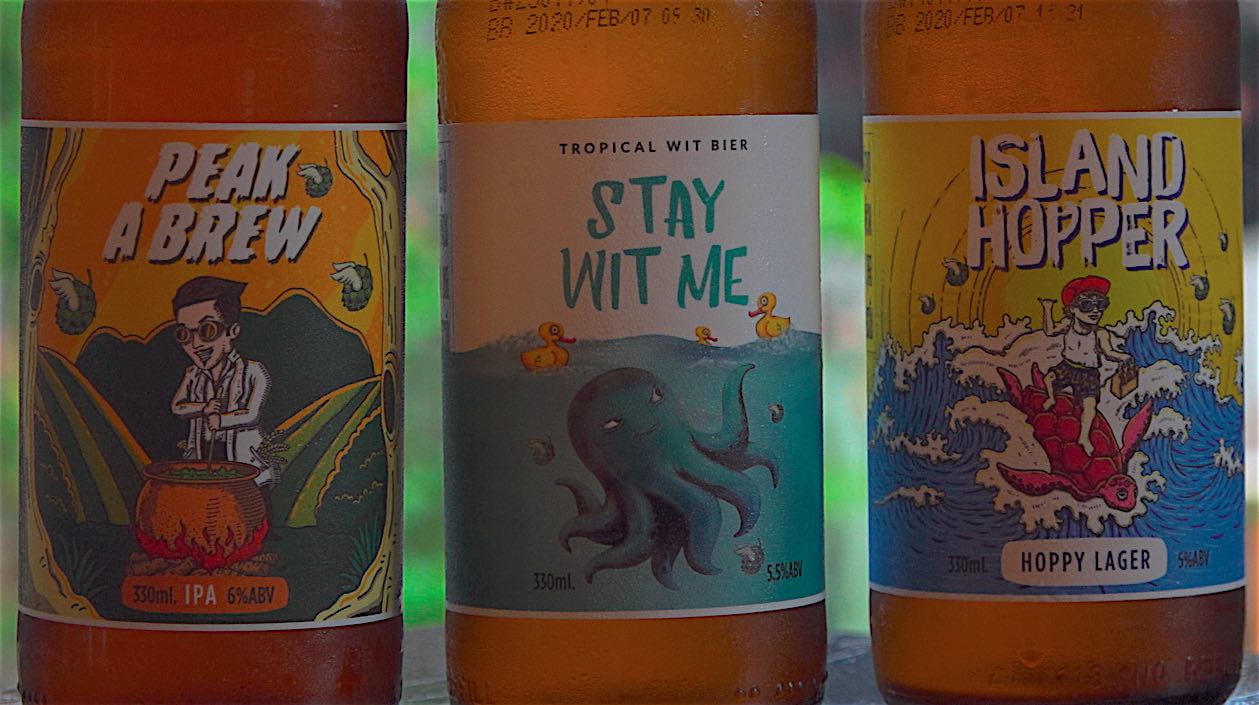 Bestes Craft Beer auf Koh Tao
Das Beer Masons Koh Tao bietet Biere von einigen der bekanntesten Brauereien der Branche an, darunter Mikkeller, Omnipollo und deren beliebtes kaiserliches IPA Nebukadnezar.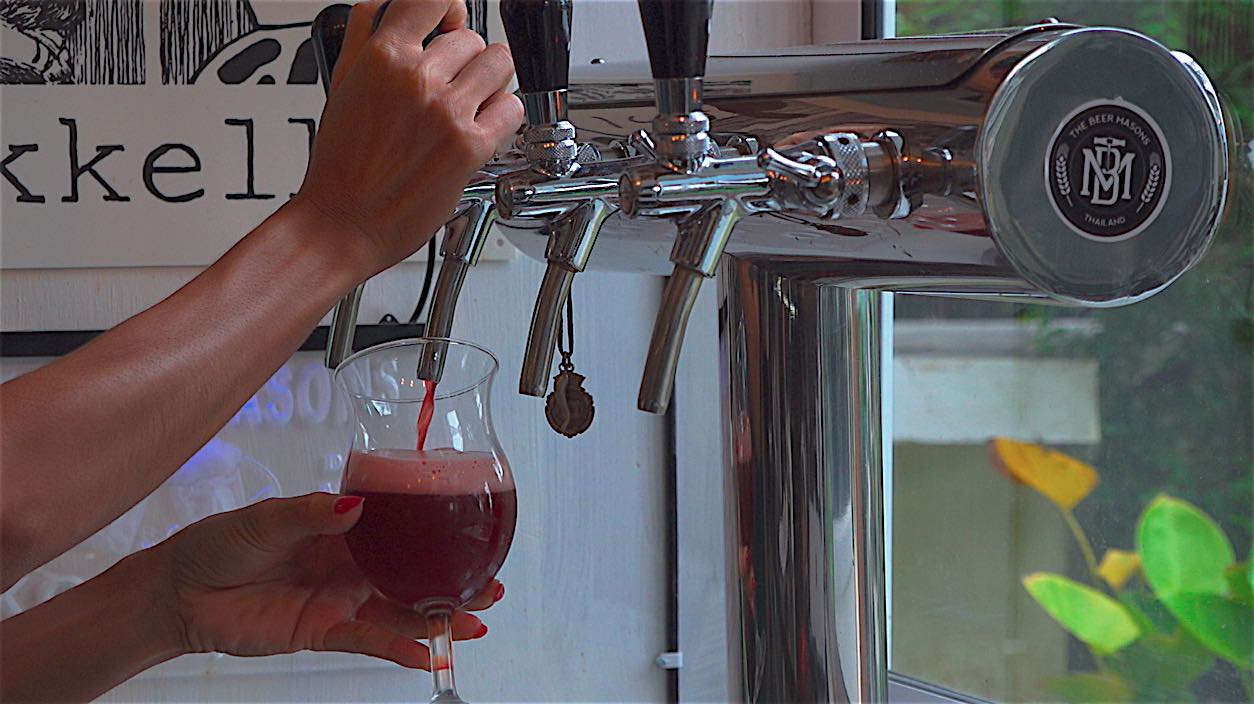 Bootleg Brothers Craft Beer auf Koh Tao erhältlich
Die Beer Masons bewerben auch die lokalen Handwerksbrauer aus Thailand, darunter die Bootleg-Brüder und ihren neuen Hit Khao San Pale Lager, das den Namen von der weltberühmten Backpacker-Straße in Bangkok bekommen hat.
Die Beer Masons Koh Tao führen auch Mahanakhon – aus der gleichnamigen Gegend von Bangkok und ihr Signature-Bier, ein Cream Ale wird auch Mahanakhon genannt.
Preisgekrönt
Weitere beliebte Biere sind Outlaw aus Loei im Nordosten Thailands und ihr preisgekröntes IPA Showdown.
Das Beer Masons Koh Tao organisiert Bierverkostungsabende und organisiert auf Anfrage private Veranstaltungen.
Es gibt auch regelmäßige Guest Ale Tap-Veranstaltungen, bei denen einzelne Brauer ihre Produkte, Bestände und Neuheiten präsentieren und tolle Preise anbieten.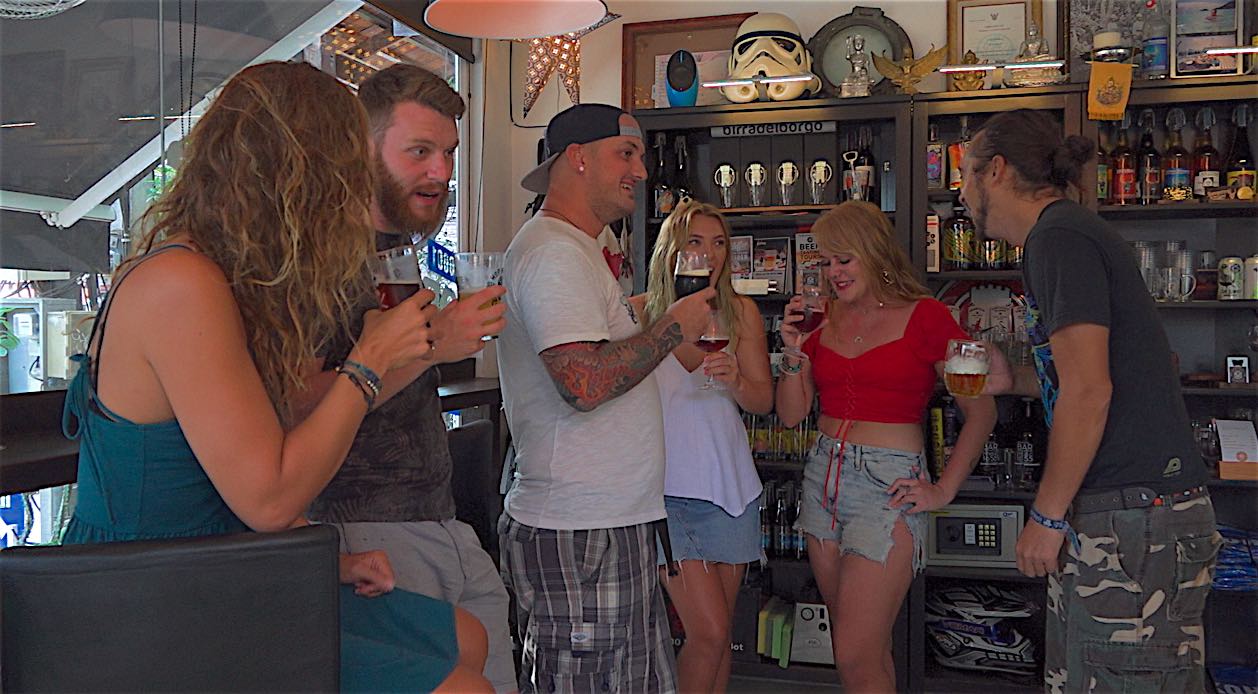 Die Bier Masons Koh Tao Craft Beers & Ciders
Das Beer Masons Koh Tao hat eine endlose Liste an Qualitäts-Craftbier, einschließlich Pilsner Urqell (dem originalen Pilsner aus der Tschechischen Republik vom Fass) und hat den weltweit führenden Craft Cider auf Lager – Zeffer aus Neuseeland.
Die Beer Masons Bar bietet eine erfrischende Abwechslung zu allen Bars und Restaurants, in denen die wichtigsten thailändischen Biere von Singha, Chang und Leo serviert werden.
Beliebte Bar in Sairee
Ob ihr ein Craft Beer-Kenner oder ein Besucher seid, der auf der Suche nach besonderen Bieren ist, sind die mit Craft Beer verbundenen Extrakosten ihren Preis wert.
Von einer coolen Boutique-Bar auf Koh Tao bis hin zu sorgfältig ausgewählten Produkten bietet das The Beer Masons Koh Tao ein Erlebnis, bei dem Qualität über Quantität steht.