Popular Recycling Initiatives on Koh Tao
Many Koh Tao businesses are working together on a range of conservation initiatives designed to preserve the natural beauty of our island home.
One such initiative is a call to ban single-use plastic items on Koh Tao. Items include plastic straws, plastic bags and many restaurants have embraced it by banning these items and takeaway packages made from single use plastic.

Say No to Single Use Plastic
The 7/11 convenience stores joined this movement in 2019 and no longer give plastic bags to customers to put goods into from all their outlets on the island.
More businesses are now separating waste products. Aluminium cans are collected and sold to businesses that will reuse them.
Empty glass beer bottles are collected, packed back into the boxes they came in and sold or picked up by a service organized by the local government office.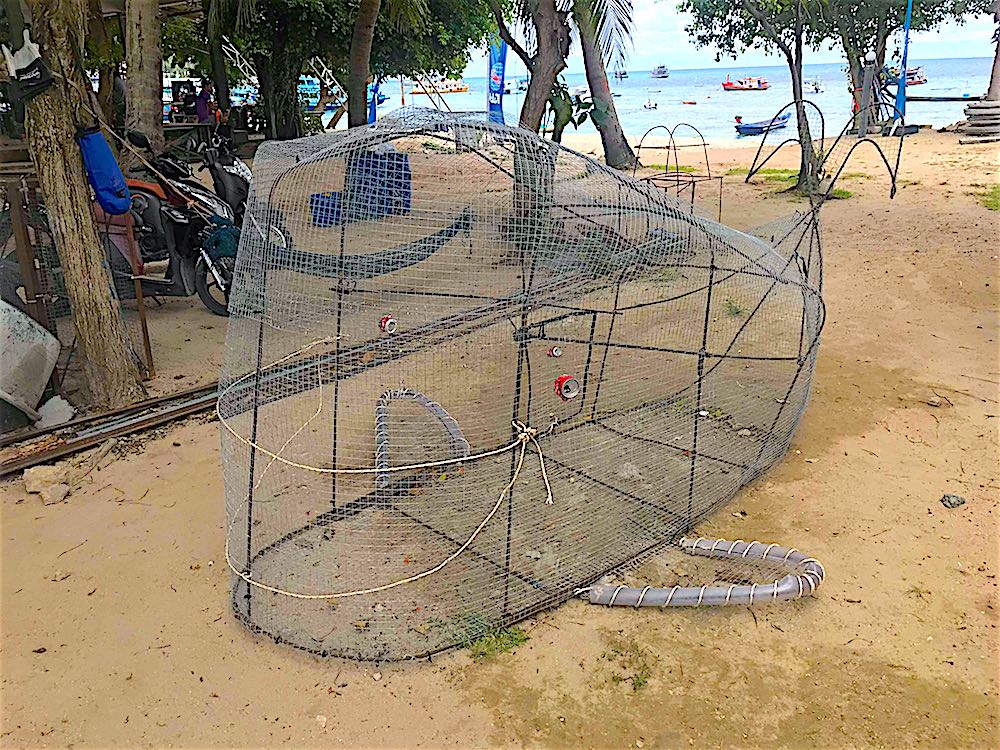 Reduce, Re-use and Recycle Initiative on Koh Tao
It is good news for businesses to have their recyclable goods picked up rather than throwing them in with their everyday rubbish that ends up on landfill.
This creates a healthy mindset where plastic is concerned, to practice the 3 R's – Reduce plastic use, Re-use any plastic you do use and Recycle when you can.
Koh Tao Leisure Park operates a recycling point at their business premises offering private households that are not serviced by the local government office, a drop off point for certain recyclable waste.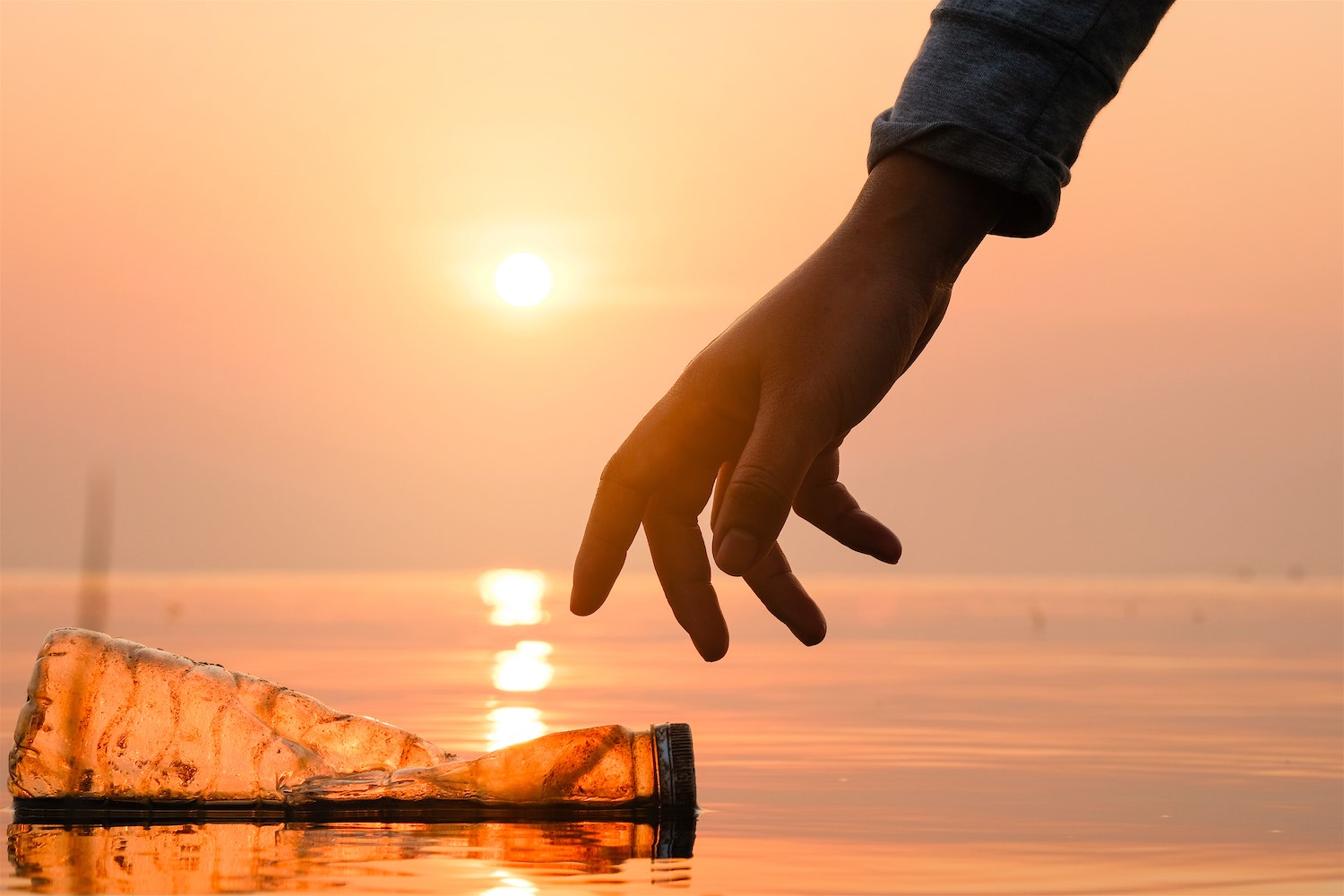 Recycling Waste on Koh Tao for a Cleaner Environment
This provides one easy to access location for collection and then taken off Koh Tao to be recycled. Currently they are collecting plastic water bottles, aluminium cans, cardboard and beer bottles.
The Beer Masons have been promoting their get your butts off the beach initiative, whereby they are turning all their empty one-way beer and cider kegs into cigarette trash bins.
They are donating these to local businesses that are located on any of the beaches around Koh Tao. Once the keg is full, return it to the Beer Masons and they will send it off to the mainland for proper toxic and hazardous waste disposal.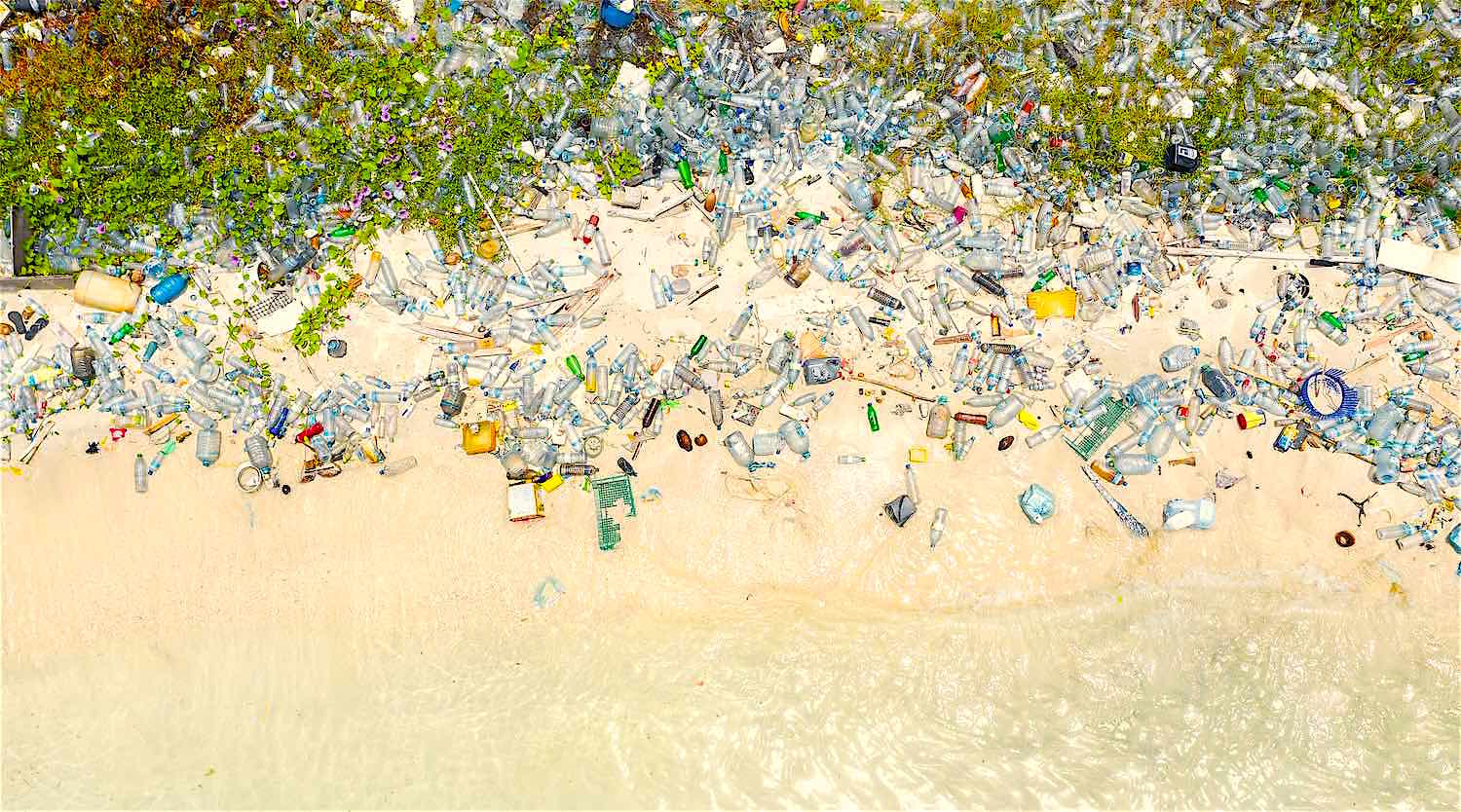 How to Help
Stop using plastics, especially single use plastic at every opportunity in your day to day life. Less demand, less supply.
Alternatives already exist, re-usable shopping bags, wax wraps, metal, bamboo & paper straws, wooden cutlery, toothbrushes, food containers, reusable water bottles and coffee mugs.
This means you will have a product that will last and it will save you money and protect the environment.
Eco friendly alternatives make an ideal gift for anyone wanting to help preserve this precious island environment.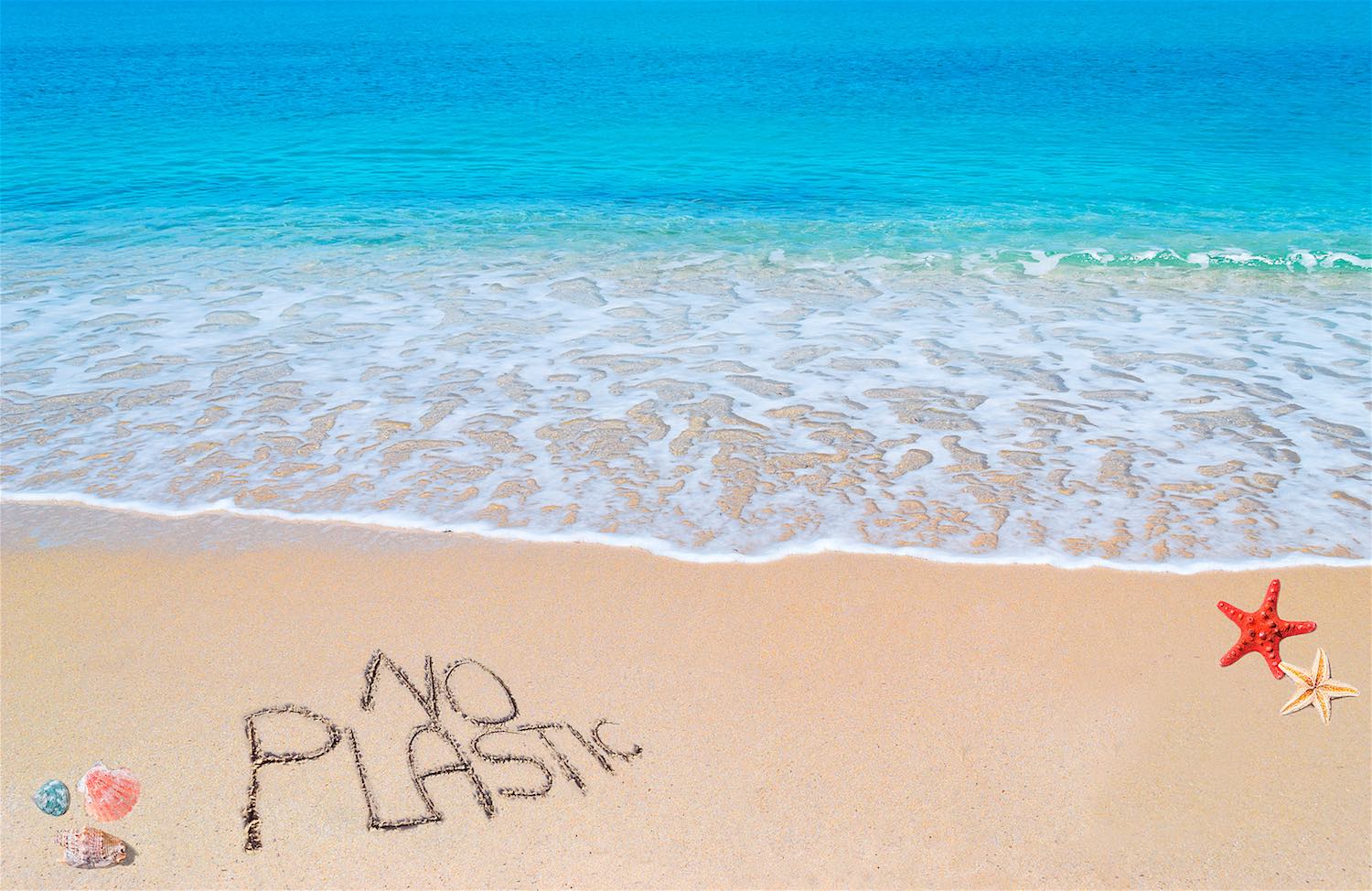 Don't bin it, Recycle it – Eco Friendly Alternatives
Single use plastics can be made into Eco Bricks, packed to a certain density and be made into furniture, garden walls, benches and even buildings.
Local conservation group Eco Koh Tao currently have 80 Eco bricks just waiting to be made into their latest environmentally friendly creation.
Plastic bottles can be used for plant pots, hanging gardens and in other non toxic ways – you just need a little imagination.
Local dive centres have embraced and support recycling initiatives by promoting the use of reusable water bottles and supplying free water at their businesses.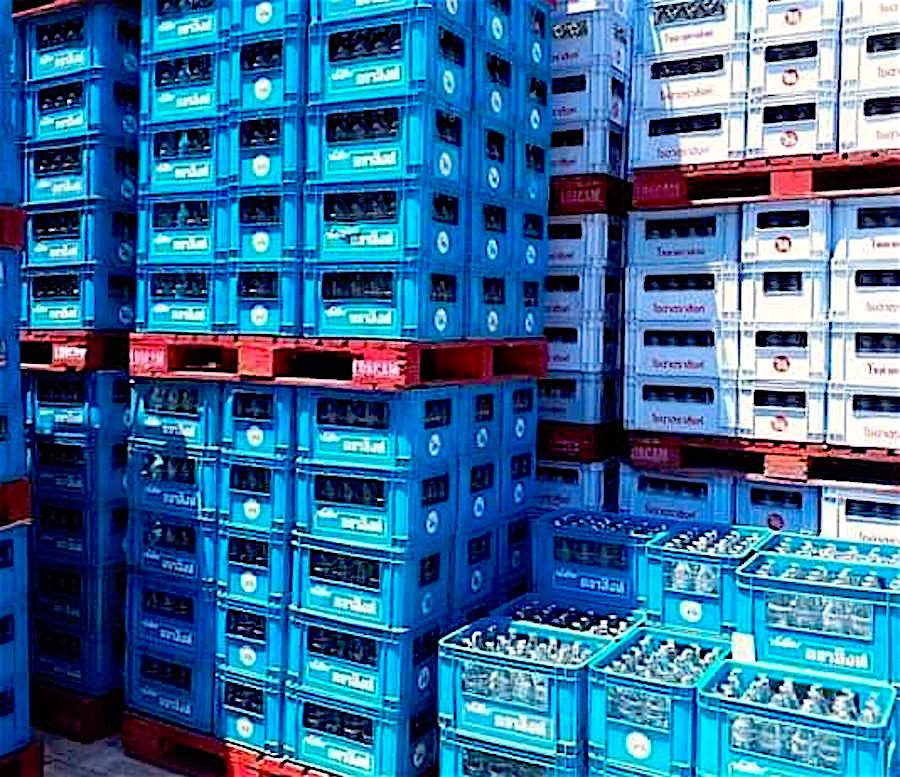 S & S Water Koh Tao – Glass Bottled Water Delivered
Local residents are joining the many local bars and restaurants that are now using S & S Water glass water and soda bottle service.
It is an easy decision to make. Just pay a deposit and start ordering. They will deliver to your house or business and they only use recyclable glass bottles.
S & S Water collect the empty bottles when delivering your next order and send them back to the mainland where they are refilled. Prices for glass bottled water, delivered and collected are also cheap to buy.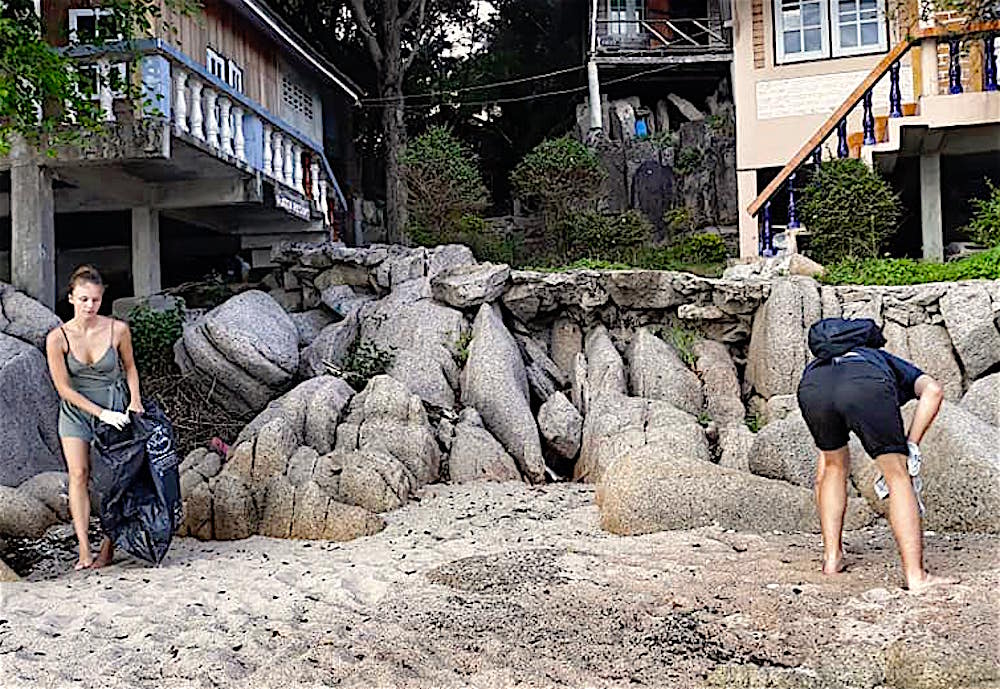 Working Together
Many businesses are working together to try and ban single-use plastic items on Koh Tao and are reverting back to glass bottles and natural packaging.
Efforts continue to be made for a recycling program for businesses to have recyclable goods picked up rather than throwing them in with everyday rubbish.
Several years ago the local government banned the use of styrofoam boxes, which were commonly used as takeaway containers from restaurants.
This showed that the community was willing to make sacrifices when alternatives are present and in the best interest of the island.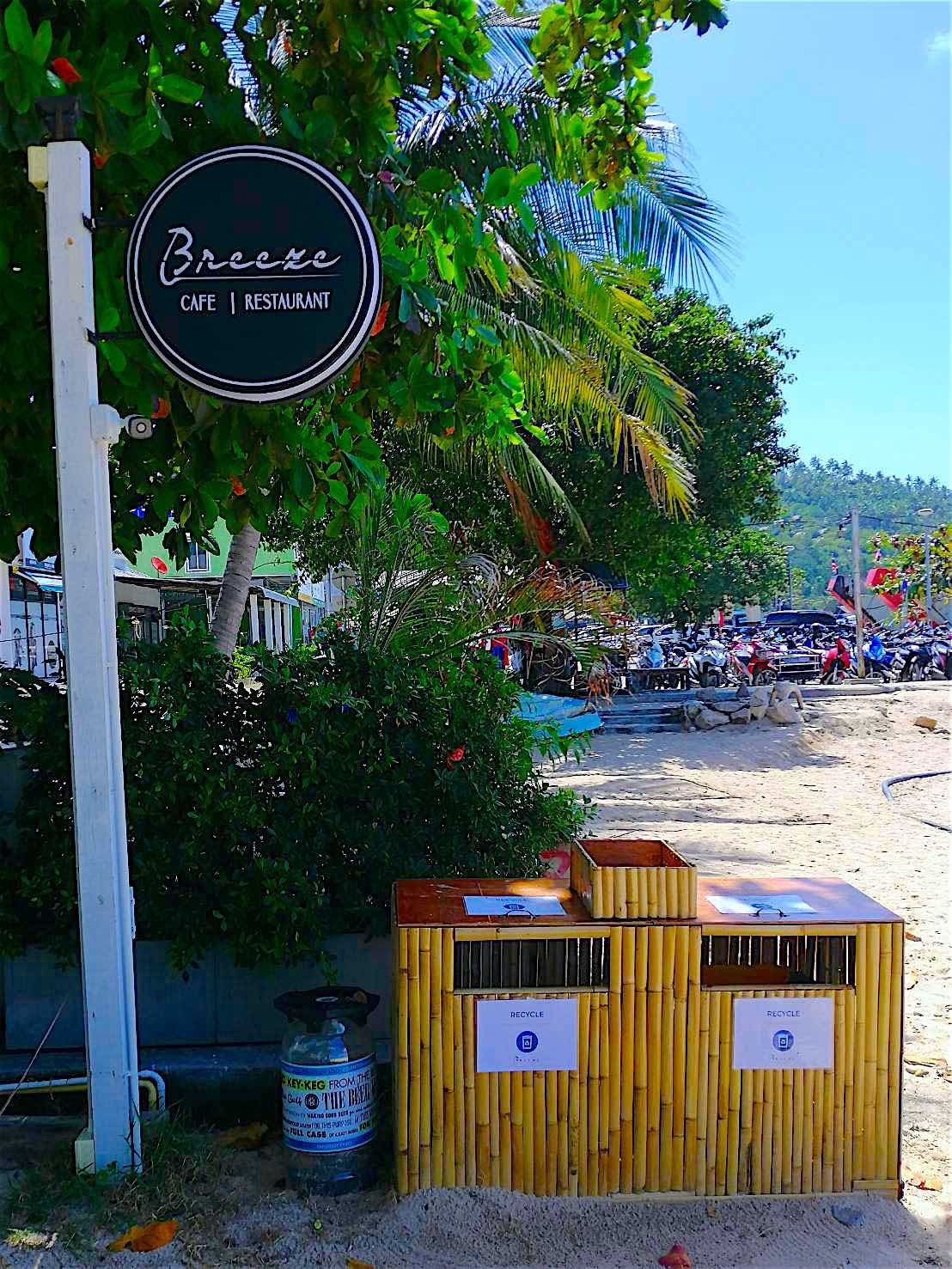 Developing A Sustainable Way of Life on Koh Tao
Creating a sustainable way of living is catching on. There are several key figures in the municipality who support initiatives, including the Mayor of Koh Tao.
The natural beauty of Koh Tao, above and below the surface of the ocean, is one of the main reasons people choose to visit here.
It is in the best interests of everyone to protect it.