Thai Cooking Classes on Koh Tao
Thai cooking provides a unique flavour palette that is completely different to any other cuisine. Showcasing a blend of centuries old Western and Eastern influences, the key to the cuisine is the harmony within each dish.
Thai food uses a blend of salty, sour, spicy and sweet flavours combined to balance each other perfectly.
The original Thai cooking was reflective of the waterborne lifestyle that many of the country's inhabitants had and seafood still plays a huge part in the national diet.
Very little red meat was used, and what was used was generally shredded and mixed with herbs and spices, due to the Buddhist influences which shunned the use of big chunks of meat from large animals.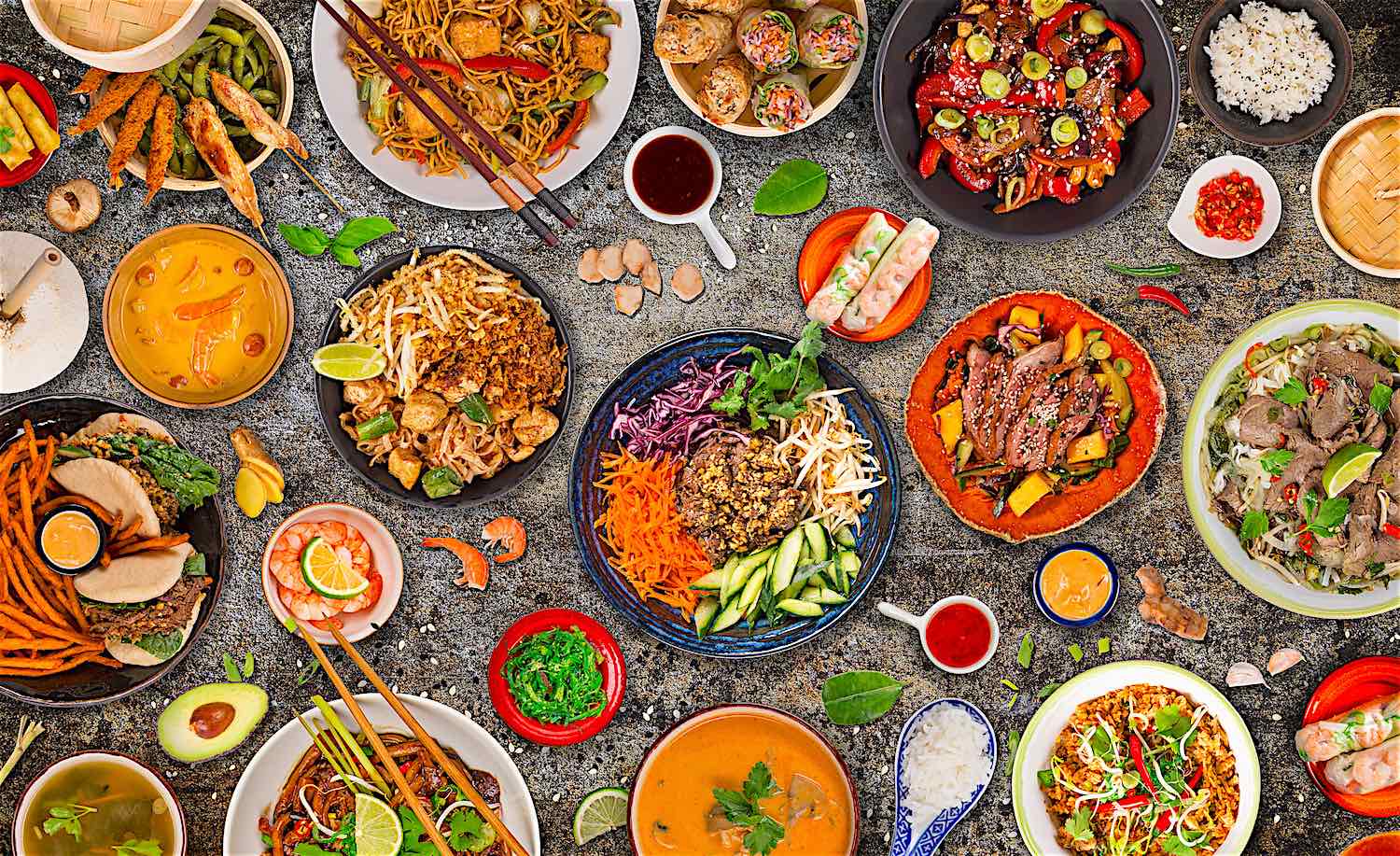 Multi Cultural Influences
Prior to the arrival of Chinese influences, most food was stewed, baked or grilled. When the Chinese arrived, they introduced the locals to various types of frying, which soon took over as the preferred methods to prepare food.
This is still true today with very few Thais even owning an oven in which to bake goods and stir-frying being one of the most common ways to cook.
The food in Thailand has elements in common with both Chinese and Indian menus, although the aromatic flavours seen in Thai cooking are much stronger and diverse than those seen in Chinese cooking and the dishes are generally lighter and less fatty than Indian food.
These differences are due to the Thais using their own ingenuity to make changes to recipes to accommodate the ingredients which were readily available to them.
An example of these changes can be seen in the substitution of the Ghee used in Indian curries with coconut oil, and the use of fresh herbs to tone down the overpowering spices used in Indian curries.
By changing from strong spices to fresh herbs, the prolonged heat associated with Indian curries is replaced by the intense but brief heat experienced when eating a Thai curry.
The phrase "Thai cuisine" is better used as an umbrella term to describe the food as Thailand actually contains 4 different regional cuisines that have remained distinct due to the climate and geography of the country.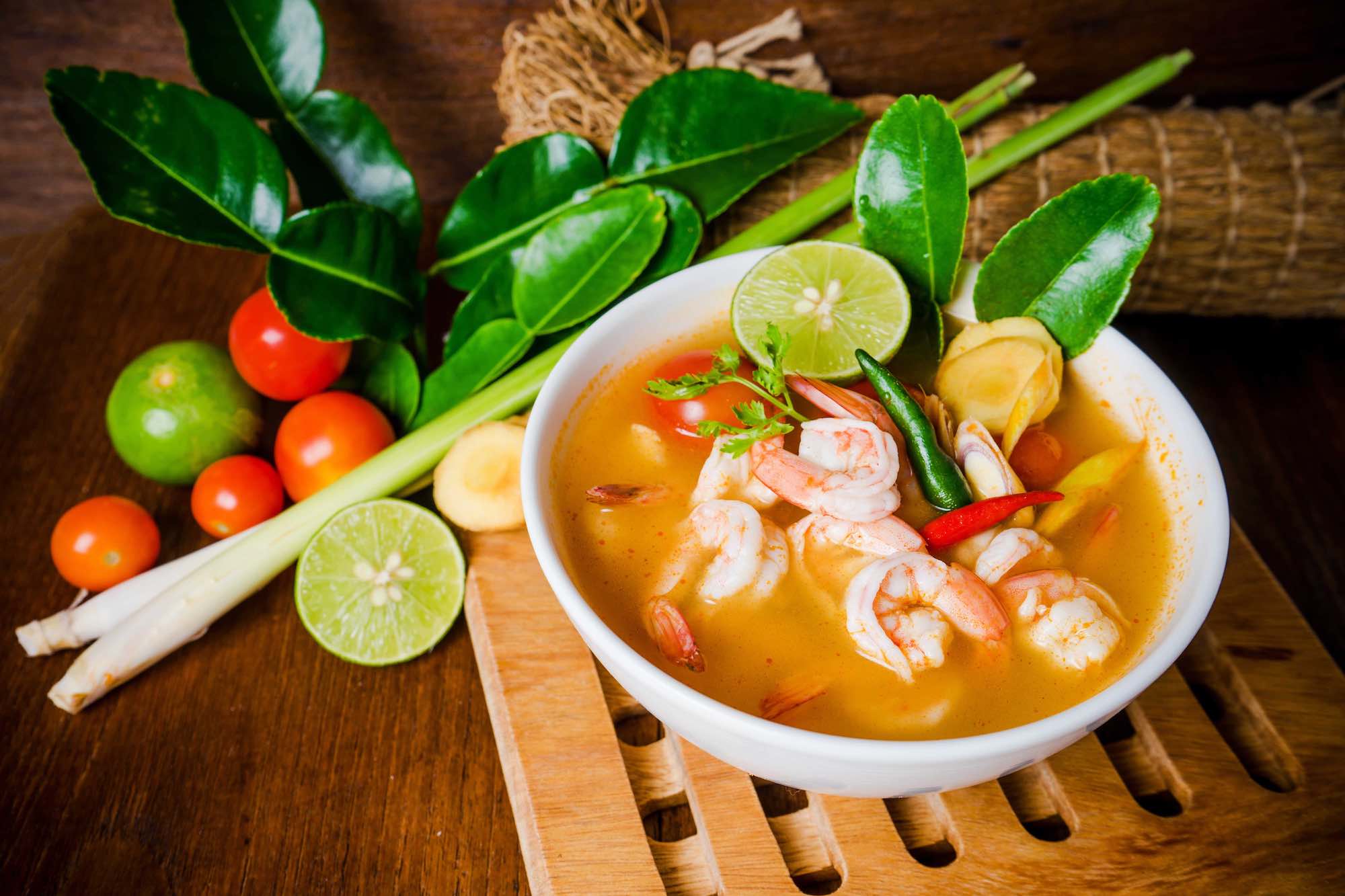 Regional influences
Until the train network was completed in the 1920's, travelling around Thailand was a long and difficult task so each of the regions was able to keep their own traditions, including their culinary ones, intact.
In the Northern part of Thailand food is very different to what can be seen in the rest of the country and many dishes that are popular in the rest of the country cannot be found there.
The food shows the influence of both its neighbours, Laos and Myanmar, as well as the uniquely cool and temperate climate. Due to the decreased presence of seafood in the region, food is less salty and tends to be more bitter and sour.
The Northeast, commonly called Isaan, is the poorest area of Thailand, and also the least visited by tourists.
Boiled or Grilled
Harder to get to than other regions, the food tends to be boiled or grilled which actually make it one of the healthiest regions to eat. Unlike the rest of Thailand, the locals here are not big on spicy dishes.
The Central region of Thailand, which includes Bangkok, is the most unique area and pulls influences from all the surrounding areas. The dishes can be tweaked by the cooks due to the readily available supply of ingredients, although the flavours tend to be a little milder.
In the South, you will find the spicy soups, curries and salads that are more commonly thought of when you discuss Thai cuisine.
Seafood is the predominant form of protein used in this region due to its proximity to water and the food is both saltier and spicier than in the rest of the country.
The curries will tend to be thicker here than in the North due to the use of coconut milk, and the outside influences on flavours come from Malaysia and Indonesia.
Despite the differences in the regional cuisine, the way Thai's enjoy food is identical no matter where you are. Meals are enjoyed communal style with each diner getting a plate of rice to form the basis of the meal.
Rice is the staple grain in Thailand and the most important part of any meal. The word for rice in Thai, khao, is the same as the word for food so when you say eat rice, kin khao, you are also saying eat food.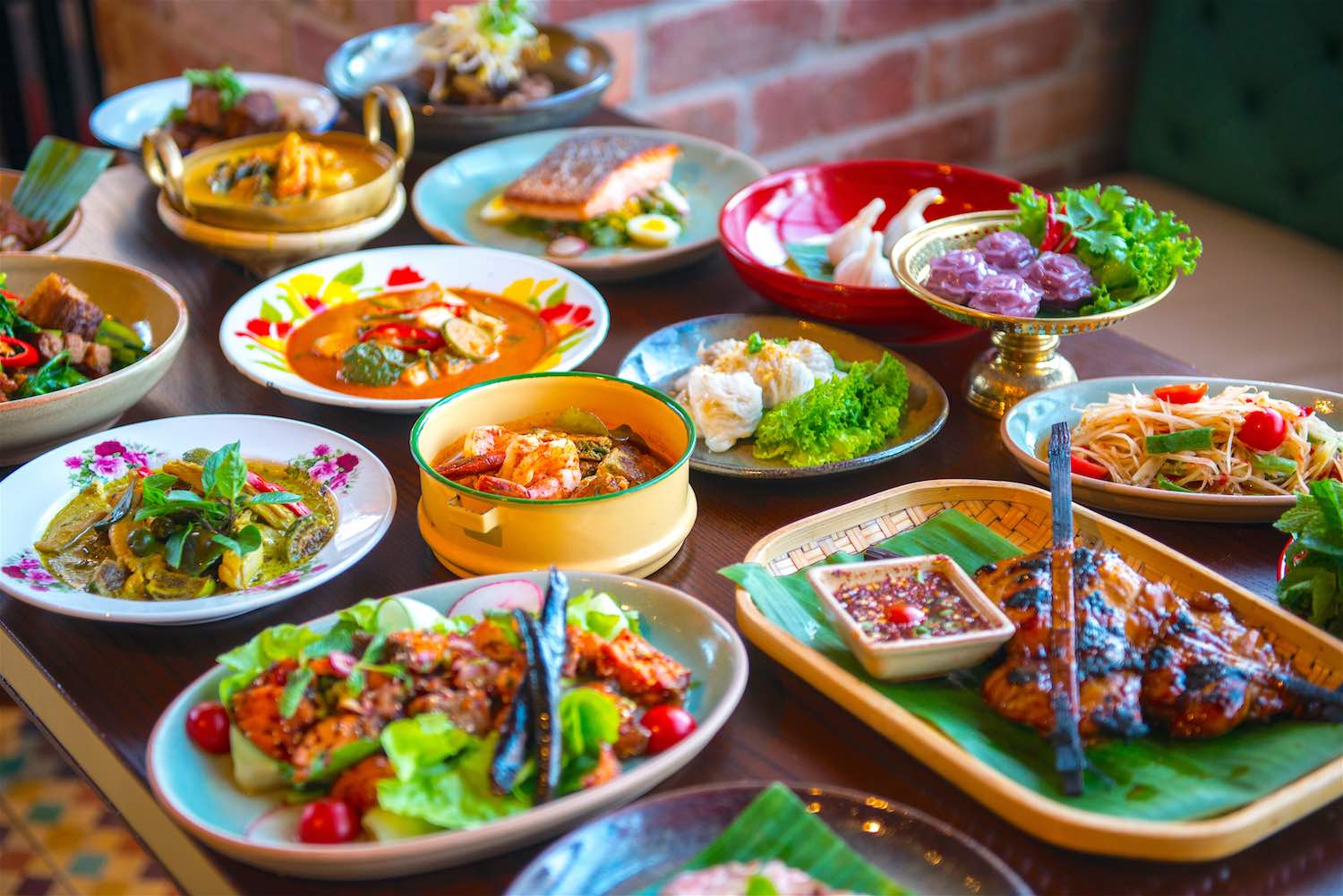 Types of Thai Food Dishes
Most meals will include a soup, a curry dish, a steamed dish, a deep-fried dish, a stir-fried dish and a dip or relish with vegetables. All dishes will be served at the same time allowing the spicy dishes to be balanced out by the more bland ones.
There isn't the defined breakfast, lunch and dinner options that can usually be found in the West, so any dish can be enjoyed at any time of the day.
The portion sizes of Thai dishes also tend to be smaller than for portions of food on Western menus, allowing people to eat more, smaller meals throughout the day.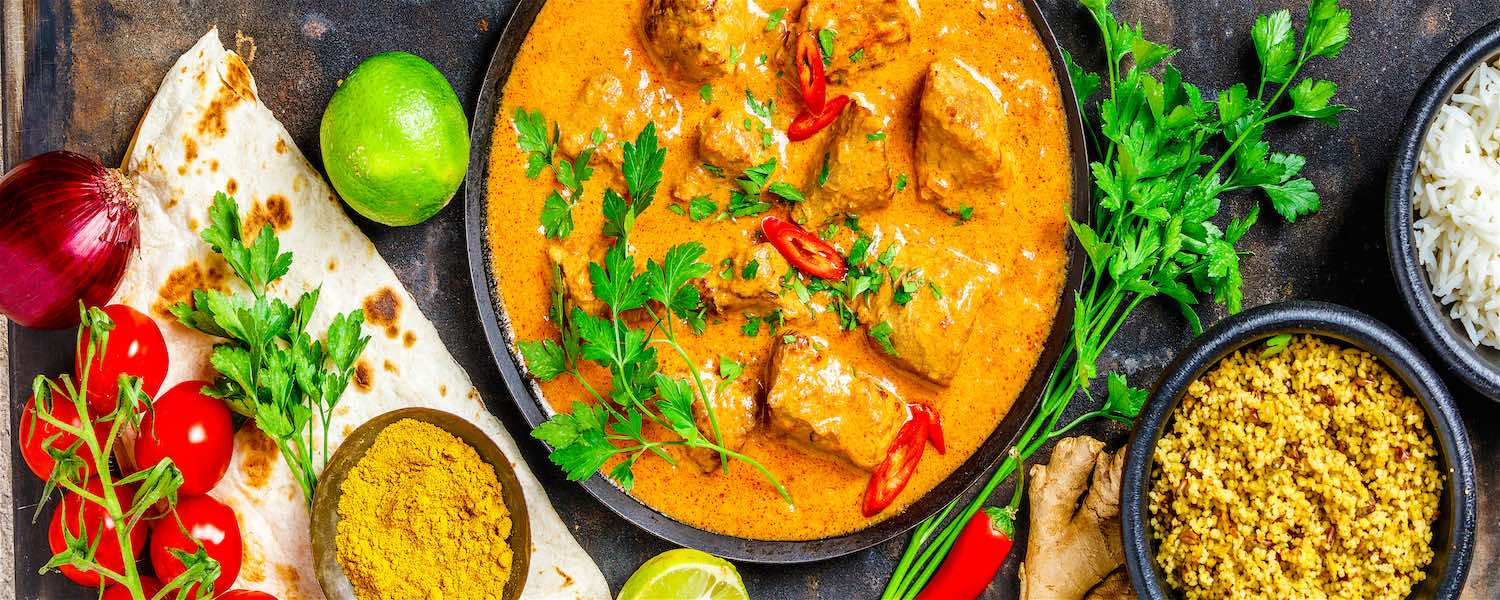 Essential ingredients
There are a number of ingredients which are essential to Thai cooking. Items such as galangal, garlic, coriander, lemon grass, tamarind, kaffir lime, palm sugar, shrimp paste, soy sauce, oyster sauce and fish sauce are fundamental to providing the big flavours we associate with the cuisine.
As is to be expected, Thai cooking also utilises multiple types of chilli to provide the different levels of spice which can be experienced in Thai food.
Interestingly, chilies were not part of the original Thai cuisine and were only introduced in the late 1600's when Portuguese missionaries, who had acquired a taste for them in South America, introduced them to the locals.
Prior to the arrival of the chilli, heat was added to dishes using Phrik Thai Dam, black thai pepper. There are 5 main types of chilies used within Thai cooking:
Known as the "garden mouse-dropping chilli", this is a smaller, spicier variety of the Phrik kee noo.
Known as the "mouse-dropping chilli", this is one of the spiciest and most extensively used chilies used in Thai cooking. They feature in tom yum soup, spicy salads and green curries.
They are green when unripe and red once they have ripened. The unripe green ones are used to create green chilli paste.
With a name which translates as "sky pointing chilli", these chilies come in both green and red. The red colour intensifies when the chilli is dried and is responsible for the colour of the red curry.
They are slightly less spicy than some of the chilies and are also commonly used as garnishes or added to curries as a vegetable.
These are very large and pale green in colour. The least spicy of the five, they are used more as a vegetable and can be added to stir fries or stuffed and deep fried.
These are dried chilies, which are dark red colour in colour and can be ground into flakes to be used as a condiment, in chilli pastes or in dips. They are also deep fried and served whole with some dishes.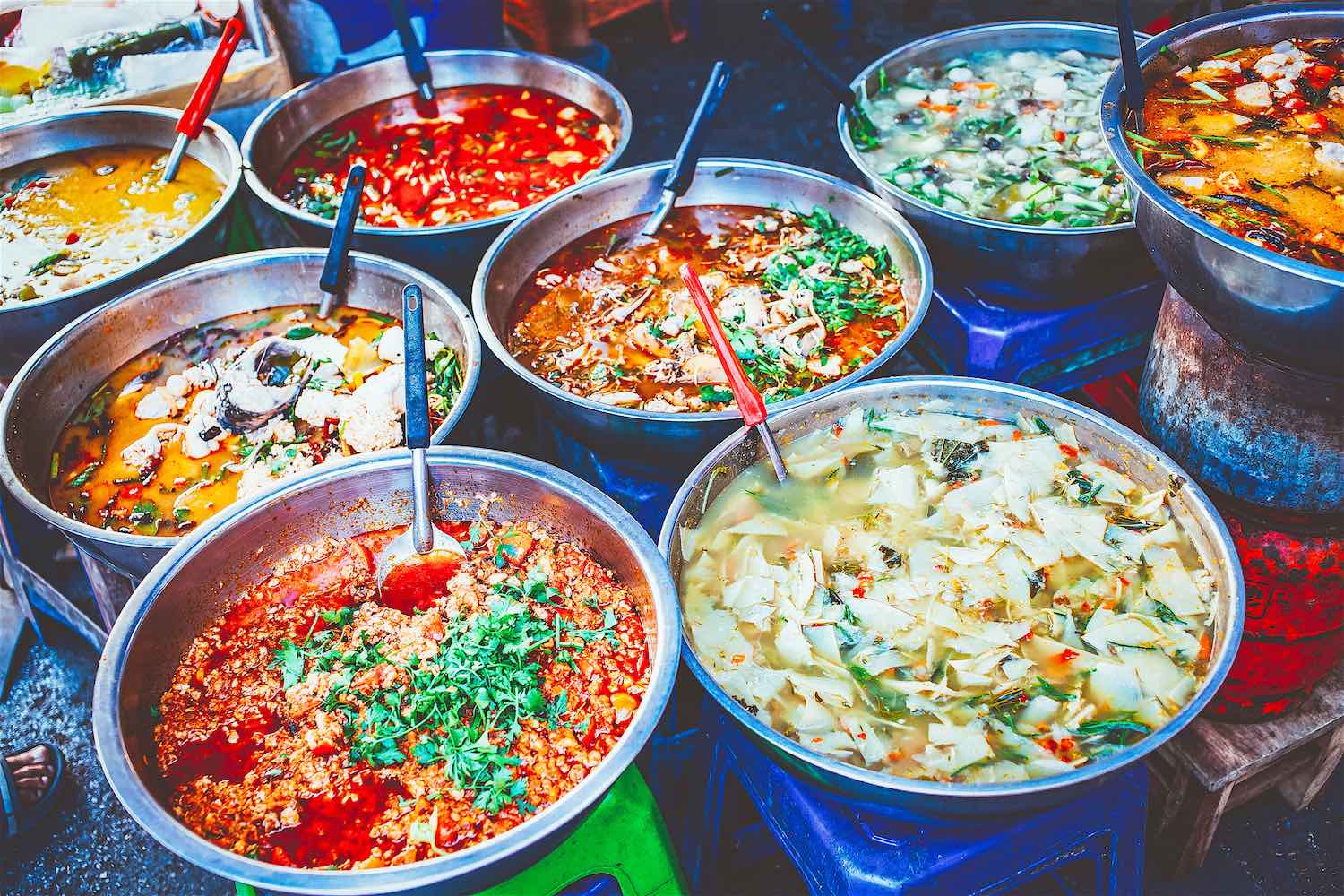 Thai Food Health Benefits
The use of so many fresh herbs, chillies, vegetables and sea food make Thai one of the healthiest cuisines there is. These ingredients are mainly added to enhance the flavour of dishes; however, their health benefits provide an additional bonus to their use.
The active ingredients in chilli pepper help to clear up congestion within the lungs and sinuses. In addition, they act as an anti-inflammatory agent and can aid in lowering blood pressure and LDL cholesterol level.
The consumption of garlic also helps to lower blood pressure and cholesterol levels as well as aiding with digestion and helping the immune system.
Galangal, which is a relative of ginger, can help to treat morning sickness, motion sickness, nausea and diarrhea as well as aiding digestion, reducing inflammation and strengthening the immune system. It can also improve cognitive function, heal skin burns and enhance your blood circulation.
Sea food provides an excellent source of protein as well as providing great sources of vitamins, minerals and omega-3 fatty acids.
Additionally, Thai cuisine contains a large number of leafy green vegetables, such as morning glory, which are not only packed with vitamins and minerals, but a great source of fibre.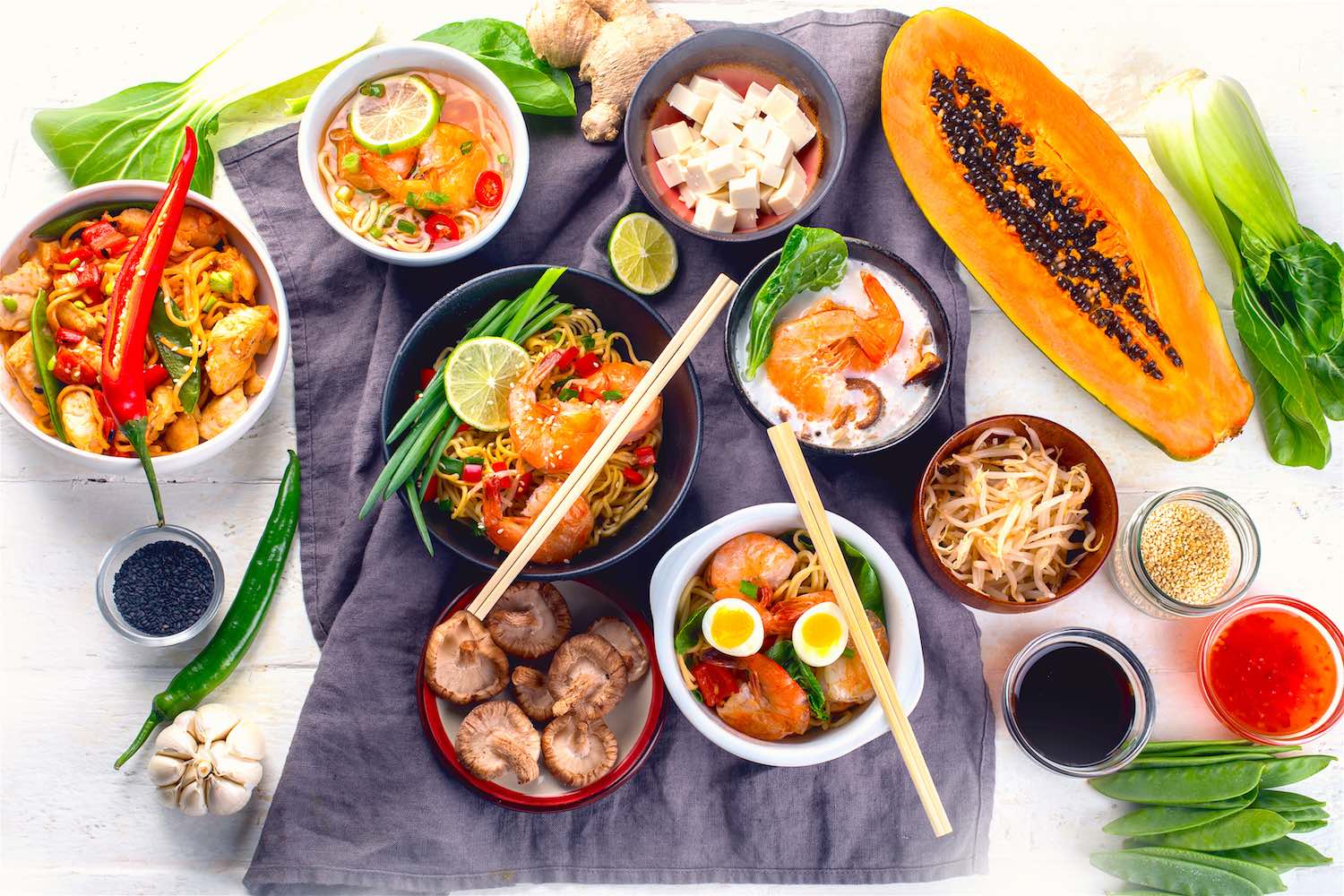 Thai Food on Koh Tao
While you are visiting Koh Tao, eating plenty of healthy, delicious food couldn't be easier. There are plenty of restaurants offering great value, local cuisine wherever you go.
Outside of Thailand, however, the quality of Thai food can differ massively depending on the restaurant so why not spend a bit of time whilst you are here taking some cooking courses and learning how to make these dishes yourself.
Learn to Cook Thai Food on Koh Tao
Classes usually last around 3 hours and cost 1,500THB per person with a maximum of 6-9 people per class, depending on which school you choose to learn with. You will learn to cook 3-5 dishes, and most schools offer two classes a day.
Private classes can be booked and can accommodate the same number of people as the shared classes. These classes can last a bit longer and the time you start is generally more flexible.
For more information on learning to cook Thai food on Koh Tao, please get in touch so we can answer any questions you have.
Frequently Asked Questions
Do I have to book a Thai Cooking Class on Koh Tao?
Thai cooking lessons on Koh Tao will need to be booked in advance, so it can be planned into your travel schedule. Contact us to discuss your itinerary.
How much does a Thai Cooking Class cost on Koh Tao?
Thai cooking classes on Koh Tao offer fantastic value and a half day course with 3 dishes costs 1500baht per person. Contact us to discuss your travel plans and we can arrange and reliably set this up for you.
How long does each Thai Cooking class take?
Each cooking class will usually take around 3 hours. Cooking classes will introduce you to the different ingredients used in Thai food, flavouring, spicing and of course tasting.
What types of Thai food can I cook?
There are four menus you can choose from to cook for the half day course plus a whole range of dishes you can cook during the private lessons.
For the half day course you can choose:
Menu 1: Penang Curry; Chicken or Pork, Pad Thai Goong (Shrimp), Spring rolls
Menu 2: Stir fried Ginger, Pad Thai Goong (Shrimp), Massaman Curry; Tofu or Chicken
Menu 3: Spring rolls, Massaman Curry, Tom Kha Gai
Menu 4: No Name, Green Curry, Pad King Gai (stir fried Ginger)
What times are the Thai cooking classes on Koh Tao?
Starting times for the Thai cooking classes are either 09.30 or 14.00 and are for a half day including overviews, training, cooking and eating.