How to get to Love Koh Tao Viewpoint
The Love Koh Tao viewpoint is located in the centre of the island and offers amazing views over the east coast of Koh Tao, Tanote Bay and out into the Gulf of Thailand.
On a clear day you will also be able to see Koh Phangan and Koh Samui in the distance.
With good road access all the way there, this is one viewpoint that is accessible to all, even if you aren't keen on hiking.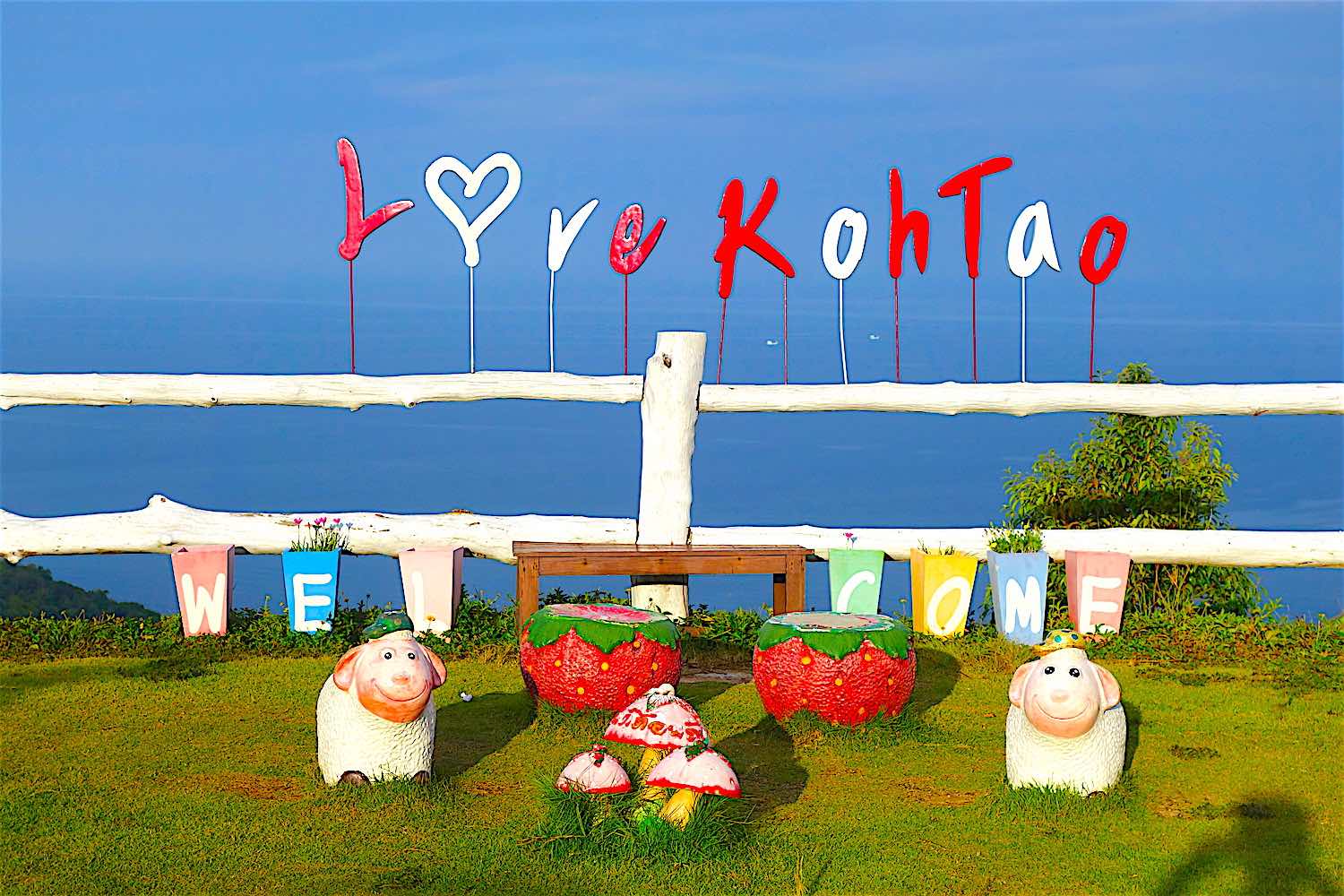 East Coast of Koh Tao – Love Koh Tao Viewpoint
There are two ways to get to the viewpoint and depends if you are based in Sairee or Mae Haad.
From Sairee, on the main road head towards Mae Haad and when you reach Monsoon Gym you will see the turn for the viewpoint signposted on the left-hand side.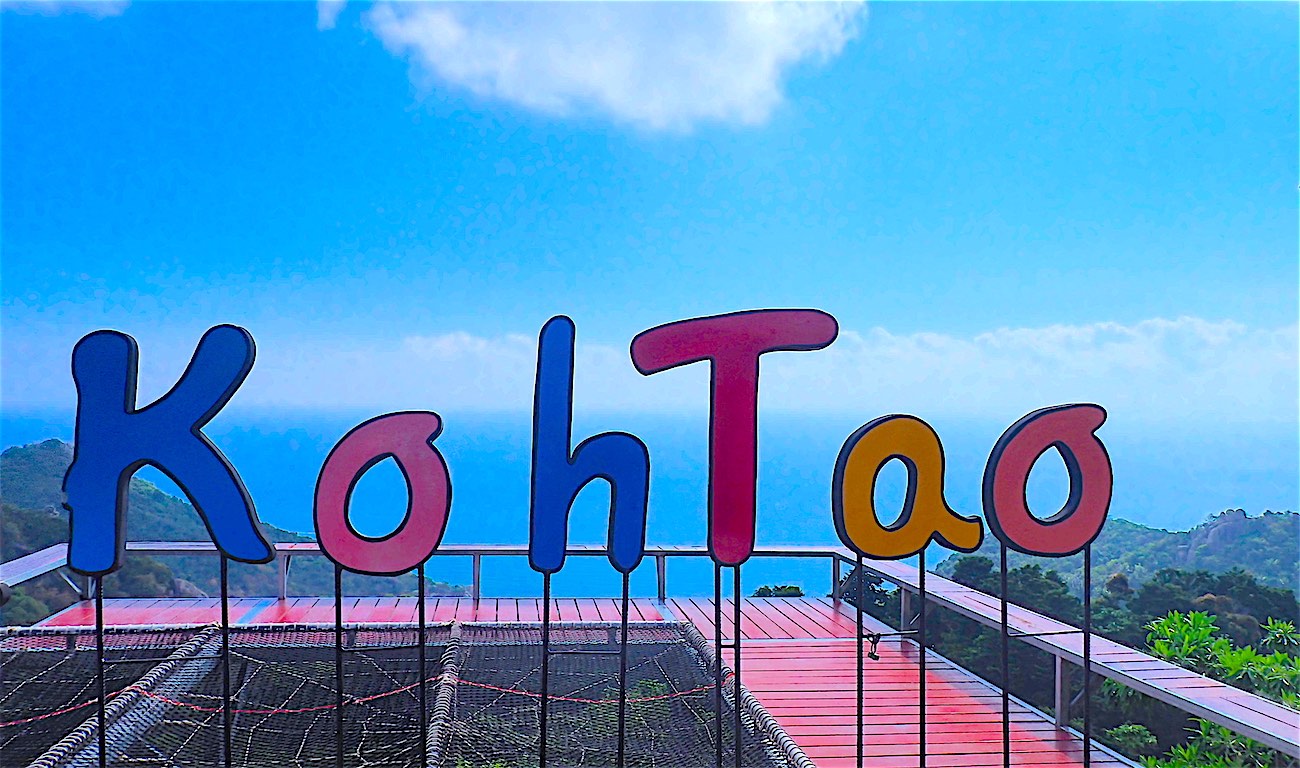 Love Koh Tao Viewpoint from Sairee
Take this winding road, follow it up to the end and you will arrive at the viewpoint, where there is a carpark for you to park the scooter.
The journey to the viewpoint from Sairee beach will take around 15 minutes if you go by vehicle, or 1.5 hours if you walk.
Walking Distance
To walk there you can choose to follow the main road directions mentioned above or you can head towards the West Coast viewpoint and then take the short walk to Love Koh Tao viewpoint from there.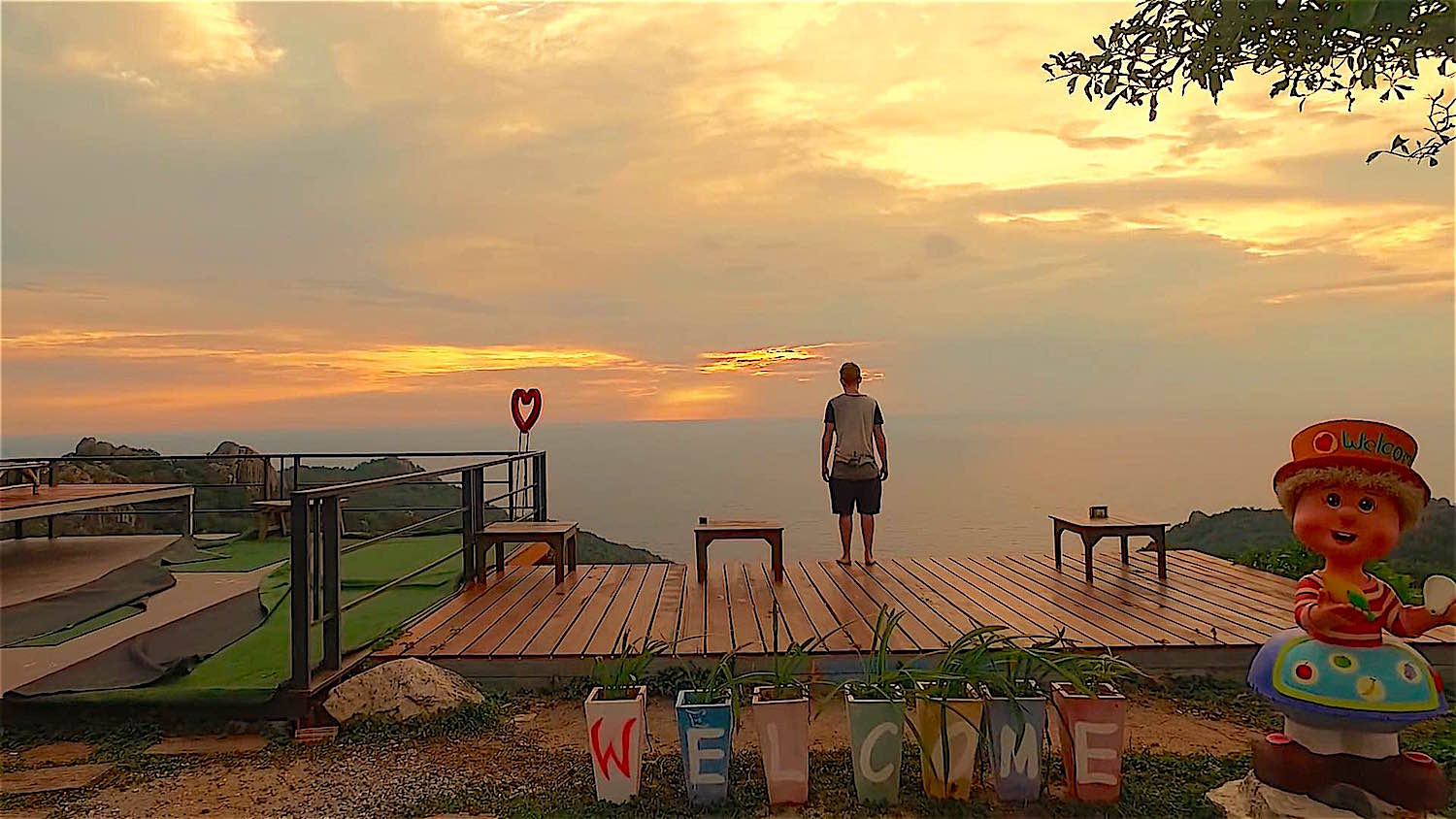 Love Koh Tao Viewpoint from Mae Haad
To get to the viewpoint from Mae Haad, follow the main road towards Chalok Baan Kao and turn left at the Tanote bay signpost, which is located almost opposite Chaiwat mini mart.
This good concrete road will take you east past the Koh Tao power station and keep on the road as though heading towards Tanote bay.
Steep Hill
This road is steep with sharp bends in places so if not comfortable on a scooter, its best to walk or get a taxi.
As you descend down the east coast mountain and before you reach Tanote bay there is a sign on the left to the viewpoint.
This final part is a very steep incline hill. Modern scooters have no problem getting up this hill with two people on.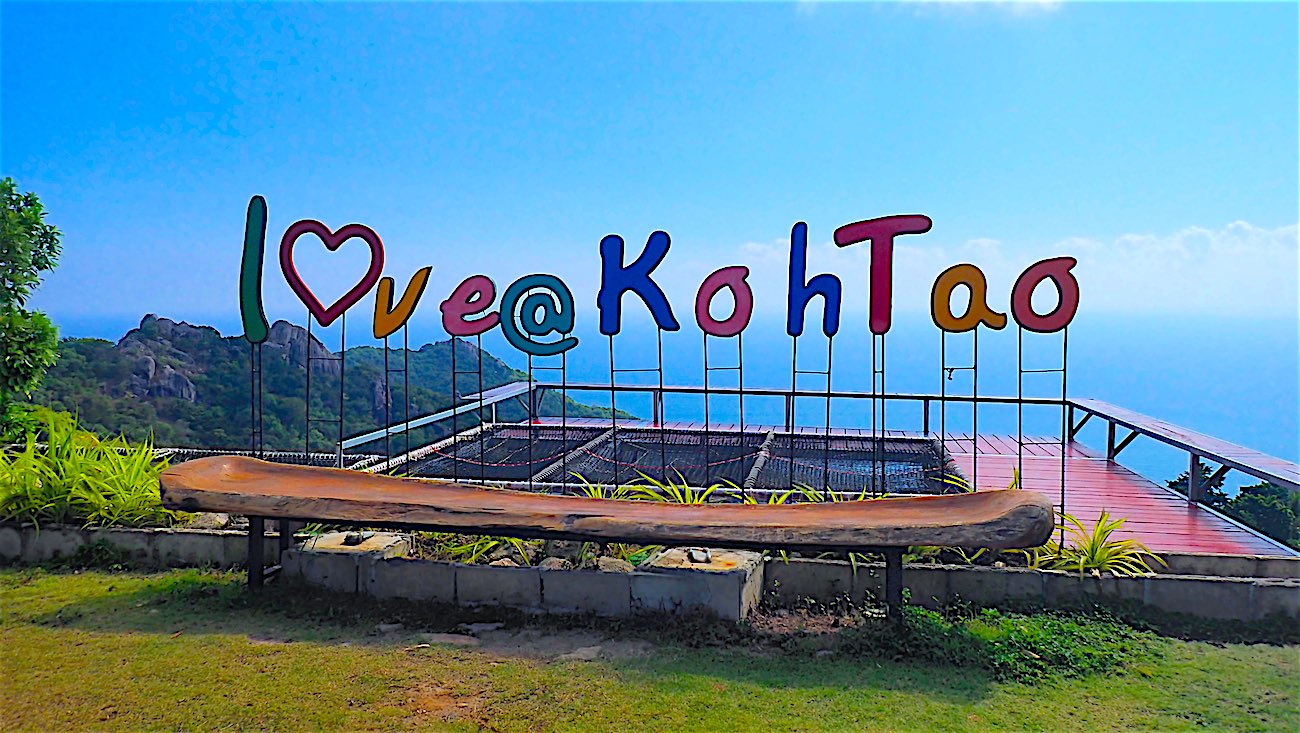 Entrance Fee to Love Koh Tao Viewpoint
Once you arrive at Love Koh Tao viewpoint you will find a great location that is popular with families and couples.
There is a 20THB entrance fee, but if you buy food or drink in the restaurant then this fee is waived.
Snacks & Drinks
With a good selection of local Thai snacks, beers and ice-cold fruit shakes it isn't difficult to find something you will like here.
As well as offering great views over the east side of the island, Love Koh Tao is perfectly set up for those who like to take photos.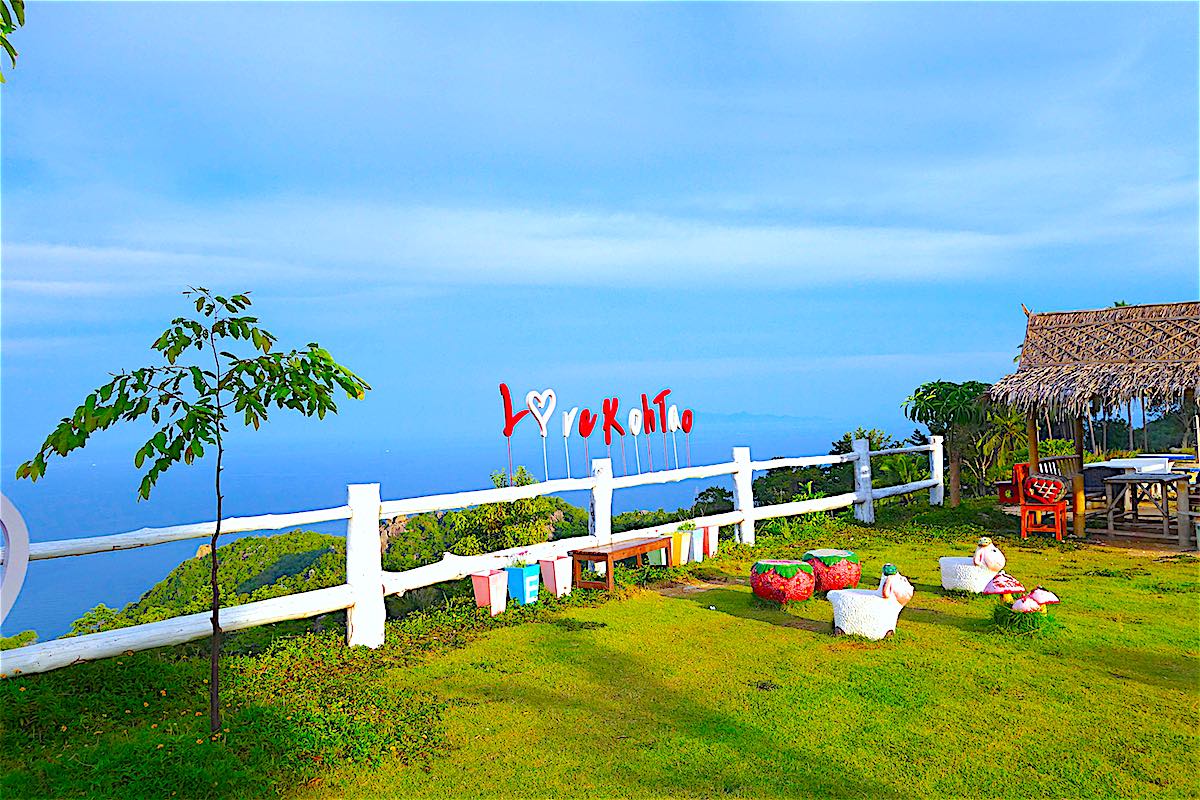 Panoramic Views from Love Koh Tao Viewpoint
There is a spacious garden and a comfortable seating area that offer a number of superb photographic opportunities, including netted beds that are suspended over the trees below.
There is a large colourful "Welcome" sign and a well-placed "Love Koh Tao" sign that make for great images to post online.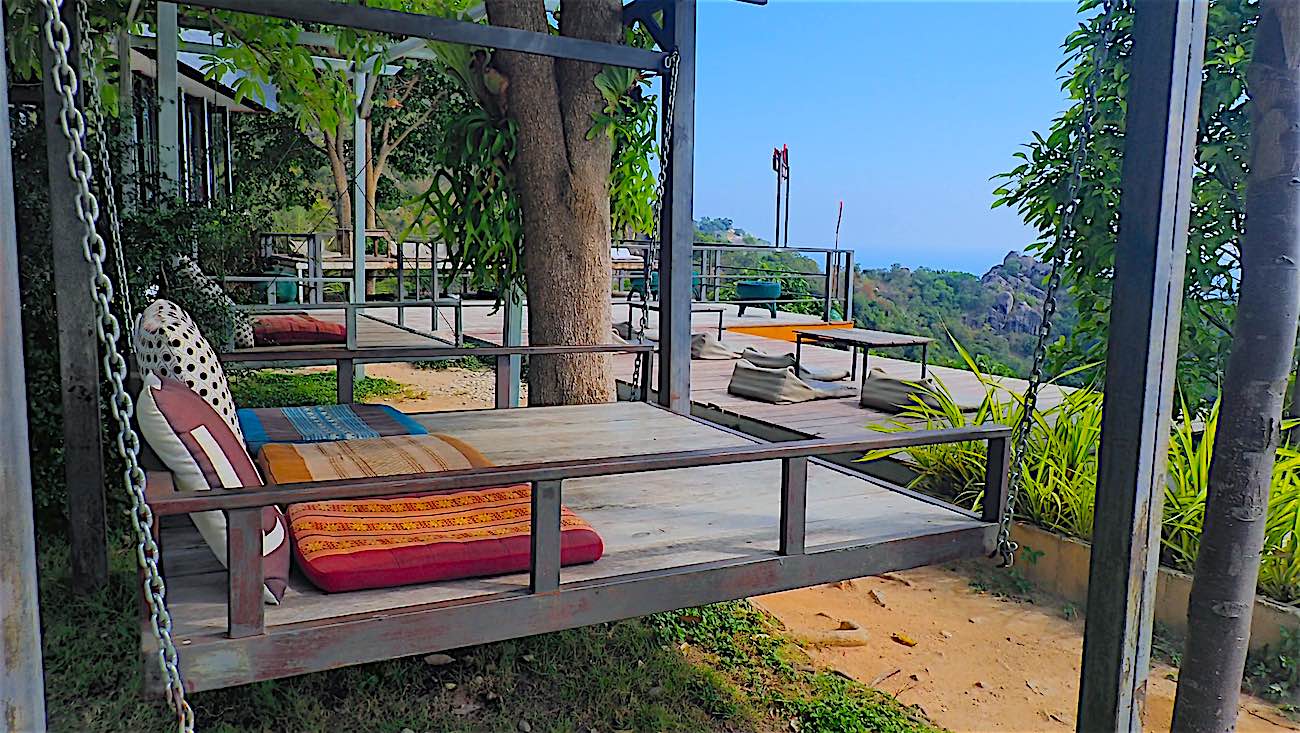 Romantic Viewpoint
Perhaps unsurprisingly, based on its name, Love Koh Tao is considered to be the most romantic of the viewpoints on Koh Tao with its easterly views.
It is also one of the best viewpoints on Koh Tao for those early risers who want to see the sun rise over the Gulf of Thailand.
Fo more information about Love Koh Tao viewpoint or visiting any of the other viewpoints, including scooter rental, please contact us to discuss your itinerary.
Frequently Asked Questions
How do I get to Love Koh Tao Viewpoint from Sairee?
The Love Koh Tao Viewpoint offers fantastic views of the east side of Koh Tao and a great opportunity for a memorable holiday photo.
The Love Koh Tao Viewpoint is located right in the middle of Koh Tao. If you have a scooter, then from Sairee use the main road and go south through Mae Haad, go past the clock tower before turning left onto the Tanote Bay road.
Follow the road as you pass the power station and the turn for Aow Leuk and pass the turn for Lang Khaai.
After that you will see a turn and sign on your left hand side for the Love Koh Tao viewpoint. Follow that steep road as it winds upwards and you will arrive at the Love Koh Tao Viewpoint.
Do I have to pay to visit Love Koh Tao Viewpoint?
The 20baht entrance fee is waived if you buy a drink or food from the Love Koh Tao restaurant and with an amazing view overlooking Tanote Bay and the east coast of the island it is the perfect place to relax, enjoy an ice cold drink and take it all in.
Can two people on a scooter get to Love Koh Tao Viewpoint?
If you have a modern scooter and the rider has experience, you should have no problem negotiating the final 400 metres of the journey. The final stretch as you turn off Tanote Bay road and onto the Love Koh Tao Viewpoint road, winds and turns upwards with a very steep incline.
Can I buy food at Love Koh Tao Viewpoint?
With stunning views overlooking the east coast of the island, Love Koh Tao Viewpoint café offers a small snack menu, fruit shakes, soft drinks, fresh coconuts and cold beers making it a great place to sit back and unwind.