How to get to Saan Jao Beach Koh Tao
Saan Jao beach is located in the south of Koh Tao on the west side of Chalok Baan Kao bay and is an idyllic, secluded beach, interspersed with granite rock boulders.
Secluded Beach
This beautiful location is definitely one of those beaches where visitors to Koh Tao can get away from it all and enjoy a very peaceful and relaxing day.
The easiest way to get to Saan Jao beach, is to walk or ride your scooter to Chalok Baan Kao village, which is easily accessible from the main road that runs north to south on Koh Tao.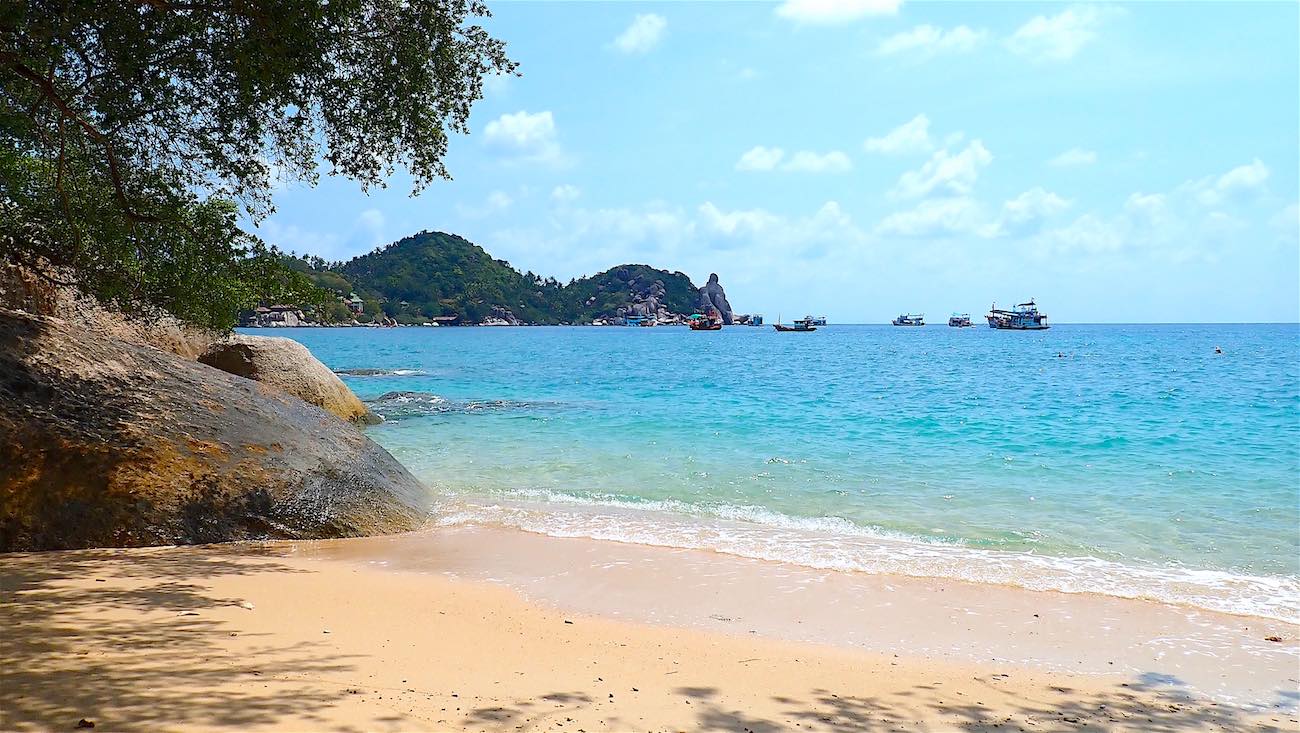 Saan Jao Beach in the South of Koh Tao
The journey from Mae Haad pier is approximately a ten-minute drive, or a 45 minutes walk until you reach the 7/11 shop in Chalok village.
You can turn right at the shop and follow the track until you reach the car parking area, then walk through until you reach the sea and a wooden pier.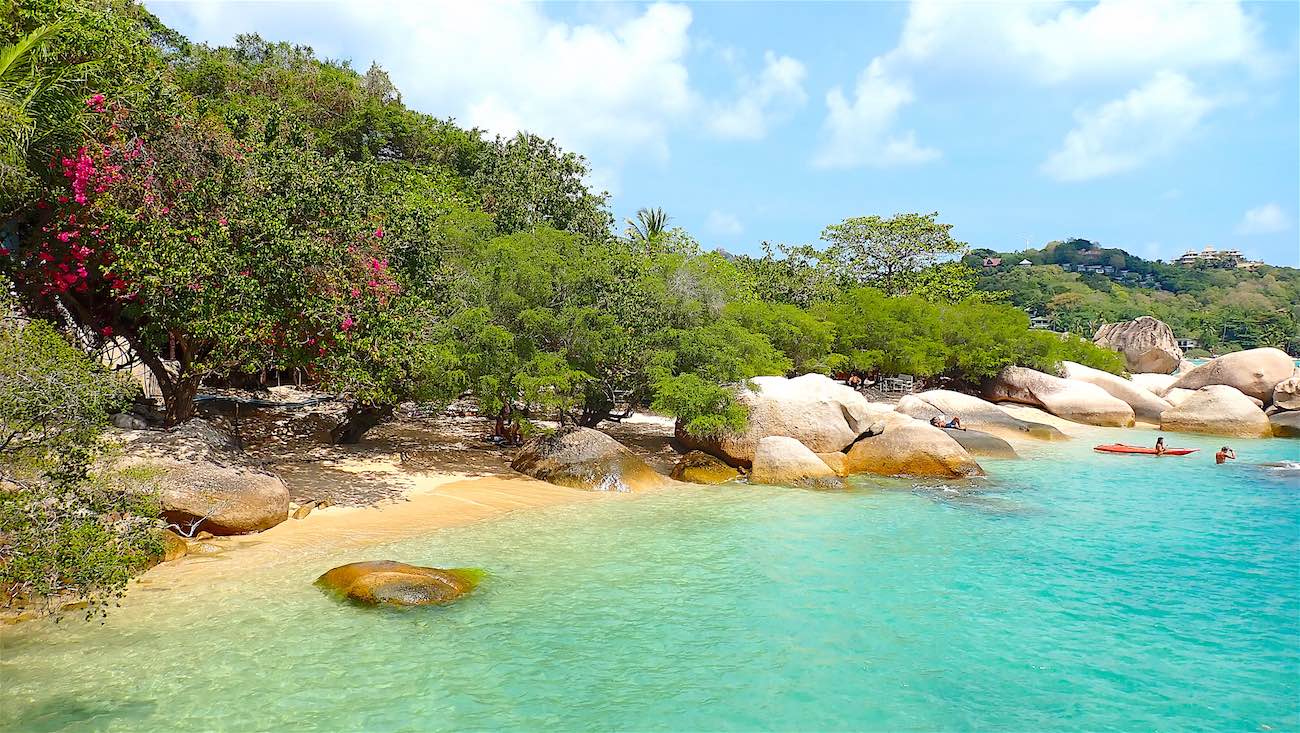 Pirate Bay
You can walk along the wooden pier to a restaurant that enforces a no shoes policy. Remove your shoes and put them back on as you exit the restaurant, then carry on walking around Pirate bay and across the beach.
On the other side, you will pass bungalows and walk through the trees until you arrive at Saan Jao beach.
The entire journey from Chalok Baan Kao beach to Saan Jao beach takes less than 10 minutes and gives you a view of what the local fishermen's lifestyles are like.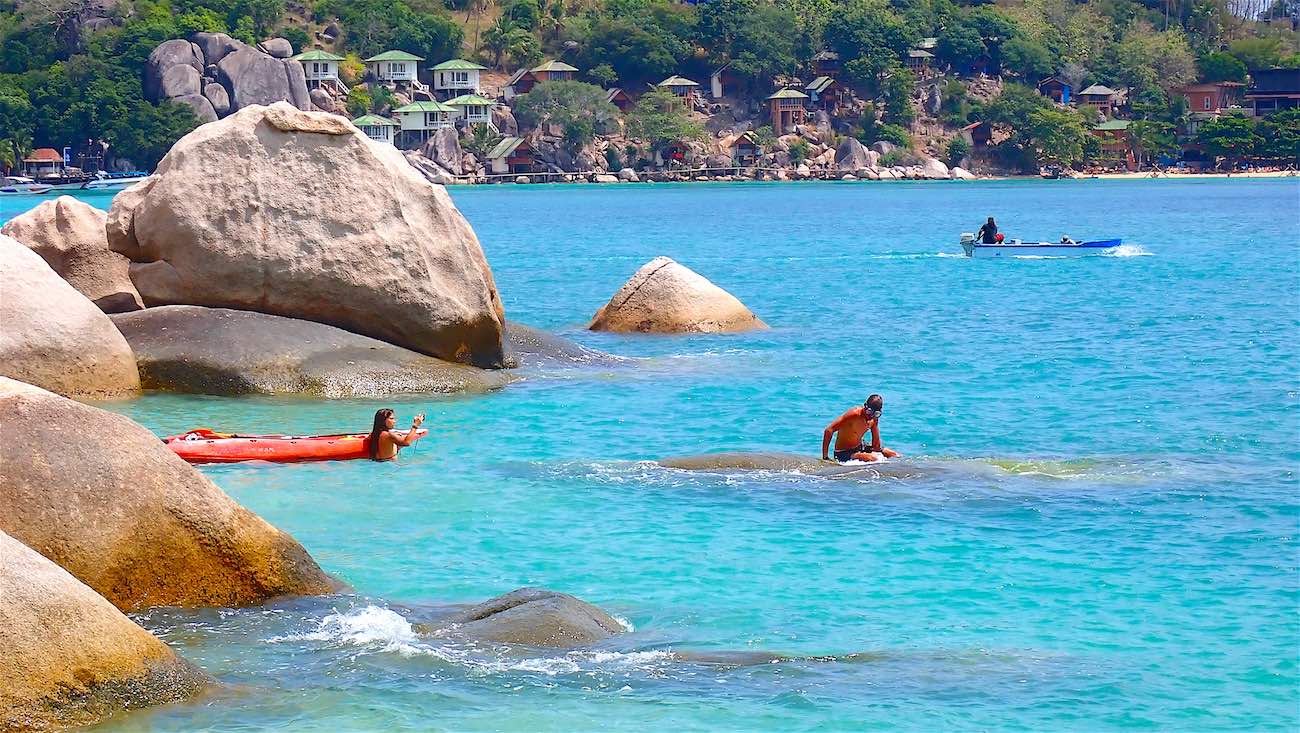 Explore Saan Jao Beach Koh Tao
An alternative route from Mae Haad is to use the coastal path that passes Sai Nuan, Tao Thong and make your way through the Pinnacle Resort, which is next to June Juea beach.
The beach at Saan Jao is covered in fine white sand and although it is fairly small, it is a great place to swim and snorkel from in a morning or afternoon.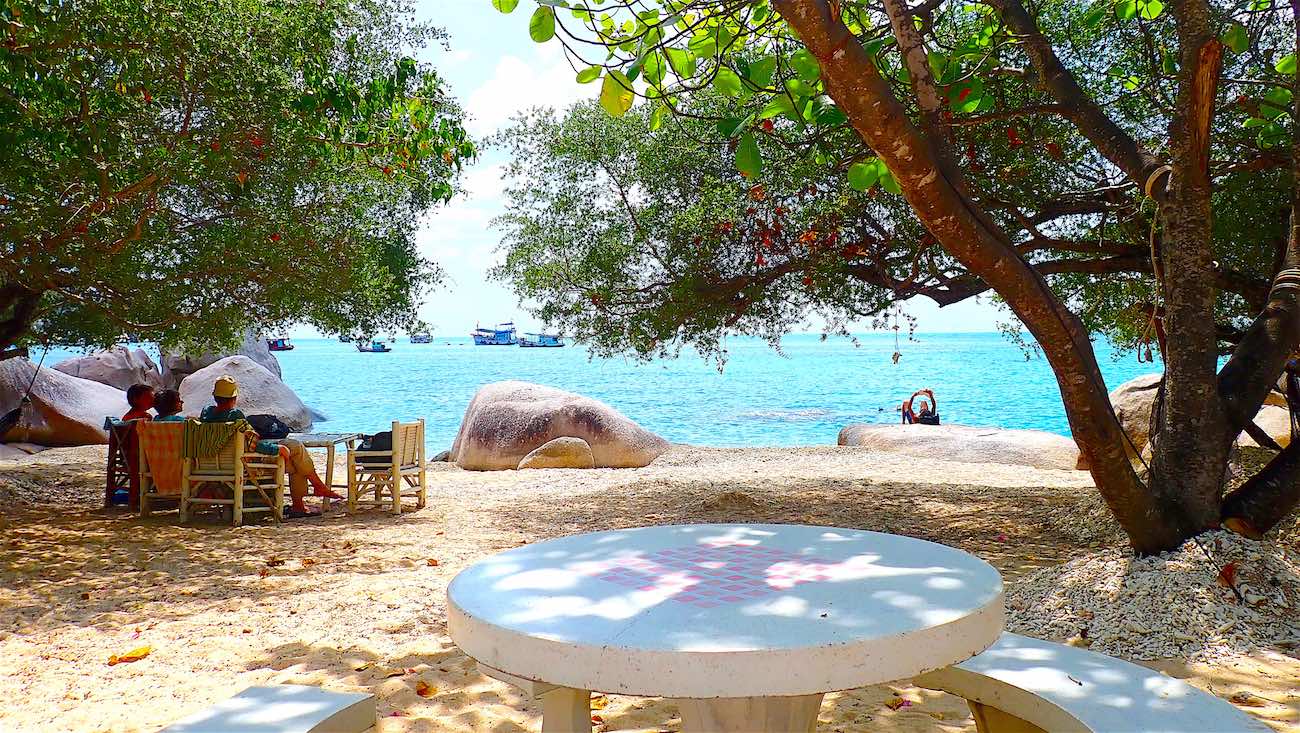 White Sandy Beach
There are lots of trees that provide shade, some of which have hammocks swung from them in which to relax in, surrounded by beautiful bougainvillea bushes with brightly colored flowers.
Very few people visit this beach so it is ideal if you are looking for solitude.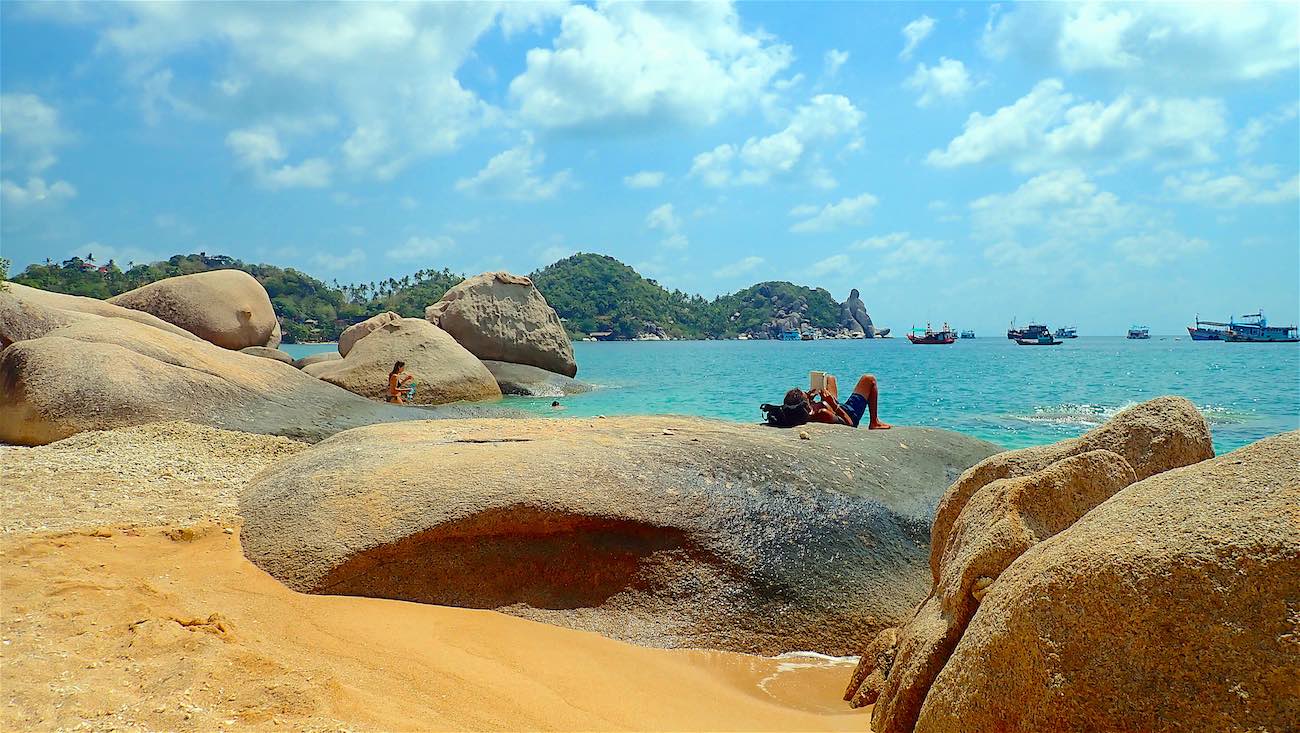 Snorkeling Activities at Saan Jao Beach
If you are feeling more energetic and have brought your snorkeling equipment with you, there is a perfect snorkeling location at View Point Rock, which is accessible from the beach.
From the beach, you can view across the bay to Buddha Rock, whilst lounging in the shade or on a rock reading a book.
Saan Jao beach offers visitors tranquility and serenity, whilst having the ability to swim or snorkel in the warm tropical sea.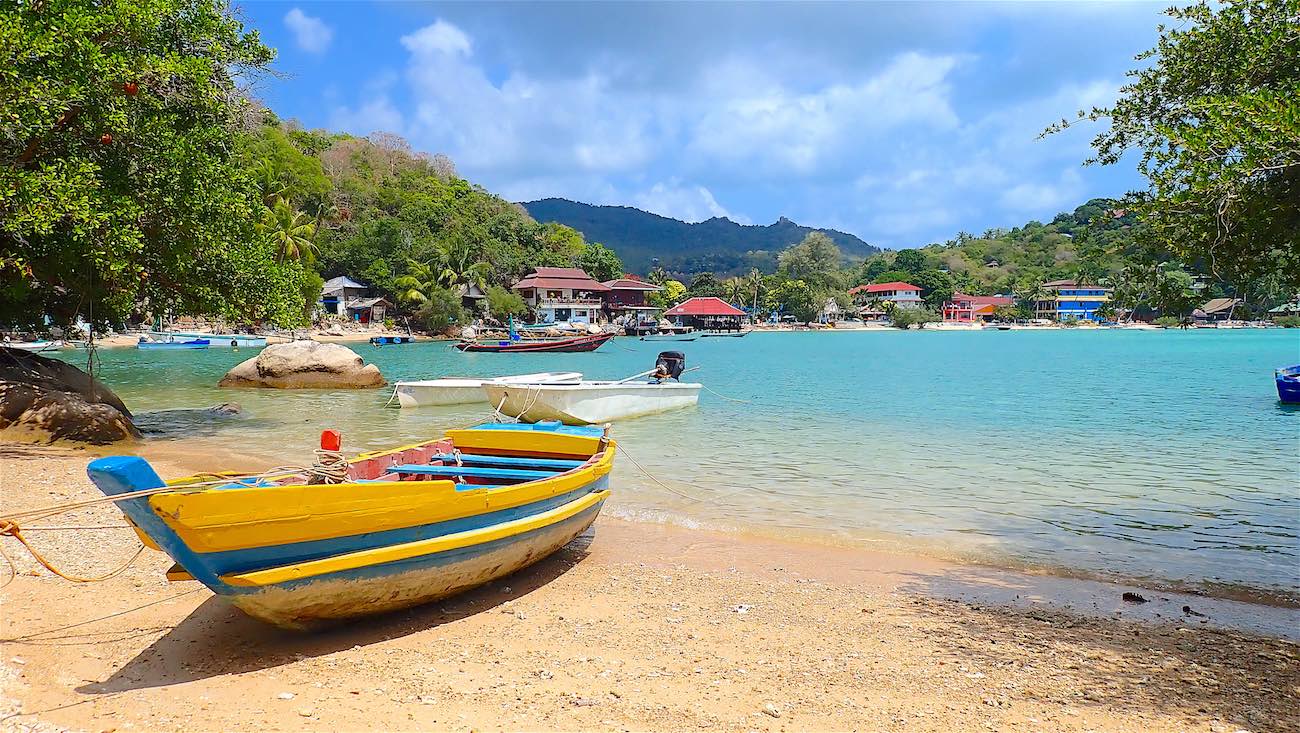 Amazing & Secluded Beach on Koh Tao
You can Kayak from Pirate bay beach, rent a long tail taxi boat to tour the bay in a leisurely way or enjoy food and drink at the pirate bay bar and restaurant.
Saan Jao beach is another of Koh Tao's amazing beaches that you should visit on a warm sunny day to relax, cool off and enjoy the best of what the island has to offer.