Banks & ATM machines on Koh Tao
Despite being a small island 70km off the East coast of mainland Thailand, Koh Tao still provides a wide array of banking services. Three of the main Thai banks have branches in Mae Haad.
Bangkok Bank is located on the down road in Mae Haad, near the post office.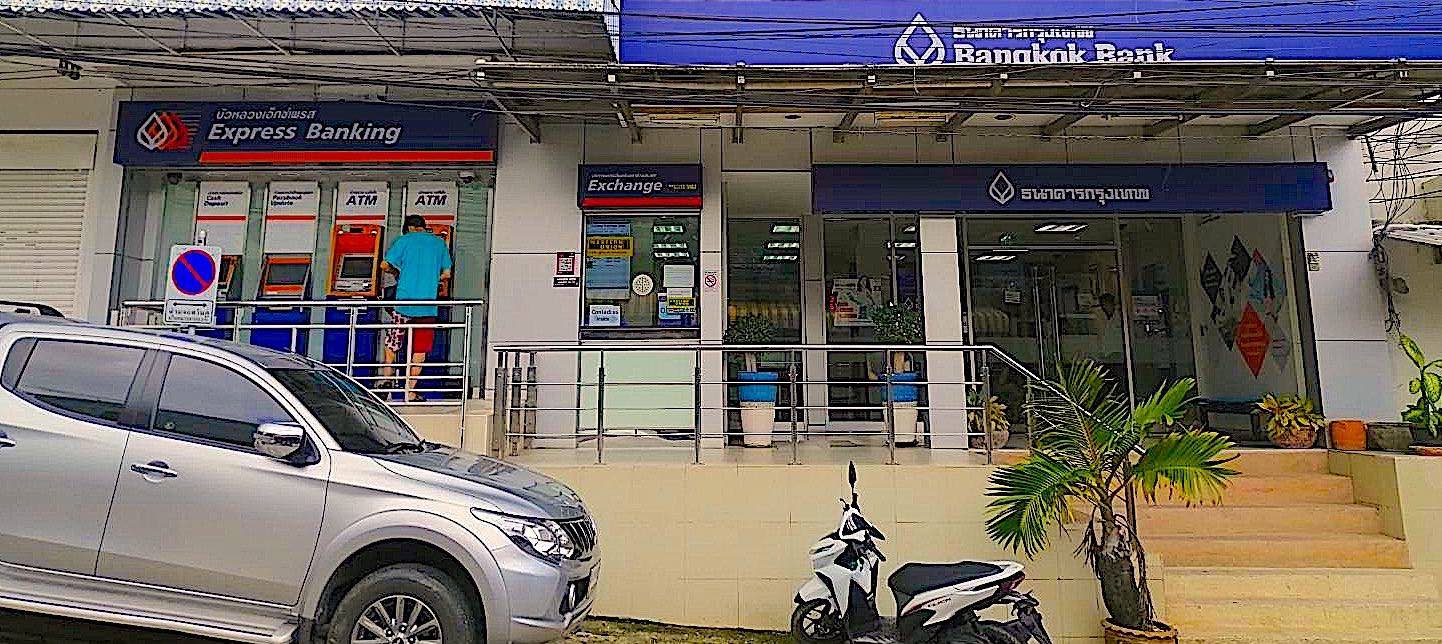 Bank Opening Times
The main branch services are available from 9am-5pm, whilst the money exchange stays open until 7pm. The branch also contains an ATM as well as a Western Union counter.
Krungsri Bank is located on the same road as Bangkok Bank, next door to the Post Office. Open daily from 9am-4:30pm, with the money exchange open until 6pm, they also offer Western Union services.
Thanachart Bank is the first one you will come to when you arrive on Koh Tao as it is just up the hill on the 'up' road from the pier. They open from 9am-4pm daily and the money exchange stays open until 4:30pm.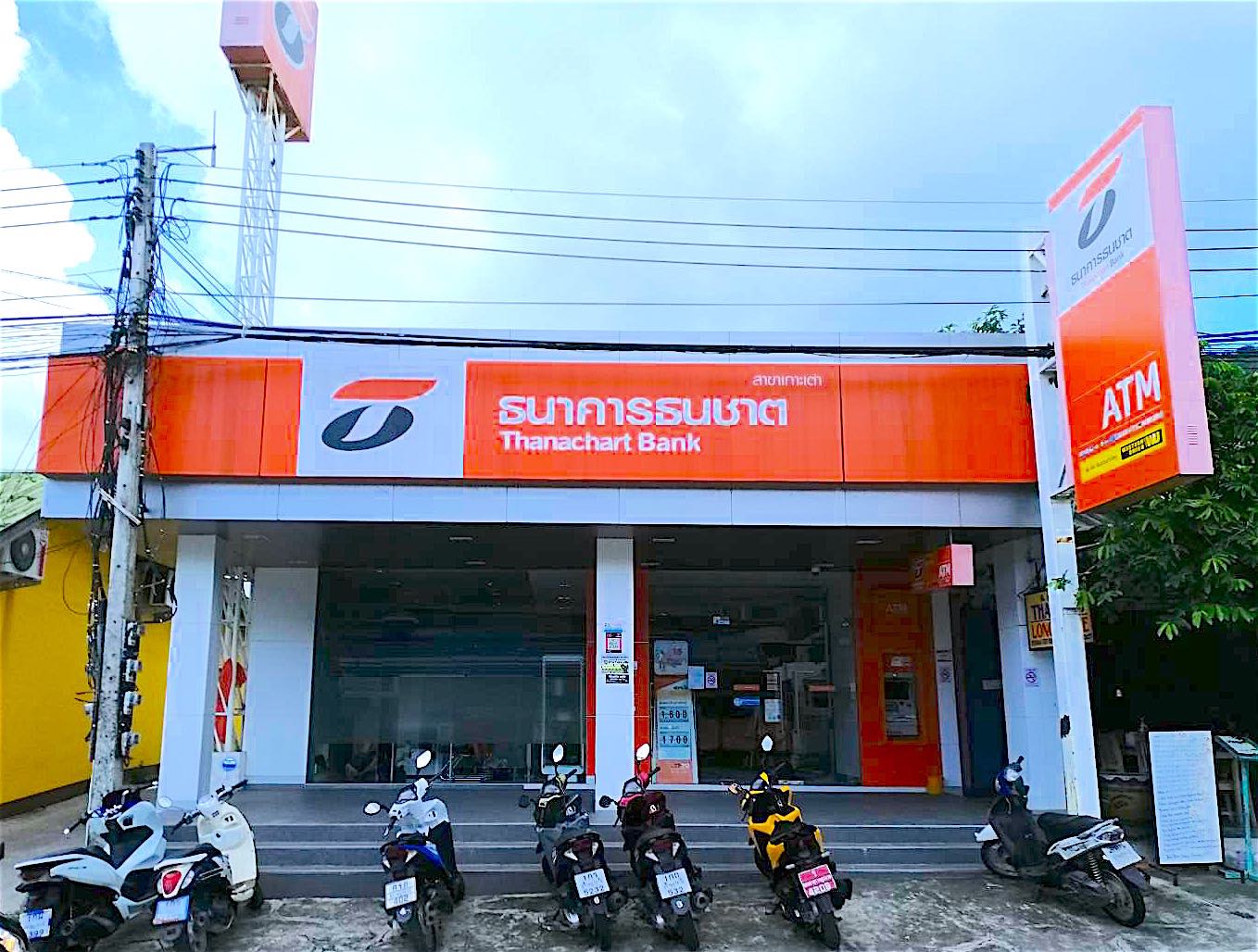 Money Exchange shops on Koh Tao
There are lots of smaller money exchange shops that can be used as well as additional Western Union outlets if you need to have money transferred to you from overseas.
If you are just looking for somewhere to withdraw cash from, there are around 100 ATM's across the Koh Tao.
7 Eleven shops on Koh Tao
Every 7 Eleven on the island offers a 24-hr ATM and there are plenty of other ATM's available around Mae Haad, Sairee and Chalok villages.
Most ATM's allow you to withdraw cash from both Thai and International accounts, although there will be charges for international withdrawals.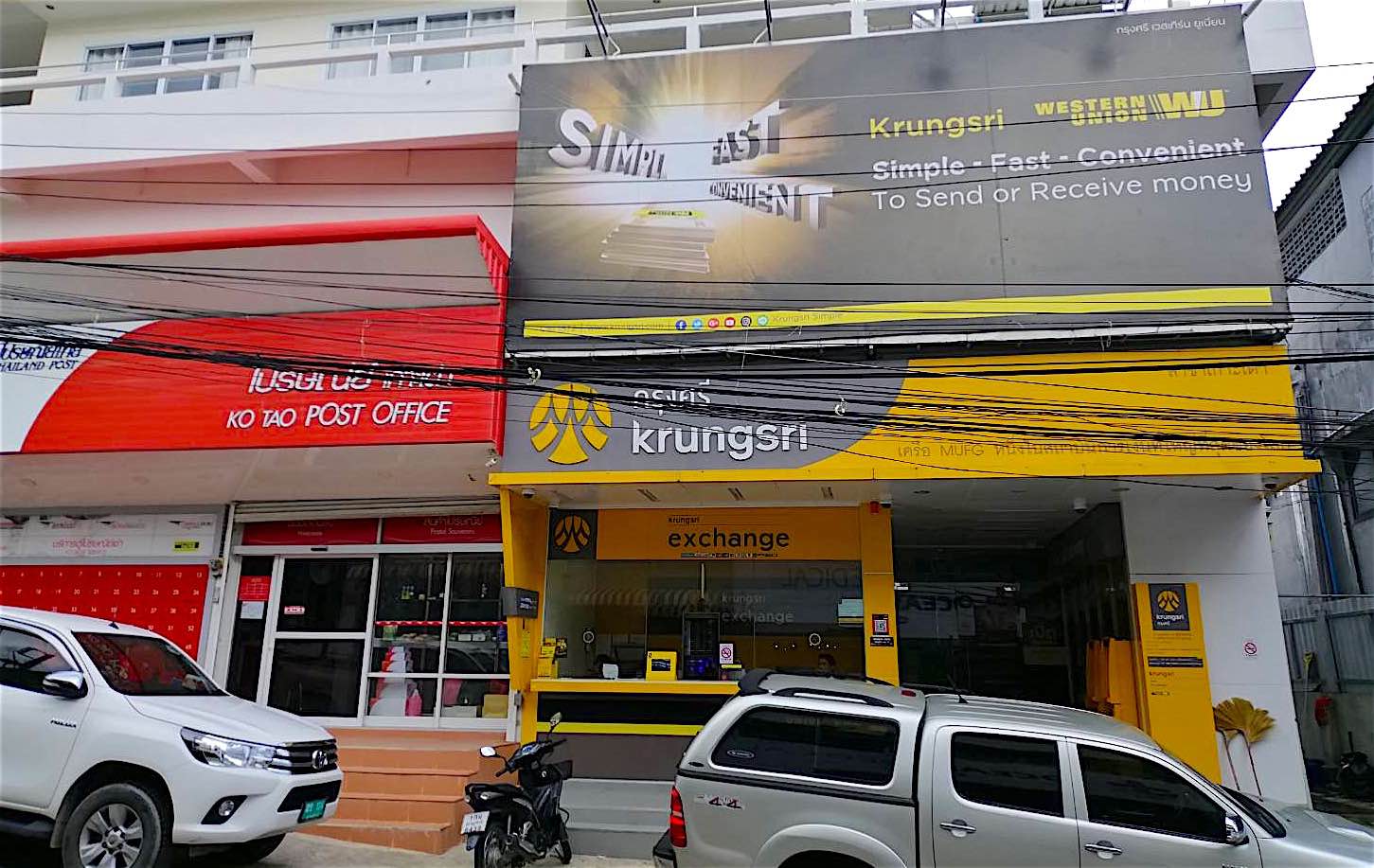 Cash withdrawal limits Koh Tao
It is worth checking your daily withdrawal limit before you visit Thailand so you can ensure you take out the maximum amount each time you use the ATM.
By doing this you will, hopefully, be reducing the number of withdrawals you make, and so reducing the amount of fees you have to pay.
Credit Cards Accepted
If you prefer to use your Credit card, they are accepted by most resorts, diving schools, restaurants and supermarkets.
It is always wise to check with the establishment when you arrive to confirm that they accept credit cards and which ones they accept.
Additionally, ask about any surcharges for using a card as many establishments add 3-4% to the bill to cover their costs.
Frequently Asked Questions
Are there banks and ATM machines on Koh Tao?
Yes, the main Thai bank branches are located in Mae Haad and all have ATM machines. There are also many ATM machines in the 3 main villages of Chalok Baan Kao, Mae Haad and Sairee and along many of the streets that connect the villages.
Can I use a Credit card on Koh Tao?
Yes, many restaurants, hotels, resorts, diving centre's and some shops will accept Visa and Mastercard for payment of goods. Just as it is in many other parts of the world, it is best to ask if credit card payments are accepted before purchasing any items.
Is there a Western Union on Koh Tao?
Yes, the main Western Union branch is located in Mae Haad village and works like any other Western Union shop around the world. The Western Union branch on Koh Tao is available for international money transfers.
Is there money exchange shops on Koh Tao?
Yes, Koh Tao has lots of money exchange shops around the island. They are mostly located in the 3 main villages of Chalok Baan Kao, Mae Haad and Sairee plus you can find one on many of the roads that connect the villages.
Are there surcharges if I use a credit card on Koh Tao?
The same as in other parts of the world, it is worth asking a vendor before using a credit card, if they have a surcharge. Each establishment may have a different policy as it can depend on what arrangement the business has with the card machine operator. You should ask if your bill will include any surcharges before making any purchases. As a visitor to Koh Tao, you should also ask your card provider about any fees you may incur if you use your credit card overseas.