How to get to Koh Nang Yuan Island
One of the most unique beaches anywhere in the world when visiting Koh Tao is the one on Koh Nang Yuan Island.
World Famous
Accessible via a 15-minute long tail boat ride from the west coast of Koh Tao, Koh Nang Yuan is actually three separate islands.
This unique feature is connected by a sandbar, which forms the beach and can disappear during a high tide.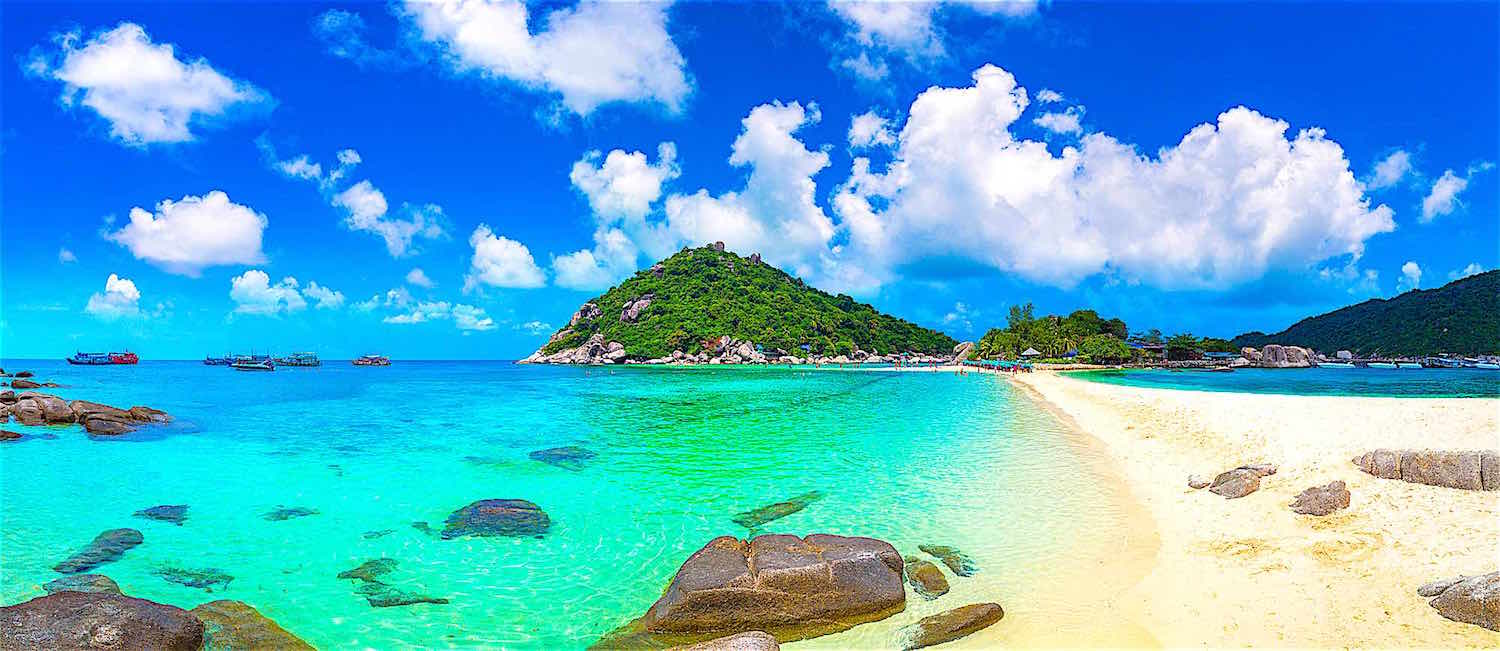 Long Tail Boat to Koh Nang Yuan Beach
To visit Koh Nangyuan you can hire a long tail boat from either Mae Haad beach or Sairee beach.
If you choose to hire a long tail boat, you will first need to negotiate the price with the captain, which can be approximately 300THB for a return journey per person.
However, prices vary depending on where you depart from so please speak with the driver to agree a price before you leave. It can work out cheaper if you share the journey with other visitors.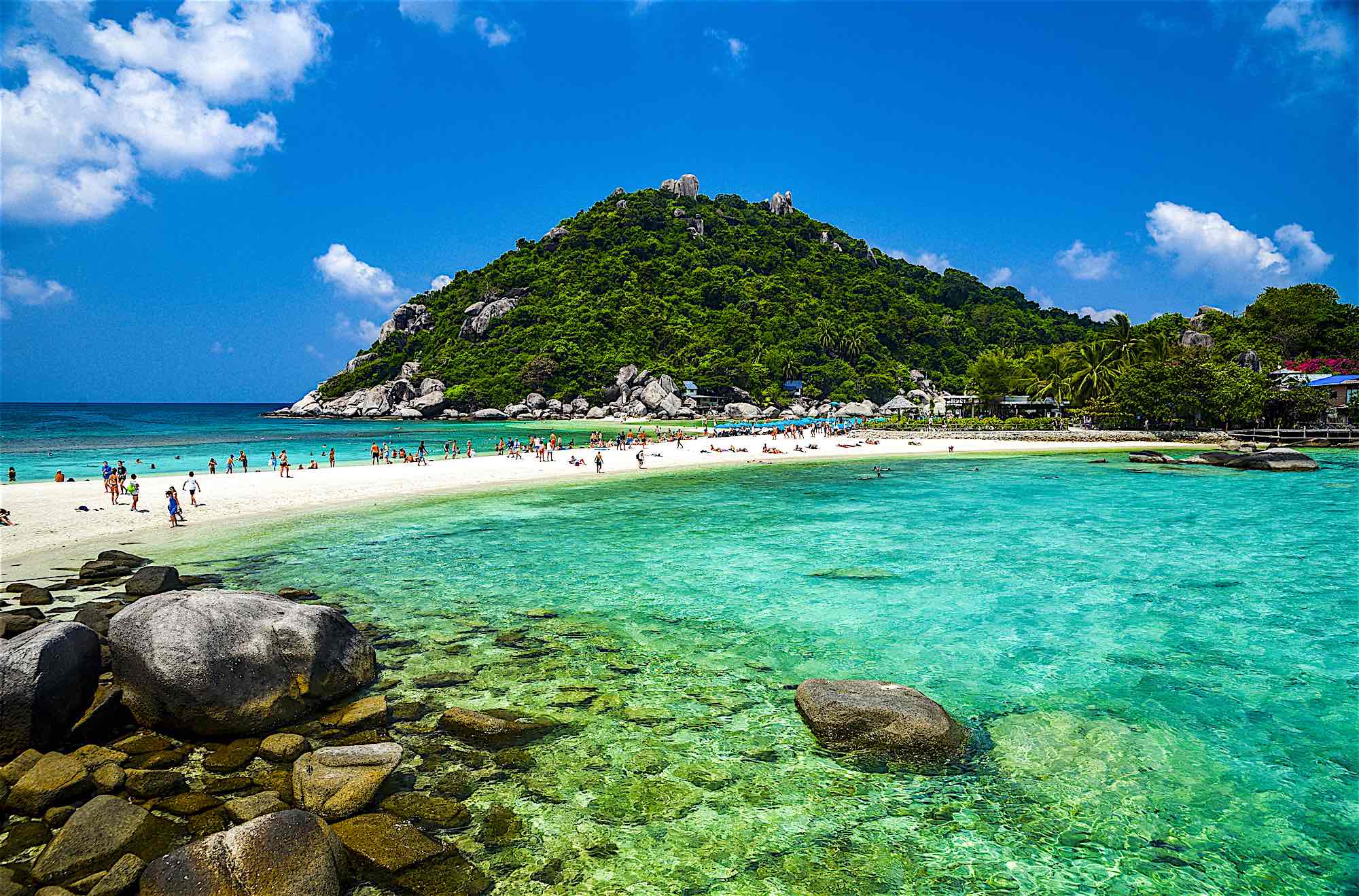 Stunning Beaches
There are many long tail boats lined up along Koh Tao beaches and some can take up to 10 people.
Koh Nangyuan island closes to the public at 5pm so plan your half day or full day trip and agree your return journey times before setting out.
Open 10am to 5pm
When you agree a return fare, you may need to pay upfront for the entire journey and confirm your pick up time and some drivers will wait for you if you plan a short visit.
The long tail boat driver will give you the boat number so you can look for it from the pier when you are ready to return to Koh Tao.
If you have a Thai mobile phone you can swap numbers to make it even easier to contact the driver.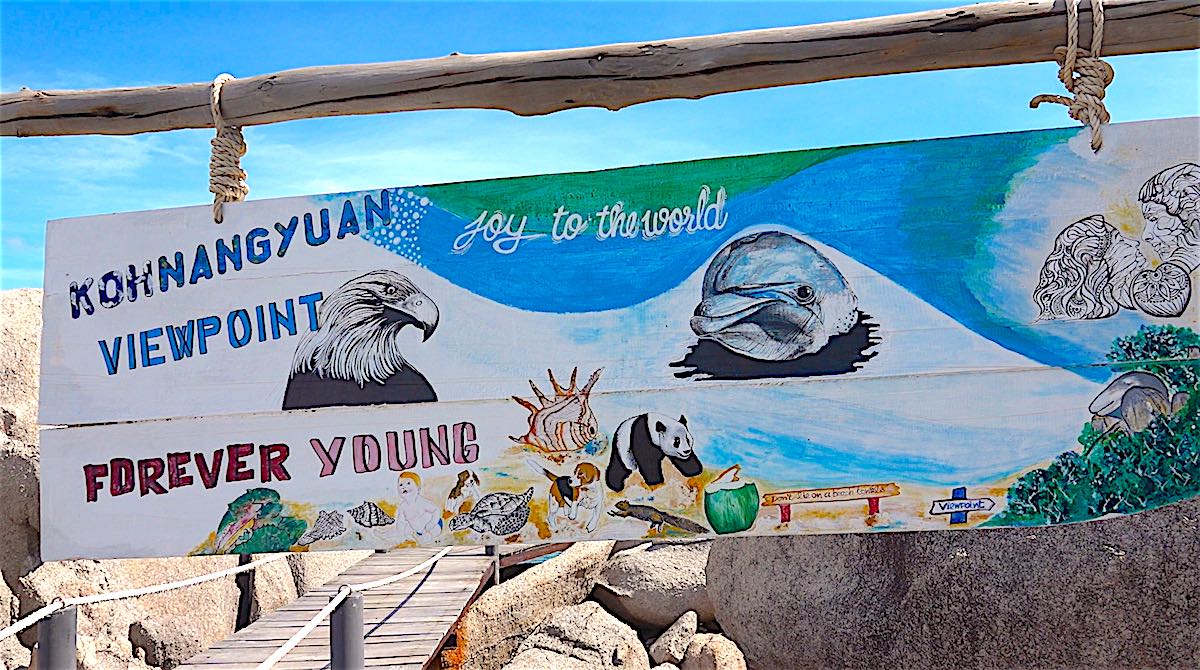 Entrance Fee to the Beaches of Koh Nang Yuan Island
When you arrive at Koh Nangyuan you need to pay the 100THB entrance fee. Koh Nangyuan is a privately owned island and is only open to the public from 10am-5pm.
The entrance fee must be paid by everyone, except guests of the Koh Nangyuan Dive Resort.
If you visit with an organised snorkel tour, be sure to check if the cost of the tour includes the entrance fee for Koh Nangyuan.
No Plastic
Your bags will be checked when you arrive at the island as you cannot take any disposable plastic or cans with you.
If you choose to bring drinks with you, please use glass or reusable bottles. Plastic will be taken off you and you will have to buy drinks at the resort restaurant.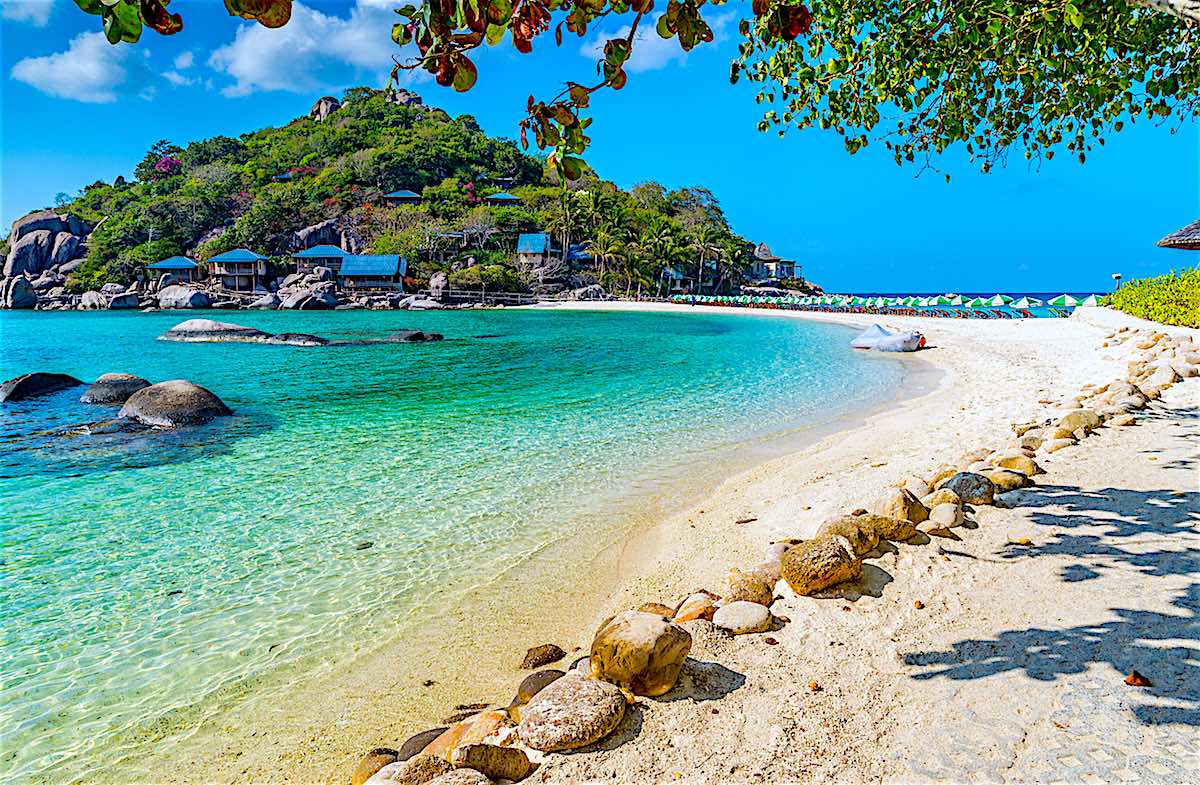 The Beautiful Beaches of Koh Nang Yuan Island
Once you are past the pier you will find what is considered to be one of the most beautiful islands in the world.
The sandbar is covered with white, coral sand and has three lagoons adjoining it.
Clear Warm Water
Whilst one side of the beach quickly drops off to deeper water, the other side stays relatively shallow.
There are designated swimming areas in the lagoons, as well as excellent snorkeling and scuba diving areas.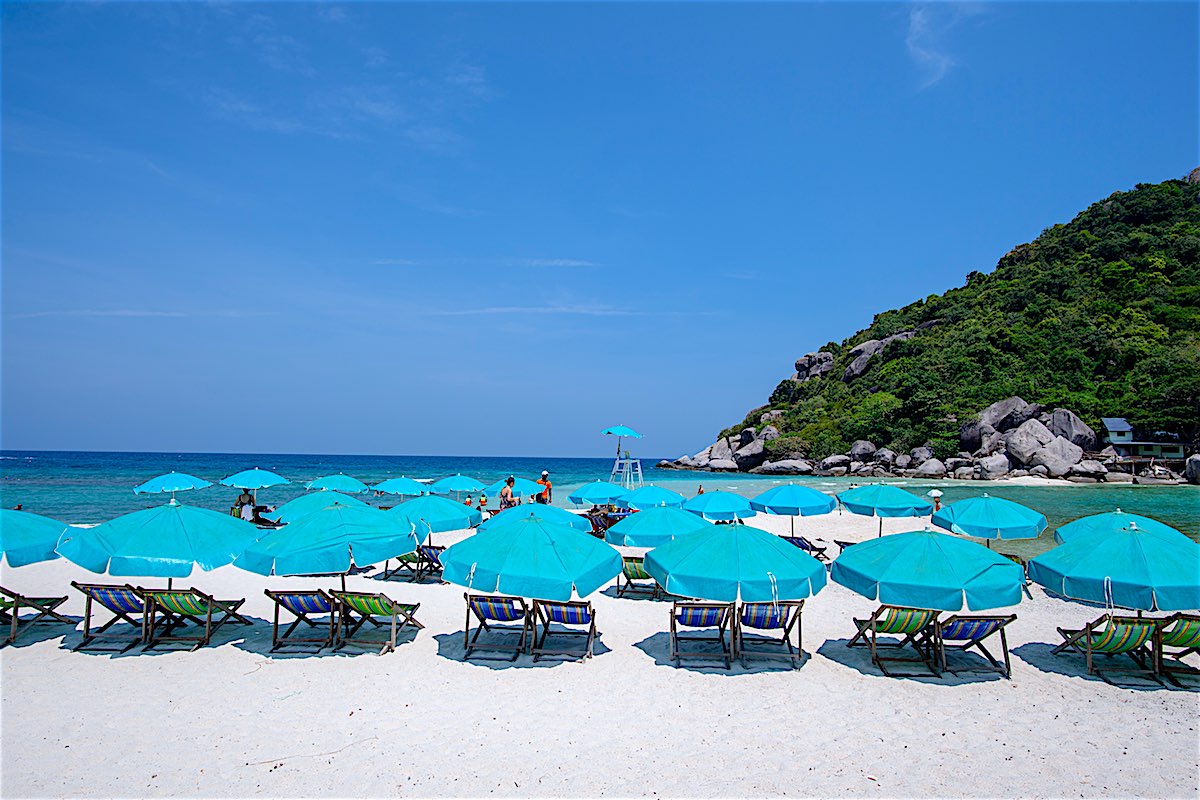 The Best Time to Visit the Beaches on Koh Nang Yuan
One thing to take into consideration when you visit the beaches on Koh Nangyuan Island is that it can get busy.
There are day trips from Koh Samui and snorkel trips that have Koh Nangyuan on their itinerary, so this is not the beach to visit if you are looking for solitude.
Read The Noticeboards
Another rule is that you cannot lay towels directly onto the sand if you plan to sunbathe. This prevents the sand being removed from the beach.
It was discovered that literally tons of sand was being inadvertently removed from the beach by visitors using towels on the sand.
There are a many deck chairs with umbrellas that you can hire for a small fee, although they do sit quite close together.
Despite this, it is still worth taking the time to visit the beach at Koh Nangyuan as it is like no other beach on Koh Tao.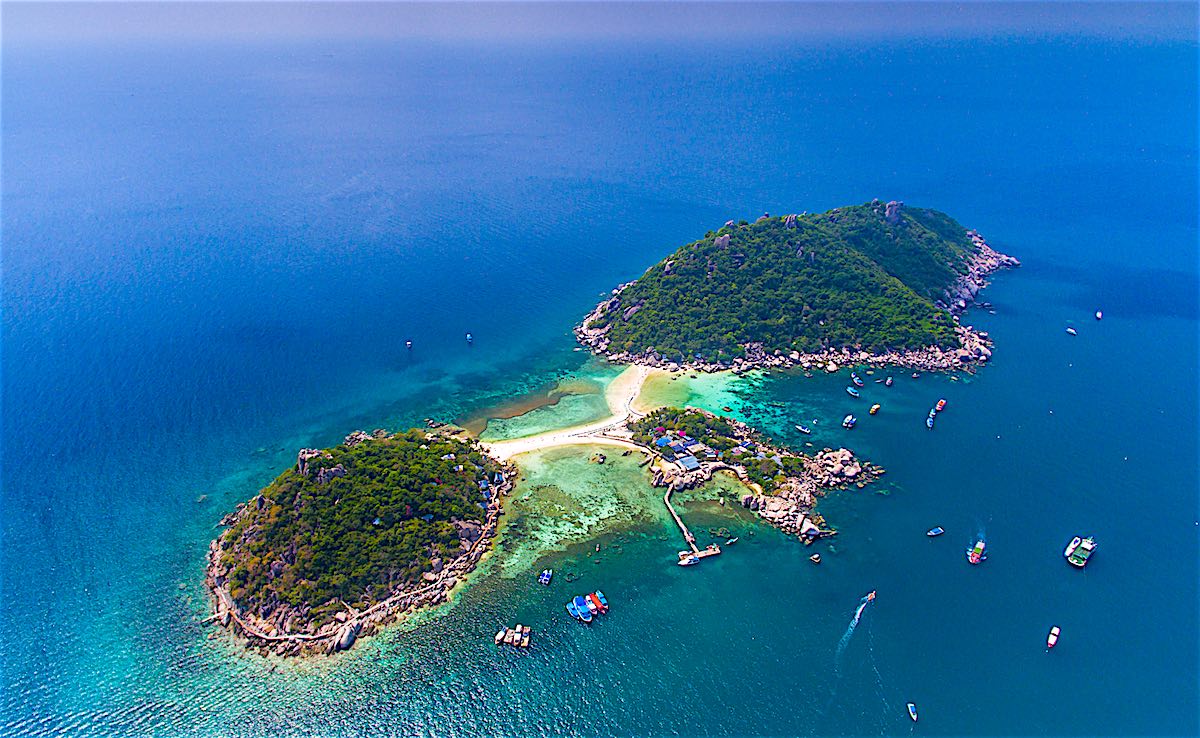 Restaurant & Café on Koh Nang Yuan Island
As a visitor you can use the café and restaurant for refreshments and take a hike up to the top off Koh Nangyuan viewpoint.
The best way to gain almost exclusive access to Koh Nang Yuan island's beaches and facilities, is to book your accommodation and activities at the Nang Yuan resort.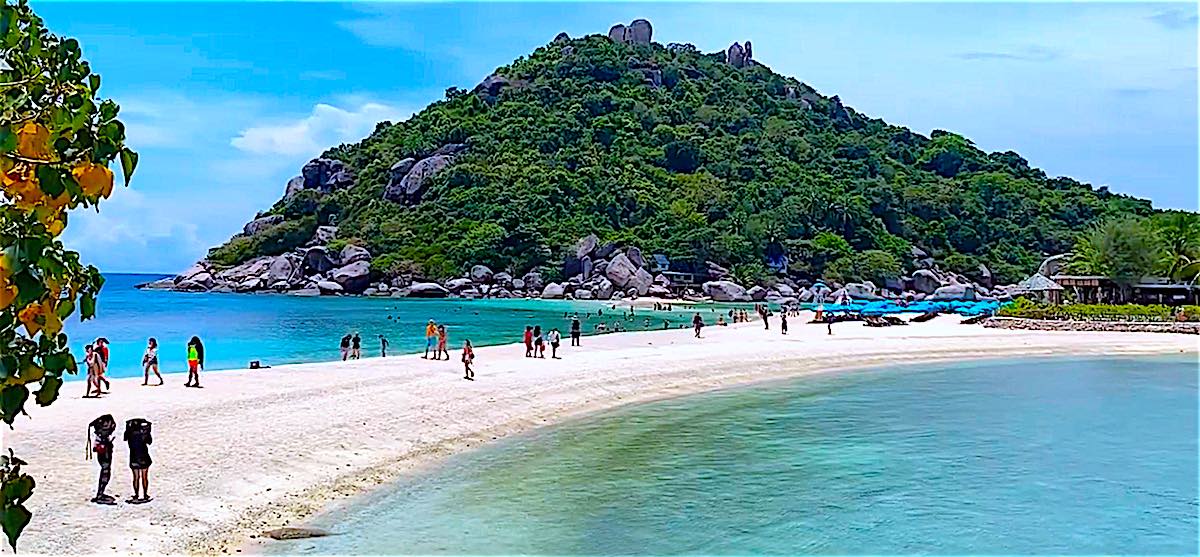 Spectacular Photos
If you visit at the very start or end of the day, you should get the chance to experience it without the crowds and take some spectacular photos.
Whatever you decide, Koh Nang Yuan island should be near the top of your bucket list and is not to be missed.
For more information about visiting Koh Nang Yuan, booking long tail boats, accommodation or snorkel trips, contact us to discuss your itinerary.
Frequently Asked Questions
How to visit the beaches on Koh Nang Yuan Island?
Koh Nang Yuan is an idyllic island paradise located approximately 800 metres off the north west coast of Koh Tao. You can only reach the island by longtail taxi boat, Lomprayah high speed ferry or on a daily snorkel trip.
There are 3 beaches you can visit once you arrive on the island and each one offers its own unique features.
Can I go snorkeling on Koh Nang Yuan beaches?
Snorkeling on Koh Nang Yuan is very popular and there are different beaches you can snorkel from once you arrive.
Look out for any signs that will guide you as to what beach you can use and always make sure you are comfortable in water that is too deep to stand in, before you go snorkeling.
You can read our top tips for snorkel safety as a best practice guideline.
How much does it cost to visit Koh Nang Yuan?
Every visitor to Koh Nang Yuan has to pay an entrance fee as it is a private island. For non Thai nationals the entrance fee is 100baht per person and for Thai nationals the fee is 30baht per person.
A visit to the island is highly recommended and you can enjoy the beaches for snorkeling, swimming and visit the viewpoint.
How long does it take to get to Koh Nang Yuan Beach?
A longtail taxi boat from Sairee beach on Koh Tao usually takes around 20 minutes to arrive at Koh Nang Yuan and from Mae Haad beach it usually takes approximately 40 minutes.
Longtail boat drivers make this journey every day and have served many thousands of customers over many years.
Is it safe to swim on Koh Nang Yuan beach?
Koh Nang Yuan is a perfect location to go swimming. The island offers visitors beautiful beaches and a calm, safe water environment that is diverse in coral and marine life.
As you would do in any other location around the world, when swimming make sure you take precautions to ensure your safety.