Best Accommodation on Koh Tao
Koh Tao may be a very small island but it welcomes around 500,000 visitors to it's sandy beaches and beautiful bays each year.
Visitors to Koh Tao are made up of a range of groups including solo travellers, backpackers, families, couples and those looking for a luxury getaway.
There is a wide variety of accommodation available at a range of prices across the island allowing you to find the right place for your budget no matter which area you choose to stay in.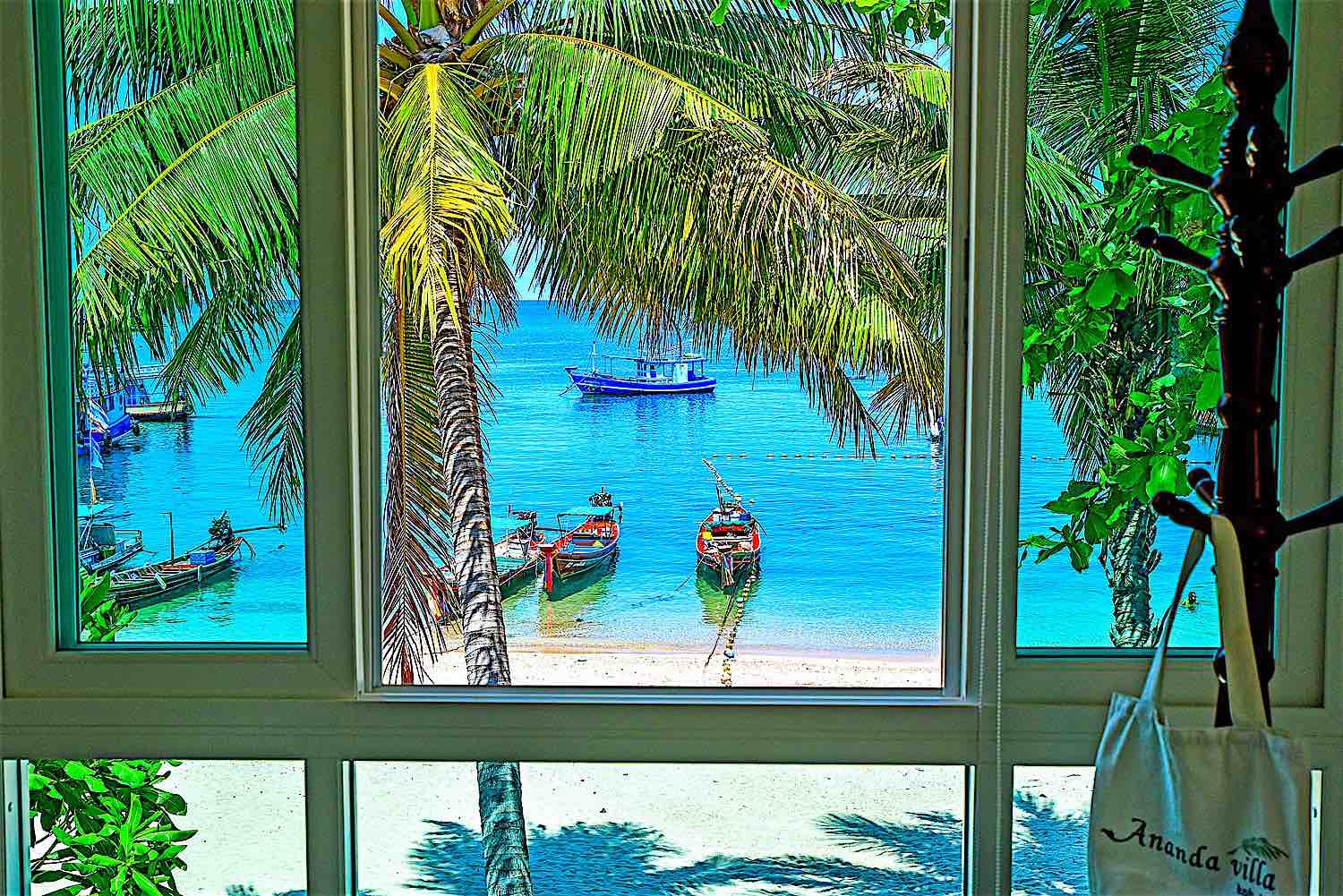 When is the Best Time of Year to Find Accommodation?
Outside of high season through January – March and July – September accommodation is usually easy to find and can be booked once you arrive on the island.
During the high season, and immediately after the Full Moon, however, it is advisable to book in advance as the island can get busy.
Accommodation Packages
If you are coming to Koh Tao and plan to take a scuba diving course it is worth booking your diving first as many of the dive schools offer cheaper accommodation as part of their package.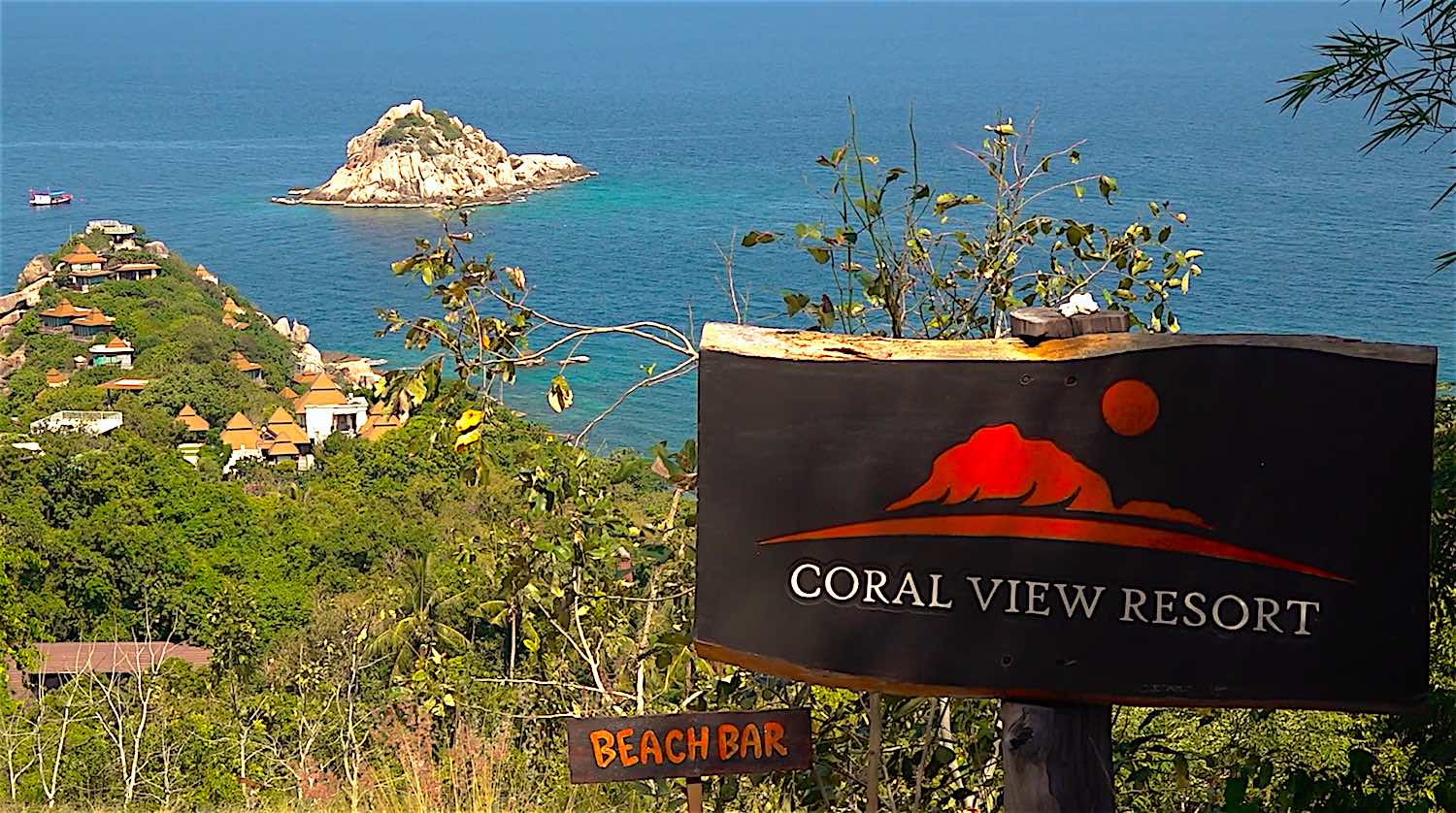 Where to stay on Koh Tao
There are 3 main 'village areas' where you can stay on Koh Tao; Mae Haad, Chalok, Sairee and at various other more secluded bays around the island.
Mae Haad Pier Accommodation
Mae Haad is the main pier village and everyone arriving on Koh Tao will arrive at Mae Haad.
Full of amenities and ideal if you want to stay near to the main pier, it's a great place to stay if you are on a budget.
There are a number of hotels, resorts, hostels, beach huts and economy priced accommodations near the two beaches that feature either side of the main pier, along with lots of places to rent scooters for exploring the rest of the island.
If you are looking to explore the entire island and just want somewhere to drop your bags and sleep, this is the ideal location to stay.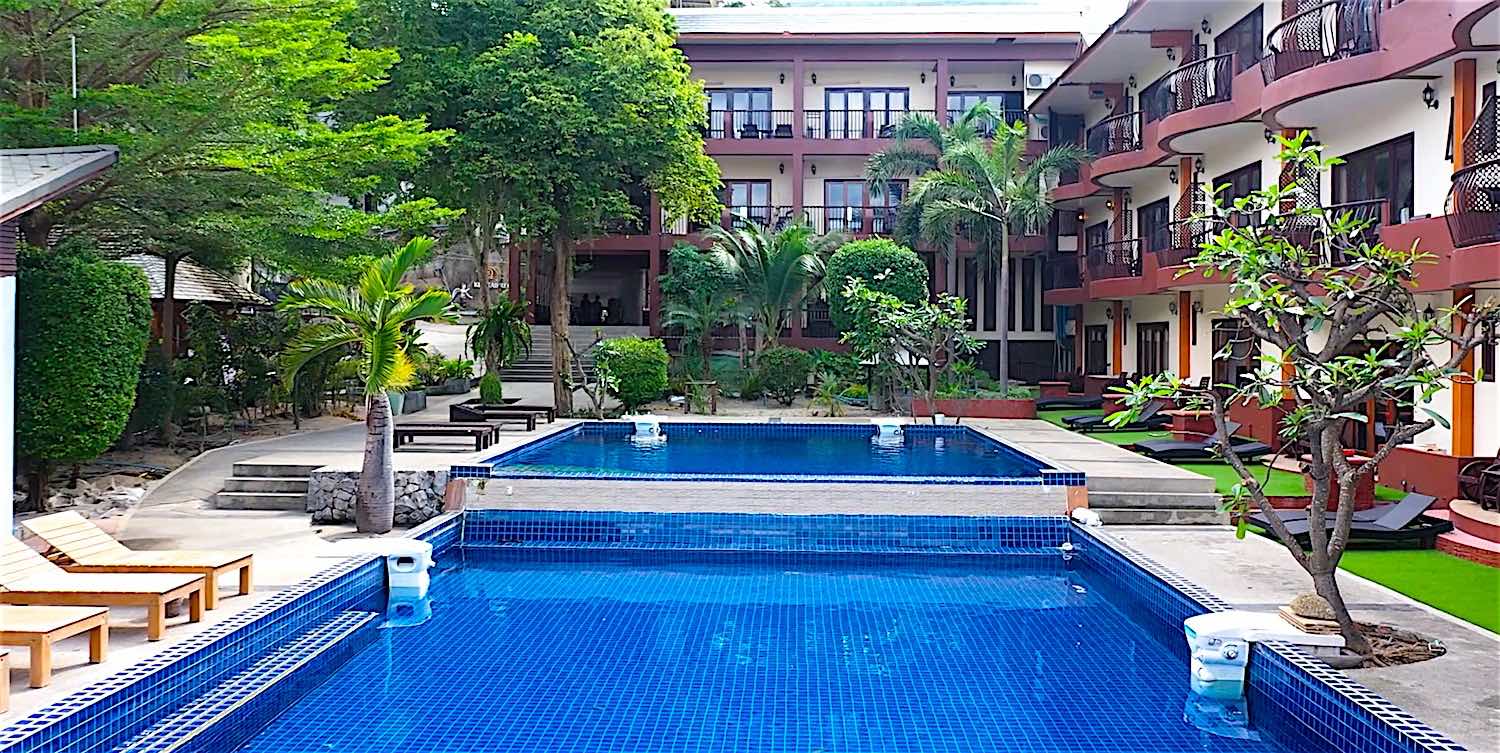 Sairee Beach Accommodation
Sairee beach, which is further down the west side of the island, is the location of the busiest, most popular and accessible beach on Koh Tao.
During the day there is plenty to keep you busy, whilst at night Sairee has a lively nightlife, complete with a wide variety of bars and restaurants.
A popular place for backpackers to stay, Sairee is a great location if you are looking to meet new people.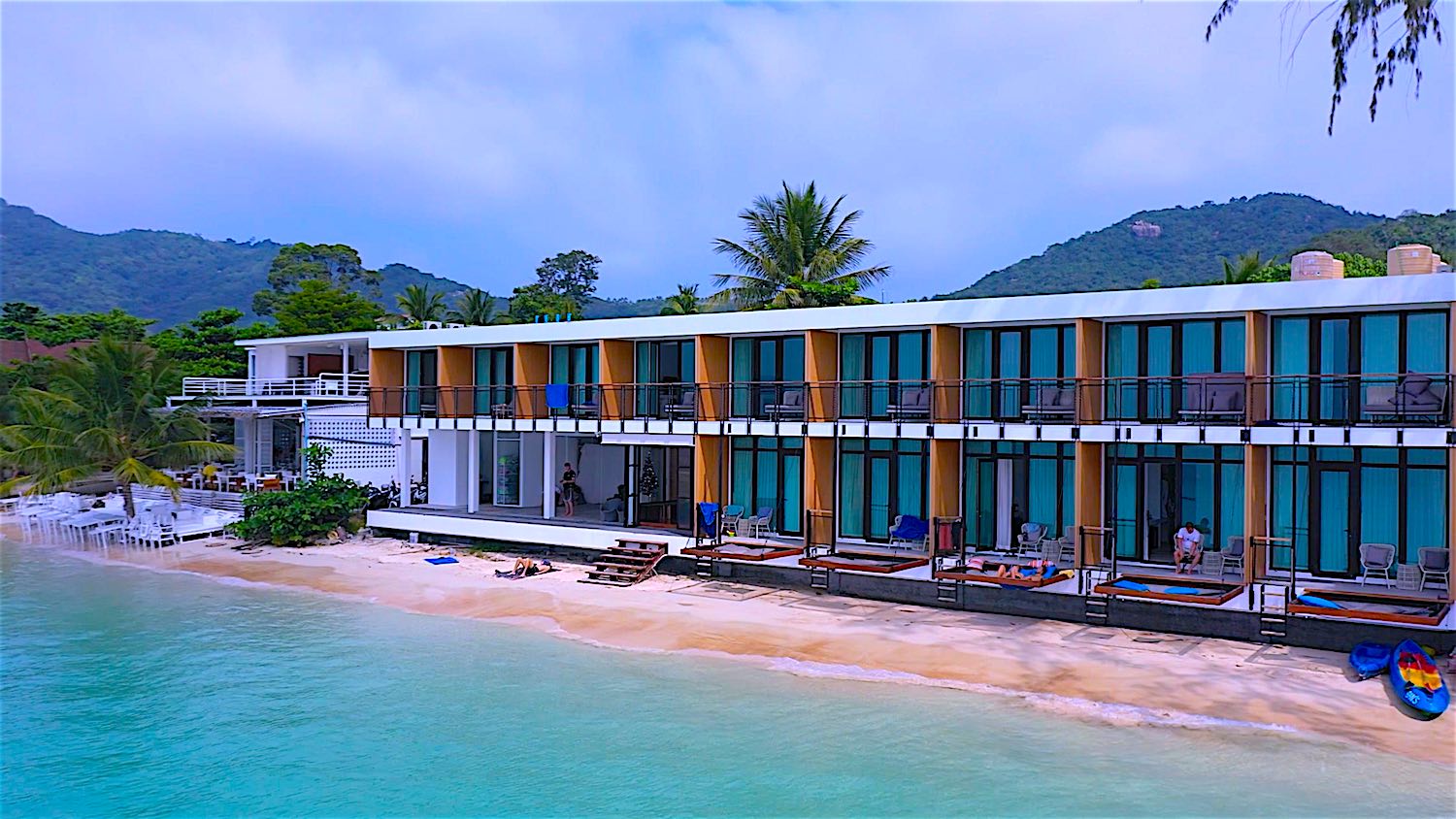 Chalok Baan Khao Accommodation
Chalok is situated to the South of the island and is a great place to stay on your first visit to Koh Tao.
Away from the crowds and with a more relaxed vibe, there are a good number of restaurants and bars, along with a full range of both budget and luxurious accommodation.
Chalok is home to the third largest beach on the island and the waters here are shallow and calm, making it ideal for families.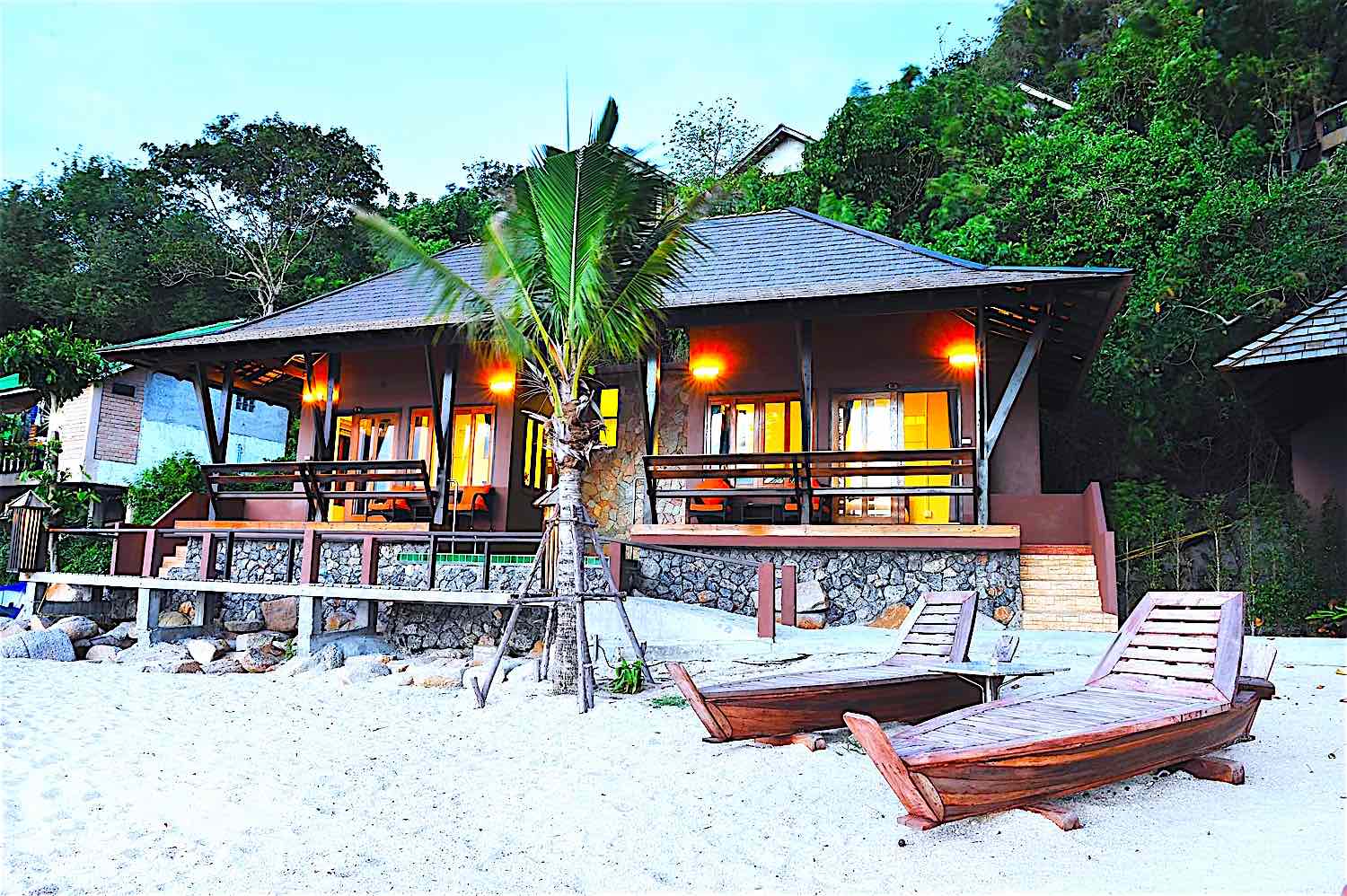 Accommodation on the East Coast of Koh Tao
The eastern coast bays of Koh Tao, such as Hin Wong, Aow Leuk, Tanote Bay and Shark Bay, provide a great location for those looking for a truly laid-back and relaxing experience.
White Sandy Beaches
With white sand beaches and turquoise waters, they are great for those who want to explore the coral reefs or go hiking, climbing and rock jumping.
These bays are home to a handful of resorts, shops and restaurants, they are more remote but provide stunning ocean side bungalows that are great value for money.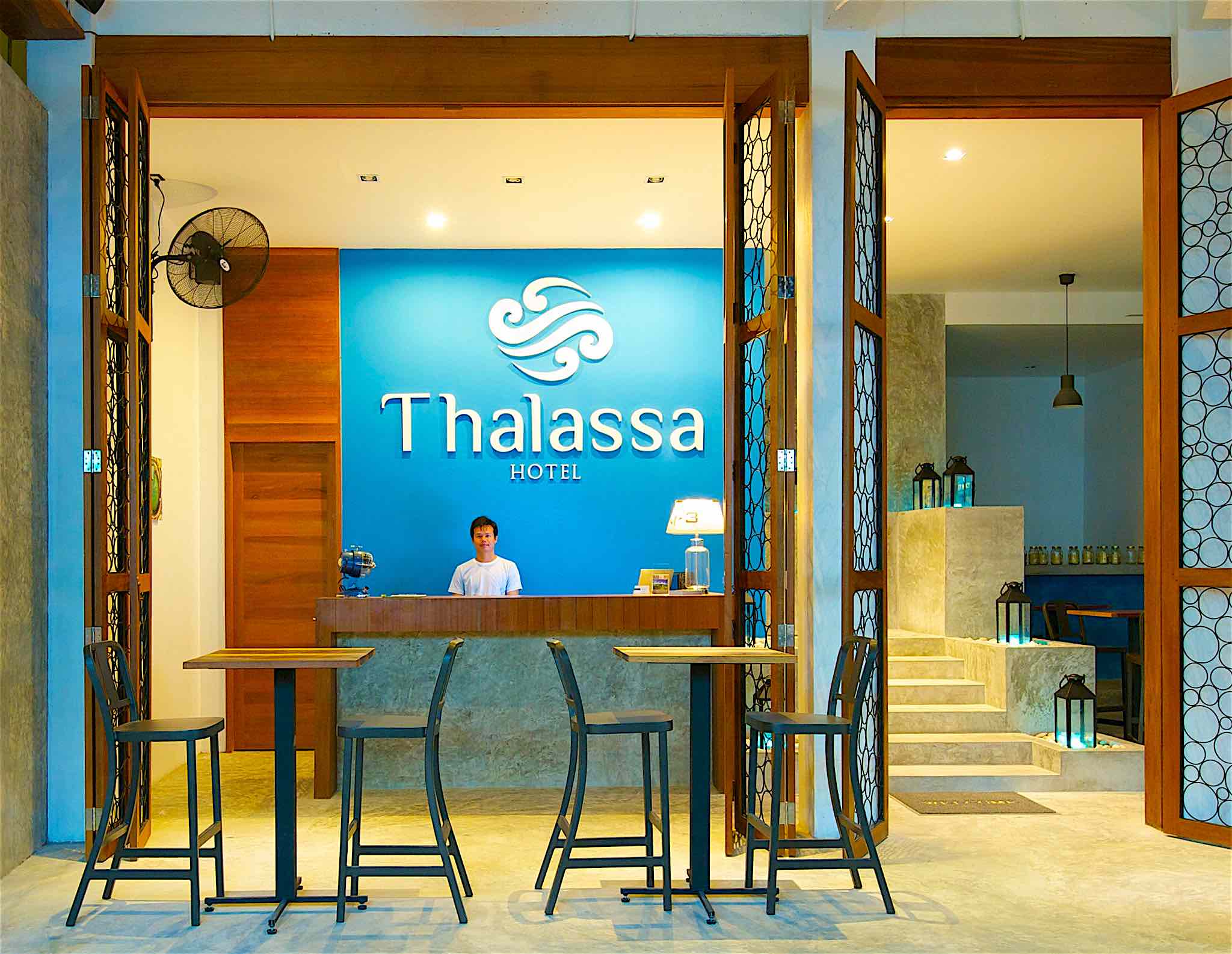 Types of Accommodation Available
To cope with the variety and diversity of visitors, Koh Tao offers everything from budget hostels to 5-star resorts.
Each type of accommodation provides its own facilities at different price ranges making it easy to choose the perfect place to fit your budget and your needs.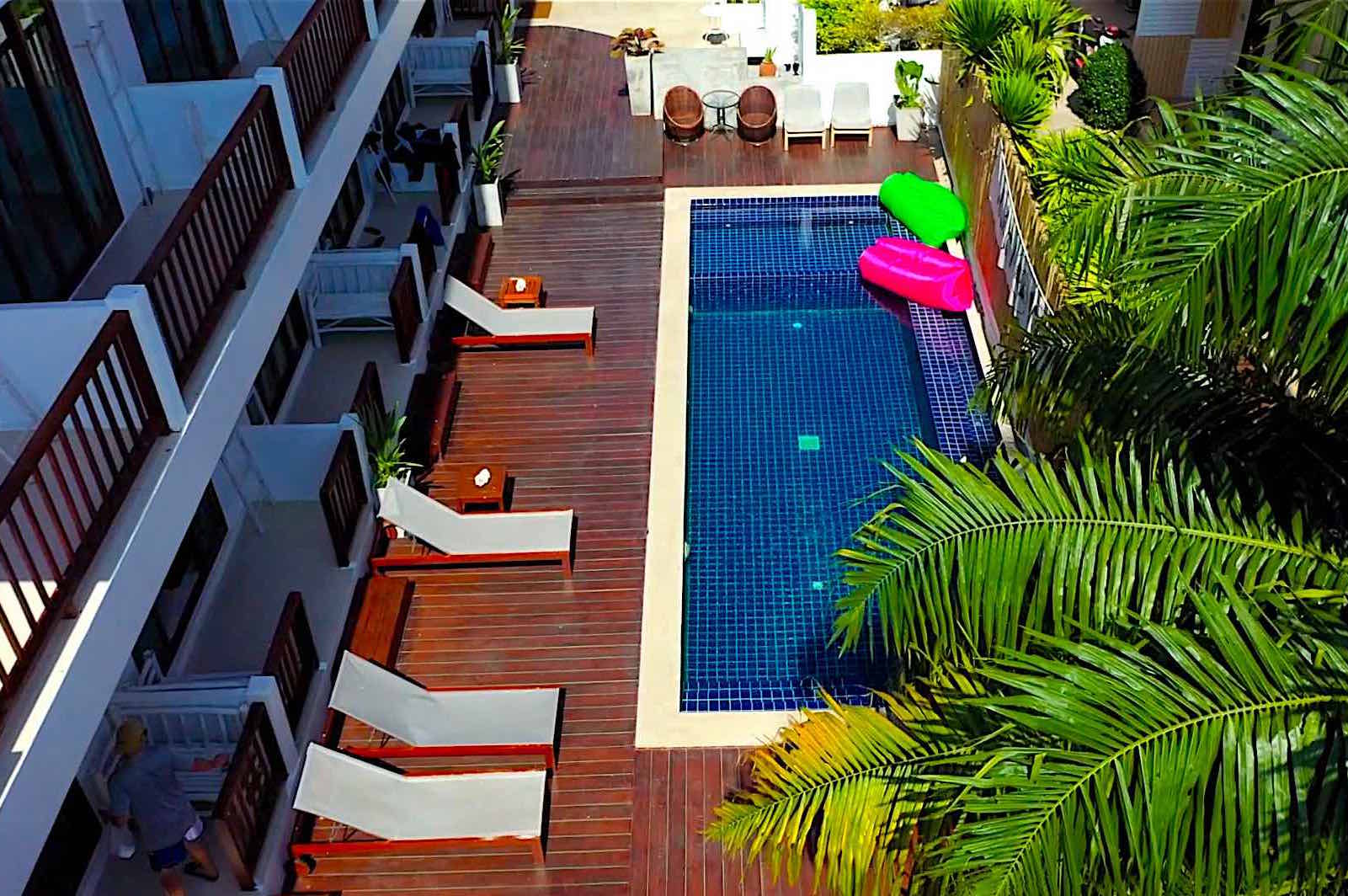 Hostels on Koh Tao
Hostels provide a great option for those traveling on a budget. Prices begin at just US$7 per night for those who are happy to stay in a dormitory or $17 if you prefer to stay in a private room.
Hostel rooms can be air-conditioned or fan only, with fan-only rooms priced more cheaply.
The dormitory rooms generally offer you a bed with a secure locker, power outlets, a reading light and shared bathroom facilities.
The private rooms come with en-suite bathrooms, larger beds and depending on the hostel, may have additional features such as in-room TV's or gaming consoles.
All hostels provide free wi-fi and some provide on-site common rooms, making them a great place to stay if you are looking to meet other people during your stay.
Some have adjoining bars and restaurants rather than common rooms and a few even offer a swimming pool.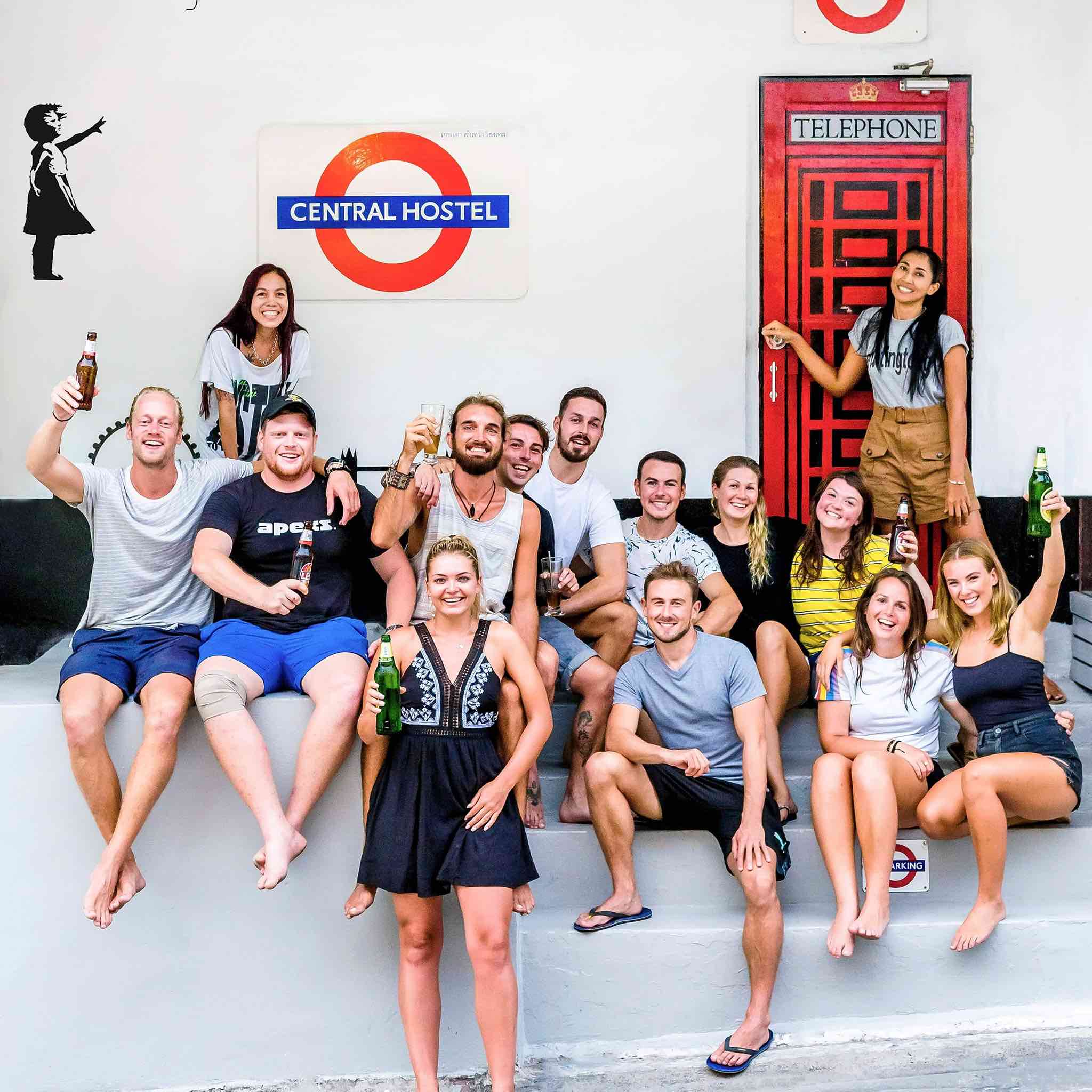 Guesthouses on Koh Tao
Guesthouses on Koh Tao, which are often family-run, offer all private rooms
complete with air-conditioning. The rooms usually contain beds, clothing racks, fridges, free Wi-Fi and basic hot-water bathrooms, although some of the lower cost ones may have shared bathrooms.
These types of accommodation that are a little more expensive offer a terrace or balcony with seating outside the room.
Guesthouses may include some meals within the cost of the stay, but rarely provide more amenities than the room. The price of the rooms can vary greatly depending on the quality of the rooms on offer and the location.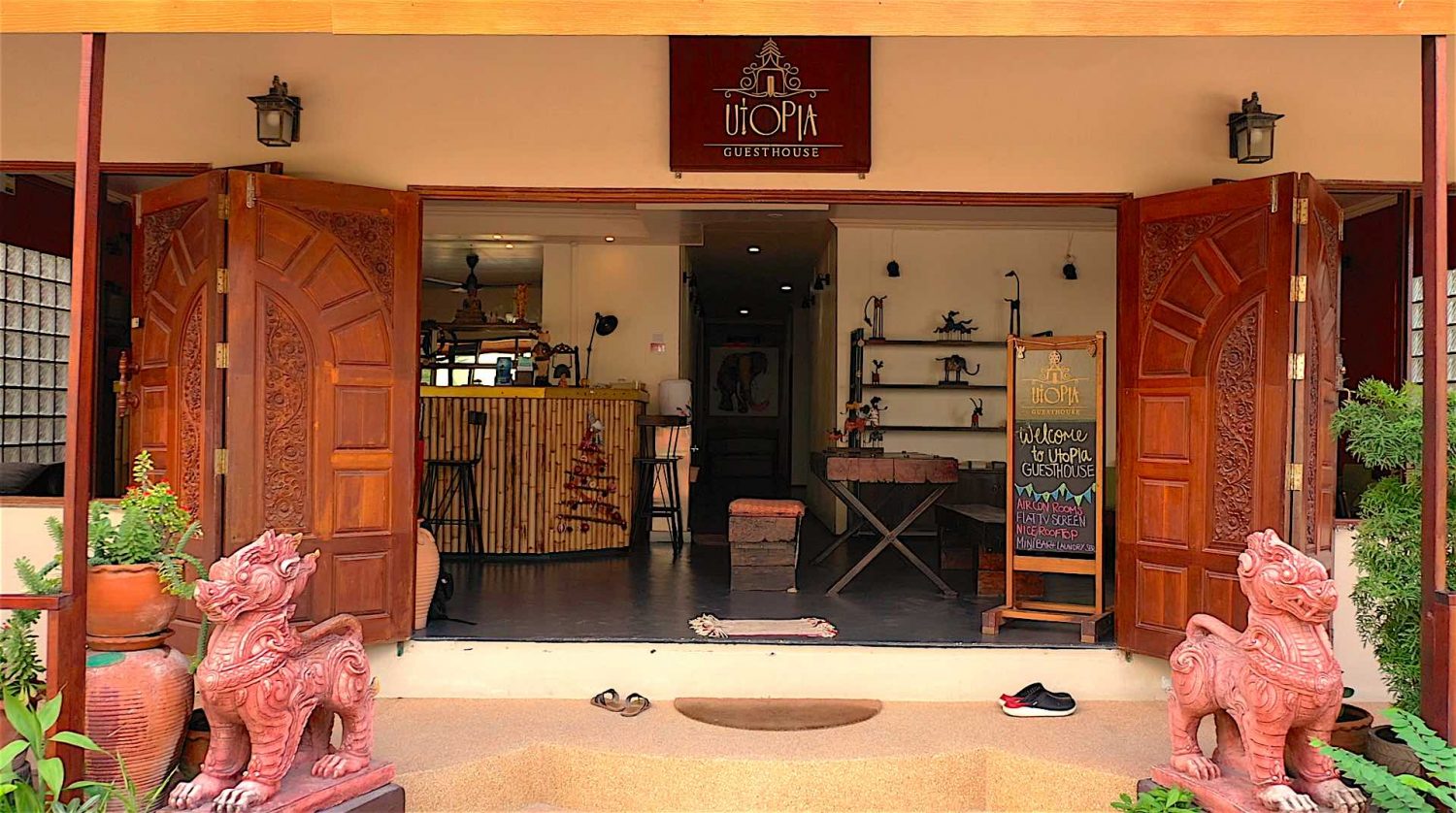 Camping on Koh Tao
If you are looking for accommodation that keeps you close to nature, you may want to consider luxury camping. Sleeping in a high-quality tent, you also have electricity, lighting, fans and comfortable beds.
The camping area offers shared Western style toilets and open-air bathrooms that provide comfortable facilities that you can see out from, without other people bring able to see in.
This type of accommodation can be a great opportunity to enjoy a blend of creature comforts and nature.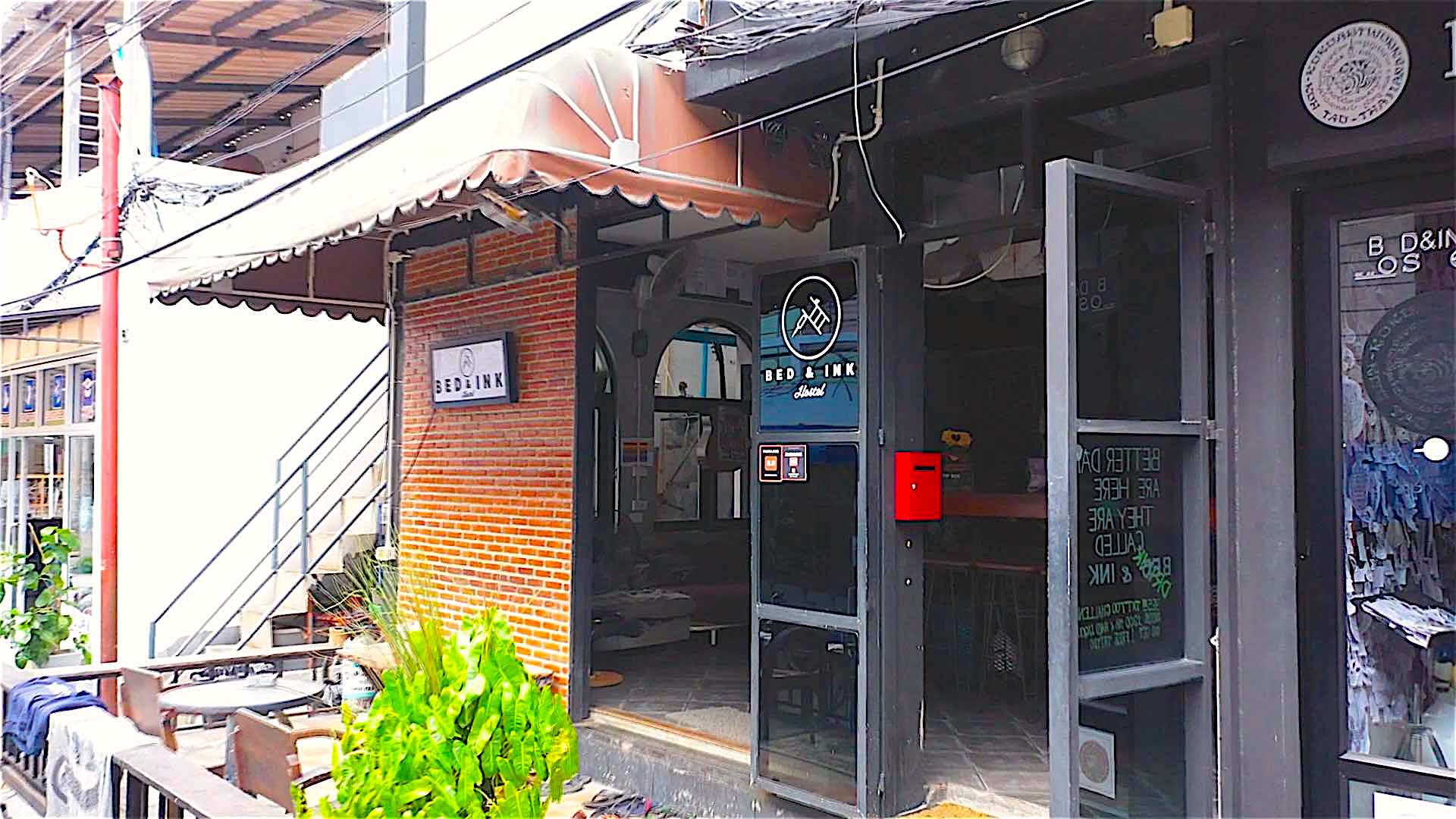 Bungalows for Rent on Koh Tao
Bungalows are available to rent throughout Koh Tao and within many of the resorts on Koh Tao. The bungalows generally provide a small room with an attached hot-water wet room and a small terrace or balcony with chairs.
These are generally constructed from wood and usually have a simple mattress on a wooden base with a mosquito net.
Depending on the resort, they will offer either a fan or air conditioning and the more expensive ones may also offer fridges and televisions.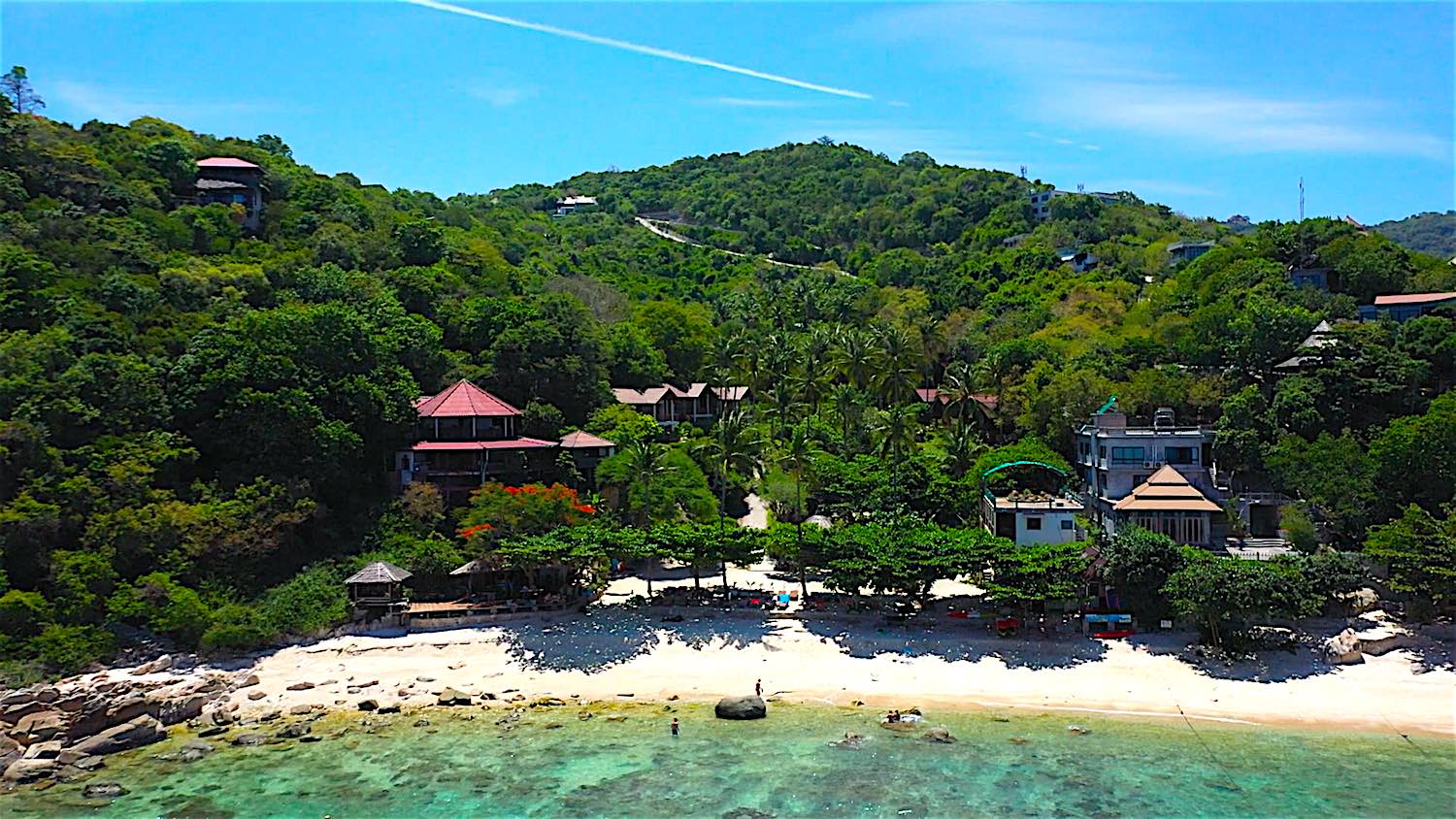 Hotels and Resorts on Koh Tao
Koh Tao has an abundance of mid to high end hotels and private resorts offering the full range of amenities and services.
Resorts and hotels will offer private transport, swimming pools, daily excursions, activities, on site massage and modern facilities throughout the venue. For those seeking these type of all inclusive services, pricing will vary depending on season and requirements.
If you are travelling alone, with friends or as a family, Koh Tao offers accommodation to meet any budget.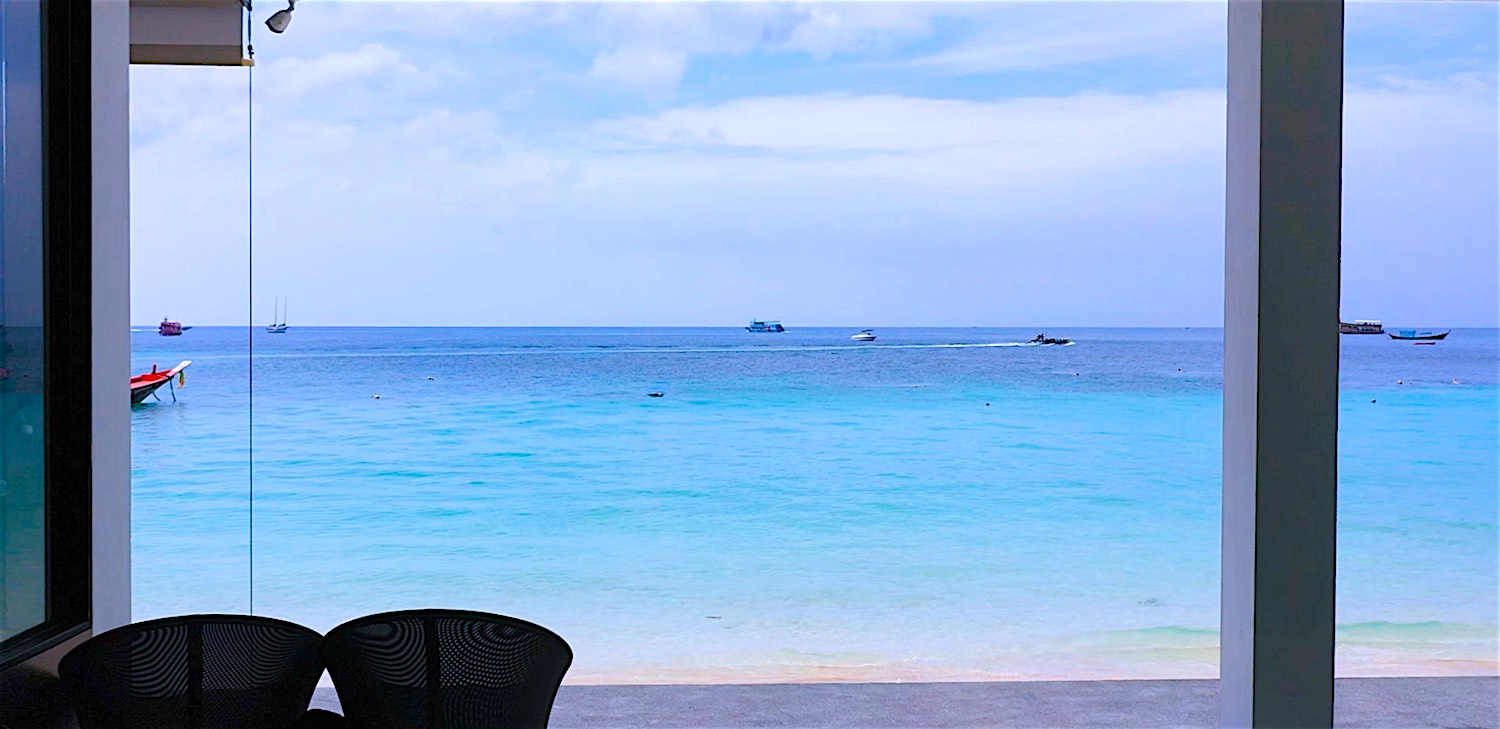 Luxury Villas and Bungalows
Koh Tao offers every type of traveller an idyllic getaway and is easily accessible. From high end resorts, hotels, private luxury bungalows, villas or simple fan rooms, Koh Tao provides you with accommodation options to ensure your stay is a memorable one.
Just remember to check availability and to book your accommodation in advance during high seasons.
For more information or advice on the best places to stay within your budget, you can message us to discuss your itinerary.
Frequently Asked Questions
Is it best to book accommodation on Koh Tao?
The availability of accommodation on Koh Tao will partly depend on what season it is as the island can get very busy between December to April and July to September, which is considered to be the high season.
Booking accommodation in advance will secure your place at your chosen location and if you arrive without booking, you will need to physically check what spaces are available and at what location.
You can ask us in advance and discuss your travel itinerary.
Where is the best place to stay on Koh Tao?
The main villages of Chalok Baan Khao, Mae Haad and Sairee are considered to be the three main populous locations with many amenities available.
These locations all have their own beaches, activities and a wide choice of accommodation to choose from.
Koh Tao has dozens of secluded bays, beaches outside of these areas and mostly offer additional accommodation and activities.
It is important to note that Koh Tao is a small island and most places can be reached within 15 minutes in a taxi or on a scooter, from your location.
What types of accommodation are available on Koh Tao?
Koh Tao offers accommodation within the budget of every visitor, ranging from low cost shared dormitory hostels to expensive private resorts with swimming pools and everything in between.
The choices are varied and diverse and what you choose will depend on your personal tastes and requirements, including if you are travelling alone, with friends or as a family with children.
How much does accommodation cost on Koh Tao?
Accommodation prices on Koh Tao vary considerably and depend on what luxuries or additional extras you want.
You can rent basic shared hostel accommodation in dormitories for less than 300baht per night or choose mid range AC rooms at 1000baht per night.
If you are a family or group you can rent detached bungalows for anything from 5000 to 10000baht+ per night.
There are also further mid range options and the price will be based on room type with fan or air conditioning.
Whatever accommodation you choose, check to see exactly what is included or message us for more information.
Is Koh Tao accommodation suitable for families?
The accommodation on Koh Tao is extremely family friendly and the choices are diverse. Koh Tao in recent years has seen many new resorts, hotels and villas being built all around the Island.
Many of these resorts and hotels that Koh Tao boasts, offer swimming pools, kayaking, snorkeling trips and even scuba diving. Everything you need to ensure you have something to do each day.
We can advise you on accommodation choices, the best areas to stay, activities and also help you plan your daily itinerary.
Is there accommodation on Koh Nang Yuan Island?
Koh Nang Yuan has resort accommodation with facilities located on the island that visitors can stay at.
Visiting Koh Nang Yuan Island is on the most popular activities to do whilst on Koh Tao.
During the day the Island is visited by many people from Koh Tao interested in snorkeling, scuba diving and hiking up to the infamous viewpoint.
However, as the day comes to an end the Island becomes quickly deserted leaving only a handful of people staying there all to themselves.
Message us for more details on how to experience Koh Nang Yuan overnight.
What accommodation is available on Koh Tao if I stay several months?
For long term visitors to Koh Tao, the accommodation choices are varied and are primarily dependent on your budget.
You have a lot of choice and can enjoy discounted accommodation and save money if staying over a longer term.
Due to Koh Tao being the 'mecca' of Scuba Diving and boasting some of the best training standards in the world. Many people stay on Koh Tao for many months while they complete Scuba Diving Internships.
Many hotels and villas amongst other properties are available for monthly rental and can be a cheaper alternative to paying per night or weekly.
With Koh Tao having lots of choice for restaurants and cheap places to eat out each night, renting a villa or apartment for a month is commonly the best option.
For fan room apartments you can look to pay in the region of 7000-9000 baht a month and A/C room being anywhere from 10,000 baht upwards.
If you are planning a long term stay you can message us for more details to help you find the best accommodation for you.
How long should I stay on Koh Tao for?
The length of time you stay on Koh Tao will depend on what you are planning to do and if you have the appropriate visa and budget to support yourself.
Koh Tao is heavily populated with expats that now call it their home, who originally only planned to stay a short while. The answer all depends on what you wish to do whilst here.
Snorkelling trips can be booked for a full or half day and scuba diving can be a one-day discovery dive up to 3 days for a certification course.
With Koh Tao offering many popular beaches and viewpoints to visit days can quickly go by as there is so much to do.
If you are not backpacking then one or two weeks can be the perfect time to balance your list of activities and also giving yourself time to relax around the pool or beaches.
For many people backpacking to Koh Tao 3-7 days is usually a good time frame and maybe a little less if you don't plan on doing any diving.
This gives you enough time to visit the beaches and bays around Koh Tao as well as the amazing options of viewpoints and still have a few days left if you catch the diving bug as many seem to do here.
For anyone with not as much time available, there are daily trips to Koh Tao from Koh Samui or Koh Phangan that cover a quicker version, but still enough time to see and snorkel some of Koh Tao's scenery both above and below the surface.
Message us your travel itinerary and we can advise you on how long we think is best for you without feeling rushed.
Can I book Scuba Diving with my accommodation on Koh Tao?
The majority of accommodation providers on Koh Tao will offer Scuba Diving along with many other activities while you are visiting Koh Tao.
Many will have their own Scuba Diving facilities or be affiliated with one of the many choices on Koh Tao.
Scuba Diving is described as a life changing experience by many new first-time scuba divers.
Whilst there are a wide range of dive centres on Koh Tao to choose from, many offer their own unique services.
If you have questions regarding Scuba Diving or any other activities feel free to contact us and we can guide you to the right choice based on what you are looking for.
Where is the best accommodation on Koh Tao?
Koh Tao offers fantastic accommodation choices for visitors who want to stay from a few nights to months and years.
Sairee beach, Mae Haad and Chalok Baan Kao are the three main villages with a huge choice of accommodation options.
However, there are beautiful resorts, hotels, bungalows and villas located all around the island and your choice is limited by your budget.
Decide on your budget, what you want, fill out our form and let us guide you in your preferred choice.
There are accommodation choices offering a stunning seaview, amazing sunrises or sunsets, pools, beachside or mountain panoramic views.