Information & Facts about Koh Tao
Koh Tao translates to "Turtle Island" in English and is a small island located in the Gulf of Thailand off the Eastern shore of the Thai mainland.
It is classed as a sub district of Koh Phangan in the province of Surat Thani and is the smallest of the three main islands found in the Gulf.
Koh Tao is less developed than its bigger neighbours Koh Phangan and Koh Samui but still has plenty to offer everyone.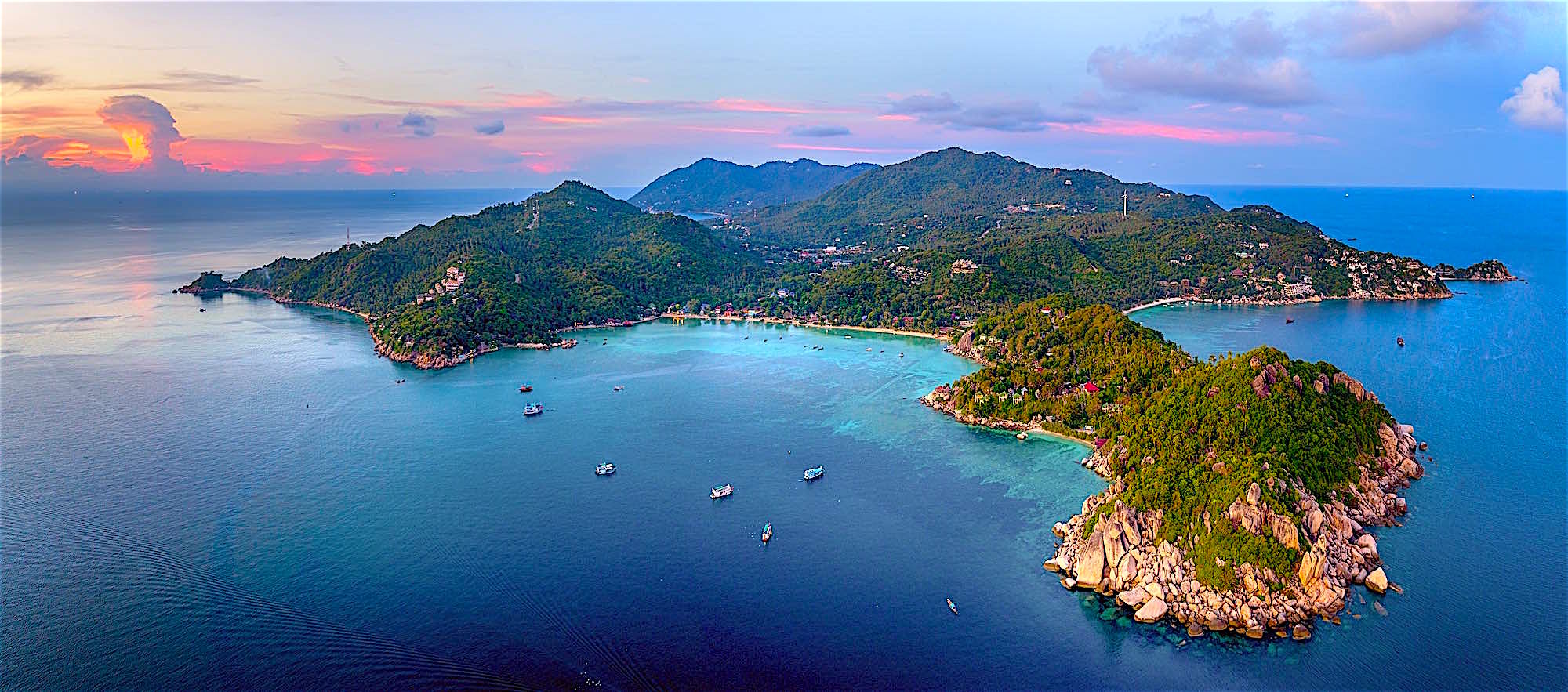 Koh Tao Scuba Diving
Accessible by boat from Chumphon, Surat Thani, Koh Samui and Koh Phangan, Koh Tao is well known as the premier scuba diving training location in the world.
More scuba divers are certified on this small island than anywhere else throughout the world and for good reason.
This tiny tropical island is a gem and is surrounded by crystal-clear blue waters, over 8kms of vibrant coral reefs and an amazing variety of marine life.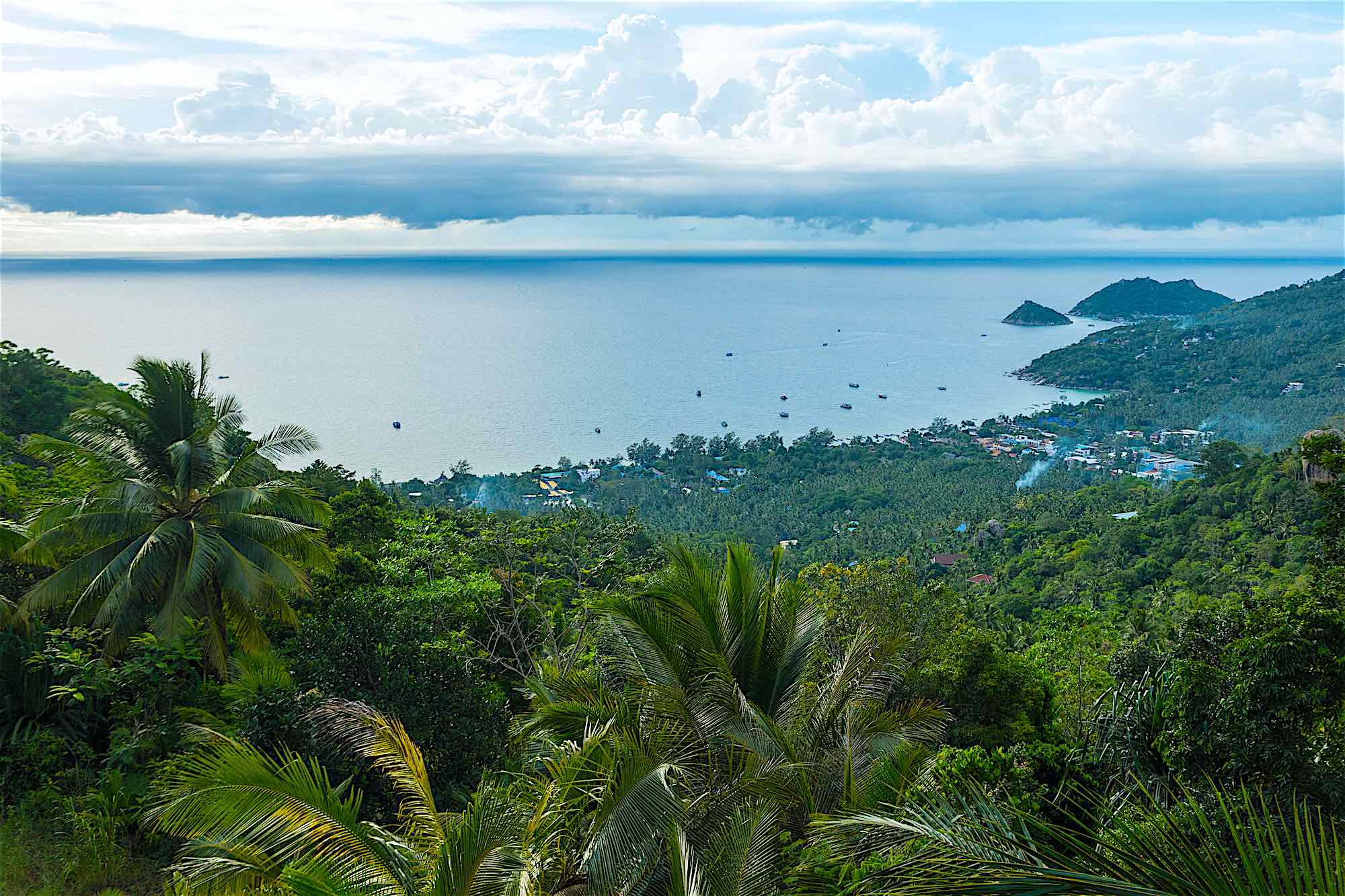 Koh Tao Translates to Turtle Island in English
Koh Tao was named 'Turtle Island' by local fishermen and early settlers as the island appeared to take the shape of a sea turtle when looking at it from their boats.
The coastal waters off Koh Tao have both Hawksbill and Green Sea Turtles as residents, which can be frequently seen if you are scuba diving or snorkeling.
Marine Life
The clear, warm waters of Koh Tao offer the visitor a stunning diversity of marine life, including stingrays, barracuda, an abundance of tropical fish species and the largest fish in the sea, the whaleshark.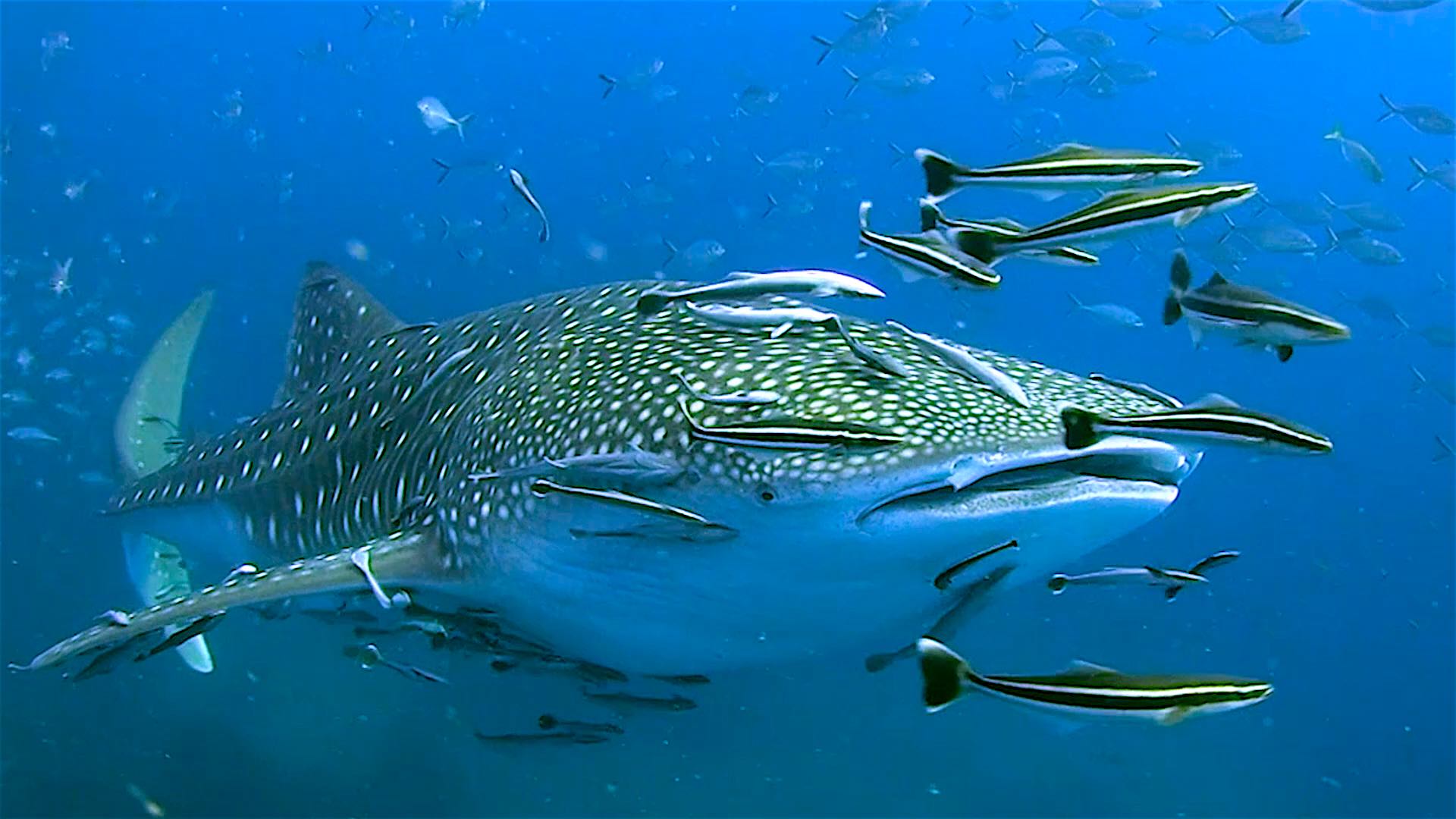 White Sandy Beaches on Koh Tao
The island itself is encircled with white sandy beaches, hidden away in dozens of bays and fringed with palm trees and granite rocks.
This provides a dramatic back drop with lush, tropical jungle covering the island and sweeping down the hilly landscape to meet the sea.
The beaches are some of the most beautiful in Thailand, and rarely get so busy that you can't find a spot to lie back, relax and enjoy the sunshine.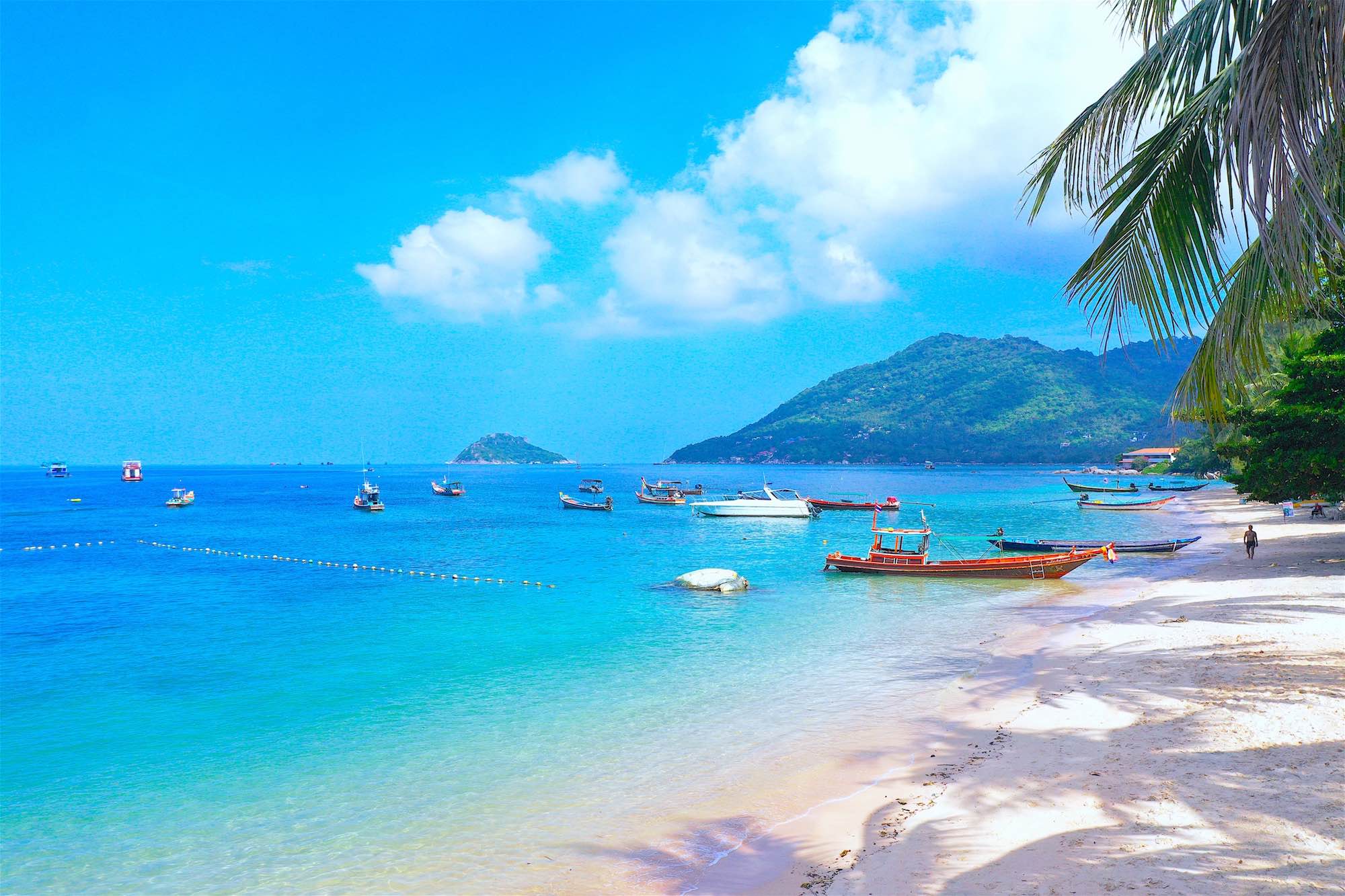 The Weather on Koh Tao
The weather on Koh Tao is warm all year round, with the temperature staying above 25°C even in January, which can be the coldest month of the year.
The hottest month of the year occurs around April when the average temperature is 32°C and above. The weather is generally relatively humid with November being considered the wet month of the year due to the Monsoon season.
Stunning Weather
The monsoon season itself can consist of rain that is intermittent, rather than consistent. It can rain for a few days but Koh Tao also enjoys equal amounts of sunshine in between.
Most months will see some rain showers, but February is generally considered to be dry and the best time to visit.
Like all weather forecasts, there is a degree of unpredictability and it can be dry and hot for five or six months without any rain.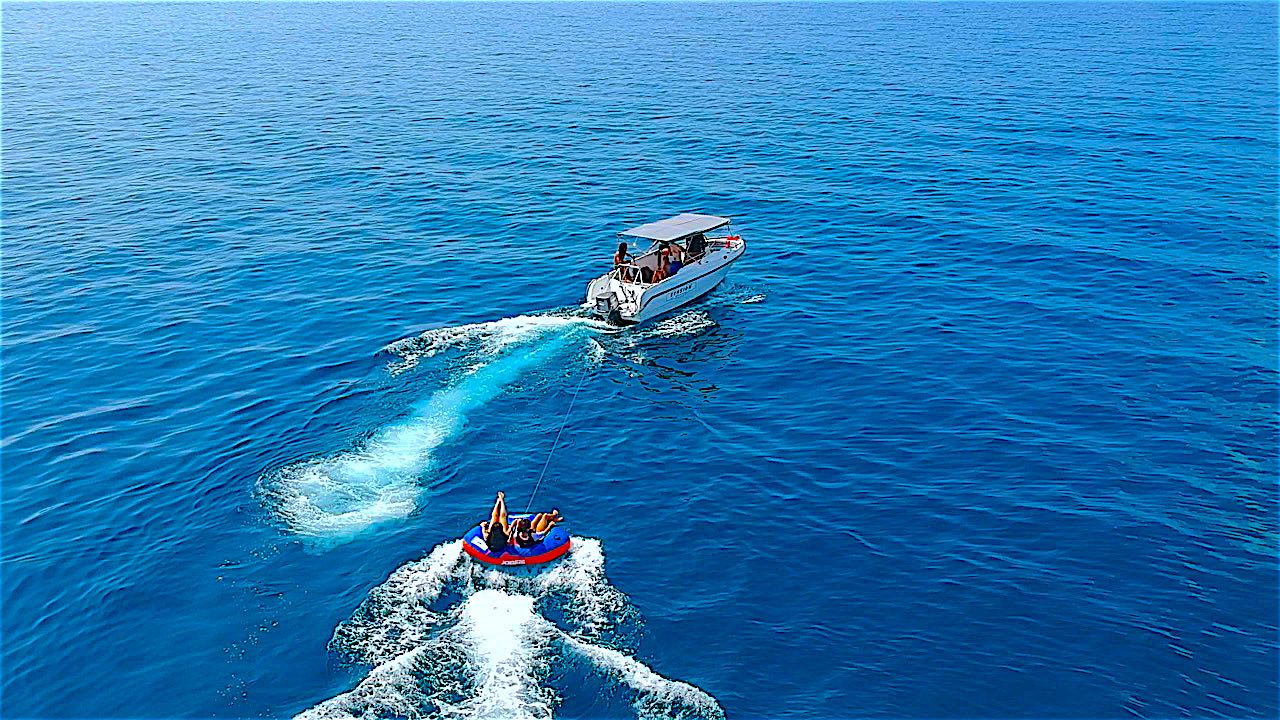 Lots of Activities on Koh Tao
Koh Tao is host to lots of activities, both above and below the water. In addition to scuba diving, if you enjoy being in the water, you can try snorkeling, swimming, paddleboarding or kayaking.
On land there are numerous Thai cooking lessons and Muay Thai training camps you can attend as well as plenty of options for hiking, rock climbing, abseiling and mountain biking.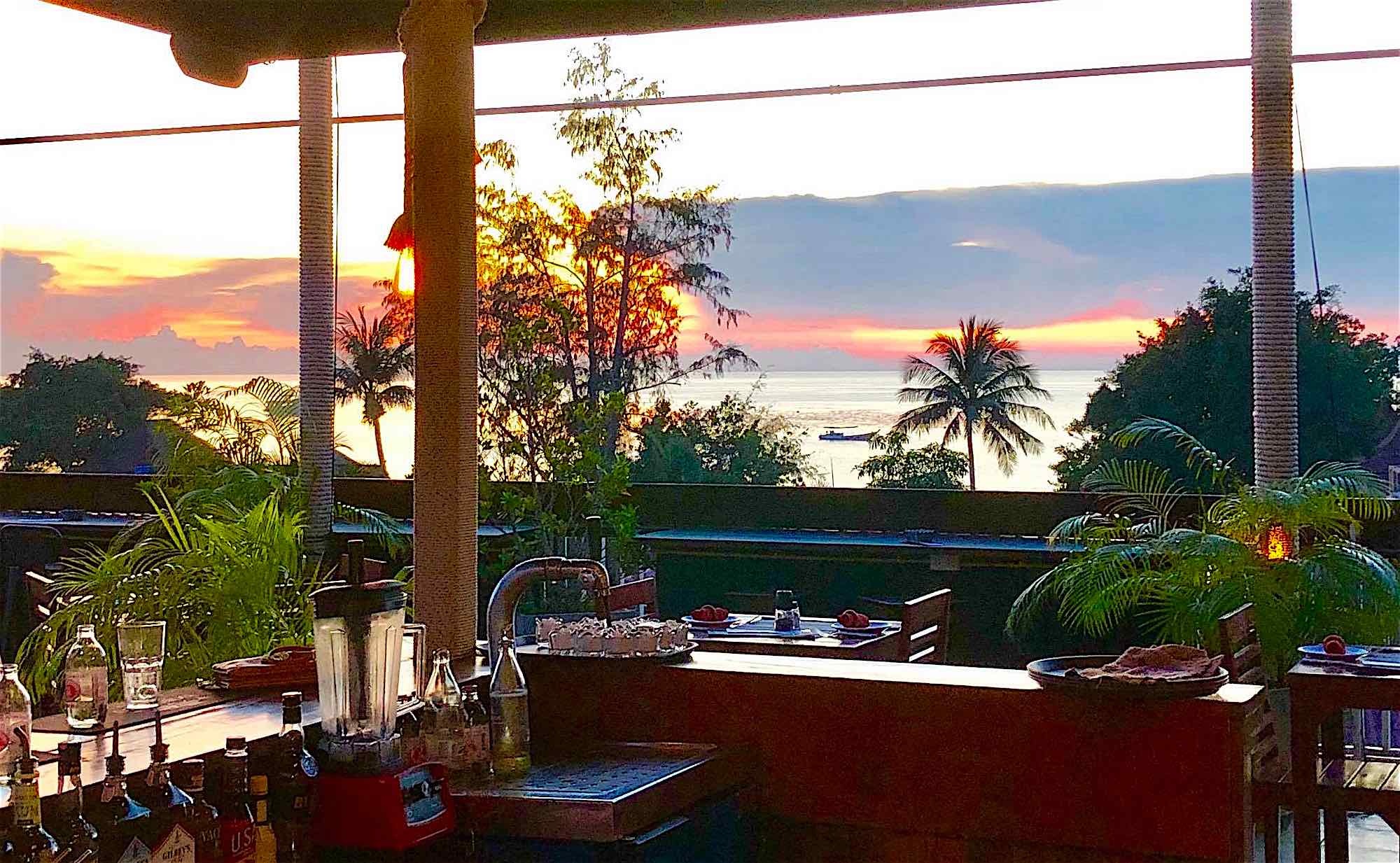 Koh Tao Restaurants
If you visit Koh Tao and enjoy eating great food then you will not be disappointed. The island provides a blend of multi cultural cuisine from your favourite international dishes to a variety of regional and local Thai food.
In all three of the main villages on Koh Tao, you will find a wide selection of restaurants that offer diverse menu's to cater to everyone's needs.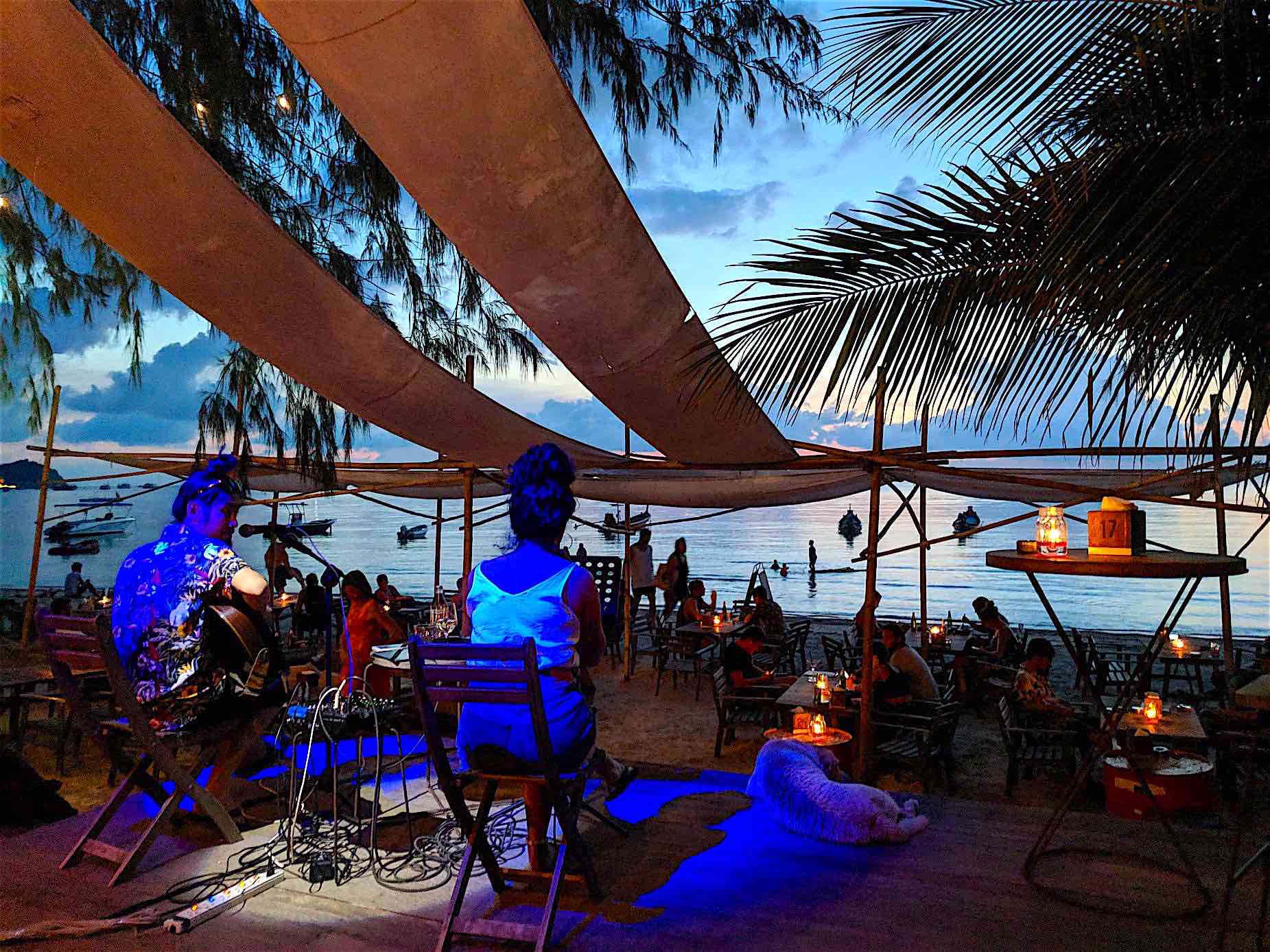 Koh Tao Nightlife
At the end of a relaxing day at the beach or a busy day scuba diving or snorkeling, you may want to enjoy the Koh Tao nightlife.
Sairee beach is a great location to find a beachside fireshow or join Asia's most popular pub crawl – the Koh Tao Pub Crawl.
Great Nightlife
In Chalok, Sairee and Mae Haad villages, you will find lots of bars that offer international beers, craft beer and your favourite cocktails.
To ensure you don't miss out on your favourite sporting fixtures, there are sports bars showing your favourite international sports fixtures.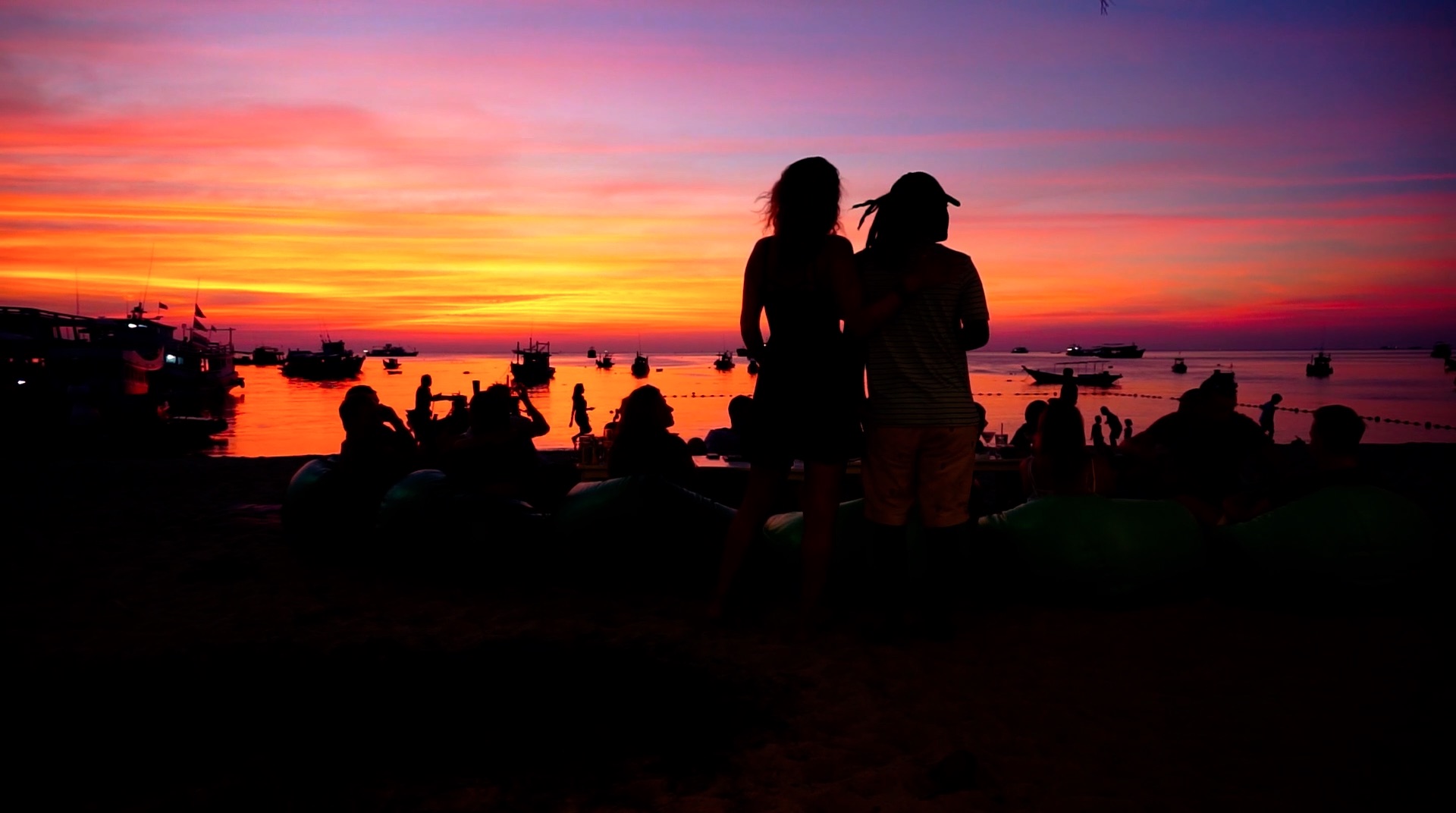 Exceptional Koh Tao Sunsets
On top of everything else Koh Tao has to offer, night after night it will give you some of the most picturesque sunsets you will ever see.
Find your way over to Mae Haad or Sairee beach, on the west side of the island, at the end of your day and find a comfy spot to chill out and enjoy the view.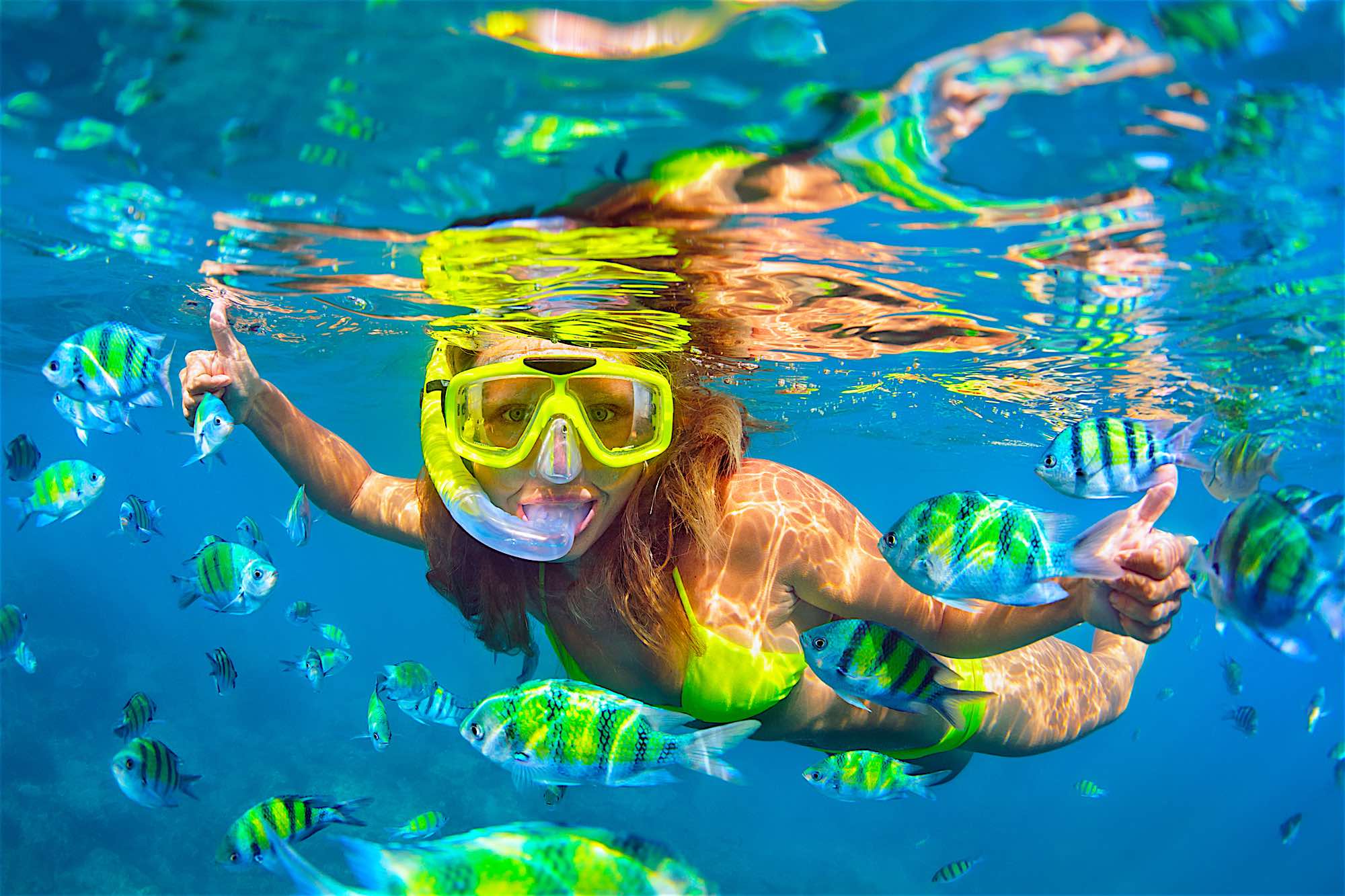 The Best Reasons to Visit Koh Tao
Koh Tao is a small tropical island location set in the Gulf of Thailand and is one of the most popular destinations in the world to visit.
For many years this small, jungle topped paradise island has featured high on the list of places to visit for backpackers, couples and families.
Family Friendly
It is exceptionally well suited to families with children, couples and for those that like to travel alone.
Koh Tao offers all types of travel packages that cater to everyone, from the budget conscious explorer to the discerning traveller who wants pure luxury.
There are a wide range of all inclusive trip experiences available, which allow you to visit all the places you want to, ensuring your trip is a memorable one.
Frequently Asked Questions
Is Koh Tao a safe place to visit for families?
Koh Tao is very family friendly with lots of activities for adults and children that can be taken together or individually.
The island offers a diverse choice of suitable accommodation at very reasonable prices and restaurants with special amenities for smaller children.
Transport to and from the island is very efficient and the staff are extremely helpful and family oriented.
How do I get to Koh Tao?
The island is situated around 70kms from the mainland, so all transport to Koh Tao is by ferry boat.
There are high speed and slower speed ferry boats that serve Koh Tao multiple times each day and it is a very reliable and well tested route.
There is no airport on Koh Tao and the nearest airport is on Koh Samui with connecting ferries to the island for the last leg of your journey.
You can reach Koh Tao direct by boat from Chumphon, Surat Thani, Donsak, Koh Samui or Koh Phangan.
Can I get western food on Koh Tao?
Food choices on Koh Tao are heavily influenced by a diverse blend of short and long term multi cultural and international residents.
There are restaurants, café's, street stalls and food markets all across the island offering a large choice of both Asian and western food.
Can I exchange money on Koh Tao?
Modern infrastructure reached Koh Tao many years ago with banks and ATM machines all across the island.
There are money exchange facilities in all the key locations on the island that function exactly as they would in any of the mainland cities.
Is it safe to swim in the water around Koh Tao?
The tropical sea that surrounds Koh Tao island is considered to be very calm, warm and safe for all age groups.
This is one of the reasons why the island is so popular for snorkeling trips, scuba diving, freediving, swimming and other water based sports.
Like any other location around the world, the sea is subject to local weather conditions and this needs to be factored into any planned activities.
How do I get to Koh Nang Yuan from Koh Tao?
The only way to get to Koh Nang Yuan island is by longtail boat from Koh Tao, the Lomprayah High Speed ferry that is en route from the mainland, or by organized snorkel trip from Koh Tao.
Koh Nang Yuan is located 800metres off the north west coast of Koh Tao and is considered to be a world famous attraction with three islands and a stunning viewpoint, all of which are inter-connected by sandbanks.
Where is the best nightlife on Koh Tao?
Sairee beach is commonly accepted to be the best location to enjoy the nightlife on Koh Tao, with fireshows on the beach, beach bars and stunning seaview restaurants.
However, the villages of Mae Haad and Chalok Baan Kao also offer a choice of similar venues, so it is worth planning these locations into your travel itinerary.
What is Koh Tao best known for?
Koh Tao is best known for scuba diving, snorkeling and incredibly beautiful and romantic viewpoints.
The island is commonly accepted to be the 'Mecca' of scuba diver training and consistently certifies more scuba divers than any other location throughout the world, year after year.
As the island is so popular with visitors, training standards and watermanship skills are extremely high, with safe programs developed by the world's leading agencies alongside some of the leading Course Directors in the world with decades of experience.
Is Koh Tao Island safe for travellers?
Koh Tao is an extremely safe destination for single travelers, couples, groups and families and is considered to be far safer than many other locations around the world. Thailand is a warm, friendly and inviting country with a rich cultural heritage and welcomes millions of international visitors each year.
When travelling in any foreign country, it is always advisable to be fully aware of and respectful towards cultural and religious differences, wear appropriate clothing, obey and adhere to local laws.
If you are socializing, drink responsibly and model your behaviour accordingly. If travelling alone, extra precautions can be taken such as associating with trusted companions and letting others know about your plans beforehand.
How do I get around Koh Tao?
Koh Tao road infrastructure is very basic and only the main roads are concreted. Most visitors use scooters, bicycles or taxi services to travel around the island.
However as the island is so small, a popular activity is walking and hiking. To reach some of the outlying beaches and bays, hiring a longtail is quite often the best option to take to explore the remote areas of the island.