Koh Tao Swimming Lessons for all Ages
With its location in the middle of the Gulf of Thailand surrounded by water and its reputation as the premier scuba diving location in Asia, you may think that everyone who visits Koh Tao would know how to swim.
This is not the case though. There are many people who visit Koh Tao who either do not feel they are strong swimmers, or have never had the opportunity to learn.
If you fit into one of these categories, why not take the opportunity to learn the basics or improve on the techniques you already have.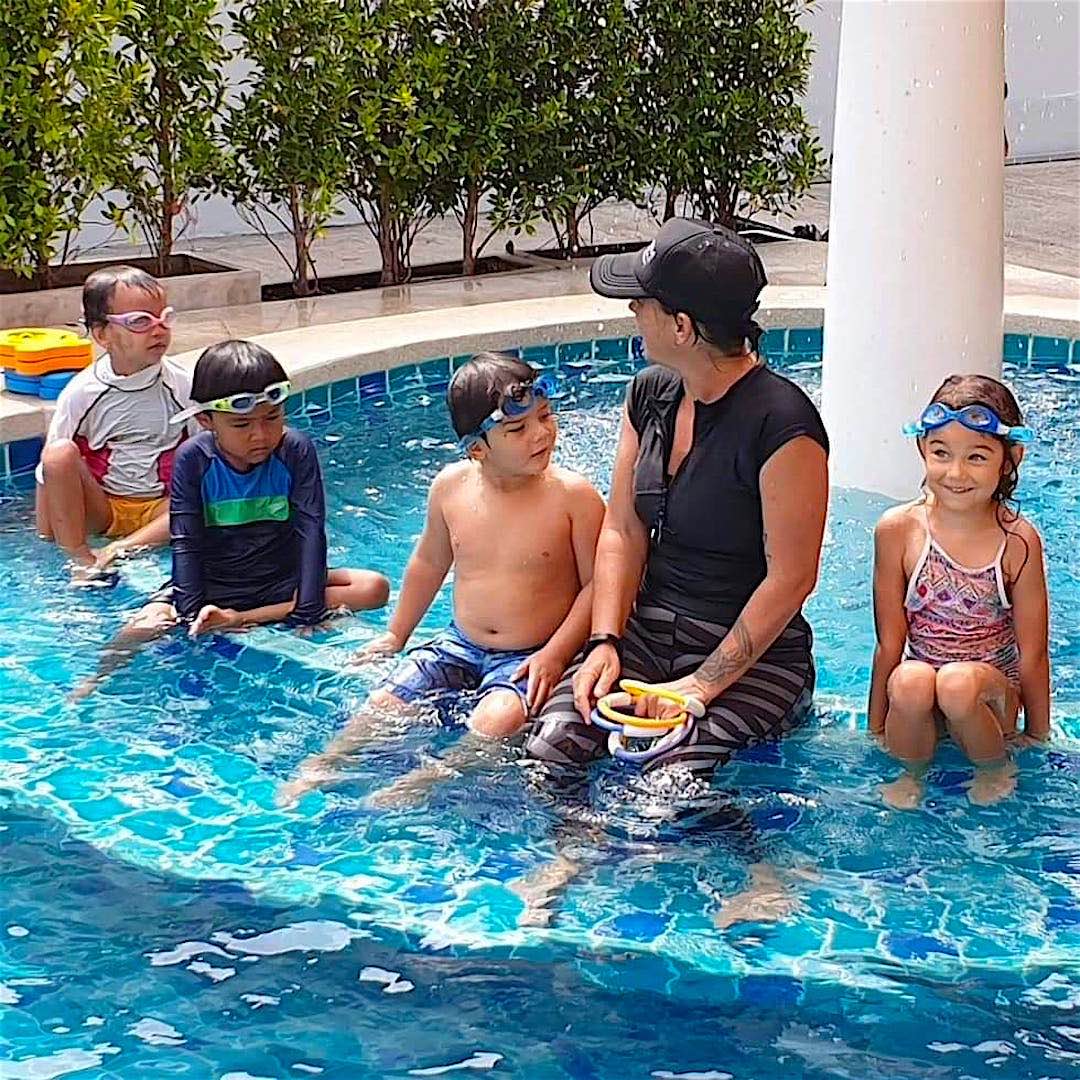 Learn to Swim on Koh Tao
Koh Tao Swim offers lessons for both adults and children of all abilities.
There are a range of swimming classes available that are designed to improve people's confidence in the water, enabling them to learn to swim and snorkel as well as teaching them water survival techniques.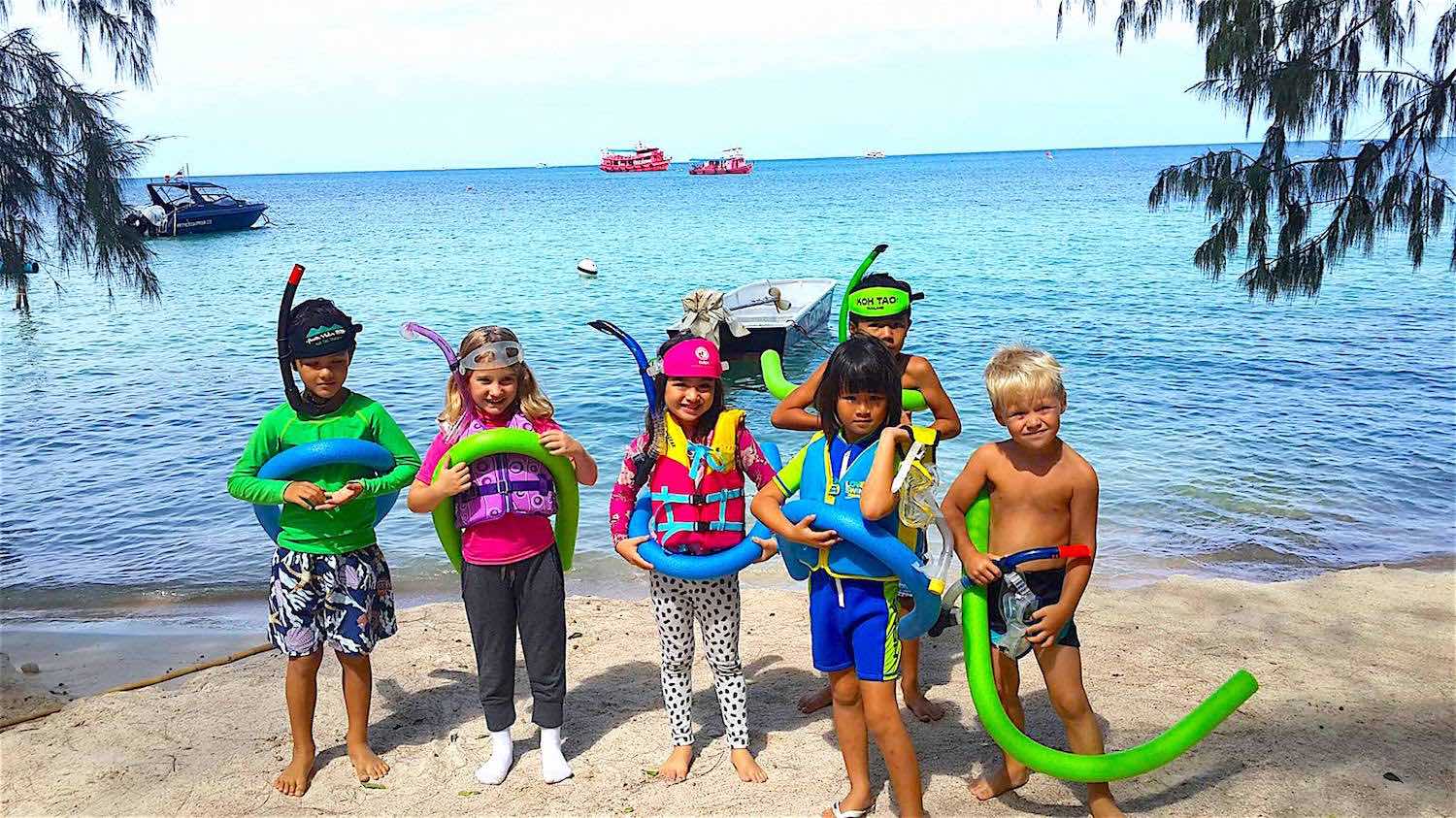 Personal Swimming Lessons on Koh Tao
Each lesson is individually tailored to the student and ensures they will feel both safe and comfortable throughout, as well as providing an enjoyable experience.
Private classes are available to anyone, no matter the age, and include learning the basic strokes and techniques as well as buoyancy control and skin diving.
Improve Swimming Technique
If you already know the basics of how to swim but want to advance your technique, you can take a 2-hour improvement class designed to develop your skills and enhance your stroke.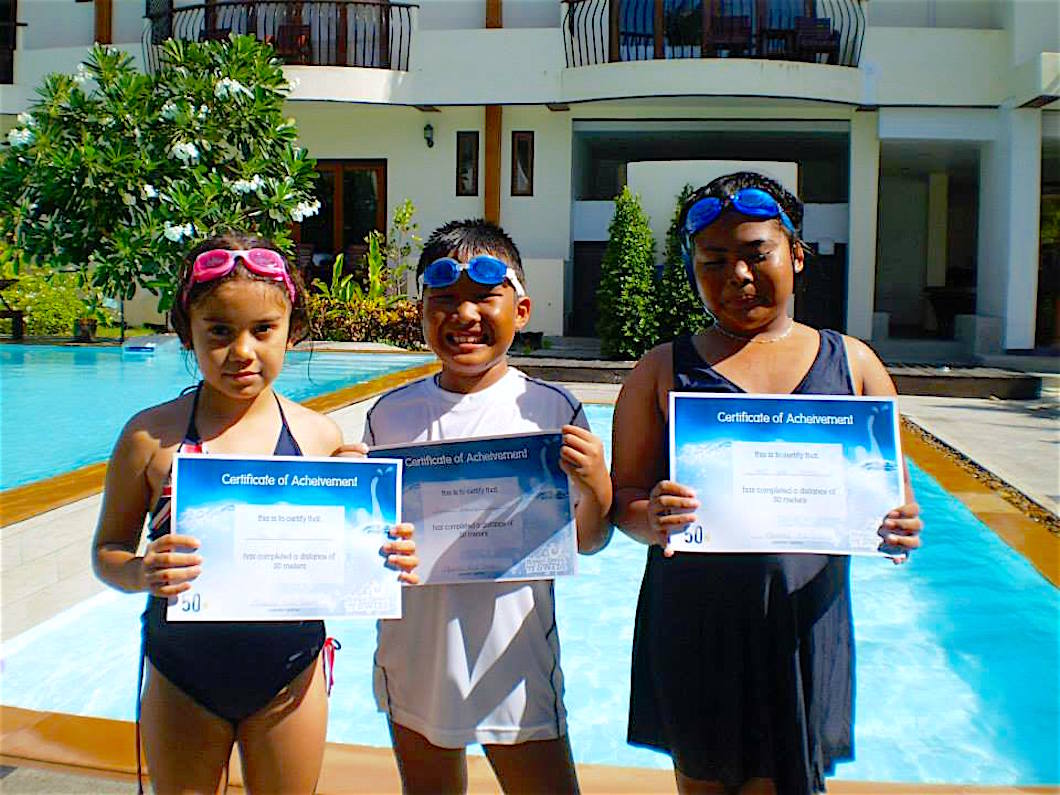 Swimming and Scuba Diving on Koh Tao
This is a great swimming class to take if you are also hoping to learn to scuba dive, as the basic course does have a swimming requirement in it.
Swimming Lessons for Kids
For people who want their kids to learn, but prefer to be in the pool with them, there are swim tots' sessions for kids aged from 6 months to 3 years old. Taught in groups, these classes can range from hourly to a 6-week course.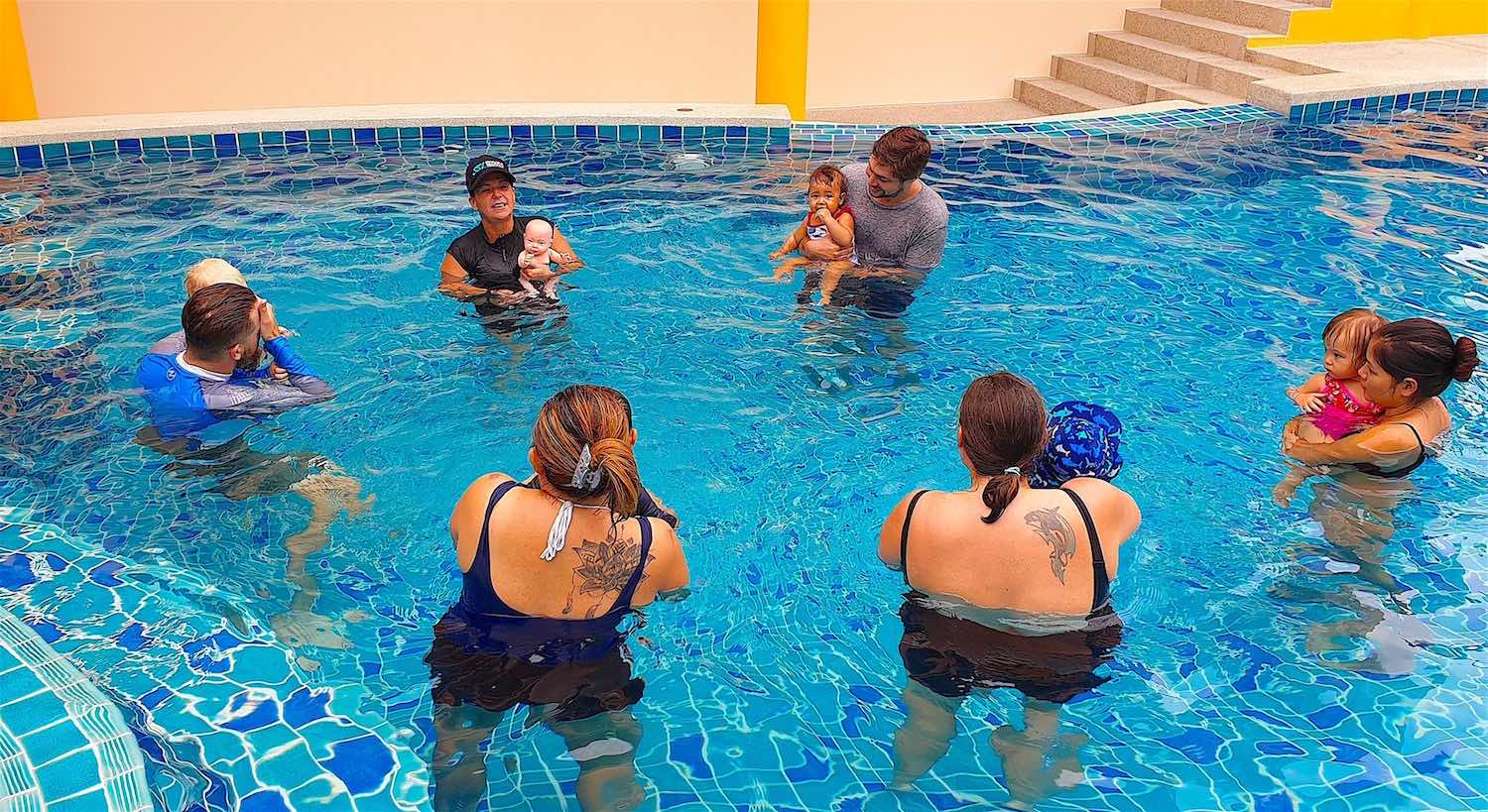 Swimming and Snorkeling Classes Koh Tao
Once you have mastered the basics of swimming you can move on to learn how to snorkel.
In addition to learning how to snorkel, you will also be educated about marine life that you will encounter around Koh Tao and how to use scuba diving signals under the water to keep you safe.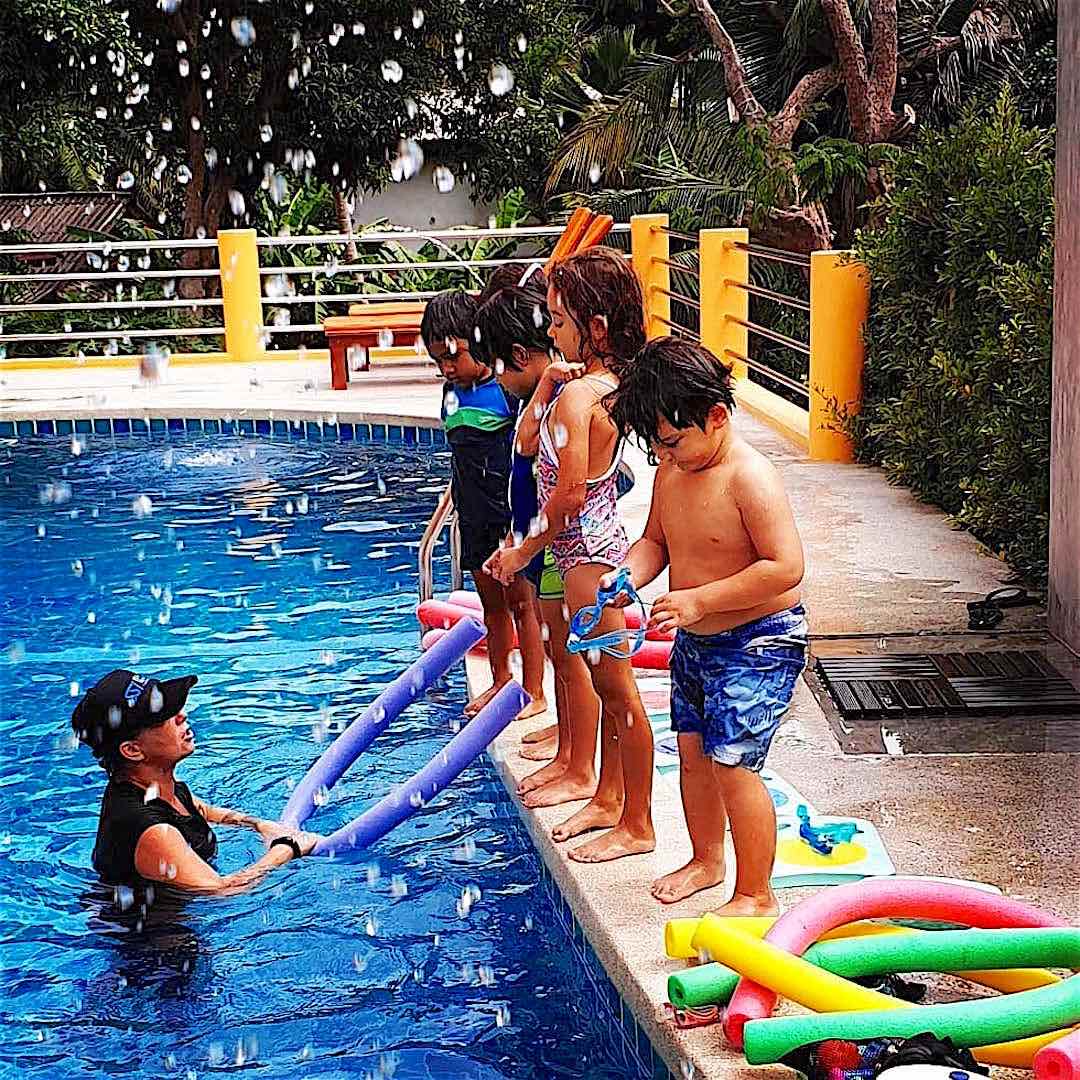 Swimming and Water Aerobics Classes Koh Tao
As well as swimming lessons, there are also water aerobics classes three times a week and, for those kids who want to live a little water fantasy, there is an additional 2-hour class called the making of a Mermaid.
Available to kids from age 6 who have good swimming skills, the class teaches skills for snorkeling, skin diving and using mono fins and mermaid tails.
With photo opportunities available, you can create lasting memories of your time on Koh Tao, whilst learning or perfecting your ability to swim.
For more information on swimming lessons and classes, you can contact us to discuss your requirements.
Frequently Asked Questions
Can I take swimming lessons on Koh Tao?
You can book swimming lessons direct online or visit our office in Mae Haad. Swimming is a great way to keep fit and a prerequisite for anyone wanting to earn an Open Water scuba diving certification. It is also a great idea to be able to swim if you want to go snorkeling at any of the beautiful bays and beaches around Koh Tao.
How much do swimming lessons cost on Koh Tao?
Swimming lessons on Koh Tao are great value and a 1-hour private swimming lesson for an adult costs 900baht. A 45-minute private lesson for a child is priced at 700baht. There are also five and ten hour packages available for those that want to book multiple lessons.
Can I learn to swim on Koh Tao?
Koh Tao is the perfect location to learn to swim and offers lots of activities involving swimming, so feeling comfortable in the water is necessary. This amazing, small paradise island boasts professional swimming coaches that practice effective coaching methods designed to teach non swimmers to swim in a short space of time.
Are there swimming lessons available for my kids on Koh Tao?
We can arrange swimming lessons for children of all ages including private lessons, snorkeling lessons and splashpacks for babies. Contact us for more information on ways you can get your children swimming and having lots of fun in a safe environment.
Is it safe to swim around Koh Tao?
Swimming in the warm, clear waters that surround Koh Tao is very safe. There are many beautiful shallow bays where you can swim and for most of the year there is little to no current and the environmental conditions are very favourable. The stunning beaches around Koh Tao ensure you have a wide choice of locations to visit for swimming. However, please be safe and carefully plan your time in the water and do not swim alone, regardless of how strong a swimmer you are and you should always be aware of boat traffic.