What is an Artificial Reef?
An artificial reef is a man-made underwater structure, typically built to promote marine life in areas with a generally featureless bottom.
Artificial reefs may also serve to improve hydrodynamics for surfing or to control beach erosion. Usually the artificial reefs are placed in areas with lots of sand.
Any solid object can be placed down to create a new reef as long as it is not harming the environment.
They provide homes, shelter and safety for a variety of marine life, and also alleviate the pressure from regular dive sites, which is especially important in heavily dived areas.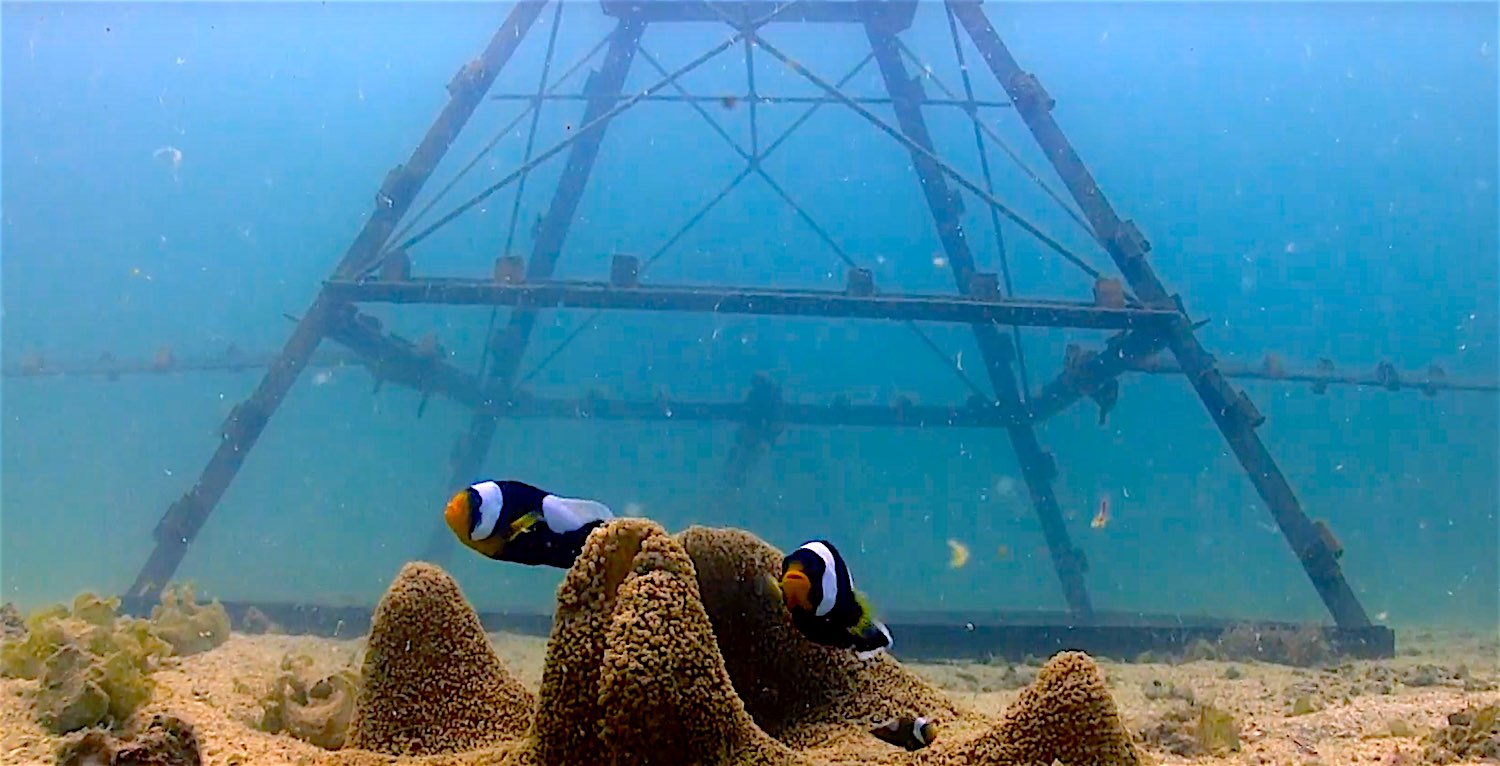 Benefits of Artificial Dive sites
Why we have Artificial Reefs
Koh Tao has been developing and promoting artificial dive sites for quite a few years. They provide alternative dive sites and underwater attractions for divers, but are also important for scientific research.
The creation of artificial reefs in the sea favours biological productivity, therefore enhancing the population of fish and invertebrates.
These reefs have the power to attract marine life by offering a habitat. They not only constitute a shelter but are also a valuable reproduction reservoir.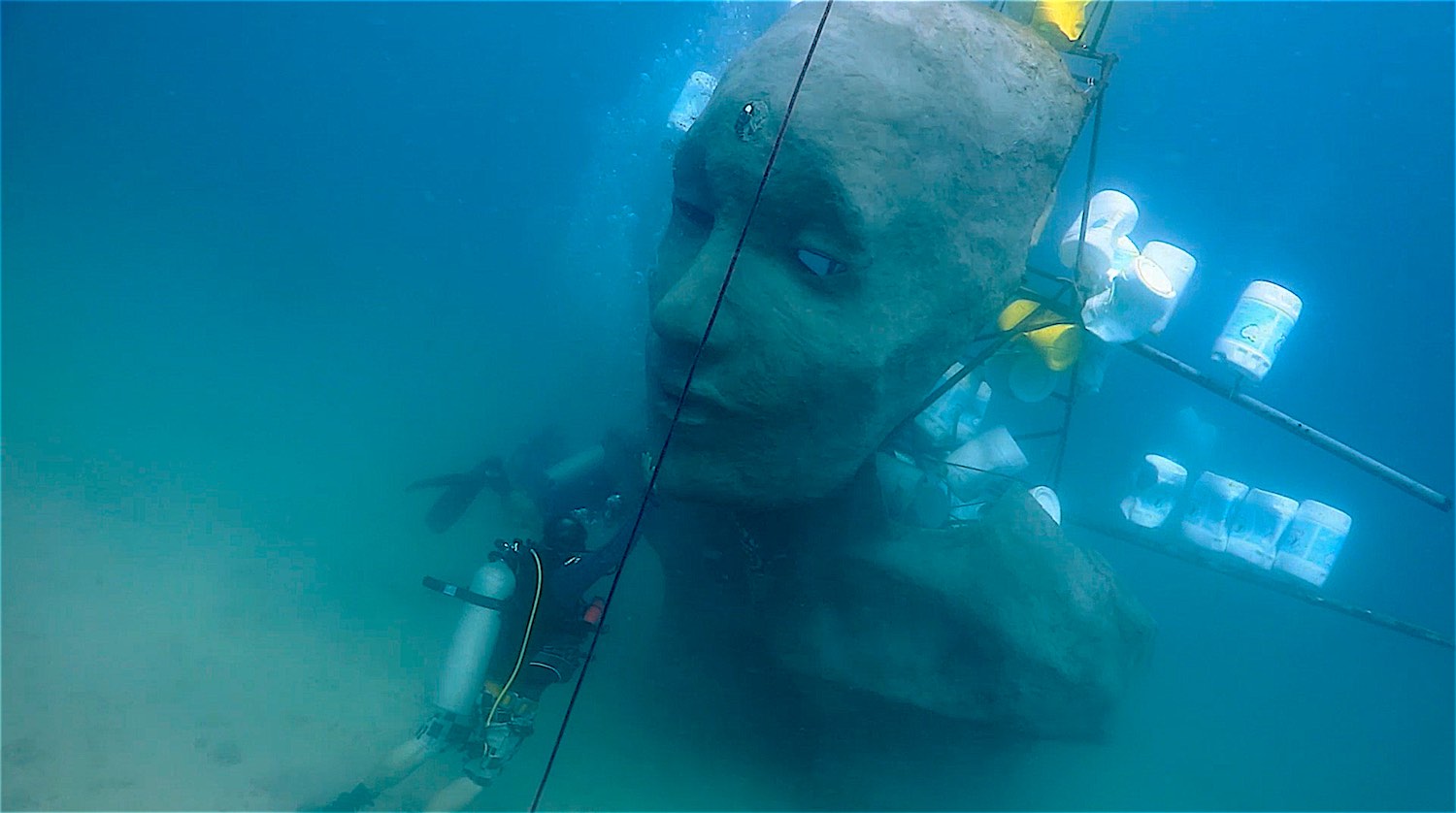 History of Artificial Reefs
The construction of artificial reefs began in ancient times. Persians blocked the mouth of the Tigris River to prevent entrance for enemy ships.
Fisherman have been building underwater structures to attract fish and improve fish yields for many hundreds of years.
More recent large 3D printed reefs have been put down with the intention to protect natural coral reefs from the ravages of climate change and warming waters.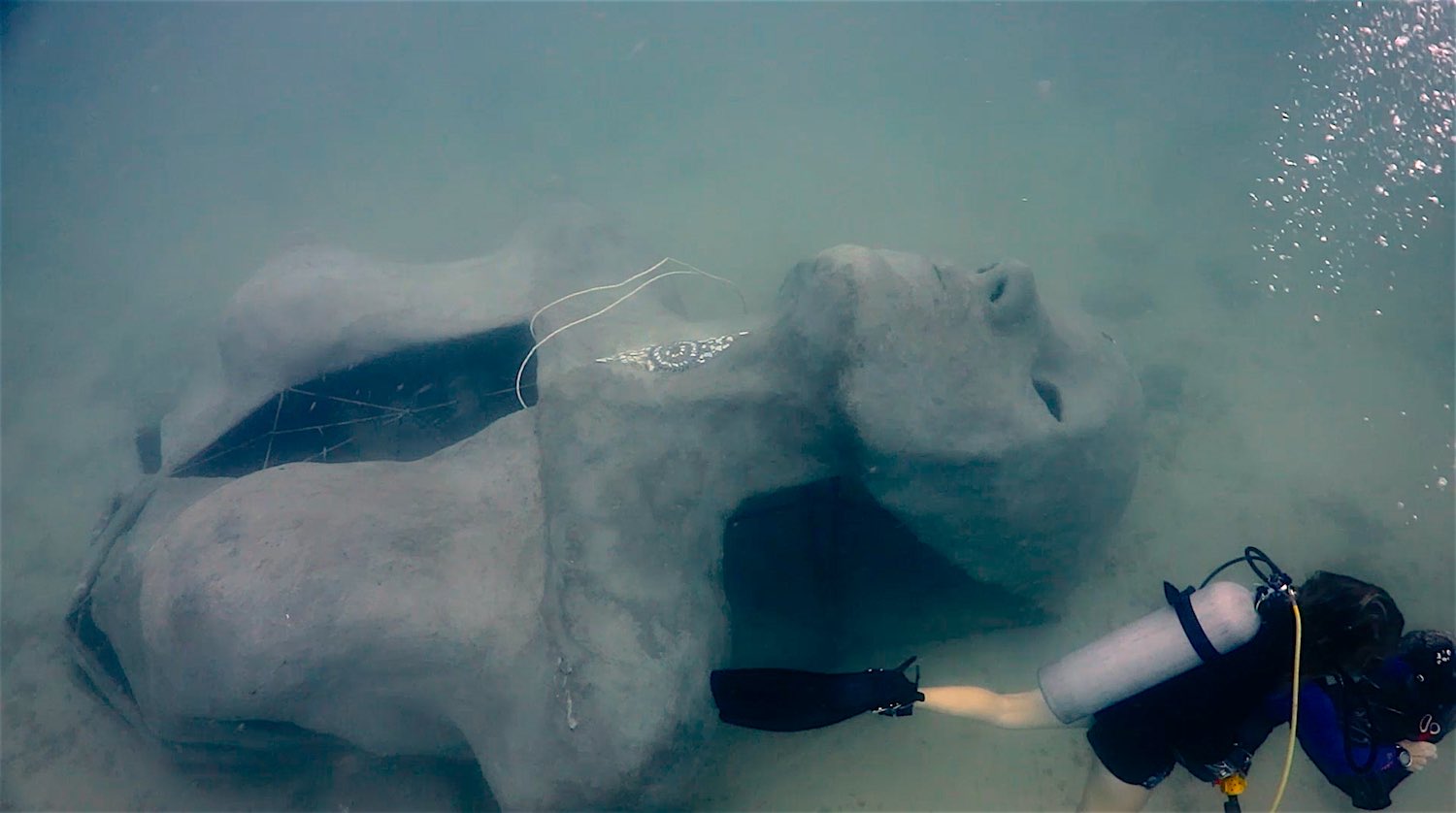 How Artificial Reefs are deployed
Generally, the objects placed underwater, whether self-built or already constructed, provide a hard surface which over time will be colonised by underwater marine and plant life.
To help populate developing reefs small broken pieces of coral are gathered. These pieces would normally roll around in the sand and die, but by securing these fragments using different techniques, they stand a much better chance of surviving.
These fragments can be managed and monitored and over time create a suitable home for marine life and an alternative site for scuba divers to enjoy.
Locally on Koh Tao, Eco Koh Tao in conjunction with the Thai government have sunken toilets, domes, animal structures, ships, statues and many more objects as parts of the artificial reef structures, all of which provide a good substrate for coral to settle on.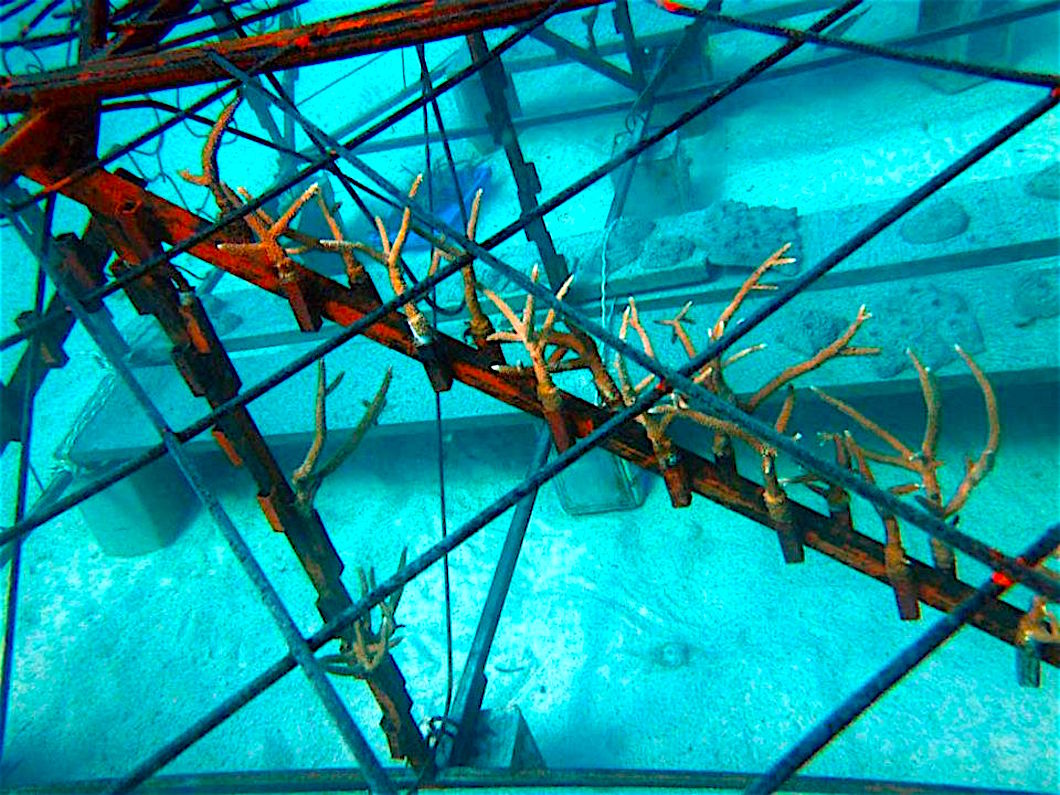 What is Biorock
Electro-mineral accretion, also known as Biorock, involves applying a low voltage current to a metallic structure to cause limestone to crystallize on the surface, to which coral planulae can attach and grow.
Koh Tao's own Biorock or Hin Fai, which translates to 'electric rock' from Thai, was the first official artificial reef structure on Koh Tao.
Biorock Technology
It is a large dome structure with smaller satellite dome structures and boulders surrounding it. The domes are used as a base structure on which to attach transplanted corals.
The structure receives a low voltage electric current via underwater cables coming from the island. This electric current helps the coral grow after it has been attached.
Recently a second Biorock structure has been deployed in Aow Leuk.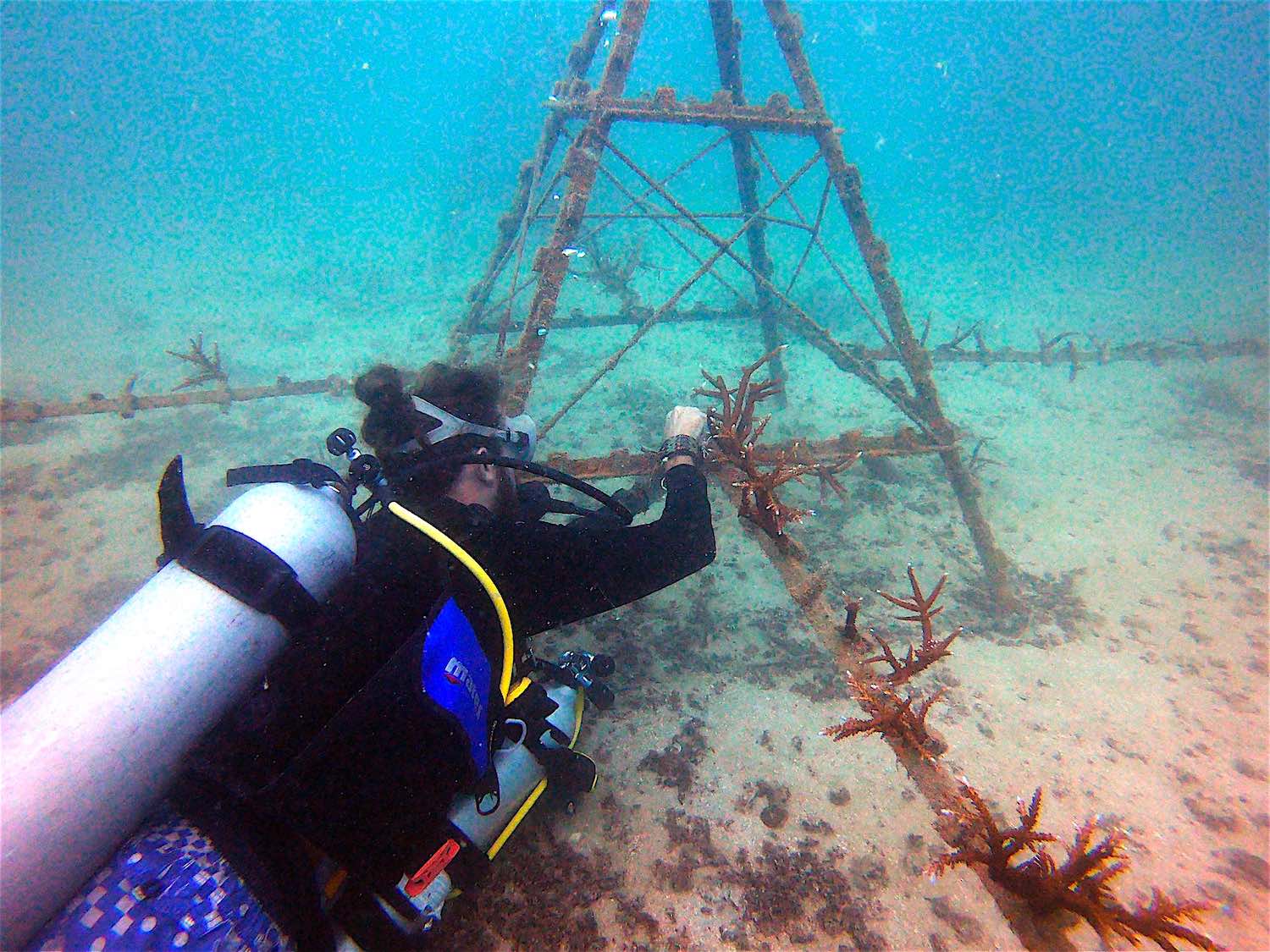 Junkyard Reef Artificial Dive Site
This site was started in 2009 and is situated 400 metres off the coast of Mae Haad beach in what was a shallow barren part of sand.
As the name suggests, Junkyard is an artificial reef made out of junk. There's an old car, lots of tunnel structures, old fitness equipment, toilets, and many more objects. Over the years it has been expanded a lot and there are still plans to put more structures down.
This area has also become an important coral nursery with many structures being placed down with the purpose to hold nurseries.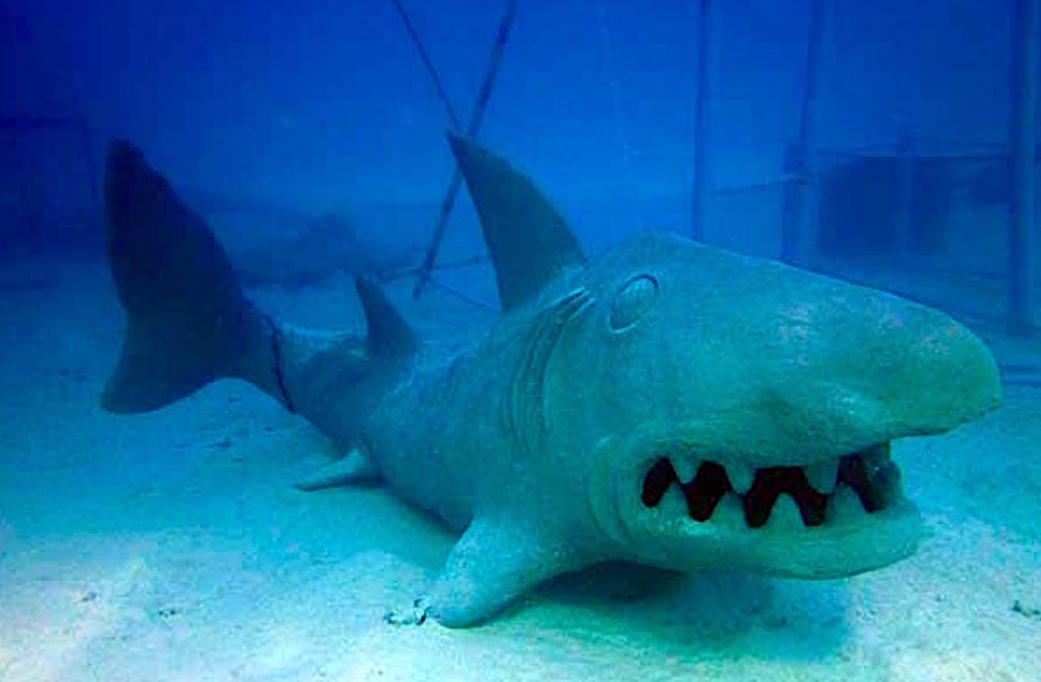 Buoyancy World Artificial Dive Site
Buoyancy World dive site is an island wide project in conjunction with Save Koh Tao to create a new site just North of Twins dive site.
Lots of dive centres have constructed and donated structures for the creation of buoyancy world and the idea was to create an area to improve bio diversity.
The dive site is also a training site for student divers to help improve their buoyancy away from the natural reef to help with reducing coral damage.
Buoyancy World very much has the feel of an underwater playground.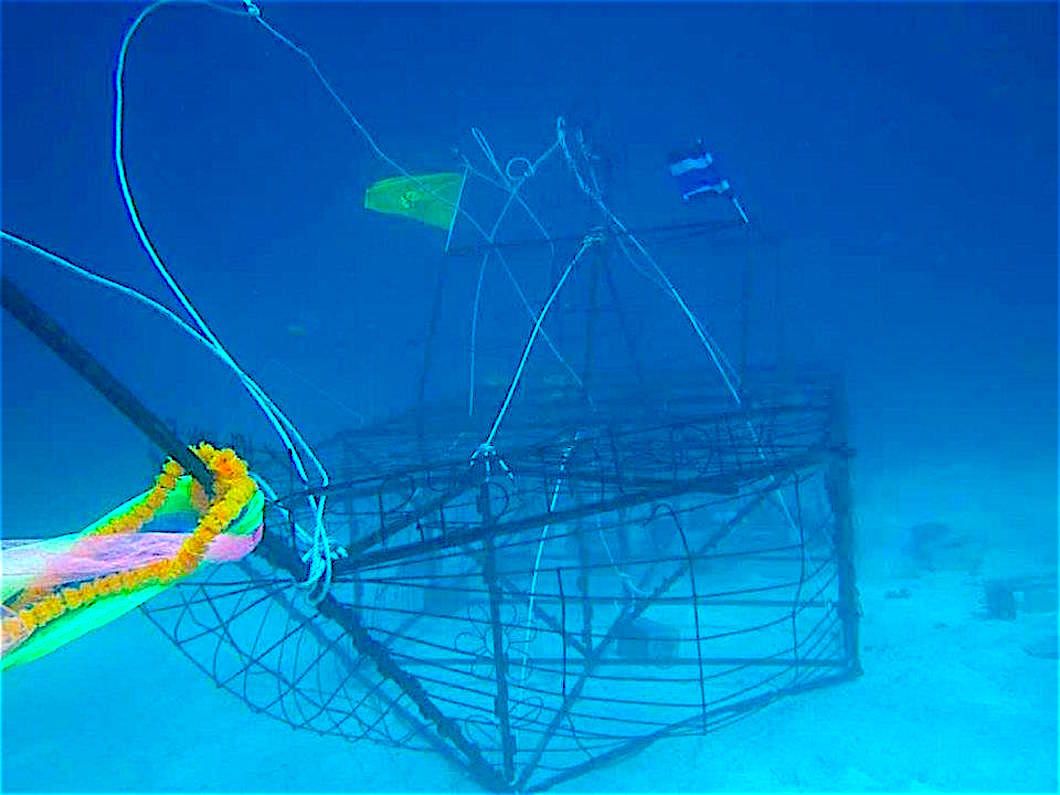 HTMS Sattakut Wreck
The HTMS Sattakut is an old Navy ship which provides a training site for the Wreck speciality course and also encourages a new location in which marine life could thrive.
It is an ex Thai Navy boat, kindly donated to Koh Tao by a consortium that includes The Department of Marine and Costal Resources and the Royal Thai Navy.
The HTMS Sattakut was cleaned and stripped of all toxins and hazardous materials before the Thai Navy performed a controlled sinking on June 18th 2011.
The ship itself is 49m long and it lies at a depth between 20-30m making it a popular dive site for scuba divers on their Advanced Open Water Course.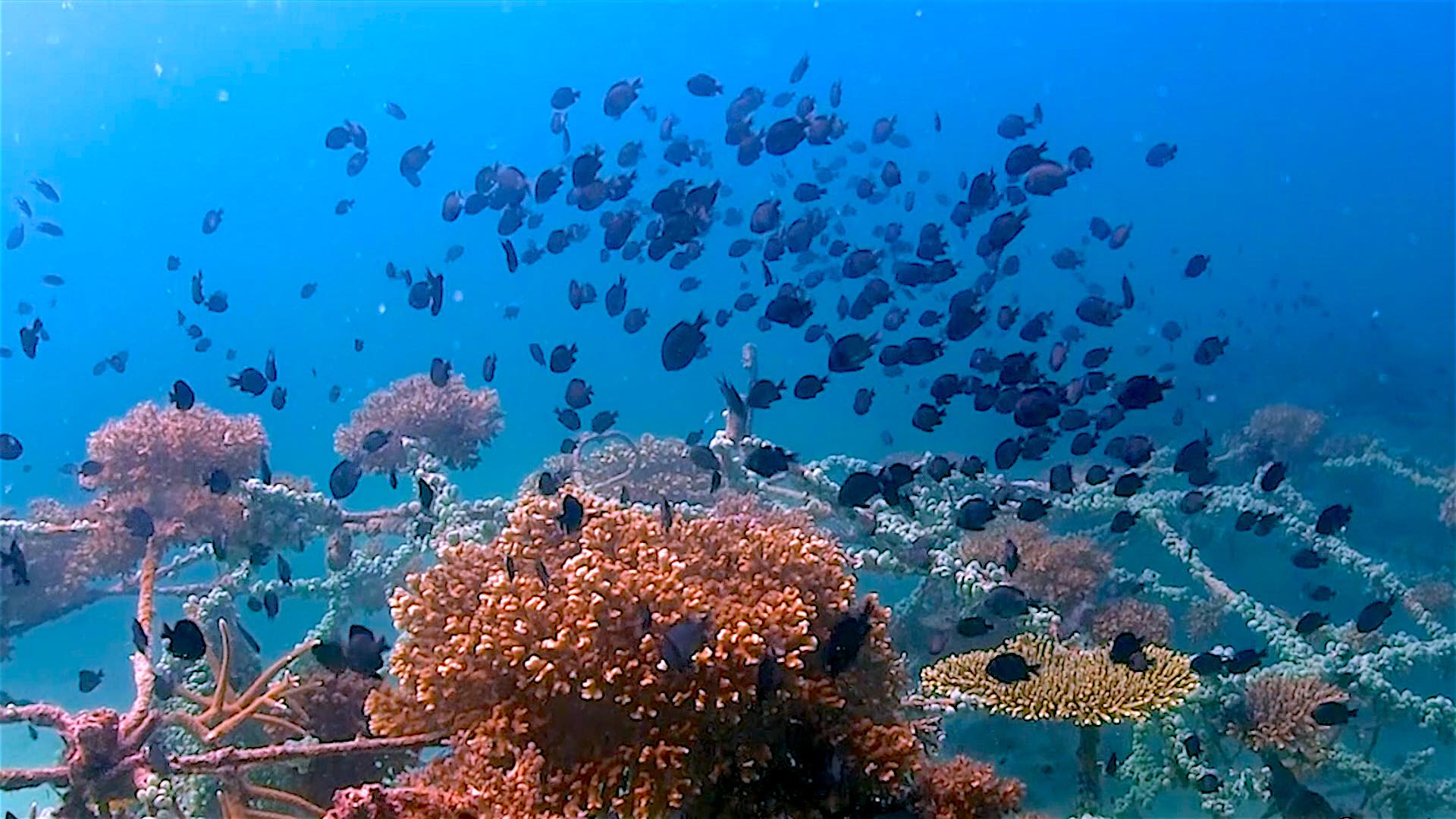 Ocean Utopia Underwater Art Installation
In 2016 an underwater art installation was deployed in Tao Tong at a depth of 12m. It has been designed and built by internationally renowned sculptor Val Goutard.
Corals have been transplanted onto the sculptures' surface and are now bringing colour to the bronze statues and it is attracting lots of marine life.
Other Artificial Dive Site Projects
There are many other artificial structures emerging around Koh Tao and these all help to take pressure off the natural reef and create alternative dive sites for divers to visit.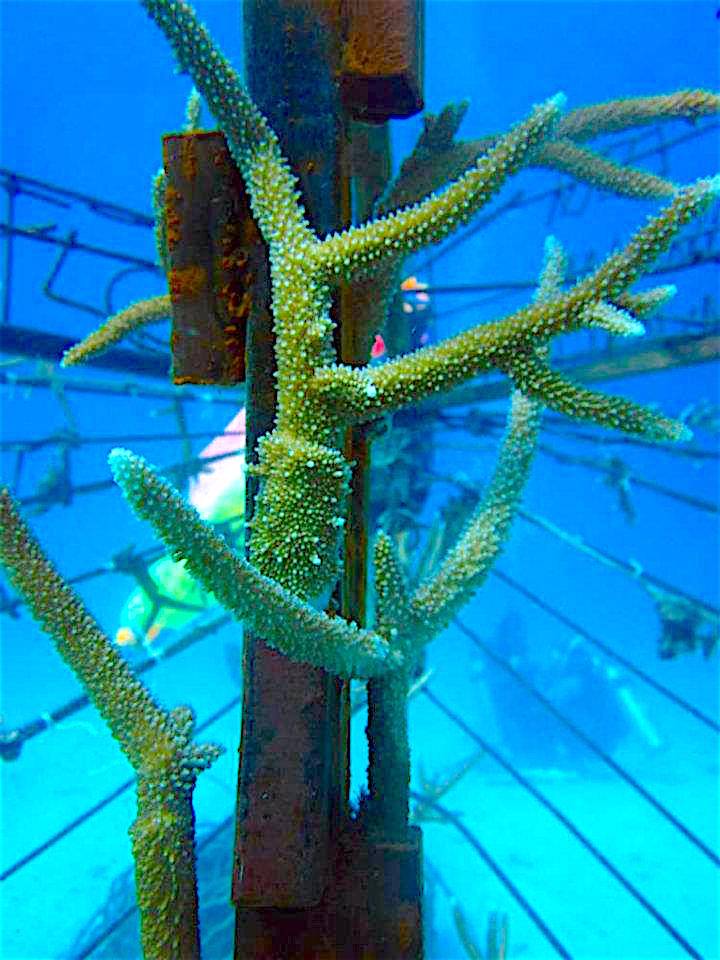 To name a few there is the MV Trident shipwreck near Shark Island. We have reef balls, a catamaran wreck and even motorbikes at Tanote Bay. There are also artificial reef structures at Aow Leuk.
The Department of Marine and Coastal Resources has also donated and put down lots of artificial reef cubes underwater at different locations around Koh Tao.
These concrete blocks have been put down in a way to resemble different items such as palm trees and pyramids.
They can be found at Tanote Bay, Laem Thian, Aow Mao, Japanese Gardens and many more dive sites around Koh Tao.
Together all these projects and artificial reefs help create new hiding places for marine life, new substrates for coral to settle on and new attractions for divers to discover.
If you would like more information on artificial dive sites around Koh Tao, please get in touch so we can answer any questions you have.
Frequently Asked Questions
What are benefits of artificial reefs?
Artificial reefs are beneficial to hundreds of species of fish and other marine life, providing shelter, protection and spawning grounds. They also provide areas for scuba divers to use, reducing pressures on the natural reef.
How does an artificial reef work?
An artificial reef is usually built to provide fish habitat and promote marine life in general. They are often deployed in an area with a flat, sandy and lifeless bottom. Over time, fish and marine life will shelter on the artificial reef, whilst corals, sponges and other marine organisms will begin to grow on the structure. Decommissioned ships, cleaned of toxic materials and sunk make good artificial reefs.
What can artificial reefs be made of?
Many artificial reefs are built from materials that where intended for other uses such as ships, cars, oil rigs. Other artificial reefs are purpose built using concrete blocks or reef balls. Steel structures can be used for transplanting corals onto and bottle nurseries can be added to existing artificial reefs made from used glass bottles set in concrete help create a new habitat for corals, fish and invertebrates, helping to improve reef resilience.
Why are artificial reefs important?
Artificial reefs are important for ocean health, creating habitats for hundreds of different fish species as well as many more marine organisms. They also play an important role in tourism, providing ideal locations for marine tourism.
How much do artificial reefs cost?
The costs of building an artificial reef vary greatly depending on many factors including the size and scope of the reef, materials used and timeframe to complete the project. Many projects such as Junkyard Reef on Koh Tao have evolved over more than a decade, relying on raising funds via donations and charitable events and considerable time from thousands of volunteers. At the other end of the scale are artificial reefs such as HMAS Adelaide sunk off the coast of NSW, an hour north of Sydney, at the expense of A$8.5 million. The aircraft carrier Oriskany, sunk by the US Navy cost an incredible US23.6million. Considerable costs where spent on studies to ensure that ecological and human health impacts where not harmful.
Why do we have artificial reefs?
Artificial reefs provide food and shelter and breeding grounds for a wide range of different marine life animals. They also reduce the human pressure on reefs by providing alternative dive sites for scuba divers.