Fizz Beach Lounge in Sairee, Koh Tao
Fizz Beach Lounge is a popular beachfront lounge bar and restaurant venue located at the northern end of Sairee beach on Koh Tao.
Family Friendly
Popularly known amongst the local community as Fizz, the venue offers great music, an imaginative menu and serves fresh, tasty cocktails through the day and to a spectacular sunset.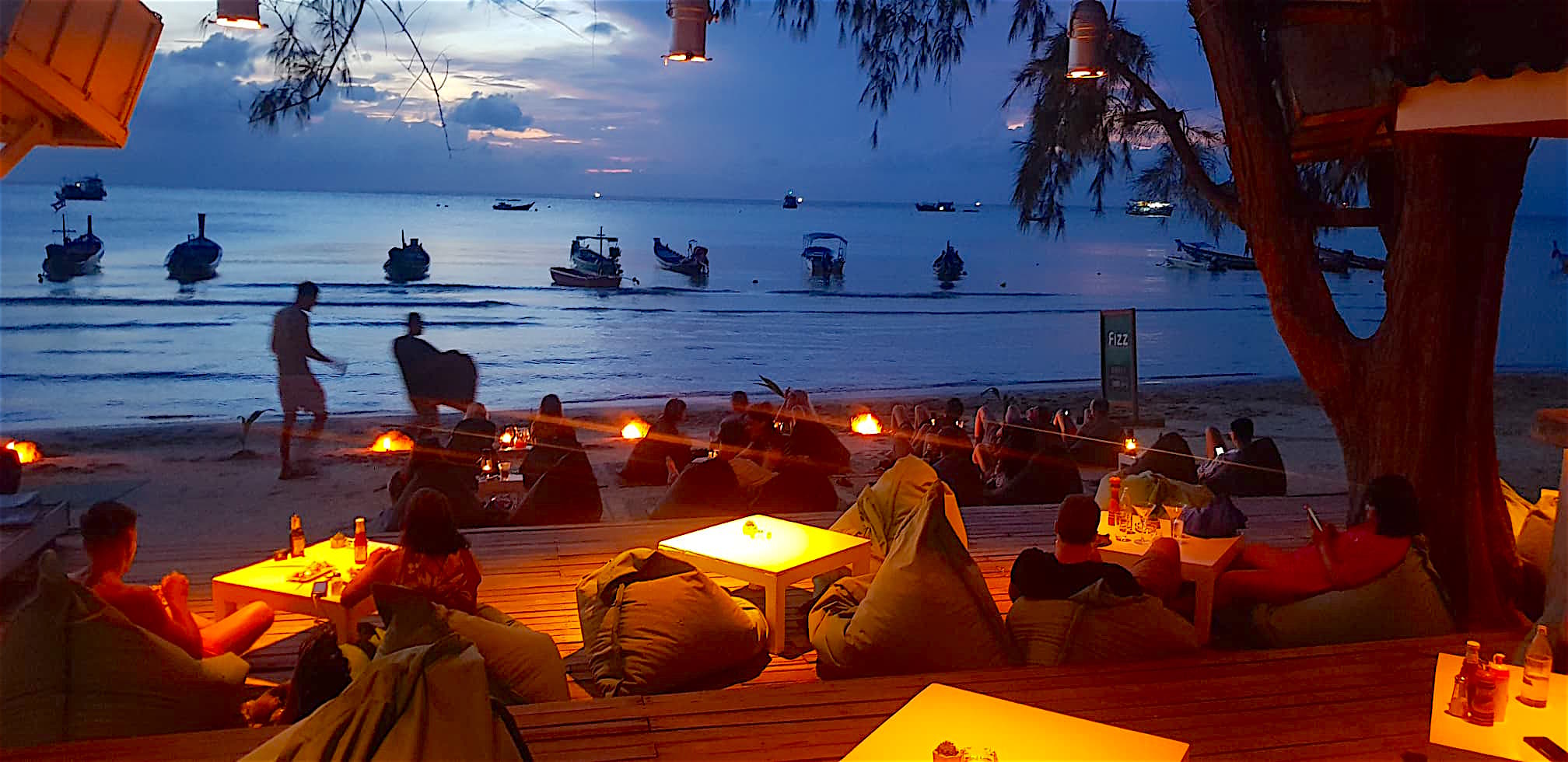 Fizz Beachside Restaurant & Bar Koh Tao
For visitors who are looking for a chilled lounge vibe and a place to relax after a day in the hot tropical sun, Fizz Beach Lounge is the place to be.
Great Vibe
The type of music quite often played is soul funk disco, chilled sexy beach house and the food menu matches the vibe.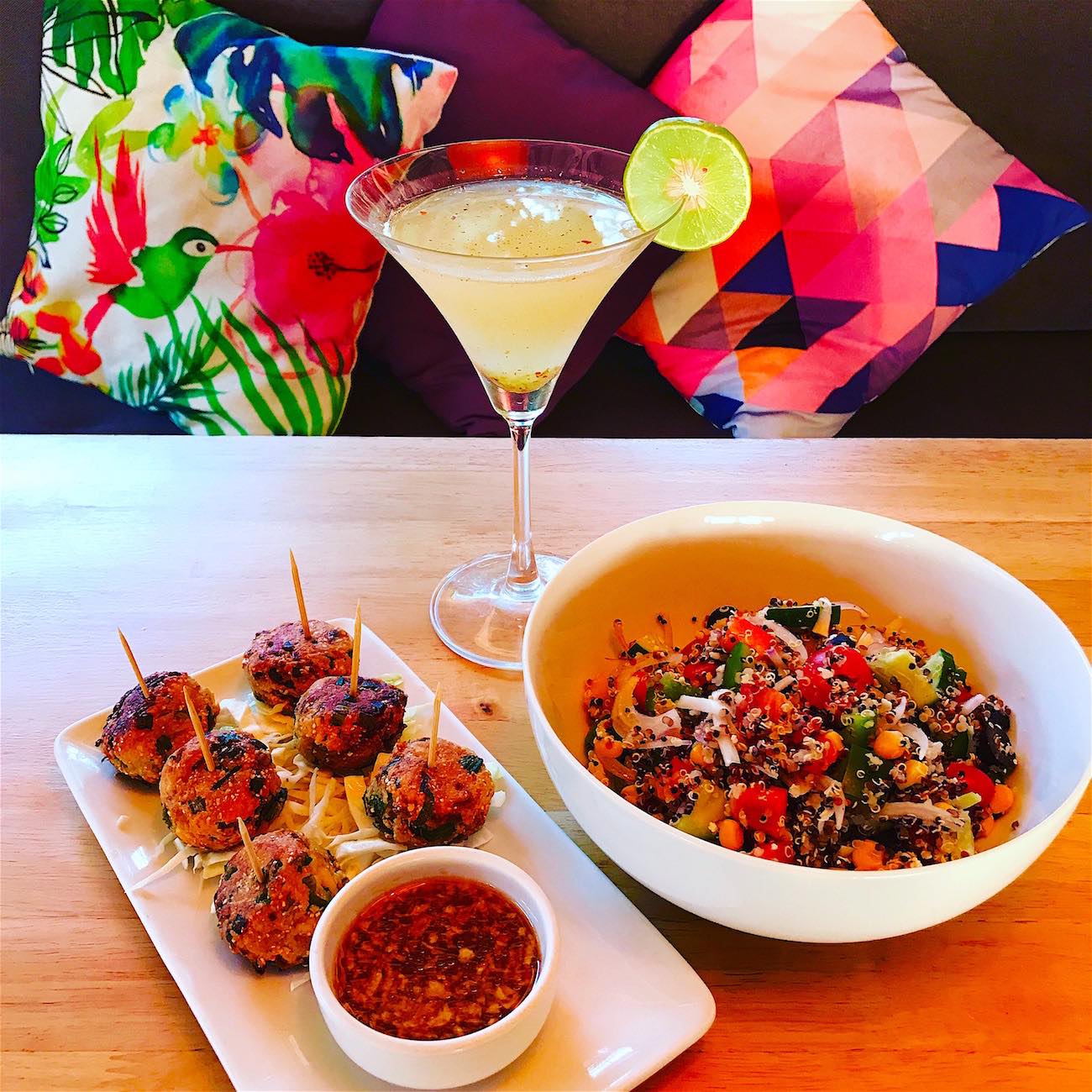 Fizz Beach Lounge Restaurant Menu
Fizz Beach Lounge provides visitors with a contemporary, international restaurant menu with a selection of delicious and varied food dishes.
The venue has a great atmosphere and ambience, offering visitors to Koh Tao a friendly welcome and a unique dining experience.
This is characterised by their signature dish, a seared marinated Teriyaki Tuna steak, served on brown rice with stir fried bean sprouts, sugar snaps, broccoli and garlic.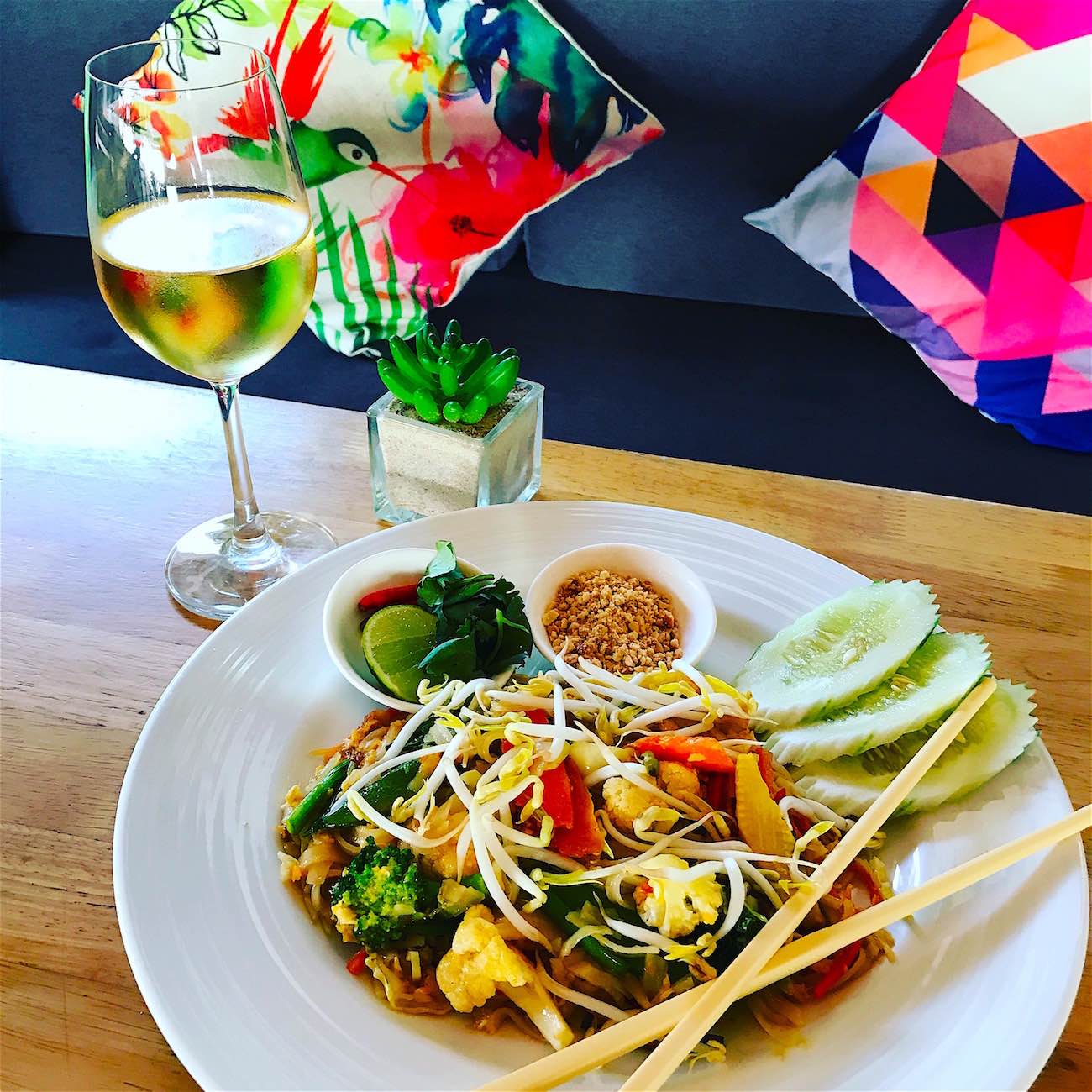 Popular Dish
The most popular dish on the menu is the chicken breast stuffed with pesto and mozzarella wrapped in Parma ham, served with mashed potato and crunchy sugar snap peas.
Another favourite dish is the Moroccan stew, or one of a number of delicious Vegan dishes including a flavoursome spiced tomato stew filled with pumpkin, sweet potato, chick peas and split peas served with olive couscous.
Vegan & Thai Dishes
The Vegan bowls are very popular and a choice of Thai dishes, which feature all the classics you would expect in a Thai restaurant.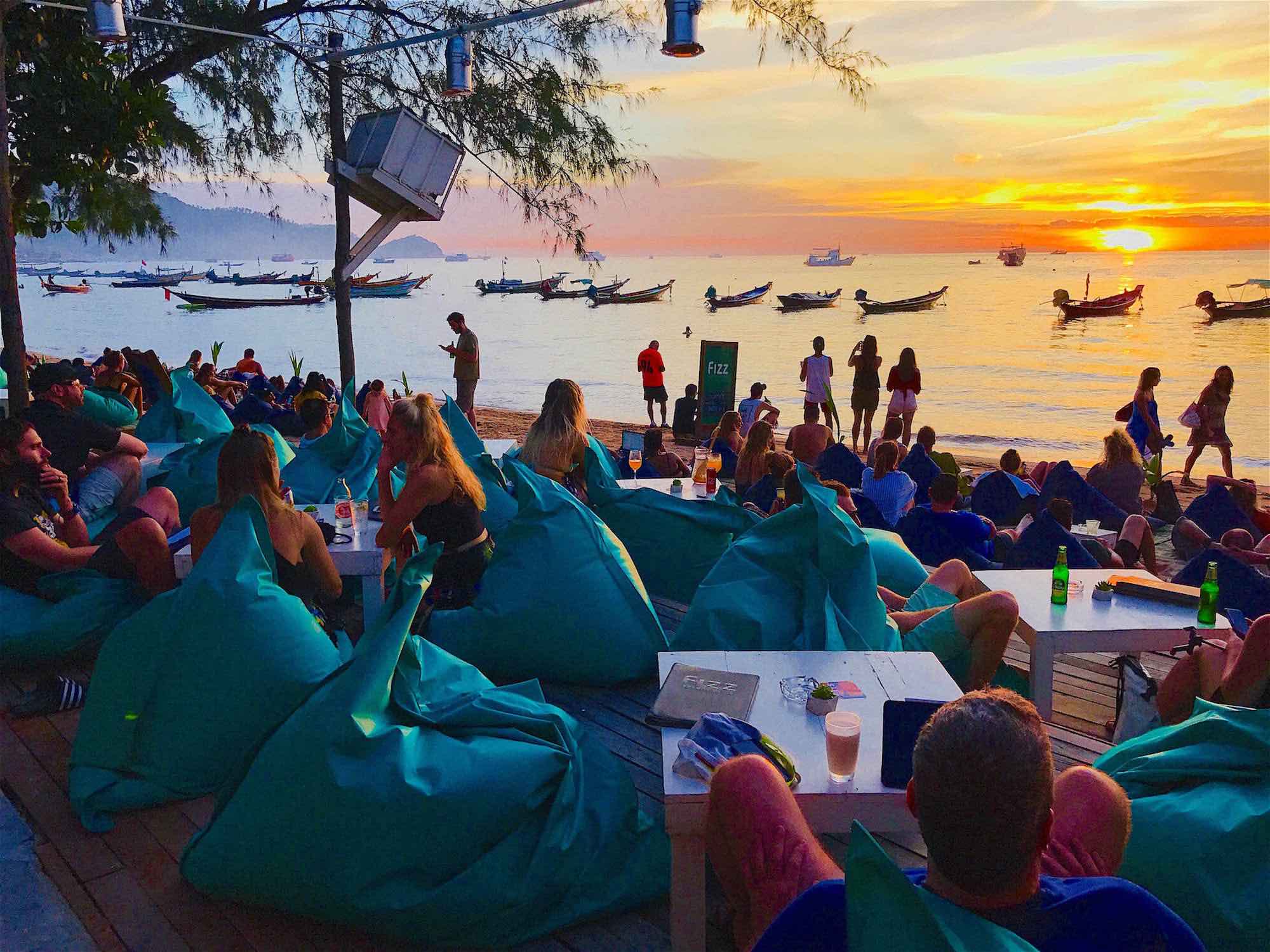 Fizz Beach Lounge Live Music & Bar Koh Tao
Fizz beach Lounge Koh Tao is very much about the music, mood and ambience and there is a DJ booth positioned in the front and centre, which faces out towards the ocean that can be seen immediately.
You can feel the love that has gone into making this place what it is including the house beats that are loud enough to get lost in, yet you can still enjoy a conversation.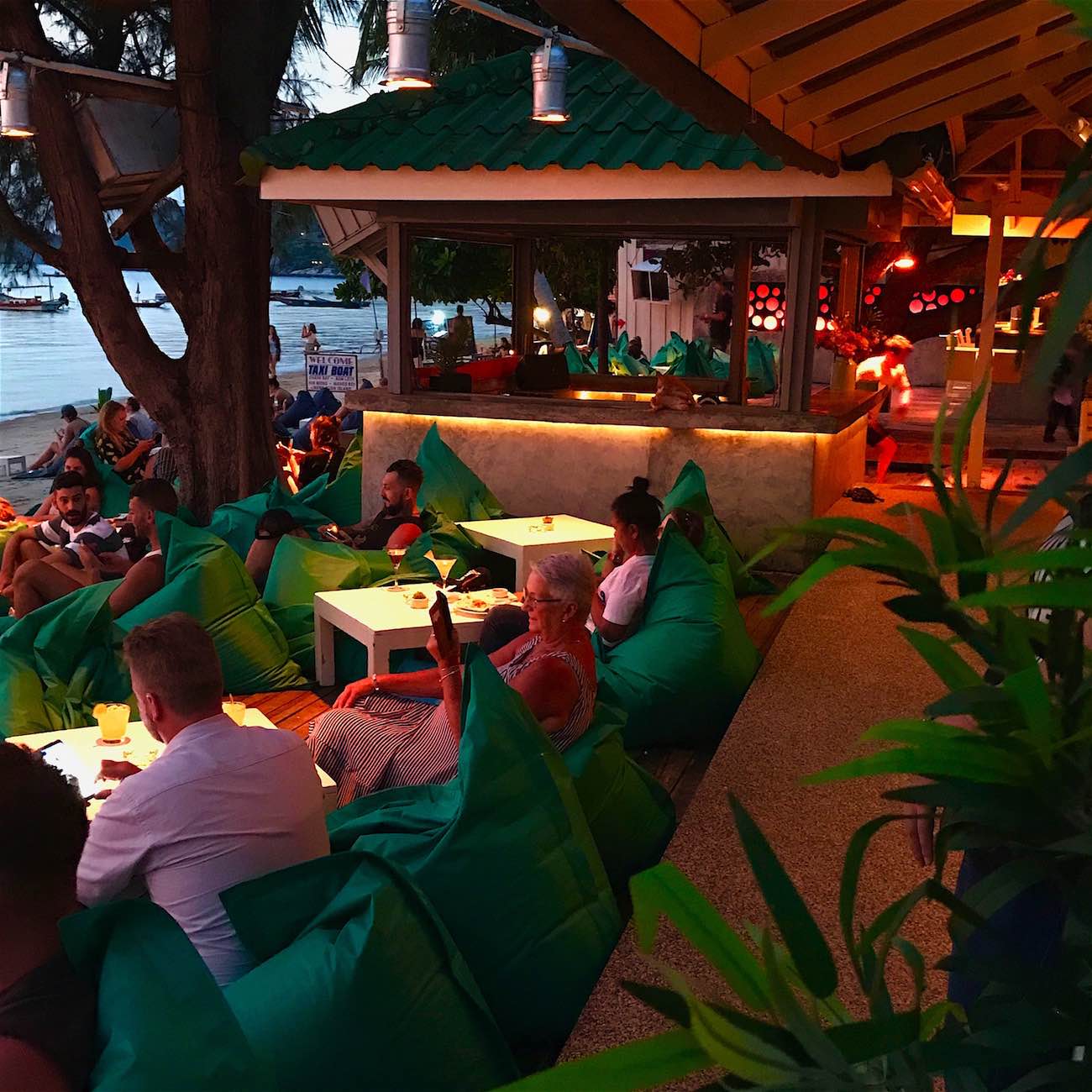 Chilled Music
This vibe is what encapsulates the venue and the inspiration that owners and house DJ's Lily & Johnny Deb found for this super chilled place on the beach next to the sea.
DJ K-star also appears regularly and residents Spiritual Gangsters play their 'Soul Heaven night' every Saturday.
Customers can expect excellent, attentive customer service, superb food and drink, which matches with the music and vibe that is very friendly, warm and laid back.
The relaxed atmosphere continues outside where customers lounge on the colourful, comfortable beanbags on the wooden decking either side of the DJ booth.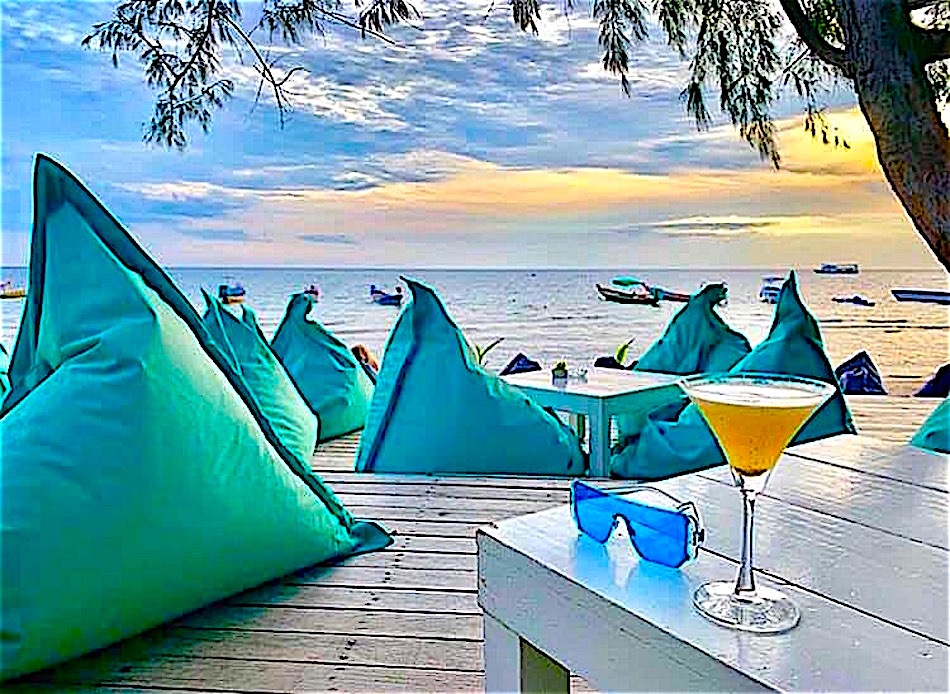 Fizz Beach Lounge Koh Tao Cocktails & Drinks
You can sip from a happy hour cocktail whilst enjoying the stunning view of longtail boats parked just off the beach, against a backdrop of a classic Koh Tao sunset.
Fizz Beach Lounge signature cocktail is an expresso martini and is often described as the best on Koh Tao, although depending on your taste it may not even be the best cocktail on their menu.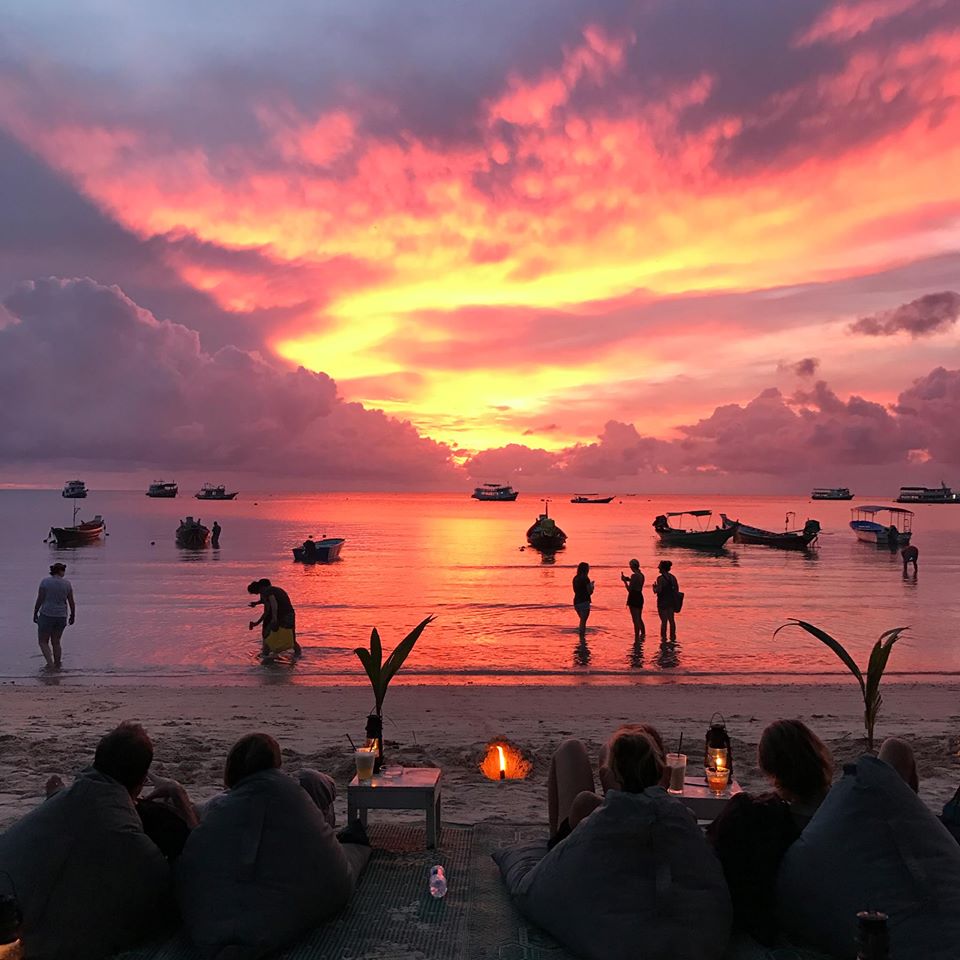 Sunset Views
Fizz can cater for party nights, large groups, singles, couples and Fizz is hip, yet not pretentious and is a popular venue for families.
If you are looking for a modern tropical beach front bar with the extra-large bean bags and your feet in the sand, then Fizz Beach Lounge restaurant and bar is the place to visit.