How to Get to Chalok Baan Kao Bay Koh Tao
Chalok Baan Kao Bay is located on the southern coast of Koh Tao, close to Taa Toh Beach and Freedom Beach.
Easy Access
In fact, if you look through the palm trees at the entrance to Freedom beach you will get an amazing view across this bay.
The bay is very easy to access from the town of Chalok, which you can reach on the main road heading south from Mae Haad pier. It takes just 10 minutes to cycle or drive there by scooter, taxi, or 30 minutes to walk.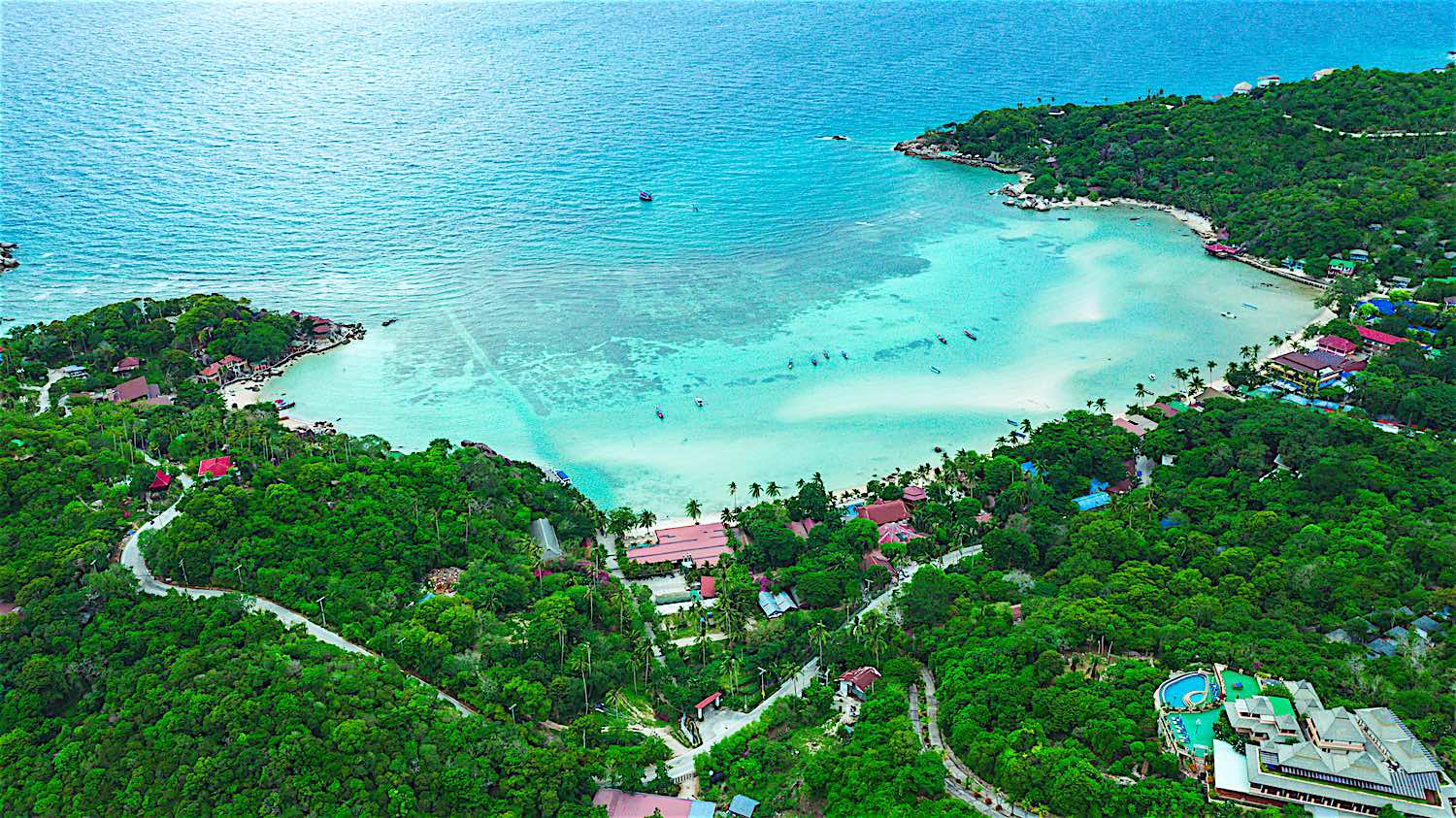 Chalok Baan Kao Bay Coastal Walk
You can also take the coastal route to walk there from Mae Haad, passing through Sai Nuan and June Juea beach, which takes under two hours.
We recommend 'under two hours' as you will most definitely want to stop along the way and absorb the stunning beauty of the bays and beaches along the route.
Stunning Beach
Chalok is home to the third largest beach on Koh Tao and is covered in soft, white sand and occasional trees that offer some shade when you want to get out of the hot sun.
The beach slopes gently down towards the waters edge and the water colour here is quite often picture perfect shades of blue, flat and calm.
Chalok Baan Kao Shallow Bay for Swimming
The bay at this location is shallow, making Chalok very popular with families and also providing an ideal location for swimming and relaxing.
However, when the tide is out you may have to walk for a bit to get to water that is deep enough for swimming and Chalok Baan Kao Bay is not ideal for either scuba diving or snorkeling.
Stunning Views
The view from the bay looks out across the Gulf of Thailand towards Koh Phangan, Koh Samui and Ang Thong National Marine Park.
You can see Buddha Rock (Hin Taa Toh) on the cape on the east side of the bay as well as John-Suwan viewpoint on the jungle topped east side of the bay.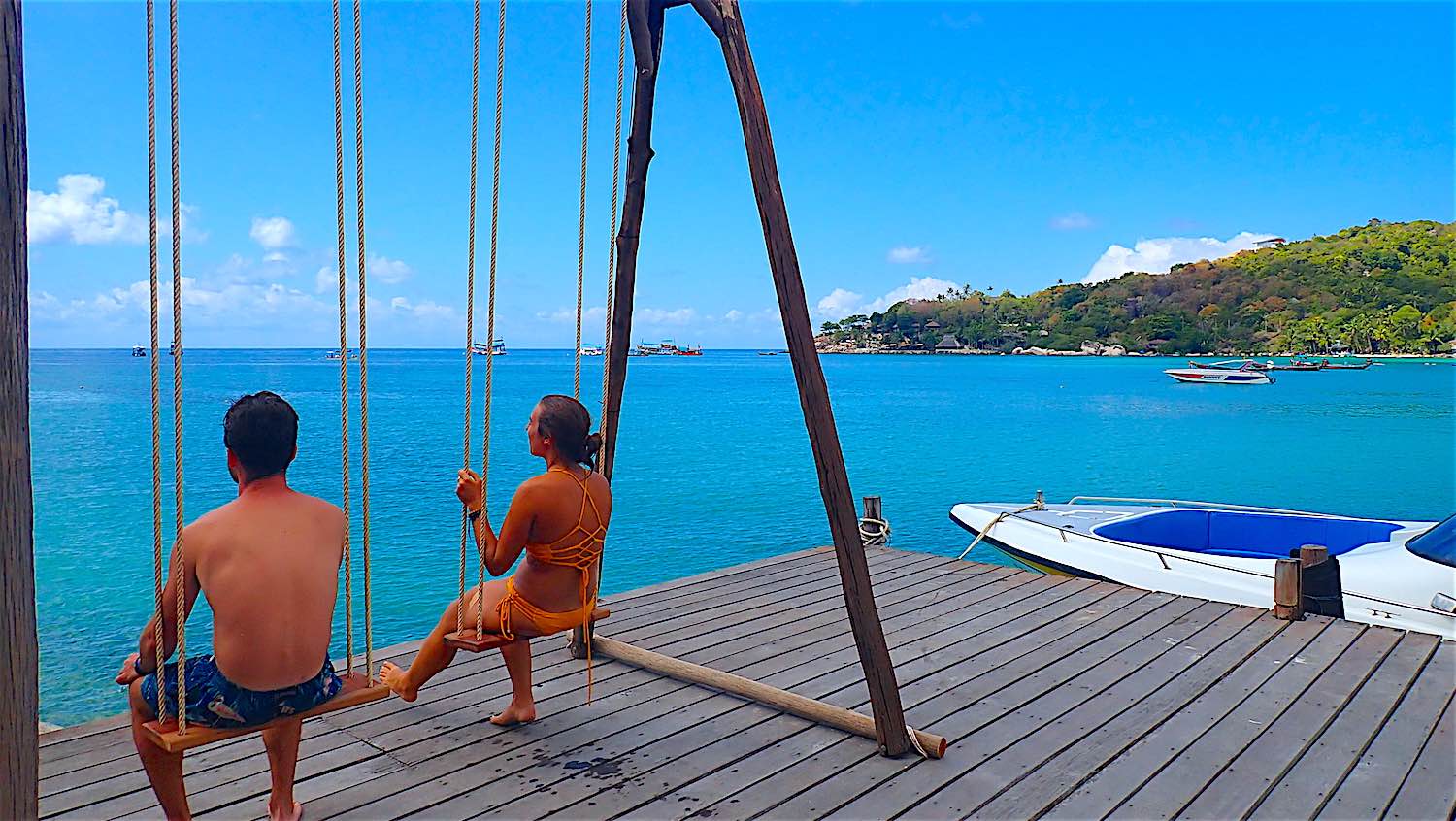 Chalok Baan Kao Restaurants and Bars
There are a lots of bars, restaurants, cafe's and coffee shops and various types of accommodation within easy reach of the beach.
If staying in Chalok, it's a short walk to the beach so you do not need to carry everything with if you want to spend a day relaxing on the beach.
Also, many longtail boats moor along the beach, so its a great location if you want to hire one for a trip to another bay or beach.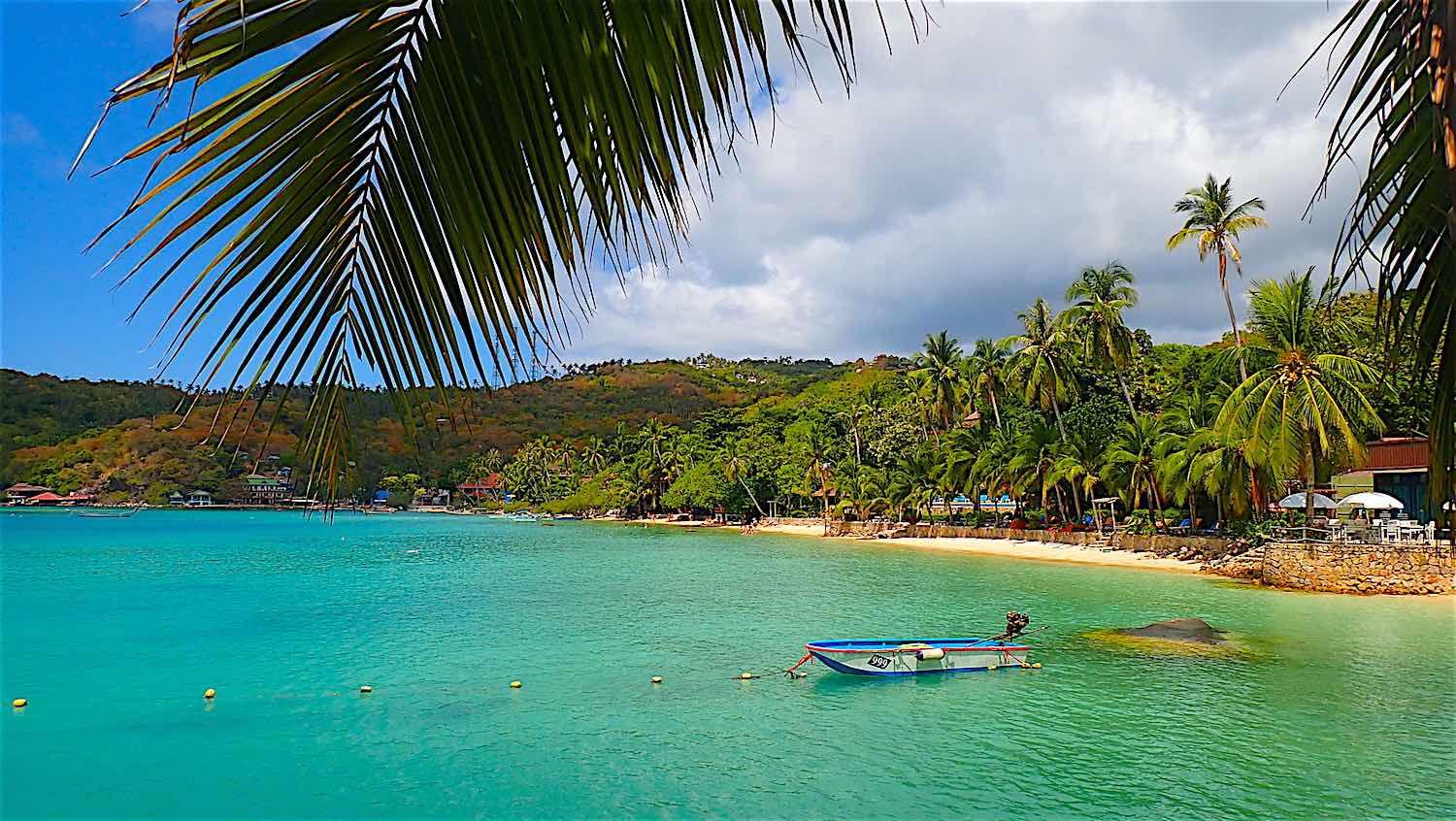 Explore the best of Chalok Baan Kao Bay
Chalok is a great location to base yourself away from the crowds and if you want to explore the south of the island.
The village is within walking distance of Freedom Beach, Buddha Rock Cape, Cape June Juea and Shark Bay, which can all be accessed by walking through a couple of the local resorts that connect the two bays.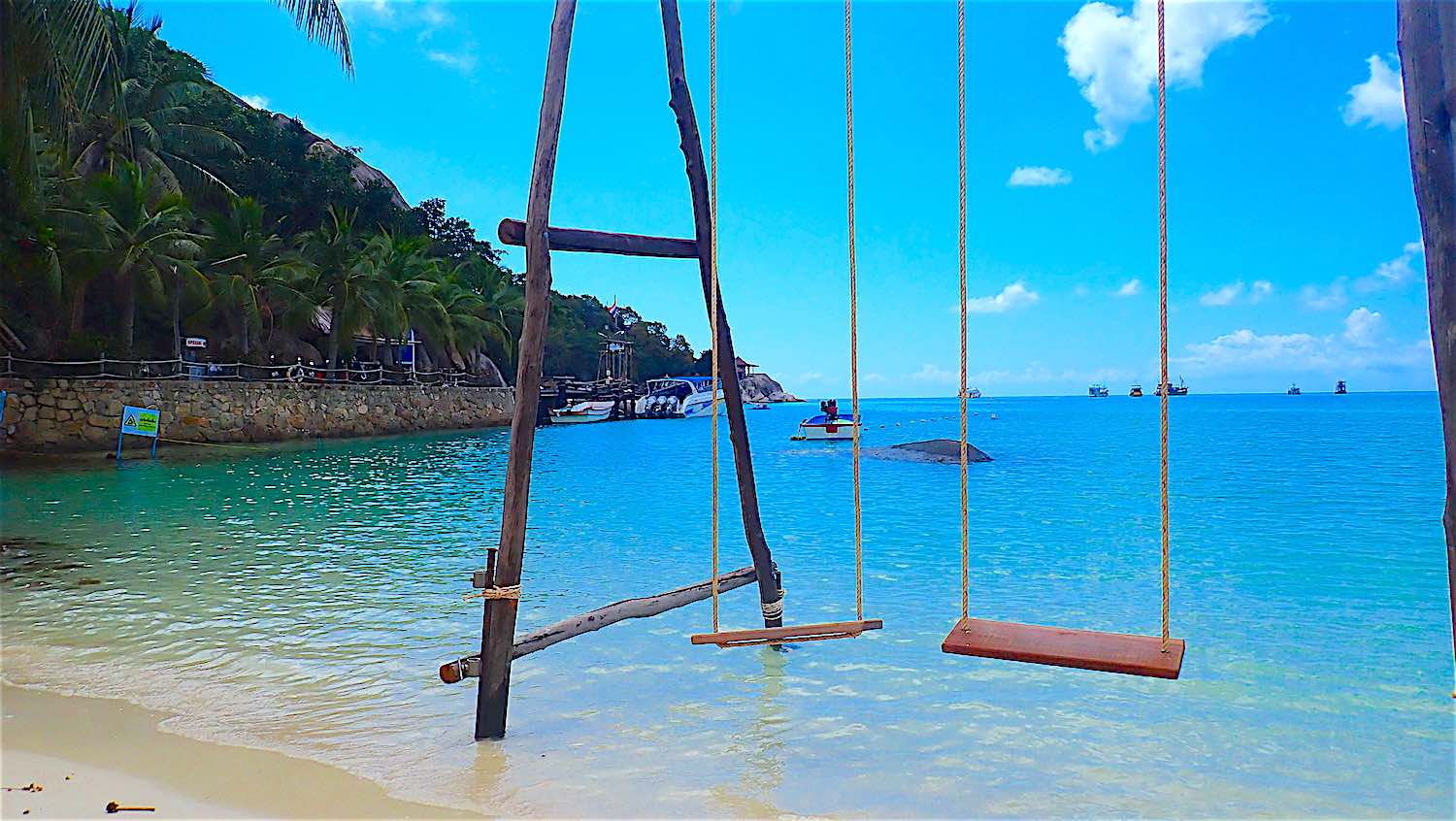 Chalok Baan Kao Accommodation options
Sairee and Mae Haad villages are busier and do offer more choice of bars and restaurants. However, Chalok is a great option if you are looking to stay somewhere that is a little more peaceful, yet close to local amenities and activities.
Chalok also offers a wide range of great value hostels, exclusive bungalows, villas, hotels and resorts to suit every visitors budget.
Quiet Location
It's a great location to base yourself and you are within 10-15 minutes of the other main villages on Koh Tao. You can walk, rent a scooter, cycle or enjoy private taxi's to any other location on the island.
For those who just want to unwind, relax and stay away from the crowds, it is the perfect place to stay when visiting Koh Tao.
Frequently Asked Questions
How far is Chalok Baan Kao bay from Sairee village?
Chalok Baan Kao bay is approximately 4 kilometres from Sairee village and there is a relatively new concrete road connecting the two villages.
Is there anything to do in Chalok Baan Kao bay?
There is a lot to do in Chalok Baan Kao bay and around the whole bay from east to west. If you are a food and drink lover there are very popular café's, bars and restaurants you can visit.
Chalok enjoys some of Koh Tao's exclusive beaches including Taa Toh beach, Freedom beach and Saan Jao beach. There are island viewpoints, beach activities and you can expect stunning scenery, tranquility and amazing nature.
Can I rent a scooter in Chalok Baan Kao ?
There are a range of scooter rental places in Chalok Baan Kao that offer daily, weekly or monthly rentals. You will need to produce your passport to rent a scooter.
Can I get to the viewpoints in Chalok Baan Kao bay?
Chalok Baan Kao is in close proximity to John Suwan Viewpoint and Sun Suwan 360 bar so you can visit both of these viewpoints that offer panoramic views from the south of the island facing north.
Do resorts in Chalok Baan Kao provide taxi services?
Many of the resorts in Chalok Baan Kao provide transfers to and from the villages or to other landmarks around the island. They will also provide a courtesy pick up and drop off upon arrival and departure from the main ferry pier.
Can I walk from Chalok Baan Kao to Mae Haad village?
You can walk from Chalok Baan Kao to Mae Haad village in approximately 45 minutes along the new concrete road. You can also take the scenic route and head to Sai Nuan, then follow the coastal path into Mae Haad.
Is it safe to swim in Chalok Baan Kao bay?
You can swim in Chalok Baan Kao bay, however, it is a very shallow bay at low tide and can be impossible to swim in at times. There are many smaller idyllic beaches that fringe the bay that offer fine white sand and you can certainly get your feet wet.