Seatran Discovery Ferry services to Koh Tao
Seatran was established in 2002 and renamed in 2004 to Seatran Discovery and is one of the most popular ferry services in Thailand.
Seatran Discovery mainly provides passenger ferry services at Koh Samui, Koh Phangan and Koh Tao.
It also provides bus and mini bus services on the mainland that connect with the routes from Donsak pier to the top destinations of Andaman Sea and to Bangkok.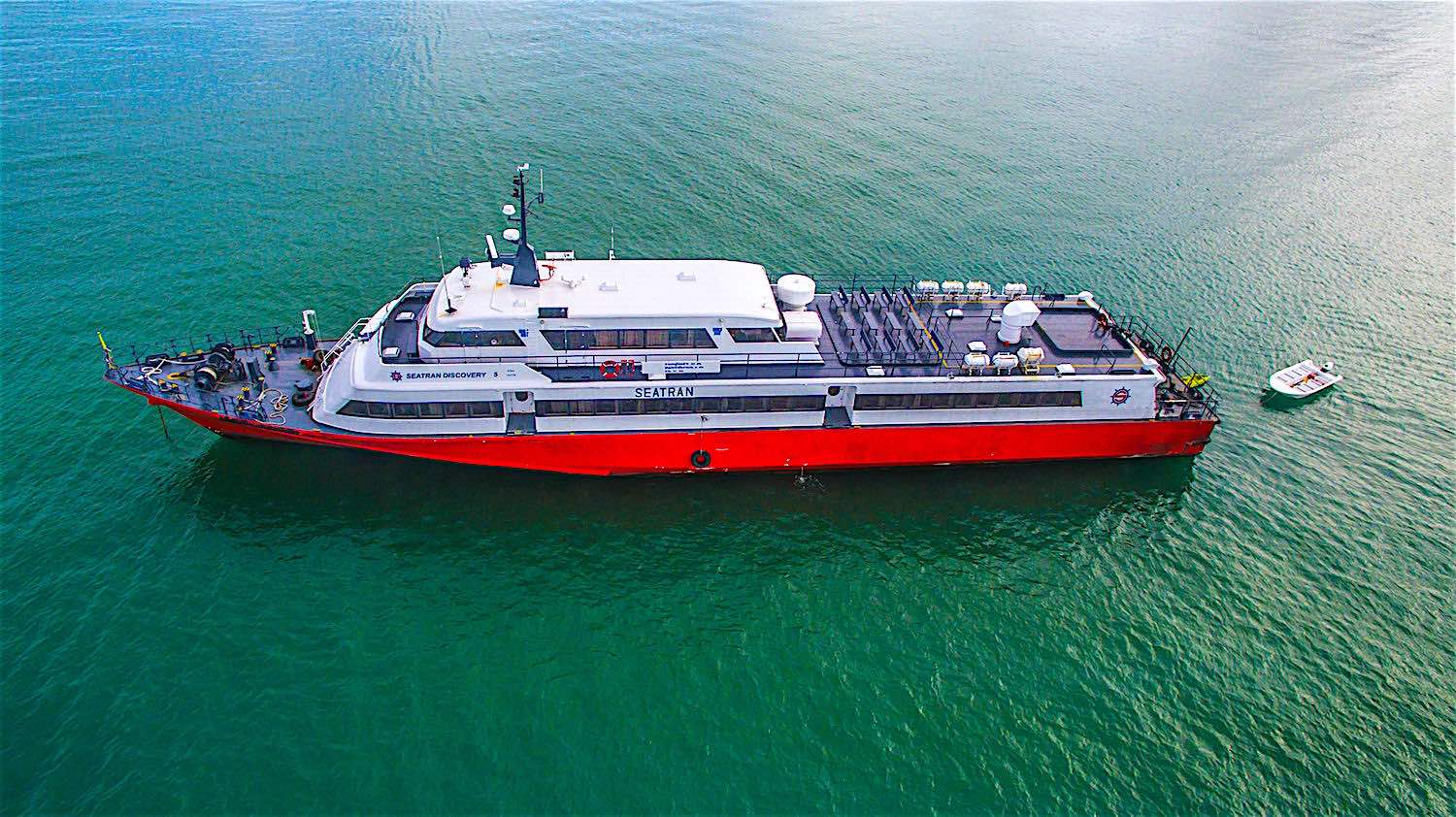 Seatran Discovery bus and road travel
Seatran discovery like other ferry operators typically combine overland travel between their smaller mini buses and their larger double deck buses (often referred to as a VIP bus).
Most of the larger buses will be similar to other operators with spacious reclining seats. However, the quality of the bus standard can vary, but you generally have curtains available on each window, with reading lights and seat belts.
Luggage is normally stored in a hold in the bottom of the bus so you have a comfortable amount of leg room.
With longer road journeys you can expect to stop off for around 20 minutes mid trip for toilet breaks and food.
Depending on where you have booked your travel ticket there are various ways to get to the Donsak ferry terminal in Surat Thani.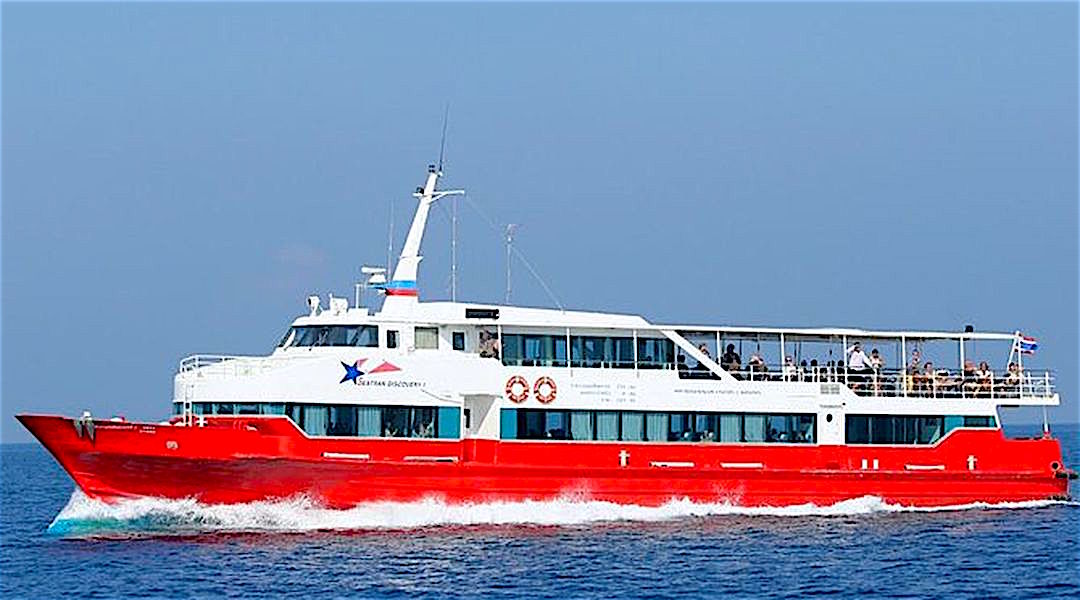 Seatran Discovery offers a pick up service from hotels, resorts and the airport. Although this is not as extensive as Lomprayah, whoever you book your travel ticket with should provide a mini bus service.
Seatran Mini Buses
The mini buses typically hold about 8 people and are normally used to pick up and drop off customers at hotels and resorts with multiple stops on the route.
The mini bus can get busy at times as they try to fill the vans to capacity.
Seatran bus terminals are usually part of the public transport system or they may have a small terminal that has seating and waiting rooms areas.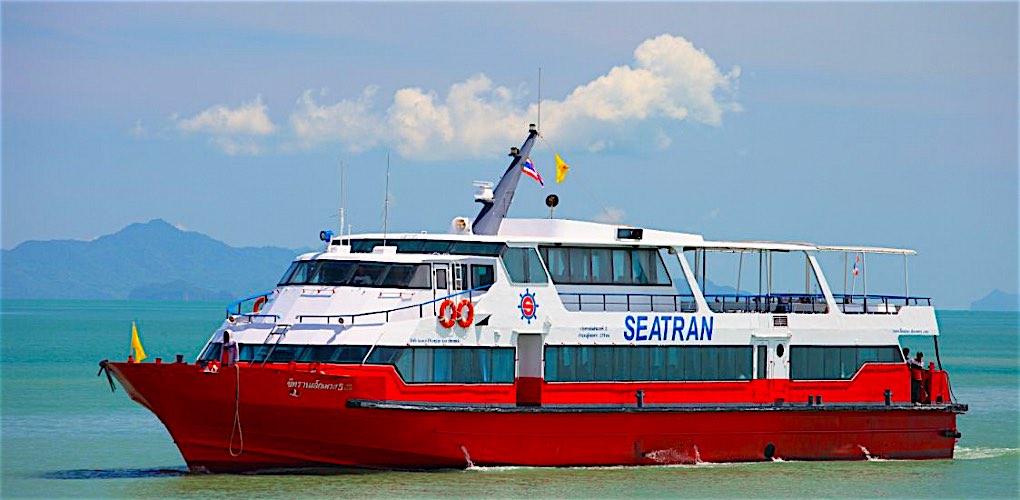 Seatran Discovery connecting Ferry services
Seatran offers slightly less crowded and smaller boats, so it is often quicker to collect luggage and to board and disembark from the ferries.
Additionally, in Koh Samui, the pier is 5 minutes from the airport instead of 20 minutes.
Upon arrival at Koh Tao, Seatran has its own pier for disembarking and you can immediately be transferred to your resort or hotel by collection or local taxi.
In Mae Haad bay there is a wide choice of accommodation options, many bars, restaurants and local beaches north ad south of the main piers.
Seatran Discovery fleet of boats
Seatran Discovery operate a fleet of boats that are smaller than other operators, but still large and are as comfortable as the Lomprayah, but not as fast.
Seatran can be considered a fast and reliable ferry service with a fleet of single hull vessels.
Their boats can hold over 300 people and are more comfortable for travel if the sea is not as calm as usual and they also have more room for luggage.
Seatran Discovery Ferry onboard services
You will need to carry your luggage onto the ferry by yourself. This can be an issue on services departing from Donsak if you have a lot of luggage.
The ferries have clean bathrooms and a small shop to buy snacks and drinks.
On the lower level you can find a small café that serves crisps, chocolates, drinks and sandwiches at reasonable prices.
Seatran Discovery service is a great choice of ferry for visitors to Koh Tao if travelling from Koh Samui or Donsak on the mainland.
Frequently Asked Questions
Can I get Seatran from Koh Tao to Koh Phangan?
Seatran discovery operate a daily schedule of up to 3 boats from Koh Tao to Koh Phangan in the early morning and the afternoon. You can buy tickets through your resort, a ticket agent or at the pier just before the departure time.
Does Seatran operate from Chumphon to Koh Tao?
No, Seatran operates from Surat Thani (Donsak), Koh Samui and Koh Phangan to Koh Tao. From Chumphon, passengers need to get Lomprayah or Songserm Express day time ferries or one of the night boats that operate on a particular night, such as Chumphon Ferry, Porntaweesin or Talay Sub.
How much does Seatran cost from Koh Samui to Koh Tao?
The cost of a Seatran Discovery one way ticket from Koh Samui (Bangrak pier) to Koh Tao is approximately 600baht for an adult and there will be a small additional transaction fee if you book online. An adult is classed as +9 years old and child fares are 400baht from 3-8 years of age. Infants from 0-2 years travel free.
How do I get from Surat Thani airport to Seatran ferry pier at Donsak?
Seatran Discovery offer an inclusive transfer ticket with a connecting boat from Surat Thani airport to their pier at Donsak and then to Koh Tao. You can buy this through a ticket agent or directly online with a small transaction fee applied.
How to get from Koh Samui airport to Seatran pier?
Seatran Discovery offer an inclusive transfer ticket with a connecting boat from Koh Samui airport to their pier at Bangrak and then to Koh Tao. You can buy this through a ticket agent or directly online with a small transaction fee applied.
Does Seatran offer a pick up service for customers?
Seatran offers an end to end transfer service, pick up's and drop off's from various locations that connect with their boats. AC minibus transfer fees are additional to the cost of the ferry ticket and provide great value, giving you peace of mind knowing that you will not miss your connecting boat.