Scooter Rental Koh Tao – What You Need to Know
Renting a scooter on Koh Tao is an easy way to get around and make the most of your time on this amazing island.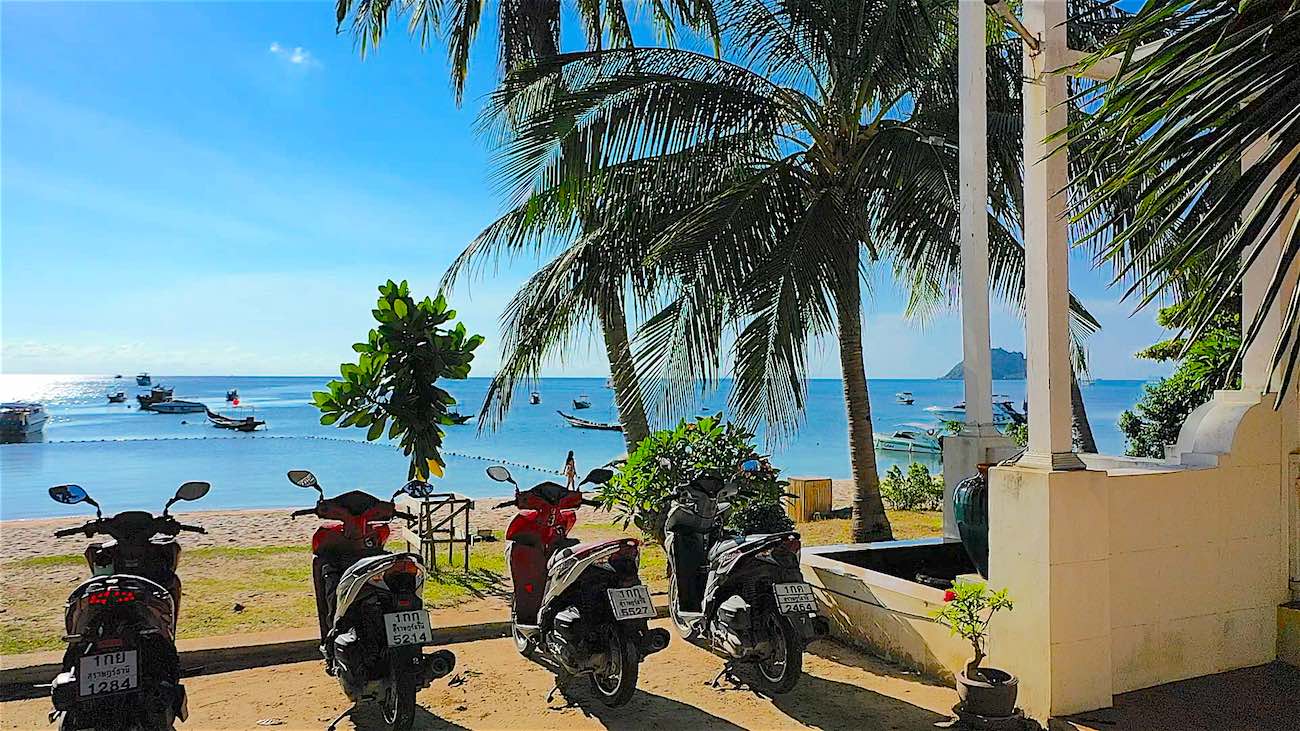 Rent A Scooter
Since the government invested in re-building the existing road system and building some new roads in 2018, Koh Tao has never been easier and cheaper to get around and explore.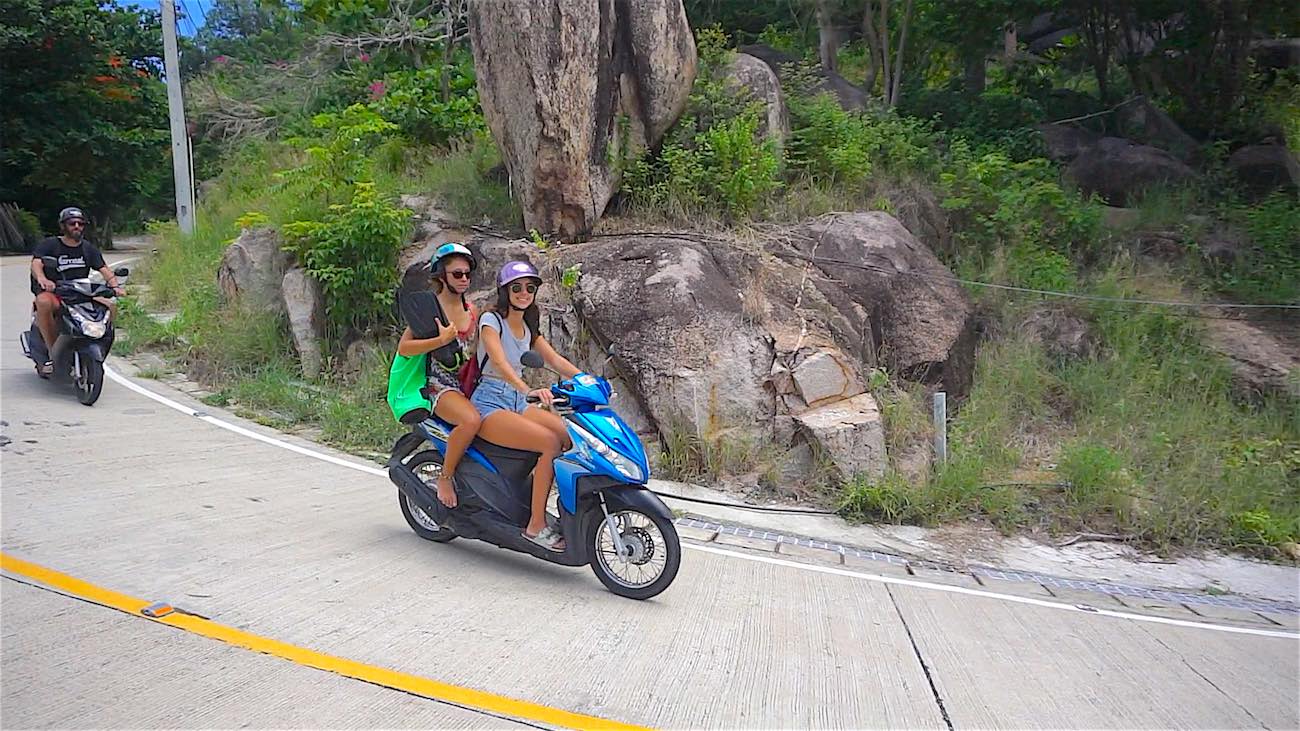 Explore Koh Tao by Scooter
Although Koh Tao is a small island, it boasts many beautiful beaches, bays and stunning viewpoints that are mostly all accessible by scooter and they should be on your bucket list of places to visit.
If you are travelling as a single person, a taxi can be prohibitively expensive if you are on a budget, so the best option is to rent a scooter or a motorbike.
However, it is very important to consider that any scooter or motorbike in inexperienced hands can be an expensive and painful experience.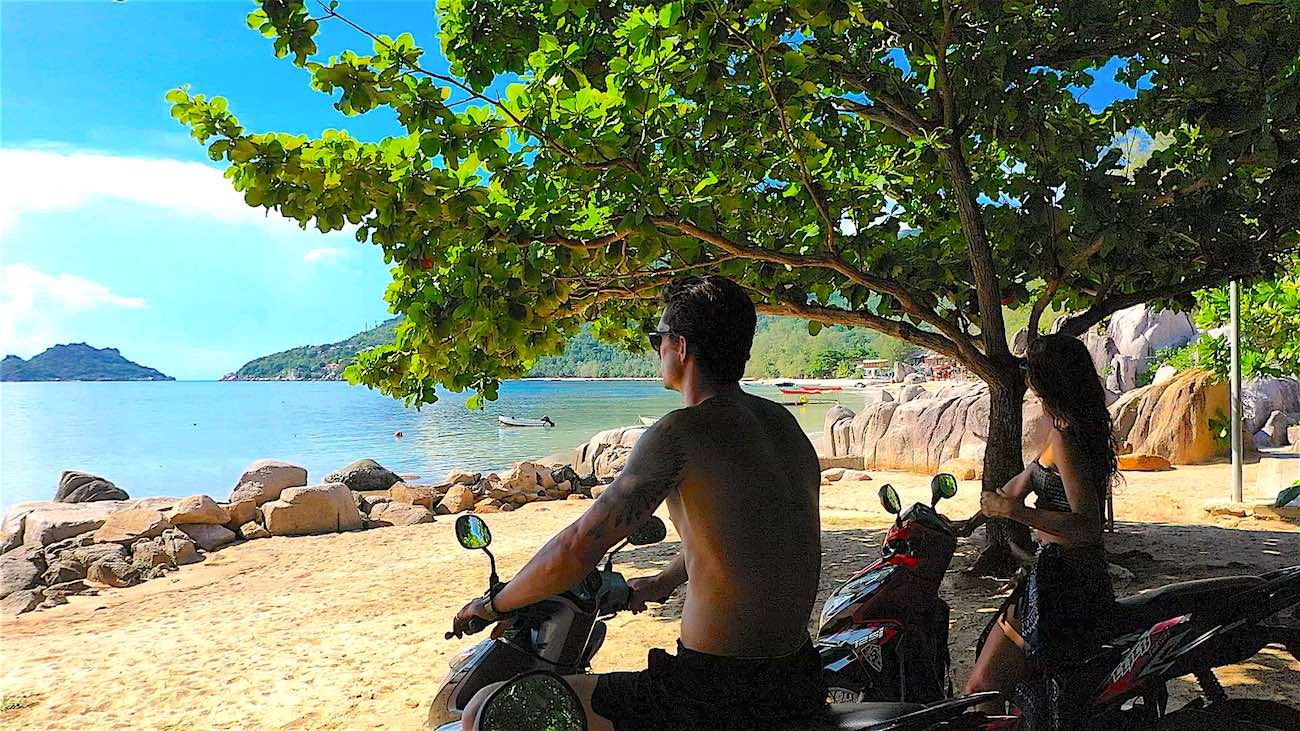 Best Tips to Rent a Scooter on Koh Tao
There is a road safety campaign that the police and local government have been operating aimed at scooter and motorbike safety.
A helmet will protect you if you have a fall or crash so be smart. Be safe. If that is not a good enough reason, if the police see you riding without a helmet they will stop and fine you on the spot.
DO NOT drink ANY Alcohol and drive.
Just the way you would never drink and drive back home in your own country, do not drink and drive in Thailand. It is dangerous. And it is illegal.
The roads on Koh Tao can get busy, especially during the high season and between busy times of the day.
The rules of the road here are different than you will be used to, with lots more scooters and motorbikes on the road and cars, trucks, not to mention dogs running out in front of you.
Driving slowly will help you to anticipate problems and minimise potential accidents.
DRIVE on the LEFT side of the road on Koh Tao.
If you are from the US, China, Canada, all of South America and most of Europe, you drive on the RIGHT. Please remember this.
Before you turn or overtake always check your mirrors for other bikes, cars, trucks and dogs undertaking or overtaking you.
Do you have Experience riding a Scooter?
If you have NEVER ridden a scooter or a motorbike before, learning how to ride one on your holiday in Thailand is not the best idea.
Check the Scooter before rental.
Ensure you CHECK the bike before you rent and before signing the rental agreement. Check for any damage that happened before you rent the bike. Use your phone and take photos.
Do NOT sign a rental agreement in Thai language.
Never sign an agreement in a language you do not understand.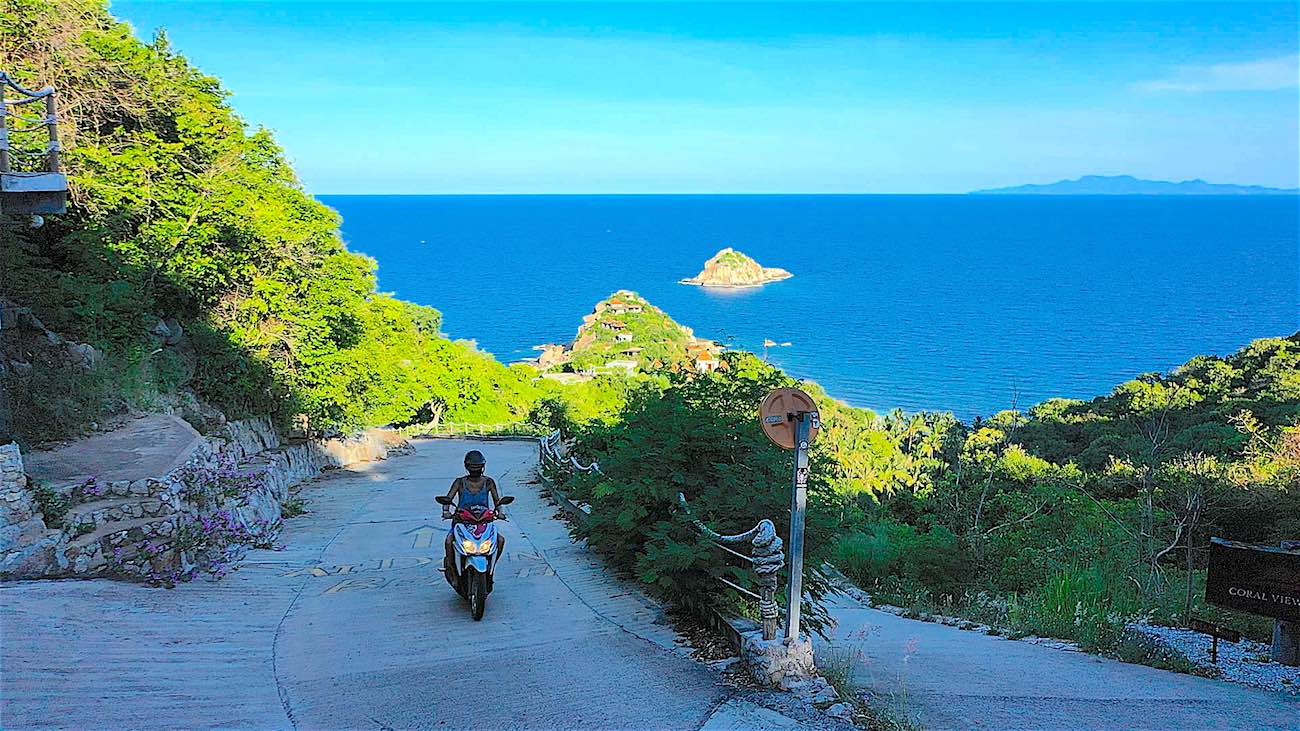 Renting a Scooter or Motorbike on Koh Tao
If you do choose to rent a motorbike or a scooter be very careful whom you rent it from.
Beware of Scams
You may have heard many horror stories of tourists returning their scooter to be told they have damaged the bike and been given a bill of several $100's.
This can be for nothing more than a scratch that was arguably already there before the poor unsuspecting tourist took responsibility of the bike (see point 7 above).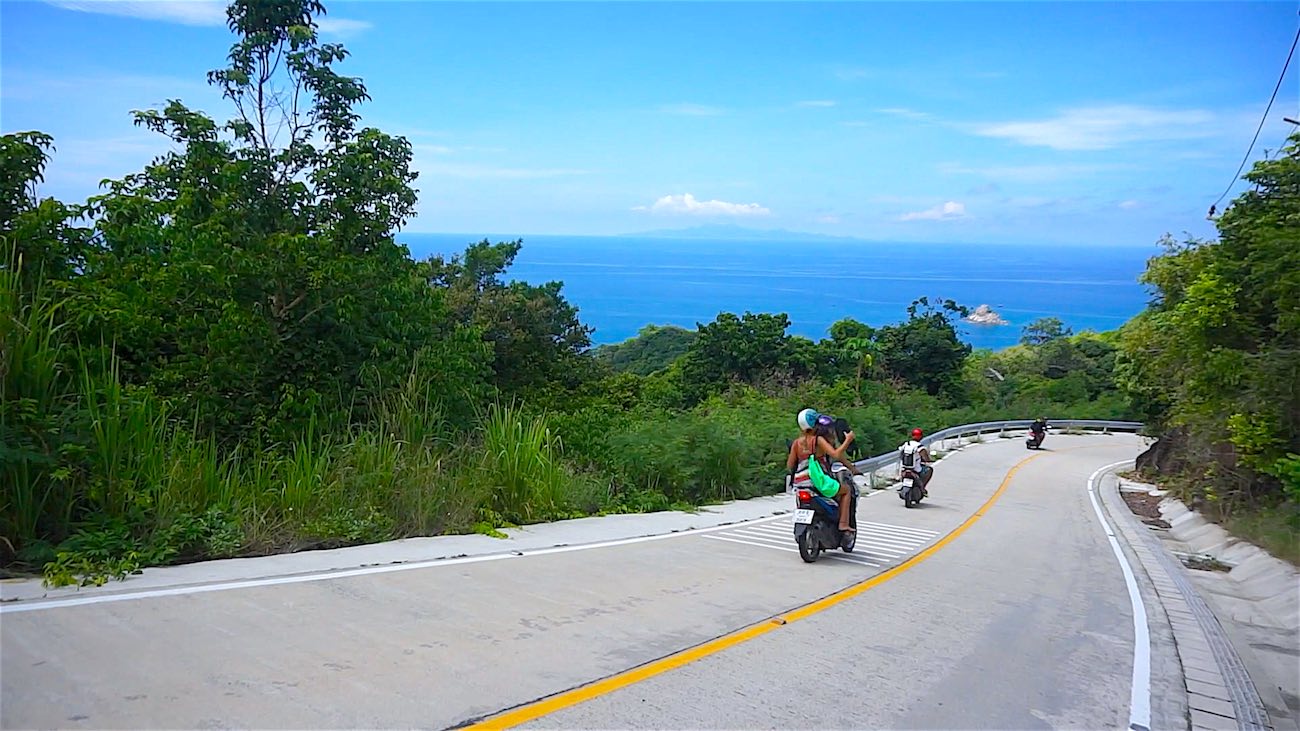 Best Place to Rent a Scooter on Koh Tao
Despite the horror stories you may have read online, there are many reputable scooter rental companies on Koh Tao that are honest, trustworthy and reliable.
We are partnered with one such scooter rental business and can provide you with piece of mind and excellent service for your scooter rental needs. You will not be scammed.
Rental Choices
We can offer you four different rental options, three of which include insurance coverage that cover damage and theft should you drop the scooter, lose it or in the highly unlikely event it is stolen.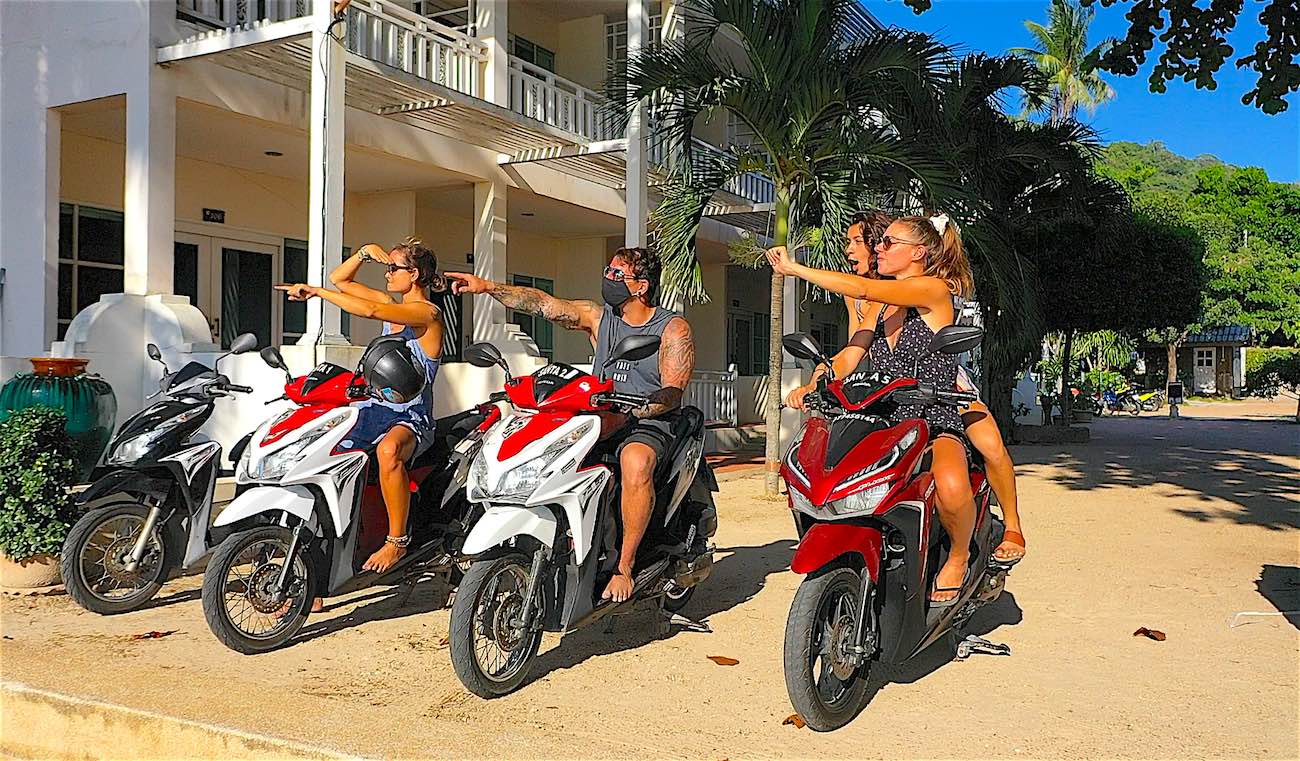 Renting A Scooter on Koh Tao – Choosing a Package
Option 1 – Standard Scooter Rental
Price – 200 baht per day
Any scratches found on the scooter after you return it are charged at 200 baht for a painted part or 150 baht if the scratch is on the plastic parts of the scooter.
Any broken or heavily scratched parts are charged at an amount that covers replacement. This would cover the cost of the part and labour to fix that part.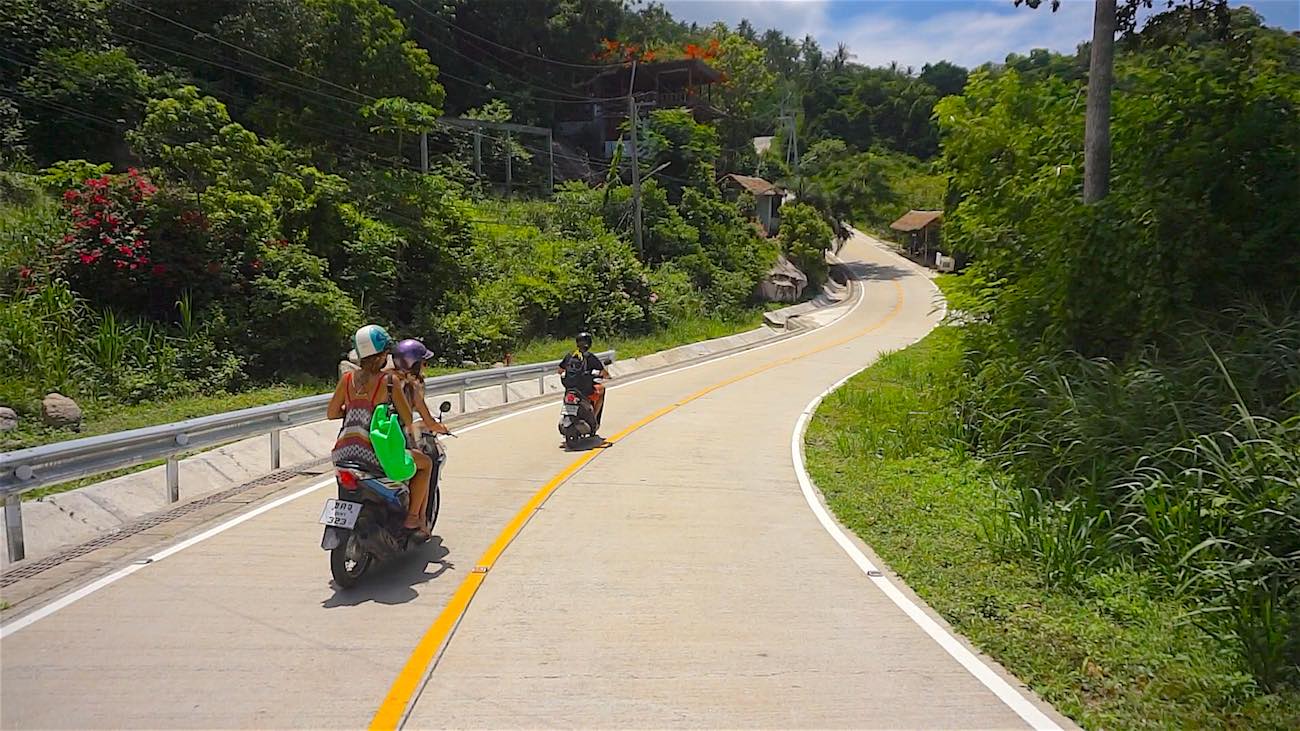 Option 2 – Scratch Insurance Scooter Rental
Price – 300 baht per day
This is the most popular and sensible choice with tourists. A scratch can happen when somebody else knocks the scooter over, or the stand is not used properly, usually on sand or something that is not secure enough to withstand overnight rain.
The scratch Insurance covers the cost to fix any deep or lightly scratched parts, such as the type that would happen if you dropped the scooter or it fell over.
If a part is completely broken, such as a clutch handle, then you will be charged for that part at market rate.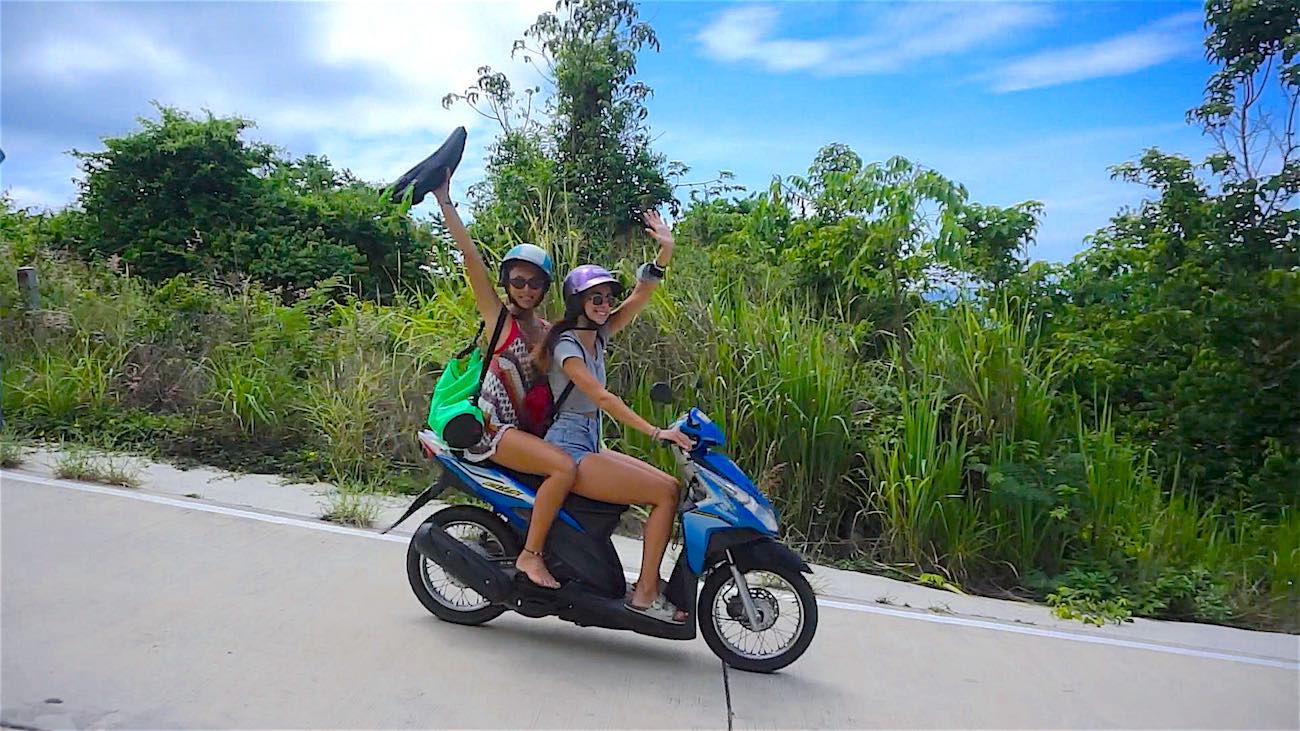 Option 3 – Full Damage Insurance Scooter Rental
Price – 400 baht per day
The full damage insurance covers the costs to fix any parts of the bike that are broken, damaged, scratched, bent or smashed.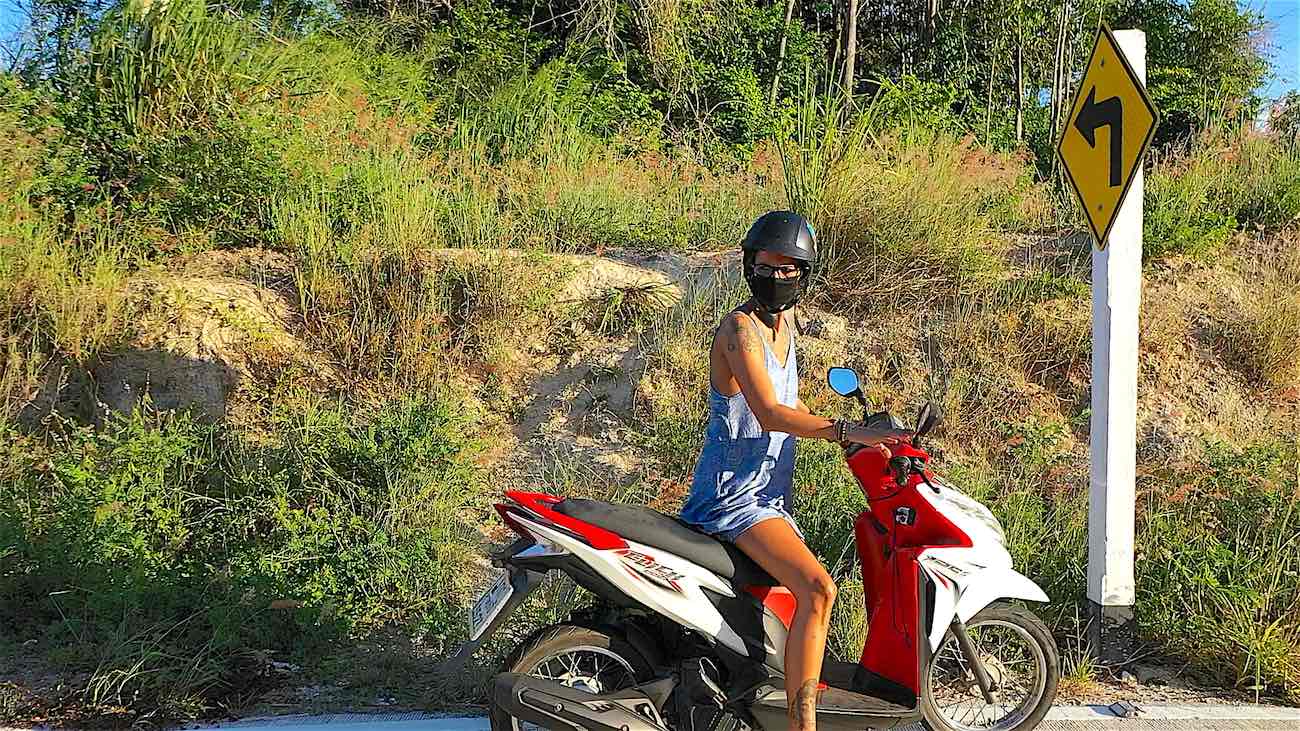 Option 4 – Full Damage Insurance plus Theft, Loss of Scooter
Price – 450 baht per day
This is full coverage for all damages, theft or loss of the bike giving you full piece of mind.
* Please note that these insurance policies are only applicable for damage to YOUR scooter, NOT to a 3rd party person, their scooter or any other vehicles, should you have a collision.
We need to see a copy of your driving license as per local law and your passport. We will also ask for a refundable cash deposit of 2,000 baht.
For more information on things to do and places to visit on your scooter, please read our latest blog.
Frequently Asked Questions
Can I rent a scooter on Koh Tao?
Scooter rental on Koh Tao is a very popular activity and a great way to see the stunning bays and beautiful beaches the island has to offer.
How much does it cost to rent a motorbike on Koh Tao?
The cost of renting a motorbike on Koh Tao varies depending on the service provider and size and style of motorbike.
For a basic automatic scooter, you can expect to pay between 150-300 baht per day and for a bigger manual motorbike 300-500 baht per day.
How long does it take to drive around Koh Tao?
It will take you approximately 90 minutes to drive safely on a small scooter from Hin Wong bay to John Suwan viewpoint and then to Tanote bay, Sainuan beach and back to Sairee beach via Mae Haad.
Is it safe to ride a scooter on Koh Tao?
Koh Tao is a very safe place to ride a scooter if you adhere to basic safety practices and use common sense. Wear a helmet, drive slowly, do not drink alcohol and be aware of everything around you.
Scooter rental is a popular activity on Koh Tao and is considered very safe. In some places the roads do not have concrete and are very steep when trying to reach a viewpoint, so it is advisable to have experience before renting.
It is important to note, that the law in Thailand stipulates that it is compulsory to wear a helmet, with penalties if caught riding a scooter without one.
It is also sensible to have health, medical and accident insurance cover in place in the event of an accident.
What happens if I damage the scooter?
If you damage a scooter, then a scaled cost will apply depending on the nature of the damage, which could be scratch damage, part replacement or full replacement coverage.