Hin Wong Bay Koh Tao
Hing Wong Bay is located on the north east corner of Koh Tao and is one of the largest bays on the island.
It provides a laid-back, quiet location and is a beautiful place to spend some time if you are looking to get away from the crowds and relax.
North East Koh Tao
Despite being one of the more remote bays on the island, there are still accommodation options and the bay is just a 10-minute drive, or a 45 minute walk from Sairee beach.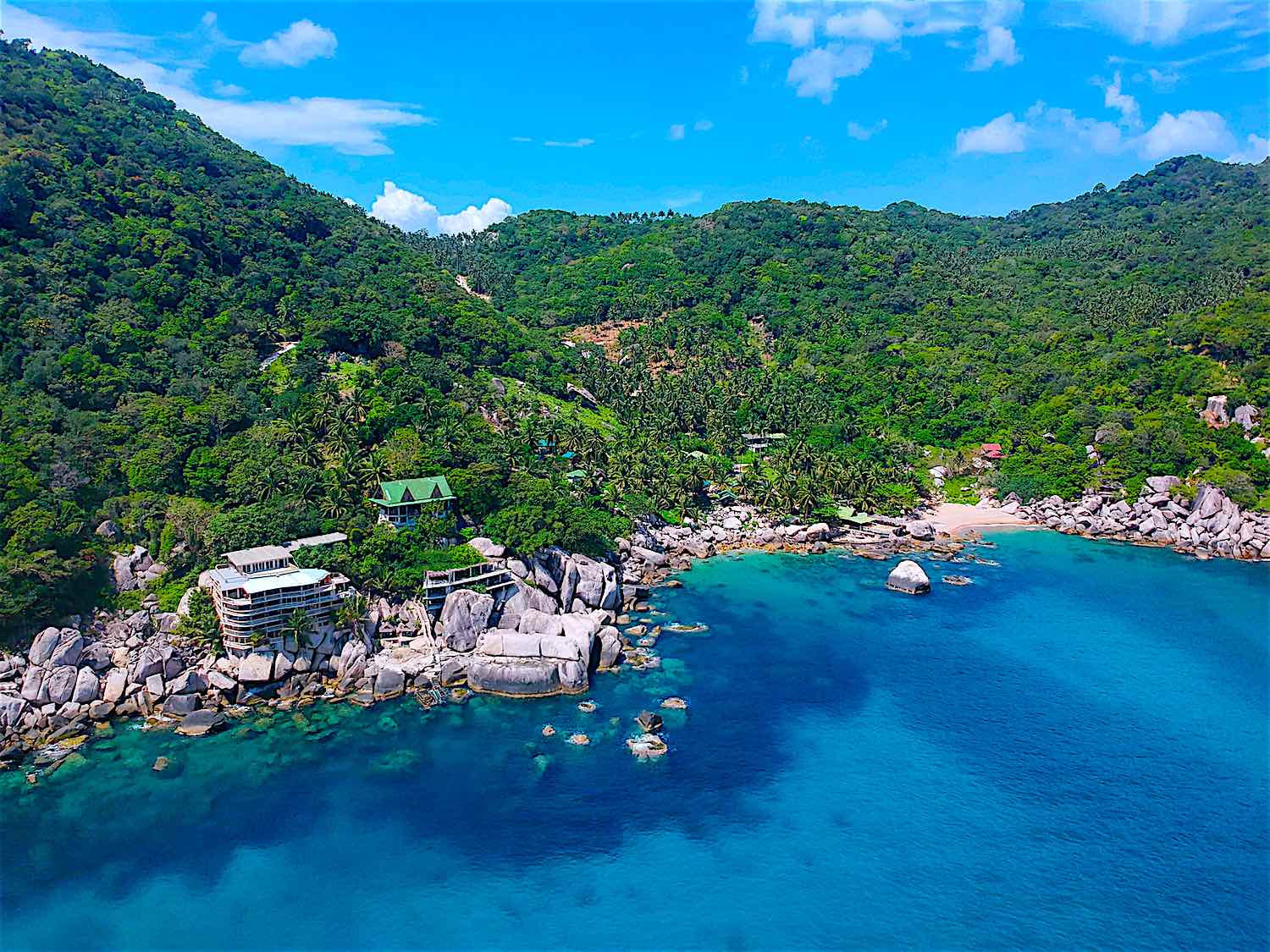 How to get to Hin Wong Bay Koh Tao
Road access is now good and concreted to the small carpark at the end of the road where you can leave a scooter at a cost of 20THB.
Alternatively, you can park further up the hill for free in a layby on the main road and walk down to the beach.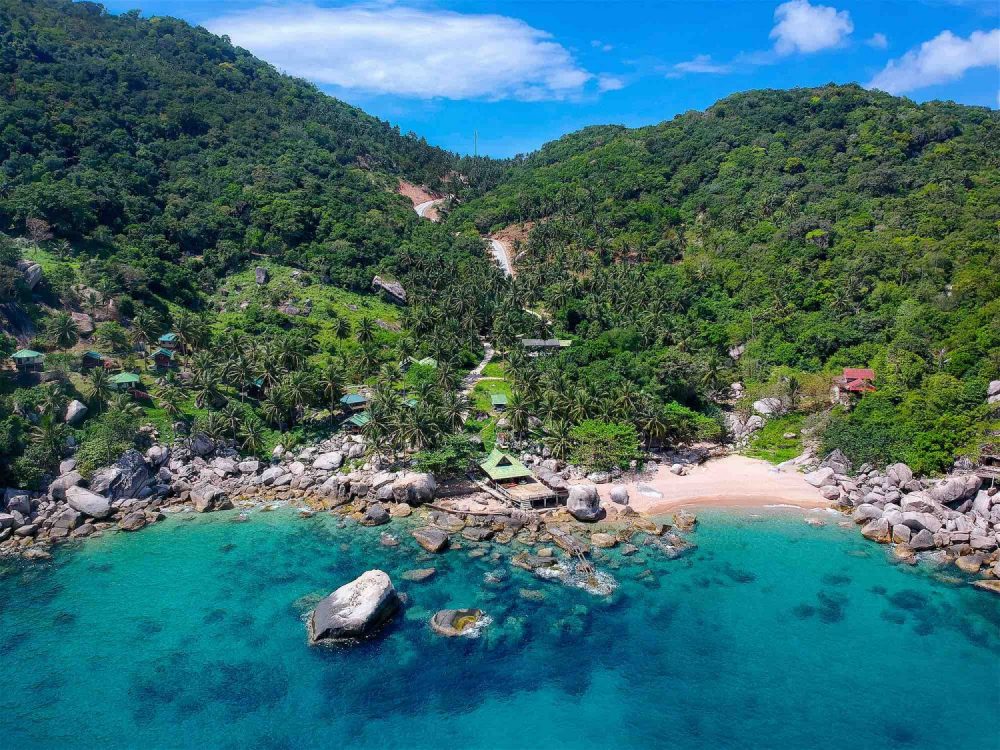 From Sairee to Hin Wong Bay
When you travel from Sairee, you have to pass across the hills at the north end of the island so the road can be extremely steep in places.
Due to this, it is advisable not to drive a scooter if you are an inexperienced rider. The last thing you need on vacation is a scooter accident, which will ruin the whole experience plus rack up medical bills.
Buy Refreshments
Once you arrive at the beach, you will need to pay an entrance fee of 50THB or buy a drink from the restaurant.
There are signs all around advising of this and the landowner has been known to approach people who haven't made the payment, but if the restaurant is closed you may get away without having to pay it.
However, our recommendation is to pay the fee, enjoy the experience, use the facilities and have peace of mind knowing that your fee helps to maintain the facilities, dispose of rubbish and keep the location clean.
Coastline of Hin Wong Bay Koh Tao
The coastline in the bay is lined with green palm trees and large rock boulders and there is a small beach area just past the restaurant where you will also find a small beach bar.
The owner of the bar is very friendly, speaks good English and also acts as the beach's caretaker, working every day to keep it clear of rubbish.
Once past the beach towards the water, you will be greeted by a calm, clear sea that is perfect for swimming, snorkeling and scuba diving.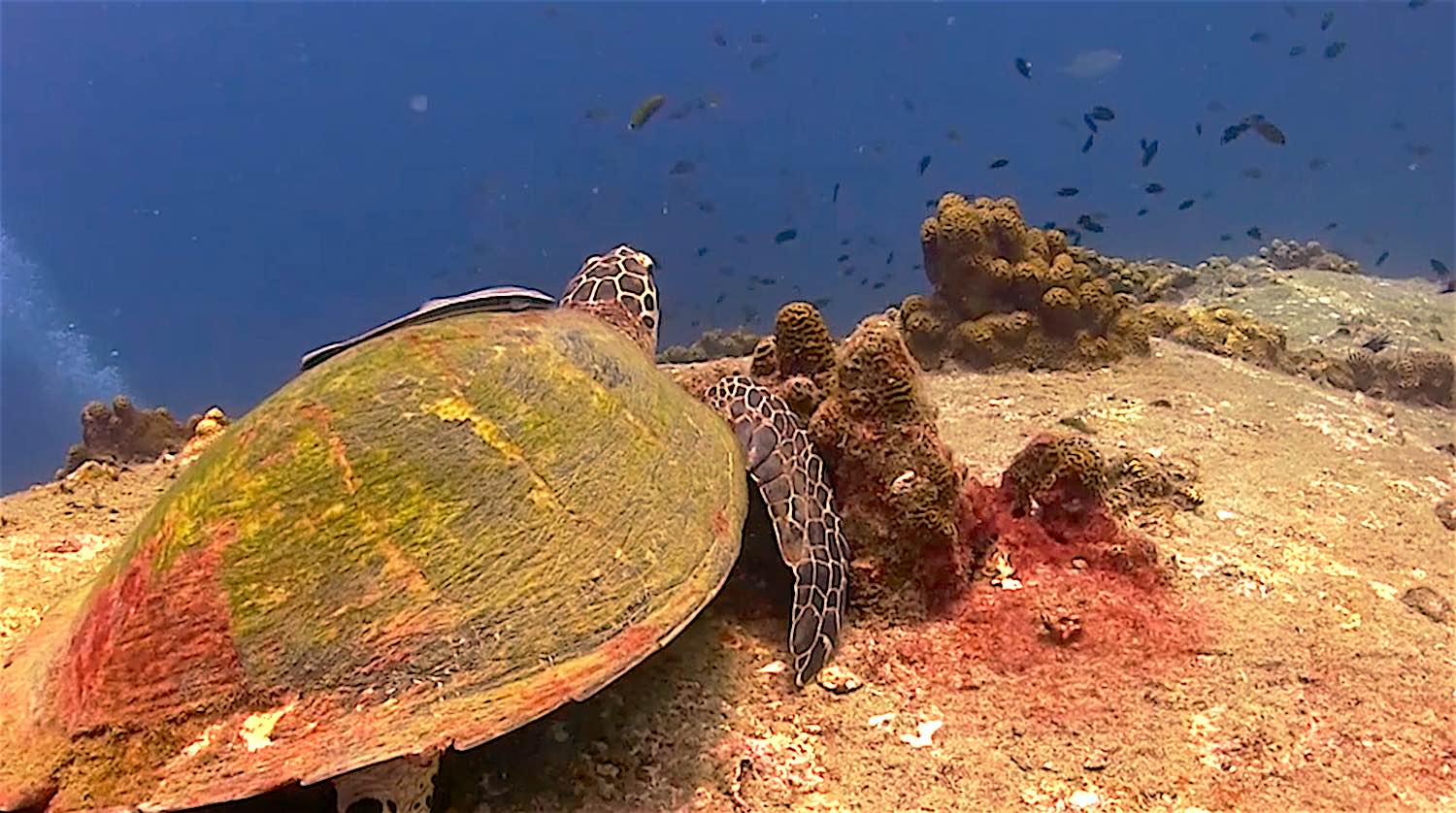 Marine Life at Hin Wong Bay
This beautiful bay is home to huge shoals of colourful fish of all different shapes and sizes.
Look at the rock pinnacles underwater and you will find them encrusted in fertile coral reefs that are home to countless fish and sea anemones.
Blue Spotted Rays
Blue spotted rays also live in the bay, and you can often see large schools of sardines being chased by trevally that are hungry for their lunch.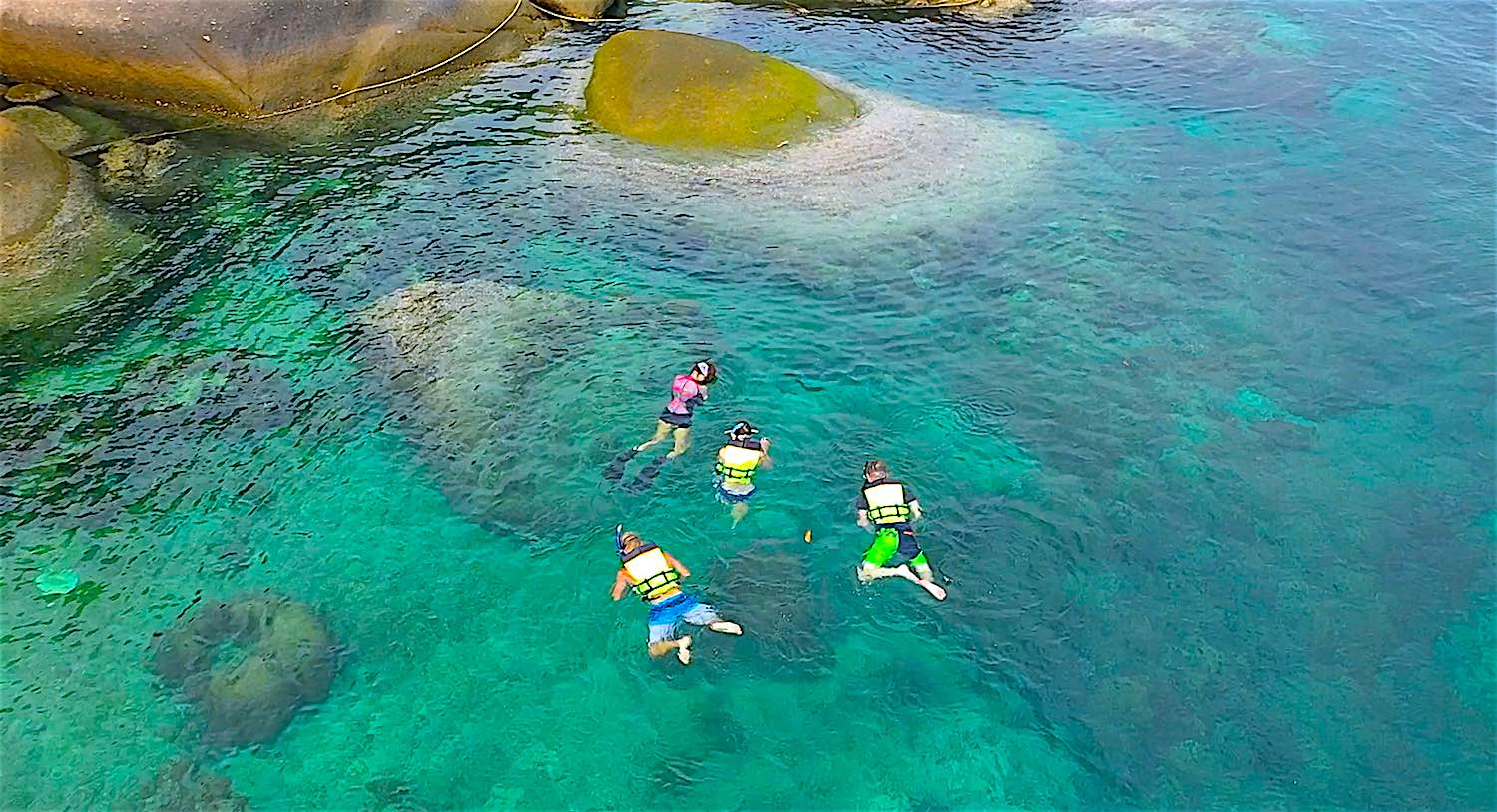 Swimming, Snorkeling and Scuba Diving at Hin Wong Bay
The whole bay is good for water based activities and the south side of the bay has a large cave that you can swim right through.
Hin Wong bay is considered to be one of the best snorkeling locations on Koh Tao and features on the organised snorkeling tours around the island.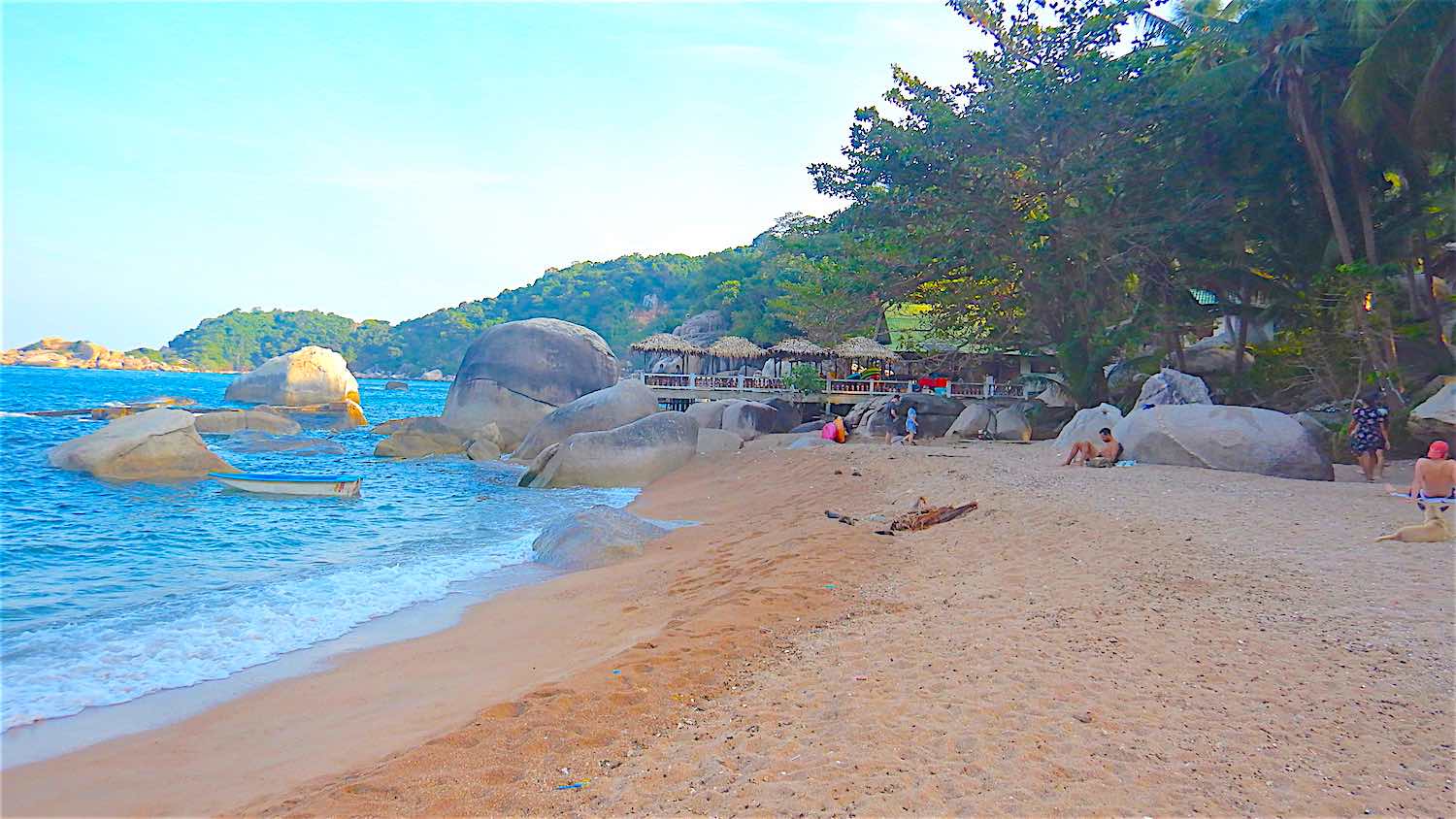 Accommodation at Hin Wong Bay
For those who want to stay longer at Hin Wong Bay, there are a couple of resorts located in the hills above the bay.
There are bungalows that provide panoramic views of the ocean and the hillside, they can make a great base if you want your entire visit to be quiet and relaxed.
The bungalows are relatively basic and scattered across the hillside so you may have quite a few steps to climb up and down to reach them.
Hillside Bungalows
Each resort has its own restaurant, but once these restaurants close for the day there are no other amenities nearby. You will need to take a resort taxi or ride a scooter to the nearest main location about 10 minutes away, which is Sairee village.
If you do choose to stay in this area you can be a little isolated, or you may want to hire a scooter so you can get around and visit the rest of the island.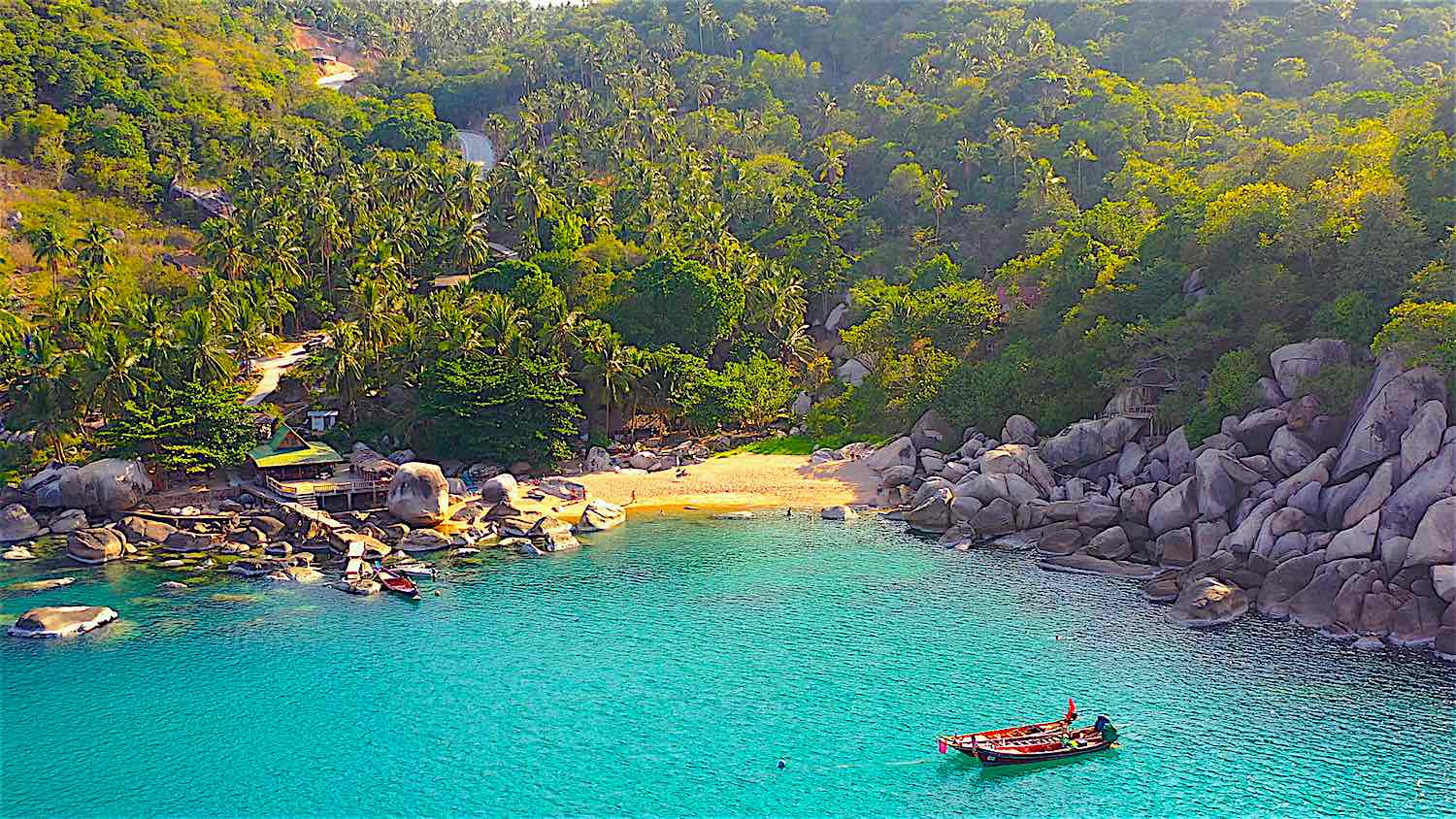 Hin Wong Bay Panoramic Views
Hin Wong bay is a beautiful picturesque bay with views across the Gulf of Thailand and it remains relatively untouched. It is a location that should definitely be on your itinerary when visiting Koh Tao.
The majority of visitors that come to Hin Wong bay visit on boat tours, so the beach is rarely busy, even during peak season. It is a perfect place to spend the day relaxing.
Frequently Asked Questions
How far is Hin Wong bay from Sairee?
You can reach Hin Wong bay in approximately 45 minutes from Sairee beach by walking or 10 minutes by scooter. The main concrete road is very steep in places as you have to cross the island from the west side to the east coast.
Can I bring my own refreshments to Hin Wong bay?
You can bring refreshments to the beach but you will have to pay 20 baht to park a scooter in the designated car park and 50 baht to enter the beach, which is great value. You can buy a drink and food at the restaurant and use this in lieu of paying to access the beach. Hin Wong offers visitors a fun and safe day out.
Is it safe to swim at Hin Wong bay?
Hin Wong bay and beach offers an exciting and fun day out for visitors to Koh Tao. You can swim and snorkel from the beach and explore the underwater rock formations that line the jagged coastline and see the diverse marine life.
Is there a viewpoint at Hin Wong bay?
Hin Wong bay is overlooked by a lush green jungle and high hills. On the way to Hin Wong bay you can turn off the main concrete and find your way to a number of viewpoints that overlook both the west and east coast.
Can I ride a scooter to Hin Wong bay?
You can now ride a scooter all the way to Hin Wong bay and park in the designated car park that charges 20baht per scooter and is situated 50 metres away from the restaurant. The hill leading up from Sairee beach and dropping down to the bay are very steep in places and should not be attempted by those with no experience riding a scooter.
How deep is the water at Hin Wong bay?
Hin Wong bay is relatively shallow close to the beach but gradually drops away and the depth can increase significantly up to 40 metres the further out you go. The location is popular with scuba divers and snorkelers due to the excellent diversity of marine life available to see.