Blue Heaven Restaurant & Resort
Blue Heaven is one of the hidden secrets of Koh Tao, a must visit venue for anyone who has the time to explore the island.
Stunning Location
Situated on the less developed east side of the island, Blue Heaven restaurant is a perfect location for a delicious lunch or a late afternoon refreshment.
It is a popular place to visit for food and drink after a day of discovery and exploration of the beautiful bays of Ao Tanote and Aow Leuk.
Blue Heaven Koh Tao Panoramic Views
To find this beautiful restaurant, you can make your way along the Tanote bay road and you can reach Blue Heaven easily on a scooter by turning right after the Aow Leuk turn and follow the road that leads to Lang Khai bay.
After turning off the Tanote bay road follow the road for approximately 250 metres and you will reach a steep decline in the road, slow down and follow the road down the steep hill.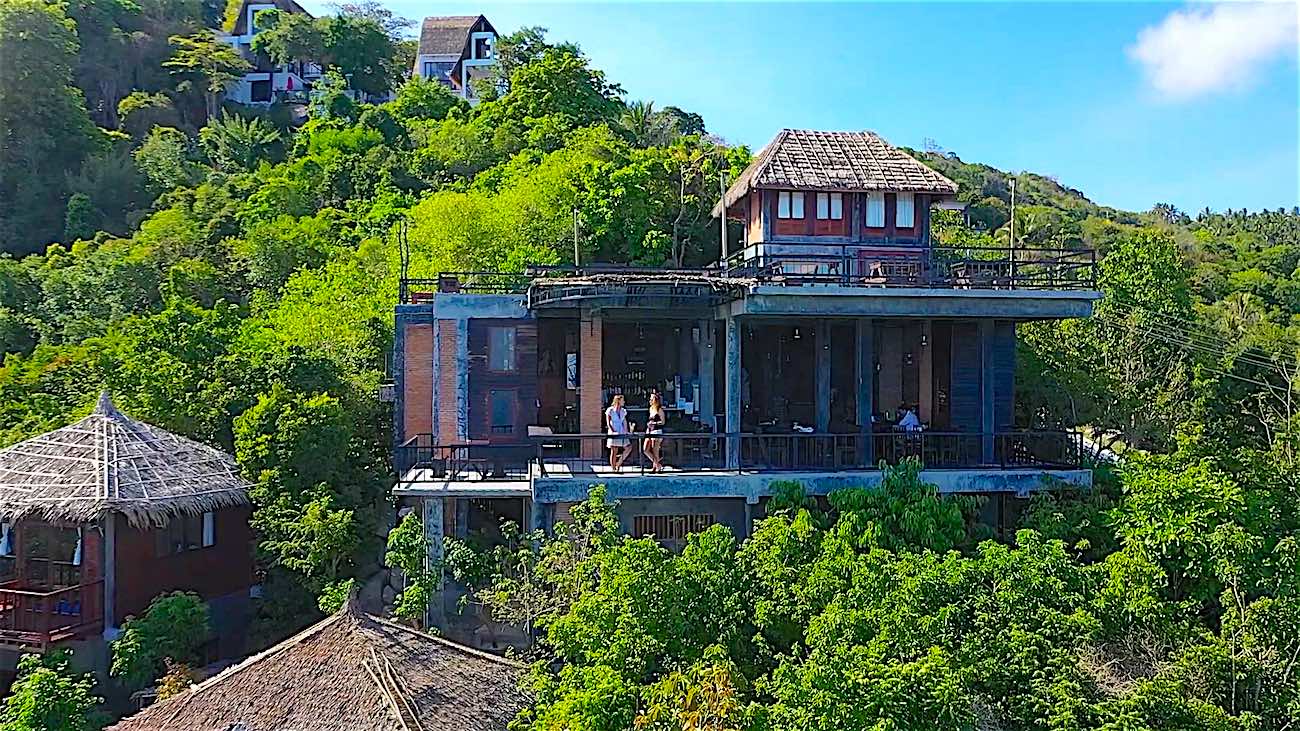 Rustic Vibe
You will then see Koh Tao's most scenic restaurant and cafe and possibly one of the best kept secrets on the island on your right hand side. There are lots of parking spaces for you to park your scooter up.
As you walk into Blue Heaven you are greeted by a rustic and laid back feel, the interior of the restaurant is decorated with a collection of old fashioned transistor radios, televisions, telephones and a grammarphone.
Immediately your eyes are drawn to the stunning balcony and terrace seaview, taking in Lang Khai bay to your left and looking down over Aow Leuk bay immediately to your right to the south.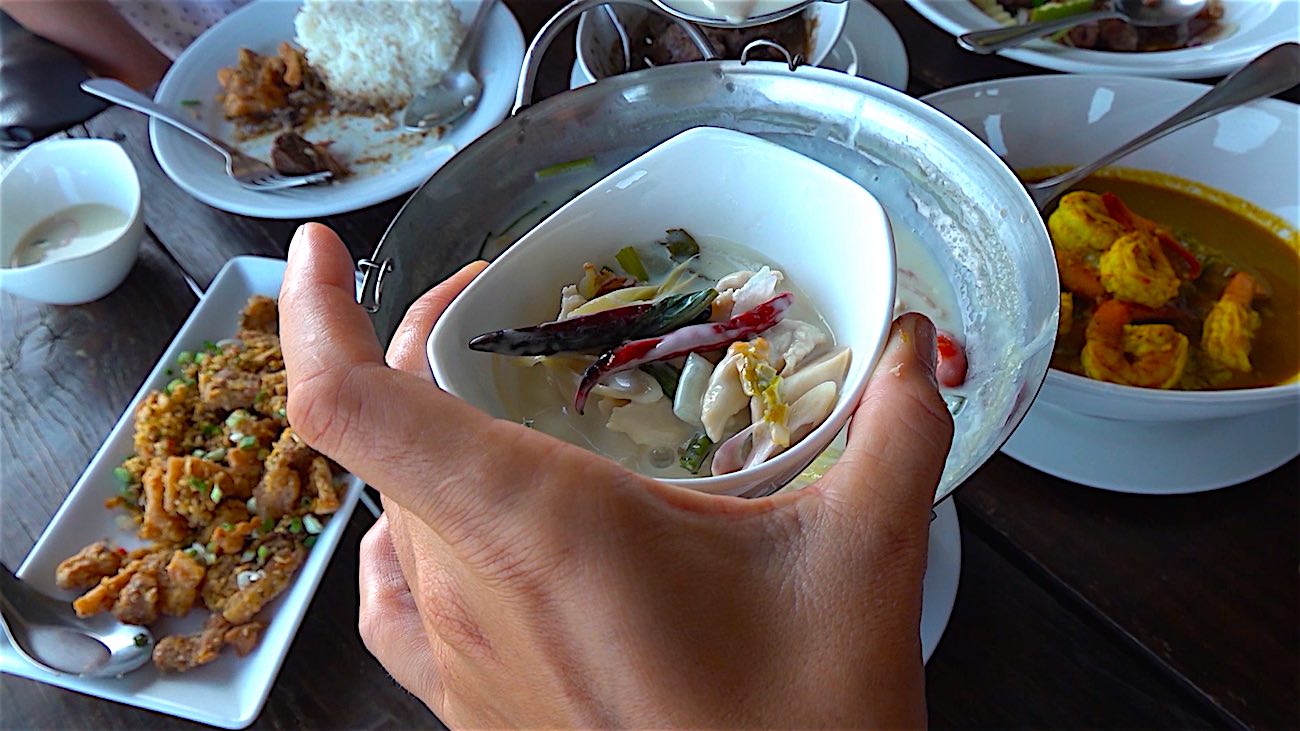 Popular Thai Menu at Blue Heaven Restaurant
There is an amazing view towards Sai Deng peninsula and Shark Island that emerges from the ocean in the distance.
Popular with Thai nationals and tourists from all over Thailand Blue Heaven offers an extensive and authentic southern style Thai menu.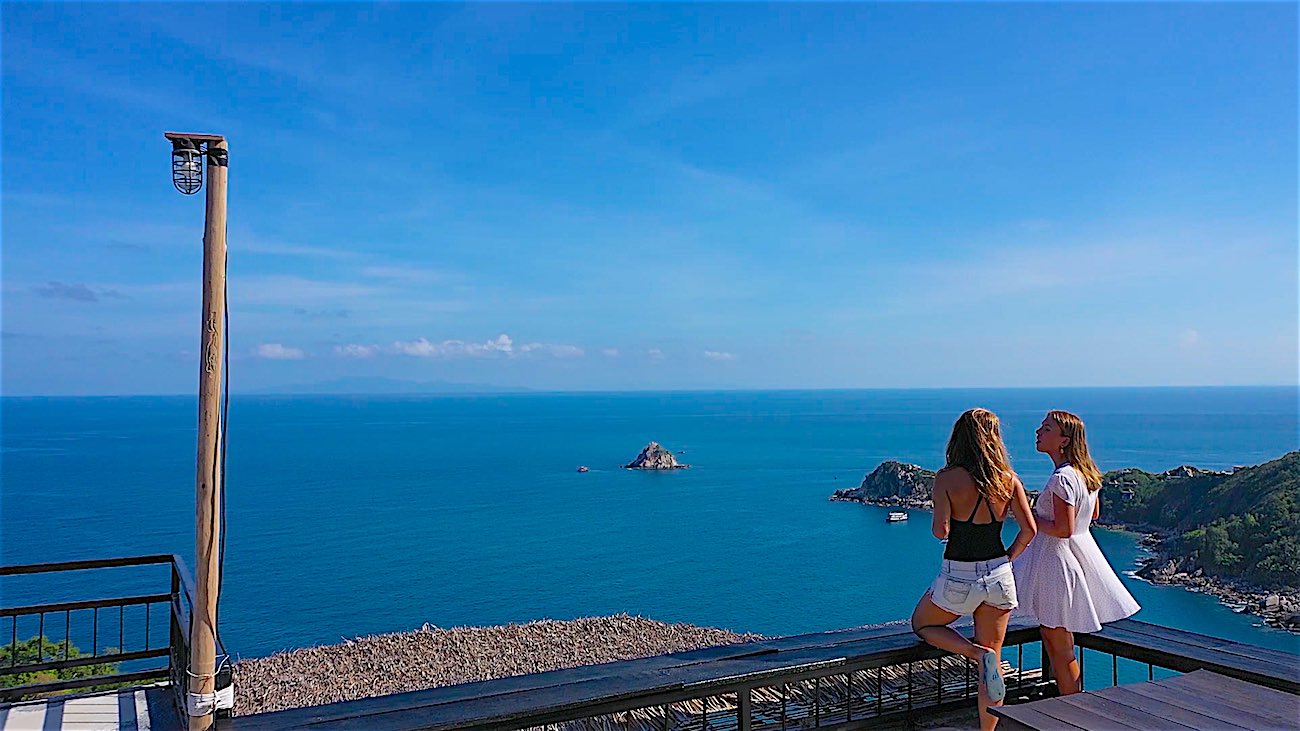 Delicious Food
Very popular is the Steamed barracuda with curry paste wrapped in banana leaf or for pork lovers Blue Heaven offers a delicious deep fried pork belly with garlic, pepper, chilli and salt.
Blue Heaven restaurant is regarded as one of the best Thai restaurants on Koh Tao and serves up a wide choice of tasty foods to satisfy the palate of every food lover.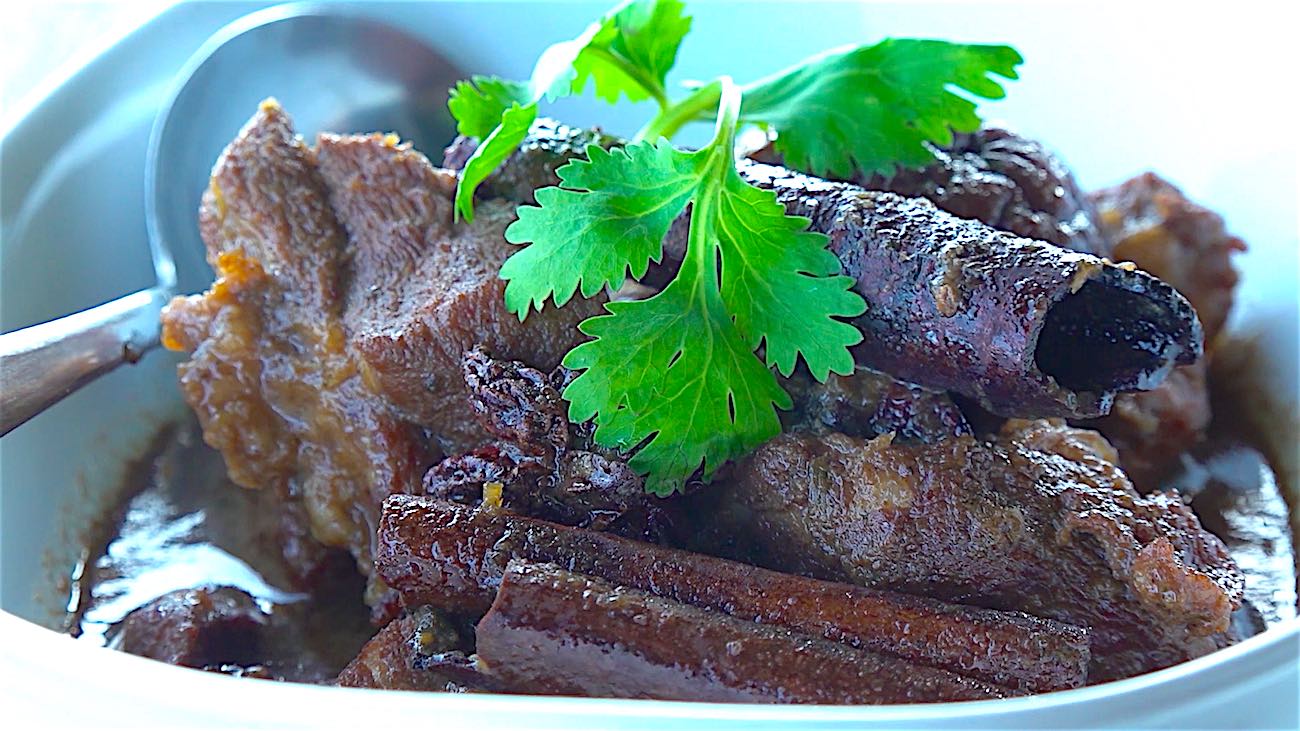 Blue Heaven Koh Tao Southern Thai Style Food
Try their Grilled Pork and green apple with a spicy dressing or Southern Thai style Pork stew with local favourites such as Southern Thai style spicy and sour curry with shrimp.
You can enjoy a delicious Climbing Wattle Omelette and Stir Fried Baegu Leaf with Egg and Crispy Shrimp.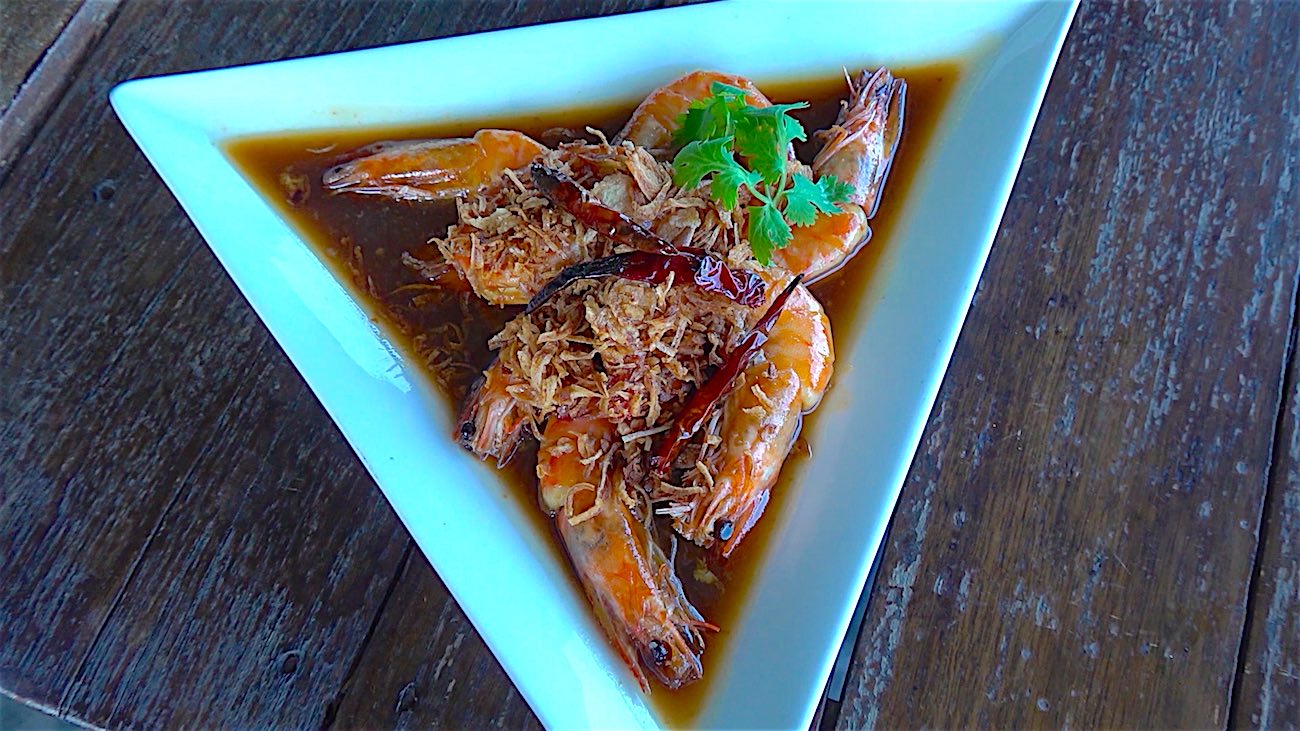 Blue Heaven Koh Tao Cafe & Restaurant
With such a popular menu with a lot of choice, it is easy to see why this restaurant is so popular with travelling Thai's.
Aside from the outstanding cuisine, Blue Heaven offers a great Instagram photo opportunity, taken from their roof top terrace and sundeck above the restaurant.
Blue Heaven restaurant offers visitors stunning viewpoint ocean views and an array of options for that perfect panoramic holiday memory.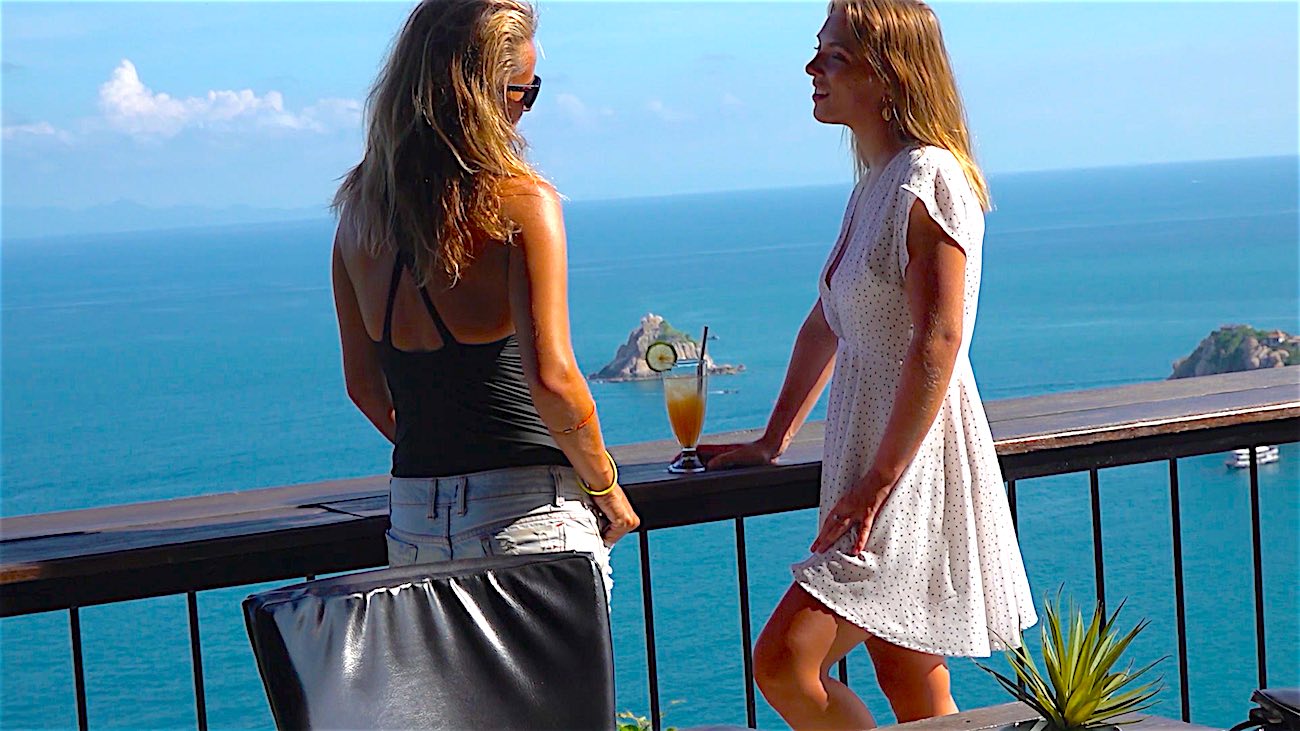 Rooftop Terrace
Their roof top terrace is a great place to relax and enjoy one of their signature Blue Heaven cocktails as the sun sets.
What is it that is so good about the Blue Heaven cocktail? We can't tell you – you will need to try one – it is a secret recipe.