How to get to Sai Nuan Beach on Koh Tao
Sai Nuan beach is easily accessible on foot and is approximately a 30 minutes walk to reach there from the main pier in Mae Haad.
How long it takes depends on how often you choose to stop to take photos on the coastal scenic walk.
Coastal Walk
Located in the south west corner of Koh Tao, you need to start walking south from the pier on the small road parallel to Mae Haad beach past the dive shops until you reach the Blue Diamond Resort.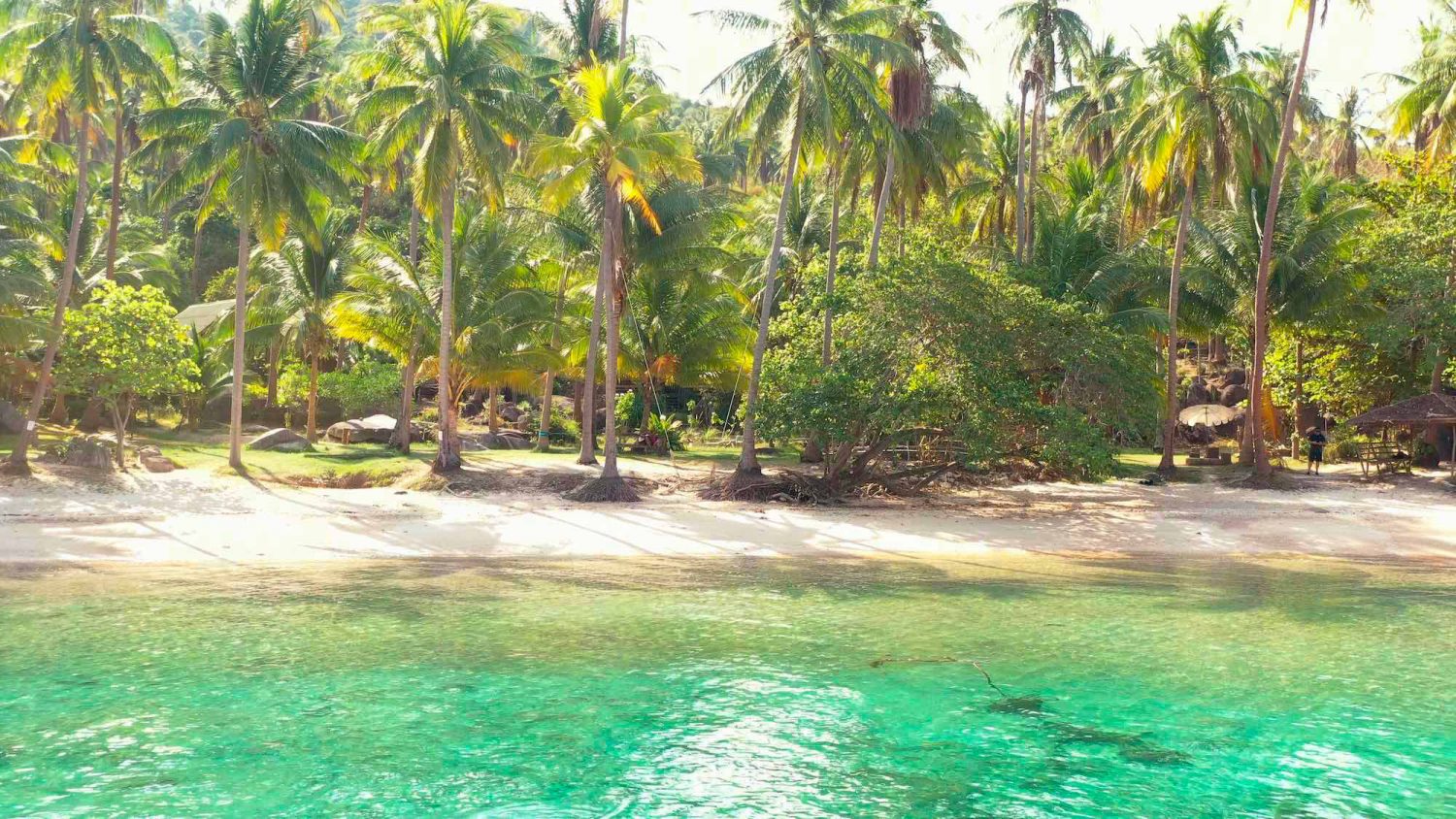 Walk to Sai Nuan Beach along the Coastal Path
At this point you have the choice to turn left and up the hill or turn right and walk along the beachfront path, which is the easier route to take.
Sai Nuan is sign posted at this point along with Sensi Paradise Resort, Charm Churee and Jansom Bay, so you can follow the concrete path.
As you walk along this path, which has plenty of signs to keep you moving in the right direction, you will also pass through Sensi Paradise Resort and Charm Churee Villa.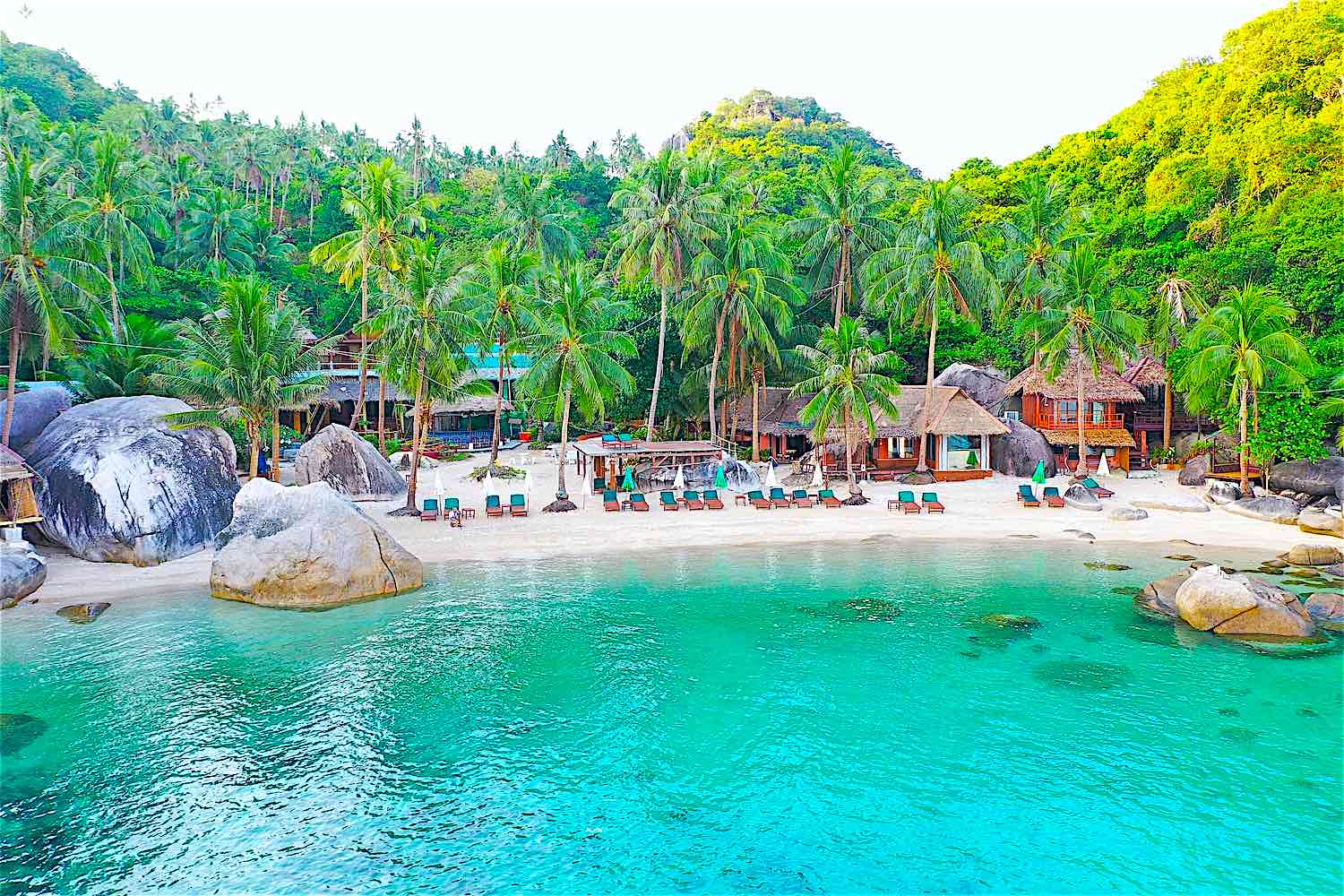 Jansom Bay
Before you get to Charm Churee Villa, you come to Jansom Bay where there is a small private beach and a restaurant where you can stop for food and drink.
However, as a private resort there is a charge to enter the beach, but you can follow the path across the beach and pass directly through it without stopping.
Once you get to Sai Nuan, you will find the first of two beaches that are separated by a rocky outcrop.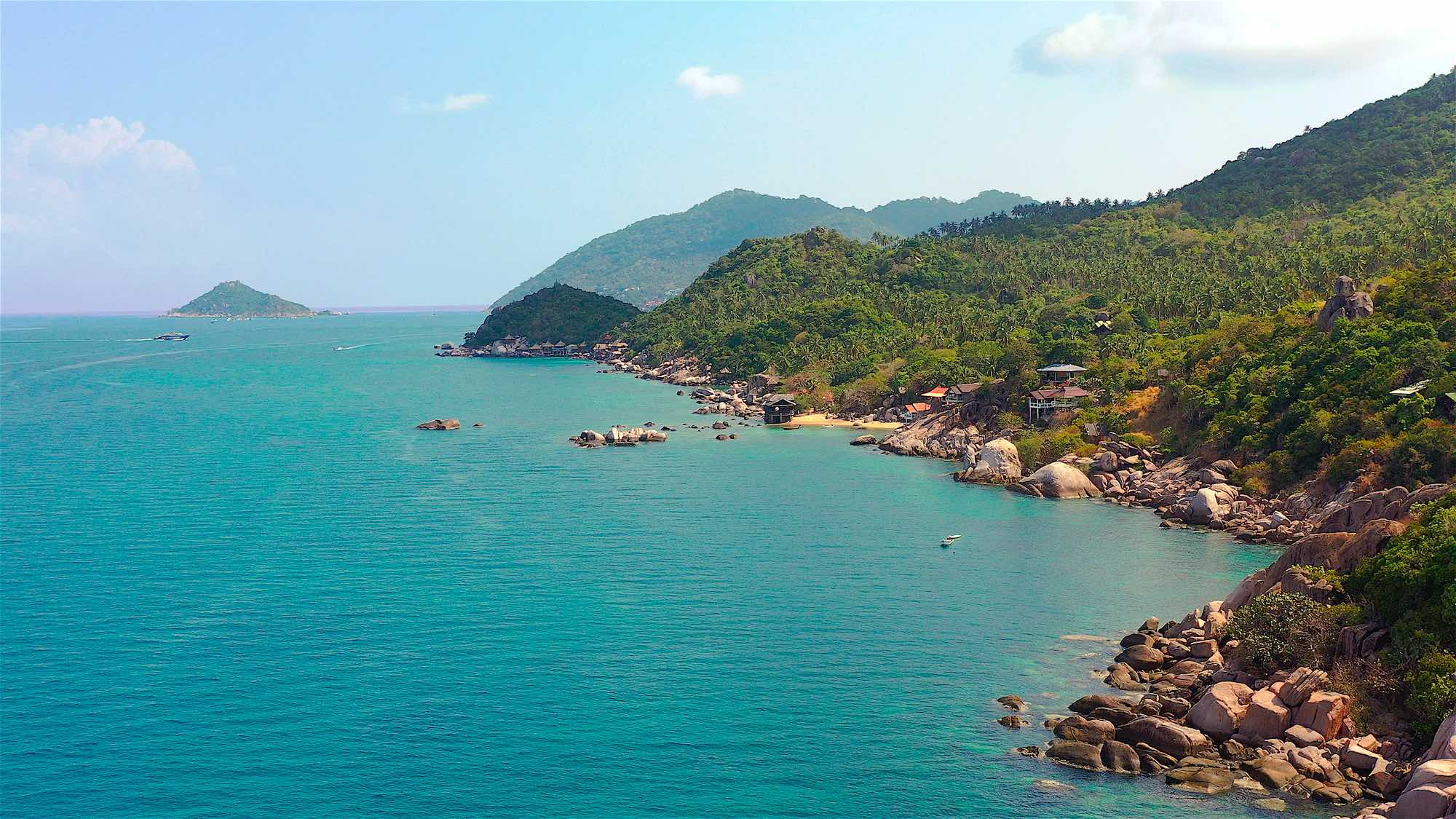 Sai Nuan Beach is Peaceful and Relaxing
The beaches at Sai Nuan are less developed and have a more natural appearance than other beaches on Koh Tao and they provide a laid-back atmosphere.
The beaches here are very quiet, peaceful and similar to the vibe the island had during the 1990's, when Koh Tao was only visited by backpackers.
Palm Trees
The first beach at Sai Nuan has a large grassy area that provides a naturally defined playground area for kids, as well as a tree swing that hangs between the palm trees.
There are two budget bungalow resorts, which both have properties scattered around the area and a number of hammocks swinging between them. You will also find lots of wind chimes that have been left by previous guests.
Visit Banana Rock Bar at Sai Nuan Koh Tao
A few minutes walk past the first beach at Sai Nuan and you find the smaller second beach at Sai Nuan.
This beach is accessible by road and it takes around 15 minutes to get there from Mae Haad.
The road is concrete, but steep so if you plan to drive, it is probably safer to park at Jansom Bay and walk to Sai Nuan beach from there.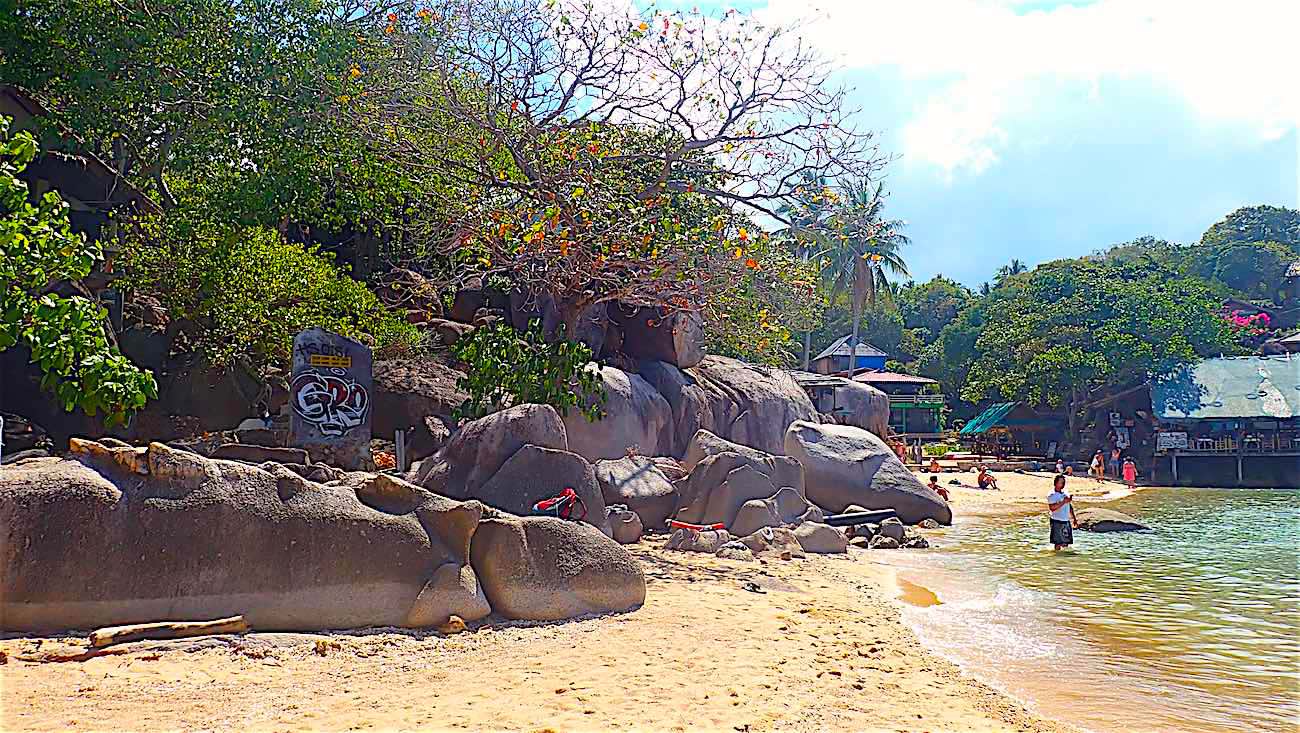 Swimming & Snorkeling at Sai Nuan Beach
Both beaches offer great locations for swimming and snorkeling, although it is best to plan your visit at high tide if you want to swim or snorkel.
There is plenty to see around the rocks and the boulders on the beach are home to a wide variety of fish including orange spine unicorn fish, yellowtail barracuda and harlequin sweetlips. It is also possible to see turtles and black tip reef sharks in this area.
Marine Life
For visitors who by-passed Jansom Bay due to the charge to access the beach, there are options for food and drink when you get to Sai Nuan beach.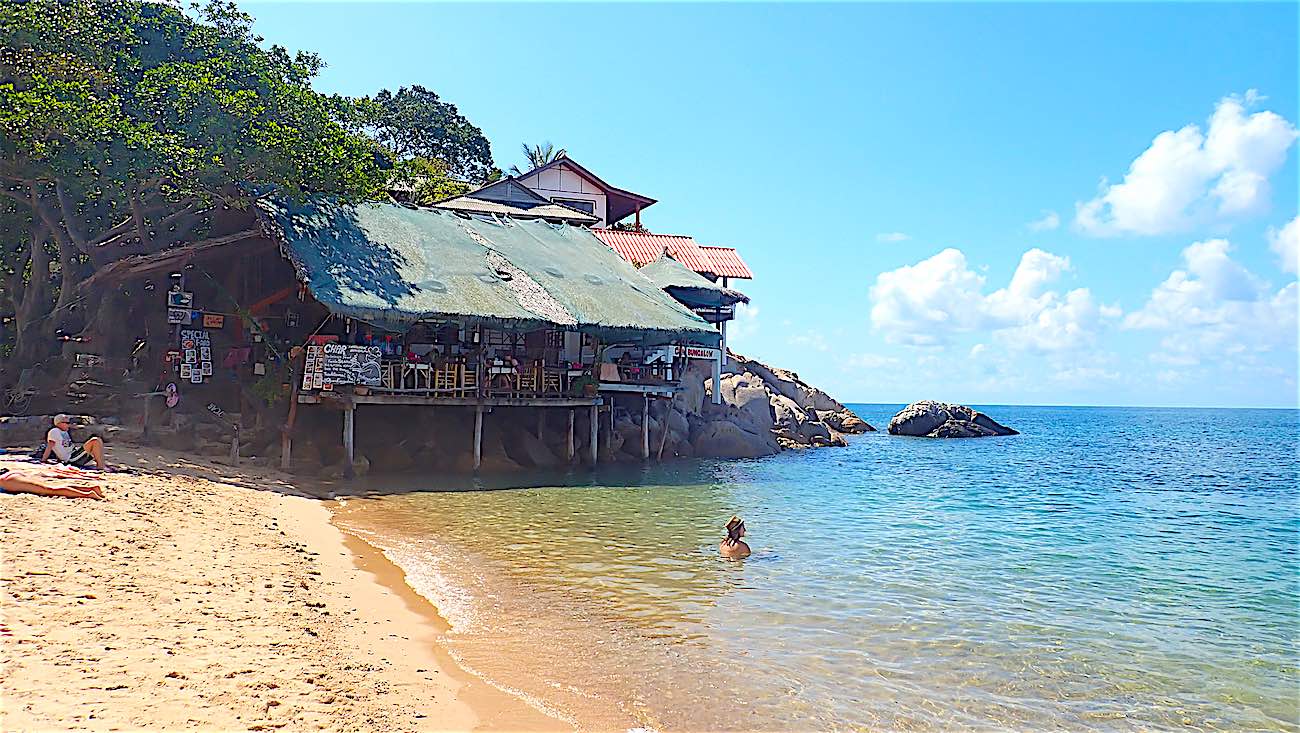 Restaurants & Café's at Sai Nuan Beach
At the second beach at Sai Nuan you will find two café's that offer a range of drinks, food and they are set back off the beach so provide shade.
Banana Rock Bar is also a feature at this location. The bar is made entirely from thatched wood and bamboo and is a unique bar where you can enjoy an amazing view of the sunset on the western horizon.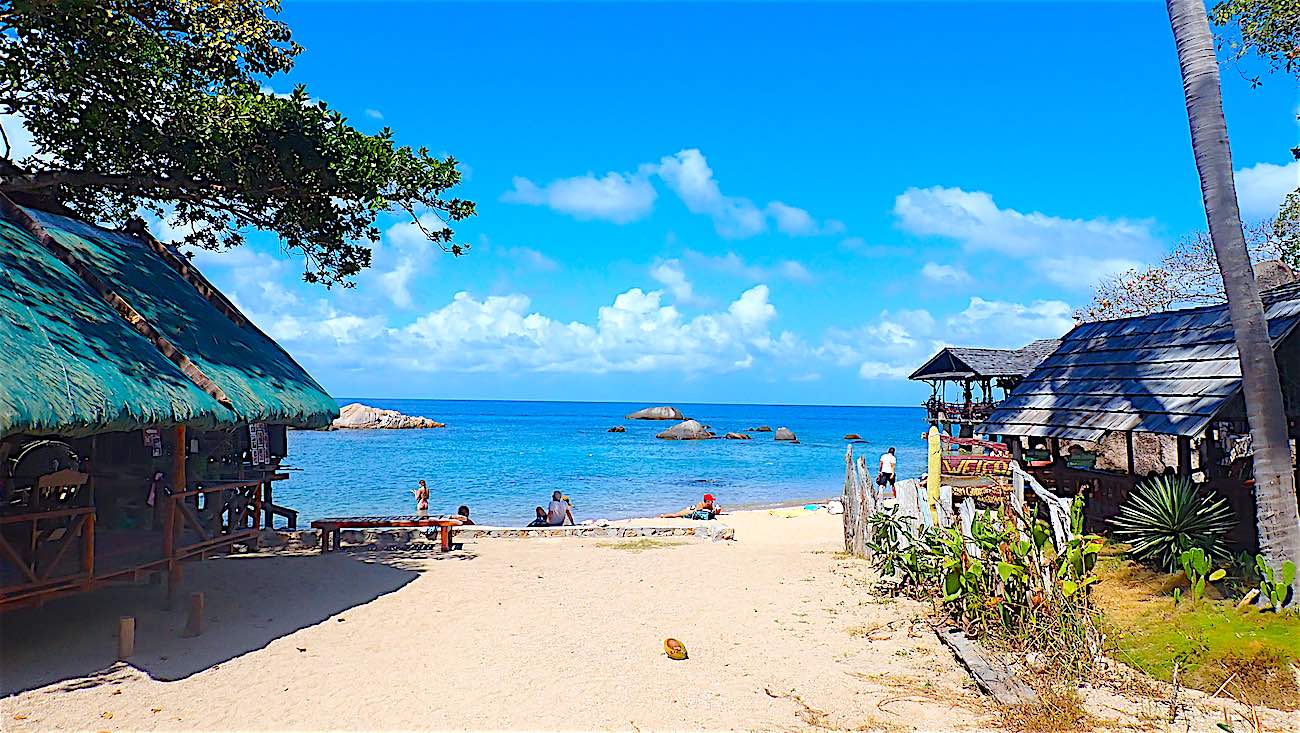 Banana Rock Bar Sunset on Koh Tao
Banana Rock bar serves local food alongside drinks, however, the service can be as relaxed as the atmosphere so you may wait a while for food.
The bar is situated at the end of the beach and is completely open around the sides, but still provides cover during a rainstorm.
It is well worth taking the time to visit Banana Rock, but remember not to wear your best clothes.
There are occasions during high tide that you may have to walk through the water in order to reach the bar.
Frequently Asked Questions
How long does it take to walk to Sai Nuan beach on Koh Tao?
You can walk to Sai Nuan beach from Mae Haad in approximately 1 hour with stops to take scenic photographs. The coastal walk is beautiful, panoramic and thoroughly enjoyable. If you are walking from Sairee beach, you can add another 30 minutes to your walking time.
Where is Banana Rock on Koh Tao?
Banana Rock bar is located at the small second bay next to Sai Nuan and is a wooden bar that is a great place to take a photograph against the setting sun on the western horizon. You can reach Banana Rock bar via the coastal walk from Mae Haad or over the mountain from Chalok Baan Kao.
Is there an entrance fee to access Sai Nuan beach?
The first part of Sai Nuan beach now charges an entrance fee to use the beach of between 100-200baht per person to use their facilities, including the beach. If you are passing through on a coastal walk, follow the signs that direct you around the beach area to continue your journey towards Banana Rock bar and on to Tao Thong.
Can I buy food and drink at Sai Nuan beach?
You can buy food and drink at Sai Nuan beach after paying the beach entrance fee. If you continue your journey to Banana Rock bar, you can use this beach for free and buy food and drink at one of two café's situated there. It is also a great location for a swim and a snorkel if the weather is good and the tide is sufficiently high.
Where is Sai Nuan Beach Koh Tao?
Sai Nuan beach is located on the south west coast of Koh Tao and faces due west. It is a perfect setting for witnessing an amazing sunset and in good weather offers visitors a picture perfect beach area with white sand and clear, warm water.