How to get to Mango Bay Viewpoint Koh Tao
Located high in the hills on the North end of Koh Tao, Mango viewpoint offers a great alternative to visit during the day or to witness a spectacular sunset.
Mango Viewpoint is one of the most popular viewpoints on Koh Tao.
Stunning Views
The viewpoint is relatively easy to get to as you head towards Mango Bay, it is around a 15-minute drive, or about an hour-long walk from Sairee beach.
North Koh Tao Mango Bay Viewpoints
You can use Sairee Junction as a starting point and walk or ride a scooter up the road that will take you to Hin Wong bay.
Follow the road up heading east until you reach Tarna Align resort, passing Island Muay Thai and Koh Tao Gym and Fitness.
Once you reach the resort, stay on the road to the left and continue up the steep, main road until you see signposts for the Viewpoint. Take the left turn off the main road and follow the route.
The narrow road begins to move deeper into the jungle and is a good quality road whilst you have concrete. You will pass a small stall selling drinks if you need refreshments.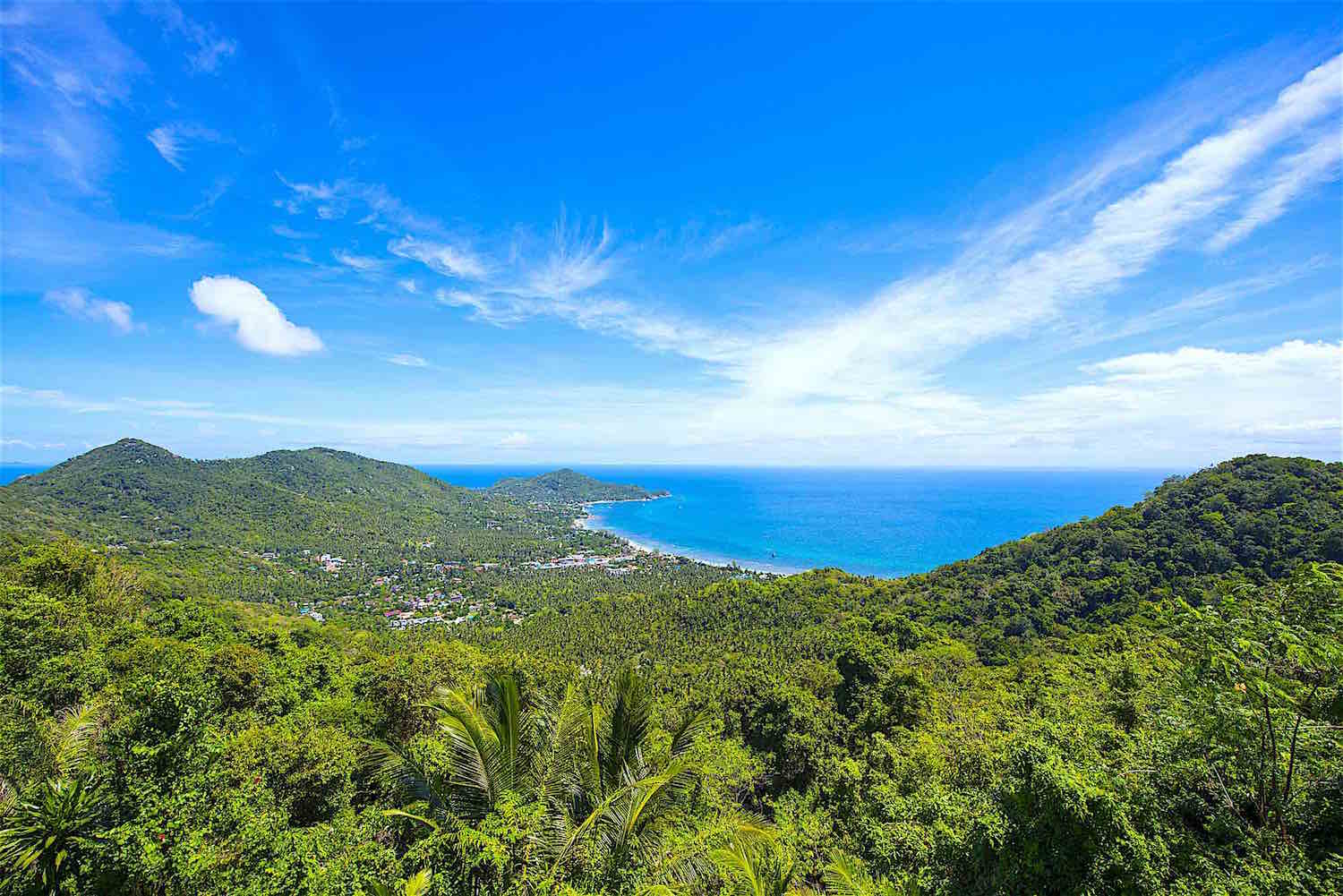 Amazing Views
Eventually you will arrive at Jim's Bar, which is another opportunity to rehydrate. The bar sits at a fork in the road and you need to go left.
If you take the fork to the right the path will take you down towards Mango Bay, which is a much longer hike and the road slowly vanishes into a dirt track.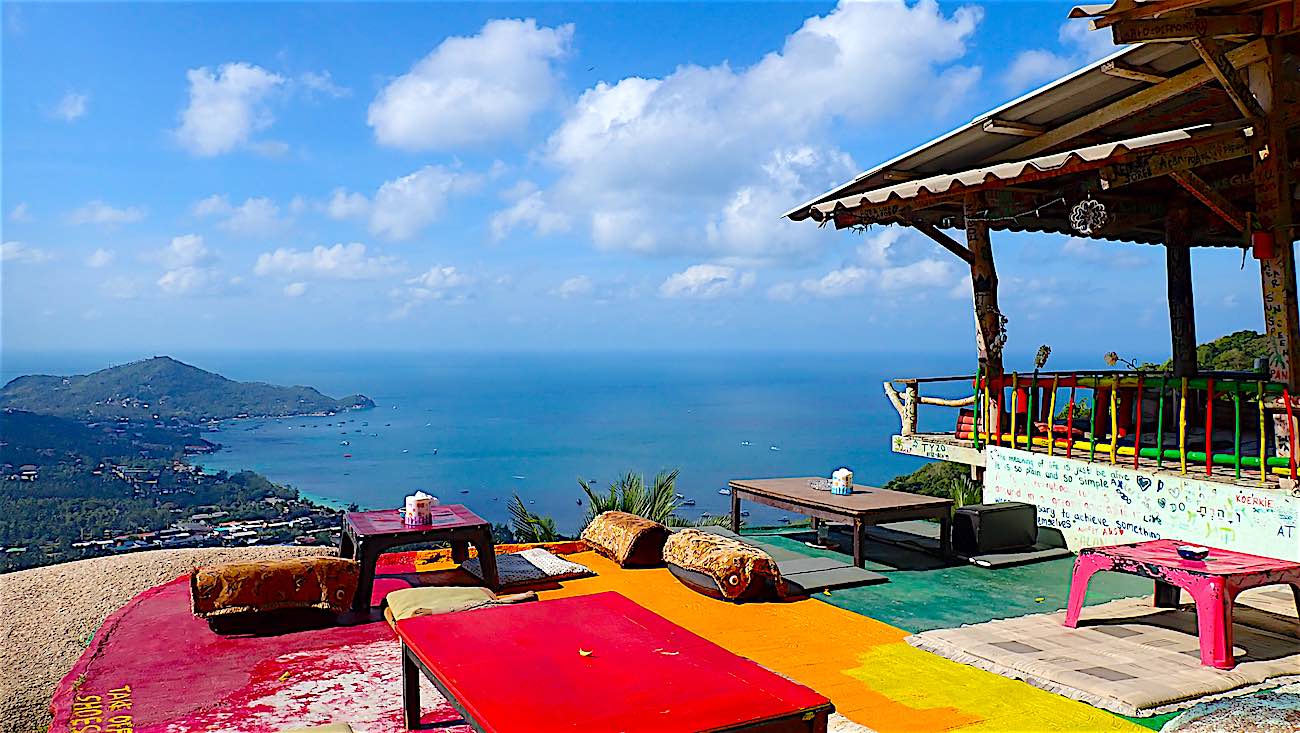 Choose a Viewpoint
Approximately 200m down this road you will reach a second fork in the road and taking either path will bring you to a viewpoint.
The two viewpoints are owned by different families, but both sit on private land and there is a 100THB charge to access them.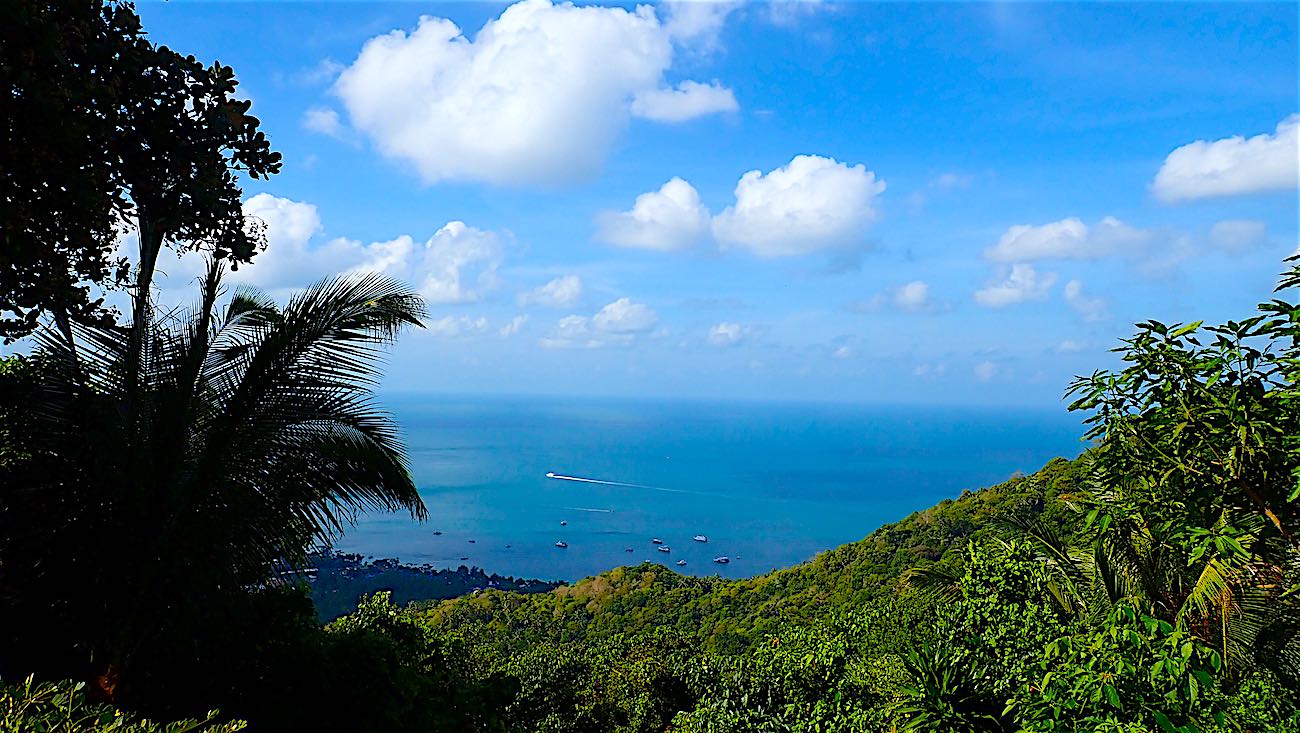 Viewing Platforms at Mango Bay Viewpoints
Both viewpoints offer a viewing platform that gives you a spectacular vista of the whole of Sairee beach, as well as Mae Haad Bay to the South.
The road to the left provides a platform which offers a less obstructed view, whilst the road to the right offers a platform that is a few metres higher.
Café & Restaurant at Mango Bay Viewpoints
There is a small bar and restaurant at the top, which serves decent food, so you can relax and buy food and drink once you have finished taking photos.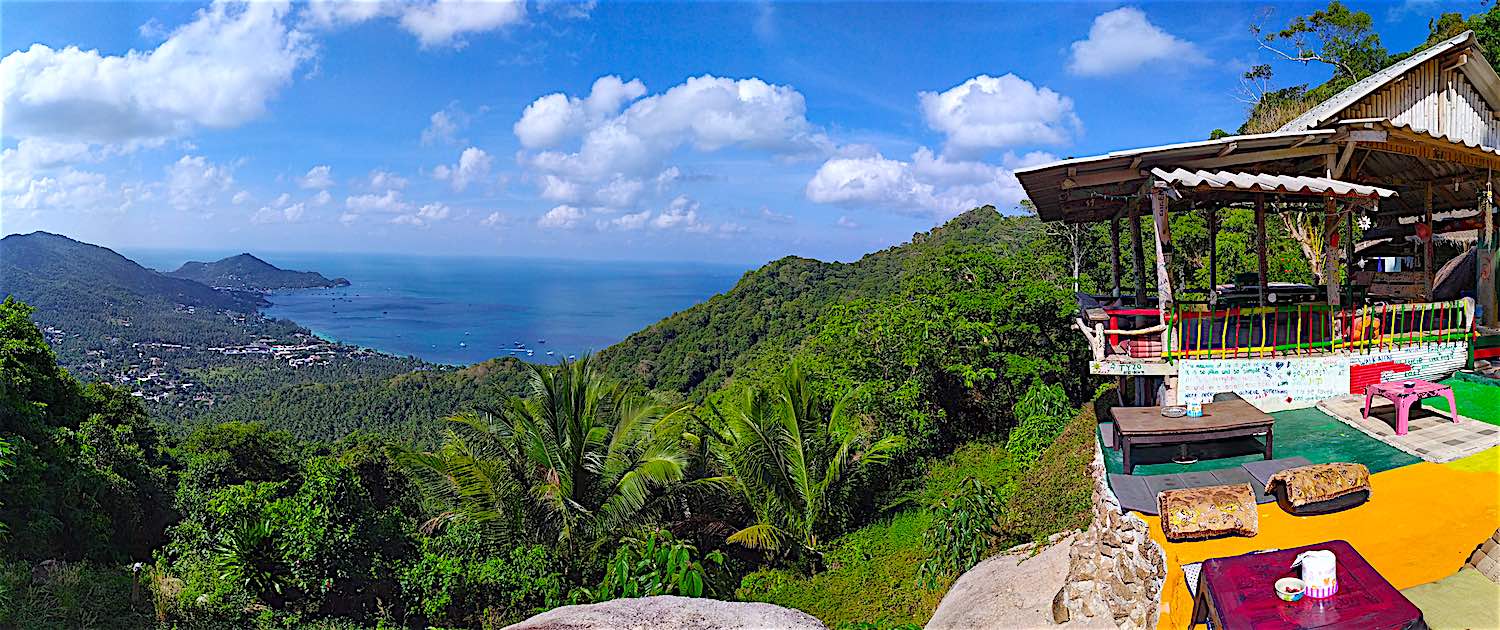 Comfy Seating
They also offer comfy seating, so you can choose to chill out up there for a while, as well as a number of board games that are free to use and can help you pass a bit of time.
Multiple Viewpoints
In addition to Mango viewpoint, there are three further viewpoints close by.
Two of them provide very similar views across the west coast and one which offers a view of the northeast coast as well as the lighthouse at Gluay Teun Bay.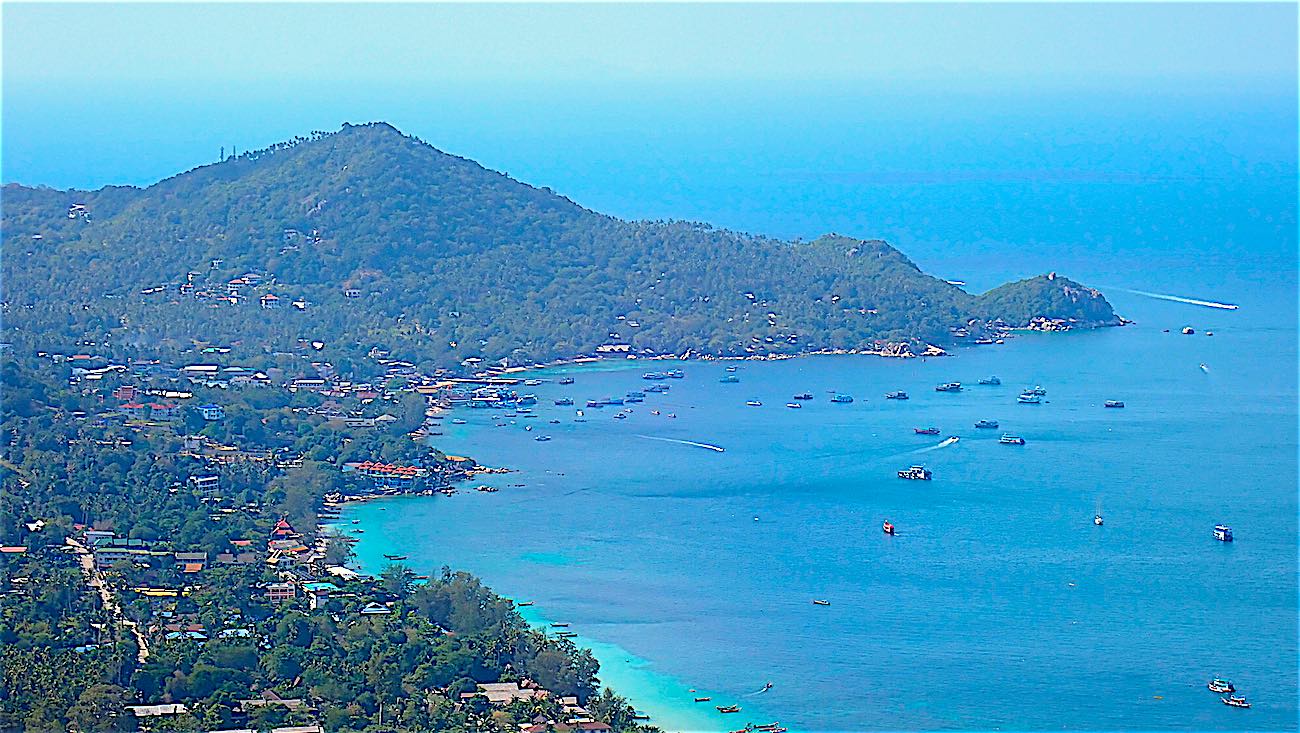 Limited Road Access to Mango Bay Viewpoints
Although the road access up to Mango viewpoint is generally good, some of the roads are very steep and in places are poorly concreted.
This can mean that you may have to push a scooter some of the way to get to the top, so if you are an inexperienced rider it is probably more sensible to walk.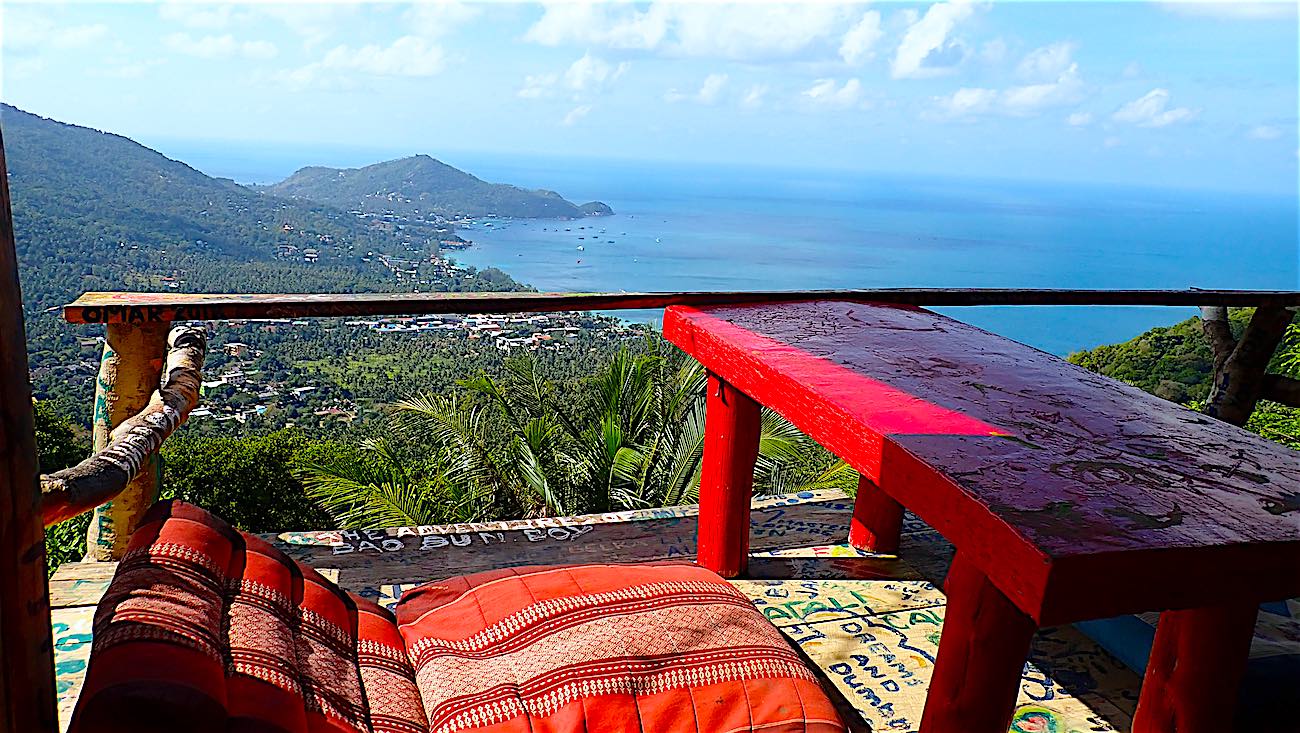 Wear Strong Footwear
The poorly concreted roads also make comfortable footwear essential and despite there being a location where you can buy drinks, it is advisable to carry water with you just in case.
Coming back down from Mango bay viewpoints you simply reverse your route, which will probably only take just over 30 minutes if you are walking as it is mostly downhill.
For more information on any of the Koh Tao Viewpoints or activities to do on your visit, contact us to discuss your itinerary.
Frequently Asked Questions
Can I ride a scooter to Mango Bay Viewpoint?
Mango Viewpoint is one of the most popular viewpoints on Koh Tao and is a 15-minute scooter ride from Sairee beach. The viewpoint has good road access but does get steep towards the top so you may have to walk a bit if the scooter cannot make it or you are not comfortable riding.
Can I walk to Mango Bay Viewpoints from Sairee?
Located high in the hills at the north end of Koh Tao, Mango Bay viewpoint offers stunning views of the entire west coast of Koh Tao. If you are looking for something active to do on Koh Tao, then hiking to this viewpoint will take you around an hour from Sairee.
The route is relatively easy going most of the way, although there are one or too sections where it does get steep.
Do I have to pay to visit Mango Bay Viewpoint?
Mango Viewpoint Koh Tao is one of the best viewpoints on the island and is a stunning location to be at during sunset.
There are two viewpoints that you can access once you arrive and there is a 100baht entrance fee to view both.
Can I buy drinks at Mango Bay Viewpoint?
Mango Viewpoint is a great location to spend a few hours, relaxing in a hammock, reading a book and enjoying an ice cold juice. There is a small restaurant that serves food and drink at the viewpoint.
How far is Mango Bay Viewpoint from Mae Haad?
Mango Bay viewpoint is approximately 5km from Mae Haad, which is a 15-20 minute scooter journey and maybe a 5 minute walk at the end should you choose to park the scooter up and walk the rest of the way.
How many Viewpoints are there at Mango Bay Viewpoint?
There are several viewpoints at Mango Bay. Offering stunning panoramic views of the island and they are exceptional during sunset, with hammocks, a great atmosphere and a bar to hang out and relax at.