Hippo Burger Bistro Koh Tao
Located on the main Sairee road, 100 metres from Sairee crossroads, Hippo Burger Bistro is the original burger venue on Koh Tao.
Super Size Burgers
This super popular food and drink venue is where to go if you crave an original American style burger with American size portions.
If you want a sizzlingly tasty and good sized burger with lots of flavours and fillings to choose from, Hippo Burger is the place to be.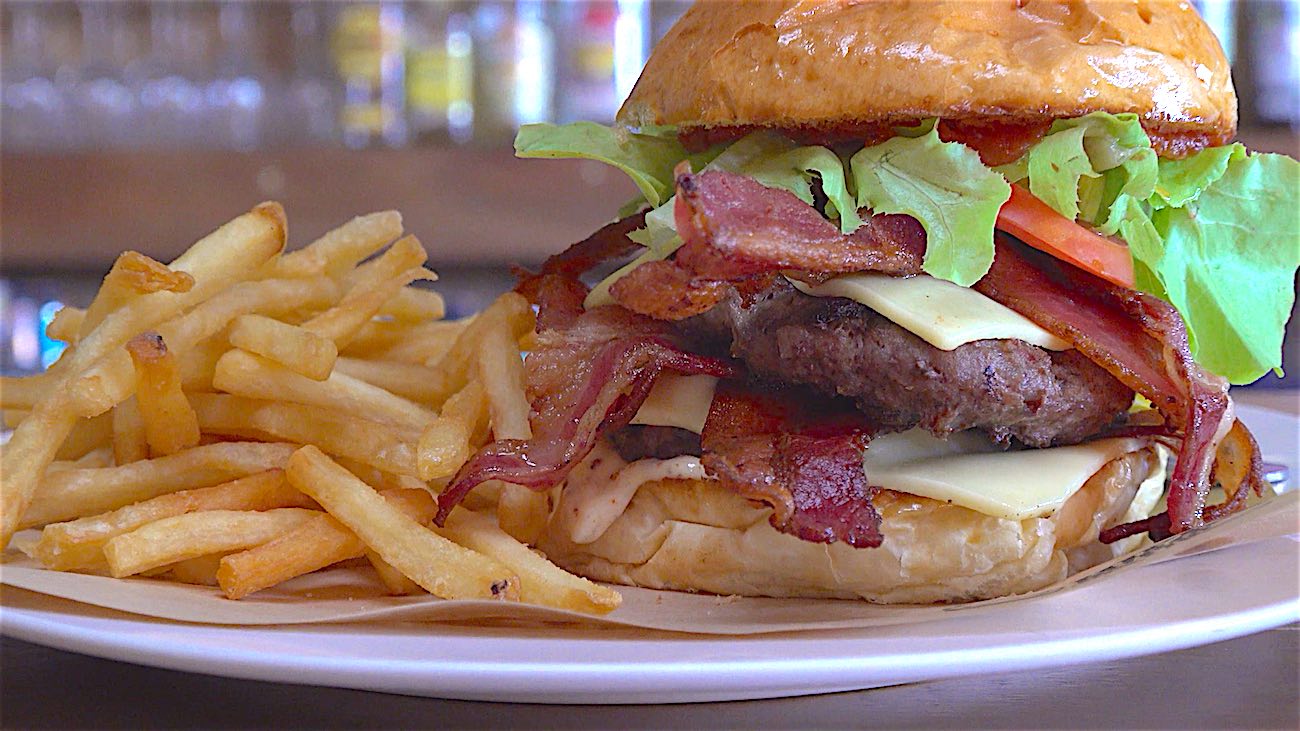 American Style Burgers on Koh Tao
Offering real juicy I miss home style burgers with all the trimmings you will not be disappointed at this trendy venue with great customer service.
All the beef used is premium beef, sourced from Bangkok and all their beef burgers are served with a secret Hippo burger sauce on them.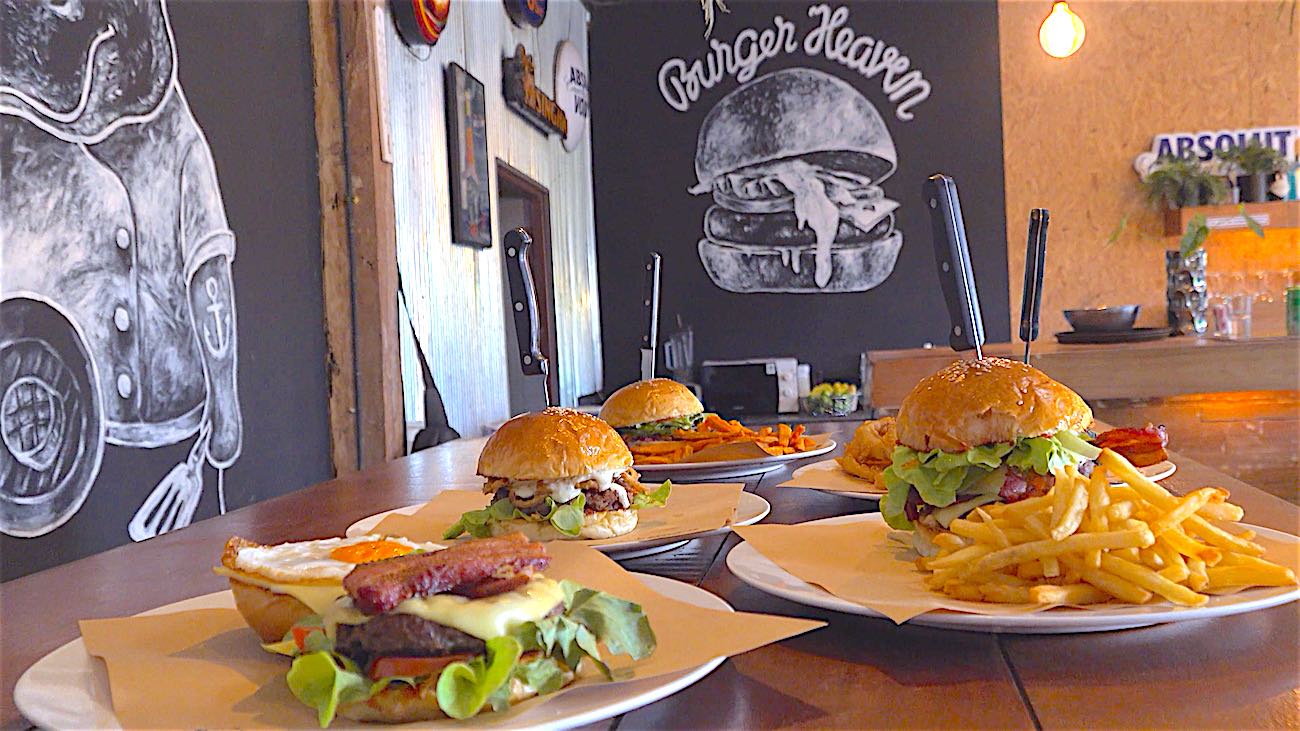 Fresh Ingredients
Their signature burger is huge. You really need to be hungry to finish the aptly named Hungry Hippo Burger with double beef patties, double cheddar cheese, double crispy bacon, in between a freshly baked burger bun.
One of the success stories of Hippo Burger is that everything is homemade and baked fresh every day. All sauces are homemade and everything is prepared and cooked fresh for the day ahead.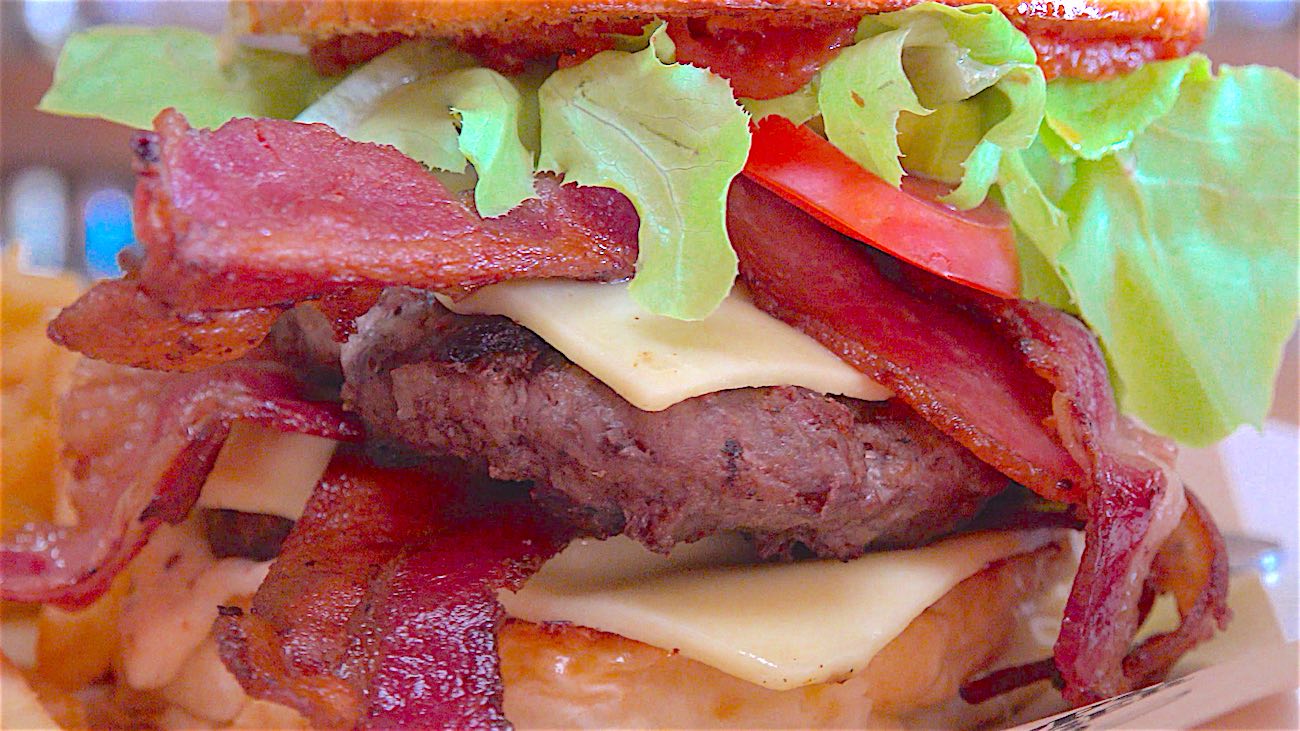 Freshly Homemade Burgers on Koh Tao
Another favourite from their menu is their BBQ Ranch burger. This tasty burger consists of a fresh beer pattie with BBQ homemade sauce, thin crispy onion rings, lettuce and covered in Hippo Burger ranch sauce
For customers who are not beef fans, the varied menu has some great alternatives to suit the burger palate of every visitor to Koh Tao.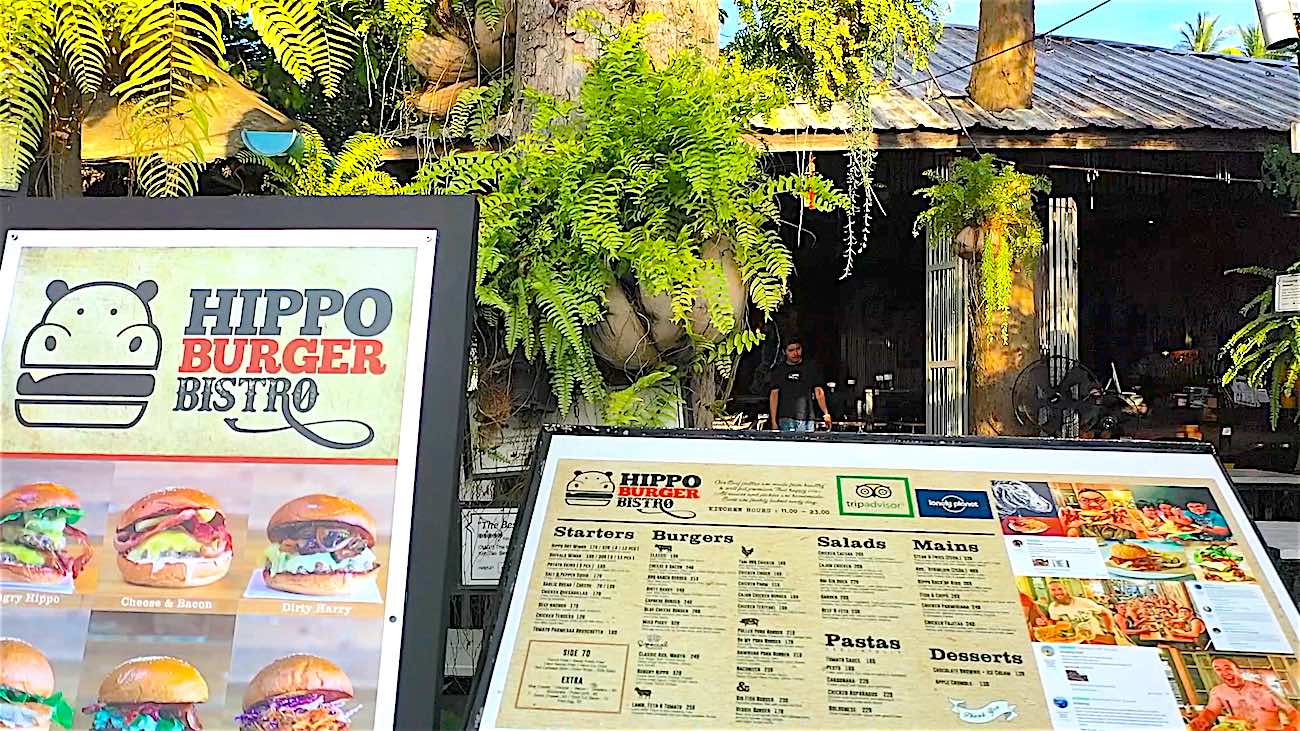 Veggie Burgers
You can choose from their classic pulled pork burger, a Thai BBQ chicken burger, Fish and Veggie burger and for Greek food fans, try their Lamb, feta and tomato burger.
The Greek burger comes with delicious yoghurt & mint dressing, rocket and sun dried tomato and it is a real mouthwatering Mediterranean treat.
Although Hippo Burger Bistro is mostly about their amazing burgers, they also offer some great salads on the menu.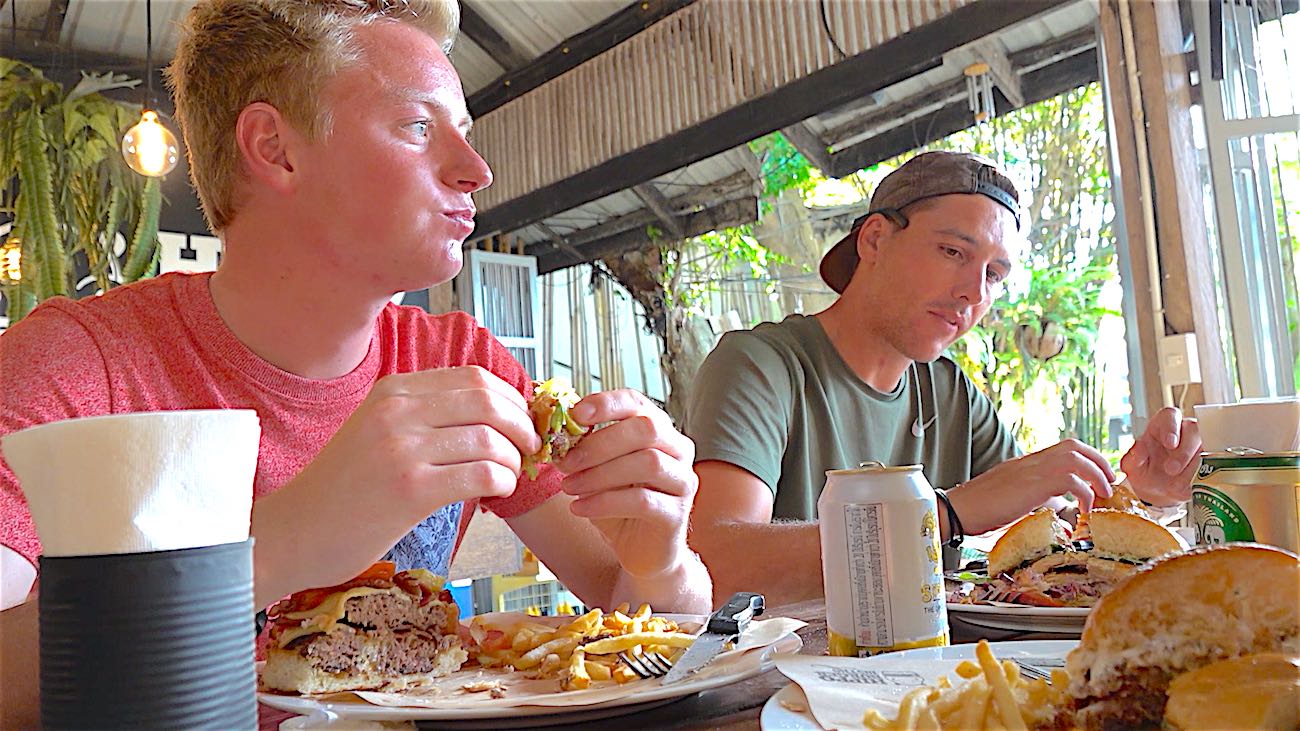 Hippo Burger Bistro Salad Selection
A popular choice is Hoi Sin Duck pan fried duck breast with cucumber, spring onions, fresh mango, orange and pepper covered in a delicious Chinese plum dressing.
If you are looking for something a bit more filling, you can choose from several delicious pasta dishes.
Other popular favourites are steak and chips, Hippo rack of Ribs, slow roasted in a homemade BBQ sauce and served with Chips and Slaw to fill up even the hungriest of hippos.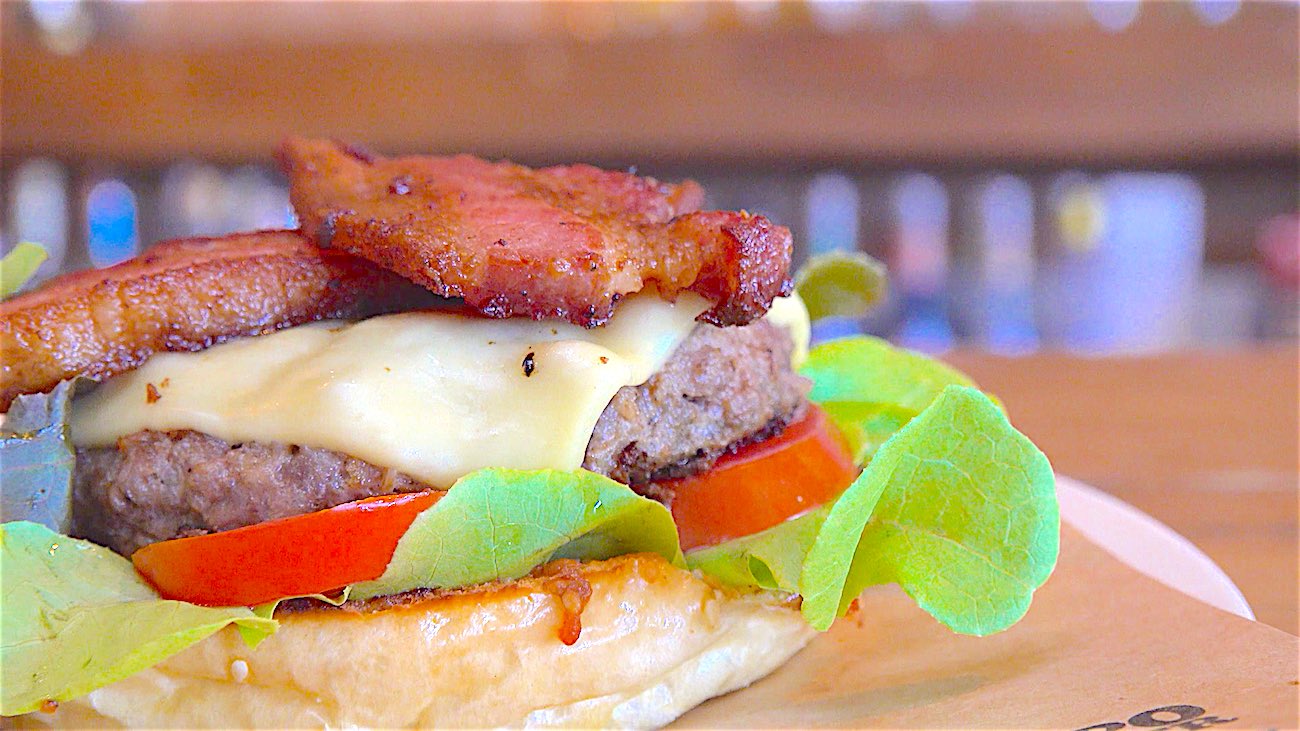 Hungry Hippo's
Hippo Burger Bistro offers a wide selection of flavoured drinks and shakes to wash it all down, including Hippo Shakes, Fruit Juices, Beer & Cider, all day cocktails or one of their soft drinks.
If you enjoy staying at home and like your food delivered, the restaurant provides a speedy takeaway service.
Hippo Burger embraces local eco friendly initiatives and does its best to eliminate as much plastic waste as they can with absolutely no straws or plastic bags.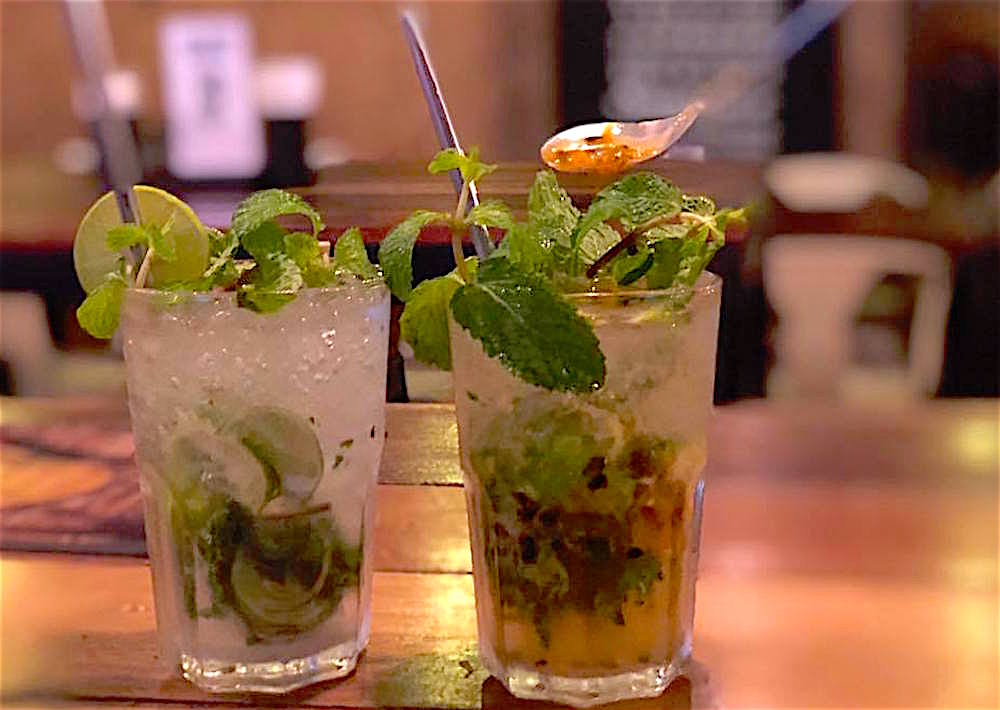 Popular Eco Friendly Burger Bistro on Koh Tao
Their home made sauces are delivered in completely biodegradable leaf containers, and an option of buying a bamboo knife and fork if you need it.
Just a few minutes walk from Sairee beach, you can be sure that your burger cravings will be met at this popular, trendy Burger Bistro.
After a day of activities hiking the viewpoints of Koh Tao, lounging at white sandy beaches, swimming, snorkeling or scuba diving, you can be sure that Hippo Burger Bistro will satisfy the appetite of every visitor.