Facts about the Divemaster Course on Koh Tao
If you want to turn your scuba diving adventures into a professional career, then the Divemaster Course is your first step on the Professional scuba diving ladder for recreational divers.
Training to become a Divemaster allows you to perfect your dive skills and be a mentor and role model for new divers.
Become A Divemaster
Once you are certified, you can conduct eligible programs for certified divers, such as scuba reviews and assist a diving Instructor on all levels of recreational diver level courses.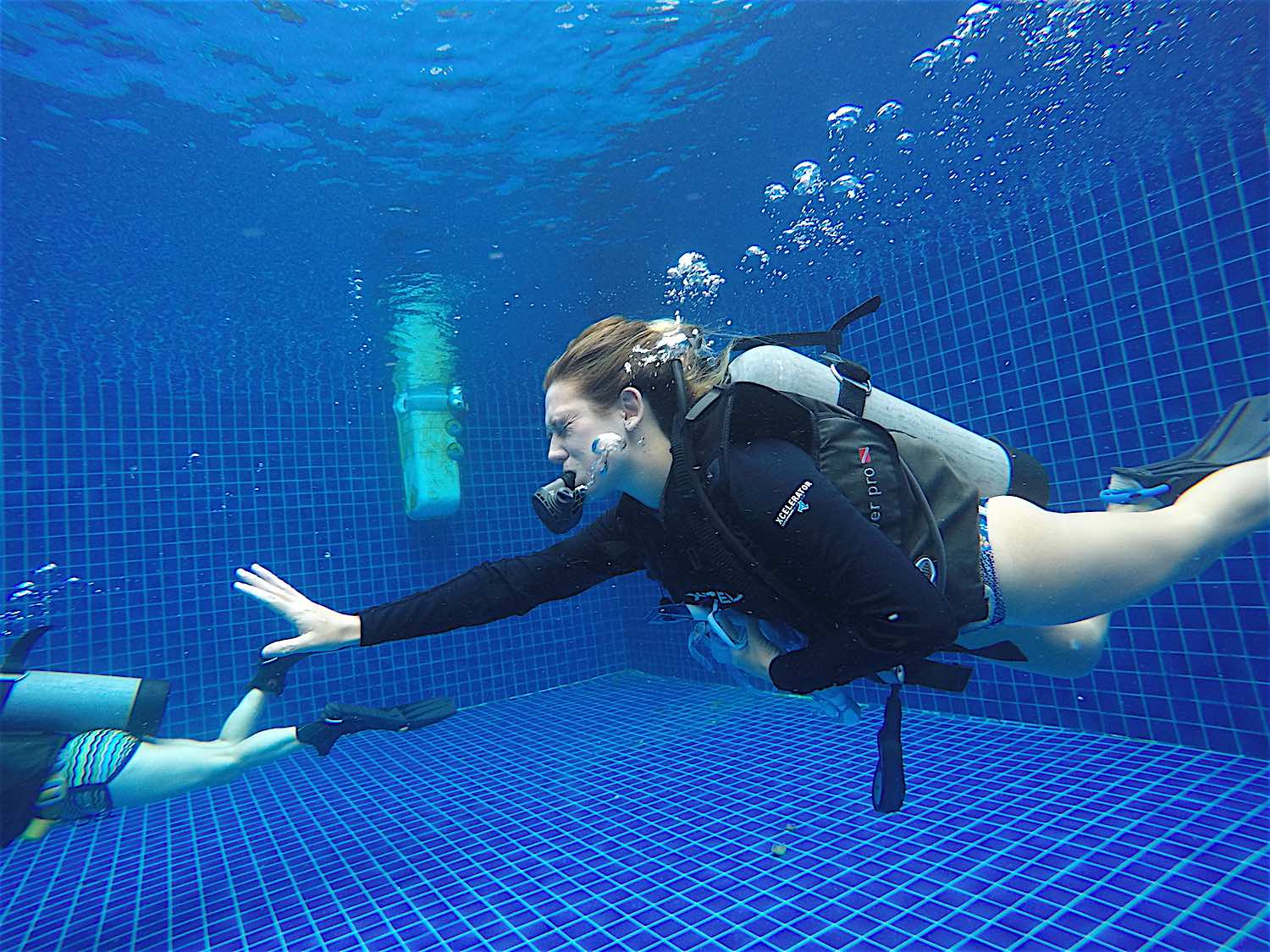 A List of Pre-requisites to become a Divemaster
Signing up for the Divemaster course could be the best decision you ever make. It provides you with a major lifestyle change and can lead to the start of a new career in scuba diving.
You must be a certified Advanced Open Water and Rescue Diver who is at least 18 years old.
You must have completed an EFR Primary and Secondary Care (or equivalent) training within the last 24 months.
You should have a medical certificate signed off by a physician within the last 12 months and have completed and logged a minimum of 40 dives.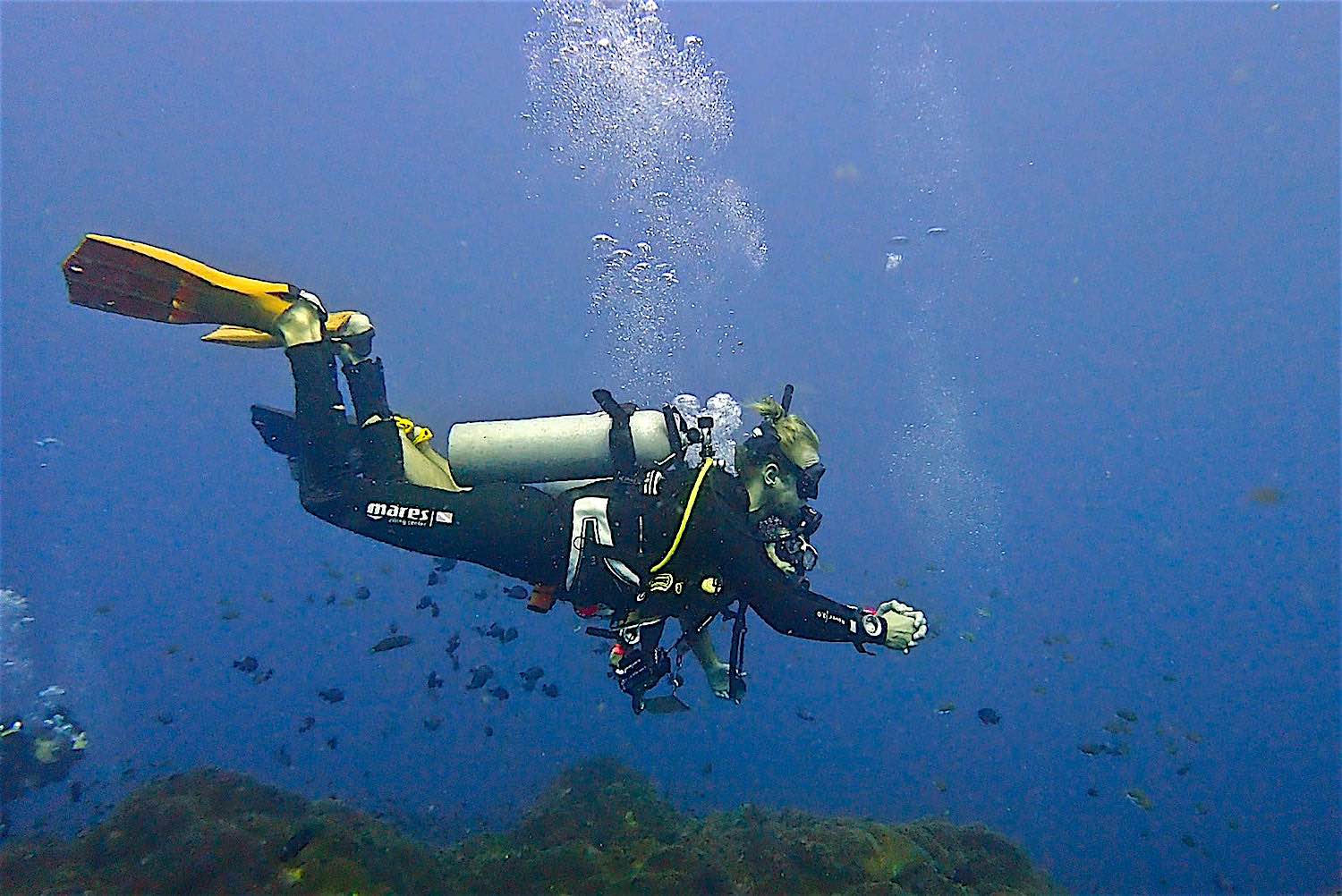 How long the Divemaster Course takes to Complete
The duration of the Divemaster Course is flexible. You can take longer to complete it if you wish to gain more experience by increasing your total dive count.
The average time is 4-6 weeks giving you plenty of time to have logged a minimum of 60 dives required for certification.
Flexible Schedule
The Divemaster course is a mix of theoretical sessions, workshops, water skills exercises and practical assessments, which will teach you to be an organizer and dive leader for dive activities.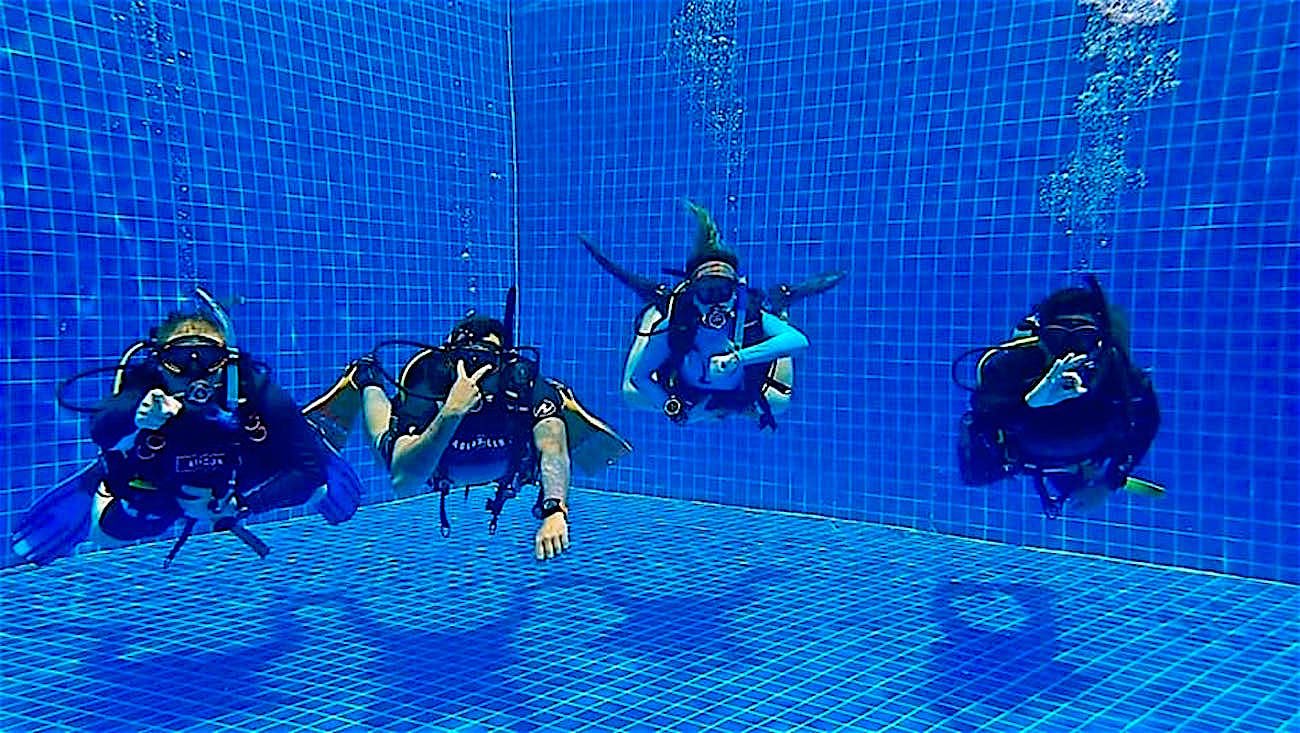 Divemaster Course Modules & Training Sessions to Complete
Supervising dive activities and assisting with student divers
Diver safety and risk management
Awareness of the dive environment
Dive setup and management
Mapping open water sites
Giving dive briefings
Organizing search and recovery tasks
Deep dive workshop
Conducting a scuba review
Swim tests
Rescue assessments
Dive skills workshops
Divemaster conducted programs (DCP)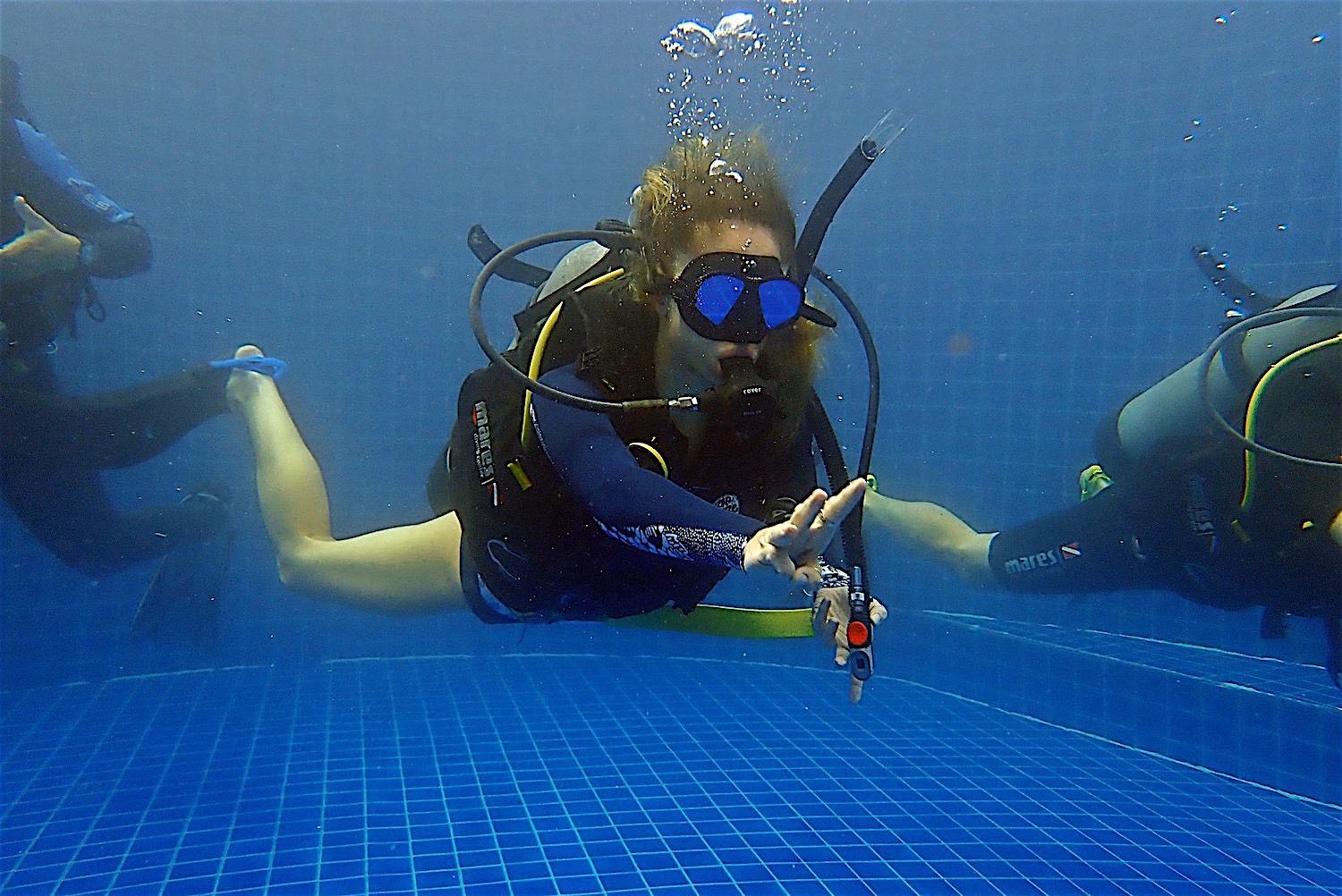 Divemaster Course Format for Students on Koh Tao
For the duration of the Divemaster course you will have an experienced Instructor from the Instructor team at your dive centre as your personal mentor.
They are there to assist you, schedule the course at a pace that suits and be there for questions, as you progress through the course.
Dive Instructor Mentor
When you are assisting with student divers, often you will be placed with your mentor, so you can reach your goal a lot easier.
Most of the dive centres on Koh Tao have a flexible approach to scheduling Divemaster training.
Dive centres will schedule in a way that helps candidates improve their diving skills, build confidence and gain experience, whilst allowing you to enjoy the dives you are taking just for fun.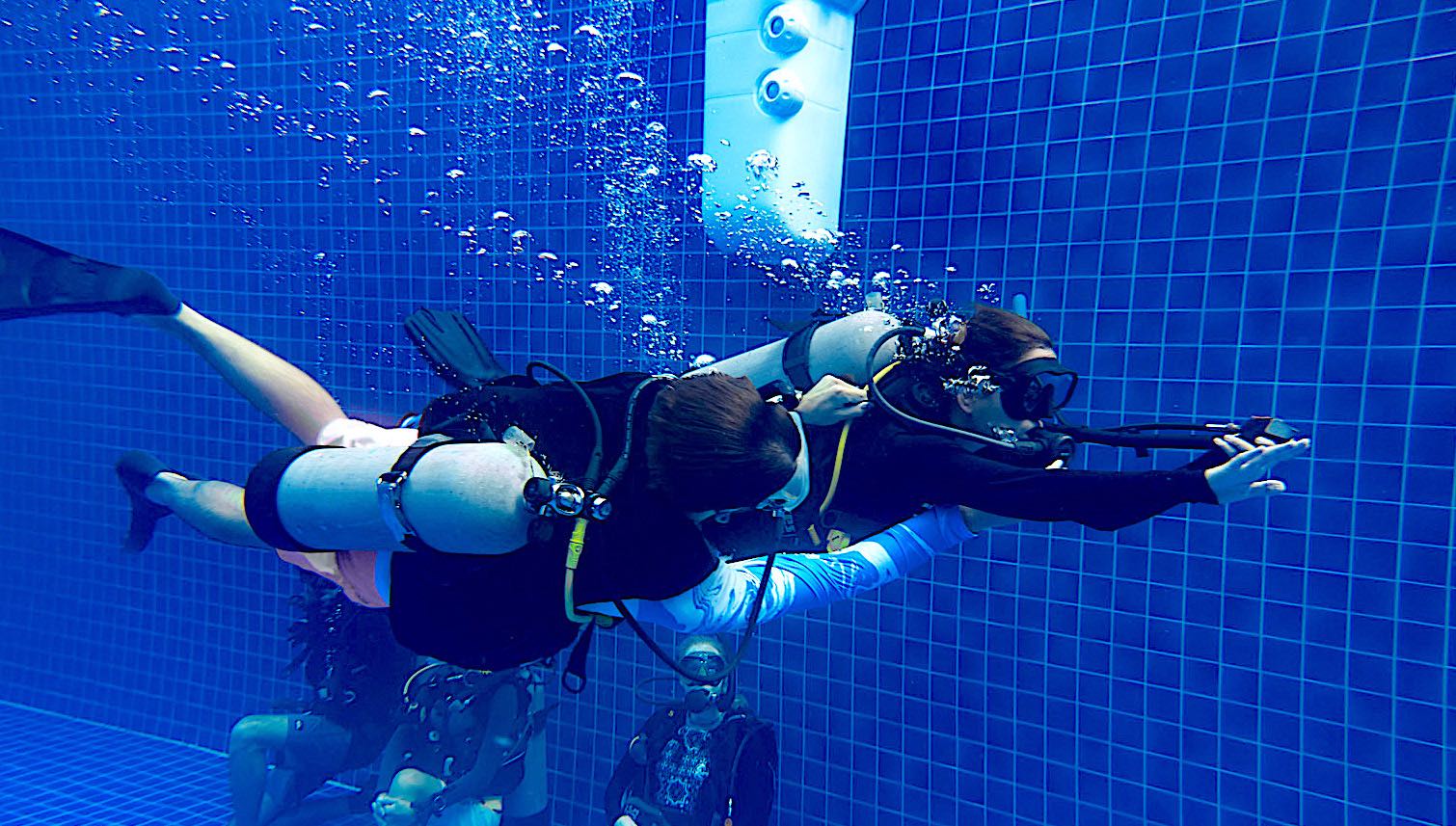 Improve your Diving Skills on a Koh Tao Divemaster Course
It is possible to dive up to 5 dives a day (on days when a night dive takes place). However, we recommend you take a maximum of 3 dives a day to allow yourself time for the other course elements and to relax in between.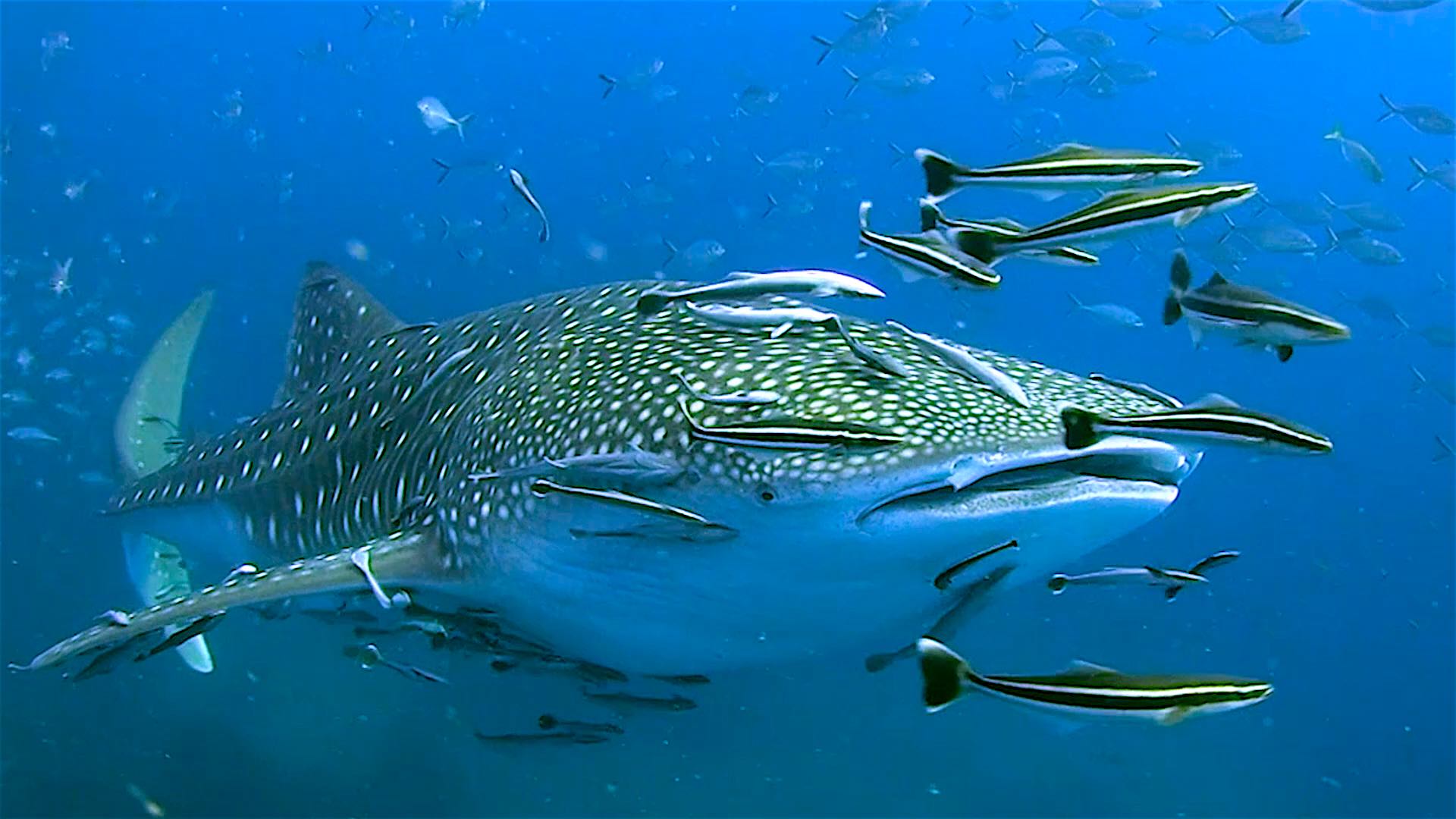 Get Certified as a Divemaster on Koh Tao
As you progress through your course, you will take on more responsibility and become a member of the dive team.
Some of the things you will assist with include boat & dive centre logistics, assisting certified Divemaster's with certified divers and guiding certified divers on underwater tours.
Enjoy Koh Tao
Flexible scheduling according to your own needs, ensures you really enjoy your Divemaster course and get the most from all aspects of it.
It also allows you to plan for days to just relax on Koh Tao and enjoy the beaches, bays and viewpoints.
If you need more information about the Divemaster course on Koh Tao, you can contact us to discuss your planned itinerary.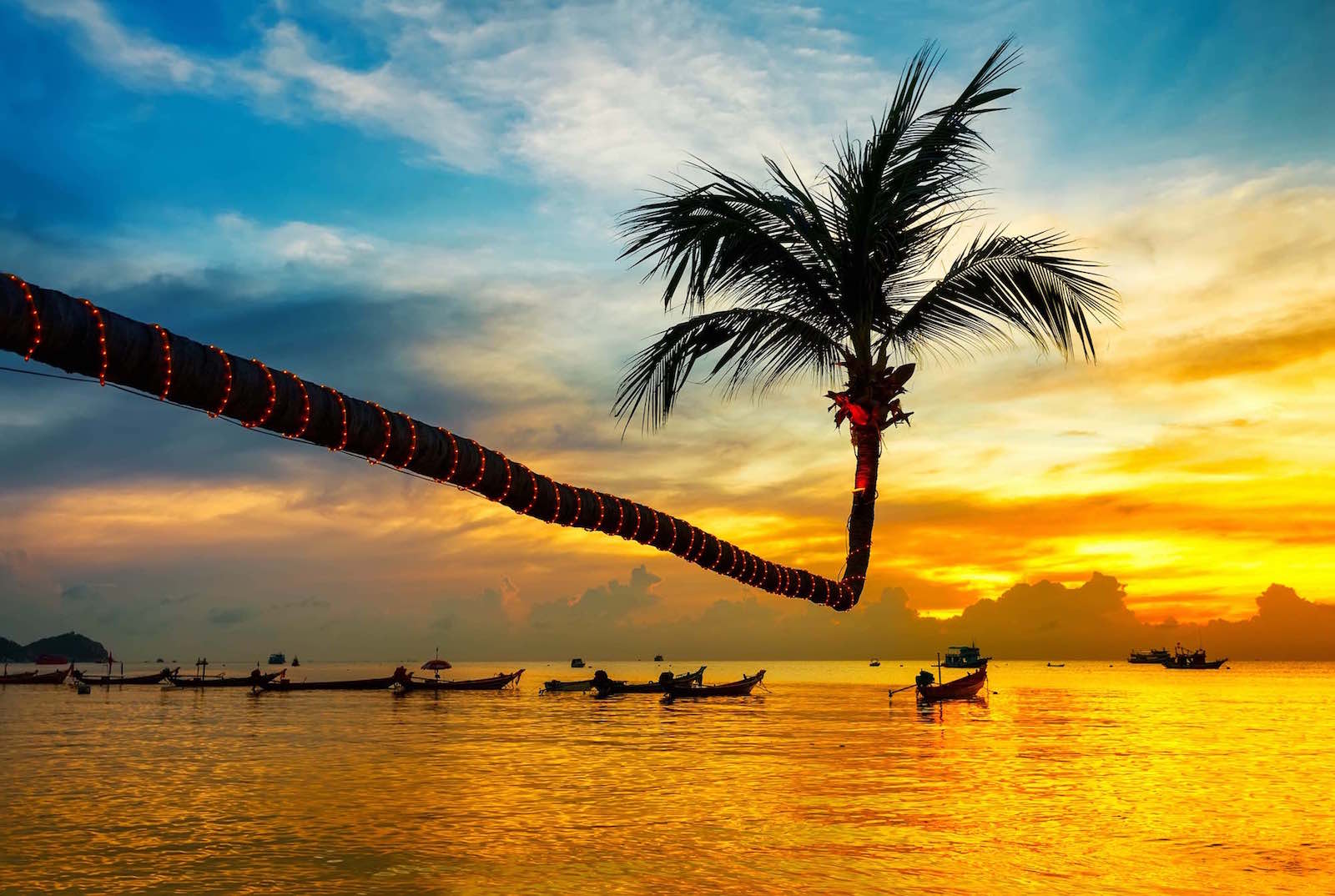 Frequently Asked Questions
How long does it take to become a divemaster?
In general, candidates that choose Koh Tao as the destination to complete their Divemaster course usually take 4-6 weeks to complete.
How much does it cost to become a divemaster?
This can vary on Koh Tao depending on what package you decide to choose but a standard Divemaster course is 30,000THBaht.
There are also educational materials and membership fees to consider. These vary depending on which training organization you choose.
How many dives do you need to be a divemaster?
To start the Divemaster course you need a minimum of 40 logged dives and you must have at least 60 logged dives by the time you are certified.
Does the Divemaster course on Koh Tao include Accommodation?
Accommodation is generally not included but most dive centres will assist with you finding suitable longer term accommodation and some will offer discounts.
Do I need my own equipment to enrol on the Divemaster course on Koh Tao?
No. Almost all Koh Tao dive centres include equipment rental within the price of the Divemaster course.
Do I get a discount on the Divemaster course if I have my own Equipment?
Yes. Most Koh Tao dive centres offer a 15% discount on training courses if the student has their own diving equipment.
Does the Divemaster Course include unlimited diving?
This varies depending on the dive centre. Most Koh Tao dive centres offer diving within a 4 – 6 week period in their course price.
Will a dive centre offer visa assistance after I sign up for the Divemaster course?
If you intend to stay on Koh Tao longer than 30 days, it's best to contact your local Thai embassy (in your home country) and ask what the requirements are for extended visas.
It is not uncommon for the dive centre on Koh Tao to send over supporting documentation to assist with your application.
Can I find work with a dive centre after I complete the Divemaster course on Koh Tao?
Most dive centres usually operate a policy of hiring dive professionals that complete their professional level training with them.
There are many factors that you must consider including the time of season and how busy Koh Tao is.
You must also consider the legal documentation you need in the form of a work permit to be able to work legally.
However, if you have a great attitude, are people orientated and possess good communication, organizational and customer service skills you will be in a good position to find work.
In addition to the above skills, if you speak more than one language and have media or digital skills, a dive centre may look at these favourably.