Treatment at Koh Tao Hospital
Despite its small size Koh Tao attracts over 500,000 tourists every year. In recognition of this, Koh Tao opened its first official hospital in 2017.
Following a THB39million upgrade of the government clinic on the island, there is now a 24-hr, 10 bed facility that is staffed with fully qualified doctors and nurses, reducing the need for transfers to Koh Samui or the mainland.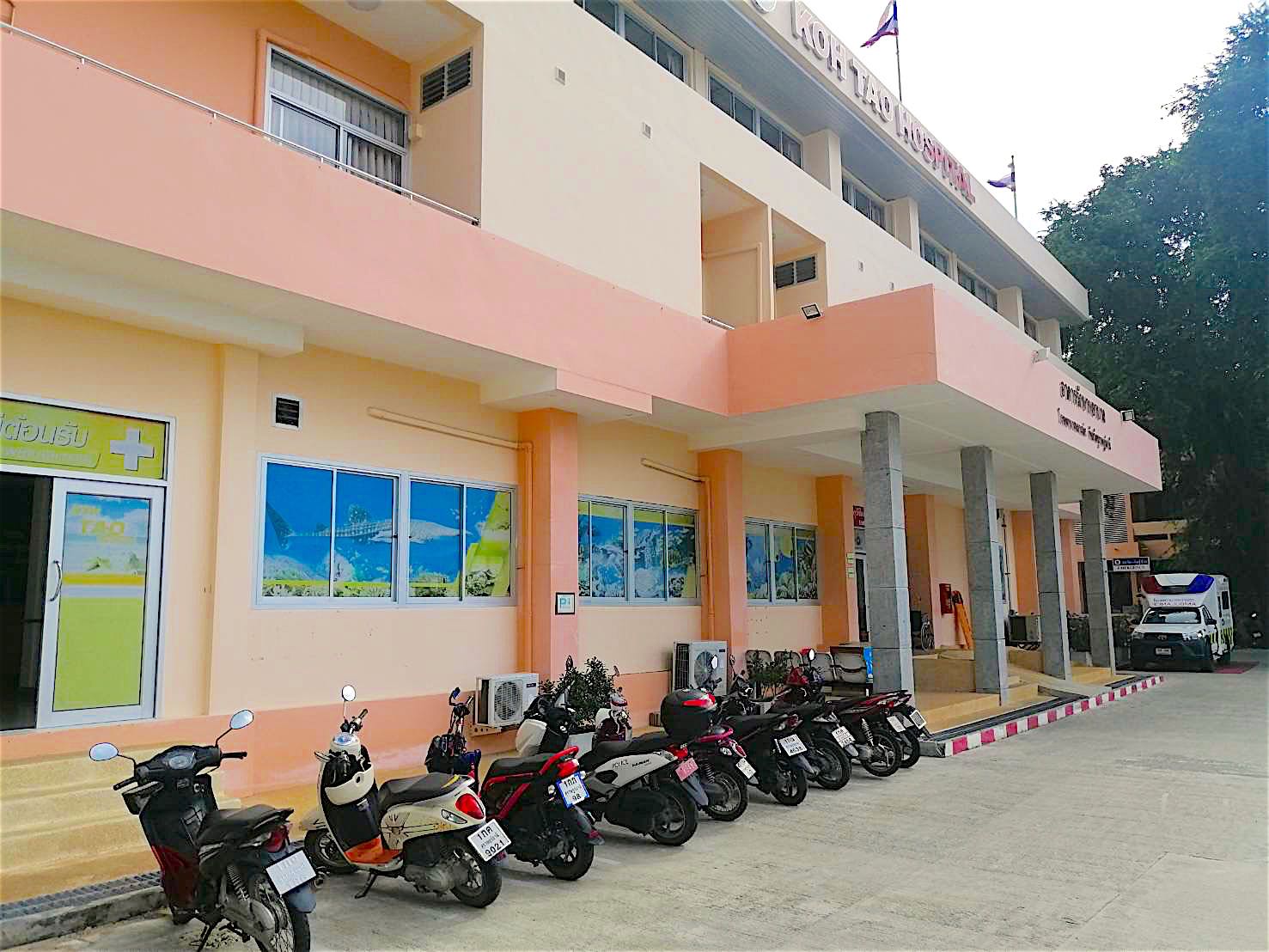 Types of treatment at Koh Tao hospital
The hospital, which has its own ambulance, offers a variety of treatments including general chronic disease and epidemics, family planning, pre and post natal services and public health checks.
They also have surgery units and a dental clinic. The number of services offered will increase over time and the hospital expects to eventually open its own hyperbaric chamber for various scuba diving or decompression injuries
Medical Insurance Cover
If you are travelling to Koh Tao, it is advisable to ensure you have a comprehensive medical insurance policy before you arrive.
Whilst Thai hospitals are ethically and legally bound to provide emergency care, free treatment is only available for Thai citizens.
If you do not have sufficient cover, you could end up facing substantial medical bills if you require emergency treatment.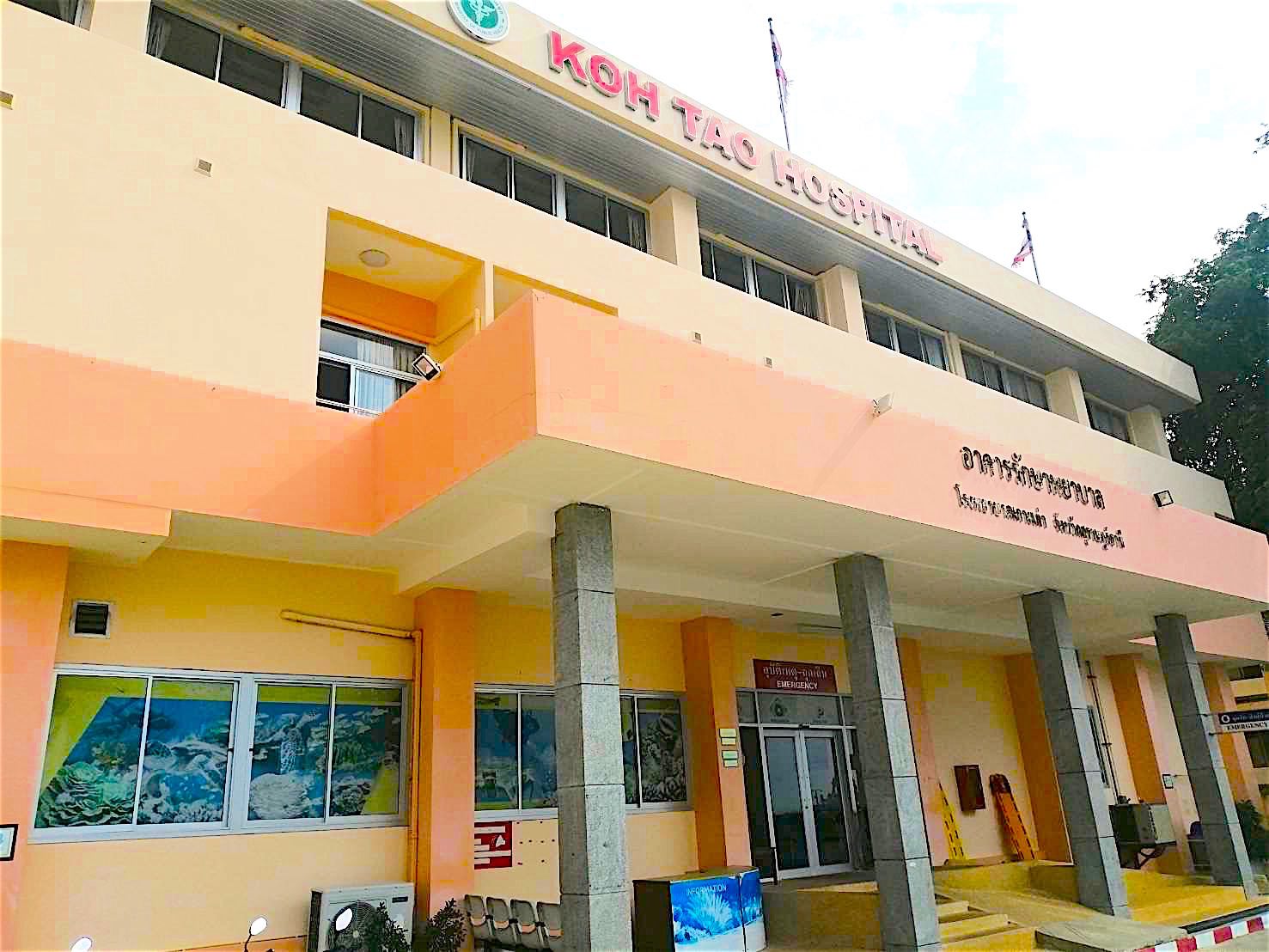 Koh Tao Hospital location
The government hospital is located just a 2 minute walk from the main pier in Mae Haad village, 100metres on the right side of the 'up road'.
There is a large luminescent sign marking the location and there is parking outside the reception area.
For registration and treatment please bring along identification such as your passport or identification card.
You will need to register at the reception area to see a hospital doctor, unless admitted as an emergency.
If you are planning to visit Koh Tao and have any questions, please send us a message so we can provide you with accurate and up to date information and advice.
Frequently Asked Questions
Does Koh Tao have a hospital?
Yes, Koh Tao has a newly refurbished government hospital located in Mae Haad close to the main ferry piers. The hospital provides daytime care, treatments, medications and 24 hour emergency cover.
Where is Koh Tao hospital located?
The government hospital on Koh Tao is situated approximately 200metres from the main ferry pier in Mae Haad village and is accessible 24 hours a day. The large hospital sign is clearly visible on the up road in Mae Haad.
Does Koh Tao hospital provide treatment to foreigners?
Yes, the government hospital provides treatment and medications to all residents and visitors to Koh Tao. As a foreign national, you will be expected to produce your passport or government issued identification in order to register properly.
How much does treatment cost at Koh Tao Hospital?
Treatment costs at the government hospital vary depending on the level of medical intervention required. A prescription renewal, medical evaluation or emergency treatment will differ according to the seriousness or availability of treatment.
Do I need medical insurance to get treatment at Koh Tao hospital?
No, the government hospital will accept cash payments to receive treatment. They have a system of registration at reception, basic tests and then wait your turn to see the doctor. Once a prescription is issued, you pay at the finance counter and receive your medication from the dispensary.
Is Koh Tao hospital open 24 hours a day?
Yes, the government hospital on Koh Tao is open 24 hours a day for emergencies, although the staffing levels may change during the evenings. The island's EMS emergency service also uses the hospital casualty department for medical assessments.