Snorkeling Tips for Aow Leuk Bay Koh Tao
Aow Leuk bay (meaning Deep Bay) is situated towards the south east corner of Koh Tao and consists of a wide, open bay and is a very popular location for snorkelers, swimmers and scuba divers.
The coastline that sweeps out from both sides of the beach is lined with granite boulders of all sizes and the water is set against a green jungle backdrop.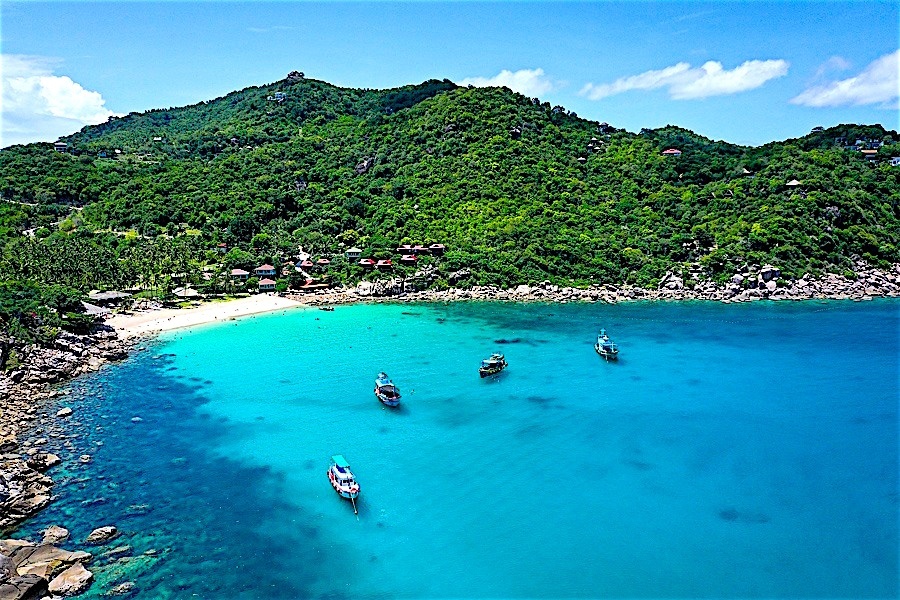 How to get to Aow Leuk for Snorkeling
If you want to visit Aow Leuk bay from Chalok, Sairee or Mae Haad to enjoy snorkeling or swimming, then access via scooter or taxi pick up is good, as it has a modern concrete road leading to the beach area.
You can hike to Aow Leuk on foot along the main road and it will take approximately 45-60 minutes to reach there, depending on where you set off from.
If you are hiking, remember to take drinking water with you as the journey takes you over the central mountain on Koh Tao to the east side and it gets very hot and humid during the day.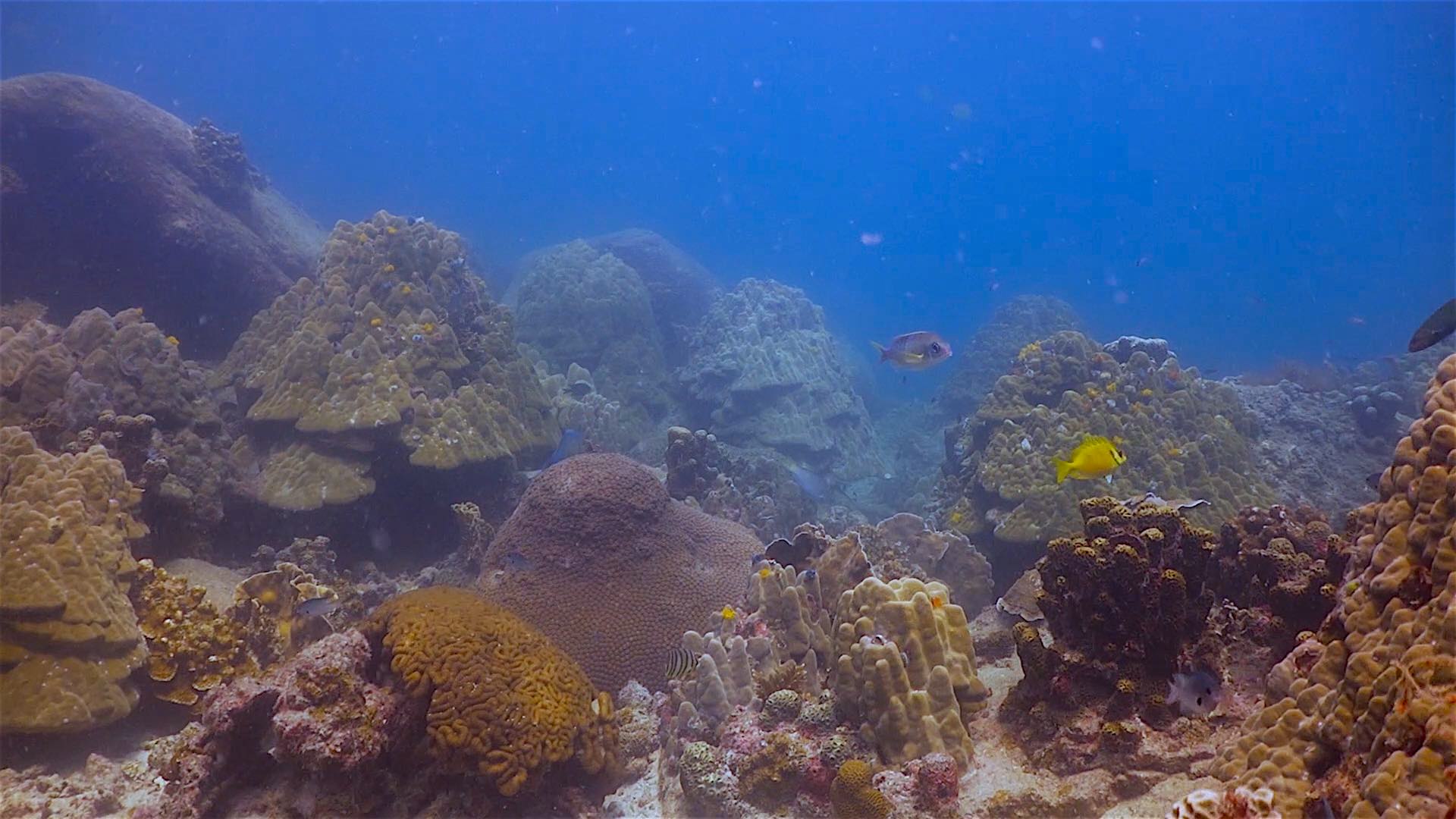 Why Aow Leuk Bay is a great location for Snorkeling
The landscape at Aow Leuk is amazingly beautiful. It has a white sandy beach and turquoise coloured sea with Shark Island featured in the distance.
The bay itself has a large sandy seabed with living coral reefs on two sides of the coastline and it starts from the shallow water on the beach.
You can enter the water from the beach and swim or snorkel for hundreds of metres along the coastline and follow the coral reef to see an abundance of marine life.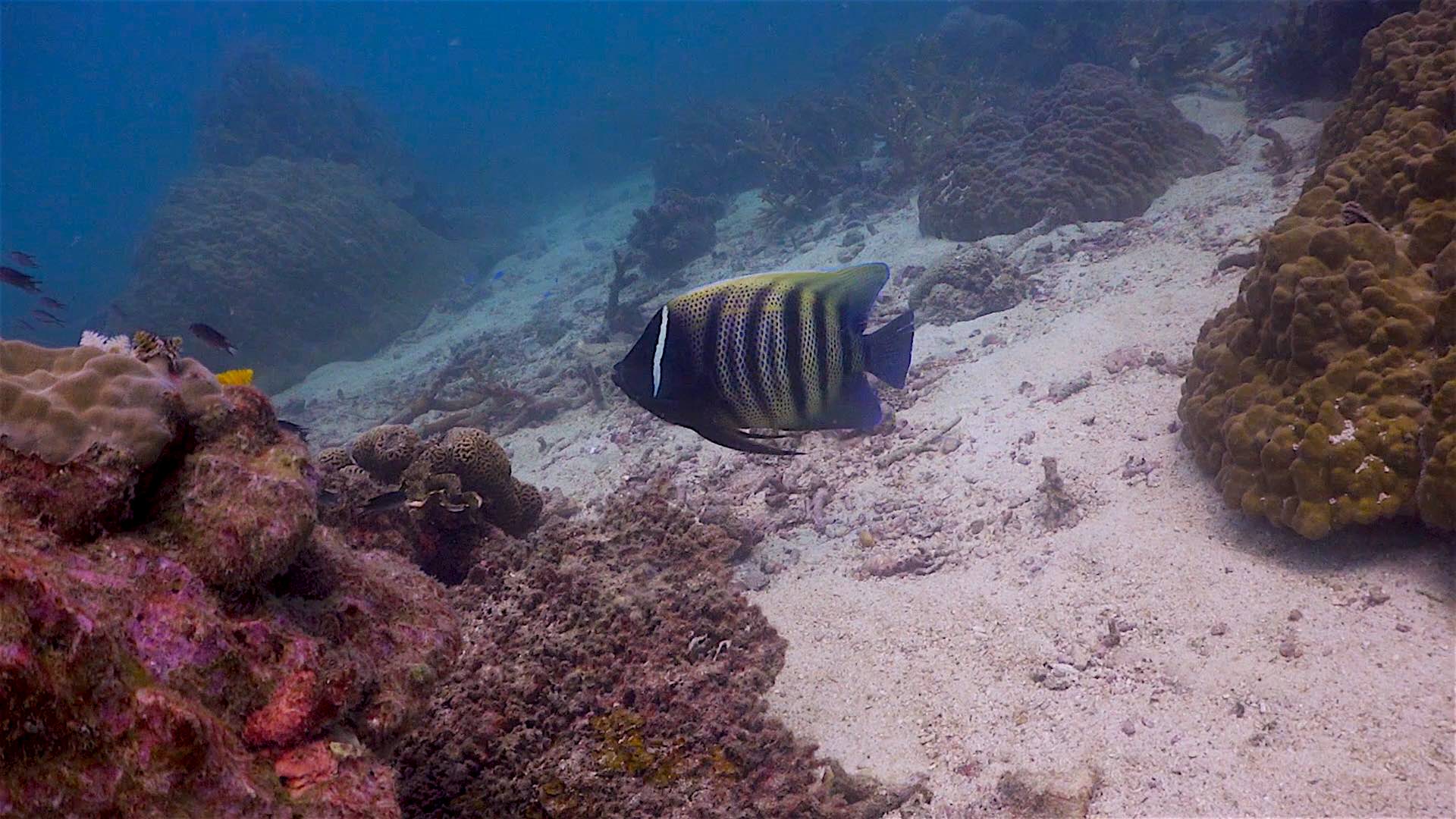 What Marine life you can see Snorkeling at Aow Leuk bay
You can expect to see different types or corals from Staghorn to Boulder coral and Table corals with fish darting in between in search of food or protecting their territory.
Long fin banner fish, Trigger fish, Damsel fish, Anemone fish, Parrot fish, Wrasse and various types of Grouper are all visible.
There are Giant Clams, Barrel Sponges, Barracuda, Stingrays and a couple of times a year, the shallows are used as a nursery by baby Black Tip Reef Sharks.
Turtle Island (Koh Tao), would not be the same without Sea Turtles and you can expect to witness a Turtle or two resting or munching away on a day time snack.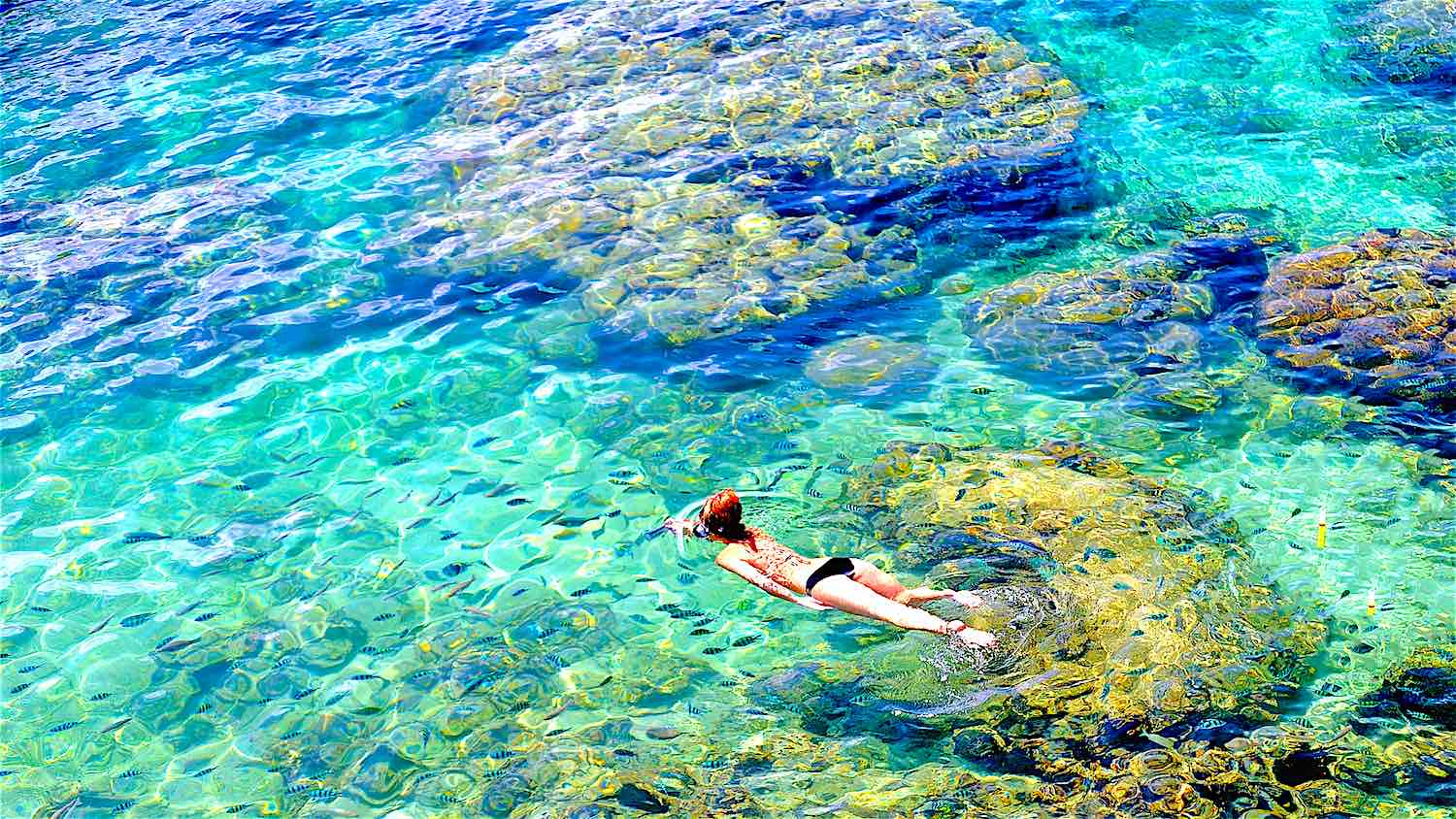 Visiting Aow Leuk bay for Snorkeling by Land
There are two ways to enjoy the snorkeling at Aow Leuk bay. You can make your own way there by hiking, by scooter or you can take a taxi from your hotel or resort.
When you arrive there is a charge of 100THB to enter via the Grand Hill resort and you will receive an inclusive drink, use of their beach chairs and access to their Wifi and facilities.
Entrance Fee
The entrance fee is well worth paying so you can relax, enjoy a drink and you can also use the restaurant if you are planning to stay for the day.
Once you have arrived, you can snorkel from the beach and follow the coral reef along the coastline.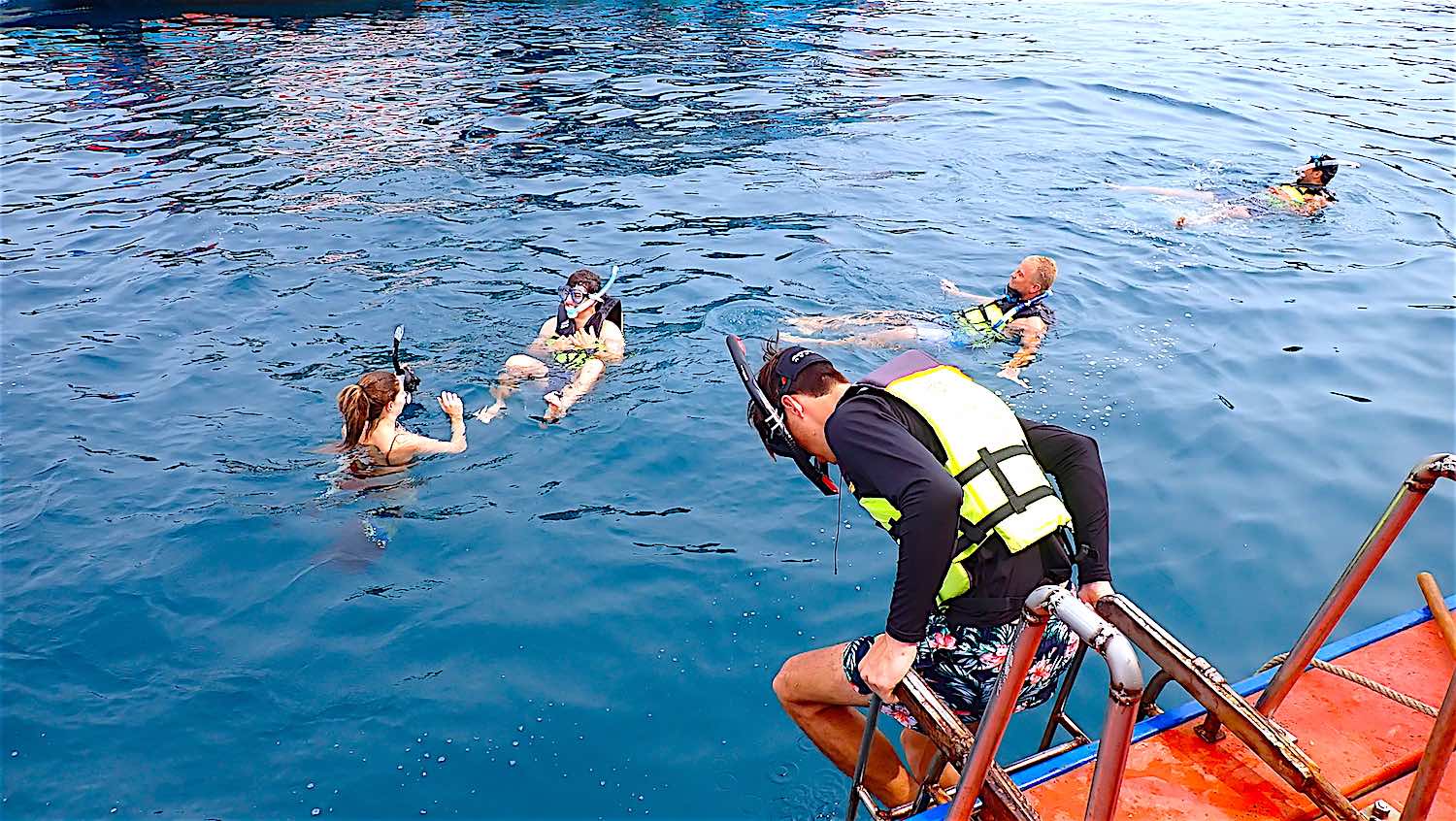 Aow Leuk Snorkel Tours by Boat
The second option is to visit Aow Leuk on an all inclusive scheduled Snorkel Trip tour. This is a great way to circumnavigate around the whole island of Koh Tao in one day.
If you arrive at Aow Leuk on a snorkel tour by boat, you will be limited to snorkeling within the guidelines of the snorkel trip operator.
This means you will have around 40 minutes in the water to enjoy the marine life and have lots of fun, before climbing back onto the snorkel boat.
Guided Snorkel Tours
Guided snorkel boat trips on Koh Tao do not visit the beaches when they stop at a particular location.
Except for Koh Nangyuan, the snorkel boat tours provide an 'in-water' experience and they have a limited amount of time at each location, so that you can see more at different locations.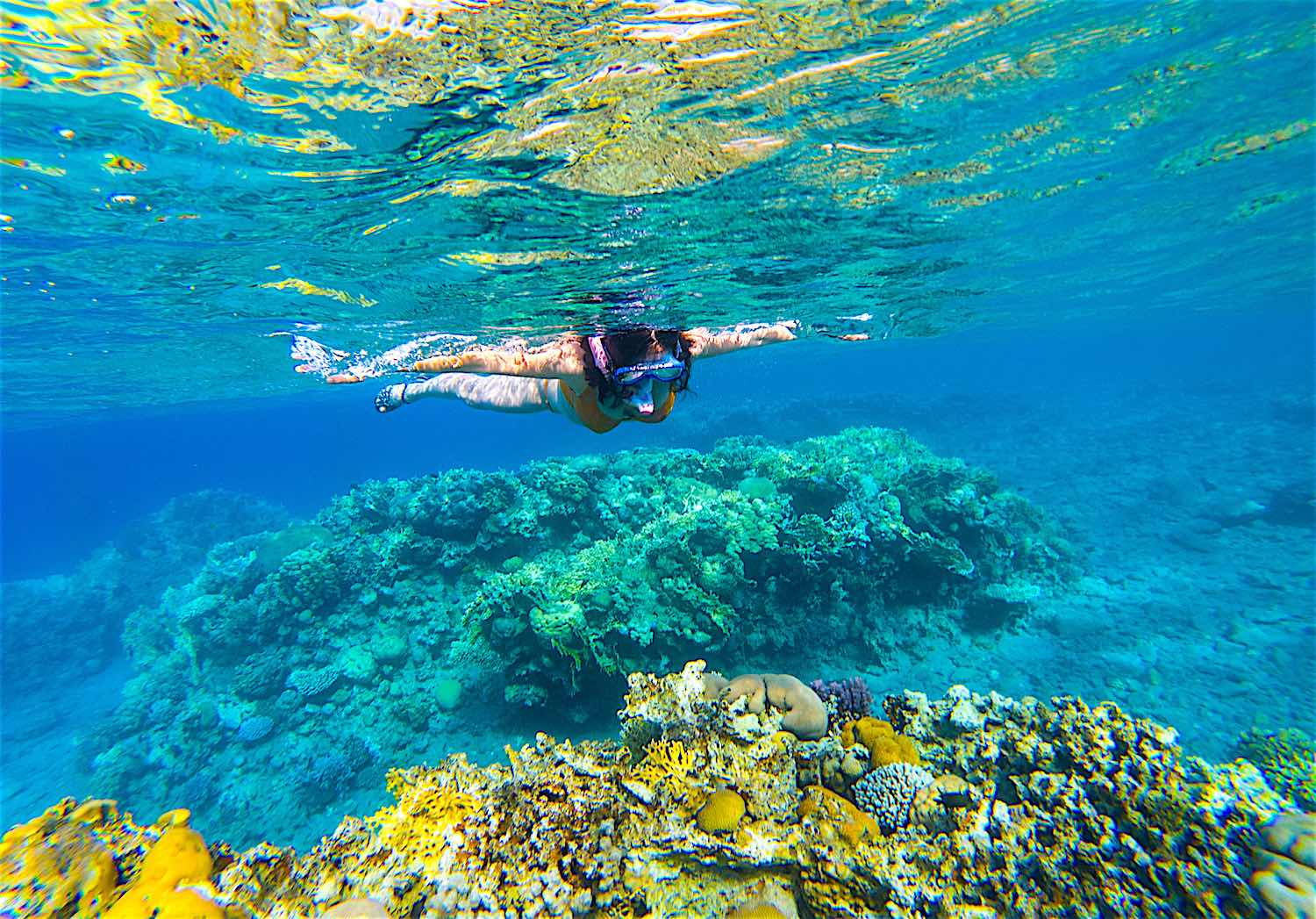 Recommendations for a Snorkel Visit to Aow Leuk bay
As Aow Leuk bay is easily accessible, the decision on the best way to visit this location depends on how much time you have on Koh Tao.
If you are only visiting for two days and want to take in as much as you can, then the best option would be to book a snorkel tour around Koh Tao.
The organised snorkel tour will stop at 5 of Koh Tao's most popular bays including Aow Leuk bay and you get a fun filled 'in-water' experience.
1 Day Snorkel Tour
However, if you are staying on Koh Tao for longer, then the one day snorkel tour is still recommended, but you get the added luxury of being able to visit Aow Leuk bay a second time via the beach.
Whichever option you choose, visiting Aow Leuk bay for snorkeling, will leave you wanting more. Aow Leuk bay is high on the list of places to see when visiting Koh Tao.

Frequently Asked Questions
How much does it cost to access Aow Leuk beach for snorkeling?
You will need to pay 100baht to access Aow Leuk beach as you pass through Aow Leuk Grand Hill Resort. The fee includes a drink, use of the beach chairs, free wifi and is well worth paying if you plan to go snorkeling. You won't be allowed to bring your own food and drink to the beach. There is also a restaurant there that you can access without passing through the resort and if you buy lunch you can use their terrace.
How deep is the water at Aow Leuk bay?
The coral and underwater rock formations start very close to the beach and there is a lot to see in shallow water. Depths not far from the beach start from 1metre to 5metres. If you follow the coastline on the south side towards Hin Ngam, depths will increase to around 15 metres and as you go further out the depth will increase further towards Shark Island. There are good opportunities at this location to see baby black tip reef sharks in shallow water and adult black tip reef sharks in deeper water.
Do I need to bring my own mask and snorkel when I visit Aow Leuk beach?
If you visit Aow Leuk beach and spend the day there, you may be able to rent a snorkel and mask for local use from the resort. It is advisable to buy your own snorkel and mask in one of the main villages and bring it along with you.
How do I get to Aow Leuk beach from Chalok for snorkeling?
To get to Aow Leuk beach from Chalok Baan Khao, you will need to either walk, rent a scooter or use a resort transfer service or taxi. Walking will take at least an hour, whilst a scooter will take 15 minutes. There is a new road built that has made the journey quicker but in places it is very steep. The alternative is to Kayak around the headland, however, be aware of currents and weather conditions and wear a life jacket.
Can I bring my own food and drink to Aow Leuk beach if I want to Snorkel
No, you are not allowed to bring your own food and drink onto the beach. You have to pay a 100baht fee to enter the beach through the Aow Leuk Grand Hill Resort. This includes a drink, use of the beach chairs and access to free wifi. You can buy food and drink while you are visiting the beach from the restaurants available.