Whitening Beachside Restaurant & Bar Koh Tao
Whitening is one of the most popular Sairee beach restaurants, boasting a beautiful beachfront view, simple but chic white décor and chilled lounge music with funky beats playing in the background.
Beach Loungers
Comfortable beach loungers make it the perfect place for a happy hour cocktail and fabulous ocean views make it great for a relaxed lunch or romantic dinner on the beach.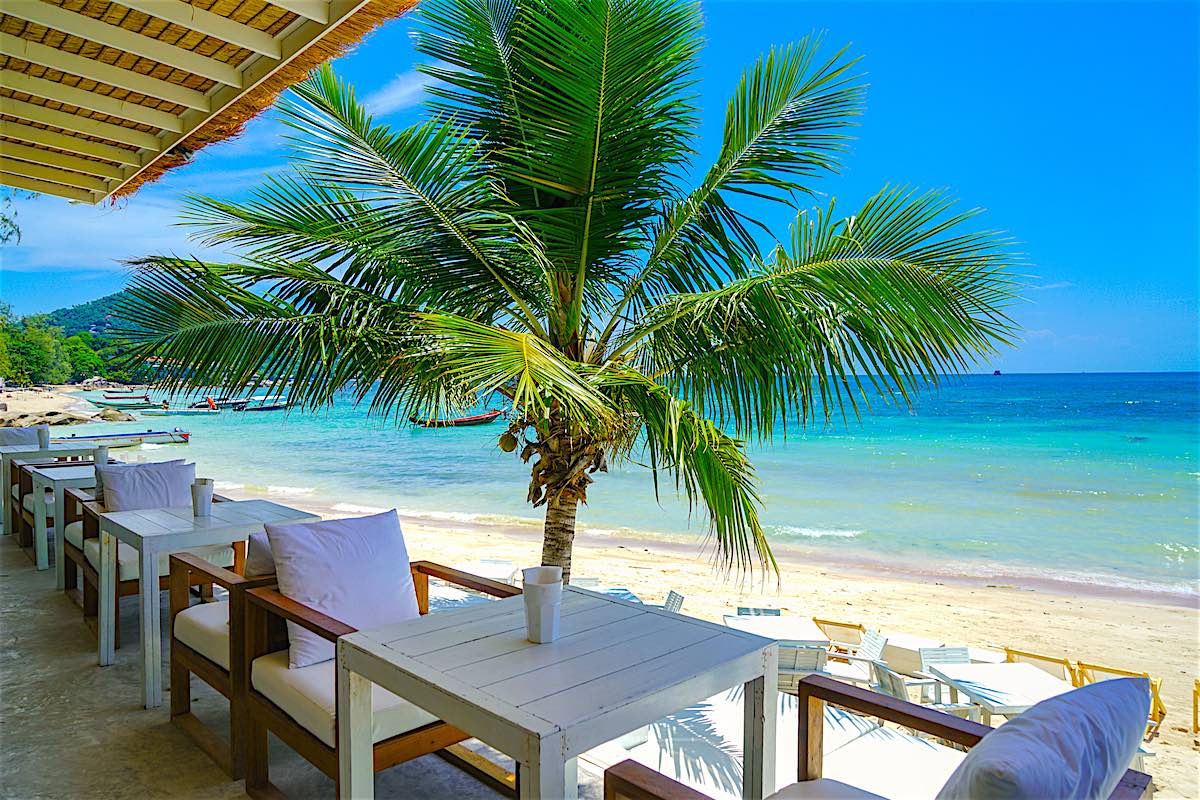 Modern International & Thai Restaurant Menu Koh Tao
This stylish and cozy restaurant has been a solid Koh Tao favourite for over 20 years and offers a modern International and Thai menu with a menu choice to suit all palates that offers a selection of very tasty and diverse signature dishes.
Their Yum Som O is a favourite and one of their signature dishes.
Served with fresh Thai Pomelo with grilled prawns, lightly spiced & sour coconut dressing, roasted peanuts, roasted coconut, crispy shallots and Thai herbs tantalise the taste buds of the more adventurous palates.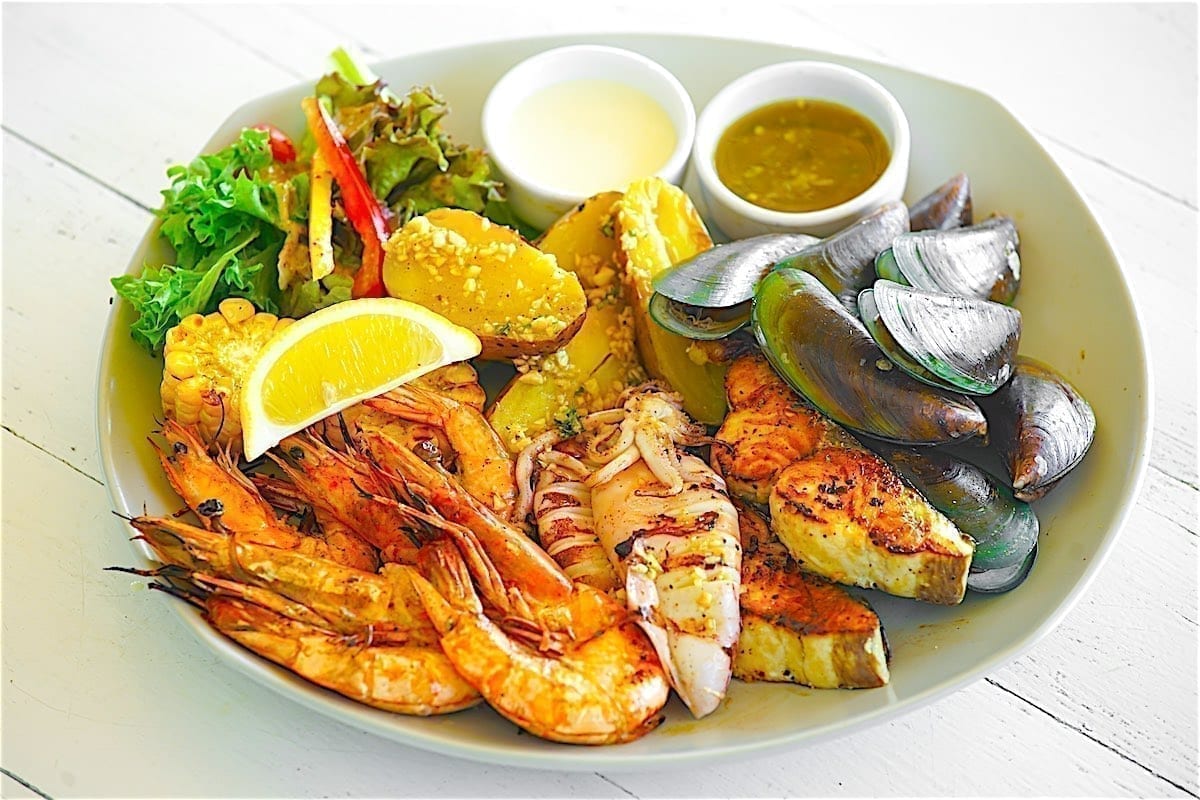 Delicious Seafood
For seafood lovers their Seafood BBQ is delicious with lots of choices. If you enjoy seafood, Whitening's Seafood platter for 2 is tasty, great value and enough to fill the stomach of any hungry customer.
Tiger prawns, prawns, King Mackerel fillets, squid and local mussels served with corn, baked baby potatoes and salad along with a Thai Spicy seafood sauce and a Garlic & Wasabi Aioli on the side.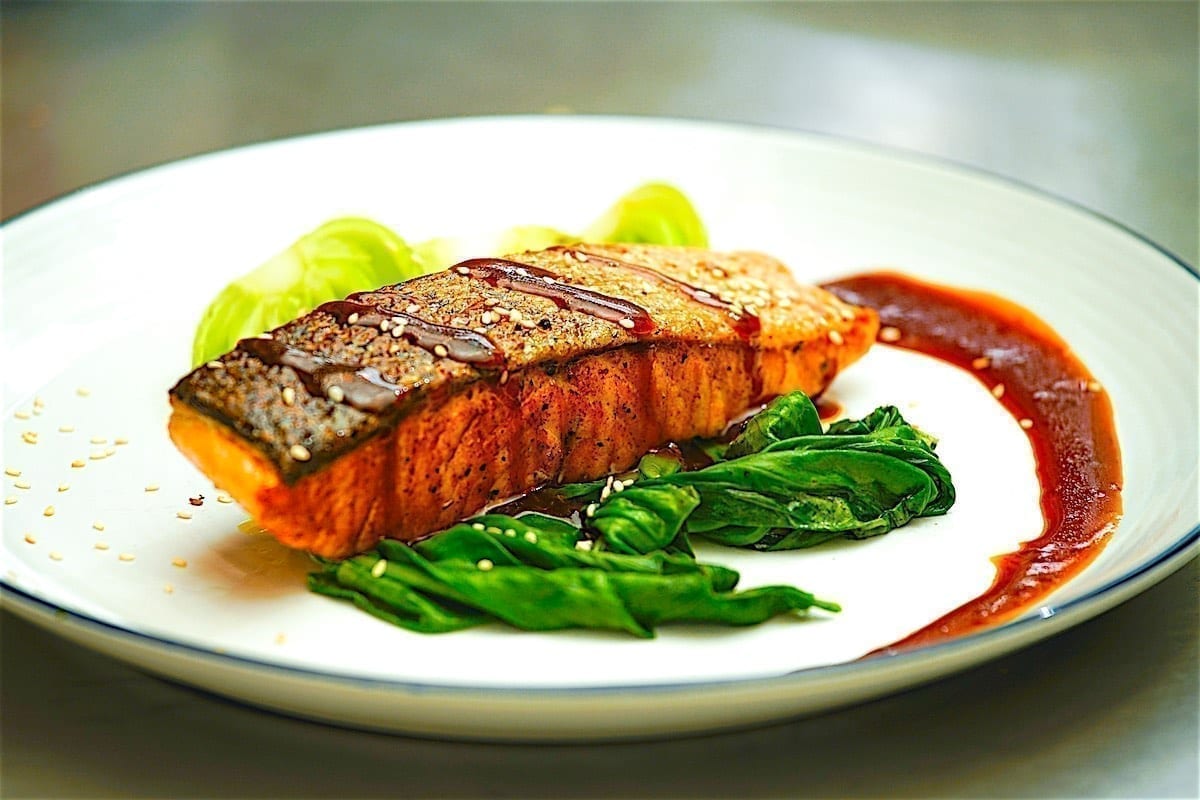 Koh Tao Restaurant Established Over 20 Years
Visitors to Koh Tao and locals alike have been enjoying their delicious all-time classic Whitening roti for 20 years.
Stir fried beef or chicken, with aubergine, bell pepper, cayenne pepper with fresh tomatoes, onions, lettuce and yoghurt served with their tasty homemade roti that allows you to wrap it altogether for a tasty treat.
Highlighting the versatility of the Whitening menu is their Duck curry which is simply amazing and delicious.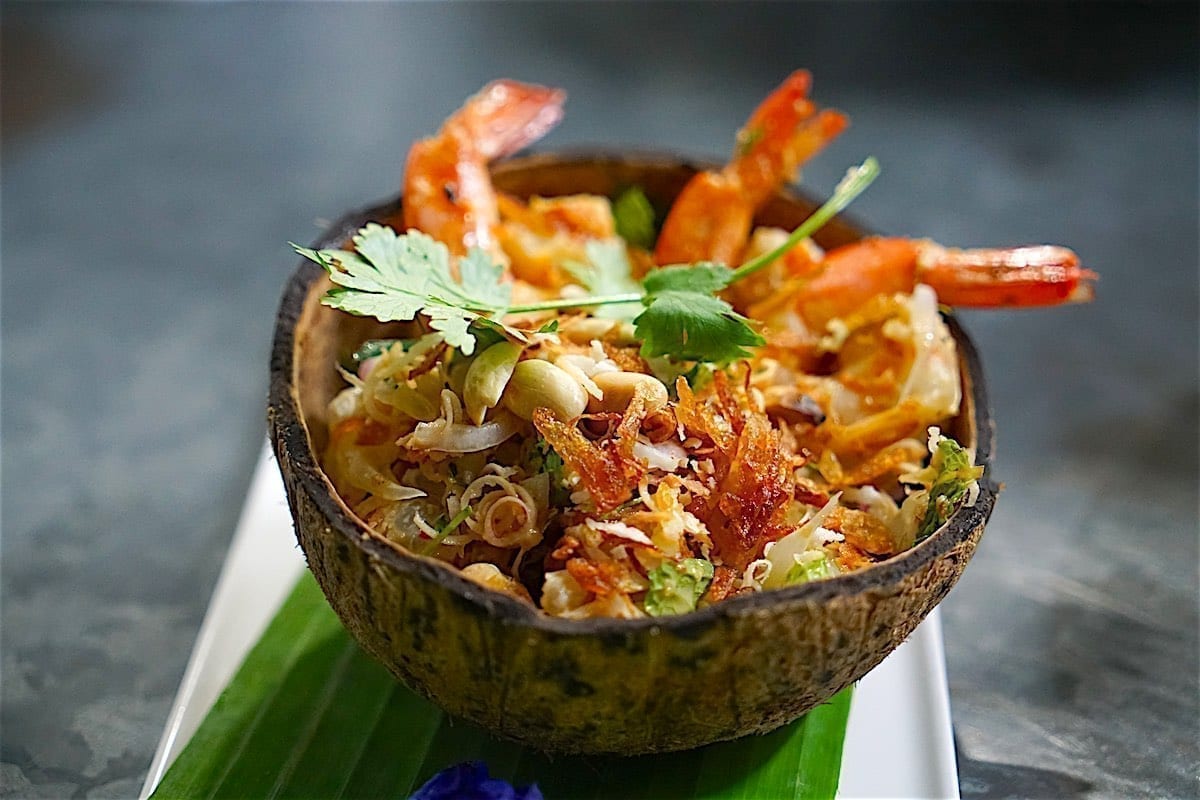 Best Selling Dish
This famous central Thailand dish with grilled sous-vide duck breast, lychee, cherry tomatoes, pineapple, pumpkin and sweet basil is another popular favourite for dinner and it is their best-selling dish.
And for red meat lovers, both local and imported steaks feature on the Whitening menu including a Prime Black Angus striploin steak – 150 day grain fed black Angus from Australian brand kidmann.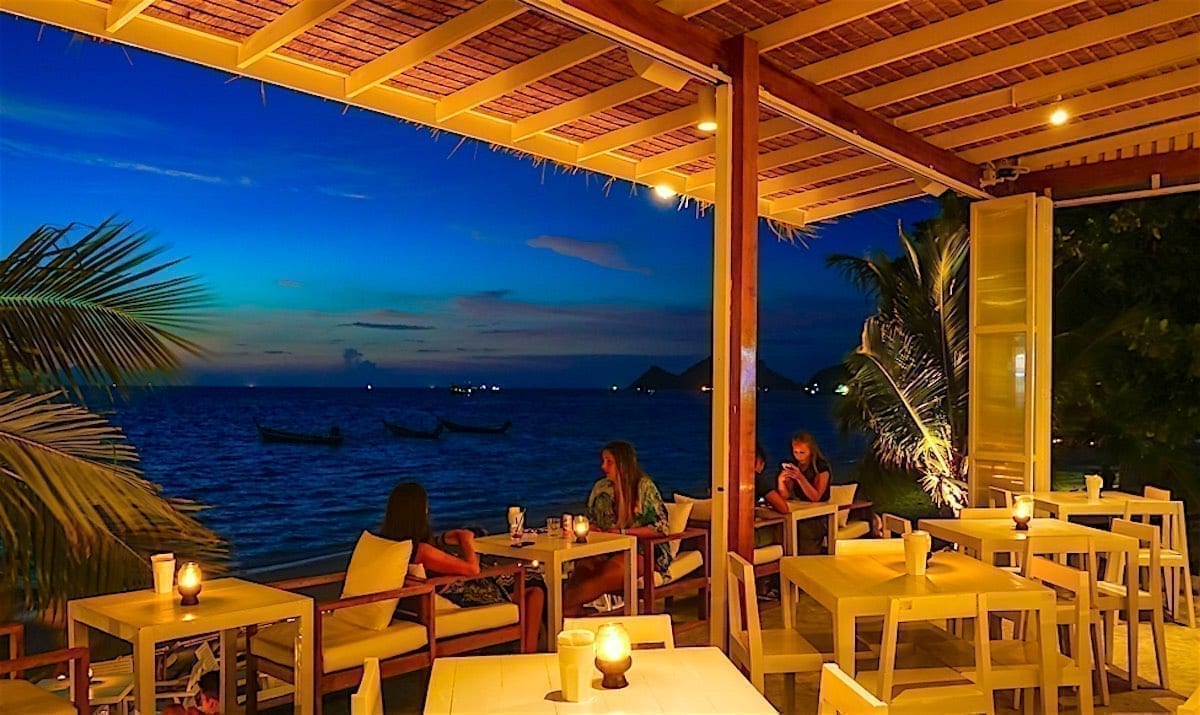 Koh Tao Restaurant with Rooftop Bar
But Whitening is more than just a restaurant. With a roof top bar, an extensive drinks list, a laid back vibe and chilled tunes, Whitening is a great place to relax, unwind and enjoy a few cold drinks.
Whitening offers customers two happy hour times between 15.00 -19.00 & 22.00 – 00.00, making this a tempting option for all budgets.
Sunset Happy Hour
If fruit and fresh tasting cocktails are your favourite, check out their signature drink, Mango Bay cocktail – Stolichnaya vodka, Amaretto, fresh mango, lemon, mint leaves and grenadine.
The wine selection is of a high quality and reflects the owners own love for wine. An extensive wine list, features over 30 bottles of red, white, rose and sparkling that you can buy by the bottle at reasonable prices.
You can choose by the glass or carafe and they have some nice reds and whites, including Terpranillo from Rioja and a Corte Giara Pinot Grigio.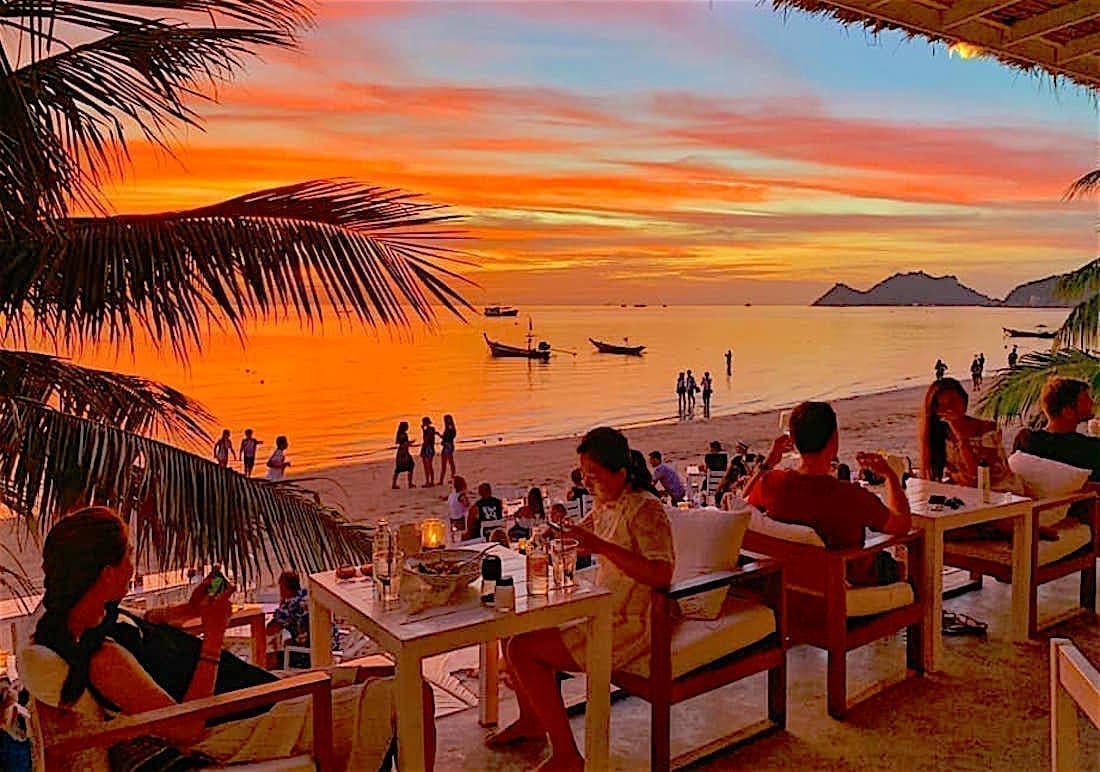 A Cocktail & Wine Beachside Bar on Koh Tao
Whitening has a unique offering in wines that sets it apart on Koh Tao with a selection of natural wines and tasty alternatives that do not contain additives or preservatives.
Popular on the menu are their Vegan options – including a Massaman, green curry and Kao Soi as well as a vegan version of their classic Whitening Roti.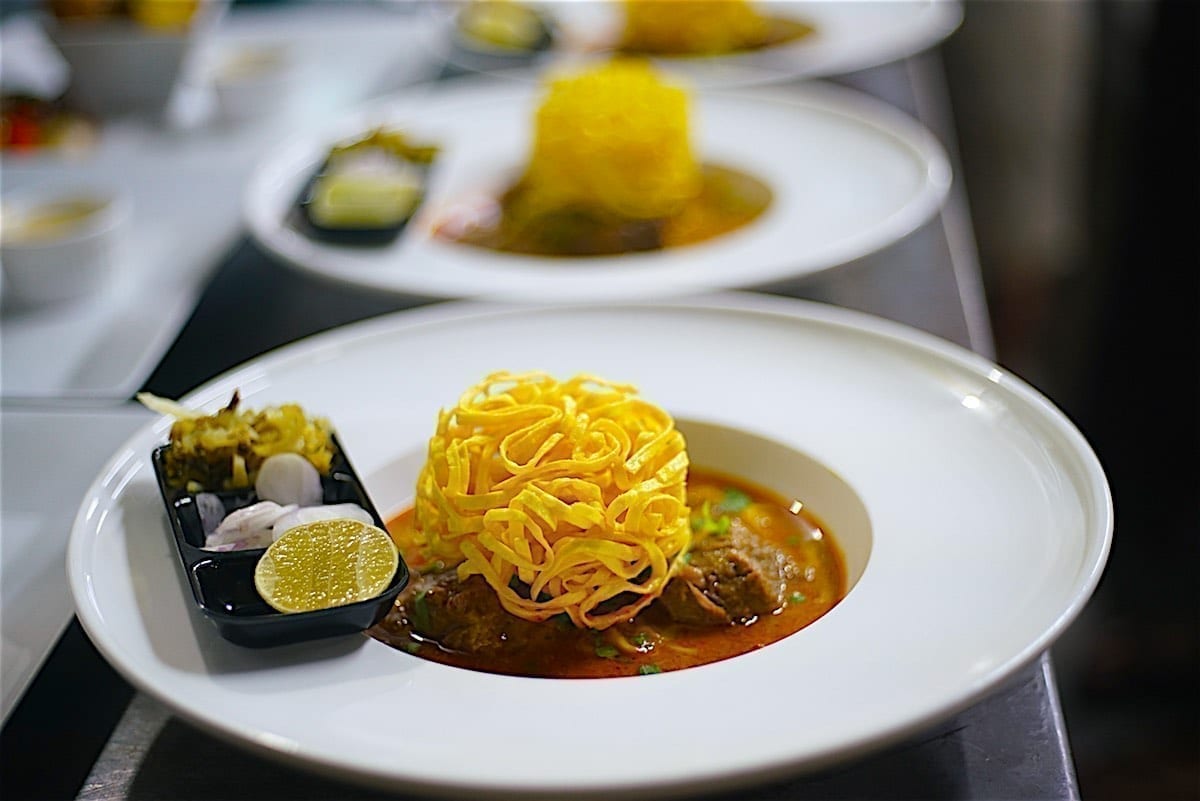 Vegan Dishes
If you are looking for a happy hour cocktail or a quality wine, a spot of lunch and drinks or if you want to dine in style, Whitening provides a very popular and varied menu.
This beautiful, modern beachside restaurant and bar is a must visit for anyone that appreciates tasty food, quality drinks, a great atmosphere and good music.