Try A Discover Scuba Diving Experience on Koh Tao
Are you interested in scuba diving but want to try it out before you commit to a full Open Water Course?
Signing up for a Discover Scuba Diving experience is a great way to enjoy practising in a shallow pool and applying what you learn in the sea, all in the space of one day.
Discover Scuba Diving will allow you to try out scuba diving, under the supervision of a qualified professional.
Try a 1 Day Experience
You will learn how to use SCUBA equipment, the basic skills required to scuba dive and get to experience a full dive in the ocean.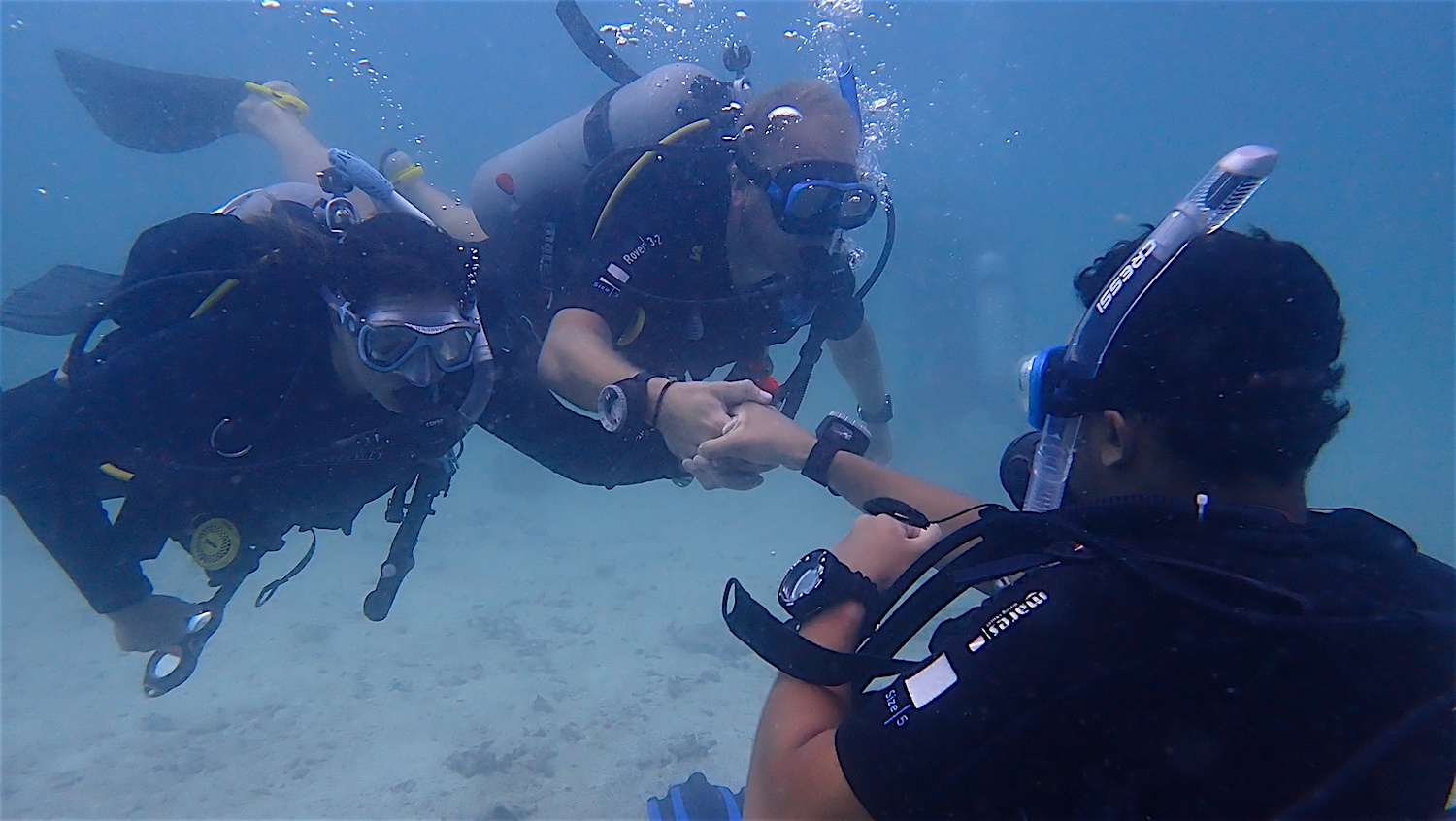 The Discover Scuba Diving 1 Day Course includes:
Rental of all SCUBA equipment
Qualified instructors working in small groups
Each instructor has maximum 2 students
Teaching of shallow water skills within a swimming pool
An Open Water dive to a maximum depth of 12m.
The opportunity to make *additional dives
Once you have completed your experience and decide you want the opportunity to continue exploring the tropical waters around Koh Tao, you can use the experience as credit towards the Open Water Course.
* there is a charge of 1,000Baht for each additional dive.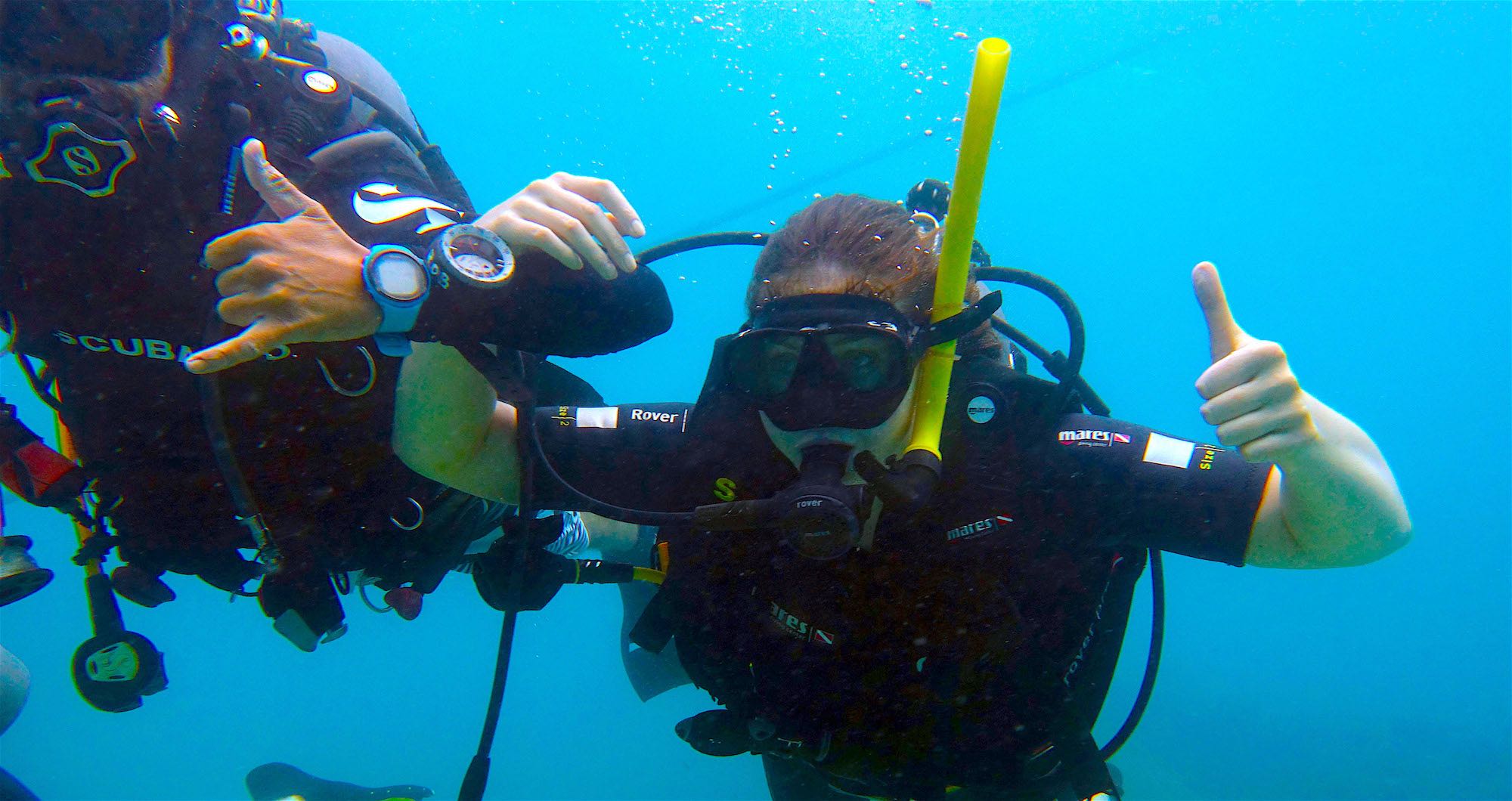 Discover Scuba Diving Introductory Course
The Discover Scuba Diving experience usually begins at 9am with a brief introduction, followed by a demonstration from your instructor on the basic usage of the SCUBA equipment.
Learn in a Pool
Your instructor will then provide guidance on safe diving practices before advising you on the short confined water session you will undertake in the swimming pool.
During the time you are in the pool, approx. 30 minutes, you are shown the basic skills required for the open water dive and given the chance to master them before you move on to open water conditions.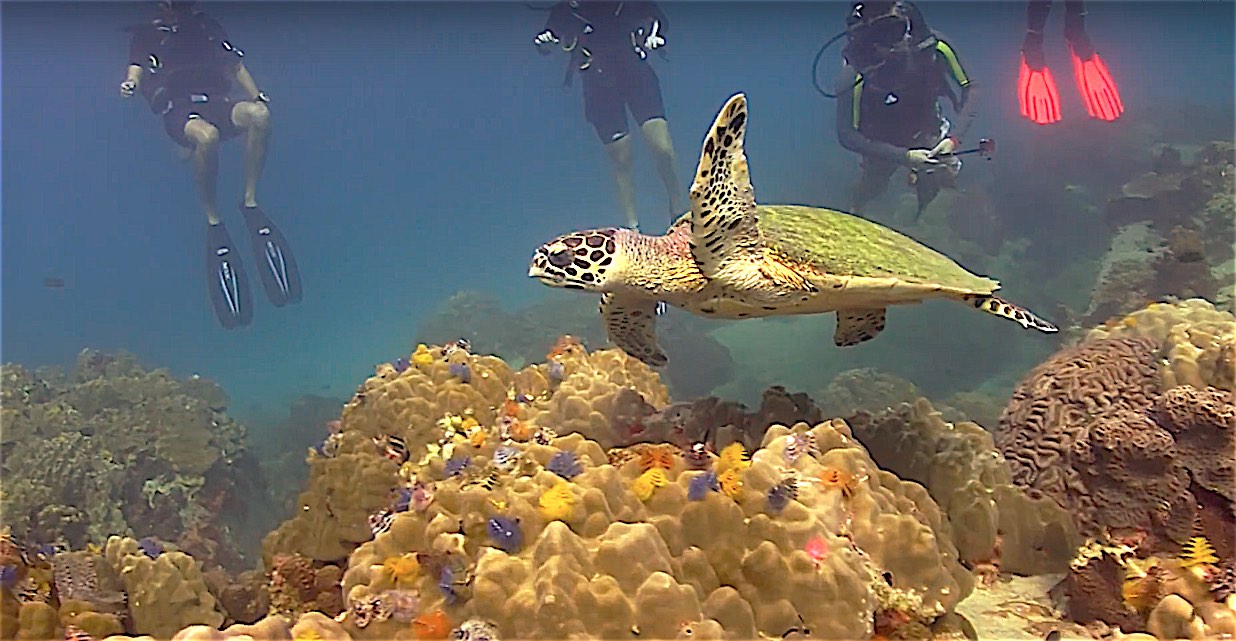 Try a 1 Day Scuba Diving Course in Open Water on Koh Tao
Once you have mastered the shallow water skills you have an opportunity to grab some lunch before meeting up to board the boat to your dive site.
Abundance of Marine Life
The open water dives take place at one of Koh Tao's shallow coral reef sites, such as Mango Bay in the North or Japanese Gardens to the East of Koh Nangyuan.
The dive site will be determined by the weather and sea conditions on the day.
Following a briefing from your instructor and completion of the pre-dive safety checks, you will make a shallow water entry into the ocean.
Using the skills you learned in the confined water session, you should feel relaxed but enthusiastic about the dive.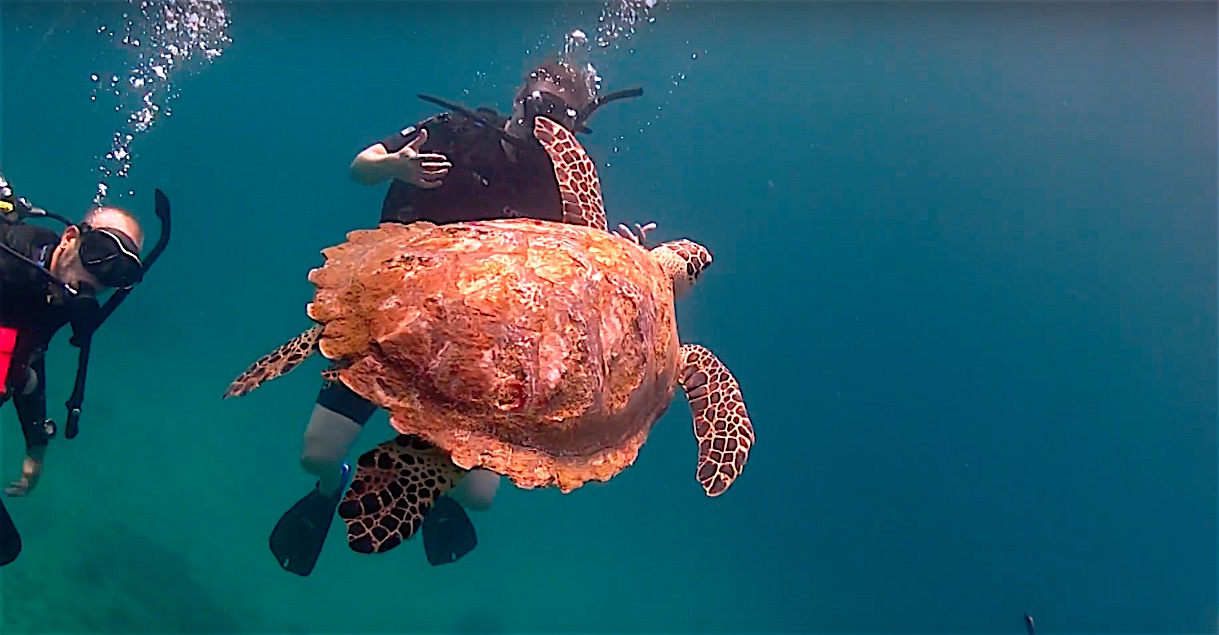 Explore the Underwater World on Koh Tao in 1 Day
When you are underwater you can expect to see an abundance of marine life in the safe, warm sea that surrounds Koh Tao.
There will be different species of coral, such as sea whips, gorgonian fans, as well as many tropical fish species, stingrays and much more.
Once the scuba diving experience is completed, you will re-board the boat to relax for a short while, before deciding if you want to make a *second dive.
If one dive is enough, you can relax and enjoy the sun until the boat returns to shore around 5:30pm.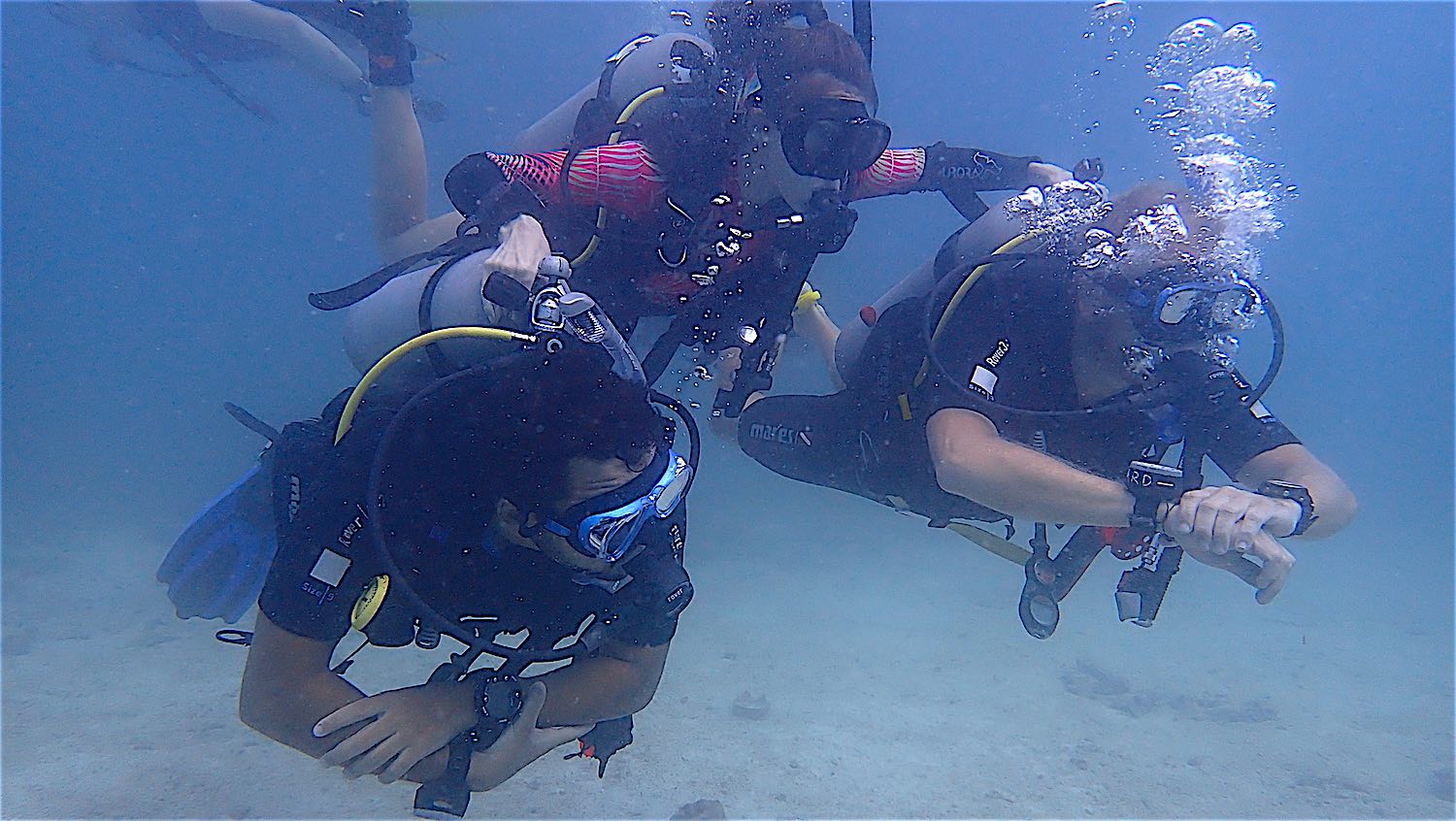 Discover Scuba Diving to Open Water course on Koh Tao
If the Discover Scuba Diving experience has whet your appetite and you want to take a diving course, you can sign up for the entry level **Open Water course.
You can use the dive you have already completed as part of your course requirements, or you can book for more intro dives the following day.
* Additional Dive 1,000Baht
** a further 2-2.5 days is required to complete the Open Water Course
For more information on any of the scuba diving courses or if you are visiting Koh Tao for a limited time and are looking for something to do, please message us to discuss your options.
Frequently Asked Questions
How long does the Discover Scuba Diving course take to complete?
The Discover Scuba Diving course takes 1 day, with a short pool or shallow water session in the morning.
We introduce you to breathing underwater and equalizing your ears and some basic scuba skills like operating the BCD, clearing a regulator and mask of water. Then after lunch we take you out on the dive boat for a dive.
How much does the Discover Scuba Diving course cost?
The Discover Scuba Diving course costs 2,500 baht for the half day / 1-day experience and an additional 1000 baht should you wish do take a second dive.
Does the Discover Scuba Diving course include all equipment?
All equipment considerations are included within the cost of the Discover Scuba Diving course.
What is the Discover Scuba Diving course?
The Discover Scuba Diving course is a short introduction to scuba diving. Consisting of some basic knowledge, a short shallow water skills session and an open water dive with a maximum depth of 12 meters.
Discover Scuba Diving is perfect for anybody that would like to try scuba for the first time, or people that have neither the time or money to complete an Open Water course.
Is the one day Discover Scuba Diving course safe for beginners?
The Discover Scuba Diving course is a safe and supervised introduction to scuba conducted in shallow water with an optional open water dive.
What will I see on the Discover Scuba Diving course?
During the Discover Scuba Diving course on Koh Tao you will complete the Open water dive at one of the many shallow bays around Koh Tao.
You will see a variety of reef fish including Angel fish, Parrot fish, Longfin Bannerfish, clownfish as well as moray eels and if you are lucky one of our resident Sea Turtles.