Refresh your Skills with a Scuba Review on Koh Tao
If you have not been diving for a while and have forgotten what you need to do, a Scuba Review is a sensible choice to refresh and re-establish your confidence breathing from scuba equipment underwater.
Refresh Skills
It may be that you completed your Open Water course years ago or have not been diving for quite a while and want a quick reminder of the important essentials.
If you have not been diving for a long time and jump straight in, then there is a good chance you will waste the whole dive trying to remember what to do, in addition to there being an increased risk to your safety.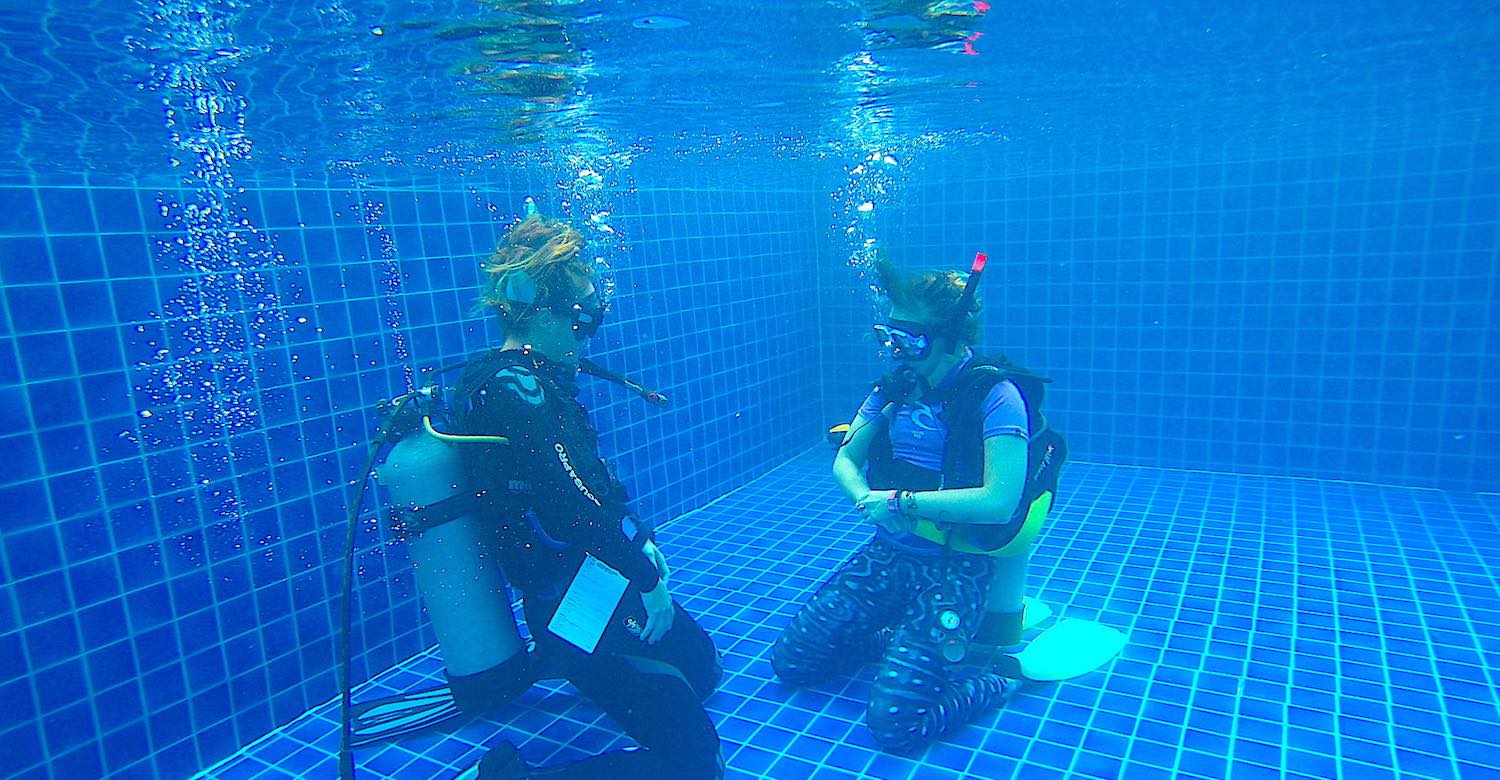 Book a Scuba Review (refresher) on Koh Tao
A scuba review will provide you with a perfect opportunity to go through the basic theory, water skills and practice it with a professional Divemaster or a Diving Instructor.
A Scuba review can be completed in a morning or an afternoon within 1-2 hours and will enable you to join the afternoon or next morning dive boat to go fun diving.
If you join the dive boat after completing a scuba review, you will know exactly what to do and be confident and excited about the planned dives.
A scuba review is a great way to calm the nerves, re-focus, go diving and enjoy them with a real positive attitude.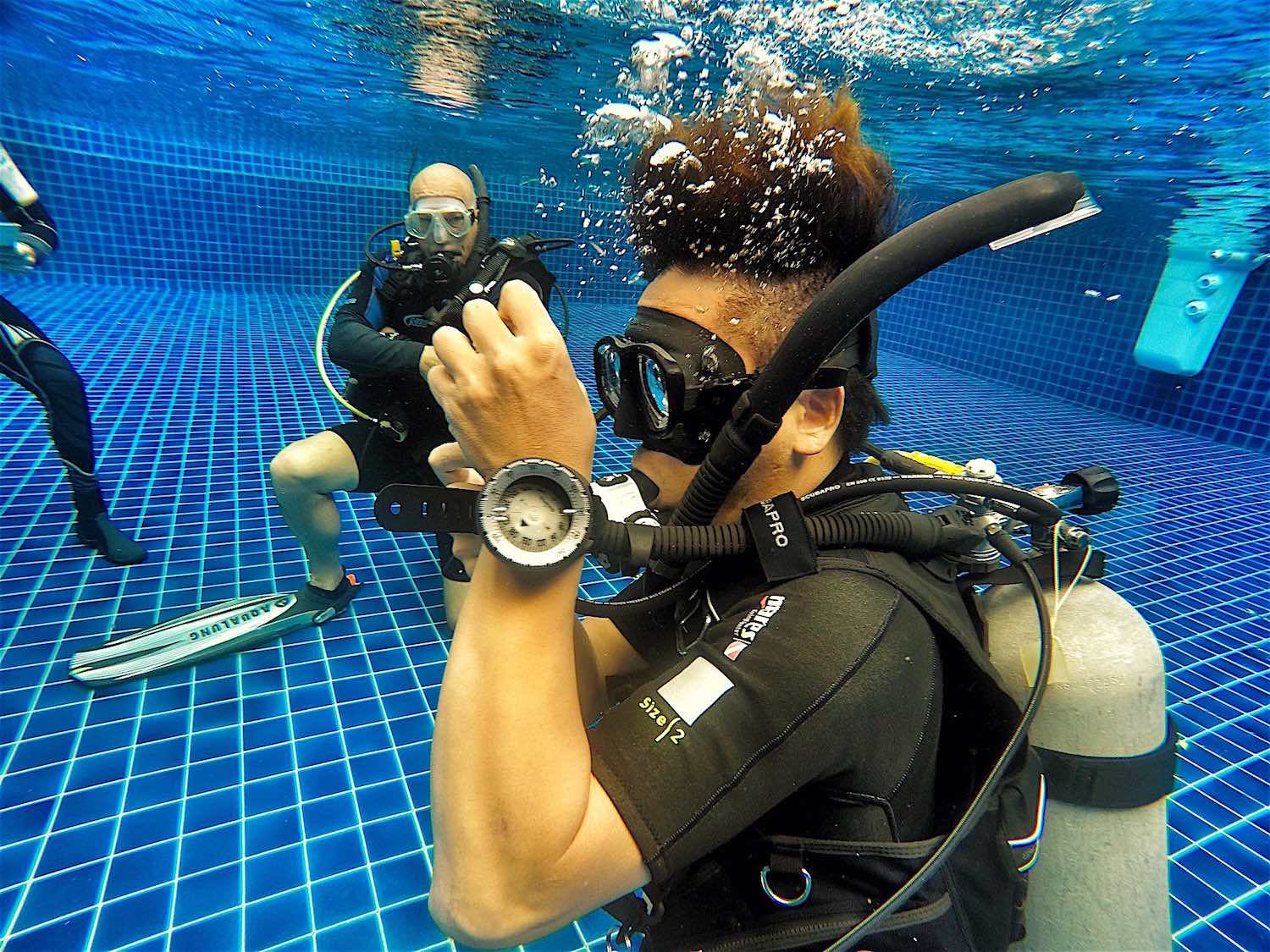 Refresh your Diving Knowledge with a Scuba Review
An important part of the scuba review is to refresh your diving knowledge, including dive theory, the effects of pressure underwater affecting your air spaces, best buddy practices, emergency procedures and underwater communication.
This is usually followed by a refresh of diving equipment, kit assembly, pre-dive safety checks and water entry methods.
Your scuba review is best taken in a safe confined water environment or a swimming pool, so you can focus on the skills refresh and not be distracted by any adverse open water conditions.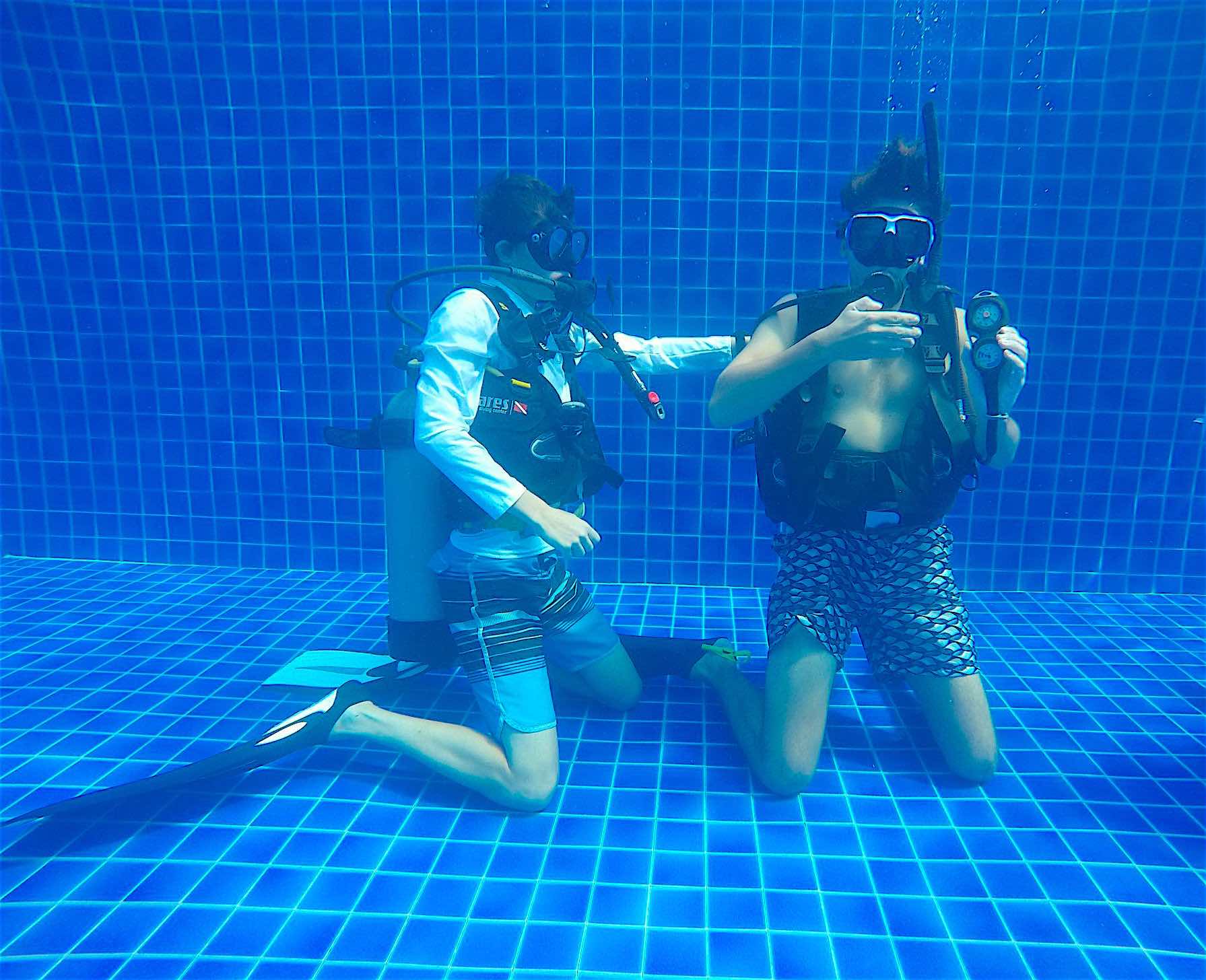 Refresh your Confined Water Skills with a Scuba Review
Proper assembly and checks of your dive equipment is a critical part of the training for diver safety. The pool session is a hands on practical and covers all the essentials of safe scuba diving.
Refresh Skills in a Pool
Regulator recovery and clearing
Removal, replacement & clearing of the mask
Buoyancy and trim underwater
Air management & underwater hand signals
If your level of training is Open Water diver, then you will be re-introduced to the 24 skills you mastered in your original course.
Current Level of Training
Your current level of training will be an indicator as to how much of a refresh you need, however, if you have not dived for 10-20 years, then regardless of your level of training – you need a scuba review.
Booking in for a scuba review with an experienced professional, ensures an almost instant confidence boost and gets you back in the water exploring the best of Koh Tao's dive sites in a safe and fun way.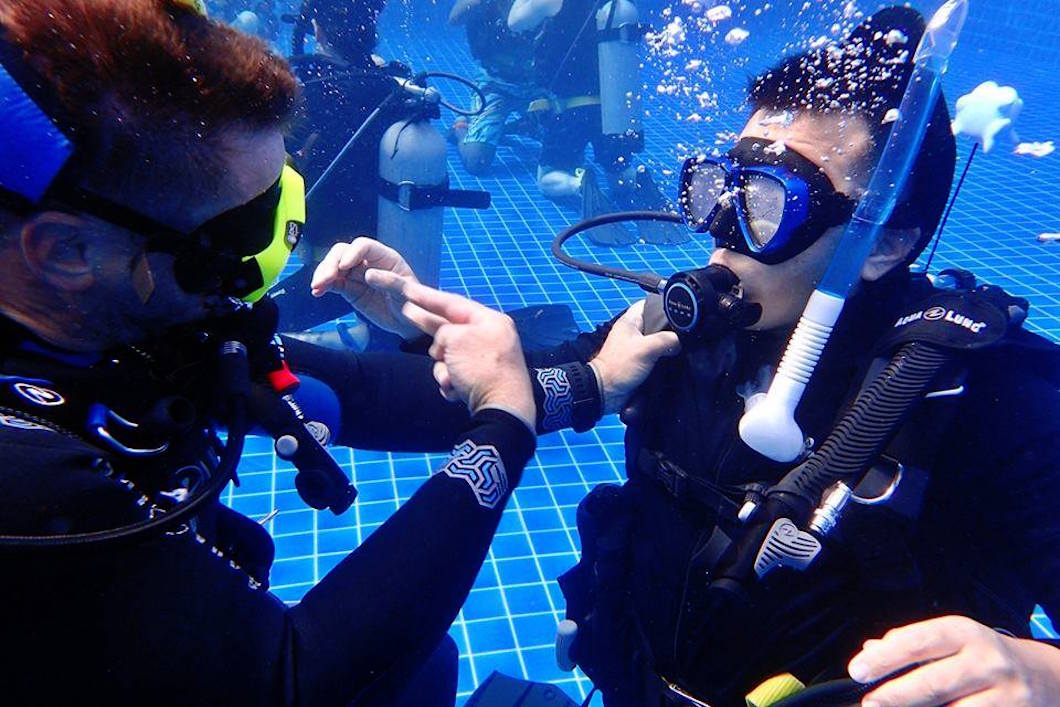 Be a Safe Diver with a Scuba Review
Another advantage to booking a scuba review before diving again, is that most dive centres will offer you a discount on the subsequent fun dives or next course as part of your continuing education.
If you are an Open Water diver and have not dived for 2 or 3 years, then book in for a scuba review and enjoy a few fun dives.
Once you have re-gained the scuba addiction and re-established your confidence, then sign up for your Advanced Open Water course and increase your diving opportunities.
For more information on any aspect of scuba diving including your scuba review, please contact us so we can answer your questions.
Frequently Asked Questions
How much does a Scuba Review cost on Koh Tao?
The cost of a Scuba review on Koh Tao is 1,800 baht, including all scuba diving equipment and can be scheduled for a morning or an afternoon session.
How long does a Scuba Review take to complete?
A review of your scuba skills can take up to 1-2 hours and can be completed in a morning ready for an afternoon dive boat or an afternoon, ready to join the dive boat the following morning.
Can I go fun diving after a Scuba Review?
Yes, you can go fun diving after your Scuba review. If you are a certified diver that has not dived for a long time, a scuba review is a perfect opportunity to refresh your diving knowledge and practice your skills in a pool or confined water environment. You can then focus on enjoying your fun dives.
Is accommodation included in the cost of a Scuba Review?
No, there is no accommodation included in the Scuba review. However, if you plan to buy a package of fun dives over a few days, or continue with the Advanced Open water course, accommodation can be arranged for you.
Does a Scuba Review include the cost of equipment?
Yes, the Scuba review includes the cost of all the diving equipment that you will need to refresh your skills.