Scuba Diving Courses for Kids Koh Tao
Travelling with children can be a fun rewarding experience but sometimes it can be hard to find activities that are fun, challenging and interesting enough to keep them engaged.
If you are planning to visit Koh Tao there are lots of land based activities to ensure your children can have a fun time in a supervised and safe way.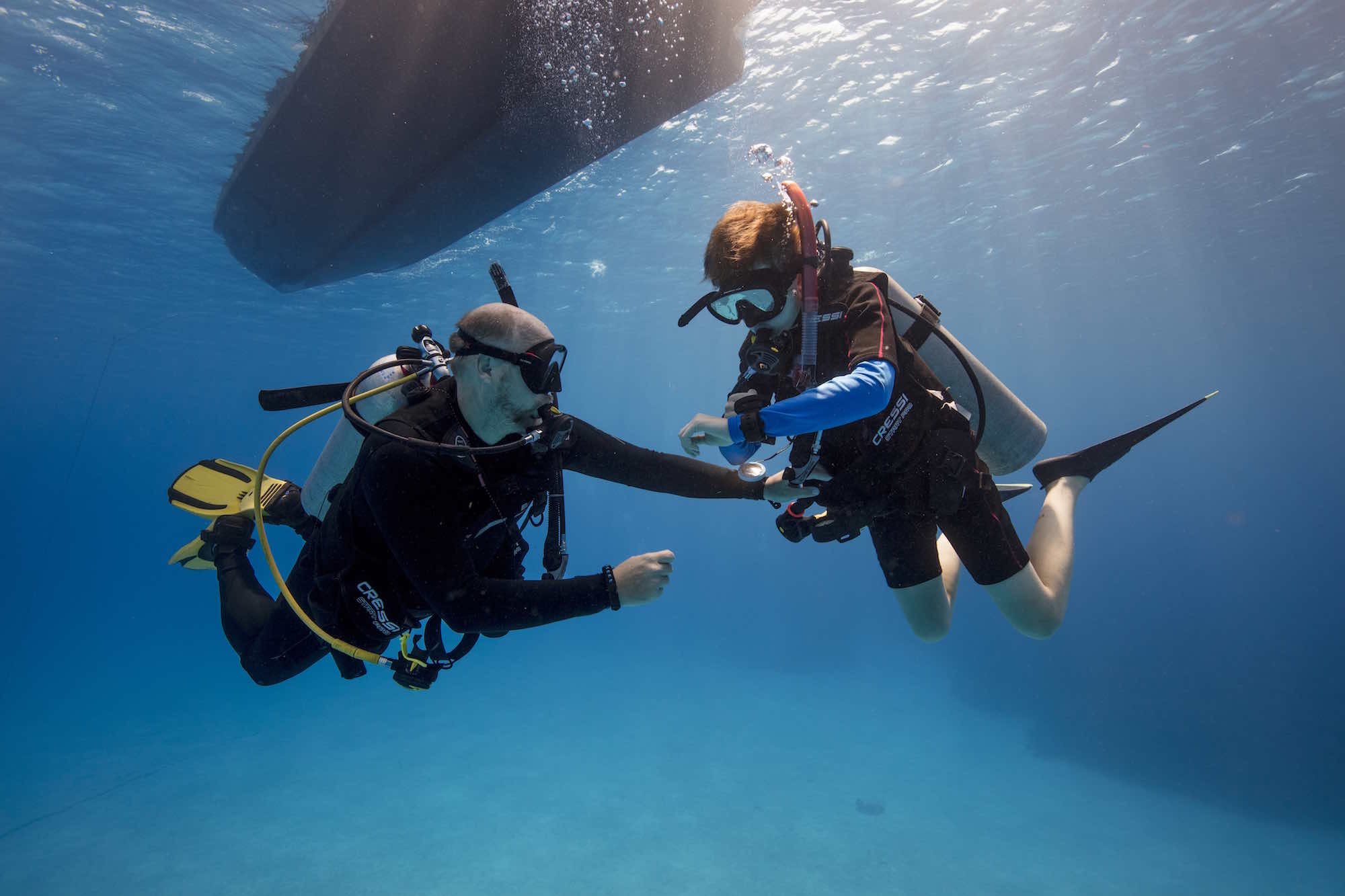 Lots of Activities for Kids on Koh Tao
Aside from snorkeling trips at many of the beautiful bays around Koh Tao, trekking up to the many viewpoints, there is mini golf, cinema, bouldering and rock climbing, paddleboarding and other fun activities to keep your kids occupied.
Relax on the Beach
Many of the restaurants cater for children of all ages and there are lots of friendly bars located on beaches that serve a range of refreshments.
As Koh Tao is the number one location in the world to be certified as a scuba diver, the island offers a range of diving courses aimed at children from 8 years of age.
Some of these courses are great fun for the kids and they can do a course as a group with other children while you enjoy the sun.
Of course, Koh Tao places great emphasis on Conservation, so your kids will also gain some basic education and facts on some of the marine and land based conservation work that happens here.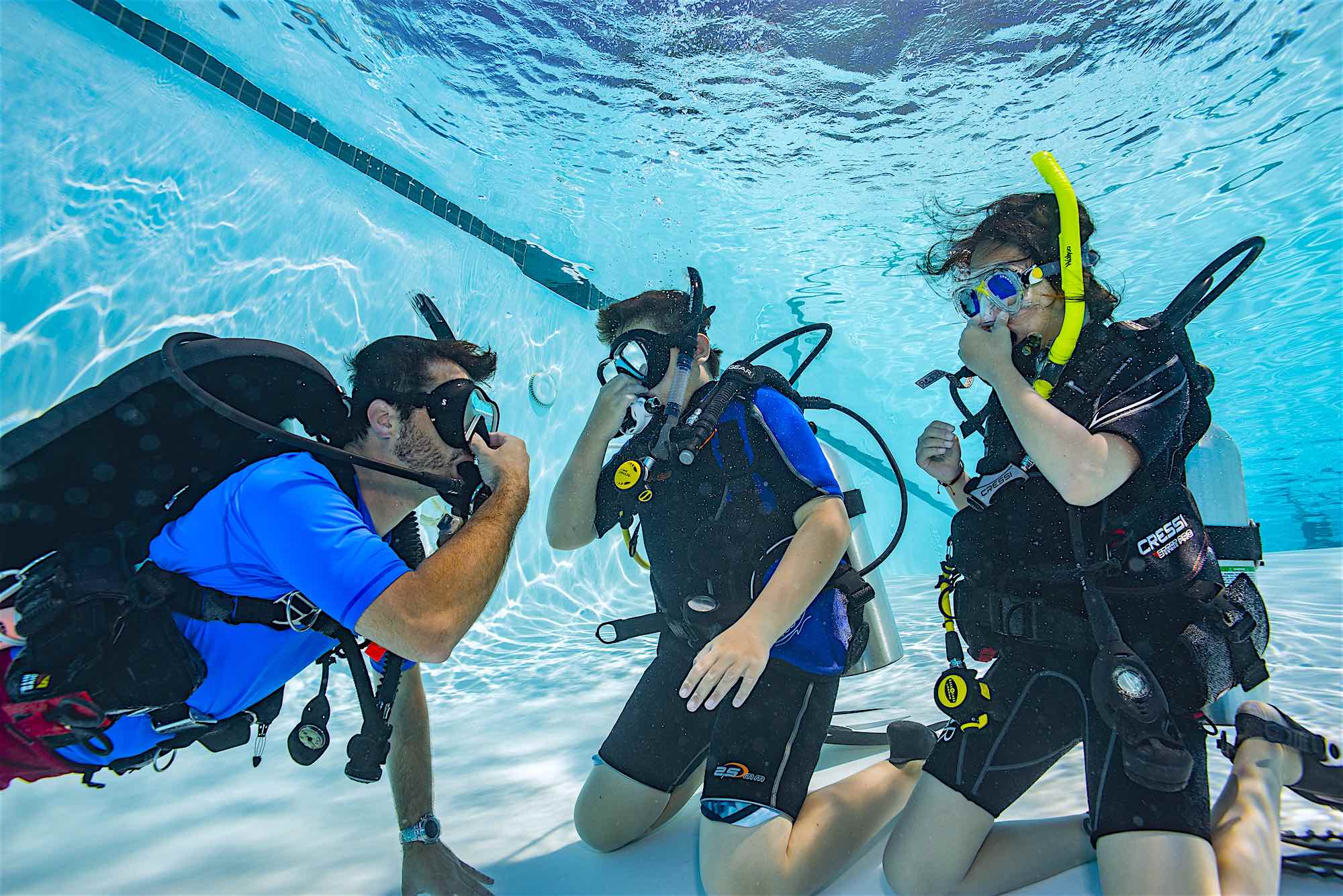 Book Diving Courses for a Family on Koh Tao
As parents, you too can get involved so you can enjoy the course as a family activity as you learn and explore together.
There are many great options to choose from on Koh Tao to get your children started on the road to becoming scuba divers.
With a great selection of instructors that are very experienced in teaching young divers and many sheltered bays and swimming pools, Koh Tao is as exciting and adventurous for you, as it is for your children.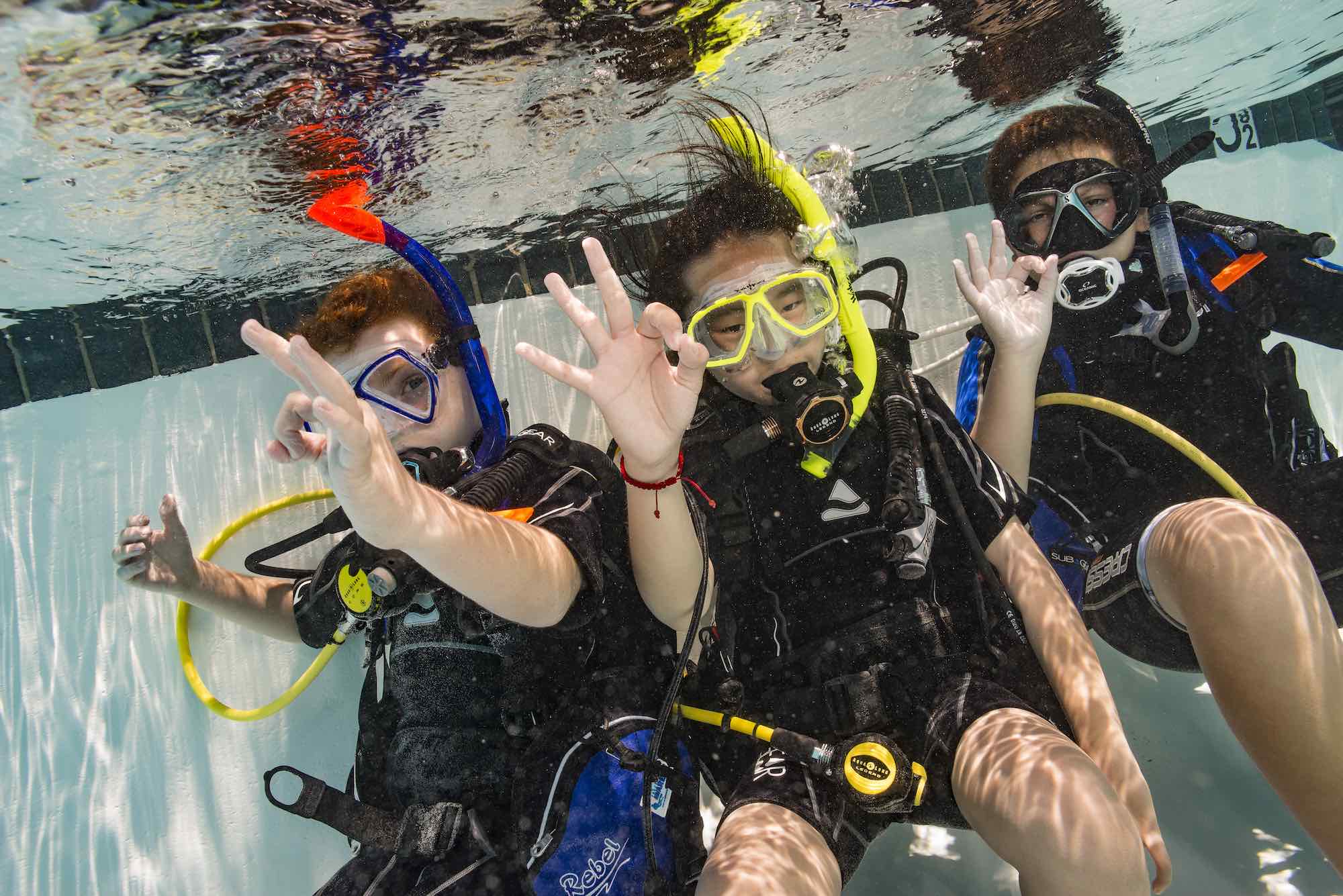 Bubblemaker Course for Kids on Koh Tao
The PADI Bubblemaker course is an introduction to diving for children of 8 years and above. It's a fun course where they get to blow bubbles underwater and have fun with their friends.
Children will be introduced to scuba equipment that is designed and made for kids, take their first breaths underwater no deeper than 2 metres/6 feet.
You kids will swim around and get comfortable with the in-water experience and all under the direct supervision of a PADI professional.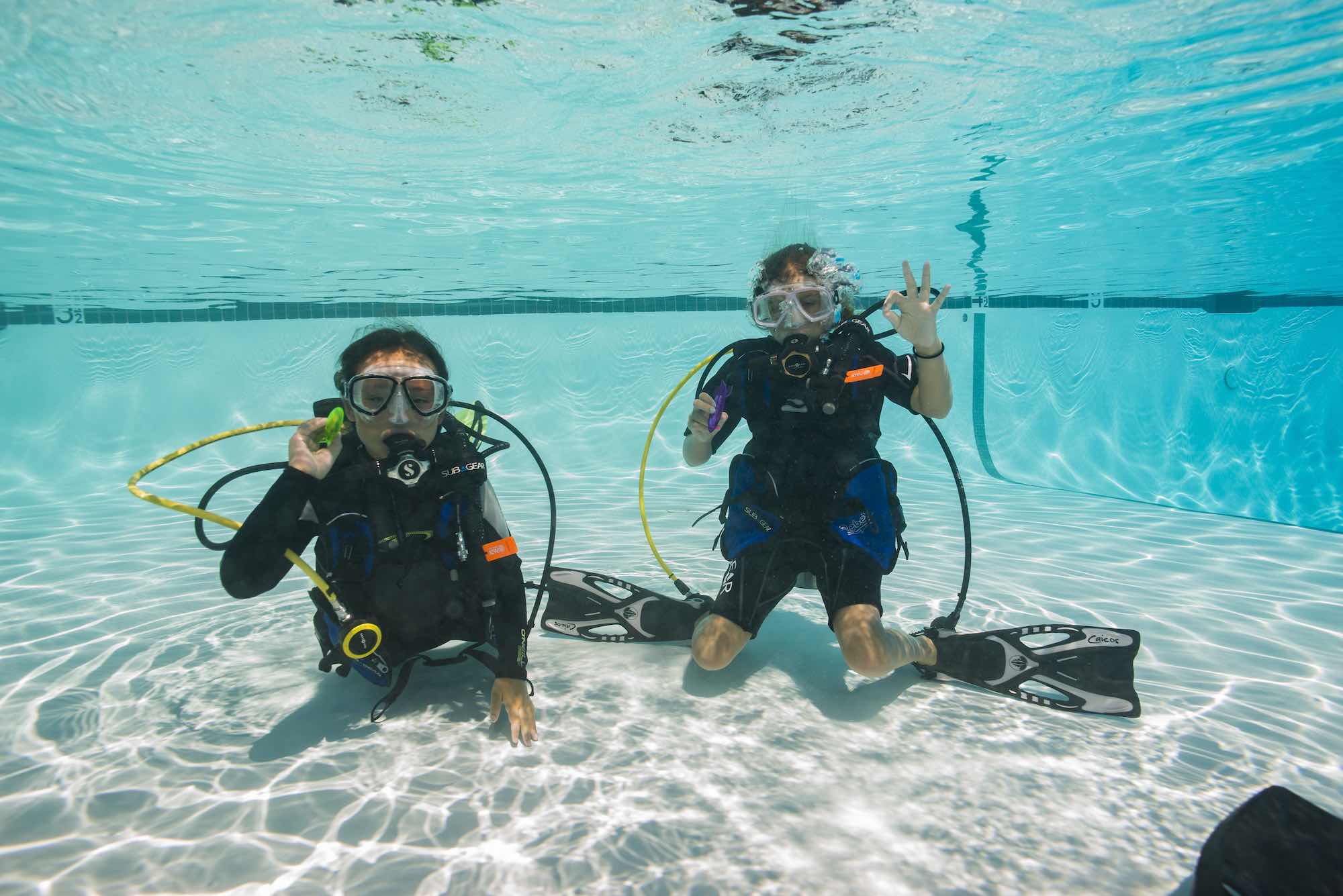 Seal team Aquamissions for Kids on Koh Tao
For kids who want to do more or want to continue on, the PADI Seal Team is an amazing and challenging experience that will fascinate and enthral even the most restless mind.
By completing a series of Aqua Missions, your children will learn the basics of scuba diving and continually improve their skills in a fun and safe environment.
Fun & Adventure
Working through these missions with existing friends or meeting new ones they get to experience the fun and excitement of things such as wreck diving, buoyancy and many others in controlled environment.
The PADI Seal team experience is broken up in to two parts, with multiple "Aqua Missions" in each part.
The first part covers basic scuba skills like breathing and moving underwater, understanding the equipment and getting comfortable and confident in the new environment.
After that, the second part consists of specialty missions where they will learn new skills and enjoy adventures including search and recovery, skin diving and many others all again under the supervision of your PADI professional instructor.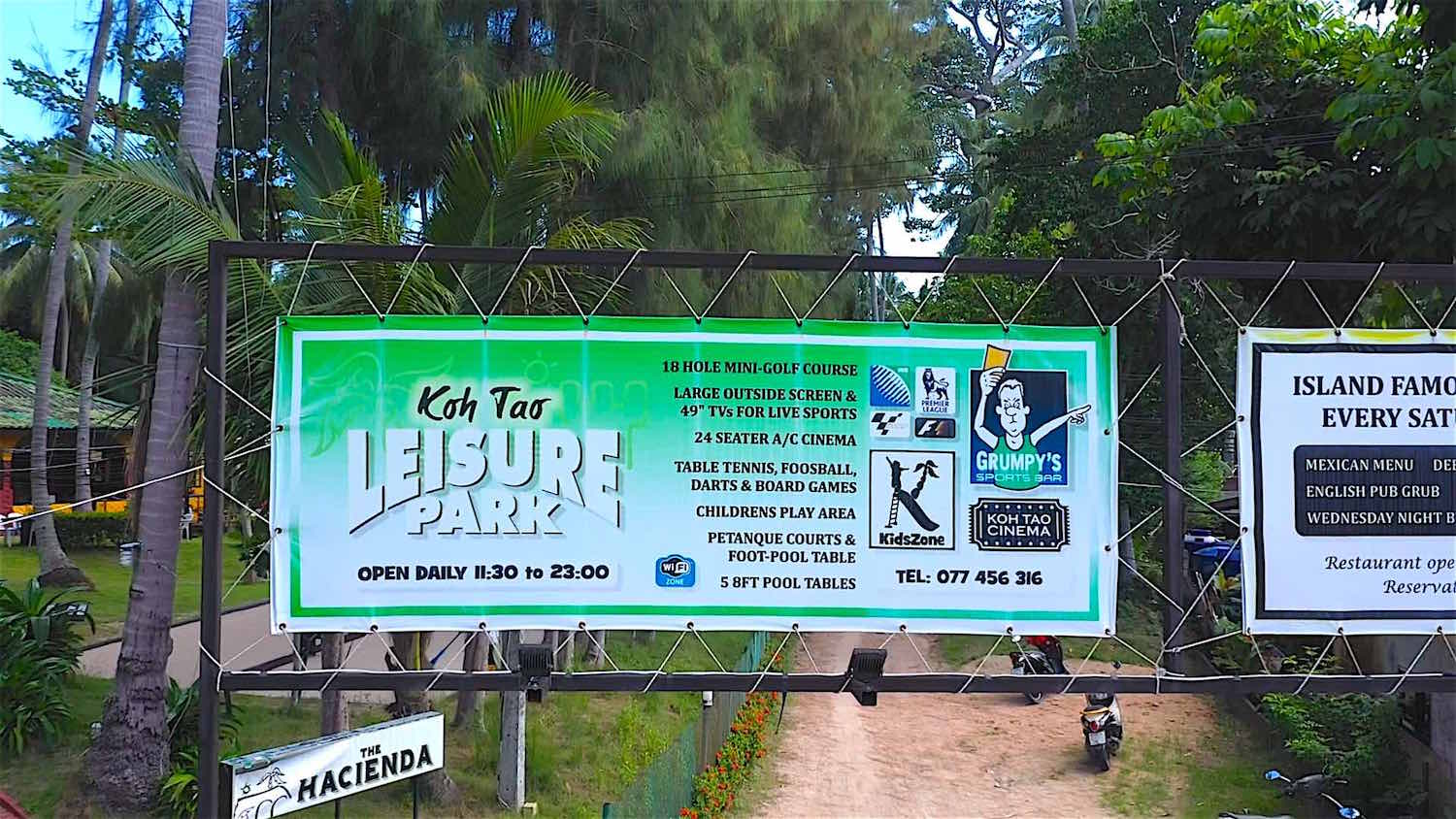 Koh Tao is a Perfect Holiday Location for a Family
Koh Tao is a perfect holiday location for families with children and there is a huge range of inclusive accommodation packages, transfers, food and activities.
If you need more information about our idyllic, tropical island, please send us a message and we will answer all your questions promptly.
With so much to do on Koh Tao, your kids will not want to leave. Contact us
Frequently Asked Questions
What type of scuba activities are there for kids on Koh Tao?
There are lots of activities on Koh Tao to keep even the most active of people occupied. On land there are numerous bays that are great snorkeling locations, viewpoints that make a great morning or afternoon hike and beautiful beaches just to chill and relax.
Koh Tao has lots of activities for kids including watersports, scuba diving, wakeboarding and paddle boarding. For the adventurous under supervision, you can explore the island in a kayak, or take a rock climbing course and experience the island from a different perspective.
And for something to occupy the evenings, why not pay a visit to Koh Tao Leisure Park for mini golf or visit the flying trapeze.
Is scuba diving on Koh Tao safe for my children?
Scuba diving for children on Koh Tao is extremely safe. Children as young as 8 & 9 years of age can participate in a scuba diving experience, either in a swimming pool or at one of the many shallow bays around the stunning coastline of Koh Tao.
Can I take my kids snorkeling on Koh Tao?
There are some ideal snorkeling locations around Koh Tao that are great for kids. Contact us and arrange a family day out on either a full day snorkeling tour or a half day family trip and experience the beauty of Koh Tao, above and below the surface.
Is Koh Tao safe for my kids?
Koh Tao has increasingly become family friendly over the years and is one of the safest destinations to bring the children to for a holiday. There are lots of expat kids living on the island. With a hospital now on the island and greater access to high speed ferries to the mainland, Koh Tao offers a great alternative to the hustle and bustle of Koh Samui or Phuket.
Where can I find more information about things to do for kids on Koh Tao?
Providing visitors with extensive local knowledge, you can contact us with questions about Koh Tao. We provide advice on viewpoints, bays, beaches, where to eat, where to stay, renting scooters and what activities are available to you whilst visiting.