Our Top Tips for Snorkeling Safety around Koh Tao
The small 21km² island of Koh Tao forms a part of the Chumphon Archipelago in the Gulf of Thailand and is situated around 75 kilometres from the Thai mainland.
The way the shape of the island has naturally formed over millions of years is a masterpiece in itself, with beautiful bays and white sandy beaches, set against a lush green tropical jungle.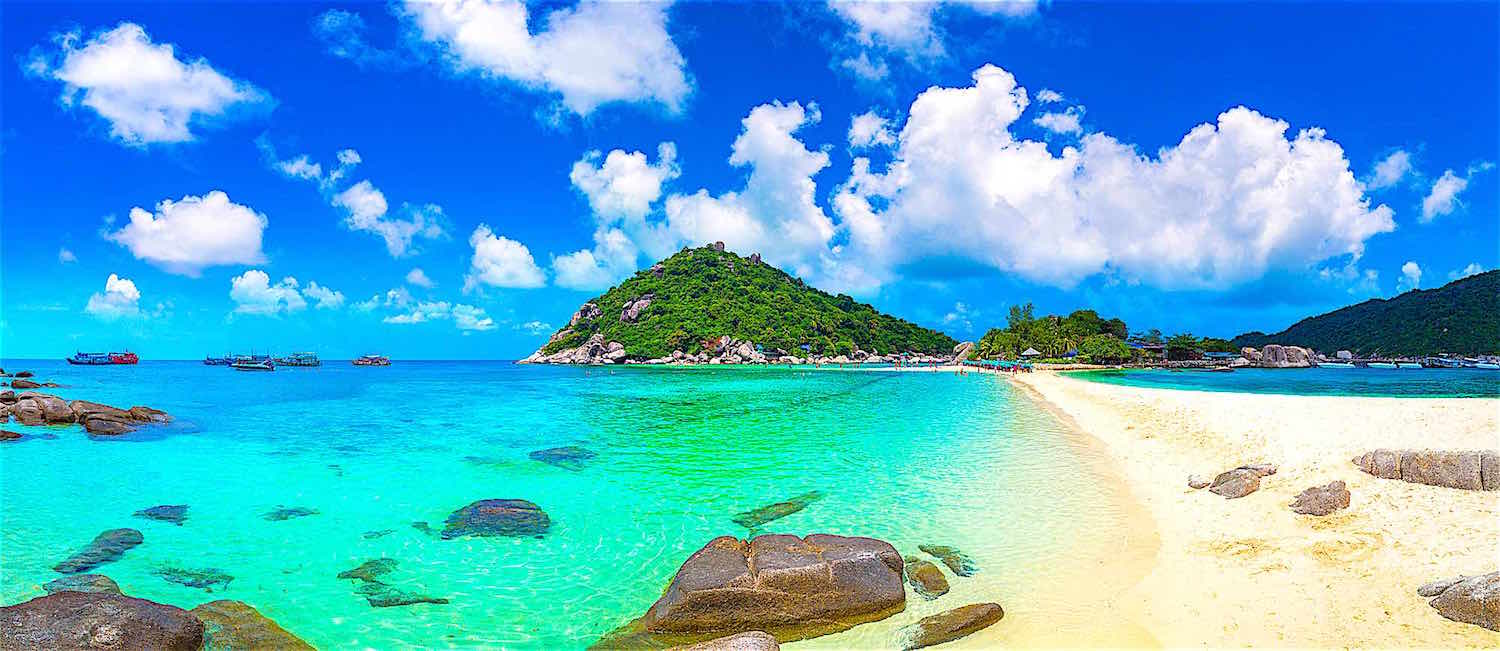 Snorkel Koh Tao
Furthermore, Koh Tao has another trick up its sleeve that no other island in this region enjoys. The island is surrounded by a pristine, warm sea and over 8 kilometres of living coral reef.
This has attracted tourists and visitors in their millions over the years and the island is considered a 'must visit destination' on the bucket list of everyone.
With its unique location close to the equator the island has the good fortune of enjoying over 12 hours of daylight each day all year round, with a regular sunrise and sunset time.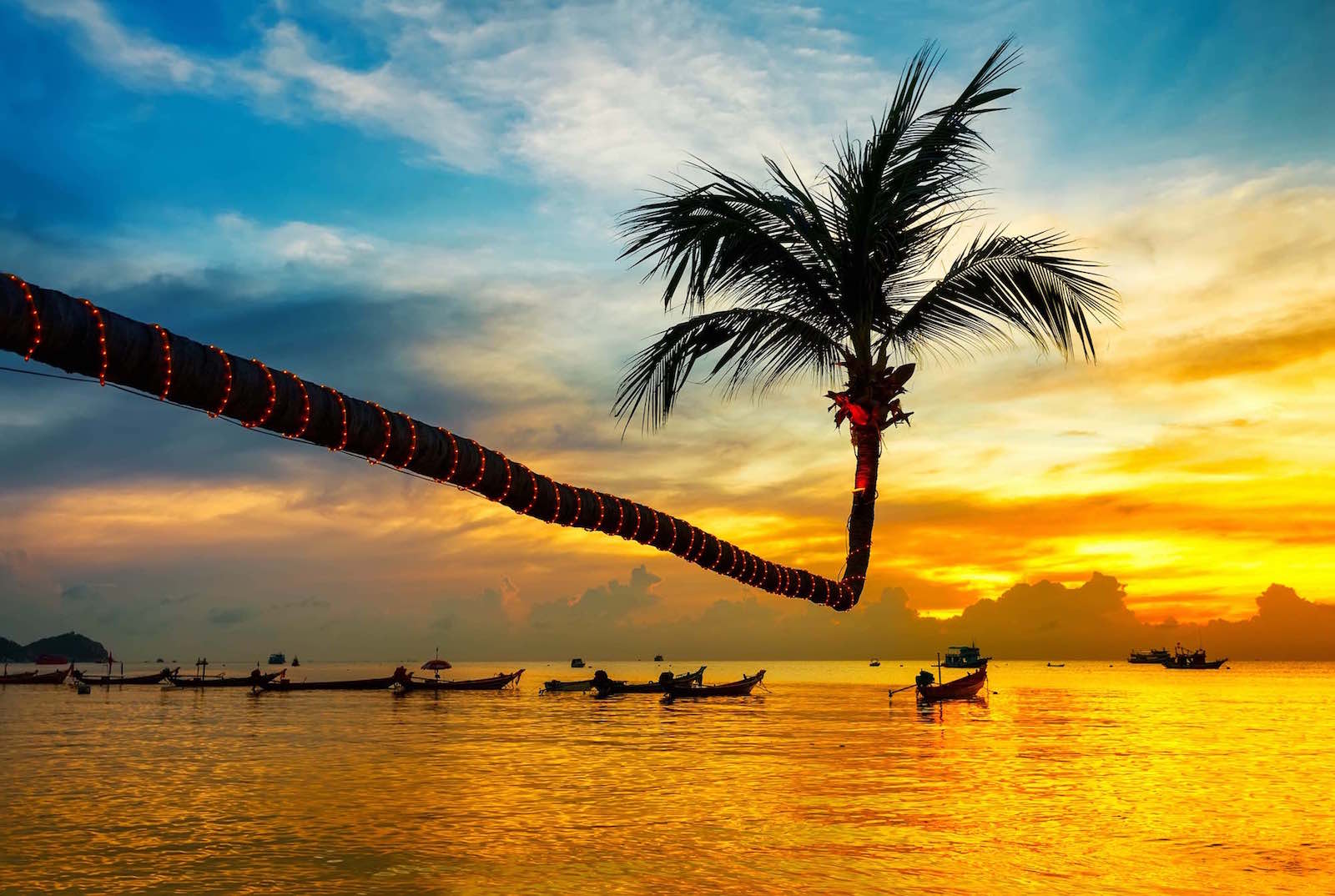 Hot & Humid
Koh Tao has a typical tropical island climate that is hot and humid for most of the year. Temperatures range from around 77°F to 90°F with it rarely dropping below 74°F.
Although Koh Tao does get rain, it is much less than you get on the neighbouring islands of Koh Samui & Koh Phangan due to its small size.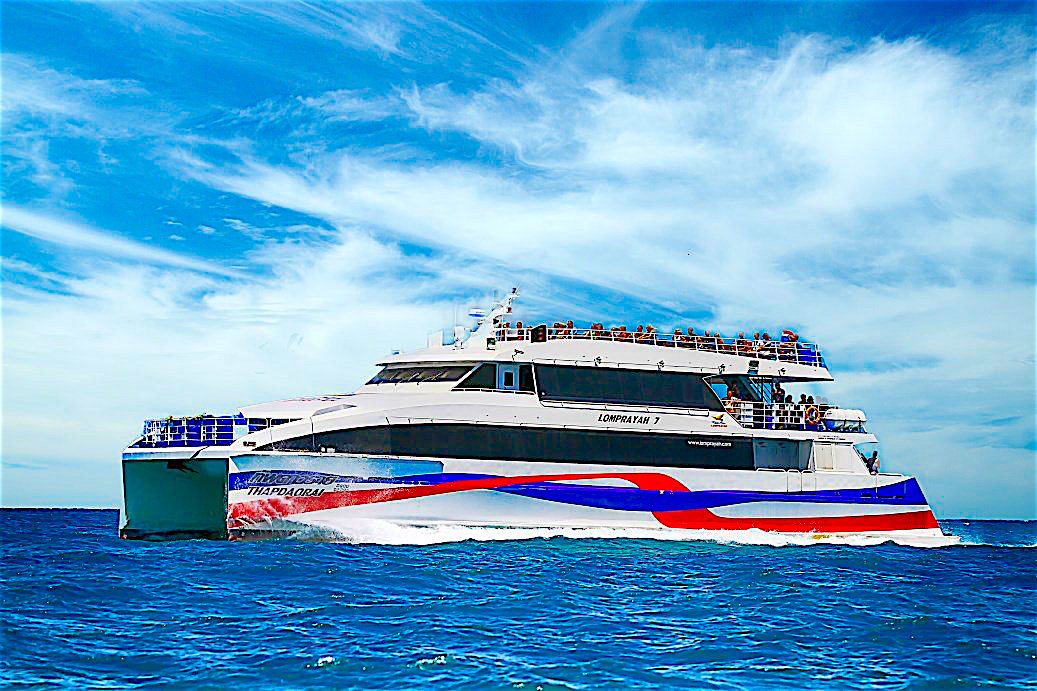 Koh Tao is a Popular Holiday Destination for Visitors to Thailand
These favourable weather conditions present a perfect opportunity for visitors looking for water based activities, such as snorkeling and scuba diving.
Koh Tao is a great location for those who wish to learn to scuba dive and the island certifies more scuba divers, year-on-year, than any other location throughout the world.
That's quite a feat for such a small island!
Koh Tao is even more popular for snorkelers who visit daily in their hundreds on speedboats from places such as Koh Samui, Chumphon and Koh Phangan. Travellers organise 'snorkel weekends' on Koh Tao from as far away as Bangkok in the north.
Lomprayah ferry company offers an extensive inter-island timetable and a snorkel trip schedule that operates from these ports, 7 days a week.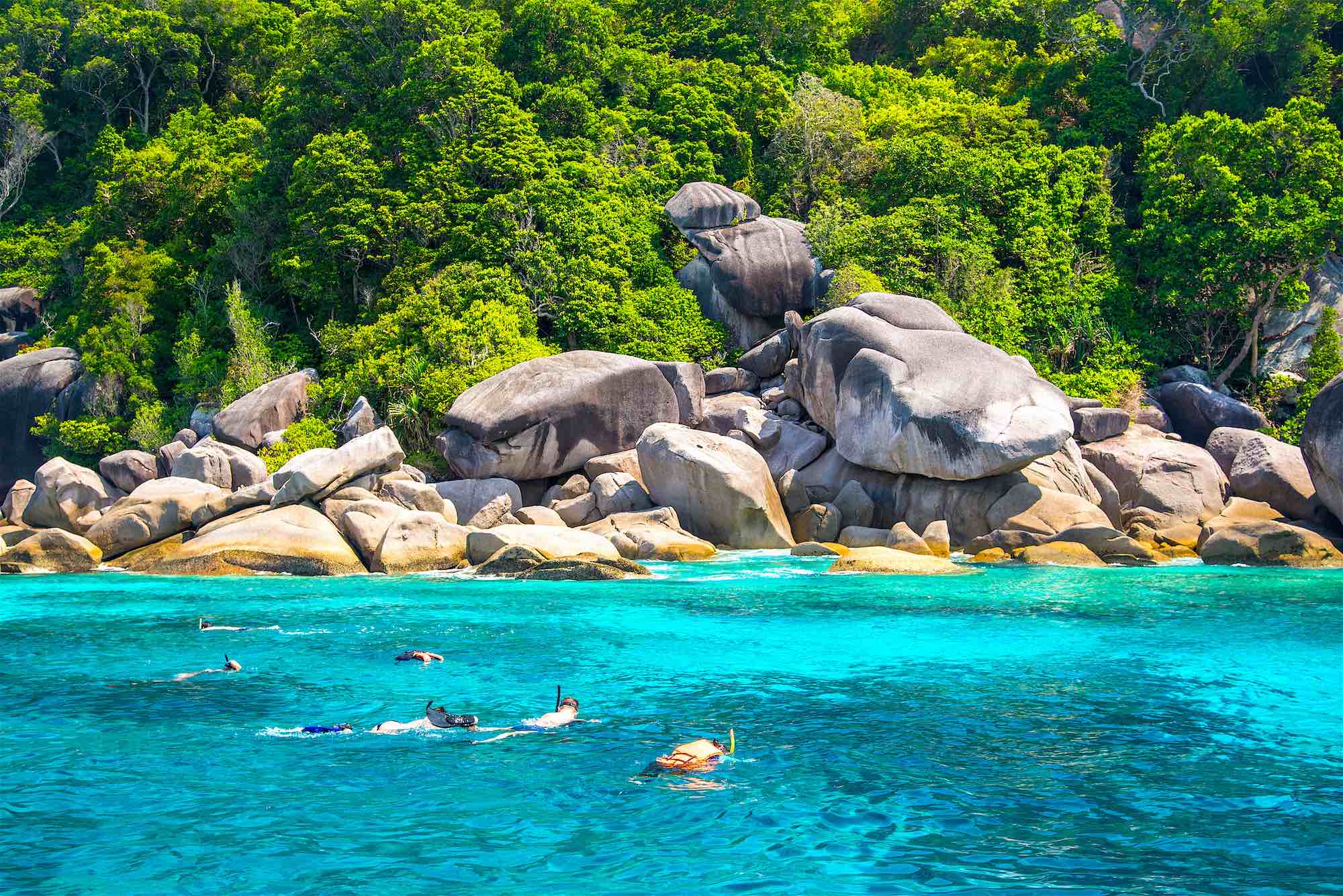 Snorkeling on Koh Tao is Safe
With the volume of visitors in the surrounding sea each day, safety procedures by snorkel tour operators on Koh Tao is a priority.
Experienced boat captains and snorkel guides ensure customer safety takes priority, whilst providing a memorable in-water snorkel experience at stunning locations.
As a visitor to Koh Tao who is looking for snorkeling fun and to explore the underwater beauty of the island more, there are things you can do to help keep yourself safe whilst snorkeling on an organised trip or from a beach.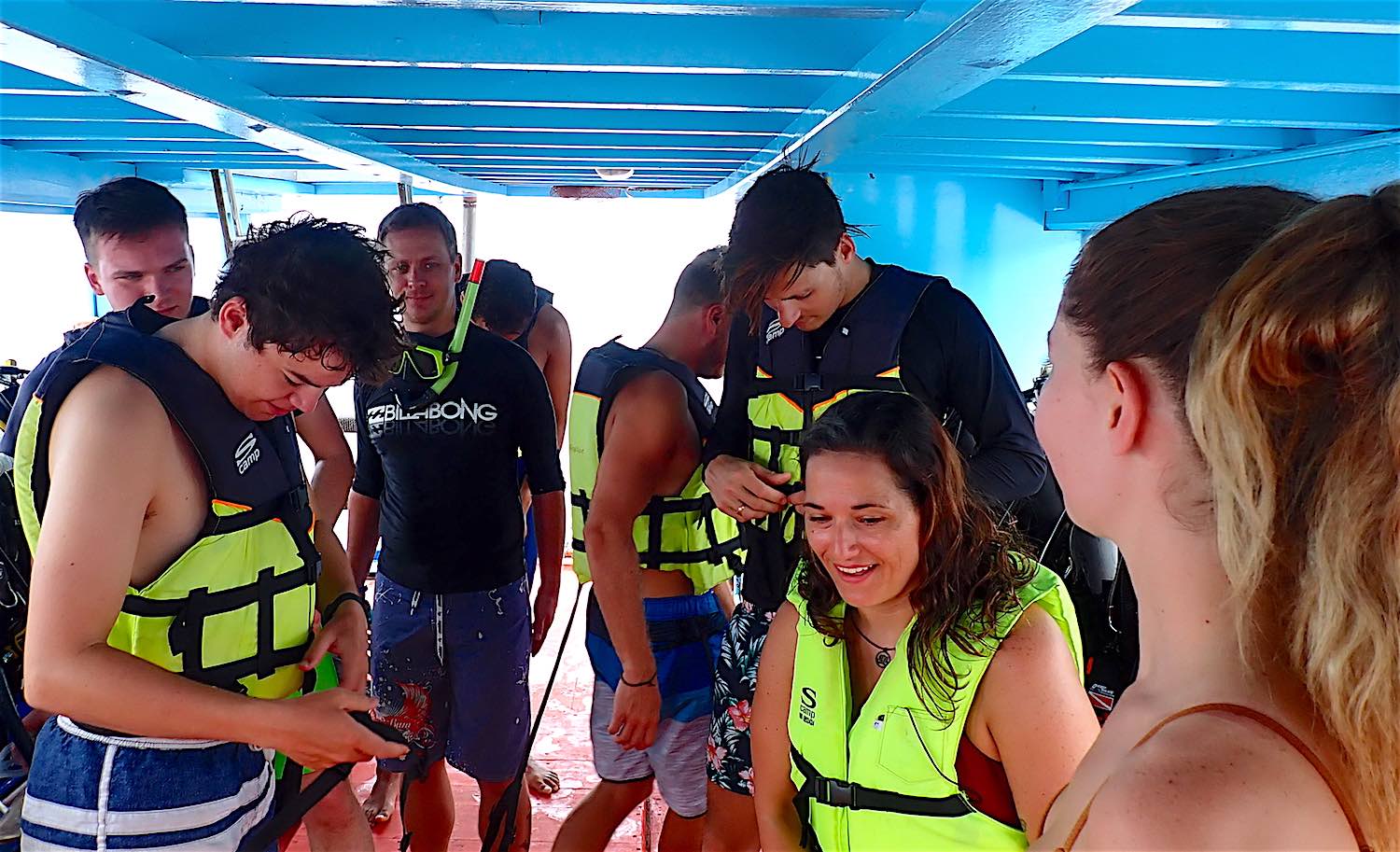 The 5 best Snorkeling Safety Tips on Koh Tao
Tip 1. Let someone know your plans
If travelling alone and you plan to snorkel alone, always let someone know where you are going and what you are planning to do. Even better, go snorkeling with a buddy or as a group whilst making new friends.
If you are on an organised snorkel trip on Koh Tao listen to the safety briefings by expert and knowledgeable snorkel guides and stay within a safe distance from the boat.
Plan Your day
Koh Tao has dozens of beaches and bays that are all within reach of your accommodation. However, some of the beaches on Koh Tao are difficult to access as it involves a hike through the mountainous jungle and inevitably across private land.
It is always best to check with local guides or a tourist information office who know the local weather patterns, tides and if there are any special conditions in place for a particular location. Be sensible and do the right thing.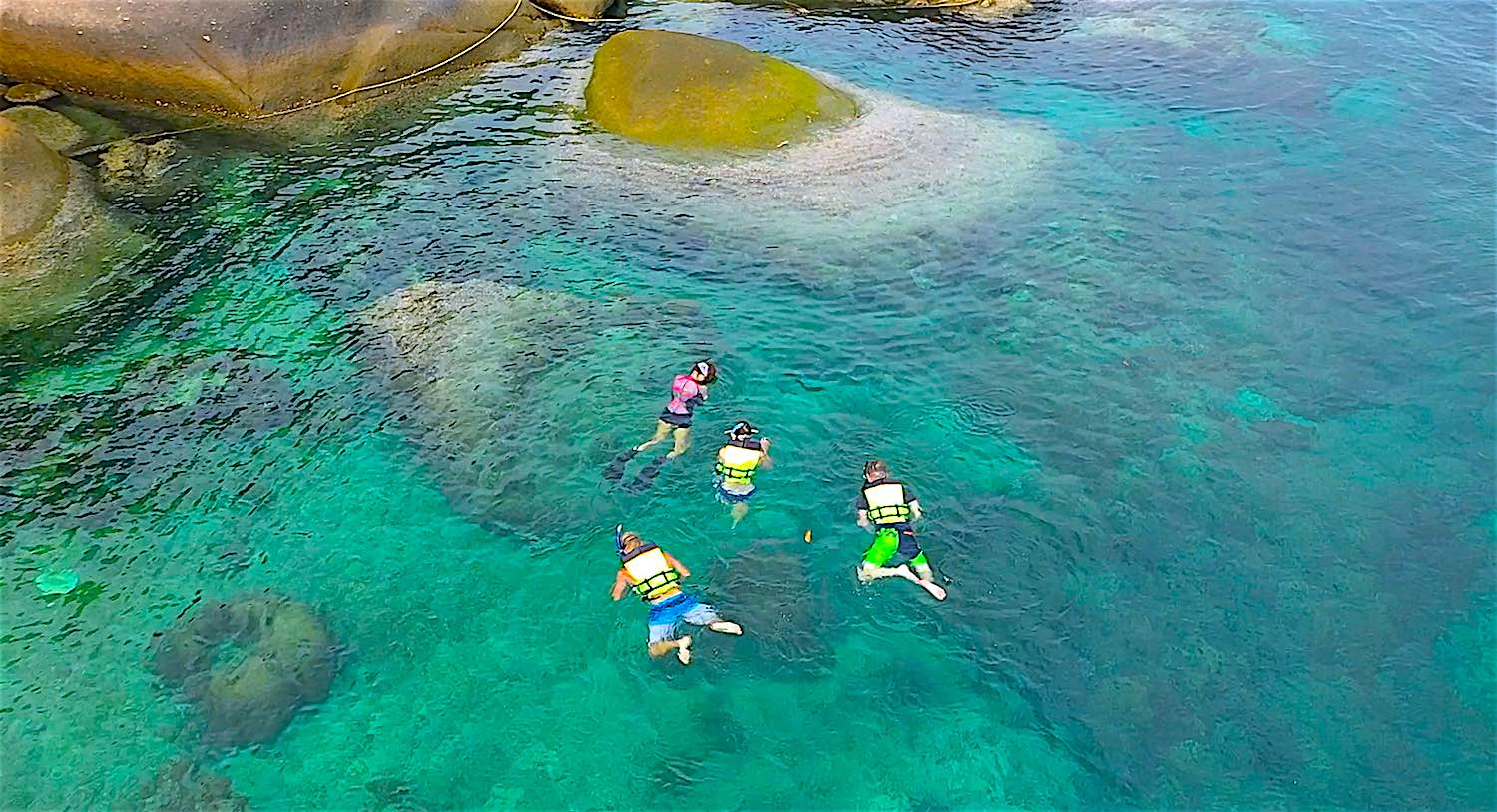 Wear a Life jacket
Tip 2. Wear a life jacket
Life jackets may seem cumbersome but its job is to keep you afloat. Swimming or snorkeling in water that is too deep to stand in, is strenuous and tiring both physically and mentally, even in calm conditions.
Keeping a life jacket with you is even more important if you are snorkeling alone or near any of the bay headlands around Koh Tao's peninsulas.
Wind and current can change direction and it is essential you have a buoyancy device with you at all times.
Regardless if you are a strong swimmer, a life jacket will give you time to rest and recover should you experience incapacitating leg cramps or sudden fatigue.
All Koh Tao Snorkel trip operators provide life jackets for your safety, so you can focus on enjoying your day and experiencing the amazing underwater world from the surface.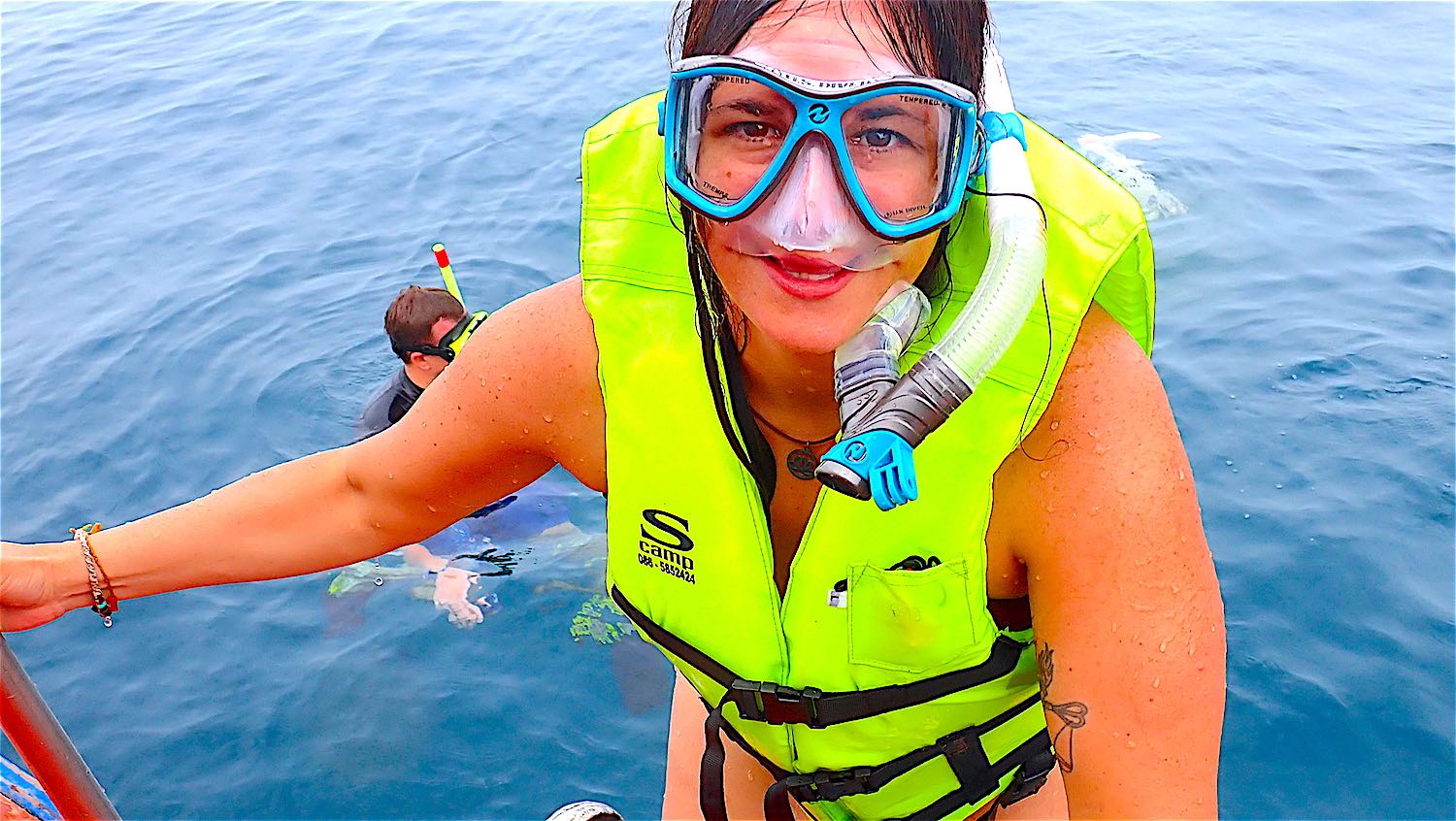 Amazing Place
Tip 3. Do not Touch, Feed or Chase any Marine Life
When snorkeling on Koh Tao, you are entering a whole new world and the natural, wild habitat of marine life.
The underwater world is an amazing place and Koh Tao offers visitors a view of living coral reefs that have evolved over millennia.
It is important not to touch and contaminate coral with any part of your body and similarly, it is very important not to feed fish an unnatural diet of processed food designed for human consumption. *Green Fins
Do Not Touch
This sort of behaviour is detrimental and damaging to the very living organisms and species that you have come to see. Please do not be tempted to do it.
Ahoy! a Whaleshark, Sea Turtle or a baby Black Tip Reef Shark is high on every visitors checklist and is super exciting to witness.
In all the excitement it is easy to forget where you are and you could be tempted to reach out and touch or follow these types of passing marine life.
For your own safety, it is best to look from a safe distance and enjoy the experience while it lasts.
Tip 4. Stay Hydrated
Koh Tao enjoys hot sunshine during the day and can leave you feeling dehydrated very quickly, which can lead to other problems such as fatigue and cramp if you are swimming or snorkeling in the open sea.
Stay Hydrated
If you are exploring a remote beach or bay alone whilst snorkeling, please ensure you take an adequate supply of fresh drinking water (preferably in a re-usable drinking bottle).
If you are enjoying one of Koh Tao's famous snorkeling trips on an organised snorkel boat, you will find an abundance of fresh drinking water and snacks to ensure you do not become dehydrated.
You may not be aware of the symptoms of dehydration and they can escalate quickly, leading to additional problems for you whilst you are snorkeling in deep water.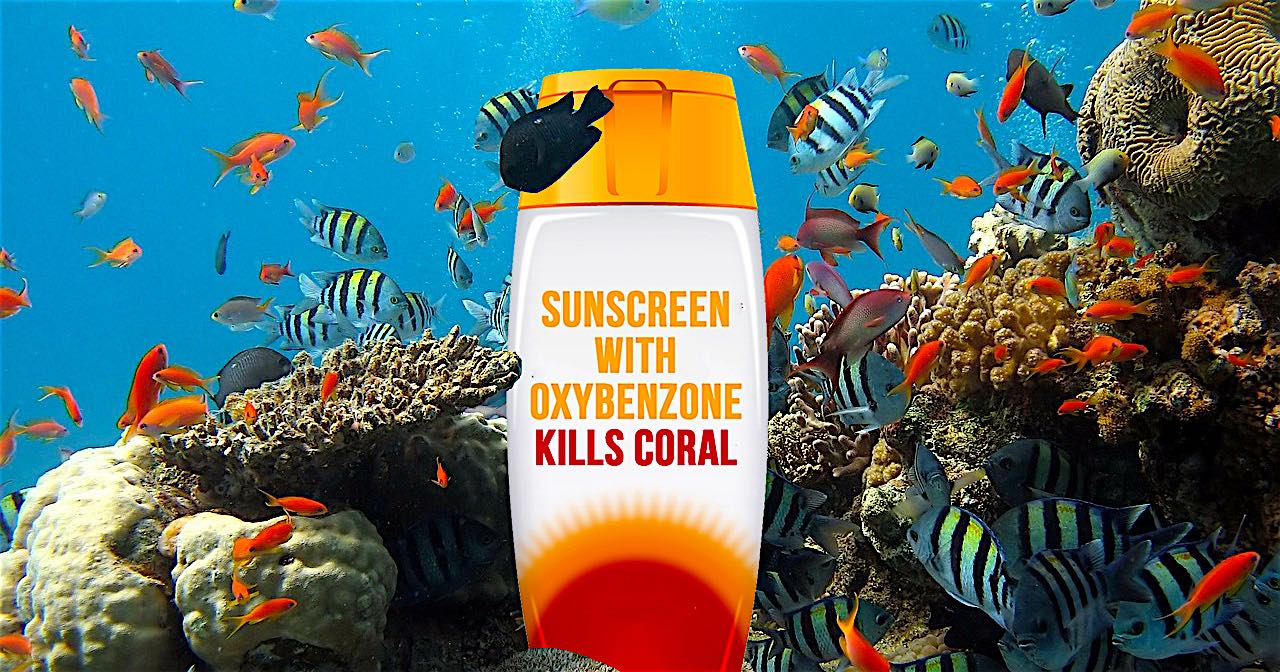 Eco Friendly
Tip 5. Use Eco Friendly Sunscreen
It is common knowledge that the regular sunscreens available over the counter at many shops have contaminants in them that harm everything in the sea.
They contain harmful ingredients that will rapidly destroy marine life that has evolved over thousands of years.
Waterproof does not mean it does not wash off in the abrasive salt water environment. Please consider helping the environment and wear only 'Eco-friendly Sunscreens'.
It is essential when snorkeling that you apply an 'eco friendly sunscreen, as your skin will burn.
Protect Yourself
An even better solution is to wear a piece of clothing to cover your back and try to protect your neck and head from the suns UV rays.
Koh Tao gets extremely hot during the day and the UV rays from the sun are amplified in shallow water.
While you will feel cool and comfortable in the water during your activity, by the evening your skin will start to become very hot, prickly and blister.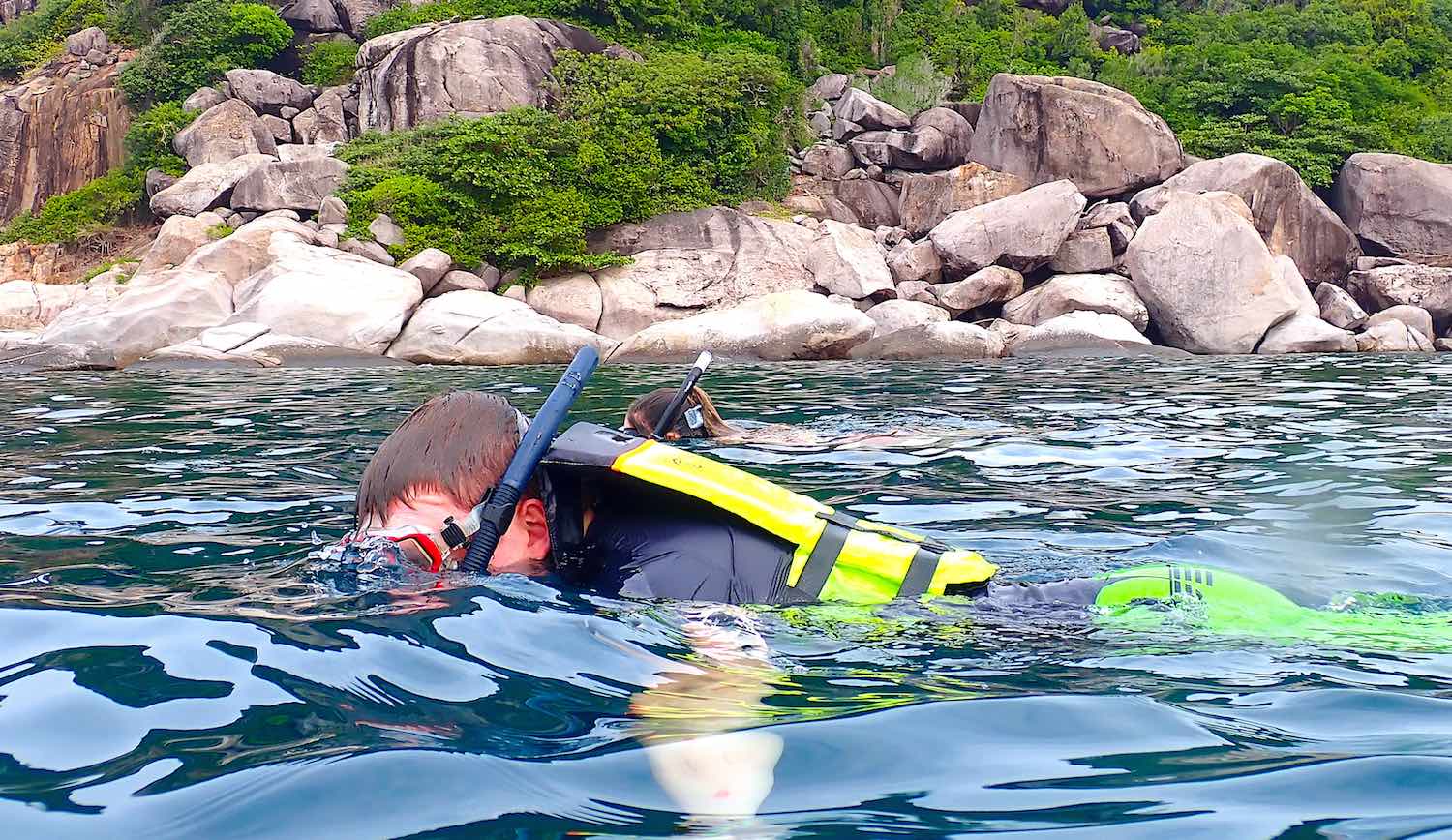 How to have a great time while Snorkeling around Koh Tao
Planning ahead for your trip to Koh Tao will help you get the most out of the time you spend here.
A snorkel trip around Koh Tao should be on your checklist as it provides an amazing 1 day experience that allows you to travel around the island in a single day.
There is a lot to do on Koh Tao and how you spend your time will depend on what you are looking for.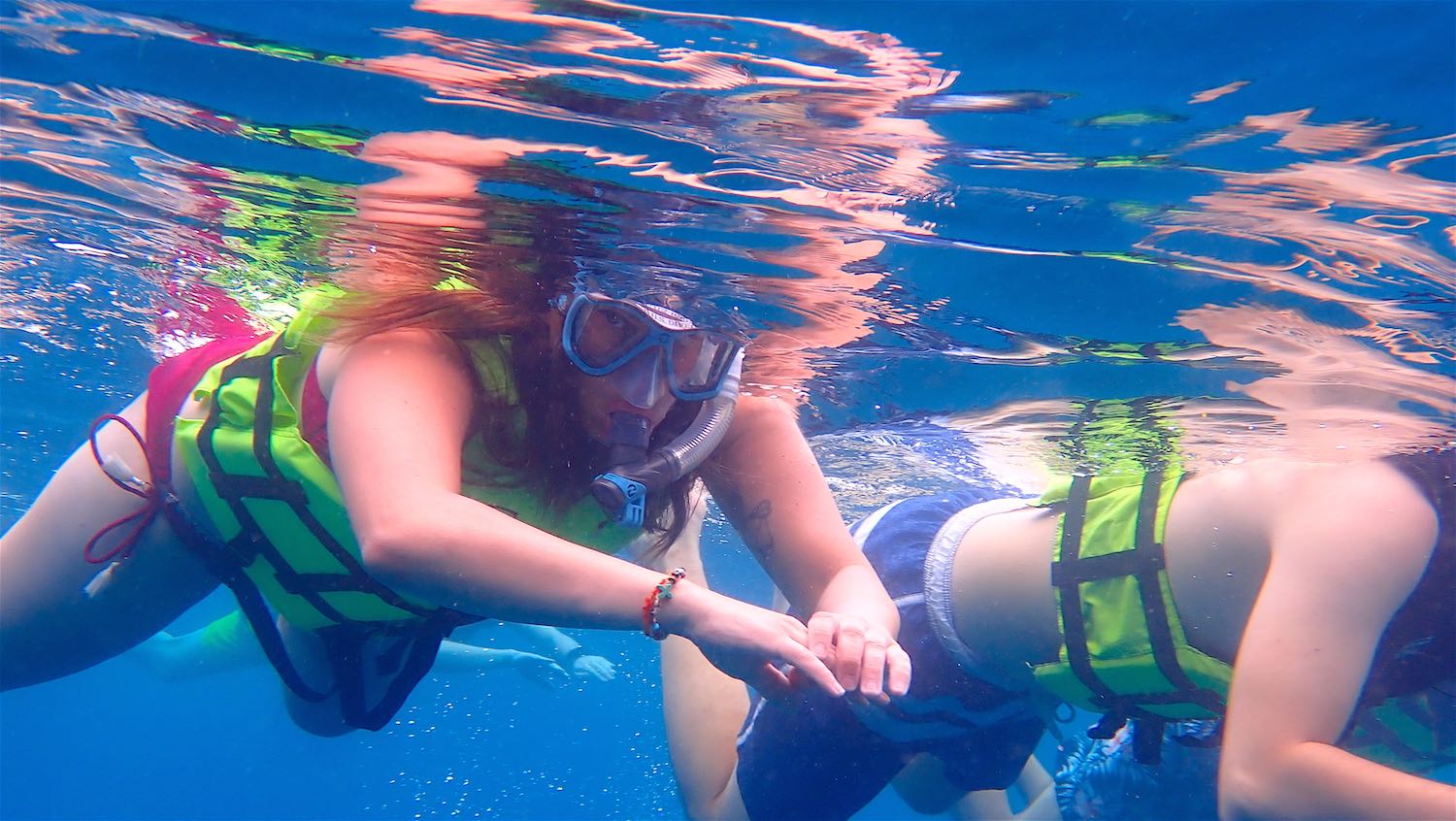 Relax on the Beach
You can relax under palm trees and on beaches every single day, explore bays, jungle trails or choose to take part in the many activities available.
Each day, you can enjoy a variety of multi cultural food delicacies at the many restaurants, beach bars, watch a fireshow on the beach or party until the early hours, the choice is yours.
Our personal favourite after an exciting day in the water, is to relax on a beach cushion, sip from a cocktail glass and watch one of the most amazing sunsets you will ever see.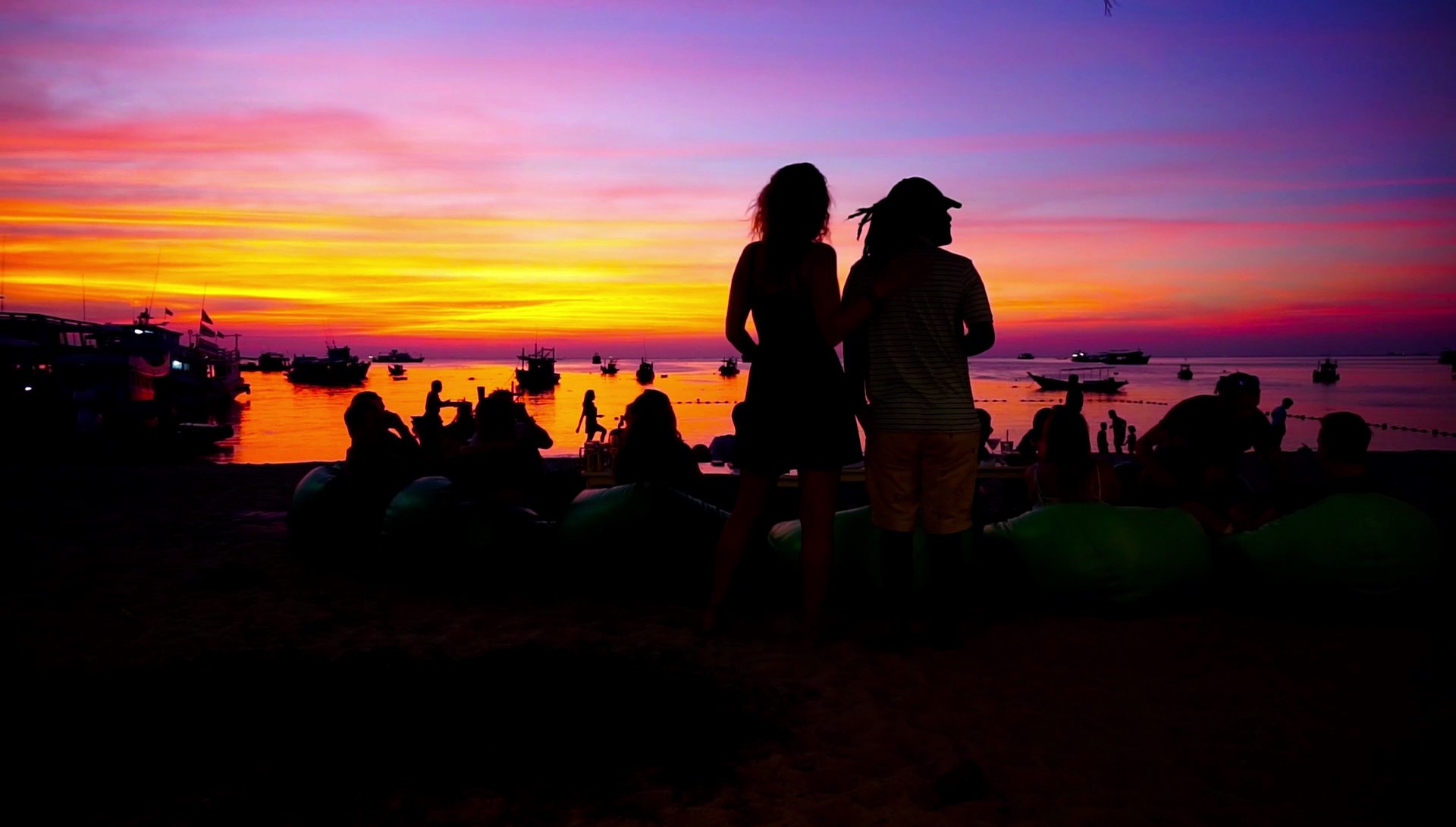 Frequently Asked Questions
Can I go snorkeling alone on Koh Tao?
Koh Tao offers visitors many beaches and spectacular bays in which to snorkel and is an extremely popular activity. Although you can certainly go snorkeling alone around the island, our recommendation is to go with friends, family, as a group or join one of the daily snorkel trips that circumnavigate the coastline. You will have more fun exploring with another person and it will be much safer.
Where are the best beaches to go snorkeling on Koh Tao?
With so many beaches to choose from, selecting a suitable location to go snorkeling is easy on Koh Tao. Be aware that some of the beaches will require you to pay an entrance fee to access the beach, although the fee can be used in lieu of a refreshment. If you are only visiting the island for a short time, it may be best to choose a one day snorkel trip so you can visit 5 of the best bays and get the most out of your time.
Can I snorkel at any time of year on Koh Tao?
Yes, in water activities such as snorkeling and scuba diving are available to visitors all year round on Koh Tao. The water temperature range in the sea is between 24°C – 30°C and the general climate on Koh Tao is of a sub tropical type. During Monsoon season in November, or any short spells of adverse weather, reduced visibility can be expected for periods of time.
How do I meet new people to go snorkeling with on Koh Tao?
The best way to meet new people when you go snorkeling is to book one of the daily snorkel trips. You will spend the day with people from around the world, exploring and sharing the memorable experience. Alternatively, if you are staying at a resort, hotel or hostel on Koh Tao, you can organise a group trip to visit one of the beaches together and try snorkeling.
Can I buy a snorkel and mask on Koh Tao?
There are lots of shops in the 3 main villages of Chalok Baan Khao, Mae Haad or Sairee beach that sell snorkel equipment. The alternative is to try and rent a snorkel and mask at a beach resort that you plan to visit for the day.
Where can I buy eco friendly sunscreen on Koh Tao?
Eco friendly sunscreen is available on Koh Tao at selected shops that support the many conservation initiatives that are active around the island. You can ask at your hotel, resort or hostel for the nearest seller or bring it with you for your holiday.
Where can I buy an eco friendly re-usable water bottle on Koh Tao?
Many of the dive and supply shops on Koh Tao sell eco friendly reusable water bottles to encourage people to stop buying plastic bottles and creating environmental toxic waste. These are generally of good quality and durable, so that you can carry them around and use for various activities. Dive shops that sell them may also offer drink refill stations.
Do I have to pay to access the beaches on Koh Tao to go snorkeling?
Yes, but not all beaches charge an entrance fee. You have to pay between 100baht to 200baht to access some of the beaches as entry to them is by passing through private land. The beaches that do charge can include a refreshment or access to the facilities on the beach such as toilets or sun loungers.
Where can I get more information about snorkeling on Koh Tao?
You can contact our tourist information office on Koh Tao to discuss the specific details of a snorkel trip or you can book directly and receive confirmation on our website.