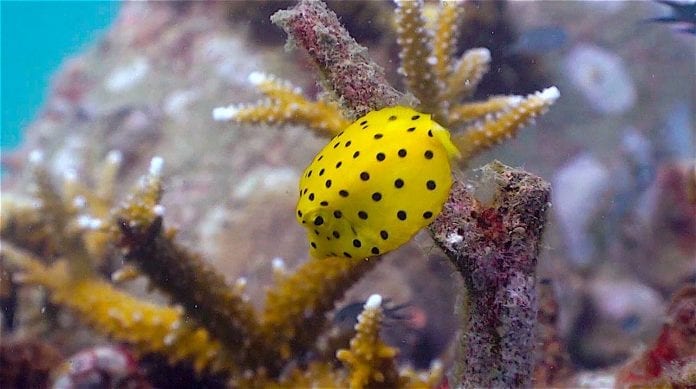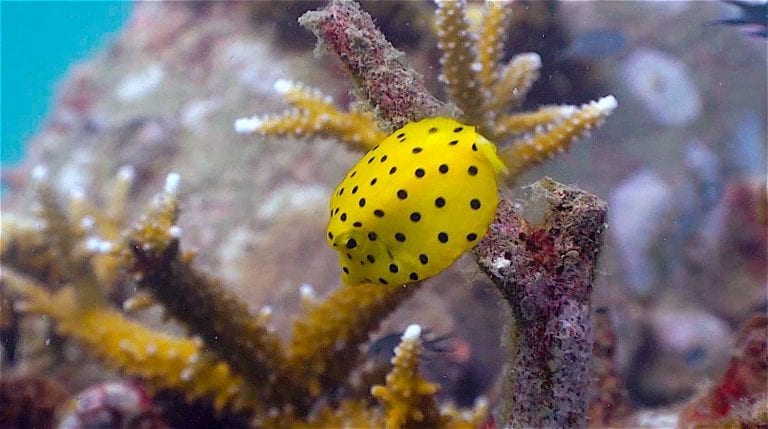 Popular Koh Tao Dive Sites for Scuba Diving
Koh Tao is a small tropical island paradise situated in the gulf of Thailand and is Asia's premier hotspot for scuba diving and the most popular place in the world to learn how to scuba dive.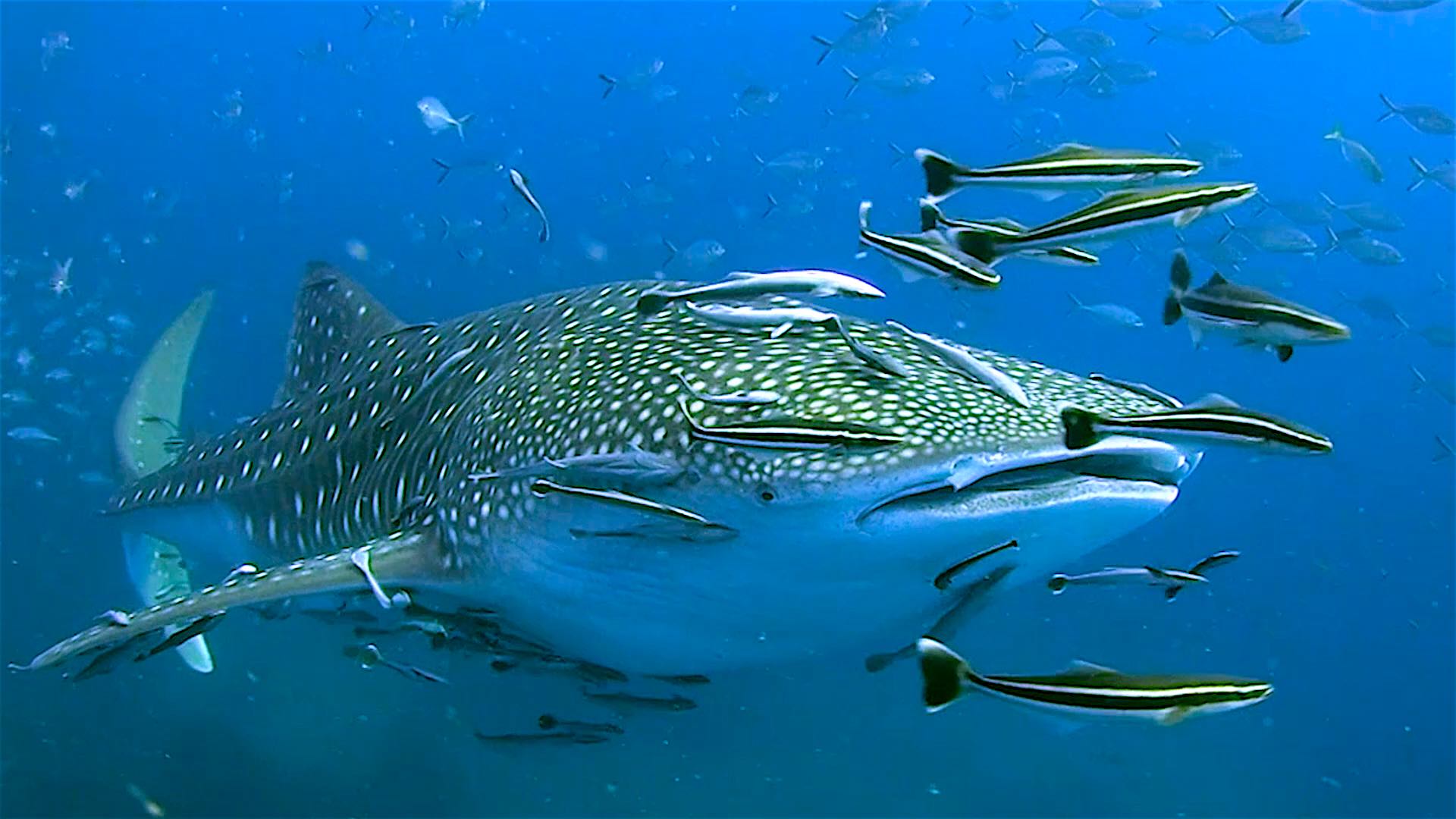 Popular Dive Sites
Visitors from around the globe flock to the island to experience the high quality scuba training Koh Tao is renowned for and the diverse, abundant marine life the warm waters around the island offer.
From beginner scuba divers to some of the world's most experienced Course Directors and Instructor trainers, Koh Tao offers something for everyone interested in scuba diving. This is why Koh Tao is often called a scuba diving Mecca.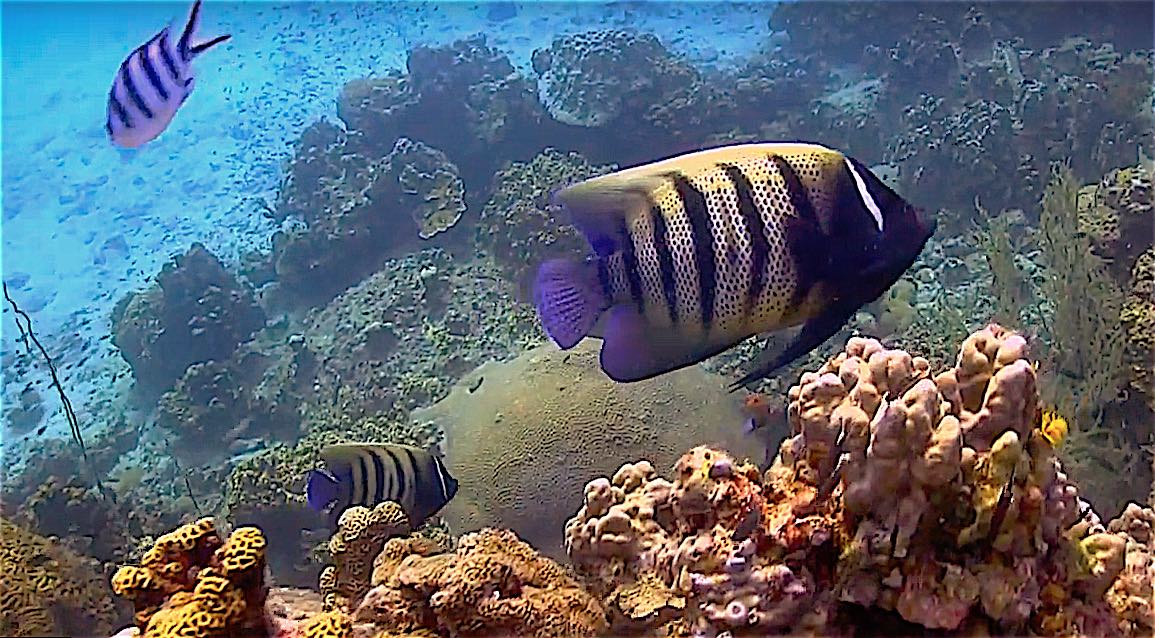 The Dive Sites on Koh Tao offer Diversity
Koh Tao has a large choice of approximately 30 dive sites that mainly circle the island and are within a short boat journey from the pier.
They offer excellent scuba diving opportunities for certified divers, are ideal for the training of scuba diving courses and for the less ambitious, provide fantastic snorkeling experiences too.
For more advanced divers, the surrounding sea offers several deeper pinnacle dives that at times are stunning and are only within a 1 hour boat journey of Koh Tao.
It is a difficult task to select one dive site that is the best as there are many factors to consider including; a divers experience level and the personal preferences of individual divers.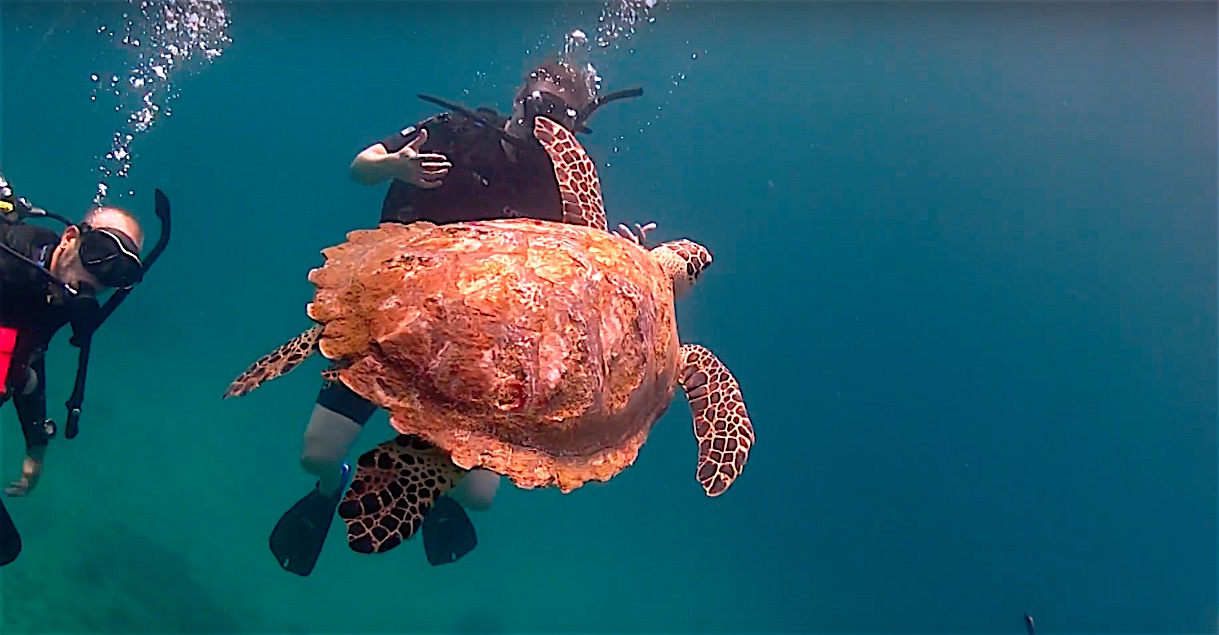 Explore the Dive Sites of Koh Tao
Some scuba divers enjoy diving for Macro photographic opportunities, whilst others dive hoping to see large pelagics such as our seasonal visitors the whaleshark or the Brydes whales that are occasionally seen.
Koh Tao offers deep wreck dives, even deeper tech wreck dives, shallow bays, sandy seabed's, underwater rock formations and over 8 kilometres of diverse, colorful coral reef.
If it is your first time blowing bubbles or you are a seasoned scuba diver looking for adventure, there is a lot to keep you entertained and you will find that Koh Tao has something for everyone.
Best Dive Sites for Scuba Divers on Koh Tao
Twin Peaks Dive Site or 'Twins'
Distance: 25 minutes from the main pier
Depth Range: 3 – 20 metres
This very popular dive site is located on the west side of our beautiful and stunning neighbouring island Koh Nang Yuan.
Twins as it is commonly known amongst the scuba diving community, is a short boat ride away with big rewards.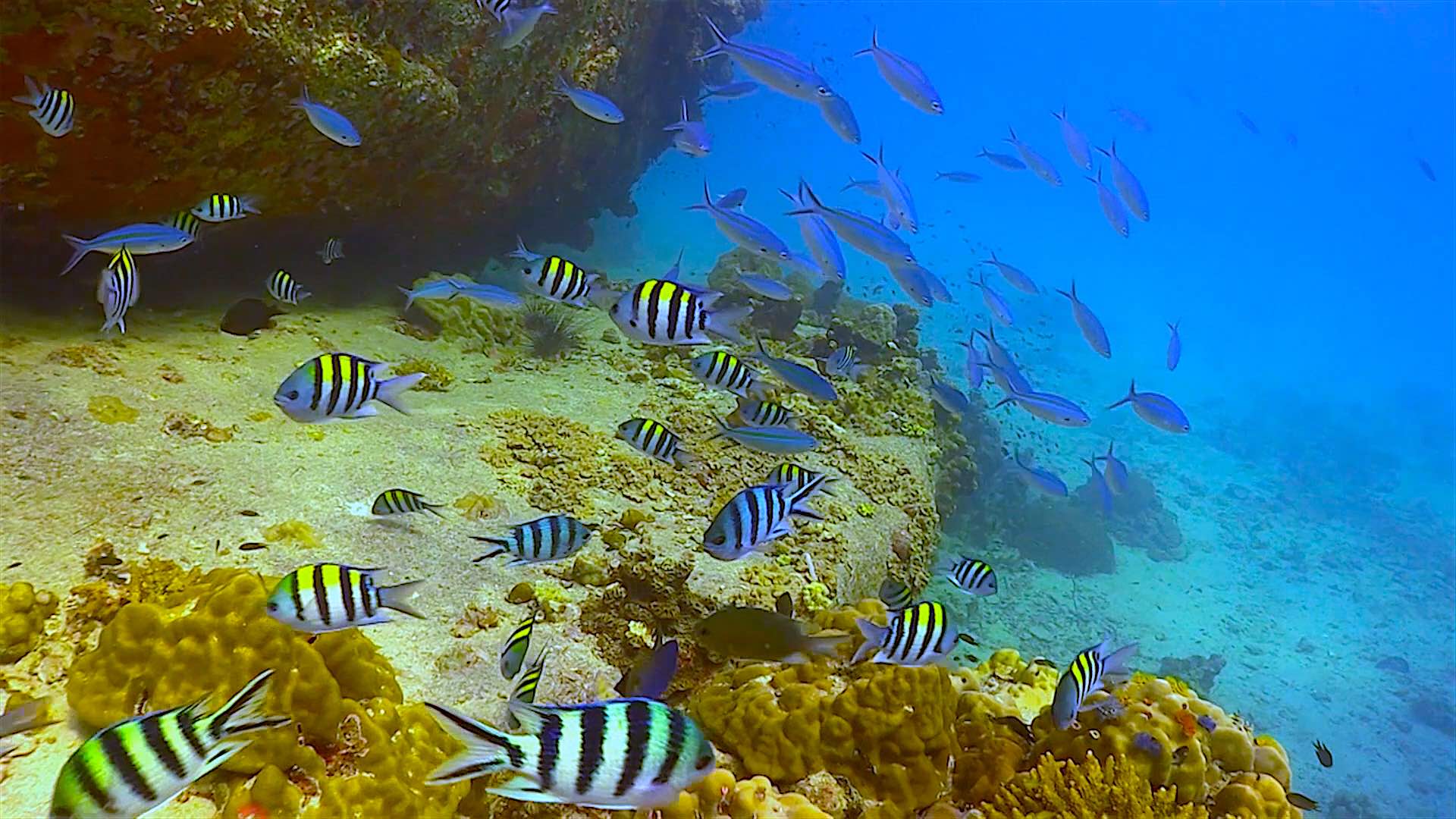 Two Main Peaks
Navigating this dive site is simple as it runs from east to west as you swim across, or around two main peaks that run from shallow to deep, with a nice gradual gradient.
There are many good reasons why this dive site is one of the most popular on Koh Tao.
It is located in a relatively sheltered position protected by Koh Nang Yuan offering scuba divers 24/7 access to Twins, 365 days of the year.
Twins offers shallow depths that are well within the realms of the recreational training systems that the dive centres of Koh Tao practice every day.
The dive site is surrounded by soft sand, meaning novice divers have no fear of damaging the underwater world as they take their first breaths in open water and are far enough away not to disturb or damage the natural reefs.
The dive site location has a stunning backdrop when you are enjoying a surface interval of Koh Nang Yuan island.
But let's not forget the real attraction of Twins dive site, which is that it offers something for every diver.
Features of the dive site include a shallow, hard coral covered fringing reef that extends from the beach and twin isolated limestone and granite boulders.
The dive site is teaming with marine life and there is definitely aquatic life that will interest all levels of divers here.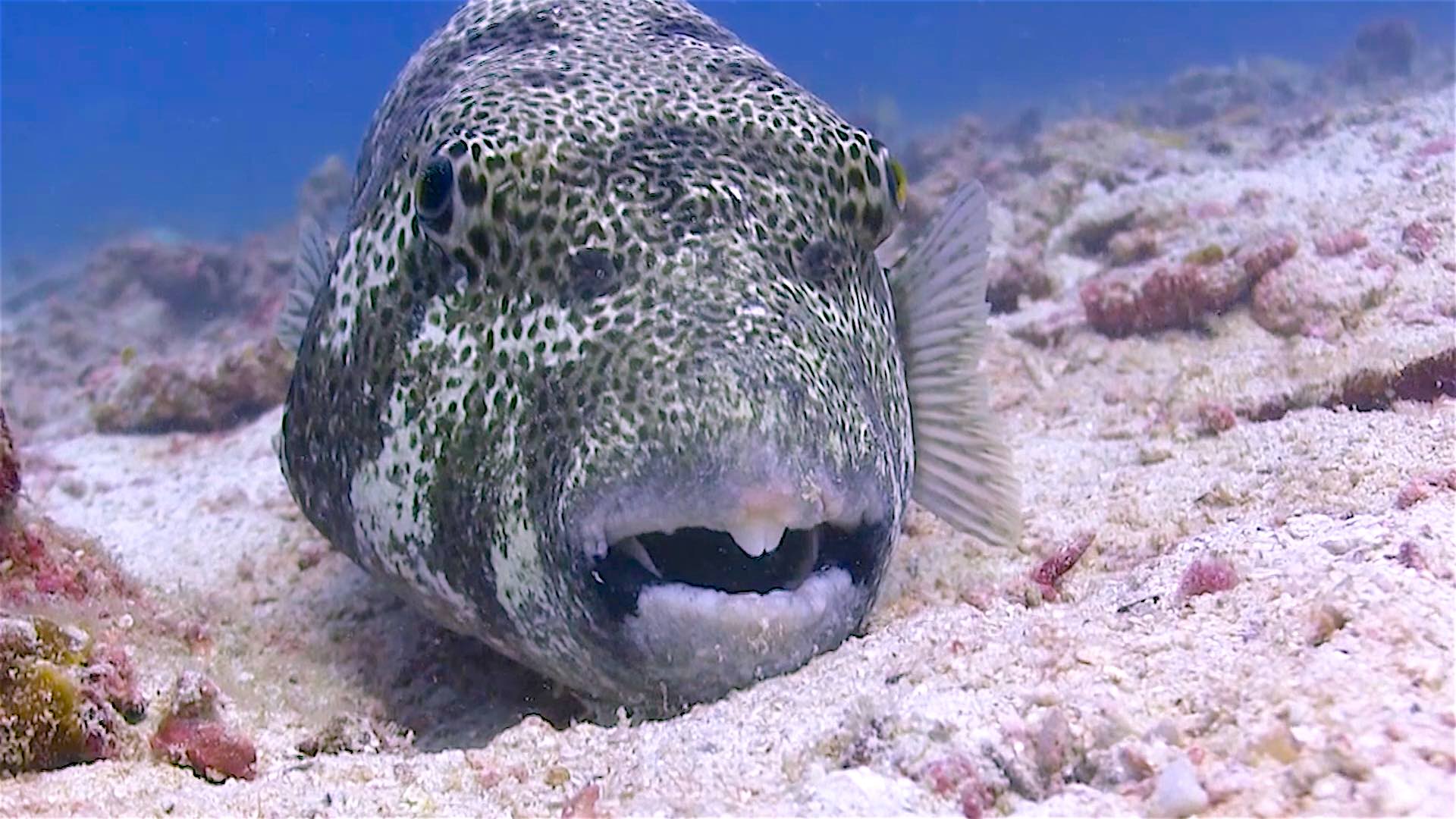 Twins Dive Site consists of Two Main Rock Pinnacles
The main dive site, incorporating the twins – are two pinnacles similar in size and shape that are covered in sponges and colourful corals.
Many small fish make their homes here and yellow tail barracuda school between the rock pinnacles.
A family of saddleback clownfish and one of the most famous residents of Koh Tao is Nemo, who live south east off the shallower peak.
Blue Spotted Rays hide under ledges and white eyed moray eels poke their heads out of holes and crevices within them.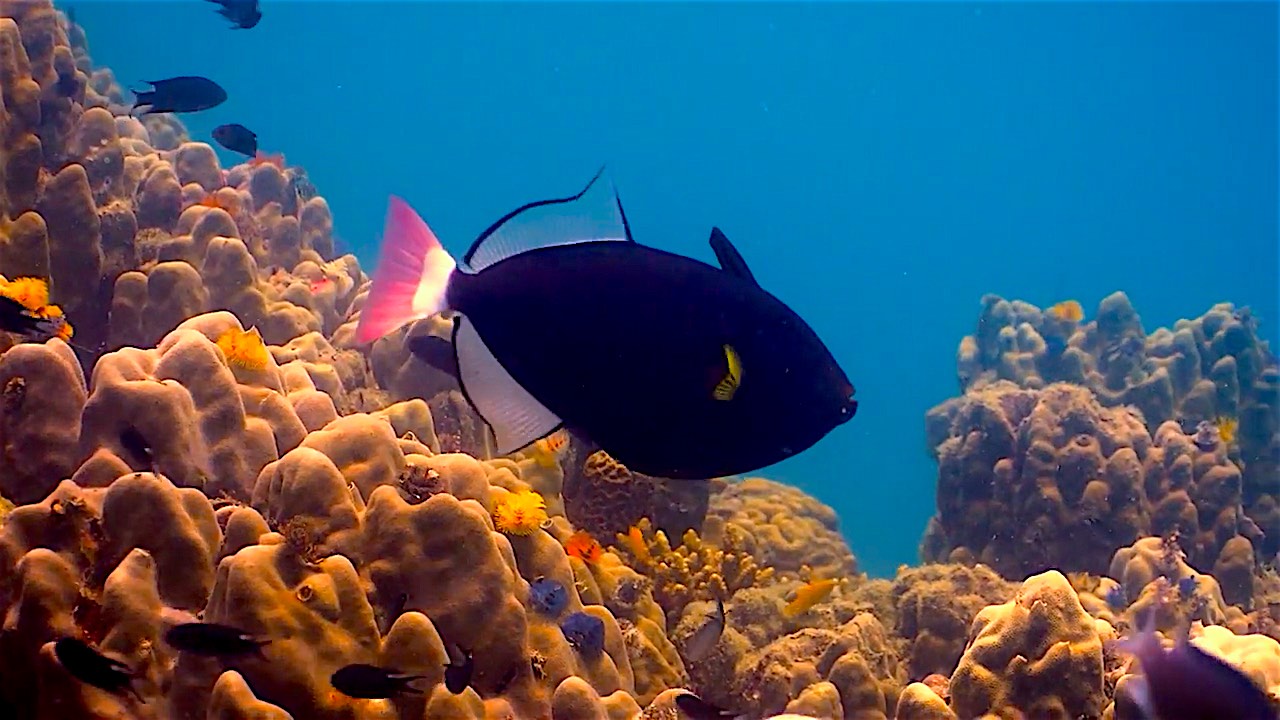 Saddleback Clownfish (Nemo)
The marine life at Twins is exceptionally diverse and ranges from tiny nudibranch, colourful coral, angel fish and large Spanish mackerel swimming past in the deep blue.
The third peak at Twins is located at the dive sites deepest depth of around 20 metres and if you are lucky you will get to see the hawksbill sea turtle that visits the site and is a frequent visitor.
Even if you think you have seen it all at twins there is always more to see by swimming off around the shallow coastline and exploring the underwater rock formations.
You will find yourself alone, except for the baby black tip reef sharks that those adventurous enough to explore this little dived area, often get to see.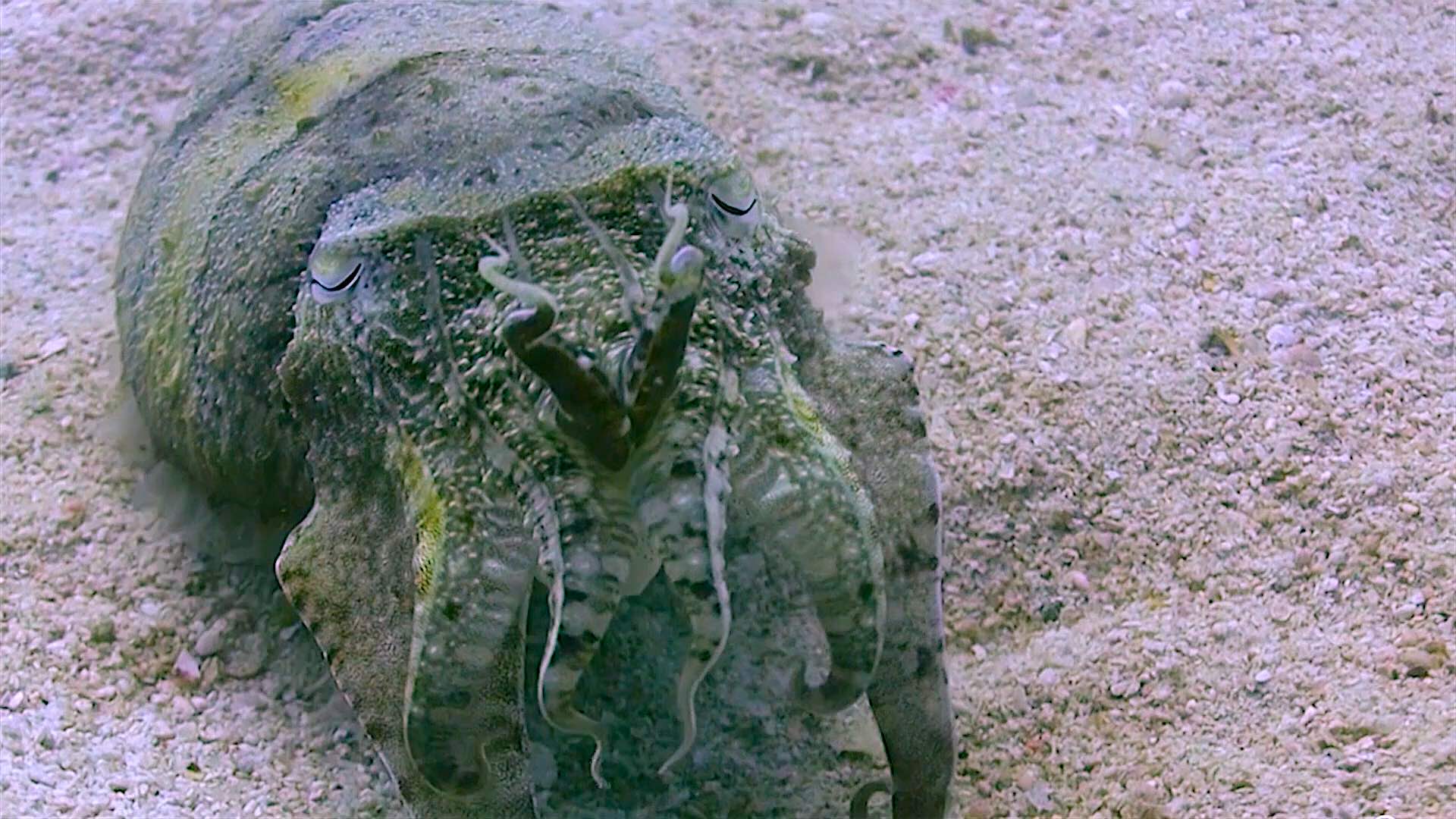 Buoyancy World Dive Site Koh Tao
To the north of Twins dive site is Buoyancy World, an artificial dive site designed and built by the dive centres of Koh Tao to accommodate the volume of novice divers the island attracts.
At Buoyancy World, you are surrounded by soft sand and coral nurseries that help to contribute towards restoration of damaged corals.
You will also discover a variety of exciting underwater structures including a shipwreck,  giant octopus and buoyancy hoops that help to create new homes for marine life.
Twins is perfect for all levels of scuba diver and as any Koh Tao dive professional will attest to, the dive site provides divers with a lifetime of underwater memories, which means you will want to keep coming back.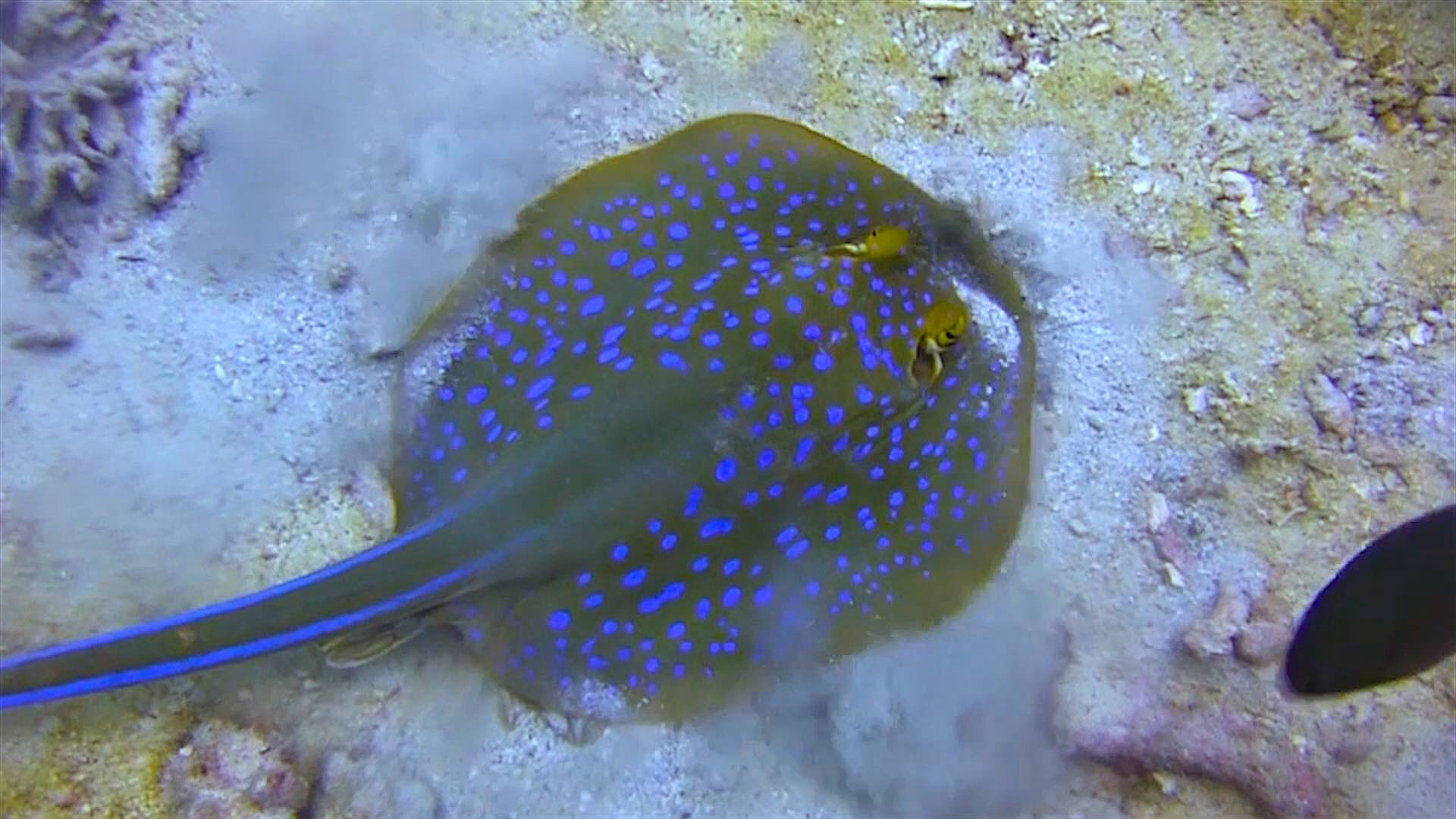 White Rock Dive Site Koh Tao
Distance: 20 minutes from the main pier
Depth Range: 5 – 22m
Located a short boat ride from the main pier on Koh Tao, White Rock is another very popular dive site on Koh Tao and possibly the largest one, sprawling across an area the size of several football pitches.
White Rock consists of two large rock formations with a a beautiful shallow coral garden in between.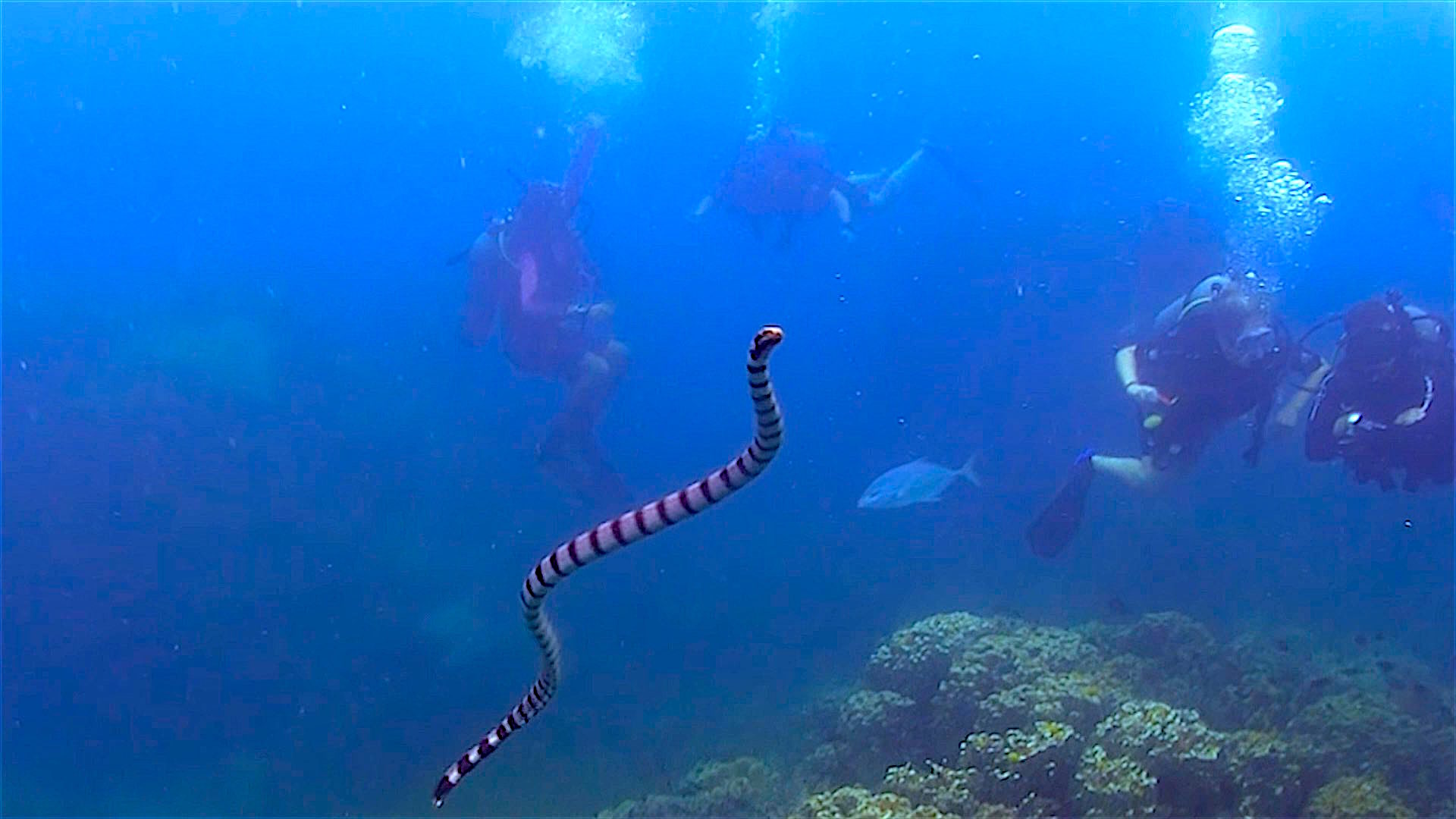 Marine Diversity
The marine life is rich in diversity showcasing the best Koh Tao has to offer.  The dive site runs from North to South with many natural features that makes White Rock another simple site to navigate around despite its size.
It is named White Rock due to one of the two rock formations located northeast of the site that is less than 5 metres from the surface and appears white in colour when looking down at it.
White Rock dive site offers a kaleidoscope of colours and creatures, including butterfly, bannerfish, angel fish, many Christmas tree worms, Moray eels hiding in holes and the occasional black banded sea Krait.
There is a small sandy patch in the middle of the site, which is a shallow coral garden with Whip corals, Giant Sponges and huge table corals surrounded with small schooling fish that makes for a picture perfect scene from blue planet.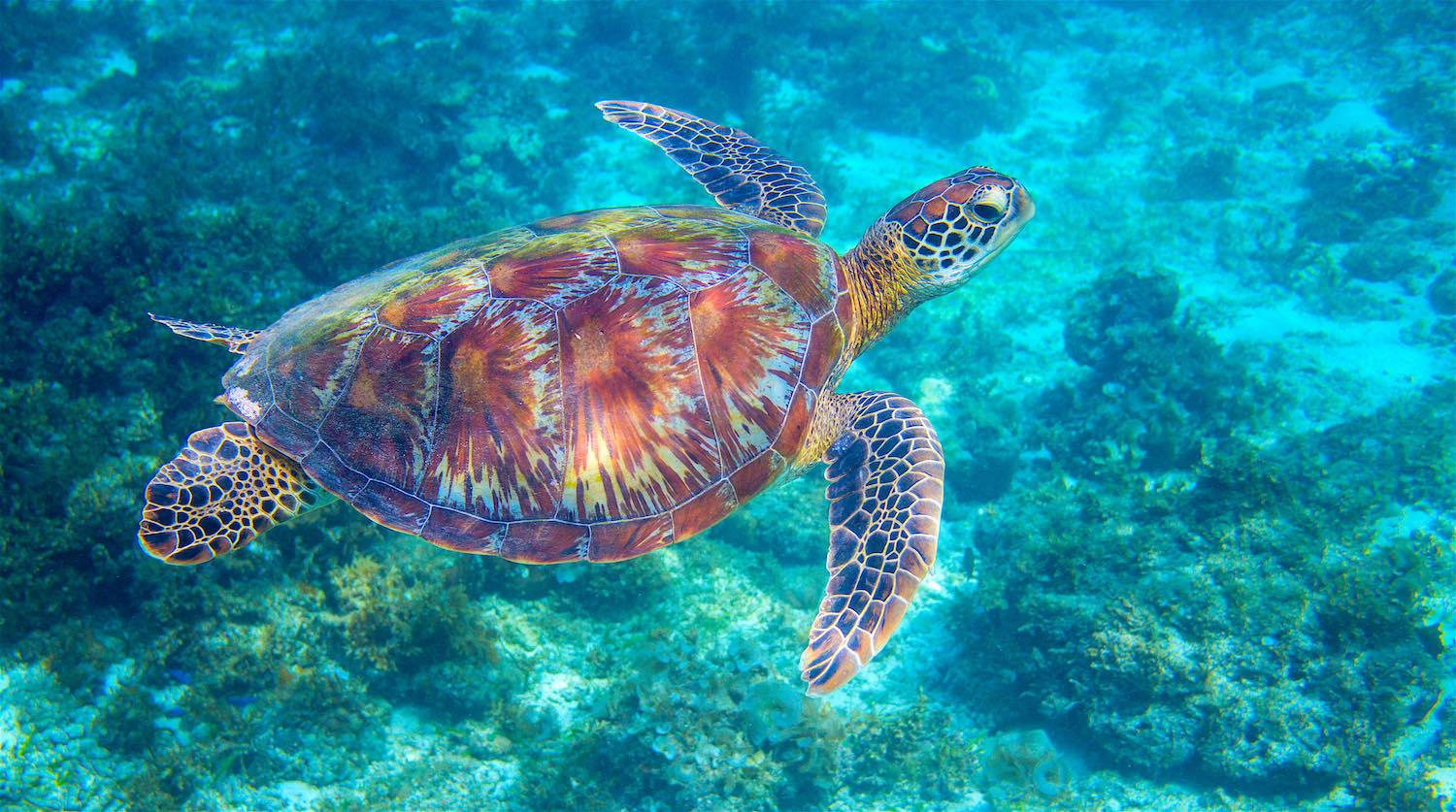 Green Turtles at White Rock Dive Site
Green turtles can often be found here munching on their favourite algae and plants and often sleeping under the ledges in the surrounding rock formations.
The south of White Rock is the deepest part of the dive site at around 22 metres, which boasts lots of small crevices, caves and holes with dark overhangs and ledges.
You will find blue spotted ribbon tail rays hiding out and Malabar Groupers camouflaged against the rocks and shadows.
Larger fish school here, swimming in from the deeper waters to feed. There is also a small swim through at about 18 metres, where you can find many nudibranch and sea slugs.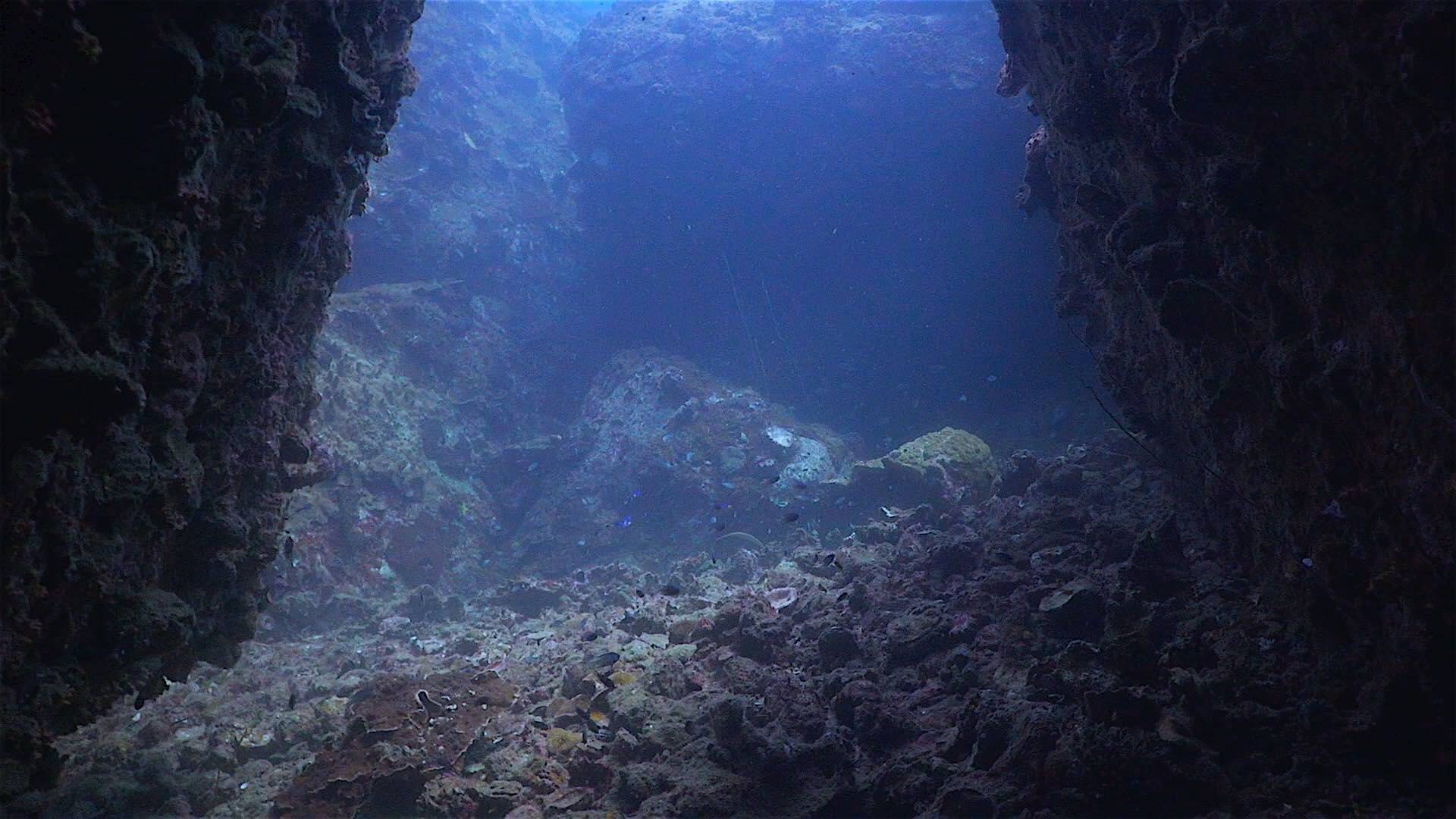 Night Diving
White Rock is also one of the most popular locations on the island for a night dive. Once the sun sets its bed time for some marine life and party time for many others.
Hunting Giant Barracuda, Cuttle fish with lots bioluminescent colors are just a few of the attractions after dark whilst Triggerfish and sea turtles catch up on sleep.
There is an abundance of marine life hidden in the rocks that make White Rock an exciting and very interesting dive that is not to be missed when diving on Koh Tao.
And if you do get the opportunity make sure you dive it twice.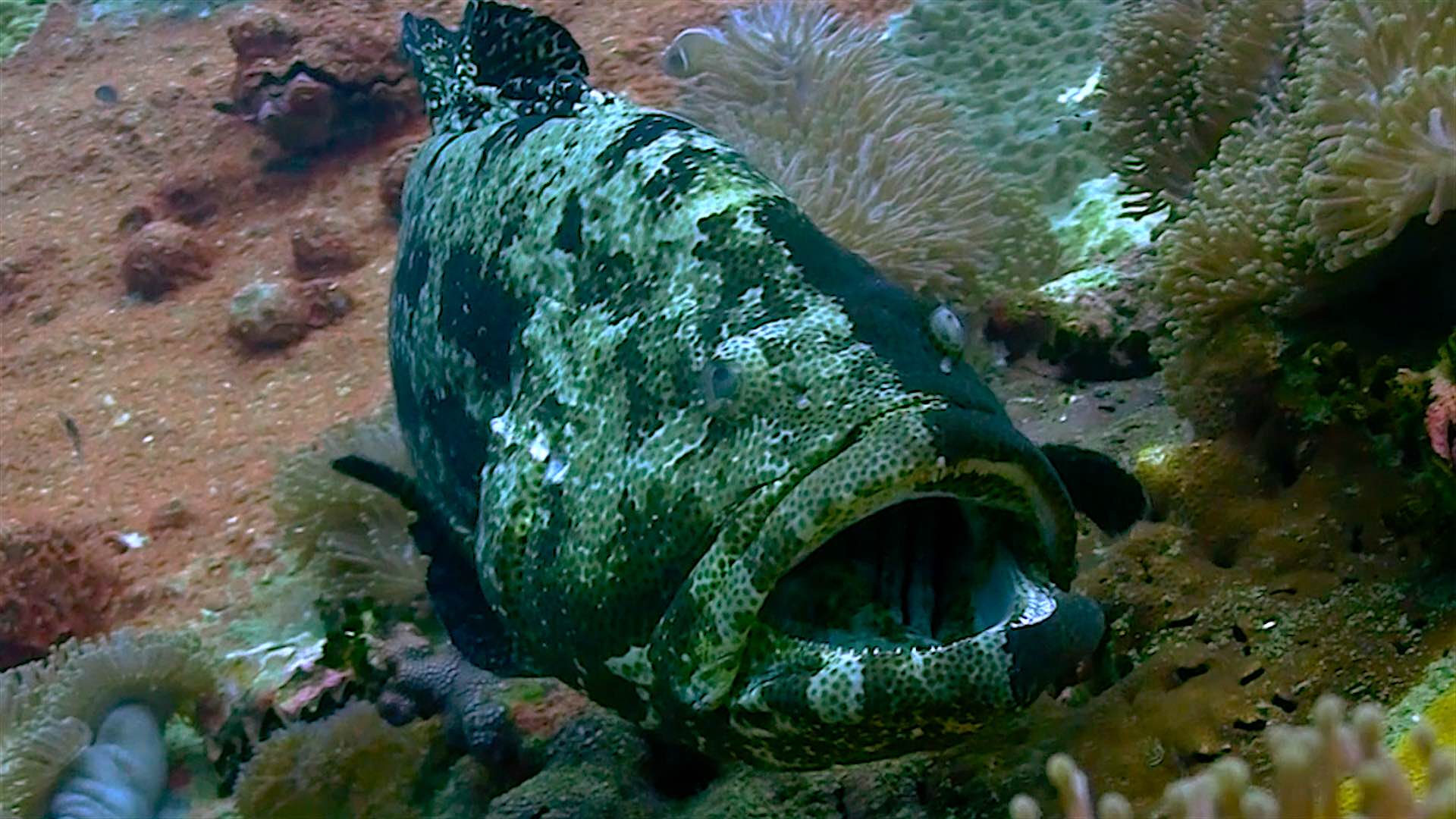 Chumphon Pinnacle Dive Site – best dive site on Koh Tao?
Distance: 45 minutes from the main pier
Depth Range: 16 – 40 metres
Situated 12 kilometres off the North West tip of Koh Tao, Chumphon Pinnacle dive site  is in the open sea.
Located between Koh Tao and the mainland city of Chumphon, it is approximately a 45 minutes dive boat journey from Koh Tao pier.
Situated on a north to south axis Chumphon Pinnacle is easy to navigate with mooring lines on the north, middle and south of the pinnacles.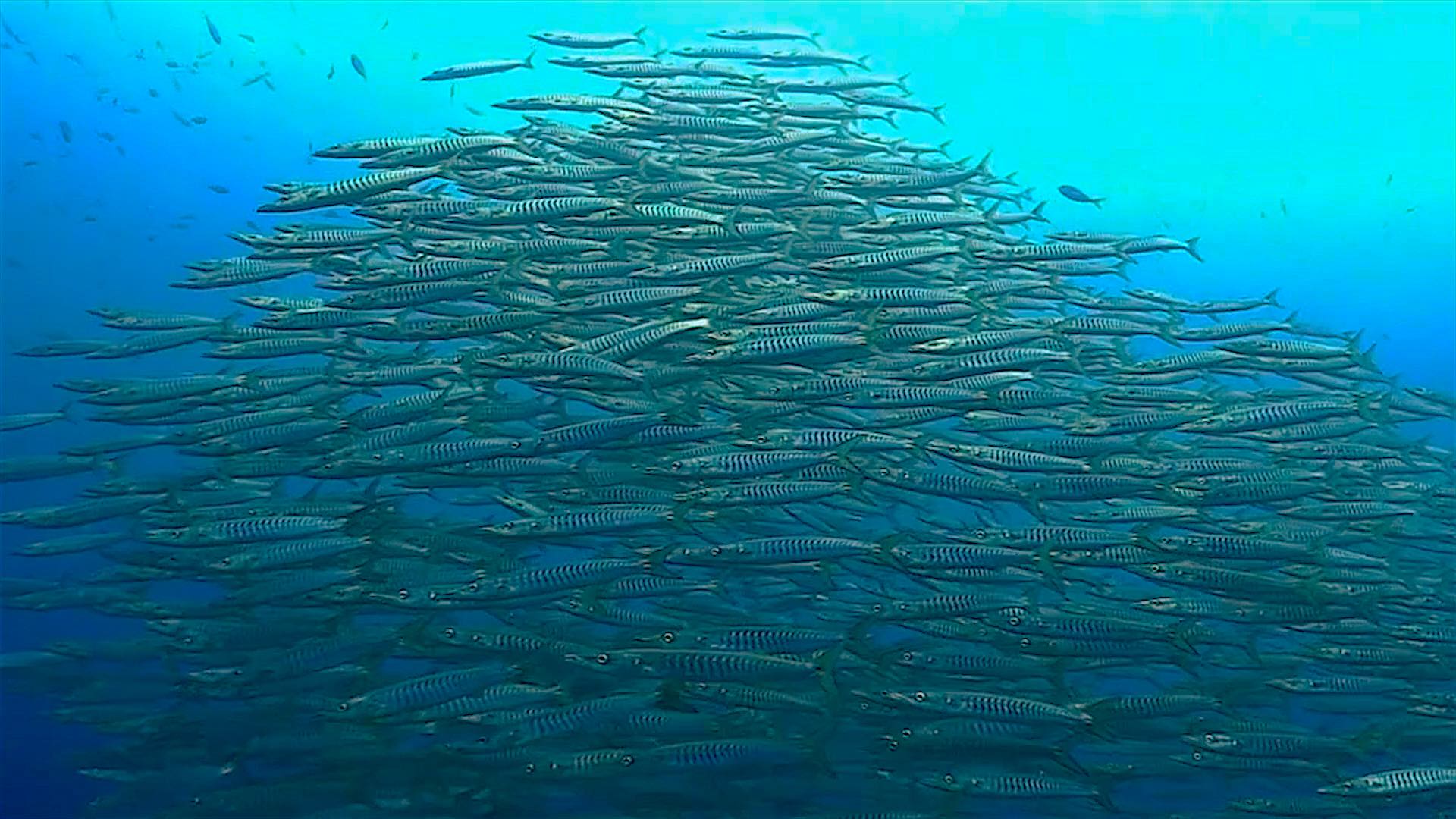 Deep Dive Site
Chumphon Pinnacle is certainly the most well-known of the dive sites around the island often referred to as the best that Koh Tao has to offer and it is not hard to see why.
The dive site features one very large main granite rock pinnacle that rises from a depth of around 30 metres and tops off at around 16 metres. The main pinnacle is surrounded by several smaller pinnacles.
The top of the main pinnacle is carpeted in Sea Anemones with their resident Pink Anenome fish.
They move with the water and make for a picturesque descent as you swim over the top of the pinnacles and down the side as you dive deeper.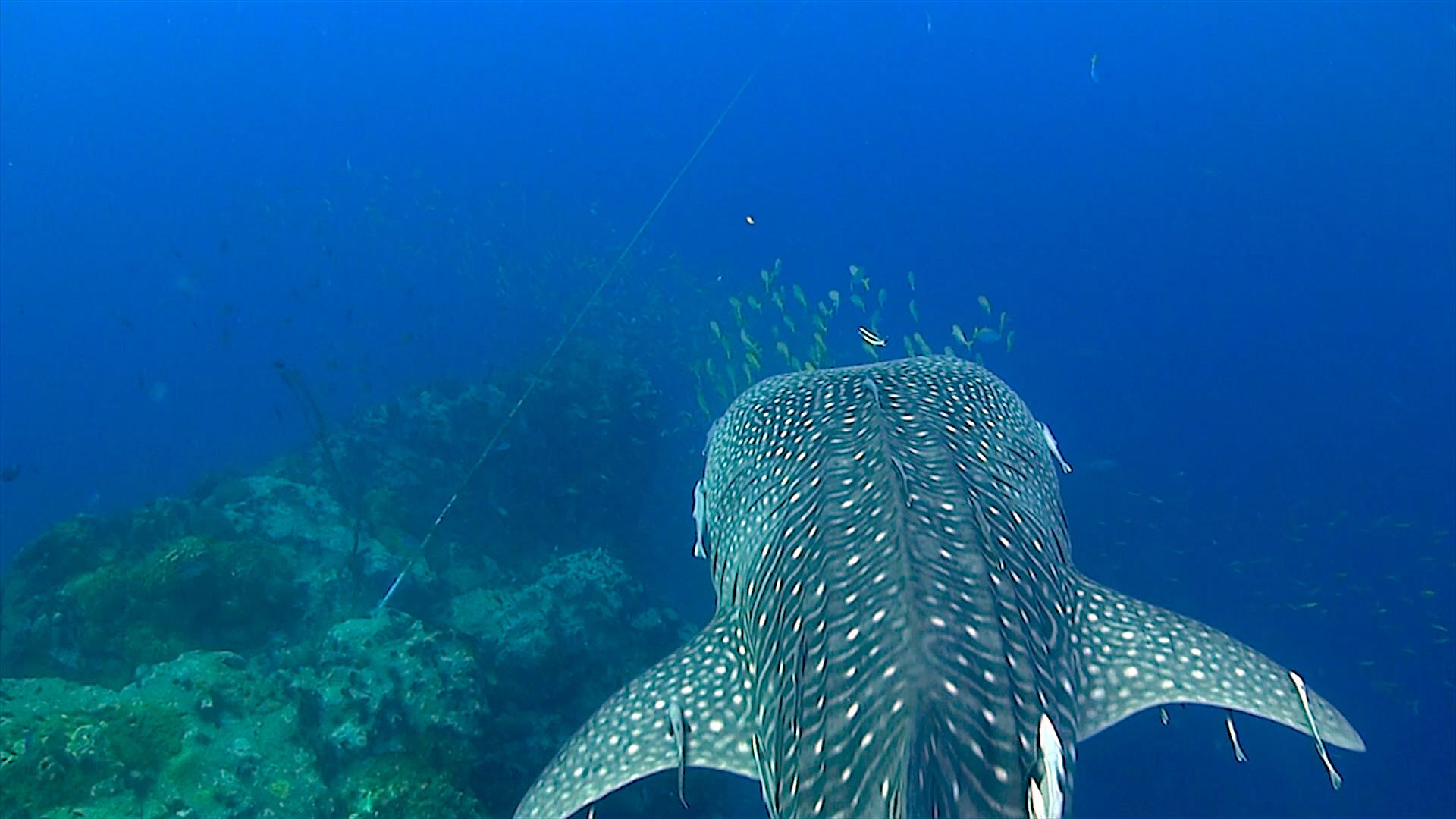 Best Dive Site to see a Whaleshark on Koh Tao
On a good day Chumphon Pinnacles dive site is teaming with an abundance of marine life.
Resident Malabar groupers reach almost 2 metres long, huge schools of fusiliers that school together over the pinnacle cascade like a waterfall over the edges.
Look off the pinnacle into the deep blue abyss and you will see schools of Chevron and yellow tail Barracuda, as well as huge schools of Jacks that glisten silver.
As you drop  deeper you will find razorfish and Lionfish, making the sandy edges of the dive site interesting and fun to explore.
Chumphon Pinnacle is also a great place to see a whale shark, in fact probably the most common dive site around Koh Tao that we see these majestic giants.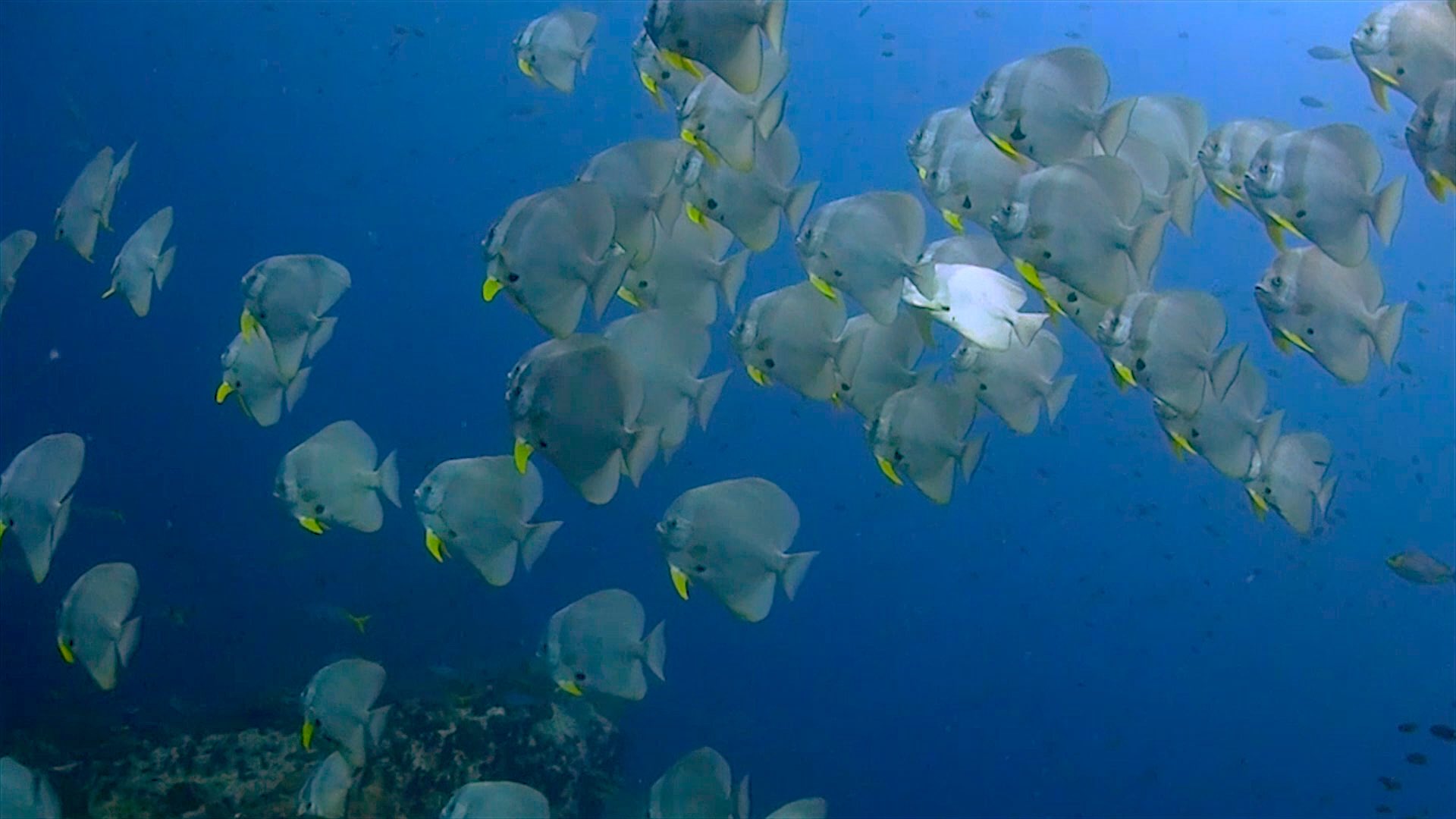 Advanced Divers
It is not hard to discover why many divers who visit, consider this dive site a favourite place to dive on Koh Tao.
In recent years whalesharks have been seen all year round but the most common times to see them is from March to May and from August to October.
Due to the dive sites depth and occasional currents, Chumphon Pinnacles is best suited for advanced divers and it provides great motivation for newly certified Open Water divers to take the next step and complete the Advanced Open Water course.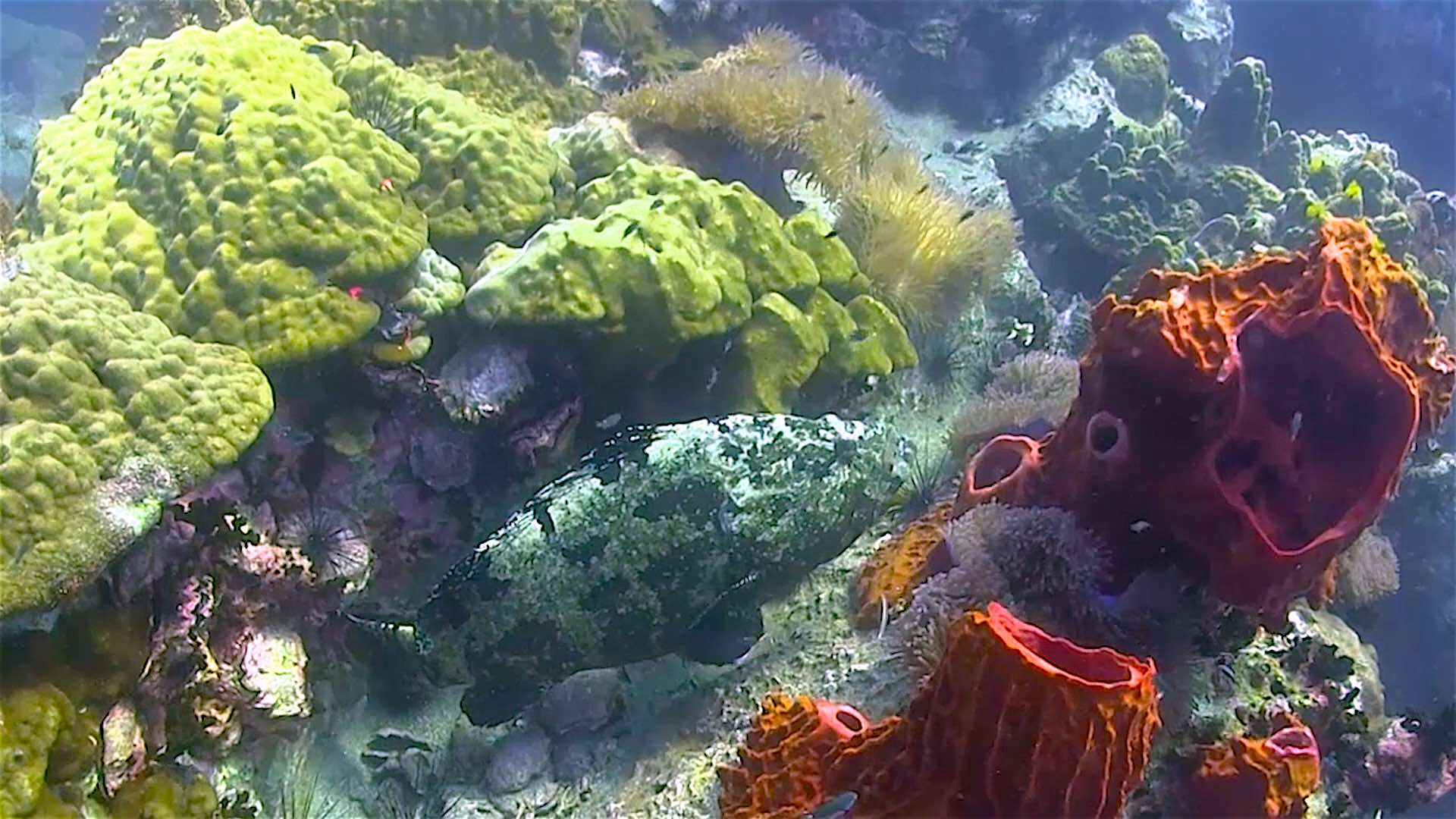 Southwest Pinnacles Dive Site – a dive Pro's favourite
Distance: 45 minutes from the main pier
Depth Range:  5 – 28 metres
As you can guess, this dive site is located south-west of Koh Tao approximately a 45 minutes boat ride from the main island.
Often referred to as the underwater mountain range of Koh Tao, this dive site offers something a little more unique for scuba divers.
South West dive site is made up of 7 rock pinnacles of varying depths and heights and once you have dived there, it is easy to see why it made our list of the best Koh Tao has to offer.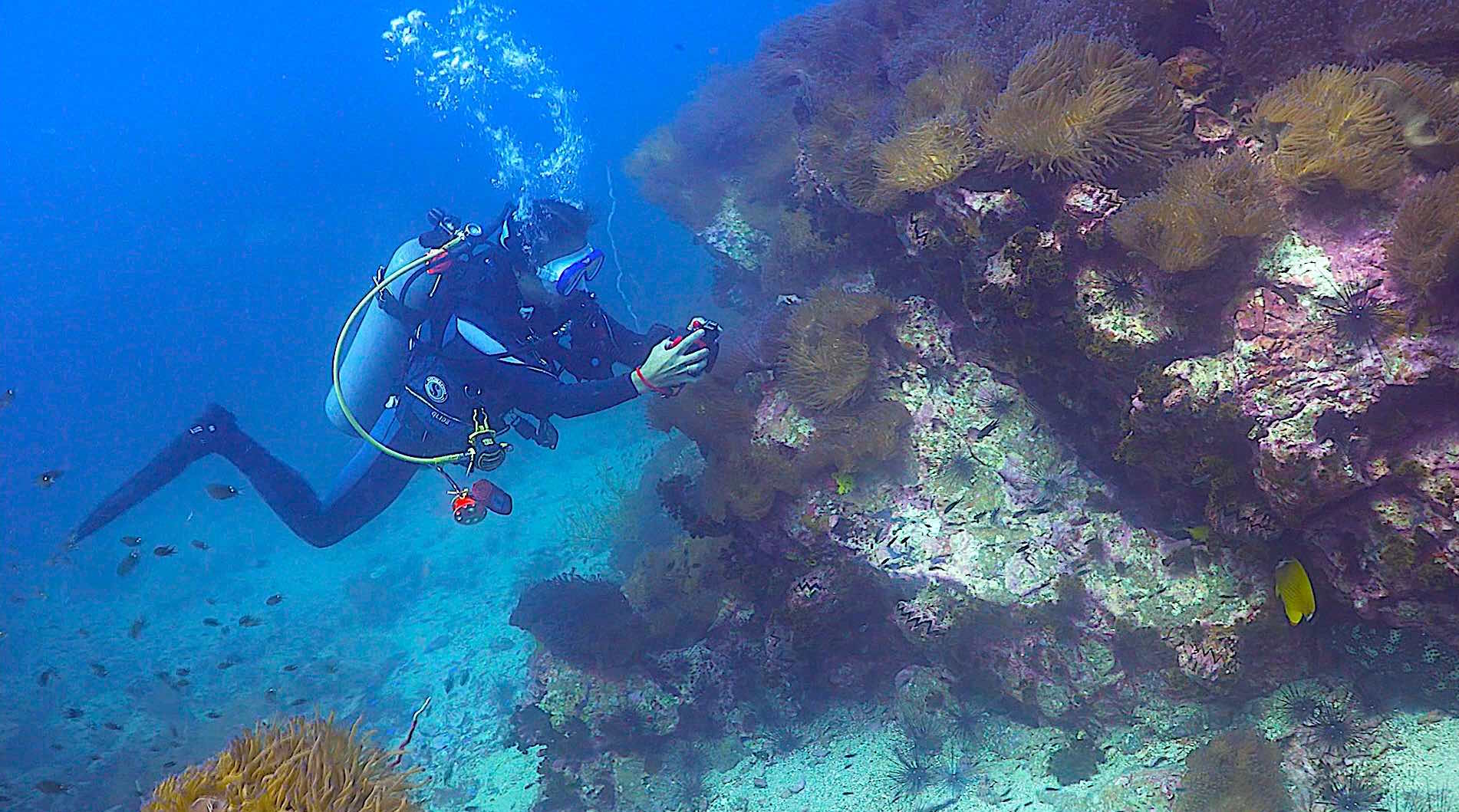 Favorite Dive Site
In fact, it is common to hear the professional scuba diving community on Koh Tao refer to this as their favorite dive site, often mentioned with the words, 'on a good day'.
Start at the bottom and work your way up is a great way to explore this dive site. Although you can get to 28 meters pretty quickly, the best part of  Southwest Pinnacles lies above 22 metres.
Around the edges on the deeper parts are rocks and boulders, which is a perfect environment for the eels and snappers that call it home and you will see several abandoned fishing traps.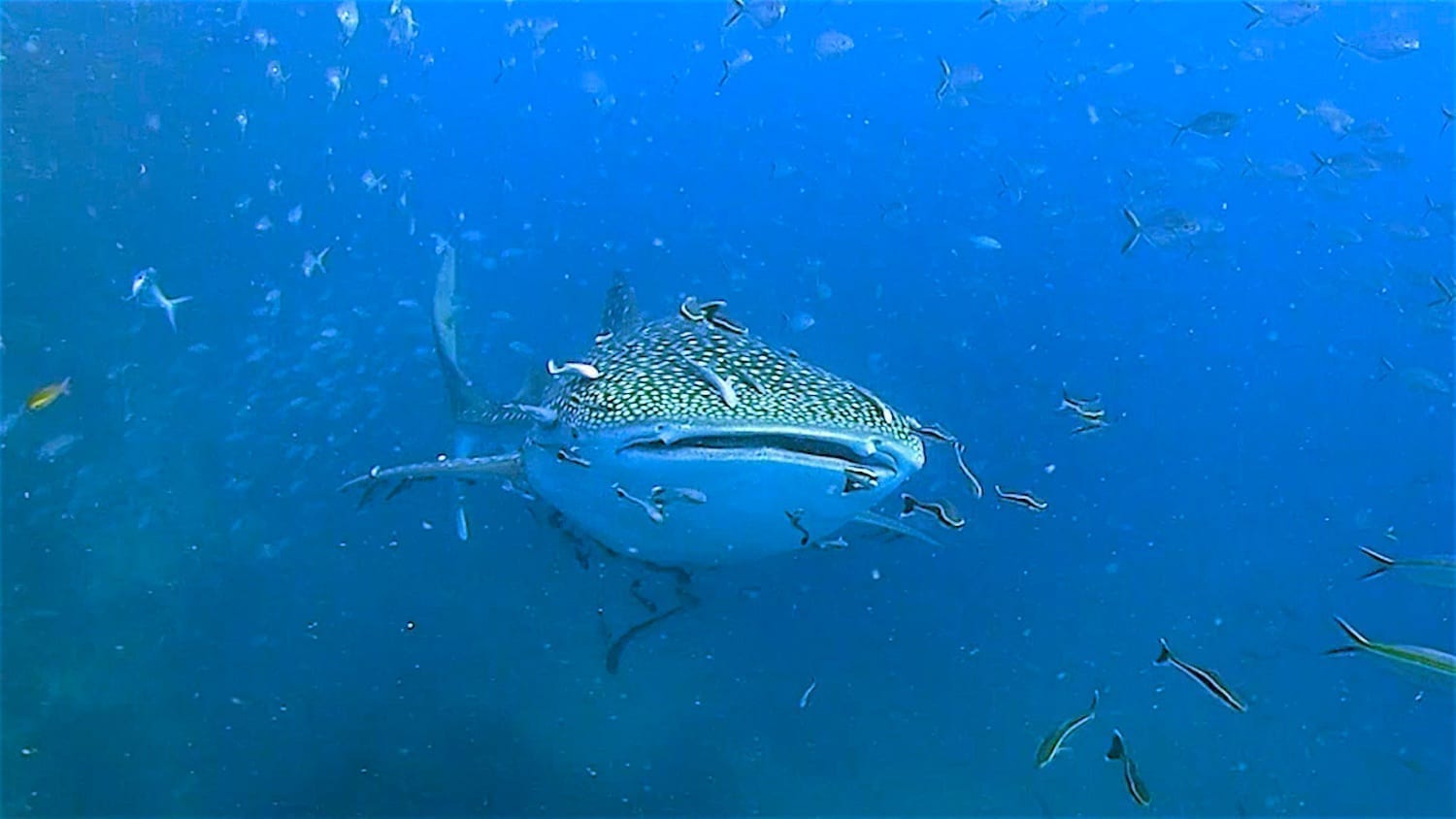 South West Deep Dive Site Koh Tao
As you move your way through the towering pinnacles on a gentle ascent, scorpionfish are easy to identify.
There are lots of fusiliers, yellow line snapper, rabbitfish and yellow tail barracuda in large schools often blocking out the rest of the dive site and mesmerizing you as you swim towards them.
Large Potato grouper hang out in the shadows and look out into the deep blue where you will see the hunting Giant Barracuda, large Queenfish and Cobia's.
Look closely at the rock pinnacles with lots of cracks and crevices that are full of life, including tiny glass shrimp and boxer shrimp.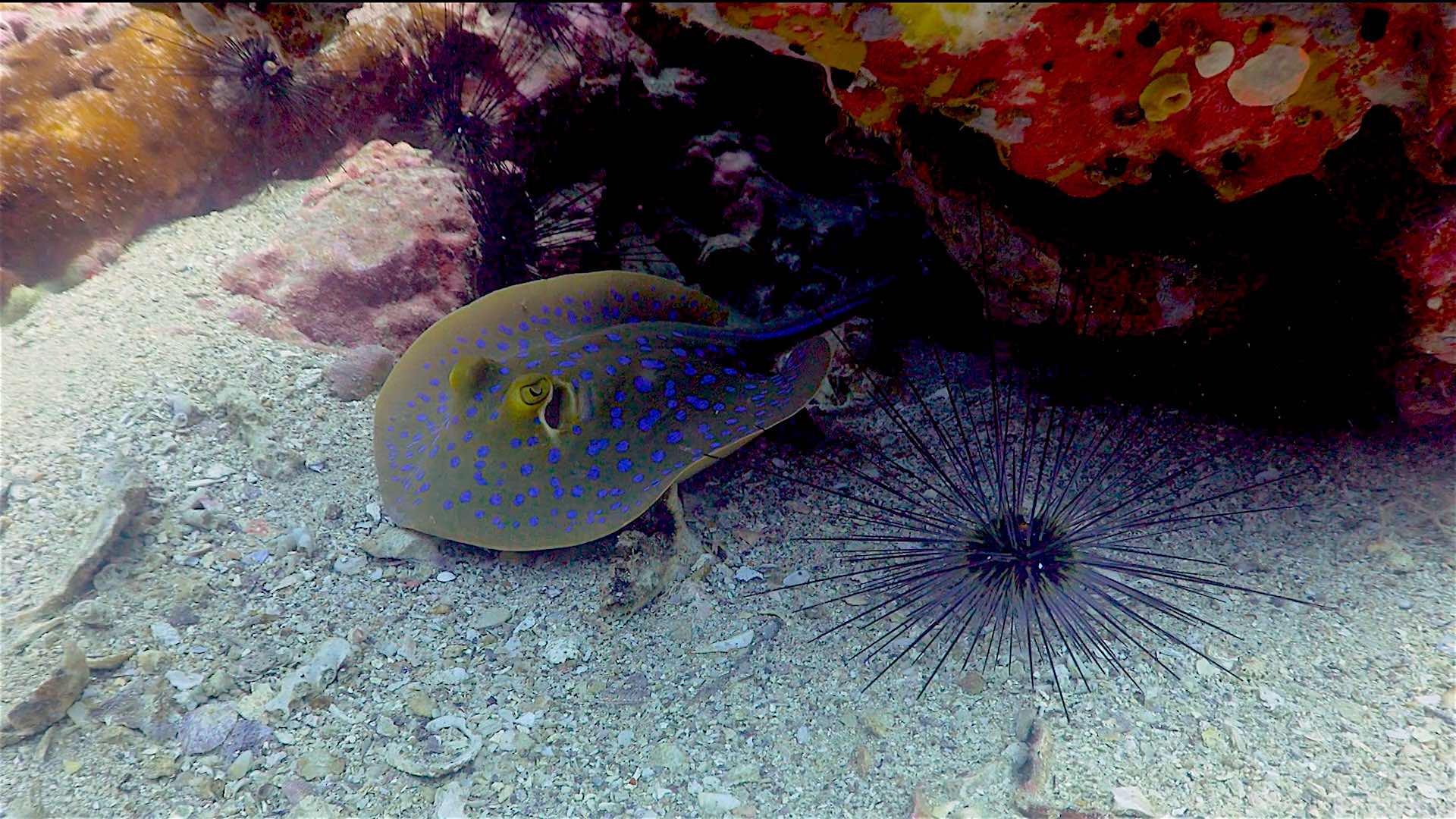 Brydes Whales
South West Pinnacles is one of the dive sites we see the occasional Brydes Whales and the more commonly seen Whaleshark.
As you ascend into shallower water, the top of the rock pinnacles provide a great place for your safety stop, which on a good day, is spectacularly lit by the morning sun.
On a good day on your safety stop expect to see a carpet of sea anemones and pink anemone fish provide you with more than enough fun to finish off your dive.
For the more adventurous diver go and check out the secret pinnacle. It is located about a 5 – 6 minutes swim from the south end of the main pinnacle.
However, this outer lying part of the dive site should only be attempted when conditions are good as it is easy to miss in a current or bad visibility, both of which South West is known for.
Less visited by divers due to its distance, those that visit can enjoy this small cluster of rocks and the abundance of schooling fish all to yourself.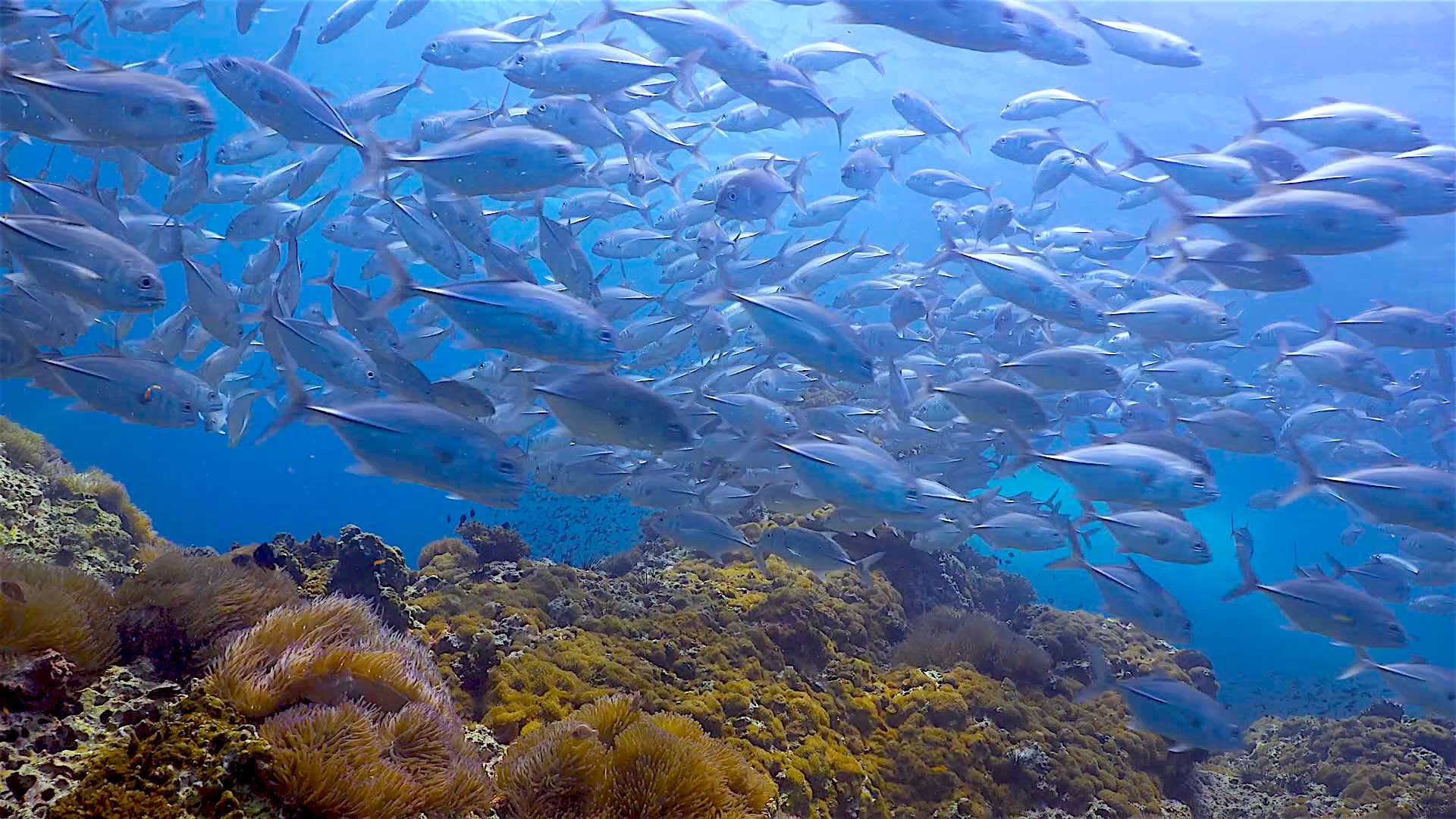 Sail Rock Dive Site – Popular in the Gulf of Thailand
Distance: 90 minutes from the main pier
Depth Range: 0 – 40 metres+
Sail Rock dive site rises out of the ocean like an iceberg and has a thriving Eco system beneath the surface and is the dive site that excites local divers the most.
Due to its proximity – a 90 minute leisurely boat journey from Koh Tao, it is the only dive site regularly dived from Koh Tao that cannot be reached by a regular morning or afternoon trip.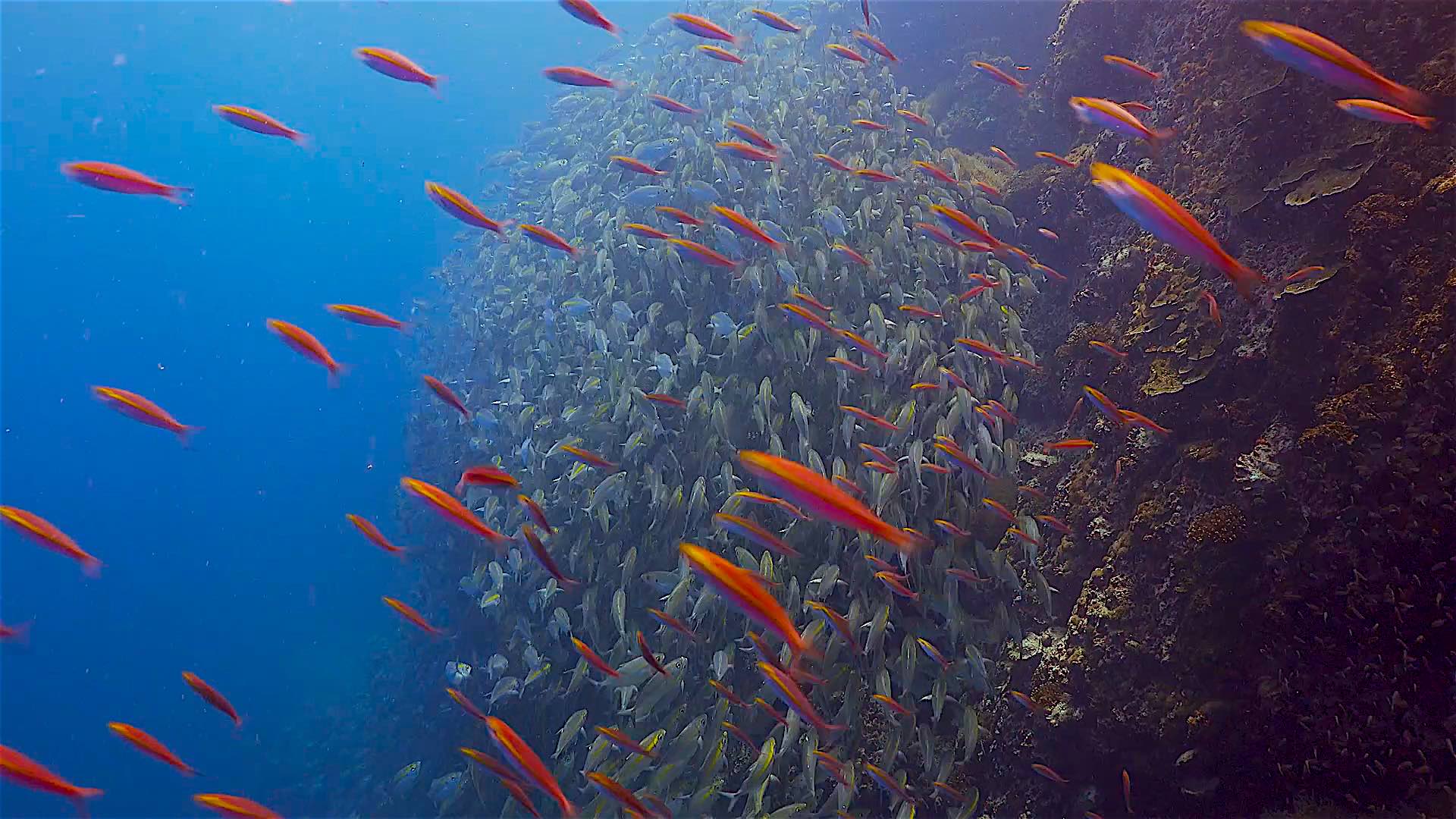 Amazing Eco System
Instead, Hin Bai as it is called in Thai, is almost always a full day trip that offers a more relaxed dive schedule, which customers pay a small premium for as it includes a buffet lunch.
This huge granite rock that rises from the ocean like a towering Iceberg over 8 metres tall in the middle of the ocean, gives divers that extra sense of excitement.
Sail Rock is basically a wall dive with lots of marine life living on the rock including scorpionfish and Moral eels amongst hard corals that cover the rock and the nearby ledges.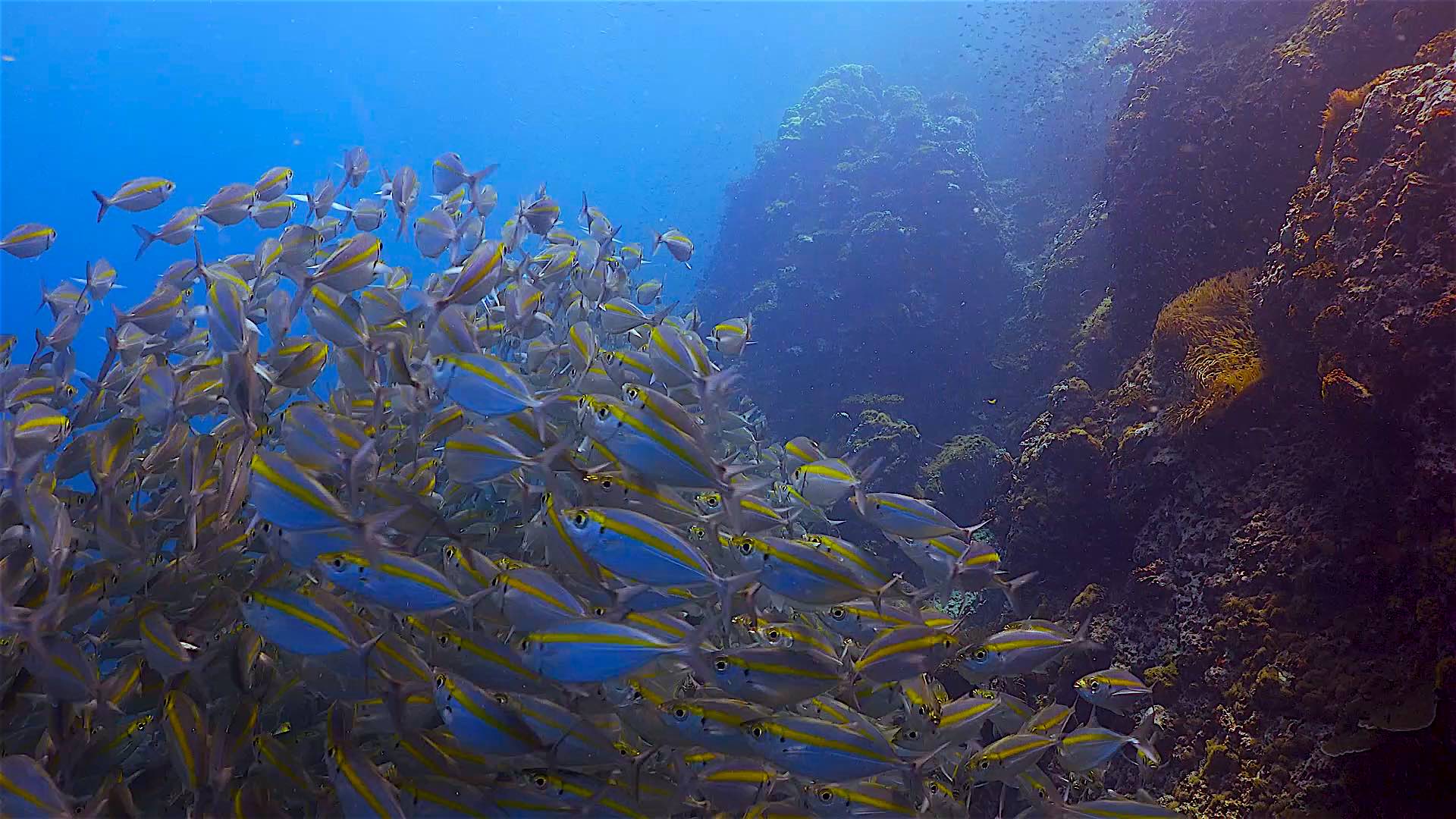 Marine Diversity at Sail Rock Dive Site
Other interesting marine life to see at Sail Rock include angelfish, anemonefish, trout, soldier fish with a variety of nudibranch, crabs and several different shrimp all hiding in thousands of small nooks and crannies of Sail Rock.
One of the highlights of Sail Rock is the chimney. Divers can swim vertically down, inside the rock, entering at 5 meters and descending down to 18 meters, which gives them an exhilarating start to their dive as they explore the interior.
Thousands of small critters can be found hiding, including small crabs, shrimp, giant pufferfish and angel fish.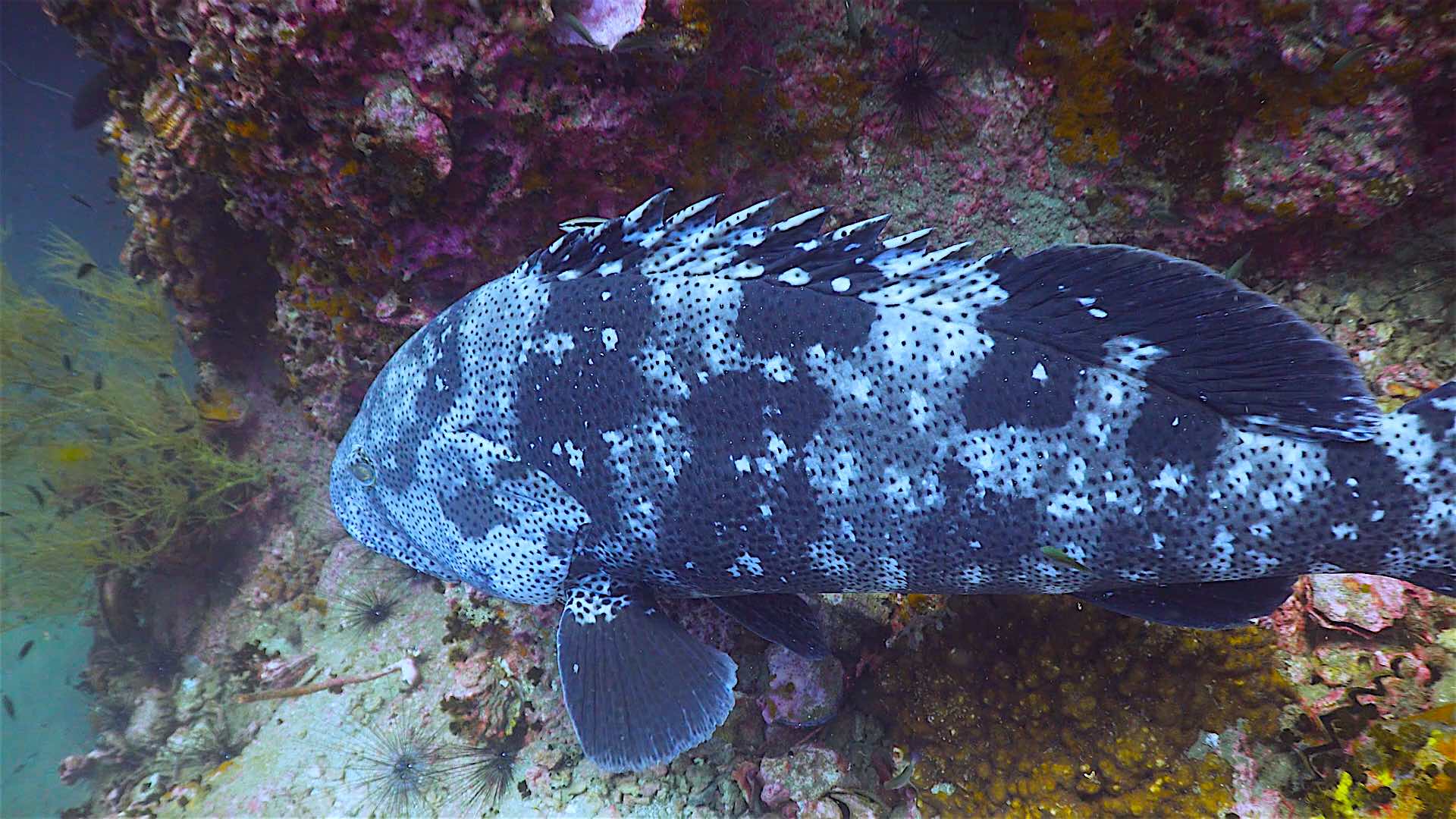 The Chimney
Diving Sail Rock offers a great opportunity to see a whale shark with frequent sightings  all year round as they pass through, feasting on the nutrient rich waters.
You are very rarely disappointed after a dive at Sail Rock and on a good day a dive on Sail Rock is nothing short of spectacular.
Due to the remote location of Sail Rock, the fish you see here tend to be bigger as do the schools of Barracuda, Trevally & Queenfish, circling the rock in beautiful harmony, like a sea of silver across your vision.
Giant groupers that are difficult to see at first, lazily swim at the bottom of the rock.
Crabs and shrimp can be seen scuttling along the edges and moray eels peer out of holes watching life go by.
Huge schools of Batfish hang out, almost like they are curious as to what is happening.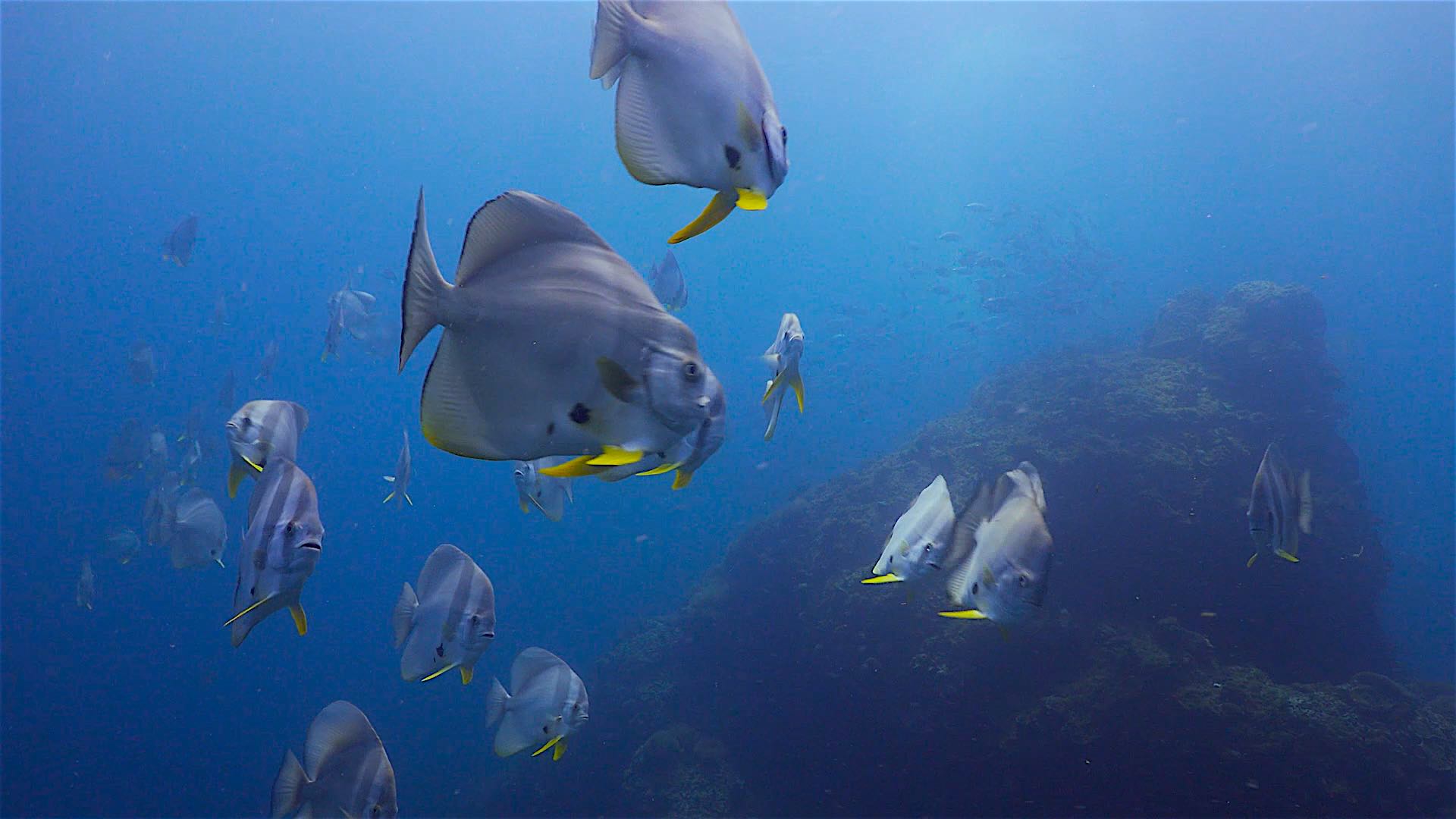 Sail Rock is the best dive site in the Gulf of Thailand
Diving Sail Rock really does highlight how a thriving Eco system operates as you witness how a huge variety of marine animals go about their daily business.
The rock reaches all the way to the surface, which on a good day makes it suitable for all level of divers.
Sail Rock is also a deep dive site with outer lying pinnacles on both the east and west sides of the rock.
This offers easy access to depths below 35 meters and are themselves miniature hubs of marine activity, partially independent from the main rock.
To appreciate Sail Rock at its best an advanced certification is best and if you get the opportunity to dive on Nitrox the dive experience will be enhanced.