How to get to Freedom Beach on Koh Tao
Freedom beach is a 10-15 minute drive from both Sairee beach and Mae Haad pier and is situated at the southern end of the main North to South road on Koh Tao.
As the road passes through the village of Chalok and turns up left and climbs uphill, you will see signs for John-Suwan viewpoint, which is right next to the beach.
Car Parking
You can park at the car park for Taa Toh Bay and then it's just a 2-minute walk down to the beach.
You do have to pay a charge of 100THB, but this gives you access to Freedom Beach, Taa Toh bay and John-Suwan viewpoint.
If you arrive early it is unlikely anyone will be there to collect the fee, which is good to know as Freedom is a great beach to watch the sunrise as the light races across the early morning sky.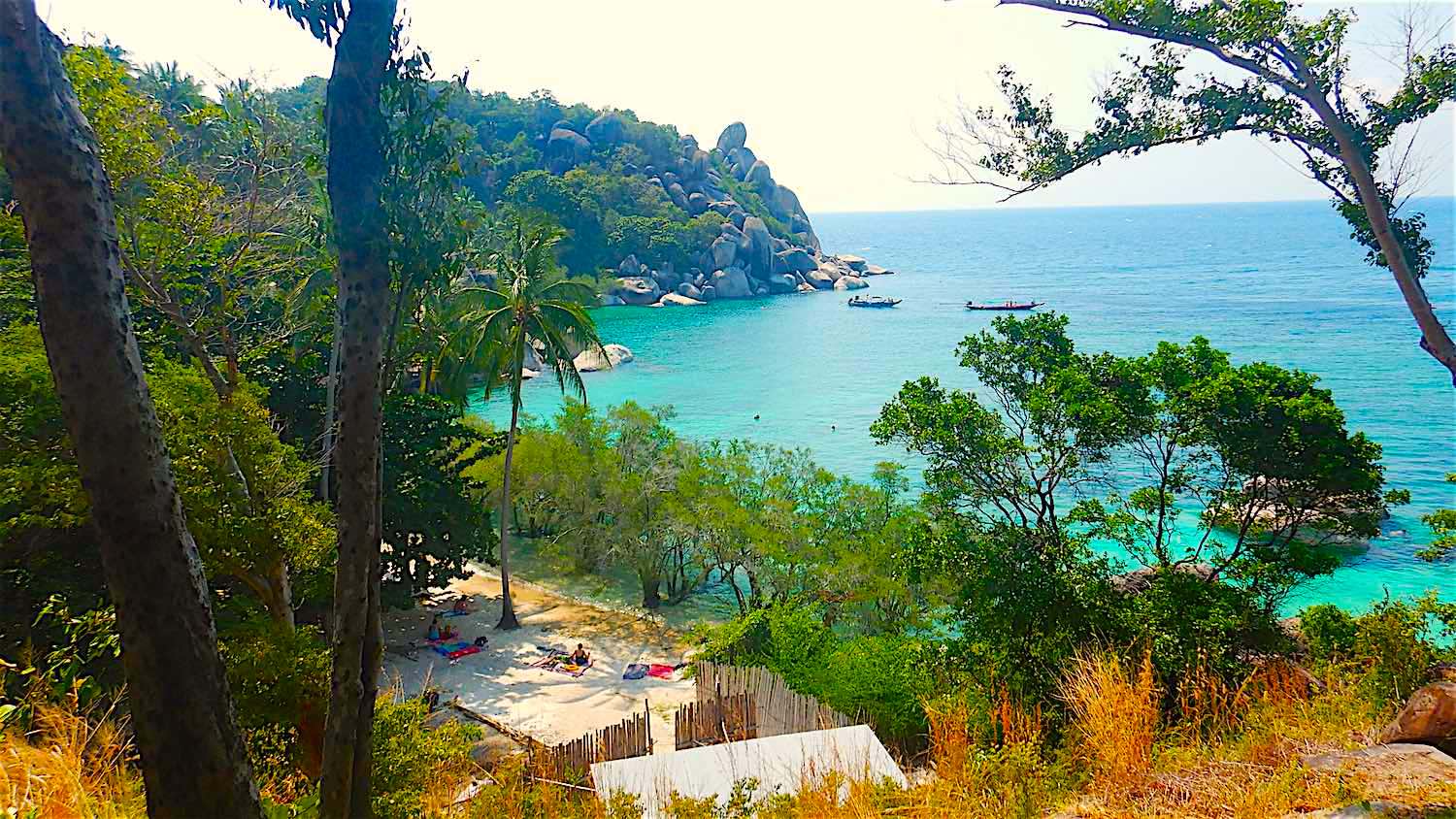 Freedom Beach Koh Tao is a Secluded Beach
One of the more secluded beaches on the island, Freedom beach is quiet and private with just one building.
It sits over the water in the eastern corner, which houses a cheap, local restaurant.
Despite this, it is well known amongst travellers and has a super cosy vibe that makes it one of the most popular small beaches on Koh Tao, so it can get busy in the afternoon.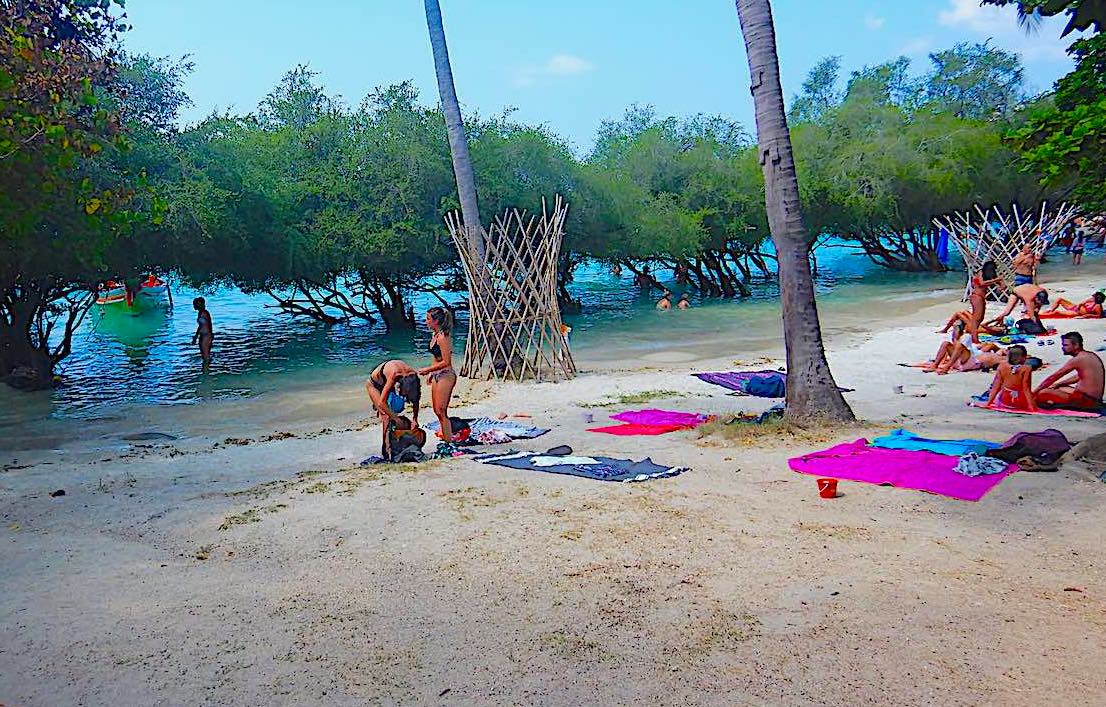 Fine White Sand
The sand is fine and white, and there is plenty of shade from the Pemphis Acidula trees.
The beach itself is split into two areas that are connected by a trail through the trees, is kept clean and well maintained.
It is great for both sunbathing or just relaxing in one of the hammocks under the trees.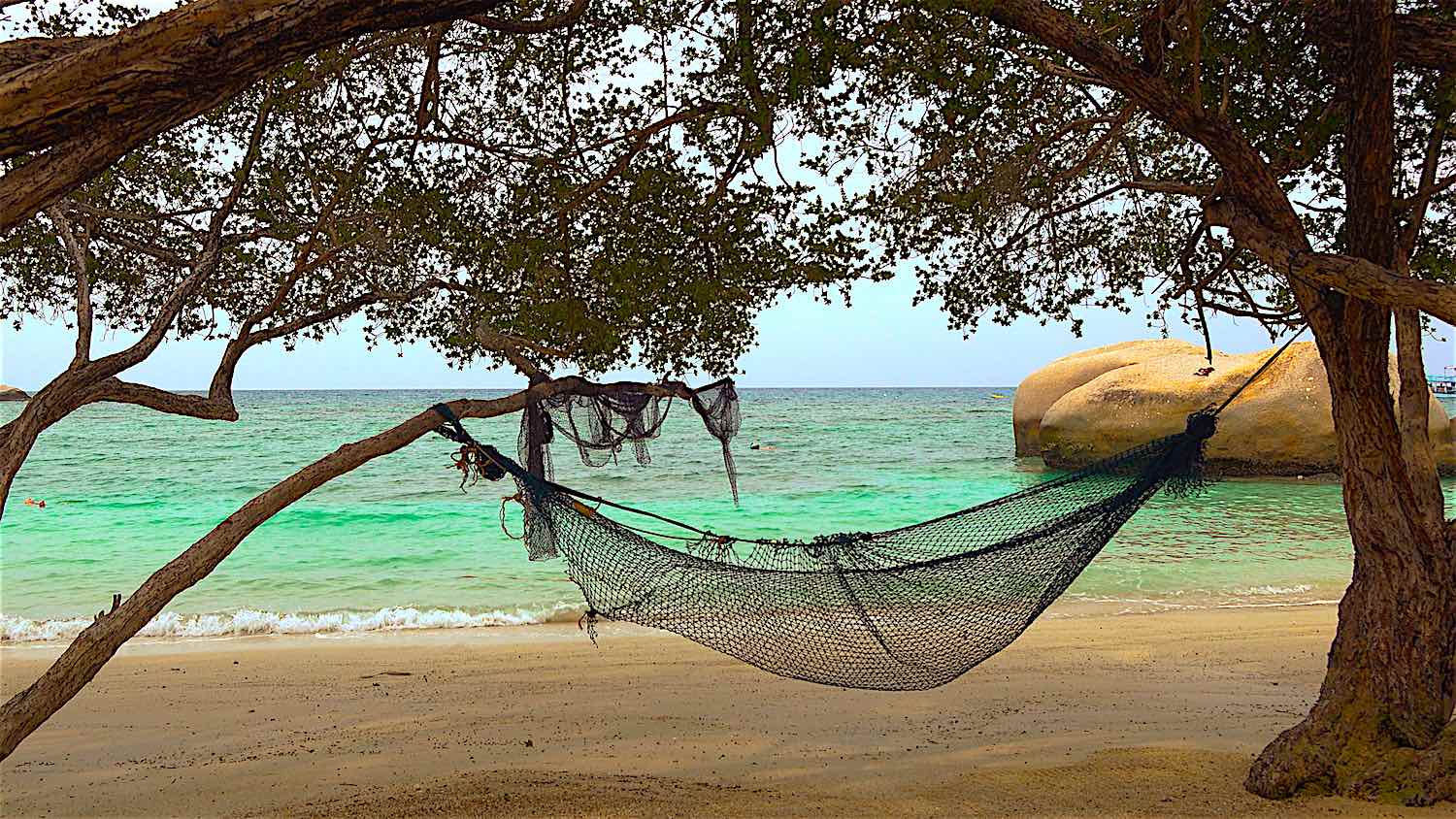 Buddha Rock Cape near Freedom Beach Koh Tao
The entire area is very scenic with clear, warm water and a spectacular view of Buddha Rock, which is one of the natural attractions on Koh Tao, located on the cape.
Coral Reef
There is a shallow coral reef not far from the shore, on the same side as Buddha Rock, which is great for those looking to snorkel.
As with all coral when snorkeling or swimming, be careful not to step on the reef as it can cut your feet and damage the coral.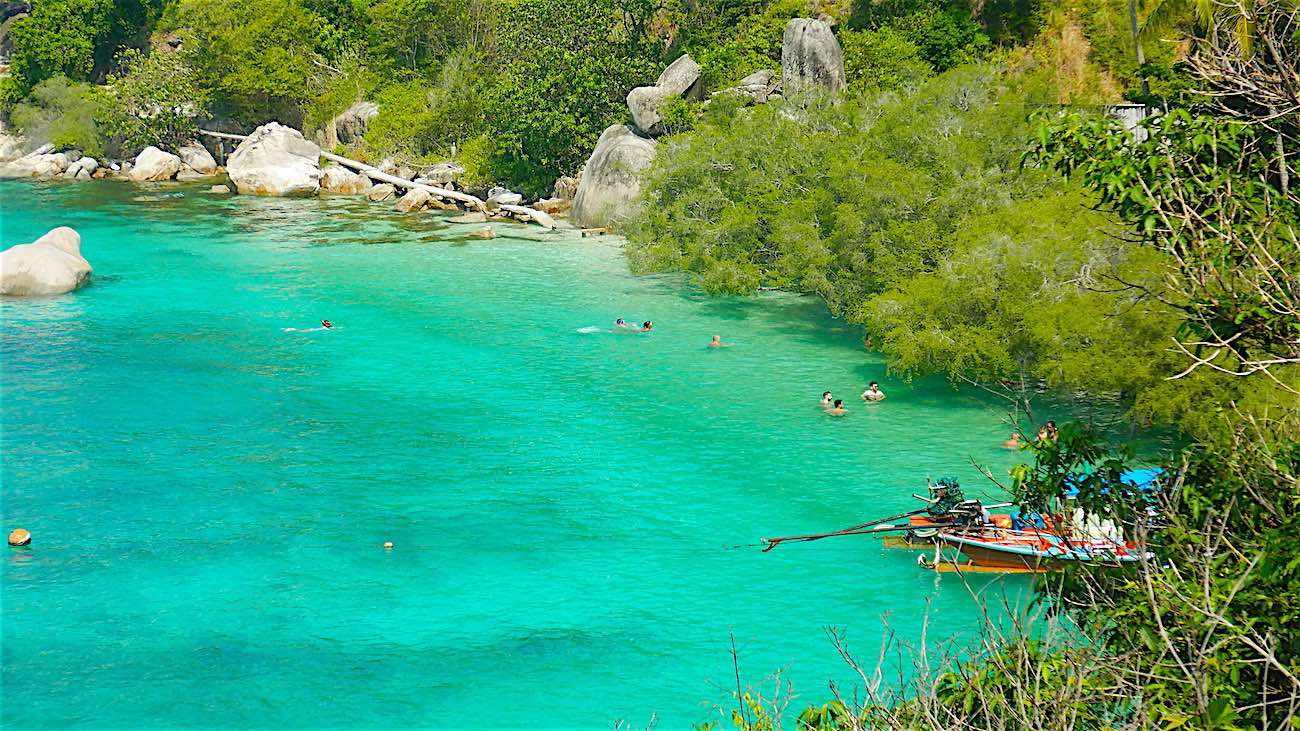 Snorkeling at Freedom Beach Koh Tao
Freedom Beach is great for swimming and snorkeling and you can swim around the headland cape, which is the on the very southern tip of the island.
Marine Life at Freedom Beach on Koh Tao
At the cape, there is constant water movement and you can see schools of fish just a few hundred metres from the shore. You can also swim past Taa Toh beach against a backdrop of jungle.
If you plan to spend the entire day close to Freedom beach, you can also check out some of the hiking trails nearby.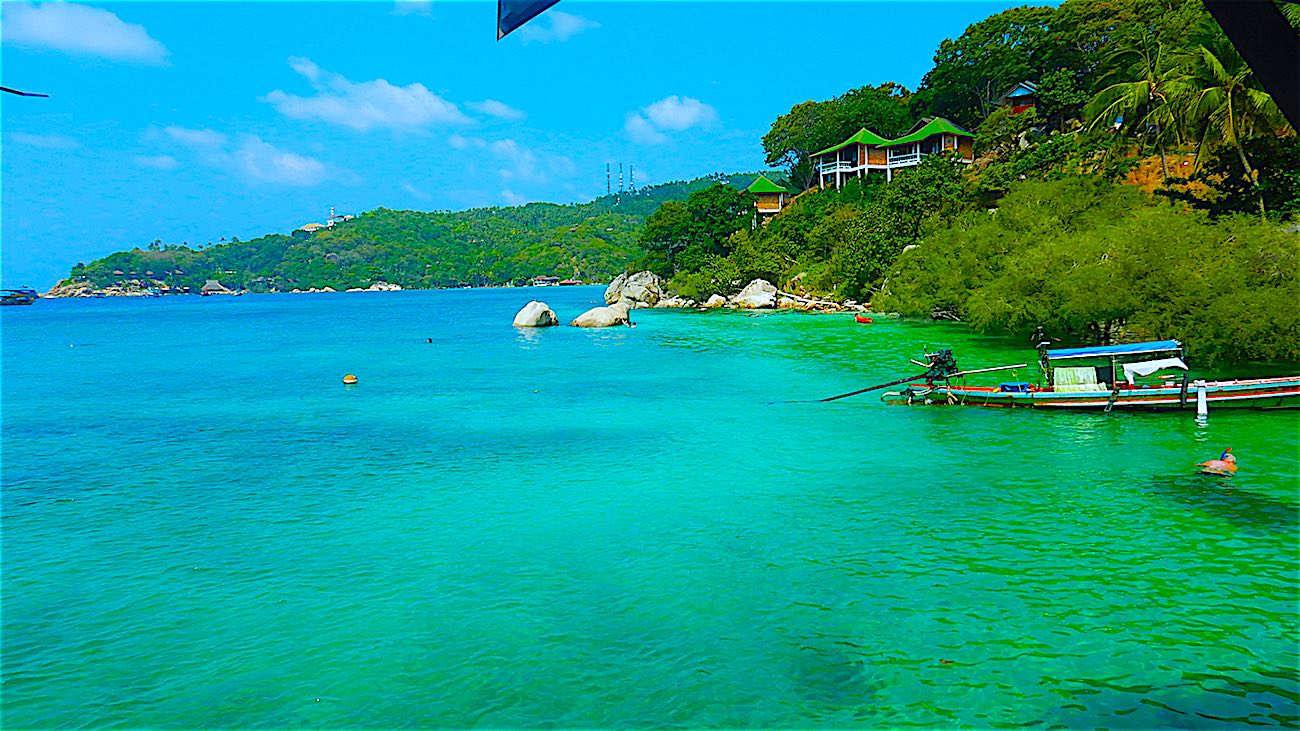 Hiking Trail at Freedom Beach Koh Tao
There is a coastal boardwalk that you can use to get to Taa Toh Beach and at low tide it will take you as far as Chalok Baan Kao bay.
You can also trek up to one the best places to view Koh Tao from the southern tip, John-Suwan viewpoint which is just a 20 minute walk uphill from the beach carpark.
Contact us if you would like more information about getting to Freedom Beach or would like to book a snorkel trip around the island.
Frequently Asked Questions
Where is Freedom Beach Koh Tao?
Freedom beach is located along the south coast of Koh Tao and is one of those beaches that every tourist should visit when they are here. It is easy to get to and a scooter will take you almost all the way.
How to get to Freedom Beach on Koh Tao?
You can get to Freedom beach by following the main concrete road from Mae Haad or Sairee beach towards Chalok Baan Kao and either walking or riding a scooter through the village. Once you have passed through the village and you reach the end of the road, you will see the sign that drops down towards Freedom beach.
Can I snorkel at Freedom Beach Koh Tao?
Enjoying a day snorkeling at Freedom beach is highly recommended and swimming in the beautiful, clear, warm water. Freedom beach is a peaceful location and it is high on the list of places to go for visitors to Koh Tao.
Do I have to pay to access Freedom Beach Koh Tao?
To access Freedom beach you will need to pay 100baht at the car park and this gives you access to the beach itself, John Suwan viewpoint and Taa Toh beach. The entrance fee includes a bottle of water. It is great value and a perfect day of enjoyment and activity.
Is it safe to swim at Freedom Beach Koh Tao?
Swimming at Freedom beach is considered to be very safe and is an enjoyable day. You can relax, enjoy the natural tropical landscape and refresh with a leisurely swim in the safe, warm sea.