The Best Snorkeling at Mango Bay Koh Tao
Mango bay provides a perfect snorkel experience for visitors to Koh Tao who choose to hire a longtail boat or sign up for a full or half day snorkel trip.
This remote part of Koh Tao is difficult to access by land and is located at the far north of the island.
Taxi 4 wheel drive pick up's can transport passengers to and from here if you are staying at the resort or want to visit for the day.
The most popular way to visit Mango bay is by longtail boat from Mae Haad pier or from Sairee beach and the journey takes around 40 minutes, depending on the departure point.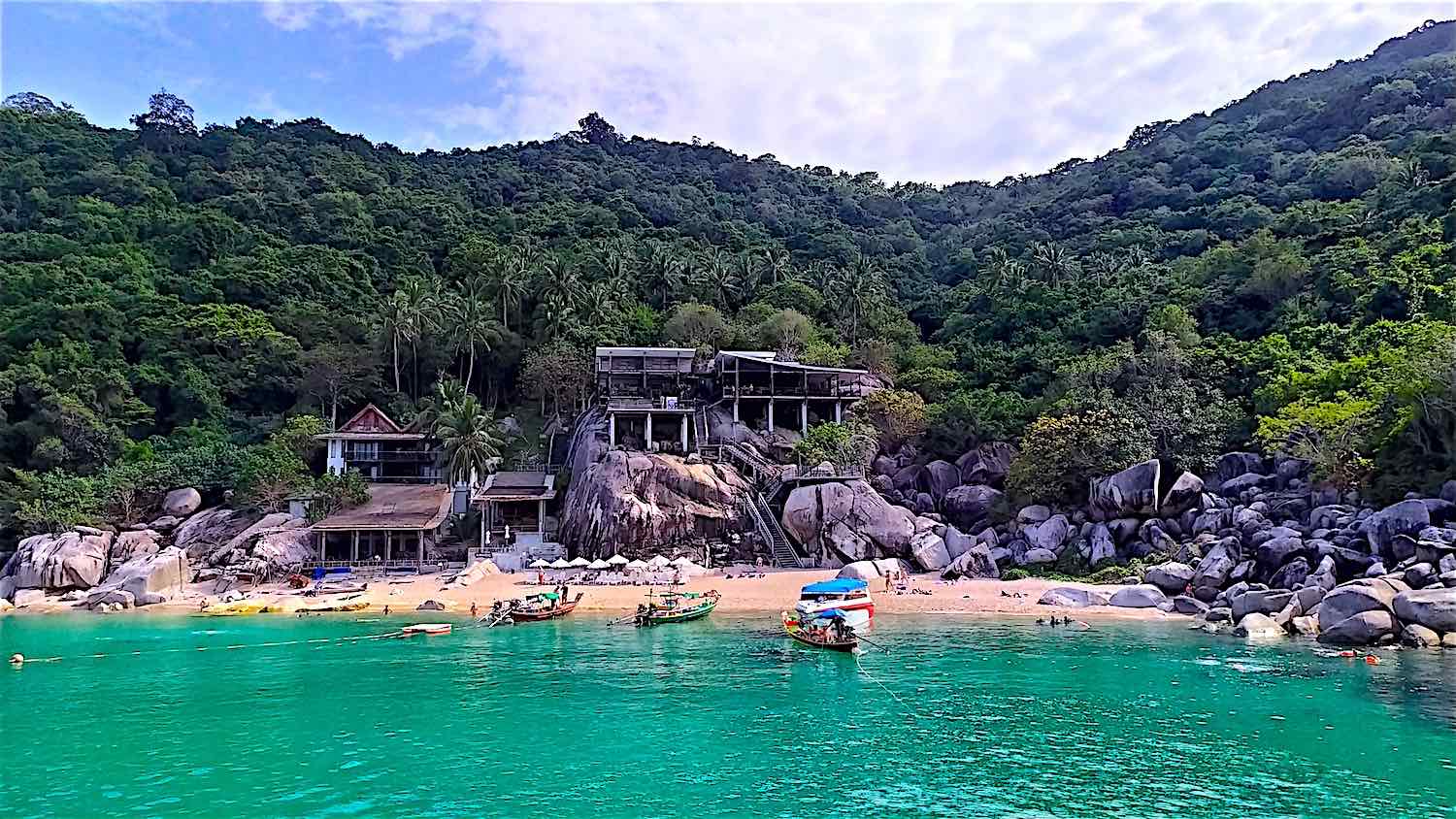 Where to go Snorkeling at Mango Bay
This location offers two areas to snorkel and the most popular is the east side of the bay that runs for several hundred metres from the beach to the northern headland.
There is a 'safe snorkel zone' that is marked and during the day snorkel trip boats will visit here and escort their customers into the snorkeling area.
The east coast provides the safest area to snorkel and the water depth ranges from a couple of metres deep along the rock formations to approximately 16-18 metres deep the further away from the shoreline you go.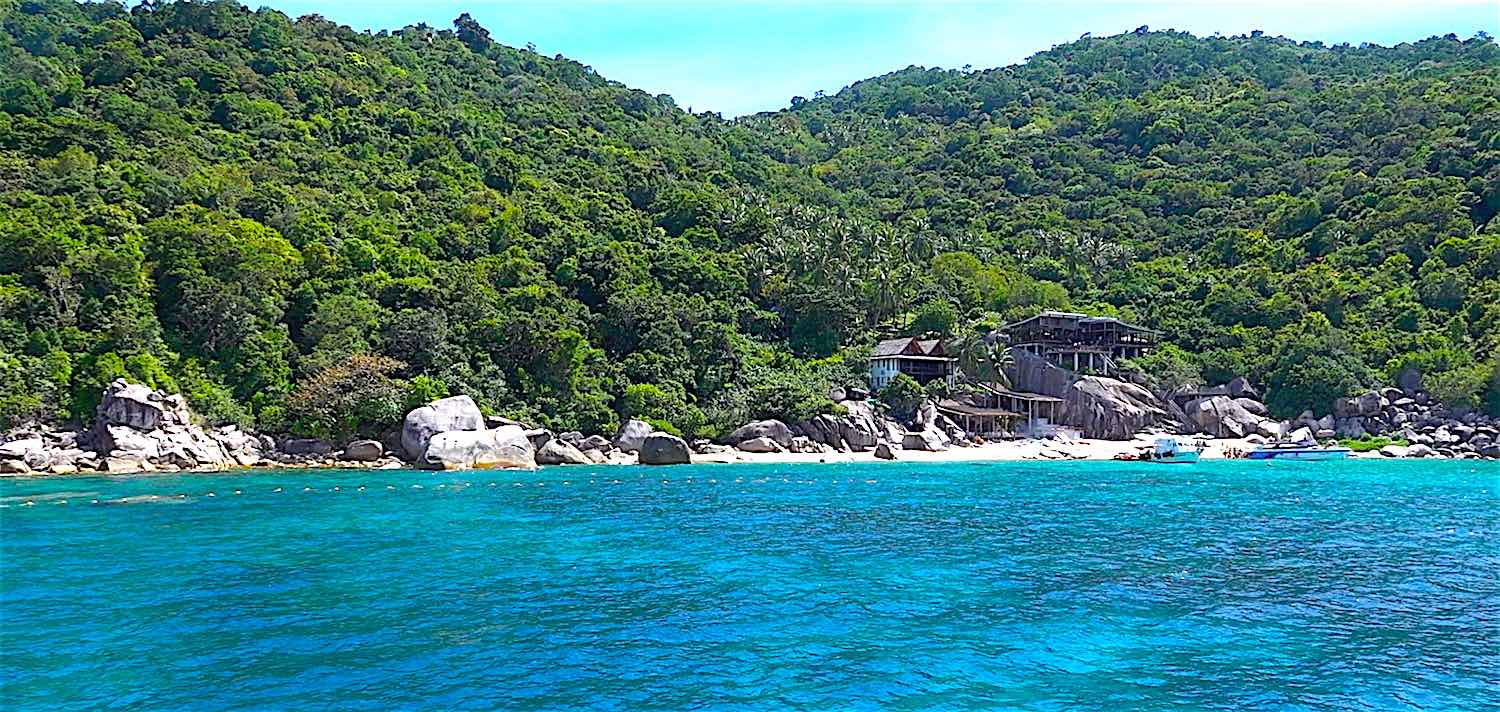 Snorkel Mango Bay
As you move further towards the headland, the water will start to get deeper. However, for snorkeling the best marine life can be seen in the 3-18 metres depth range.
The centre of the bay is a large white, sandy area and Mango bay is a popular location for scuba diving boats for their open water course training, due to the calm conditions and water clarity.
However, it is worth noting that if the weather changes and comes in from the North, the conditions can change quickly.
If this happens the boat captain may well change this location for another one on the east coast of Koh Tao that provides shelter, such as Lighthouse bay.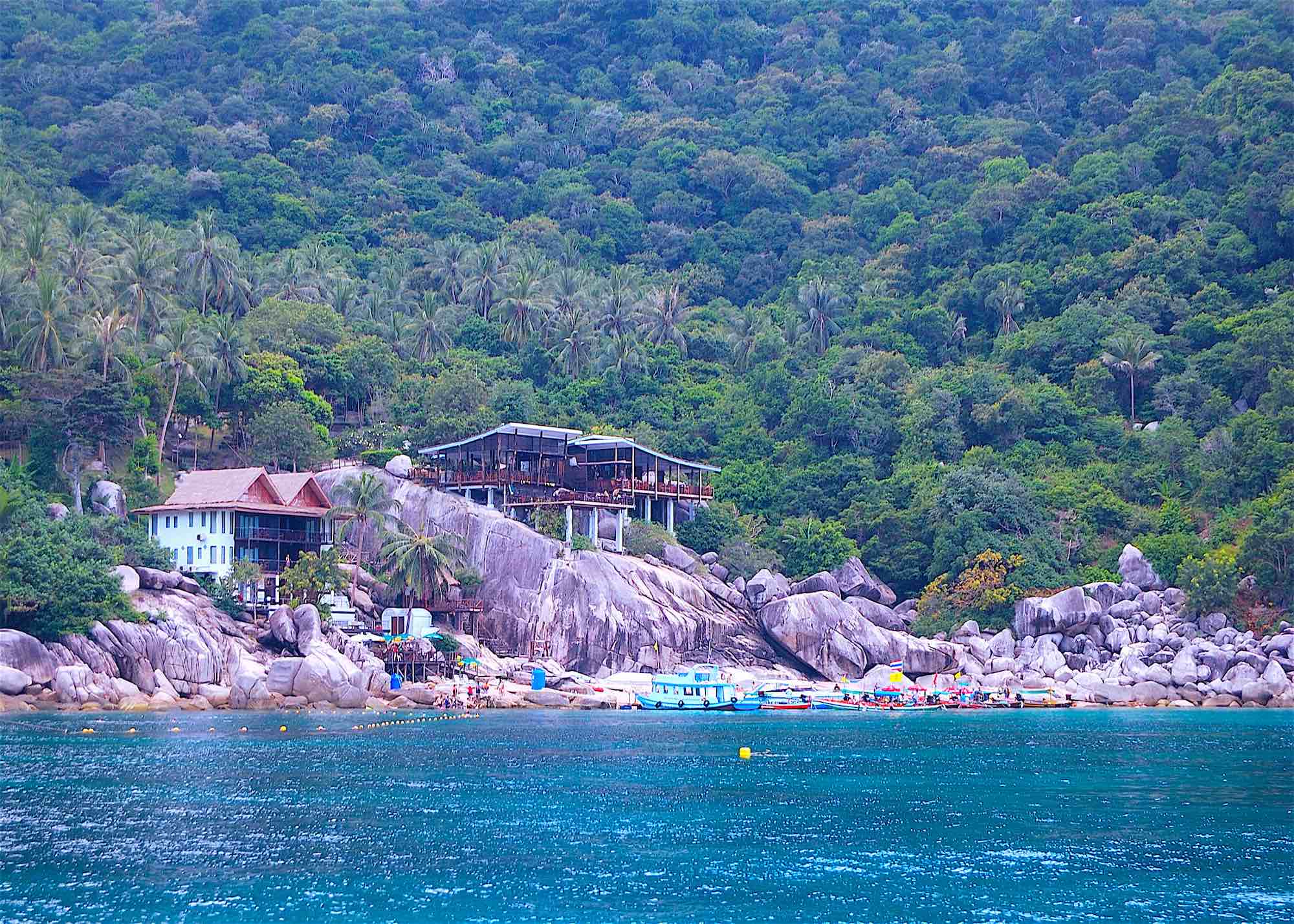 What you can expect to see Snorkeling at Mango bay
If the water visibility is good and the conditions are calm, snorkeling at Mango bay you can expect to see Mushroom corals, Giant barrel sponges, Giant clams and Jenkins Whiprays.
For smaller species look out for Butterfly Fish, Angel Fish, longfin bannerfish, Anemone fish, Red breasted wrasse, Unicorn fish, Parrot fish, Blue Spotted Stingray and of course the Titan Triggerfish.
There is a wide range of Marine life that you can see whilst snorkeling at the surface.
If you are visiting on a guided snorkel trip, then the boat guides will brief you on the highlights of this location including what there is to see and where to find it, so listen carefully!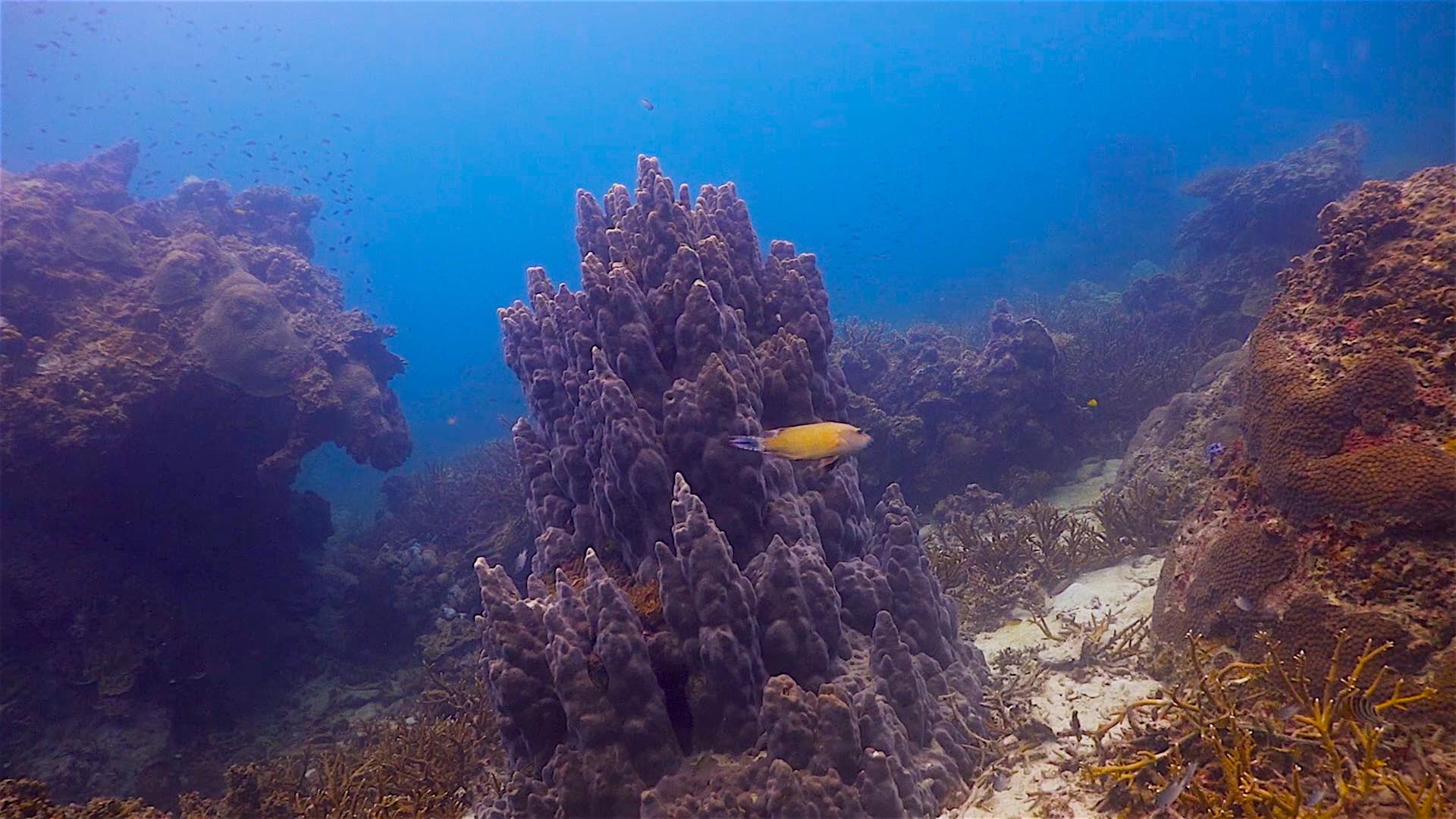 How to get to Mango bay for Snorkeling
As this location is on the far north of Koh Tao, the best route to get here is to use either a longtail boat or visit on a full or half day guided snorkel tour.
For longtail boats, the price can be negotiated with the driver from either Sairee or Mae Haad beaches and is ideal if you share the journey costs with more than one person.
If negotiating prices, please be respectful to the longtail boat drivers as they will offer you the best price available, considering their own costs and work time it takes for the journey.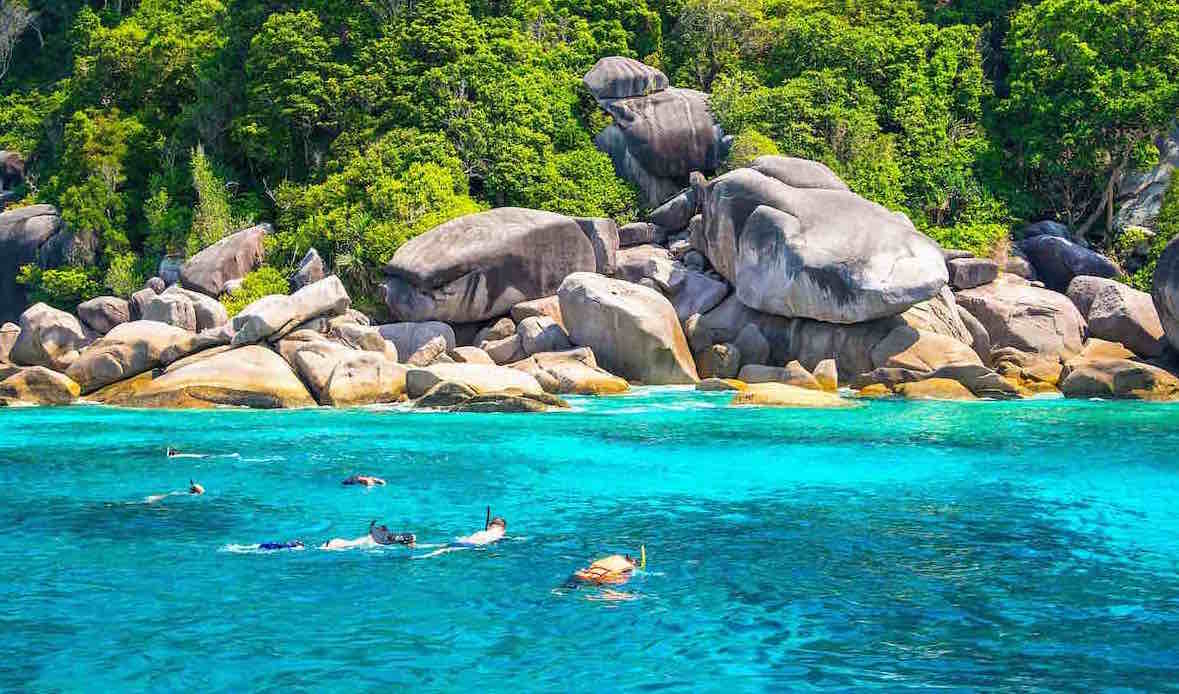 Scheduled Trips
Scheduled and organised Snorkel trips are a great way to visit Mango bay and this location features on the half day and full day Koh Tao island snorkel tours.
Depending on the season and the weather, Mango bay usually follows a visit to Koh Nangyuan island and you can expect to spend at least 30 minutes in the water to have lots of fun snorkeling.
Snorkeling at Mango bay is suited to single travellers, couples and families or groups at any time of year. If you are a family traveling with children then our recommendations are to sign up for the guided snorkel tours at an all inclusive price.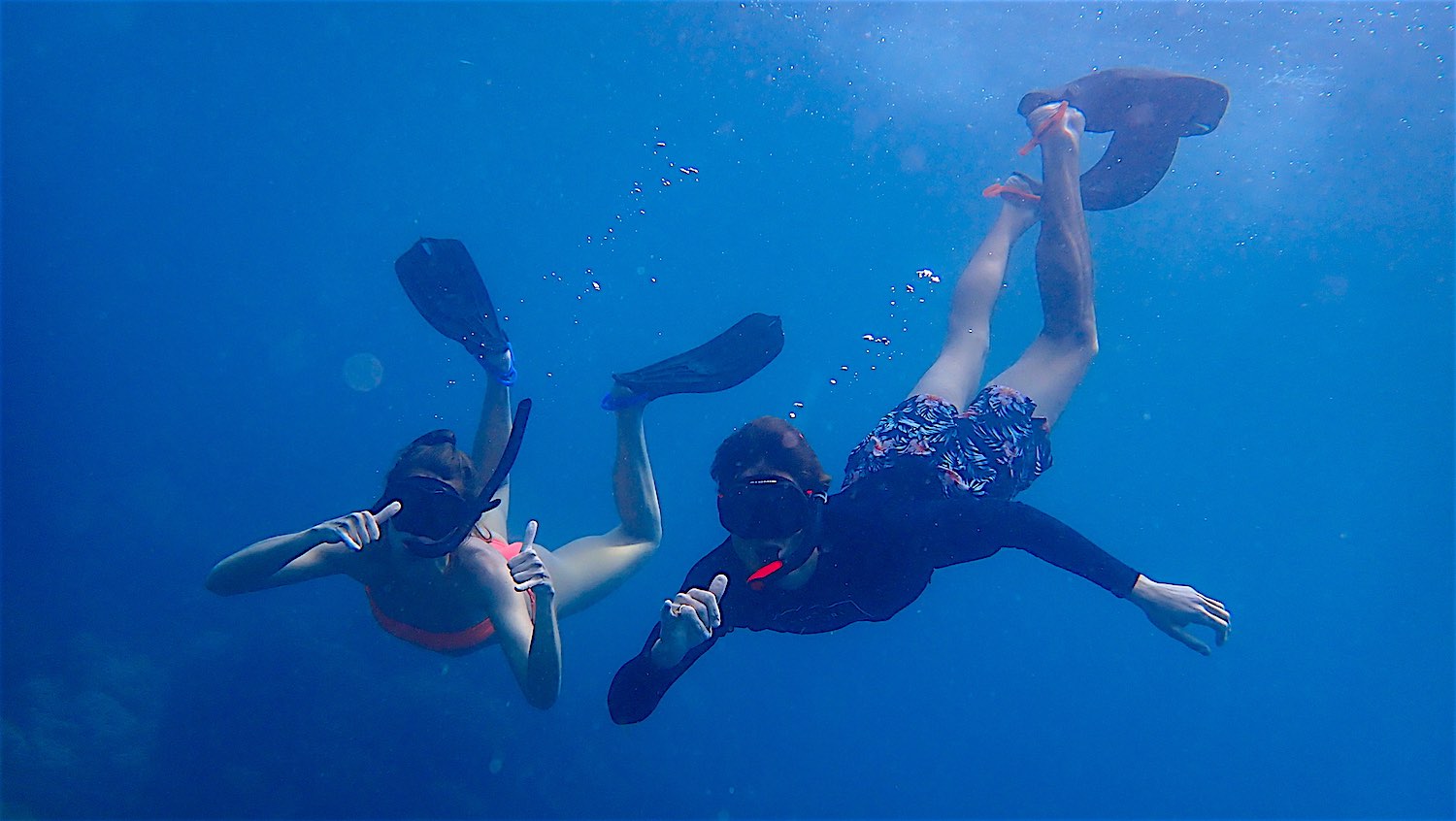 The best time of Year to Snorkel at Mango Bay
Although Koh Tao is subject to two distinct weather patterns, snorkeling can be enjoyed all year round.
The November Monsoon tends to bring with it more regular intermittent rain squalls that can last for around 6 weeks and they can disappear as quickly as they arrive.
These rain squalls frequently happen during the night as the temperatue cools and the daytime can be normal hot sunshine.
Water visibility may reduce a little and water temperature may drop a couple of degrees but like most tropical climate locations, it is never cold.
Mango bay is a very popular location for visitors to Koh Tao and high powered speedboats transport visitors here every day from Koh Samui on day trips.
A snorkel trip to Mango bay is a great day out, but if time is a limiting factor, we suggest a 'guided half day snorkel trip' from Mae Haad.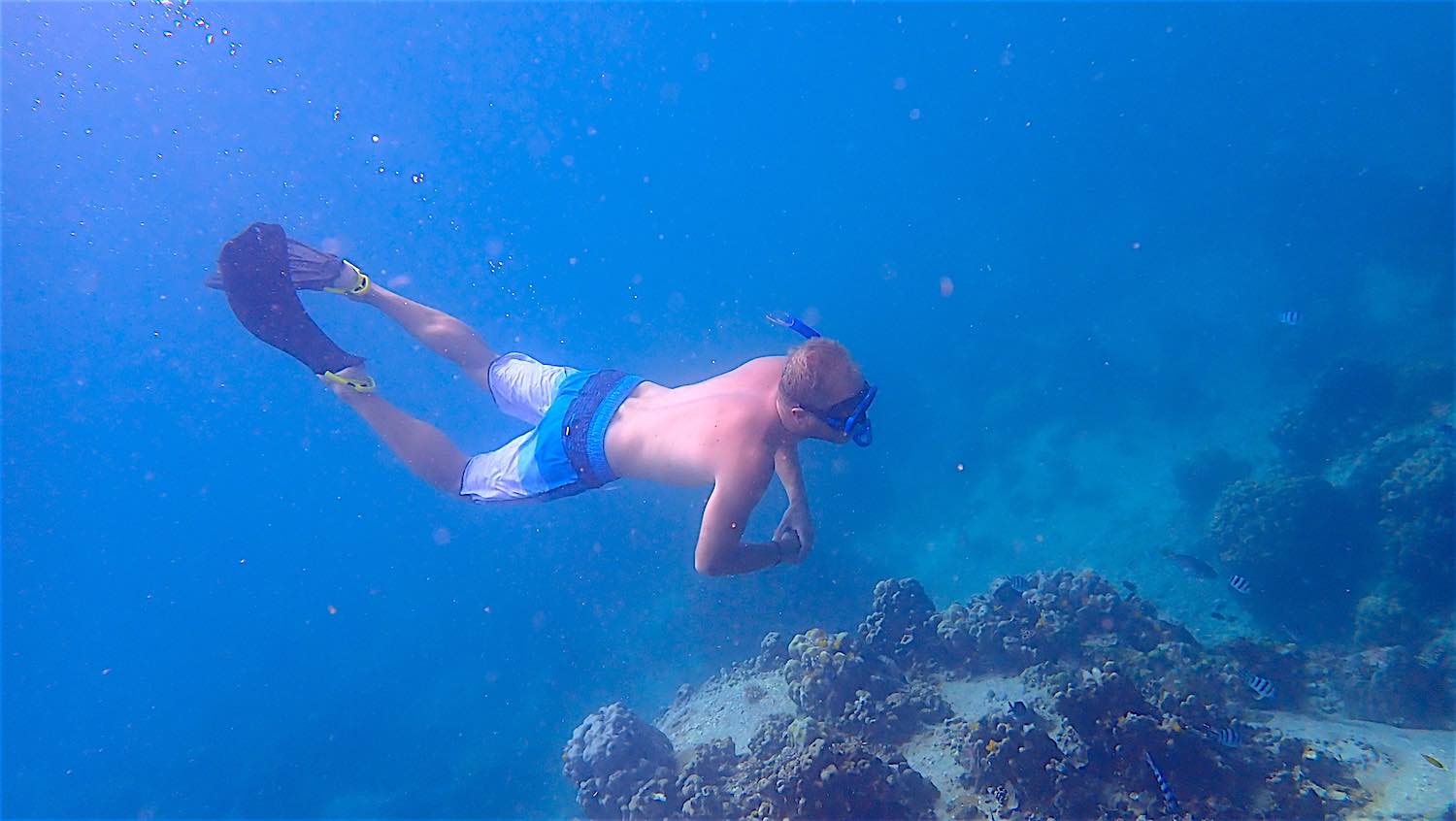 5 Popular Locations
The half day snorkel trip will stop at five (5) of the most popular locations around Koh Tao with approximately 30 mins snorkeling time in the water at each location.
The benefits of joining a guided snorkel trip are that you get lunch, drinks, snacks and equipment included plus a briefing on what you can expect to see and where to find it.
Whatever you choose, make sure to add Mango Bay to your snorkel itinerary and join the many thousands of visitors that had the opportunity to discover the best snorkeling that Koh Tao has to offer.
Frequently Asked Questions
Do I have to pay to Snorkel at Mango Bay?
There is a 200baht fee to enter Mango Bay Boutique resort to gain access to the ocean, which in part can be offset against buying food at the restaurant. The best way to get to Mango bay to go snorkeling is by signing up for an organised snorkel trip as they stop at Mango Bay. Alternatively, you can hire a long tail taxi boat driver from Mae Haad or Sairee beach and head straight to the beach and avoid the resort. Mango Bay is a remote location on the far north of Koh Tao island and not easily accessible by foot or scooter.
How deep is the water at Mango Bay?
Mango Bay water depth ranges from 1-2meters at the beach to 15-20metres the further out you snorkel. The best marine life is to be seen along the rocky coastline either side of the bay and there is a clearly marked snorkel zone where boats are not allowed to enter.
Can I rent a mask and snorkel at Mango Bay?
Mango Bay is very remote and there are no shops to buy equipment. There is a private resort with restaurant and if you pay an entrance fee and buy lunch, they may rent a snorkel and mask to you. When visiting any of the more remote bays on Koh Tao, it is best to buy equipment at the main 3 villages before you set off.
Is it safe to Snorkel at Mango Bay?
Snorkeling at Mango Bay is considered to be very safe and it is a popular destination for day trip snorkelers and visitors arriving from Koh Samui by speedboat and long tail taxi boat from Mae Haad or Sairee beach. The best marine life is to be found along both sides of the jagged coastline.
How long is the journey to Mango Bay from Sairee?
A longtail taxi boat driver may take around 30-40 minutes each way to get to Mango bay beach from Sairee beach or an extra 10 minutes from Mae Haad beach. Travelling to Mango Bay beach by 4 x 4 pick up truck will take approximately the same amount of time, depending on the conditions as it is a steep dirt track, not a concrete road.
Can I take my own food and drink to Mango Bay?
Yes you can take your own food and drink to Mango Bay, either through the resort by road or by long tail taxi boat. If travelling by road or on foot, you will need to pay the entrance fee to pass through the resort. If you are making your own way to Mango Bay, make sure you take supplies with you as there are no facilities once you arrive.
How much does a longtail boat cost to Mango Bay?
Long tail taxi boats from Sairee Beach or Mae Haad to Mango Bay will vary from driver to driver and be charged for each person. If you share, then you will be able to get a reduced price and it will work out cheaper. Prices will vary between 500baht to 1000baht per person, depending where you depart from and return to.