Recyclable Glass Bottled Water on Koh Tao
S & S Water was established in October 2017 by two ex pat residents Shane & Steve to address the proliferation of single use plastic water bottles on Koh Tao.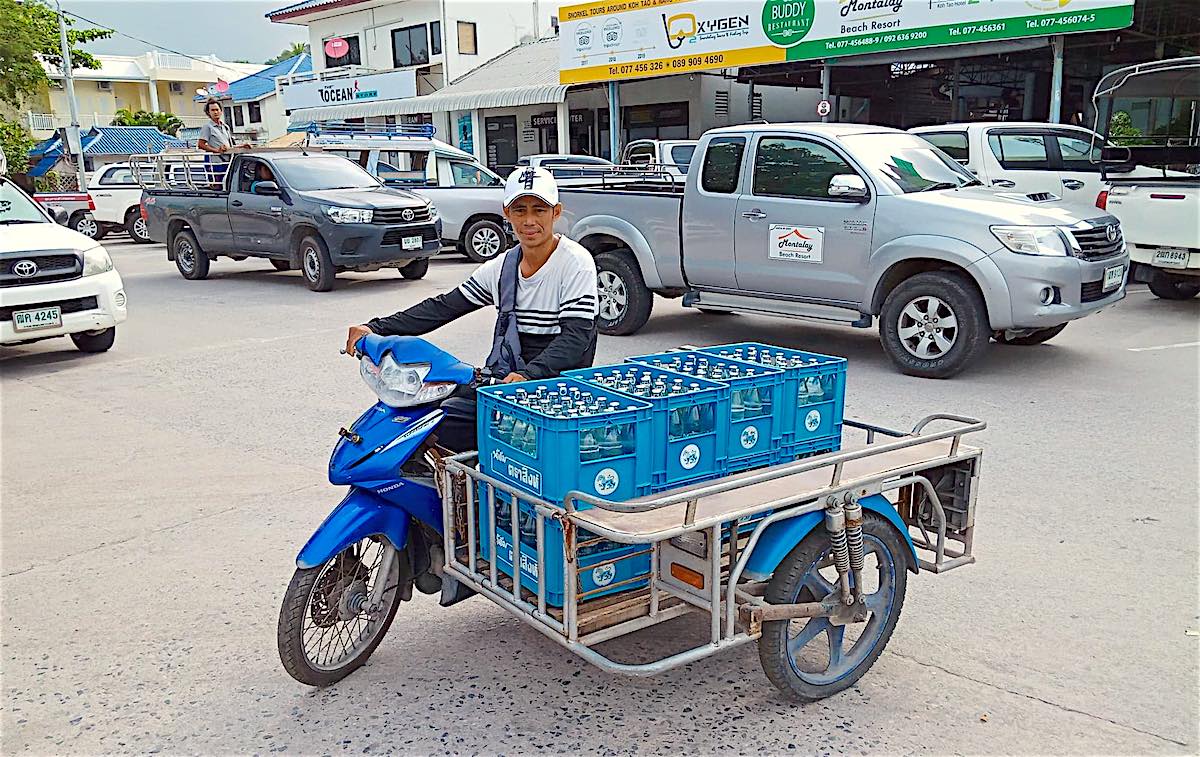 Less Plastic
The conservation initiative started by supplying half litre glass reusable water bottles to Koh Tao businesses as well as local households.
S & S Water charge an initial small refundable deposit of 200baht and then charge for each crate (24 bottles) they deliver and now deliver both still water and soda water.
Each customer is also given a recyclable sack to dispose of cans, plastic water bottles, beer bottles and cardboard containers that are then forwarded to the mainland for recycling.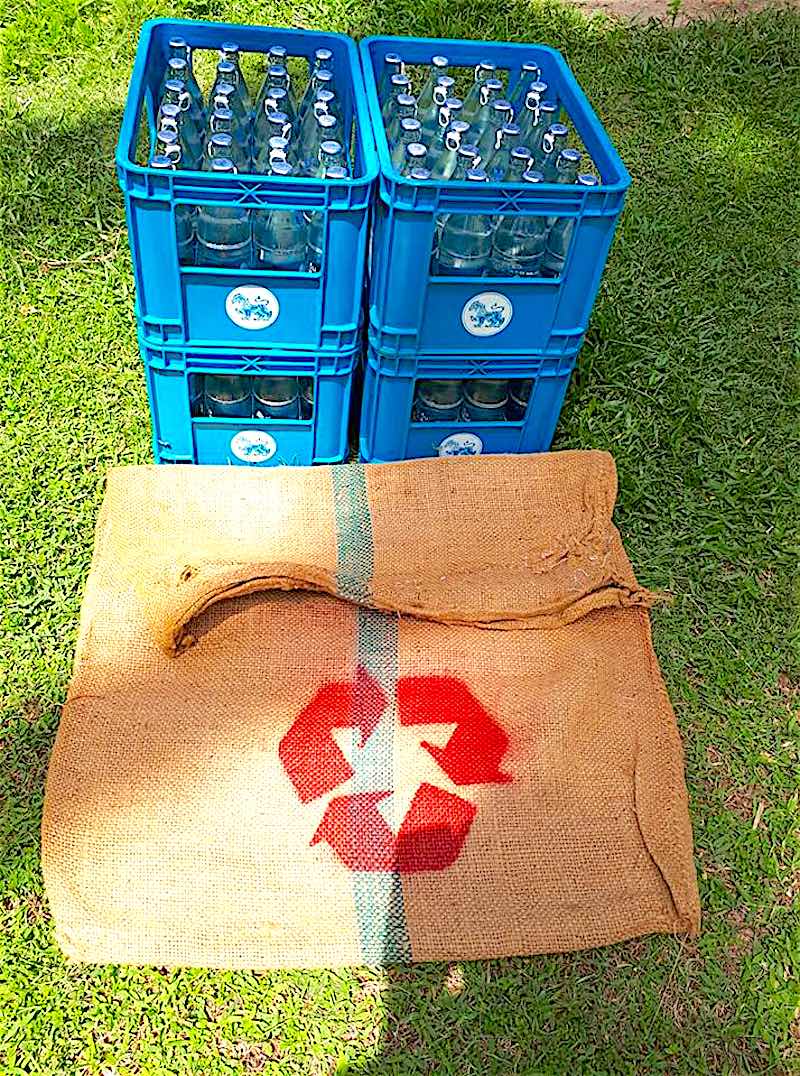 S & S Water Reusable Glass Bottled Water
By 2019, S & S Water had delivered 6,500 crates of water to local businesses and Koh Tao community residents.
That is 156,000 recyclable water bottles. Or more specifically, 156,000 LESS single use plastic water bottles in circulation on Koh Tao.
The previous year, their first full year in business saw S & S Water deliver 5,300 crates or over 127,000 individual bottles.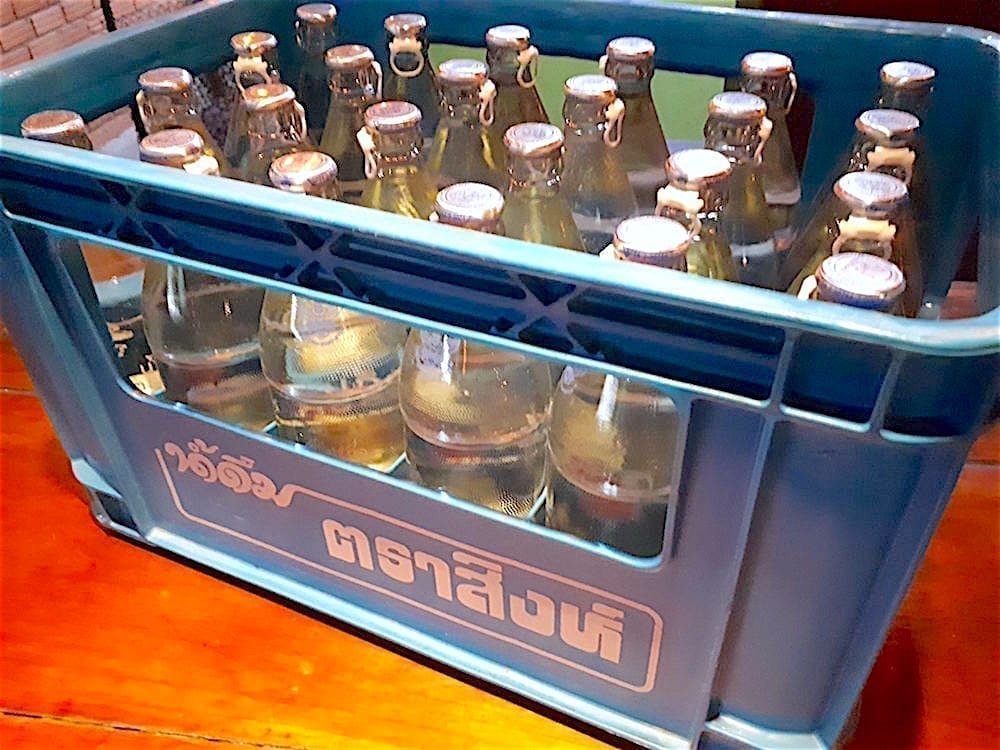 Recycling Initiatives
S & S Water currently supply around 20 local businesses on Koh Tao and a further 50 local households who wish to embrace this recycling initiative.
It is small initiatives like this that really make a difference and S & S water is on course to have saved Koh Tao 500,000 single use plastic bottles by the end of Q1 2021, which is an incredible achievement.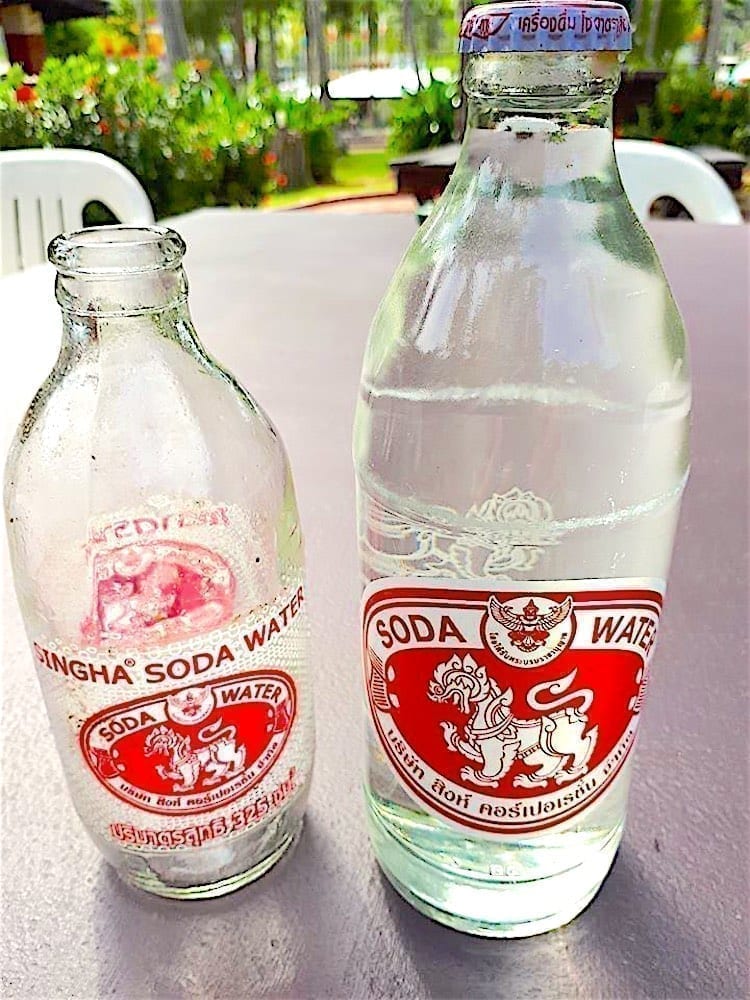 Collection & Delivery of Glass Bottled Water
Local businesses and residents who want to become a part of this growing land based conservation initiative and save money are welcome to participate.
For households and businesses, arrangements are made to deliver the water to you and collect your empty crates. No hill is too steep to climb and your water will be delivered on time.
If saving 1 or 2baht per bottle of water is important to you and knowing that you are introducing one less bottle of plastic into the natural environment, you can contact S & S Water direct to set up delivery and collection.
Frequently Asked Questions
How can I order glass bottled water on Koh Tao?
S and S Water offers a delivery and collection service to local businesses and community residents. They deliver to private bungalows, villa's, resorts, hotels, restaurants and individuals and only ask for a small refundable deposit of 200baht per crate to cover the cost of the first delivery. The deposit is separate from the cost of the crates of water.
Is my deposit refundable for glass bottled water?
Yes, the deposit is refundable and contributes towards and helps to cover the cost of any unforeseen customer damage to the glass bottles or crates, which all have to be returned to the mainland facility.
Can S & S Water deliver my water up very steep hills on Koh Tao?
Yes, they can and will deliver to you, assuming there is access to your premises. Of course, weather conditions will play a part and if completely inaccessible due to adverse weather, alternative arrangements will be made by agreement.
How much does glass bottled still water cost per crate?
The cost of buying glass bottled still water with S & S Water is 140baht for one crate of 24 bottles. Buying glass bottled water is a great option for environmentally conscientious locals who wish to play their part in reducing plastic waste on Koh Tao.
How much does glass bottled Soda water cost per crate?
The cost of glass bottled Soda water with S & S Water is 210baht for one crate of 24 bottles. Their Soda water is a perfect cost effective choice for businesses and locals alike who enjoy some fizz and sparkle to their water and it is a great mixer option.