Watersports Activities on Koh Tao
Due to its location within the Gulf of Thailand, Koh Tao is a prime location for watersports.
With calm, clear blue waters and a year-round warm climate, there are lots of watersport activities you can participate in both above and below the water.
If you are looking for a bit of exercise, an adrenaline rush or just an alternative way to explore the island, you will be able to find a sport to suit your needs.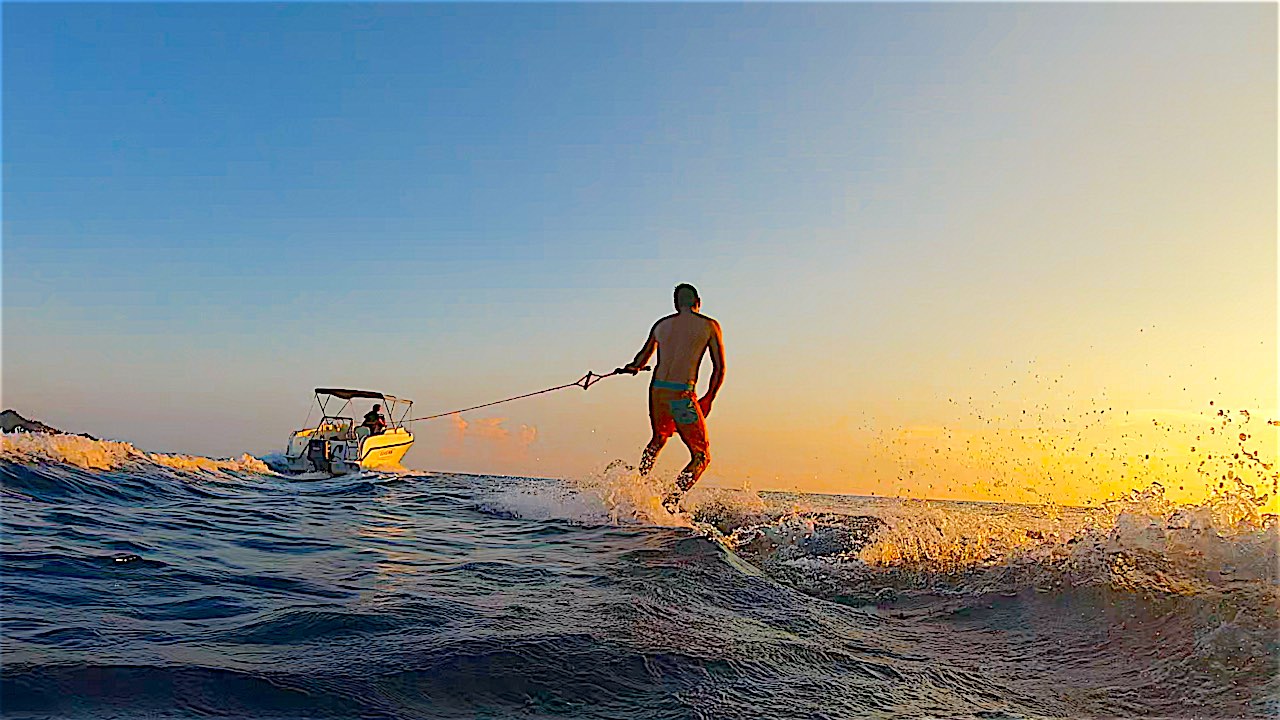 Tubing on Koh Tao
Tubing involves being pulled across the water whilst you are sat on an inflatable tube. With no specific techniques required, it's a great pick if you are new to watersports but still looking for a high speed activity.
Requiring less agility, balance or strength than wakeboarding or water skiing, it is still a good exercise that can help to improve your swimming skills, strength and coordination.
Suitable for all ages
The lack of any technical skills, make tubing suitable for all ages as you just need to be able to hold on during the ride.
The speed at which you move can be altered by the captain to suit your preference so, if you are a beginner, you don't need to worry that the boat will move too fast for you to be able to hold on.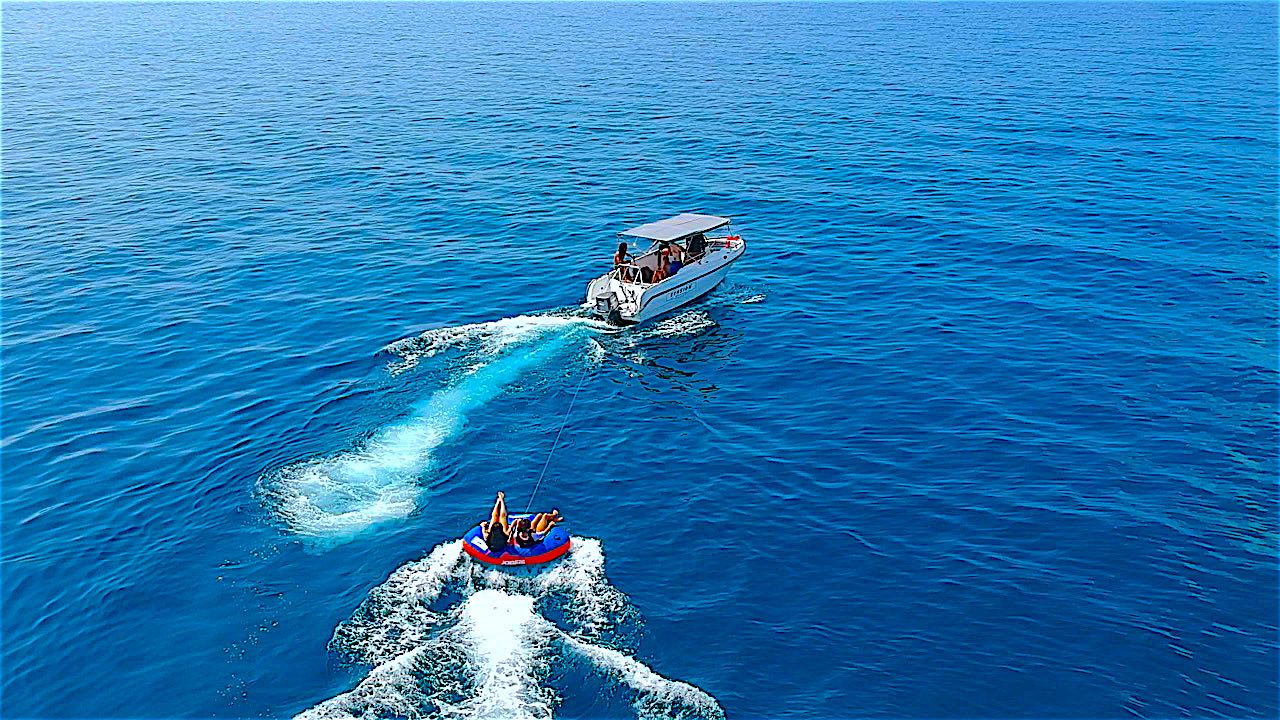 Modern Tubing Equipment
Whilst tubing may have begun using true inner tubes, the inflatables used in modern tubing, which are known as donuts or biscuits, are specifically designed for the sport.
They are made from a fairly durable material, usually rubber or PVC and covered in a synthetic fabric sleeve which prevents the tube from elongating as it is pulled across the water.
The sleeve also has handles on it for the rider to hold on to and an anchor point for the boat's towing line.
Koh Tao offers tubing and the prices vary depending on the number of people in the group and the amount of time you want to spend on the water.
You can take up to 4 people on each trip, who will take turns going on the donut whilst the rest of the group watch from the boat, making this a fun group activity.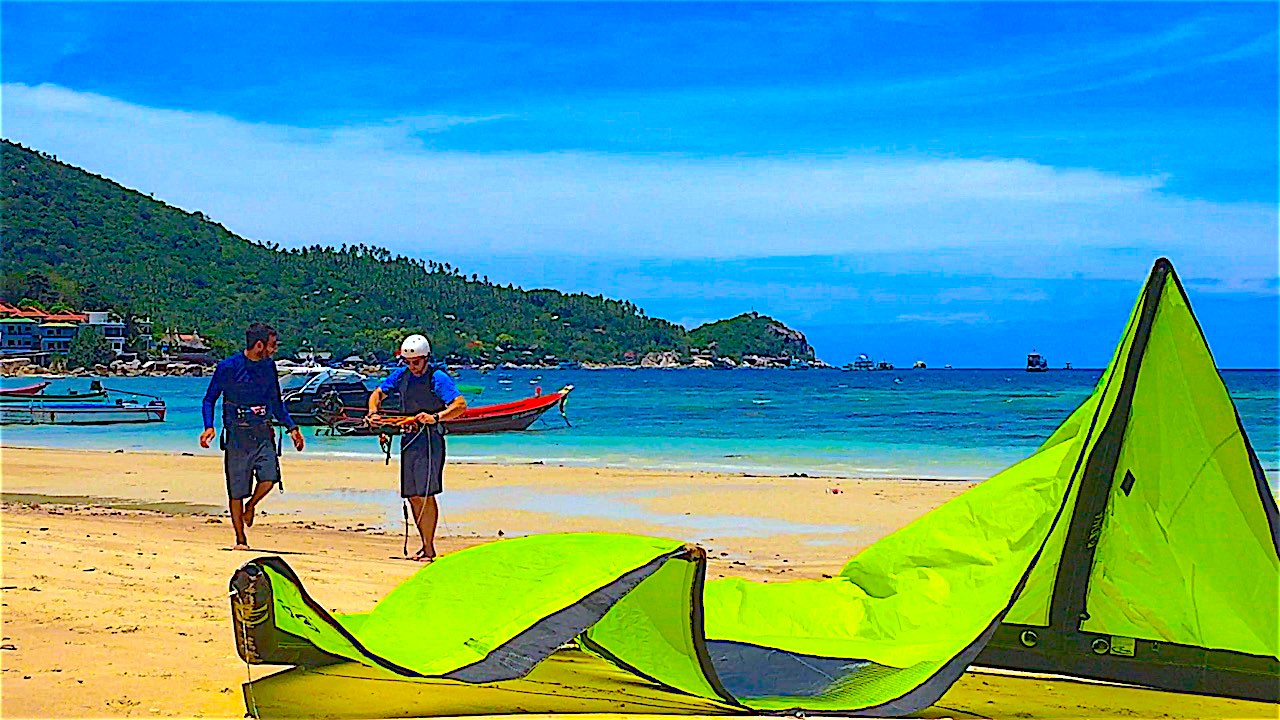 Kitesurfing on Koh Tao
Kitesurfing is a wind-powered surface watersport that uses a kite and a board to propel you across the water.
Less expensive and more convenient, than other sailing sports, kitesurfing provides a relatively high intensity, full body workout which will help to improve coordination and swimming capacity.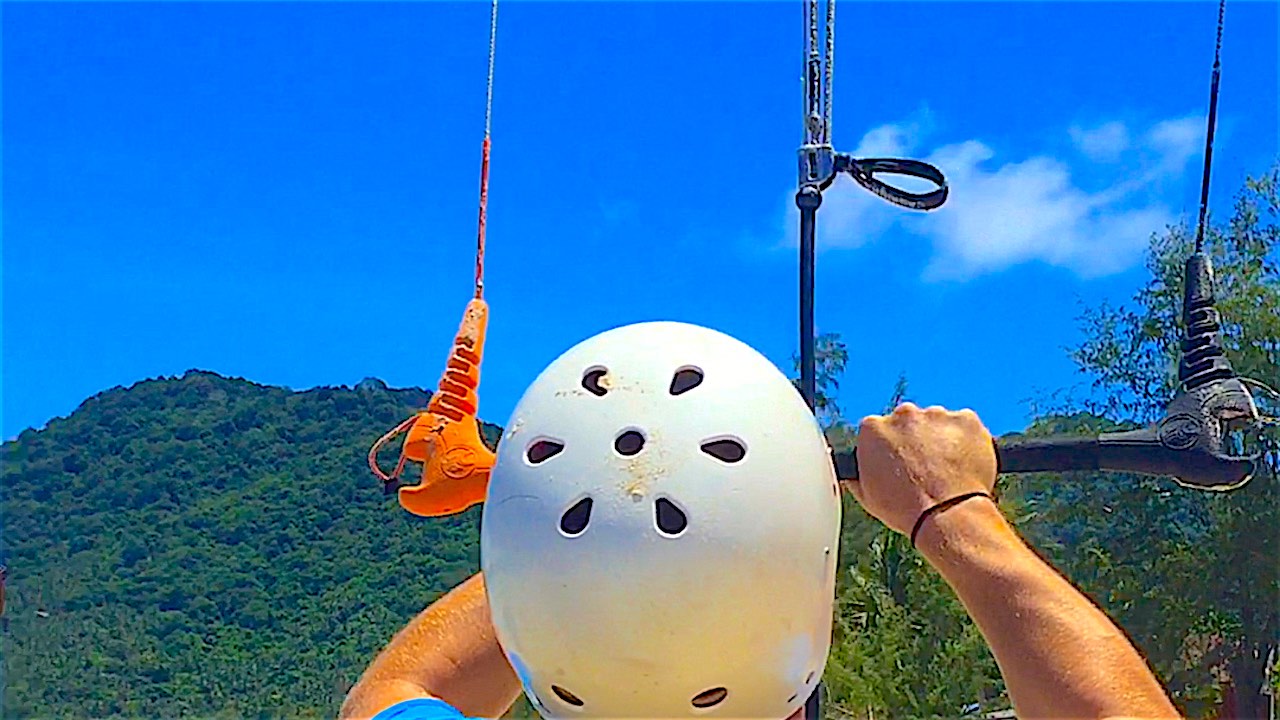 Kitesurfing Equipment
Known to be relatively safe, it is still considered an extreme sport and will provide the participant with a significant adrenaline rush.
Originally designed in 1984, there are two main types of kite used today. Leading-edge inflatables (LEI) are the most popular choice of kite.
Made from polyester, they contain an inflatable plastic bladder on the front edge with smaller bladders perpendicular to this forming the chord of the kite.
The bladders have to be inflated before you begin but the advantage to them is that they help to give the kite shape and also keep it floating when it lands on water, making a re-launch easy.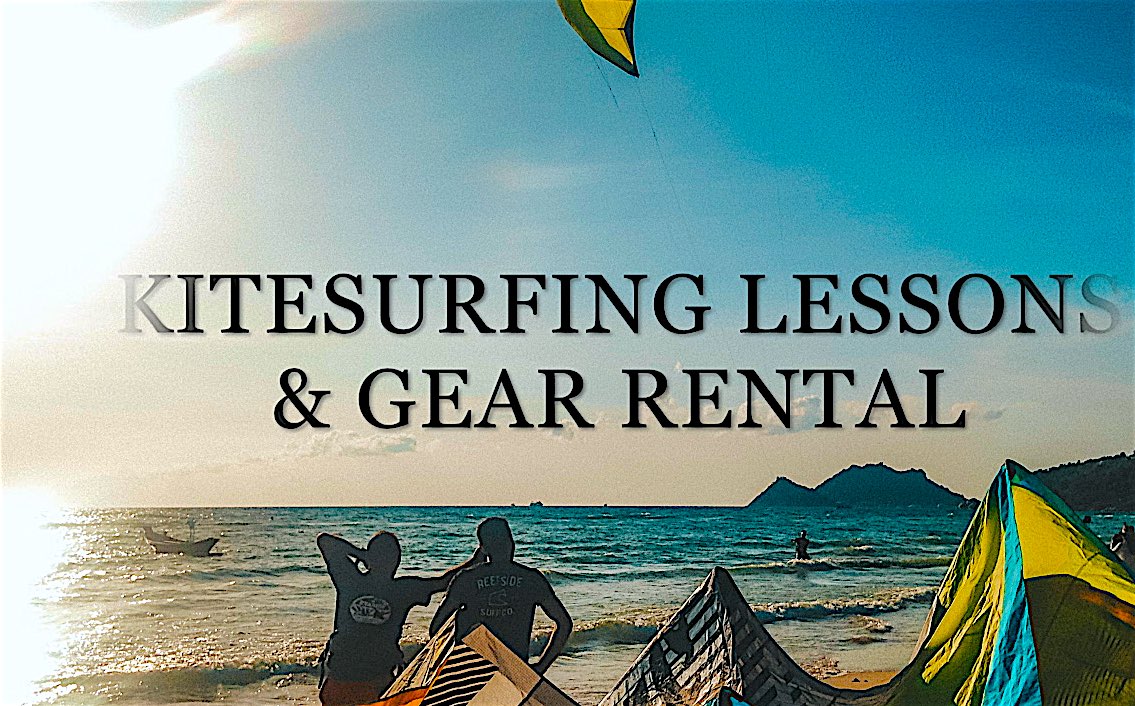 Learn Kitesurfing on Koh Tao
The other type of kite used is a foil kite. Made mostly from fabric, usually ripstop nylon, they use air pockets to provide the lift and a fixed bridle to maintain the arc-shape.
As there is no inflation required with a foil kite, the preparation time before you begin is shortened, however, depending on the type of foil kite you use, if you hit the water it can be impossible to relaunch.
The boards used in kite-surfing can be either wooden or foam and come in four main varieties – directional surf-style, wakeboard-style, skim-type and hybrids which can go in either direction.
Most boards come with sandal-like footstraps, allowing the rider to attach and detach from the board easily, but the size and shape will be determined by the rider's style and level of skill as well as the weather, wind and water conditions.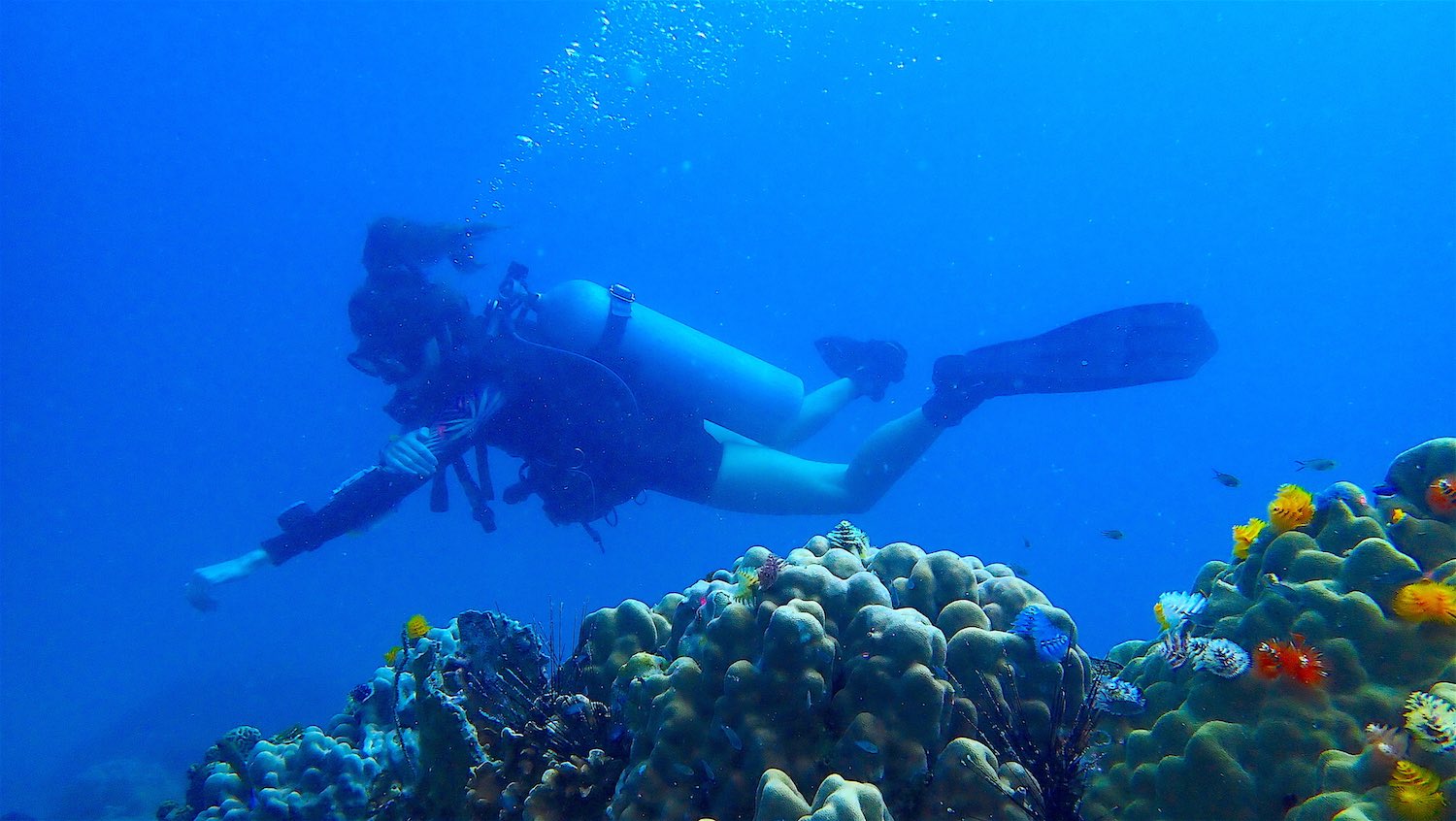 Scuba Diving on Koh Tao
Koh Tao is widely considered to be the premier scuba diving location in Asia and has over 25 dive sites you can visit whilst you are on the island.
The dive sites cover a wide range of underwater locations including calm shallow bays, coral gardens, limestone formations, artificial reefs, reef nurseries and shipwrecks.
All year round scuba diving
The climate on the island provides ideal conditions for diving all year round, with the waters generally calm and crystal clear, making it perfect for beginners.
Although the seas can be choppy and the visibility reduced during the monsoon in November and early December, the geography of the island means there is always a sheltered area that is protected from the wind.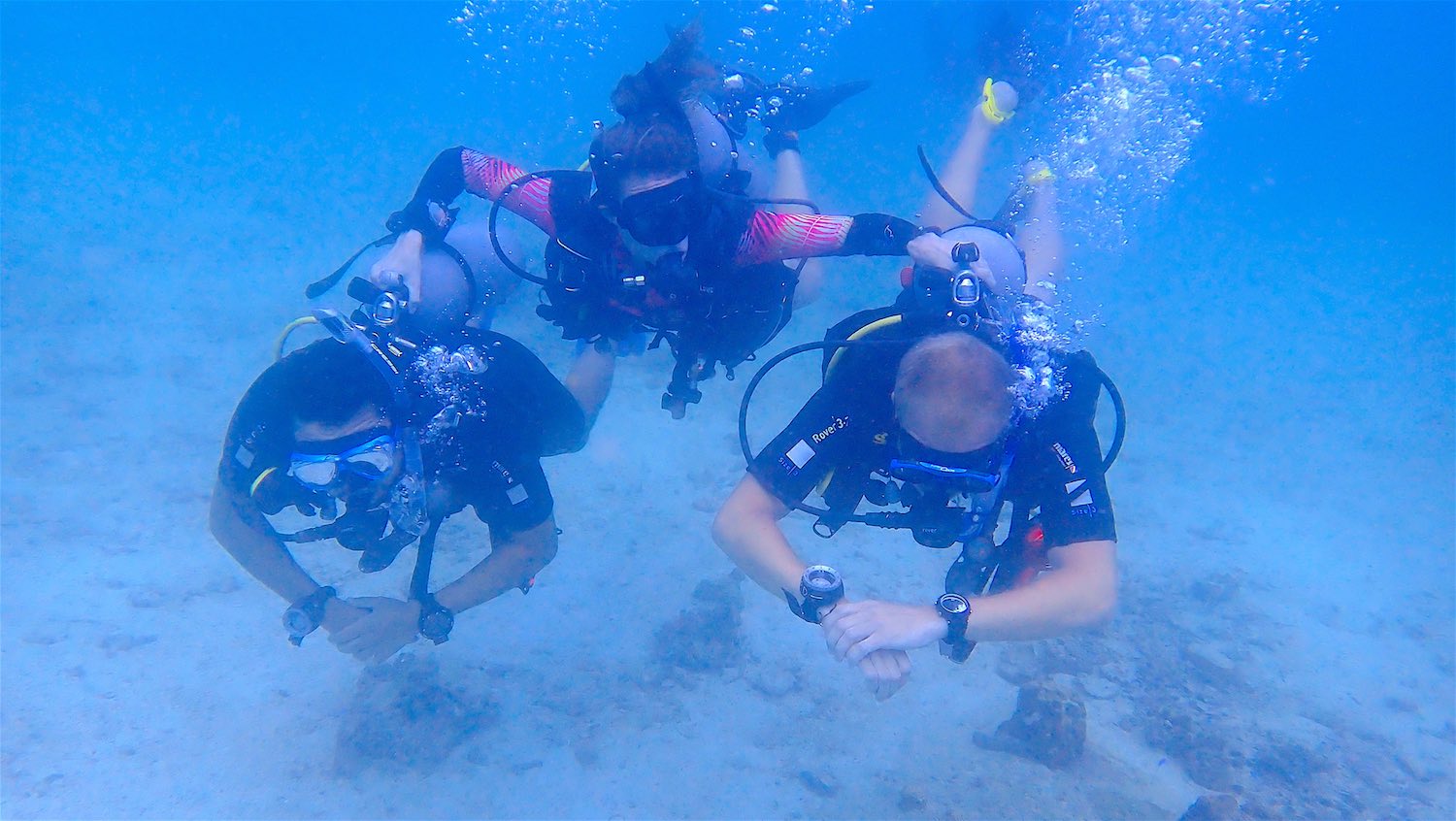 Learn to Scuba Dive on Koh Tao
There are over 70 dive centres on Koh Tao that offer diving courses at some of the lowest prices in the world. Each diving centre generally takes their boats out twice a day and completes two to three dives on each trip.
With calm, clear seas and low prices, Koh Tao is a great location to visit when you are looking to begin your scuba diving adventure.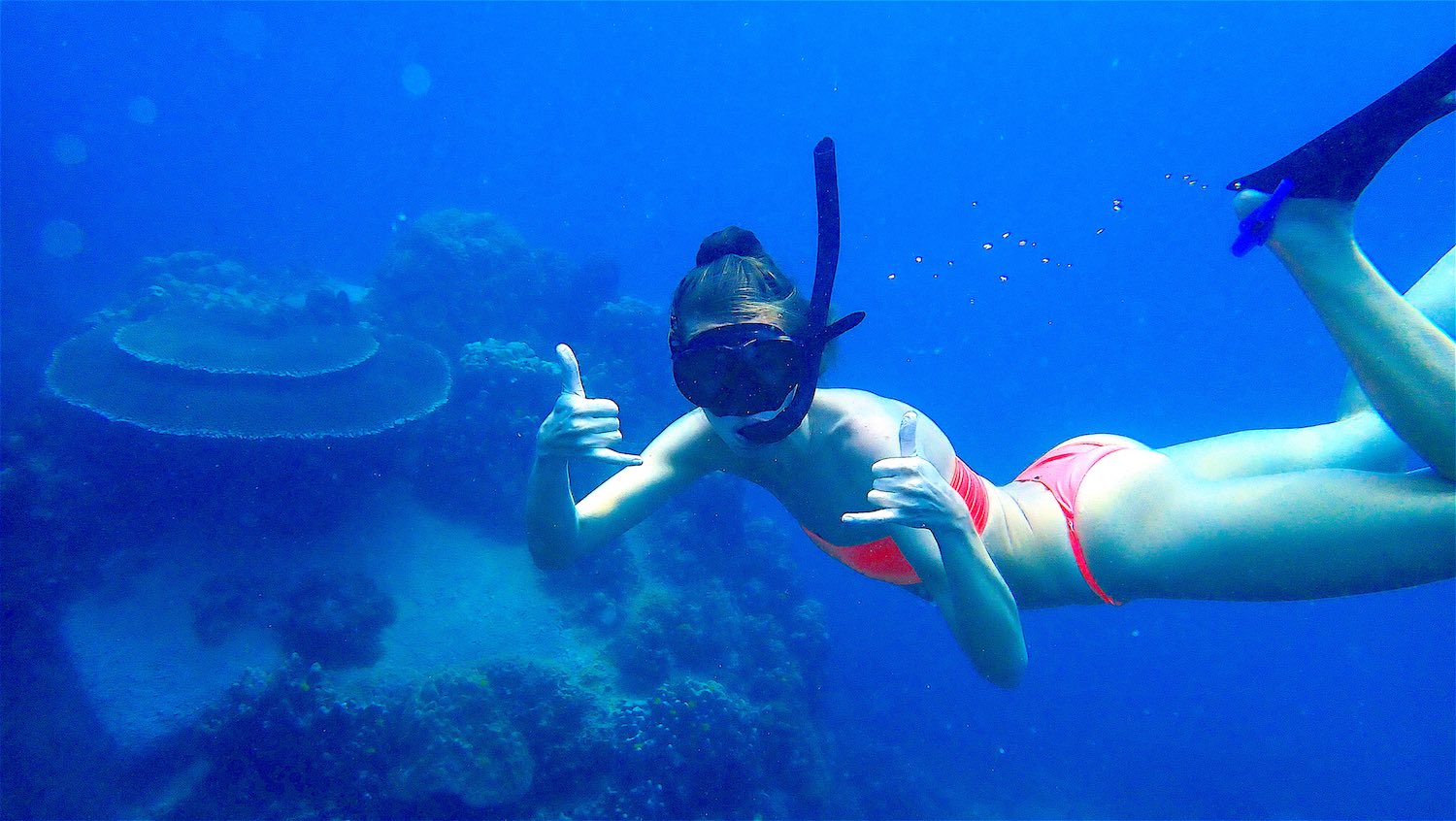 Snorkeling on Koh Tao
If you are a bit apprehensive about scuba diving but still want an opportunity to see the incredible underwater scenery that Koh Tao has to offer, then a snorkeling tour is the watersport adventure for you.
With shallow, calm waters that have great visibility for the majority of the year, snorkeling on Koh Tao is suitable for all ages.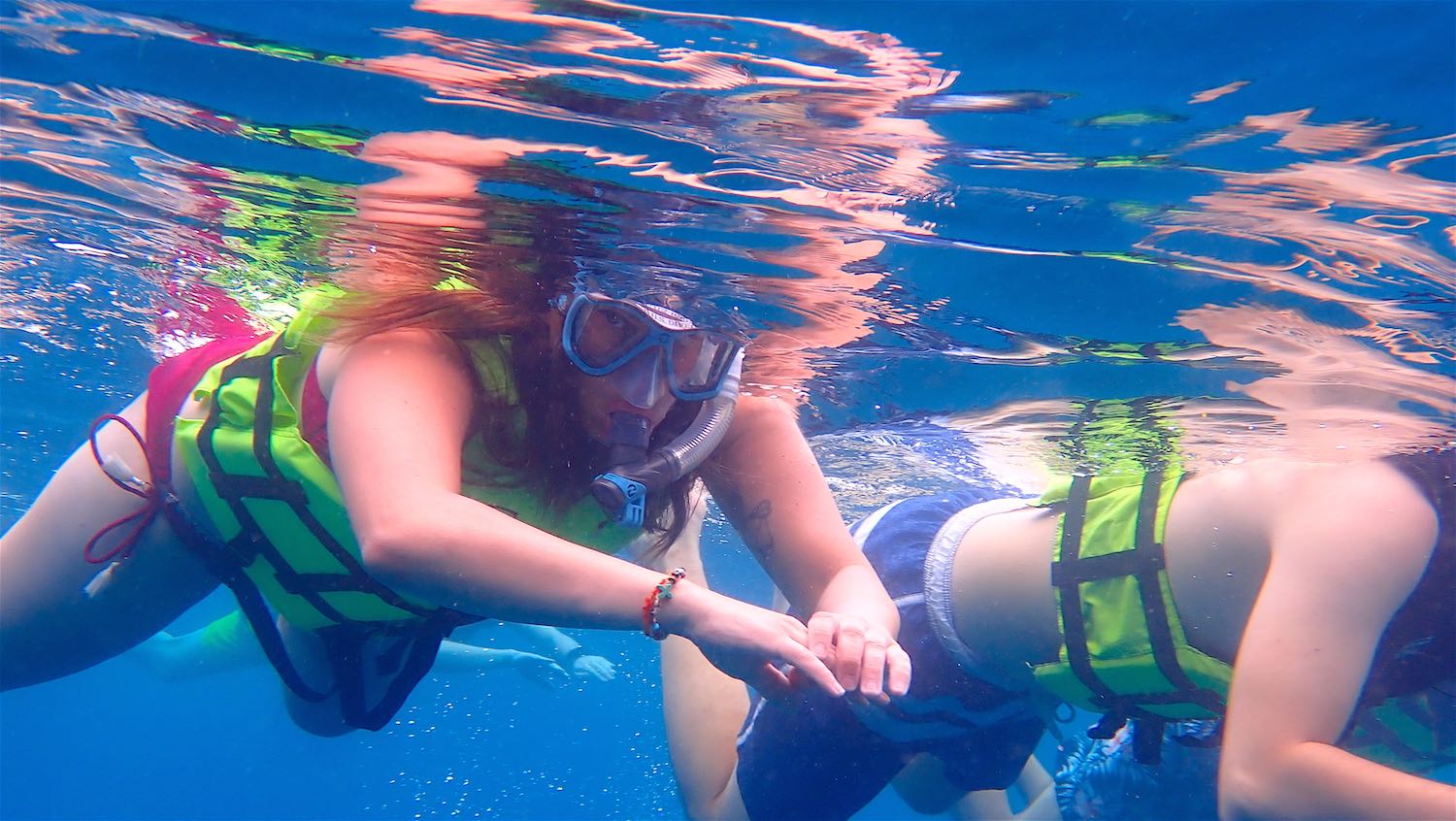 Learn to snorkel on Koh Tao
Depending on how long you wish to spend in particular areas, you can choose to snorkel on your own or join an organised snorkel day trip.
If you choose to go out on your own there are multiple locations where you can hire equipment, with prices averaging 150THB for a day.
To reach the bays where you want to snorkel in you can opt to hike, hire a longtail or rent a kayak.
A kayak will cost around 400THB for half a day whilst the price of a longtail will need to be negotiated directly with the captain.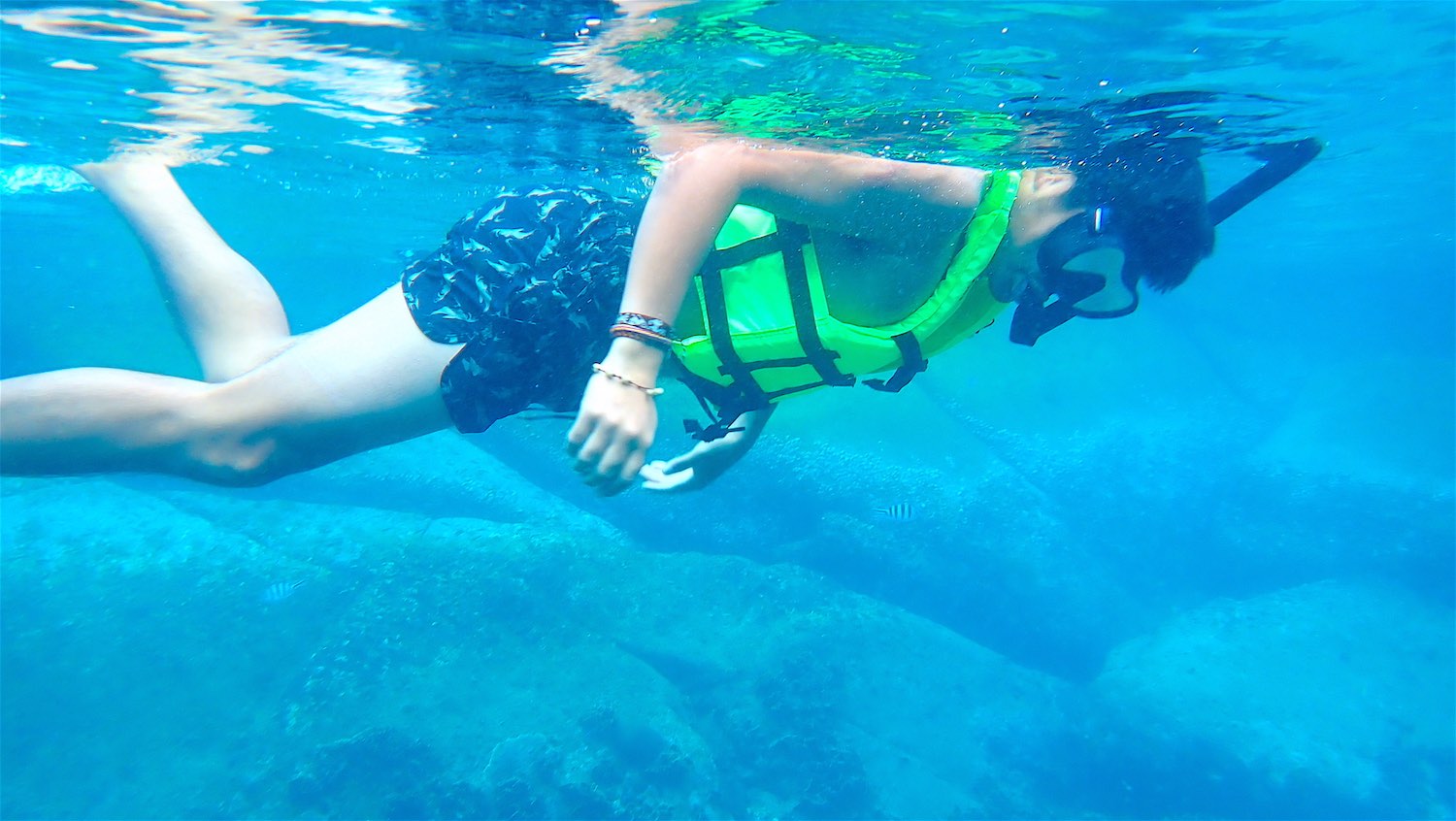 Snorkel tour the bays of Koh Tao
If you choose an organised snorkel trip, you will usually visit 4-5 different sites around the island during the trip.
The boats will moor near the bays and you will have to swim in to snorkeling spots. There are generally two trips a day, one leaving at 9:30am and one leaving at 11:20am.
The cost of the trip is around 850THB that includes a transfer from your accommodation, the equipment, lunch and refreshments on the boat.
There is an additional 100THB entrance fee for visiting the world famous Koh Nangyuan island, which is one of the stops you will make.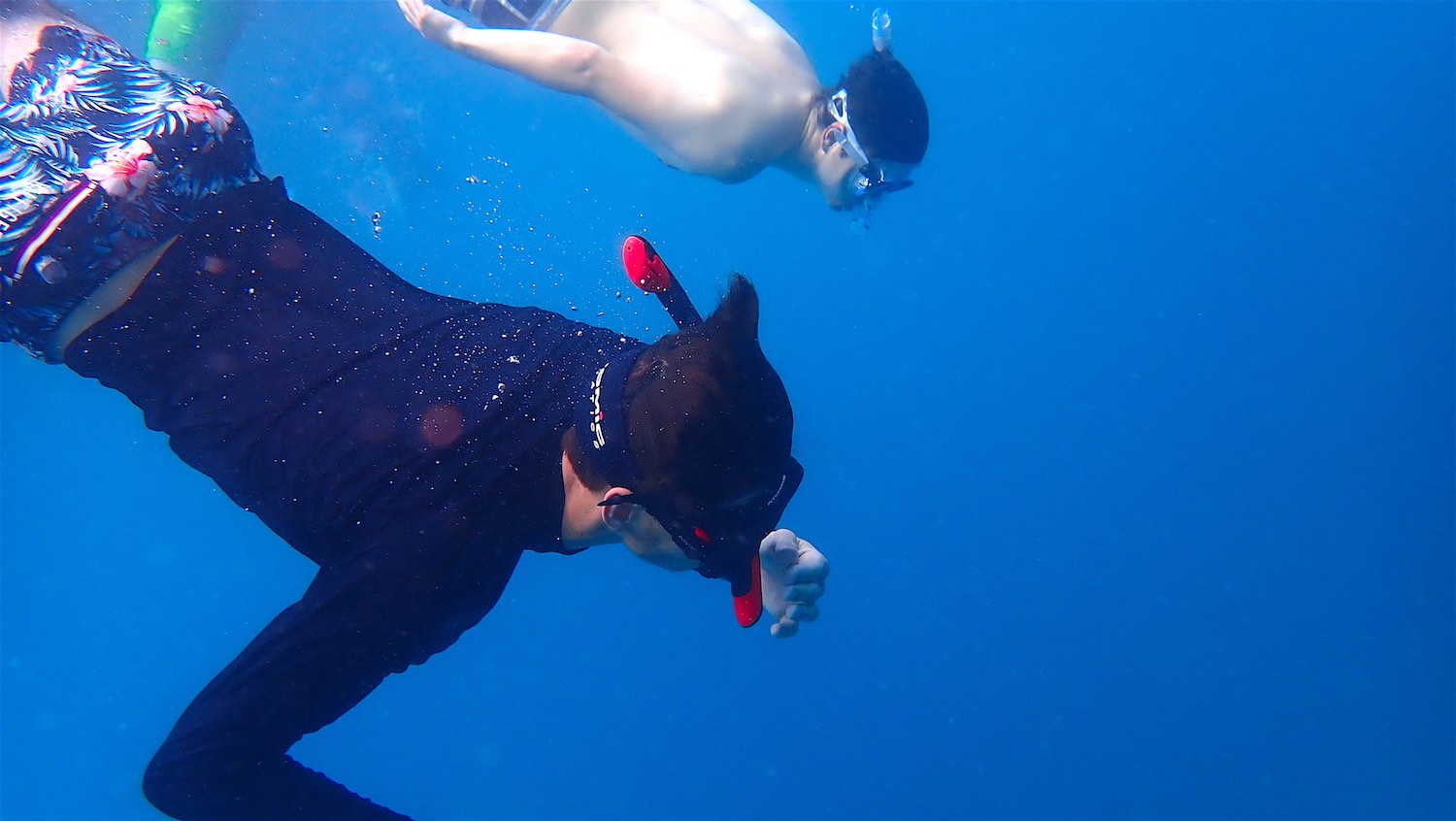 Snorkeling best practice
One thing to be aware of on Koh Tao is that snorkeling with fins is frowned upon due to the risk of damage to the coral and marine life. You should be careful not to stand on any of the coral around the island.
Kayaking around Koh Tao
Kayaking is a beginner-friendly watersport, similar to canoeing, which can be done on almost any body of water.
The boats used in kayaking differ from those in canoeing as they sit lower in the water and usually have a closed deck, so the paddler sits in the bottom of the boat with their legs stretched out in front of them.
The kayak should also have at least one buoyancy aid to help keep it afloat.
The paddle, which is double-bladed, is used to propel the kayak forward by pulling from front to back on one side of the kayak and then the other.
The length of the paddle is determined by the height and preference of the user, as well as the type of kayaking that is being undertaken.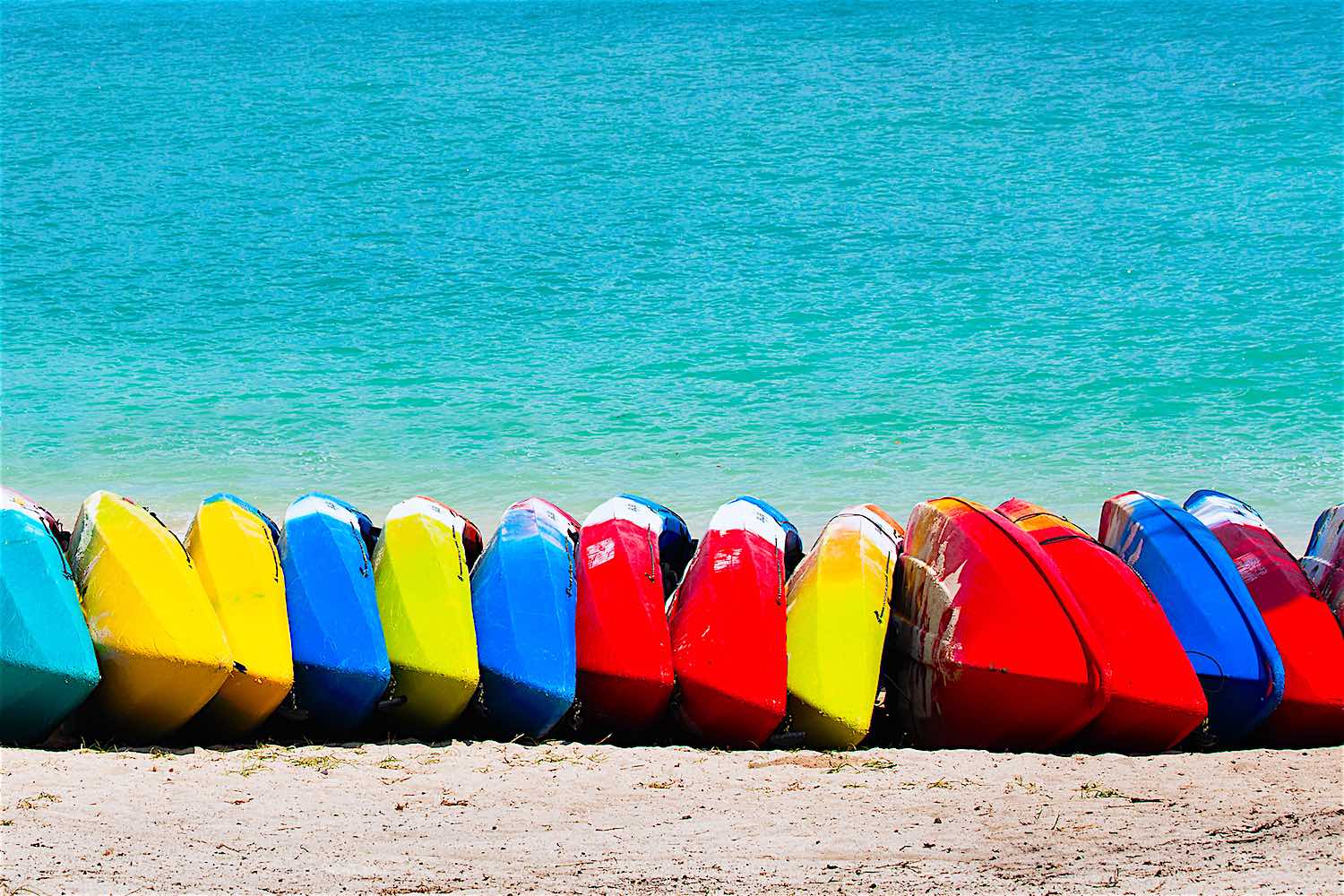 Renting a Kayak on Koh Tao
Kayaks can easily be rented on most beaches on Koh Tao and cost between 250-400THB for 2 hours, depending on which type of kayak you are using.
Before you rent them, be sure to check they have ropes attached for tying you to floats and buoys in the water and ensure you have a life jacket.
Even if you decide not to wear the life jacket, it can provide a good cushion for you to sit on while you are paddling.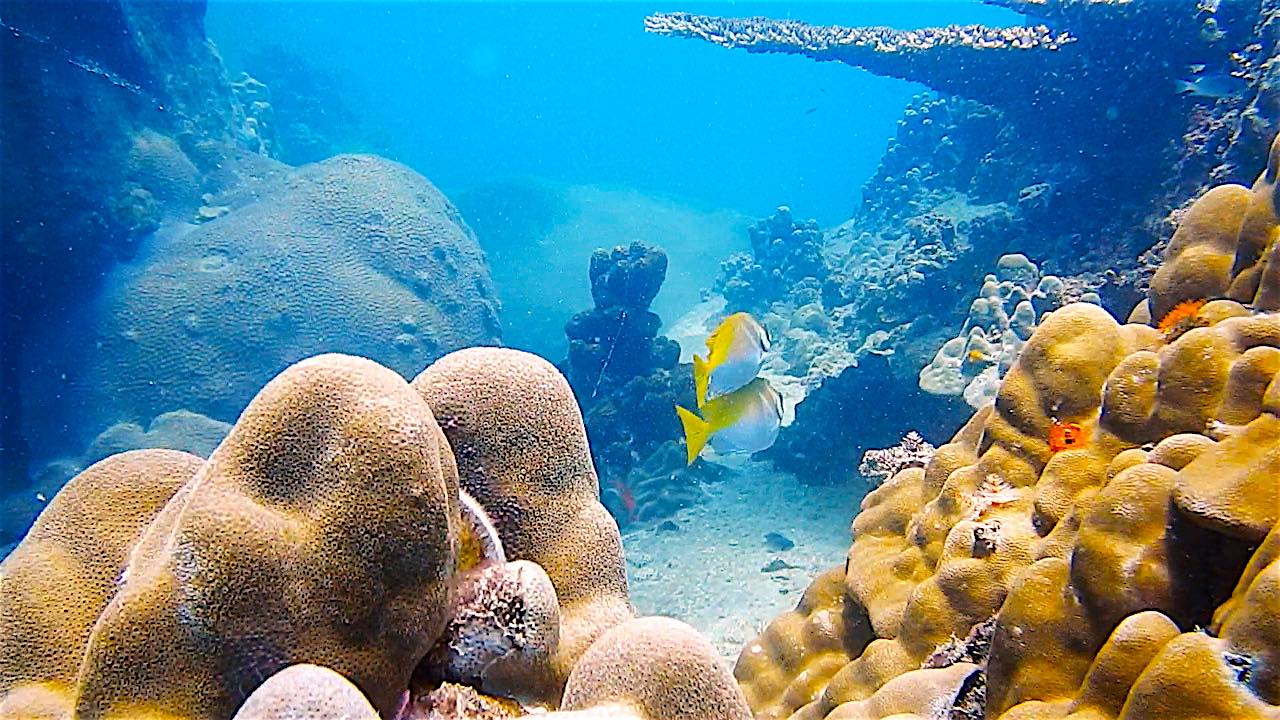 Best areas to Kayak around the island
Depending on the direction of wind, the South part of Koh Tao provides the best area for kayaking, with many bays and interesting places to visit within a small area.
As long as the conditions permit, the South is particularly good for beginners as the seas are calm and shallow making the paddling easy.
The shallow areas are also good locations for snorkeling, allowing you to combine the two and see some of the underwater landscape at the same time.
Buddha Rock Cape
Part of the Southeast, especially near Buddha Rock Cape, can experience stronger waves, winds and currents that provides a more challenging location, so is probably not the best spot for a novice.
If you do choose to visit this region, however, be sure to visit Shark Bay where you may have the benefit of seeing black tip reef sharks who are known to visit this area.
Always Check the Weather Forecast
No matter what time of year you are visiting Koh Tao, be sure to check the wind and wave conditions before you head out in a kayak and keep checking them throughout the day.
This is particularly important in the afternoons between May and August, as strong winds can appear very quickly making it harder to paddle in the correct direction and also increasing the size of the waves you will have to contend with.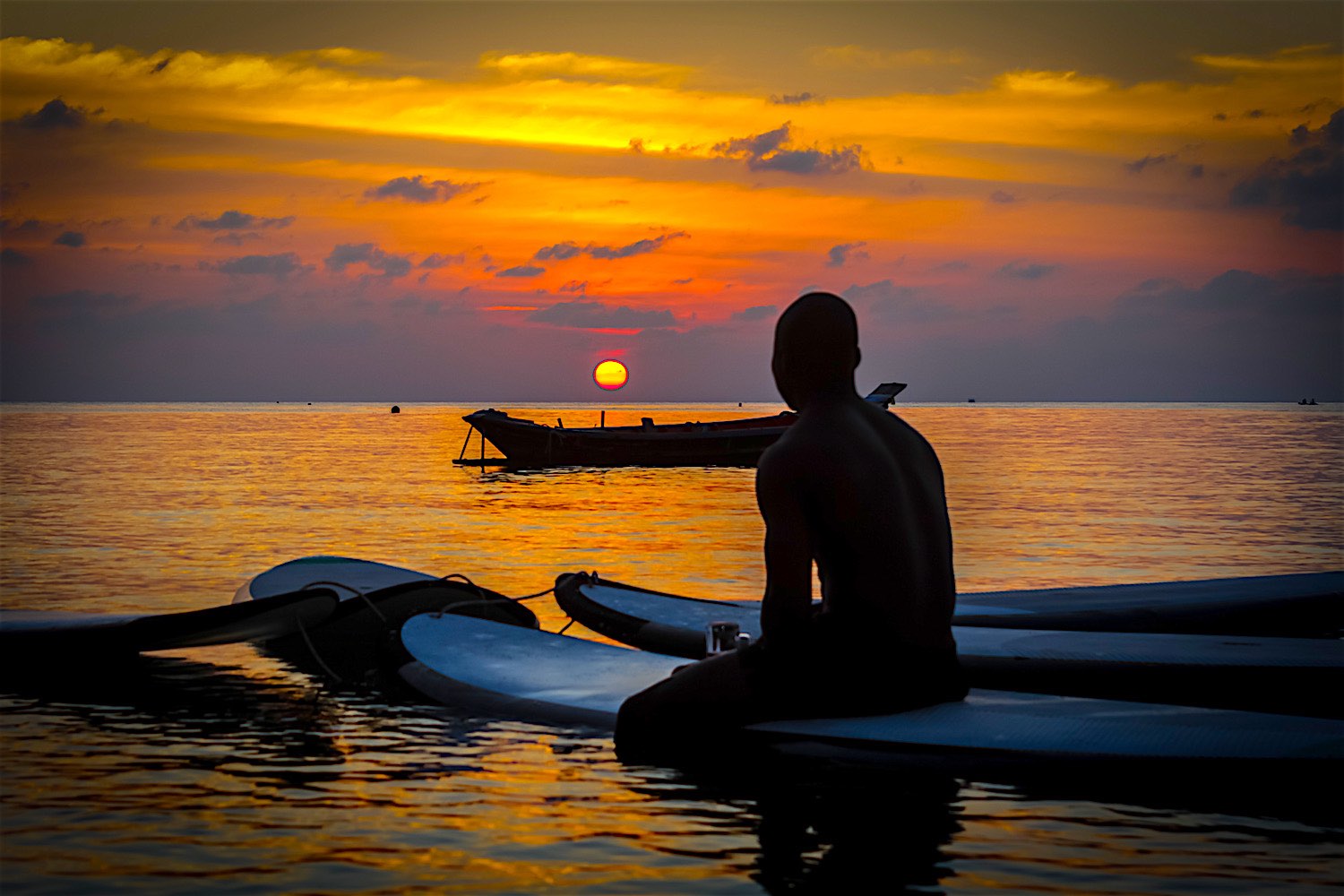 Paddleboarding around Koh Tao
Paddle Boarding is one of the fastest growing watersports in the world. Created as an offshoot from surfing in the 1900's, it gained in popularity once it reached California in the early 2000's.
A Surfing Heritage
The surfing heritage, along with the various disciplines available, have made it both attractive and accessible to everyone.
The main type of paddleboarding you will find on Koh Tao is flat water paddling. Providing a full body core workout, flat water paddling is a great outdoor water recreation activity.
Best Ways to Explore Koh Tao
Paddleboarding will provide you with an opportunity to explore the waters around the island and see the magnificent scenery from a different perspective.
Learn to Paddleboard on Koh Tao
Paddle Boarding is an easy to learn watersport so is great for beginners.
The size of board you need is dictated by your experience with beginners advised to use wider, longer and thicker boards as they provide more stability, whilst the paddle length is dictated by the paddler's height.
Many places will offer adjustable paddles which are not only great for beginners but also allow you to rent one set of equipment and share it with a friend.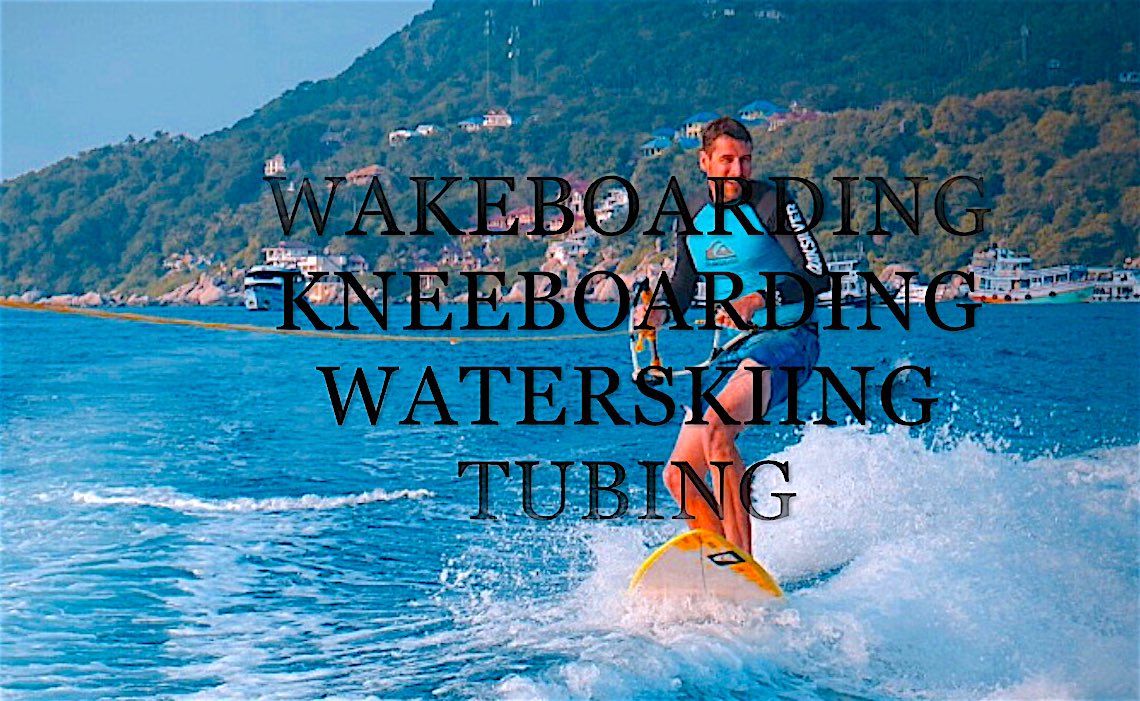 Paddleboarding techniques
The techniques involved in paddle boarding are relatively simple. The board should feel comfortable and stable as you stand and you need to be far enough out that the fin doesn't touch the ocean floor.
You start by kneeling on the board, then slowly stand with your feet shoulder width apart, toes pointed forward and a slight bend at the knee. If you keep your core over the centre of the board, it will help to increase the stability.
Paddleboarding fun
When paddling, use the paddle as a lever with your hands separated along the shaft. The bottom hand will act as a pivot whilst the top one drives the motion through the water.
Be sure to use you back muscles as well as your arms or you will tire quickly, and dip the blade completely into the water before taking a long stroke to propel you forward.
Renting a Paddleboard on Koh Tao
Renting a board on Koh Tao will cost around 250THB per hour, with prices usually reduced for longer duration rentals (half day or full day).
If you are unsure about the technique, or have any questions about Paddleboard rental, you can ask us and we will provide all the information you need.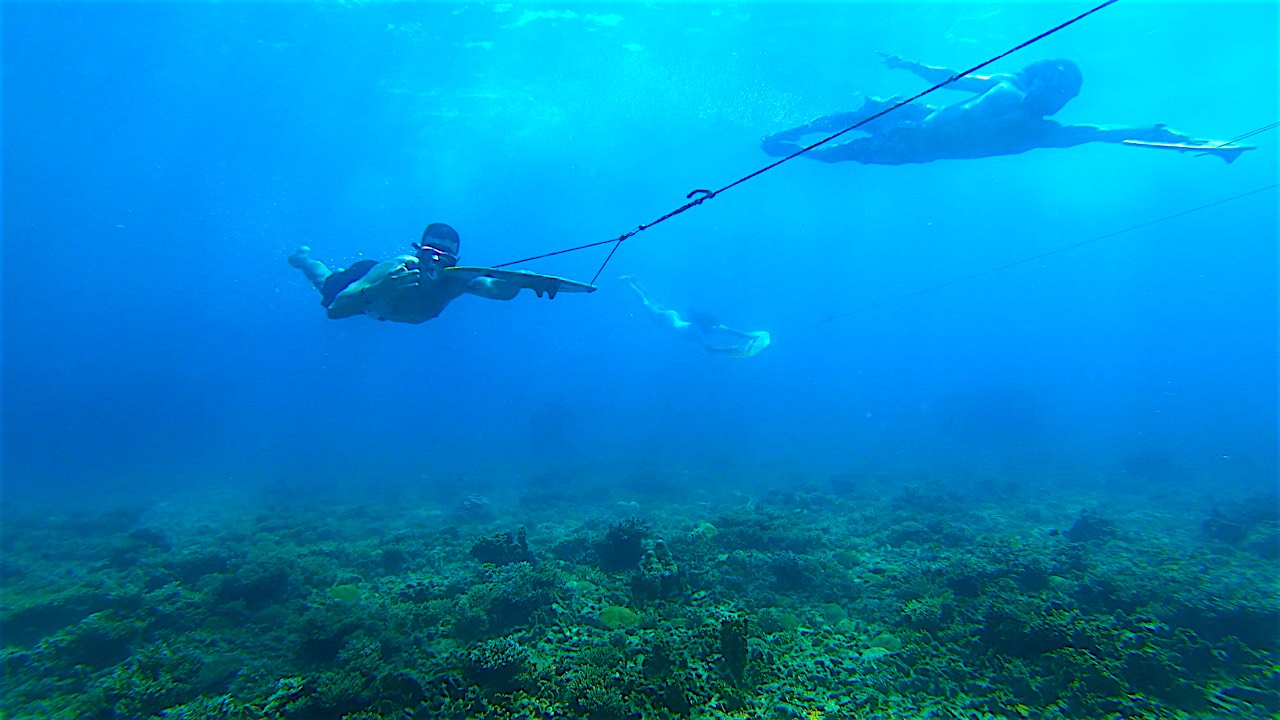 Divewing on Koh Tao
Divewing is a new watersport that allows you to explore the sea by gliding through the water like a dolphin.
Suitable for anyone from the age of 8, it involves holding a customised board whilst you are towed behind a boat at a speed of 2-4 knots.
The speed of the boat can be adjusted to suit the preference of the rider and up to 3 riders can be towed at the same time.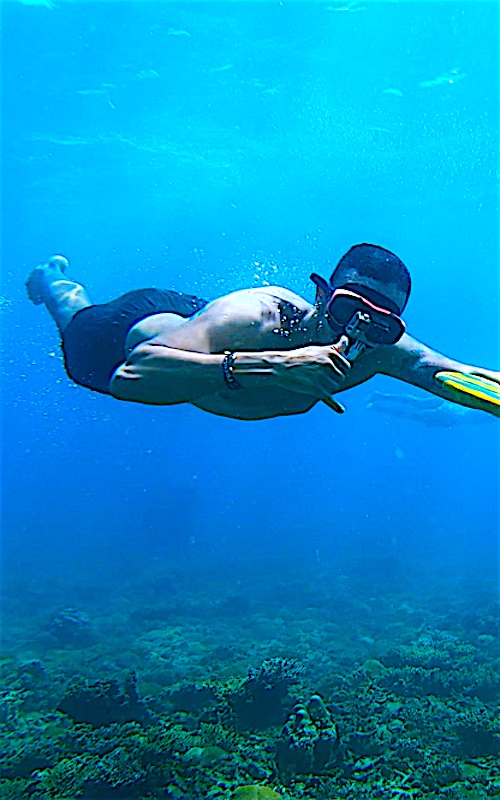 Divewing Equipment
The board consists of two wings, mounted together, that can be tilted independently of each other.
Tilting the wings allows you to maneuver the board by pointing them in the direction you want to move.
Pointing both wings down lets you dive and whilst pointing them up brings you back to the surface.
If you tilt the two wings in opposite directions you will achieve a roll.
Learn to Divewing on Koh Tao
Unlike paddle boarding and wakeboarding, divewing is not physically demanding so is suitable for everyone, no matter your fitness level.
You also don't need to be able to hold your breath for long as you dictate how long you stay under the water by moving the wings.
Enjoy the underwater world
Available all year round on Koh Tao, it provides a unique way to admire the beauty of the underwater landscape and marine life.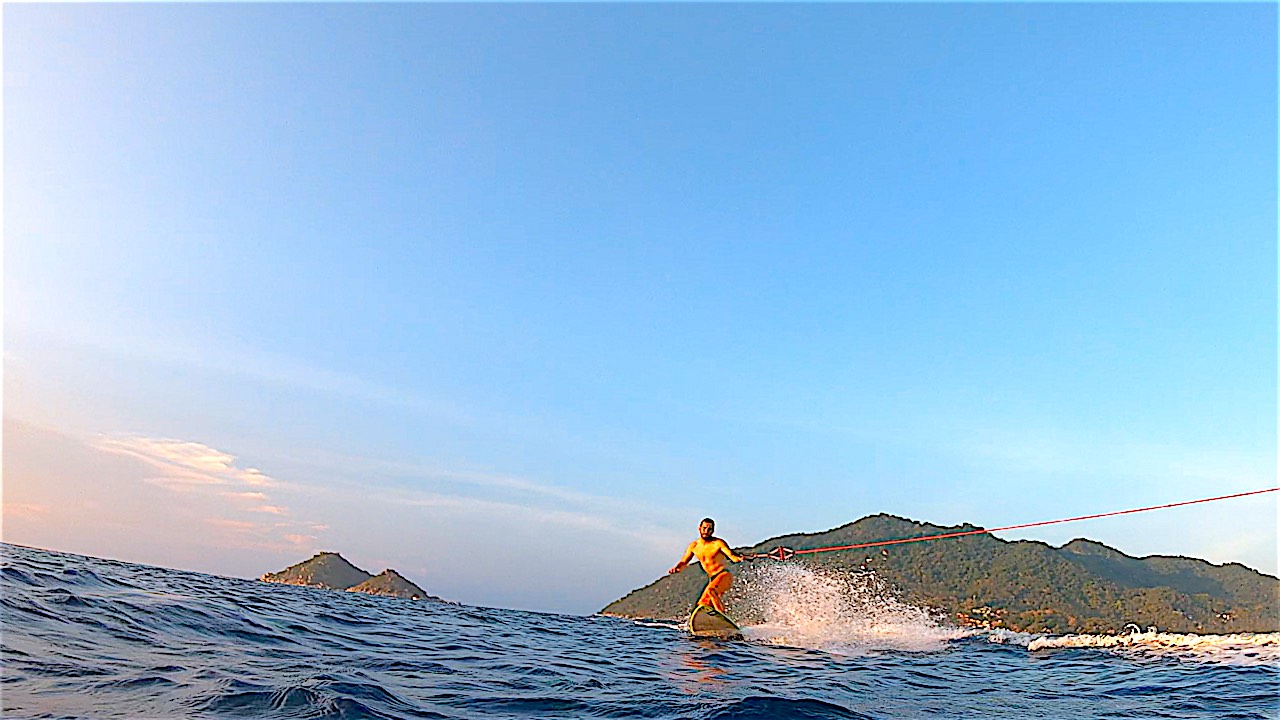 Wakeboarding on Koh Tao
Wakeboarding, which has origins in skiing, surfing and snowboarding, involves being fastened to a small board and towed behind a boat whilst riding the wake produced by that boat.
Moving at speeds of approximately 30mph, once you are experienced at riding the surface of the water, you can also learn to perform tricks whilst being towed.
There are a variety of options for the equipment involved, depending on how experienced you are.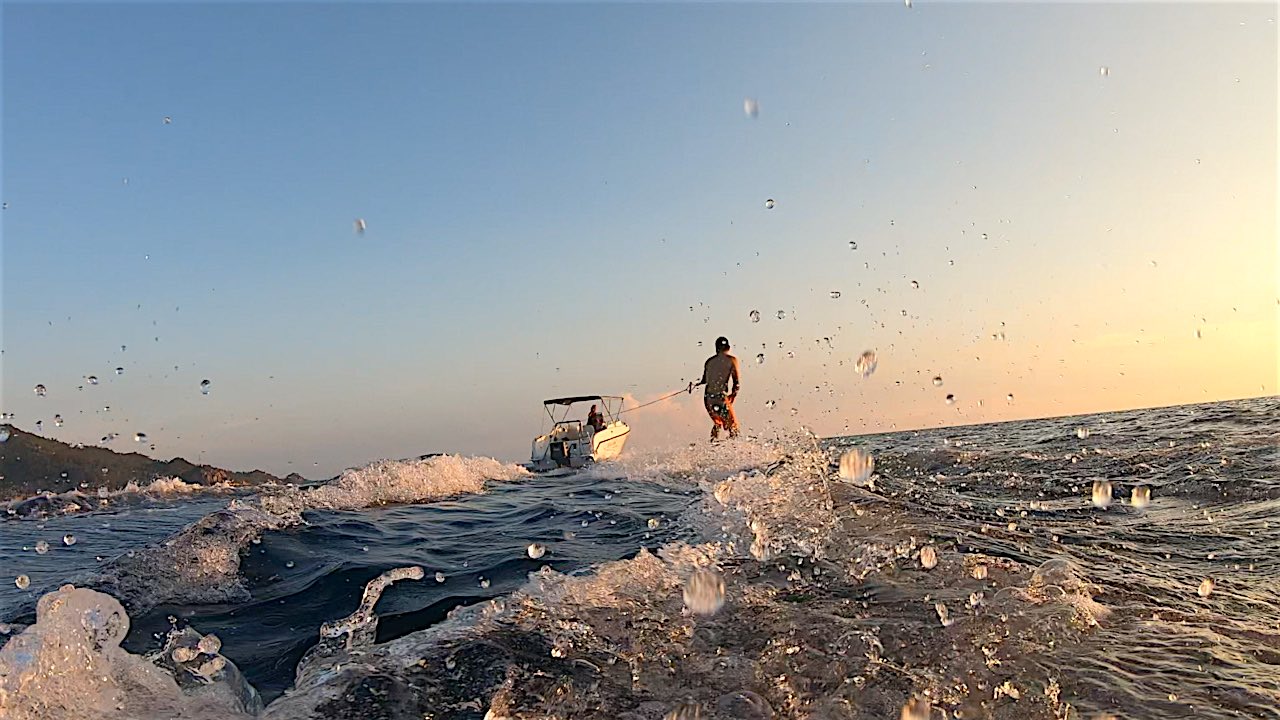 Wakeboarding for beginners
Beginners are advised to use a double-ended board with a fin and Velcro bindings as they are more stable and adjustable.
It is also advised for beginners to use a shorter rope as this provides them with more control.
Use a Buoyancy Aid
A buoyancy aid should be used by everyone, no matter how experienced you are.
The time of year you visit Koh Tao will dictate which side of the island is optimal for watersports.
The companies operating here will look for the flattest spot to allow the easiest ride.
Learn Wakeboarding on Koh Tao
From November to April watersports can be done around Sairee beach, whilst from May to October the winds are lower on the East side so watersports can be done in Hin Wong Bay.
Like tubing, wakeboarding provides a high-speed watersport that is great fun and an ideal group activity that can be booked online before your arrival.
Frequently Asked Questions
Can I do watersport activities on Koh Tao?
There are lots of watersports activities to keep the most watersports enthusiasts busy during their visit to Koh Tao. Other than scuba diving and snorkeling the island boasts waterskiing, wakeboarding, tubing, kayaking, paddleboarding and many more. Please contact us so we can assist you with the planning and organization of all your watersports needs.
How much does it cost for watersports on Koh Tao?
The cost of watersports activities on Koh Tao will vary depending on the type of activity you want to do or combine. Contact us for more information, together with a list of the activities you are interested in and we can advise and guide you on your best options.
Can I do tubing water activity on Koh Tao?
Tubing is a great way to have some fun on Koh Tao, either on your own or with a group of friends. Without any need for training you can book 30 mins or an hour, or for groups of up to 6 even longer and enjoy a ride that can be as mild or wild as you want. If you want more information, send us a message and we will be happy to answer your questions and arrange all your tubing needs.
Is there kitesurfing on Koh Tao?
Kitesurfing is adventurous and exciting and a perfect way to have some fun in the sun on Koh Tao and is an easy, accessible, safe sport for all. The conditions are not always perfect for kitesurfing on Koh Tao so contact us for more information if you are interested in kitesurfing.
How much does it cost for scuba diving courses on Koh Tao?
If you haven't tried scuba diving before, then a 1 day discover scuba diving experience costs 2500baht and includes all equipment considerations and your Instructor. This is an ideal introduction for visitors who wish to experience the underwater world in one day.
How much does it cost to fun dive on Koh Tao?
There are over 20 dive sites to enjoy around Koh Tao. A single fun dive can cost 1000 baht. If you book a package the fun dives will be cheaper and can be taken over several days. An example will be if you book 6-9 dives, each dive is 900 baht. If you book 10 or more dives each dive is 800baht.
How much do snorkel trips cost on Koh Tao?
Snorkeling trips around the island of Koh Tao are superb value for money and priced fairly so every visitor can get to witness the beauty of the island, above and below the sea. There are some beautiful snorkeling locations around Koh Tao and it is an ideal way for all visitors to enjoy a fun packed day. The cost of a snorkeling trip is 850baht that includes equipment rental, lunch and refreshments. There is also a 100baht entrance fee to visit Koh Nangyuan that is payable by everyone, where you can visit the breathtaking viewpoint and capture lasting memories.
Where is the best snorkeling on Koh Tao?
Koh Tao offers fantastic snorkeling locations all around the island with colourful marine life underwater and tropical scenery above. Shallow and sheltered bays such as Mango bay and Aow Leuk bay offer snorkelers the opportunity to see an abundance of marine life including parrot fish, stingrays, sergeant major fish, banner fish and so much more. Stunning Koh Nangyuan island offers a sensational backdrop and huge diversity underwater at Japanese Gardens. Shark Bay offers snorkelers the opportunity to see the resident turtle and with a bit of luck, identify small black tip reef sharks.
Is Koh Tao safe to snorkel?
Koh Tao is considered to be one of the safest locations in the world to try snorkeling with ideal environmental conditions, little current and nice weather for most of the year. The island offers visitors over 20 beaches and a dozen bays that you can base yourself at and snorkel from.
Is Koh Tao safe for scuba diving?
Scuba Diving in the safe, warm sea that surrounds Koh Tao is considered to be extremely safe and it is the most popular destination in the world to learn to scuba dive. More entry level scuba divers are certified on Koh Tao than any other location around the world. It offers novice divers great conditions to learn to scuba dive and fantastic marine life to see.
Is it safe to Kayak around Koh Tao?
Kayaking in the sea around Koh Tao is very safe and it is a great way to explore the island. As a visitor you should be aware of any strong currents, adverse weather on the horizon and always let another person know your plans before setting off.
Can I paddleboard around Koh Tao?
Paddleboarding offers you a great opportunity to explore the beautiful waters around Koh Tao and is also a great way to keep fit. You can rent paddleboards by the hour or all day (8 hours) so if you are fit, conditions are good and you have experience paddleboarding you should be able to paddleboard around Koh Tao.
What is Subwing watersports?
Subflying or subwing offers an extraordinary way to enjoy and admire the waters around Koh Tao. Using a customized board, you have full control of your movements as you maneuver upwards and downwards, twisting and turning whilst being towed slowly by a speedboat. Suitable for the whole family with a minimum age of 8 years old this is a great way to spend a few hours of your holiday. Contact us for more information and allow us to organise this exciting new activity for you and your friends.
Is wakeboarding for beginners?
Wakeboarding is a fun sport that is relatively easy to learn the basics. It should not take you long to get up, on the board and start gliding across the wake of the pulling speedboat. However, jumps, flicks, cutting hard and jumping high across the wake is challenging and will require lots of practice. Contact us if you want to discuss trying out wakeboarding.