The Best Bays to Visit on Koh Tao
The coastline of Koh Tao has many bays that provide stunning views and areas to explore while you are visiting the island.
Each bay has its own individual features that make it unique and appealing. No matter what you have come to Koh Tao for, there will definitely be a bay that will provide you with a memorable experience.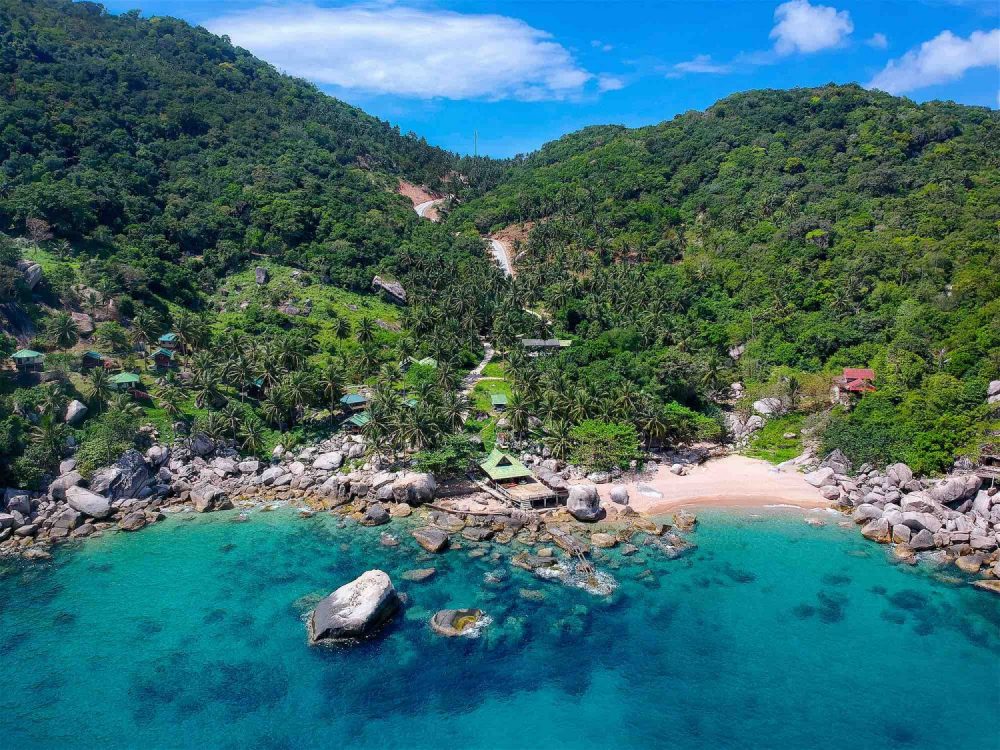 13 Best Bays to Visit on Koh Tao
Hin Wong Bay
Hin Wong Bay is located on the east side of the island, north of Tanote Bay. With a rocky shoreline that is surrounded by boulders, with good road and boat access to the bay.
If you do decide to walk on foot, it will take around 45 minutes from Sairee and the road that leads down to the bay on the east side is very steep.
There is a small, sandy beach in the bay and you can buy refreshments at the beachside bar. There is some shade available on the beach and it very rarely gets busy so it's a great place to relax away from the crowds.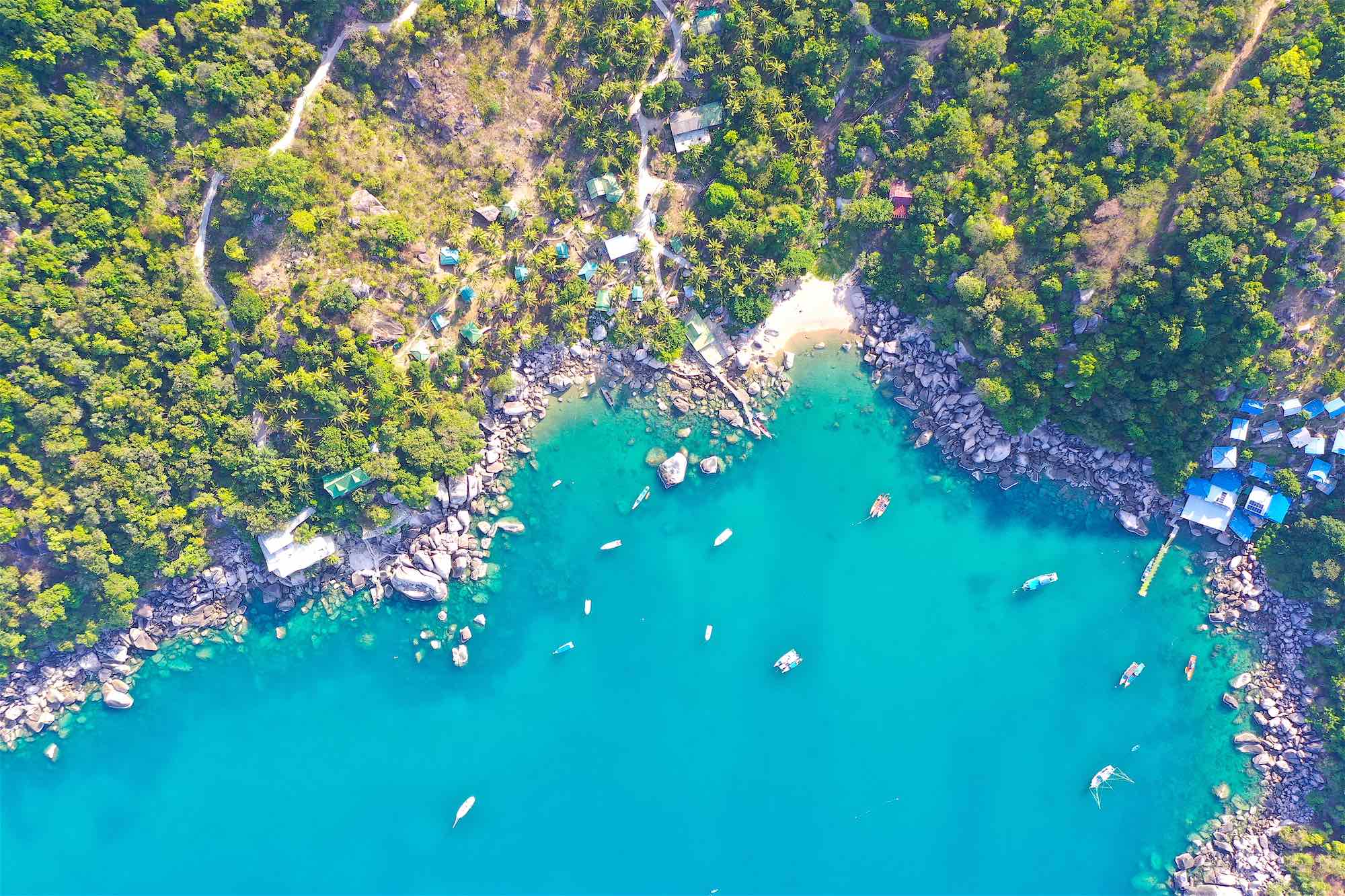 Crystal Clear Water
The bay itself has crystal clear water along with a number of underwater pinnacles covered with fertile coral, which is home to countless fish and sea anemones.
Blue spotted rays call the waters in the bay home and if you are lucky you may see shoals of fish being chased by trevally looking for their lunch.
Snorkeling is great in both the north and south of the bay and equipment is available for hire locally.
There are no amenities available on the shoreline, however, there are a couple of small, family run bungalow resorts on the hillside that offer accommodation and a restaurant.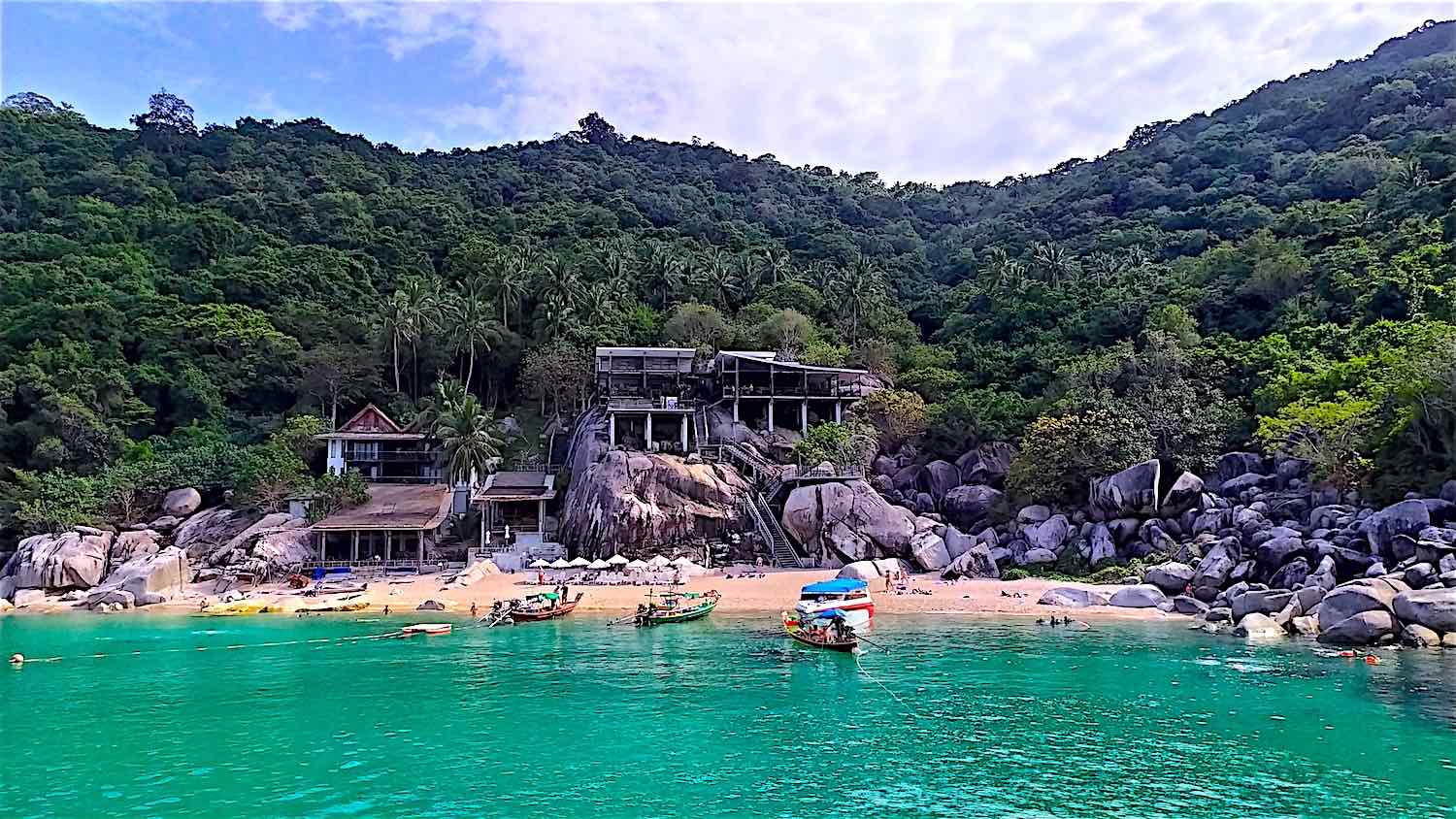 Aow Muang "Mango" Bay
Mango Bay is located on the North side of Koh Tao. The bay is accessible by boat or pick up truck, although the road is steep and little more than a gravel, dirt track in place.
By pick up, the bay is around 30 minutes away from Mae Haad pier.
It is also possible to walk to Mango bay. The path is a long trek, approximately 90 minutes, and passes through the forest, ending at Mango Bay Boutique Resort.
You have to pay a fee of 200THB to pass through the resort to the sea, but from there you can swim to the small beach. They also have a restaurant where you can enjoy lunch and they discount the resort entrance fee from your bill.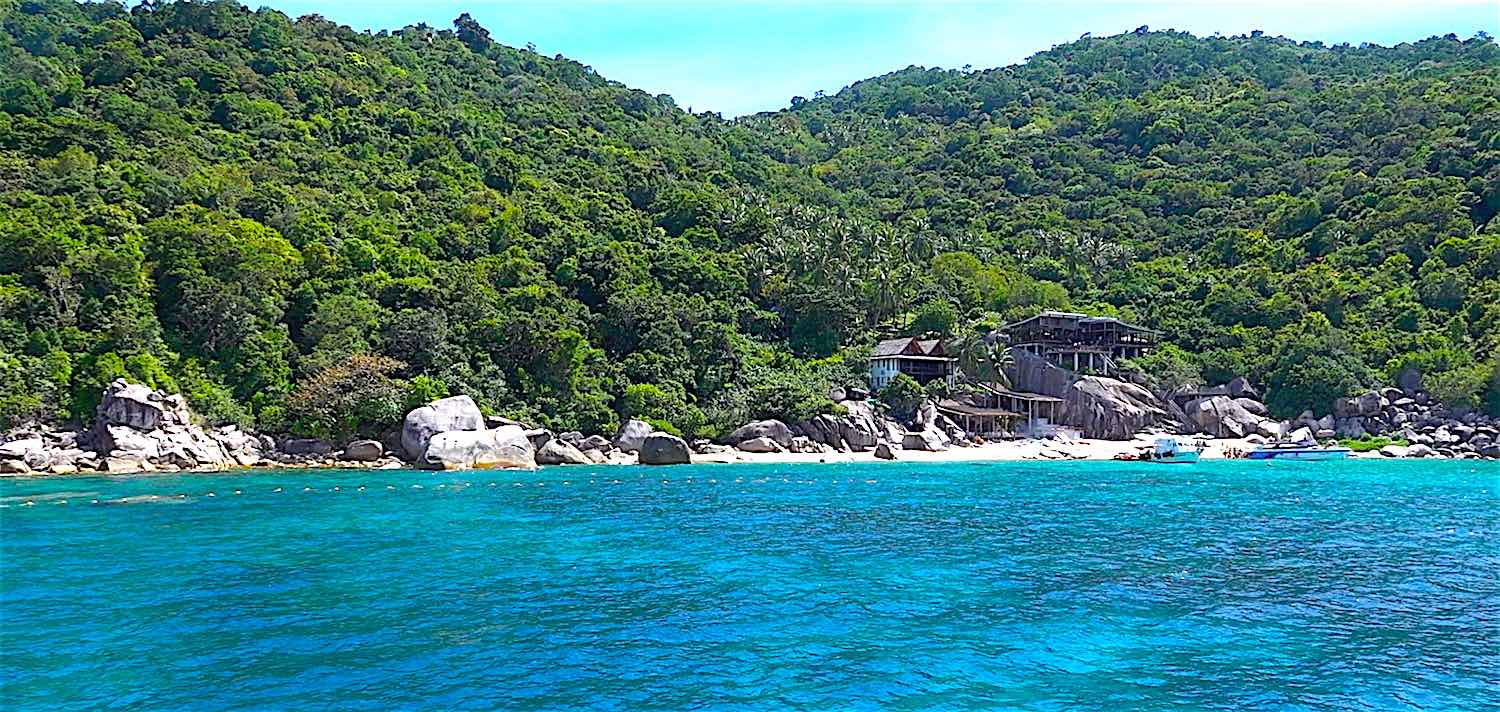 Beautiful Coral Reefs
The water within the bay is calm, clear and turquoise. Coral reefs fringe the bay on either side, making this a great place to scuba dive.
The sandy seafloor, in conjunction with the calm conditions, mean Mango bay is often used by beginner divers.
In addition to scuba divers, Mango Bay is very popular with Koh Tao snorkel day trips and snorkel tours from Koh Phangan and Koh Samui so it can get busy.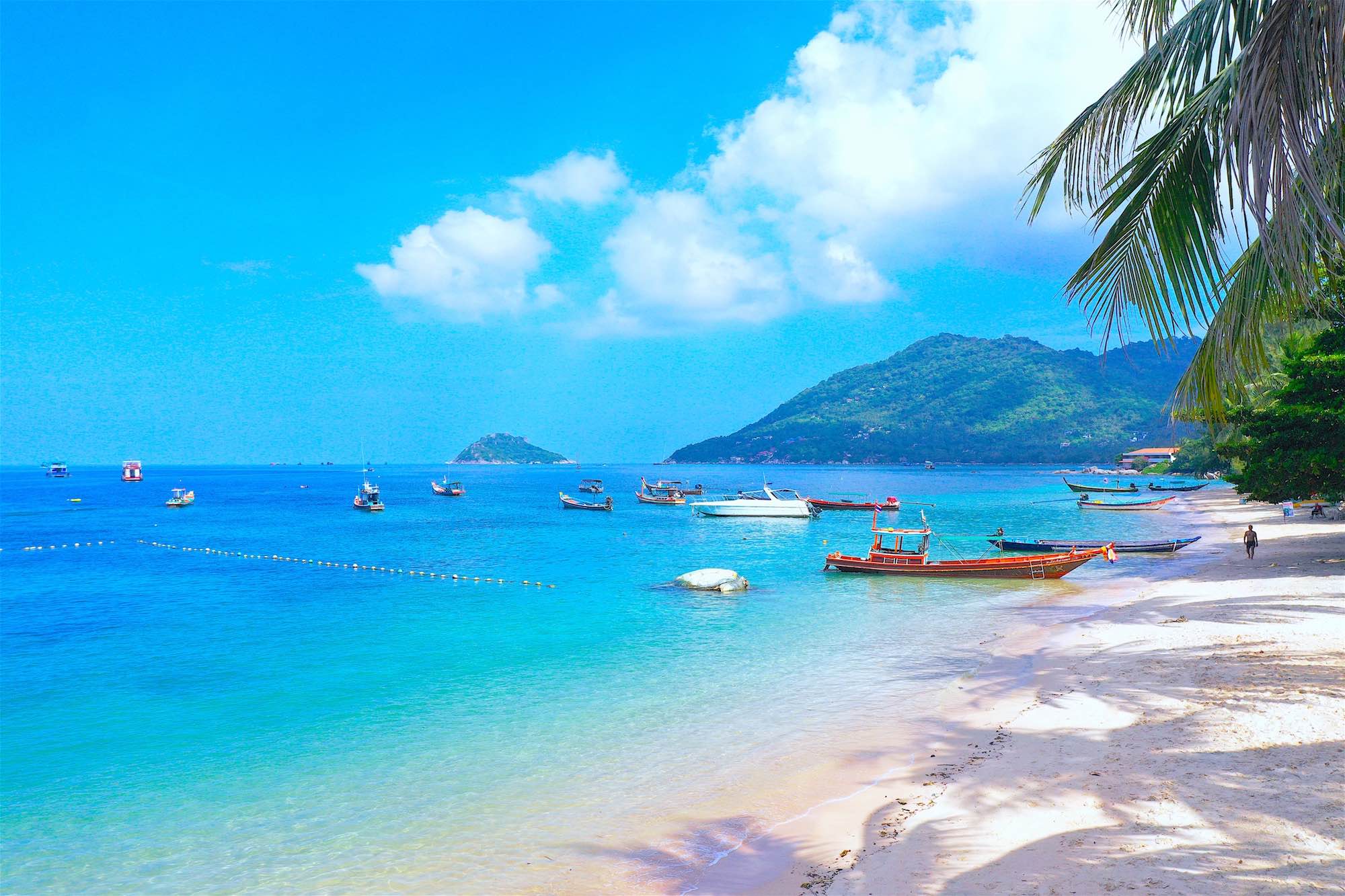 Mae Haad Bay
Mae Haad Bay is home to Mae Haad town which is the first location you will arrive at when you get to Koh Tao.
It is easy to get around by foot and it's only a 20-minute walk to Sairee from here.  Mae Haad is a great place if you need to do any shopping and you will find a number of different shops selling everything from souvenirs to beachwear.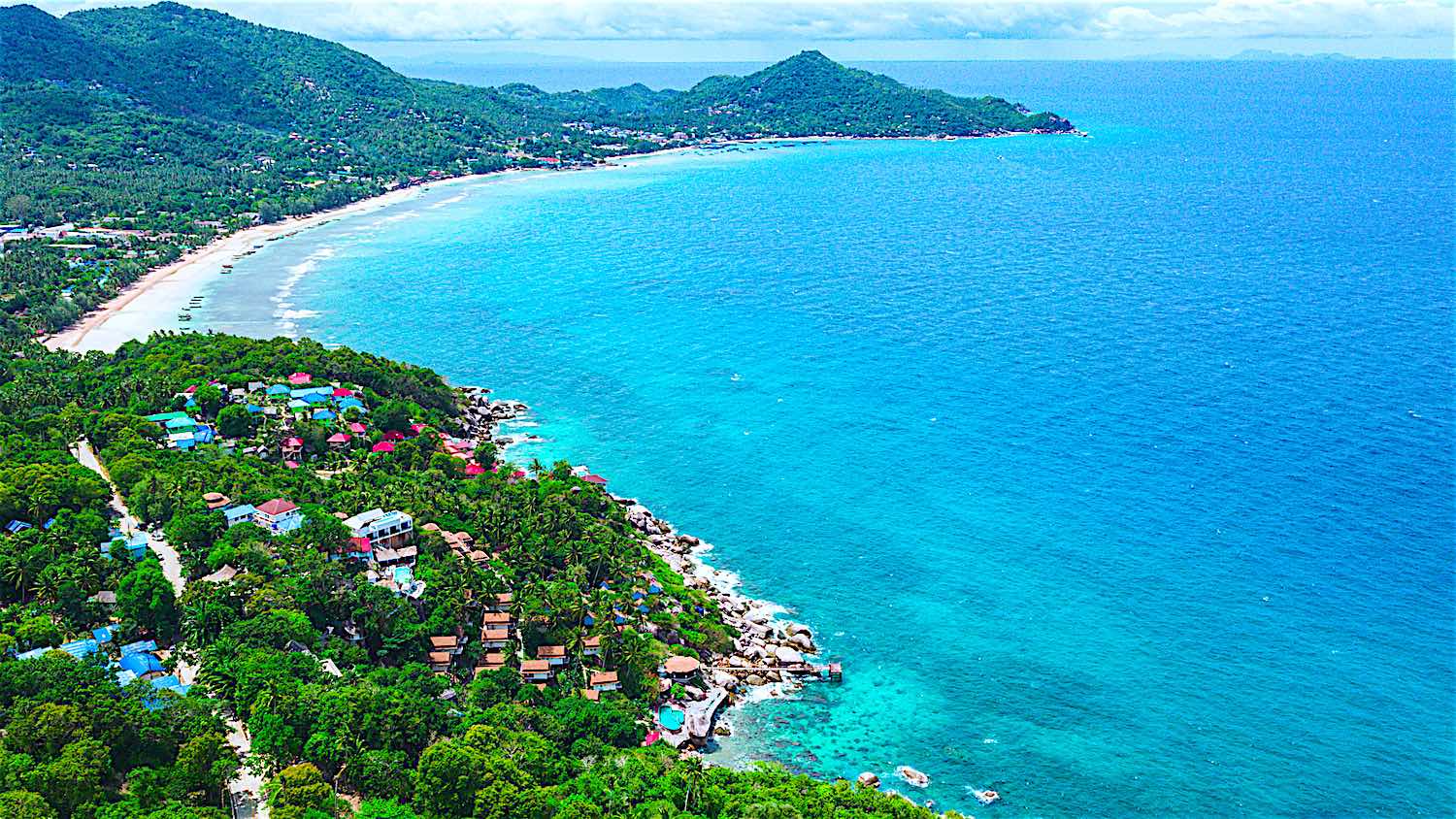 Hiking Trails
Located on the west side of the island, the roads throughout Mae Haad are good and there are also trekking paths to follow to Jansom Bay and Sai Nuan beach.
The bay itself has a relatively large, yet quiet beach, that stretches north and south of the pier. The water in the bay is very clean, despite the fact this is the location of the main pier where all the ferries that visit Koh Tao arrive.
If you decide to swim in this area, please take extra precautions as long-tail boats in addition to other boat traffic manoeuvre in this area.
There are good areas for both snorkeling and diving, including a shipwreck at the South end of the bay, and there are usually a large number of fish in the bay, including fusiliers, blue spotted rays and sweetlips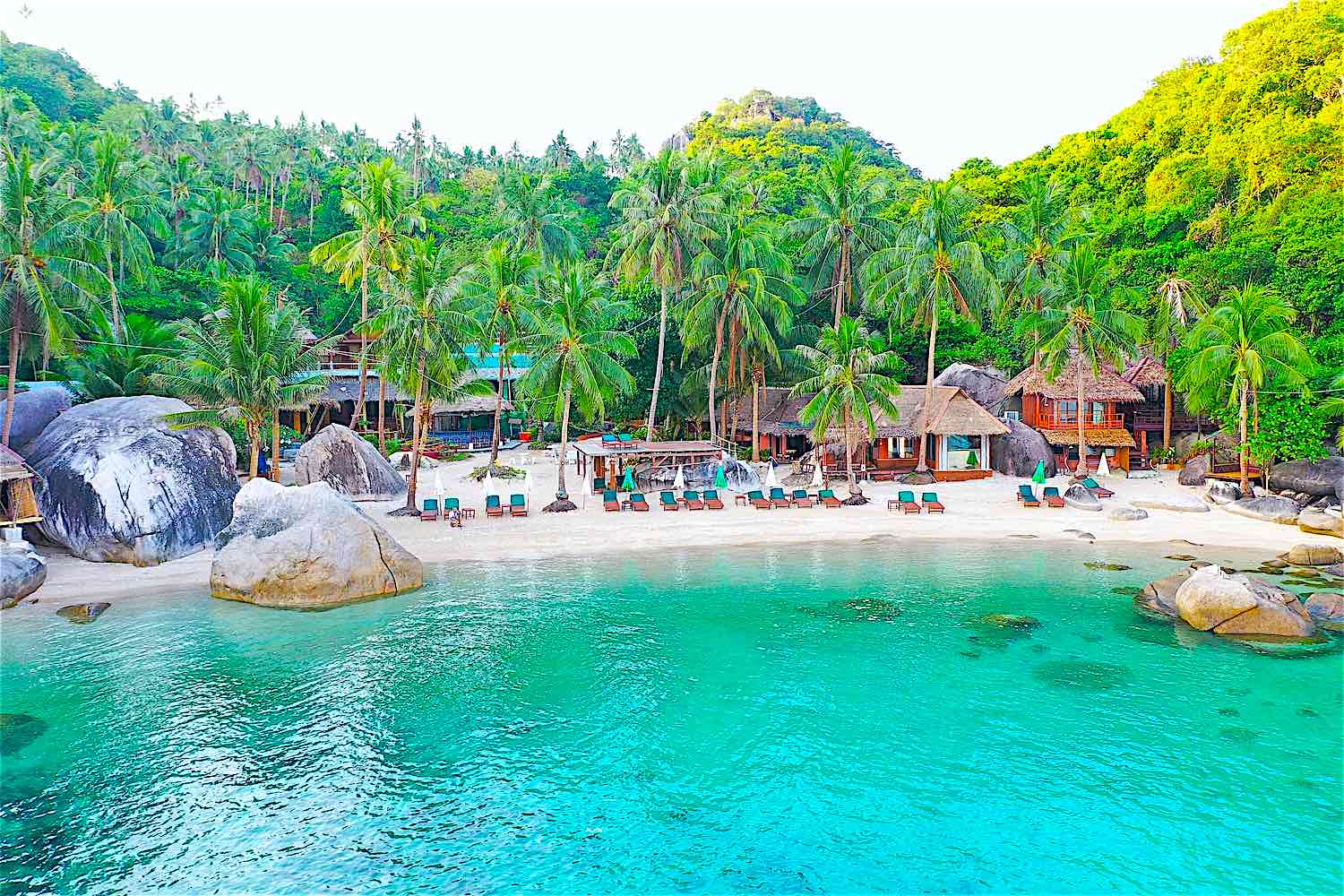 Jansom Bay
Jansom Bay is located on the west side of Koh Tao, just South of Mae Haad. You can get to the bay on foot from Mae Haad in around 20 minutes.
There is a 200THB charge to spend the day at the beach as this is a private resort area but you will get to use the basic facilities.
The bay itself is quite small, surrounded by rocks and has a beach covered in fine, white sand. The sand continues out to sea, making this a great bay for swimming, even at low tide, whilst the water is always deep enough to snorkel comfortably.
This bay has a number of marine species such as Yellow Boxfish, titan triggerfish, blue spotted stingray, porcupine pufferfish and octopus, which makes for a different snorkeling experience, but be aware that fins are not allowed in the water here.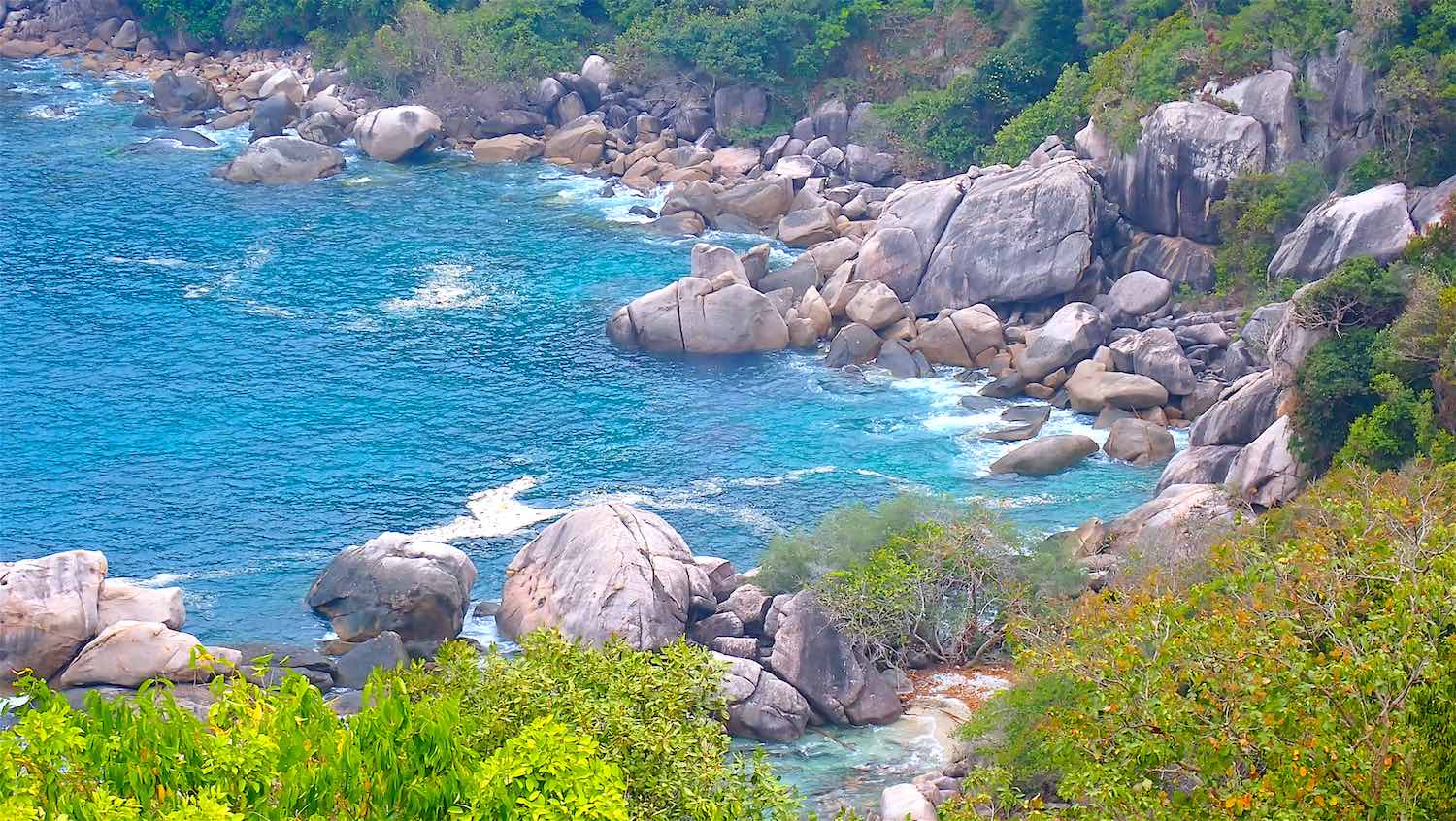 Gluay Tuen "Lighthouse" Bay
Lighthouse bay is located on the Northeast side of the island and is a 15 minute longtail ride from Mango Bay.
There is no road access to the bay, although you can go by car from Mae Haad as far as a partially built resort, which is approximately 200 metres from the sea, in around 20 minutes.
From the resort you then need to climb down a steep, rocky path to reach the bay.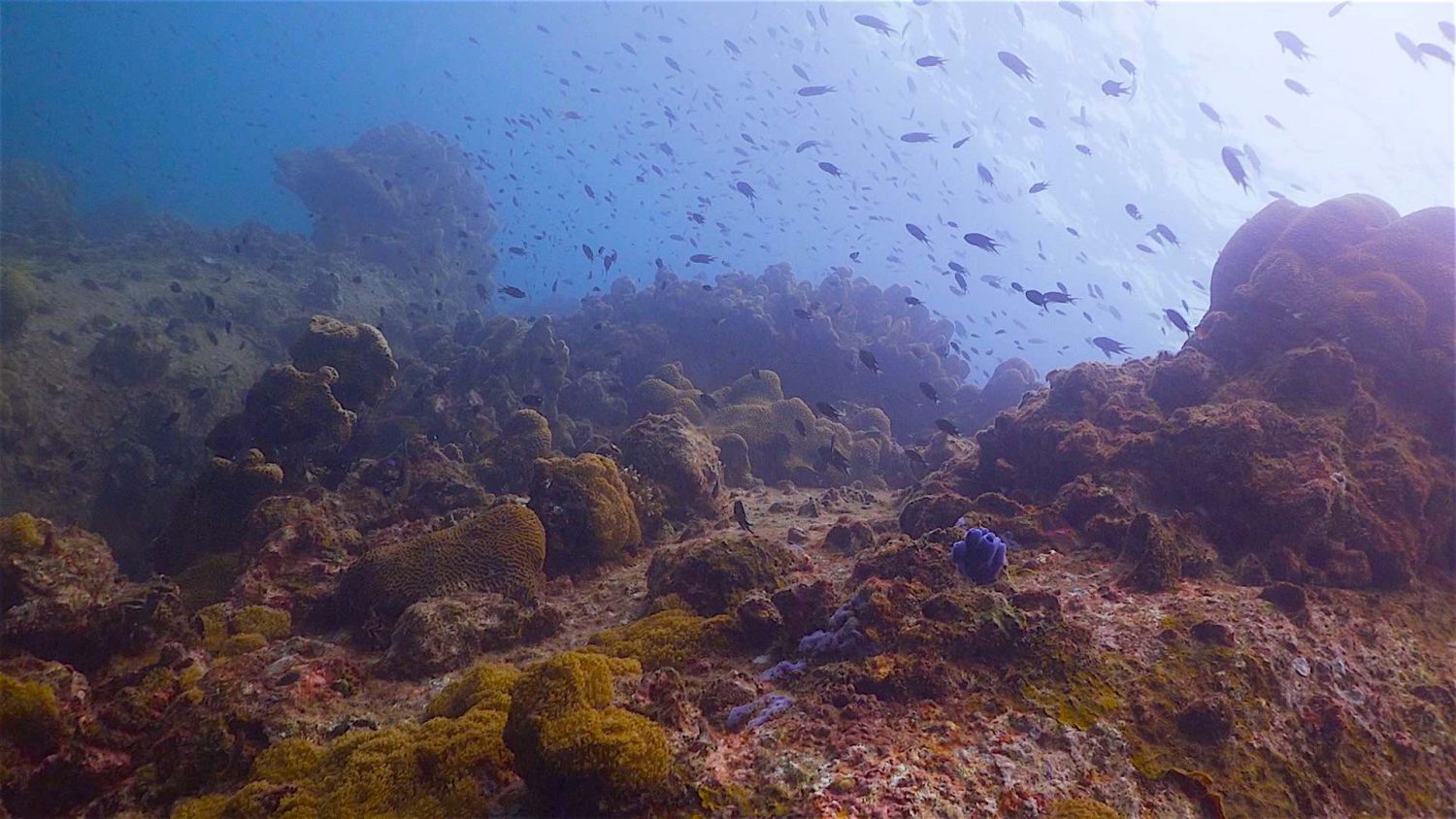 Mountain View Trail
Alternatively, you can hike from Sairee via the North Mountain View Trail. The trail is not an easy trek, but there are a number of other viewpoints along the way which provide spectacular views.
There is a 100THB fee to pay when you get close to the bay but it is worth it for the views you will get.
The bay is a popular spot, and although the lighthouse is no longer in use, the boats carrying divers and snorkelers use it as a reference point when navigating around the headland.
The prime snorkeling points are a little off the shore, so you will need to swim a bit if you come in to the bay over land.
There are two beaches in the bay surrounded by large rocks and the water is crystal clear and calm.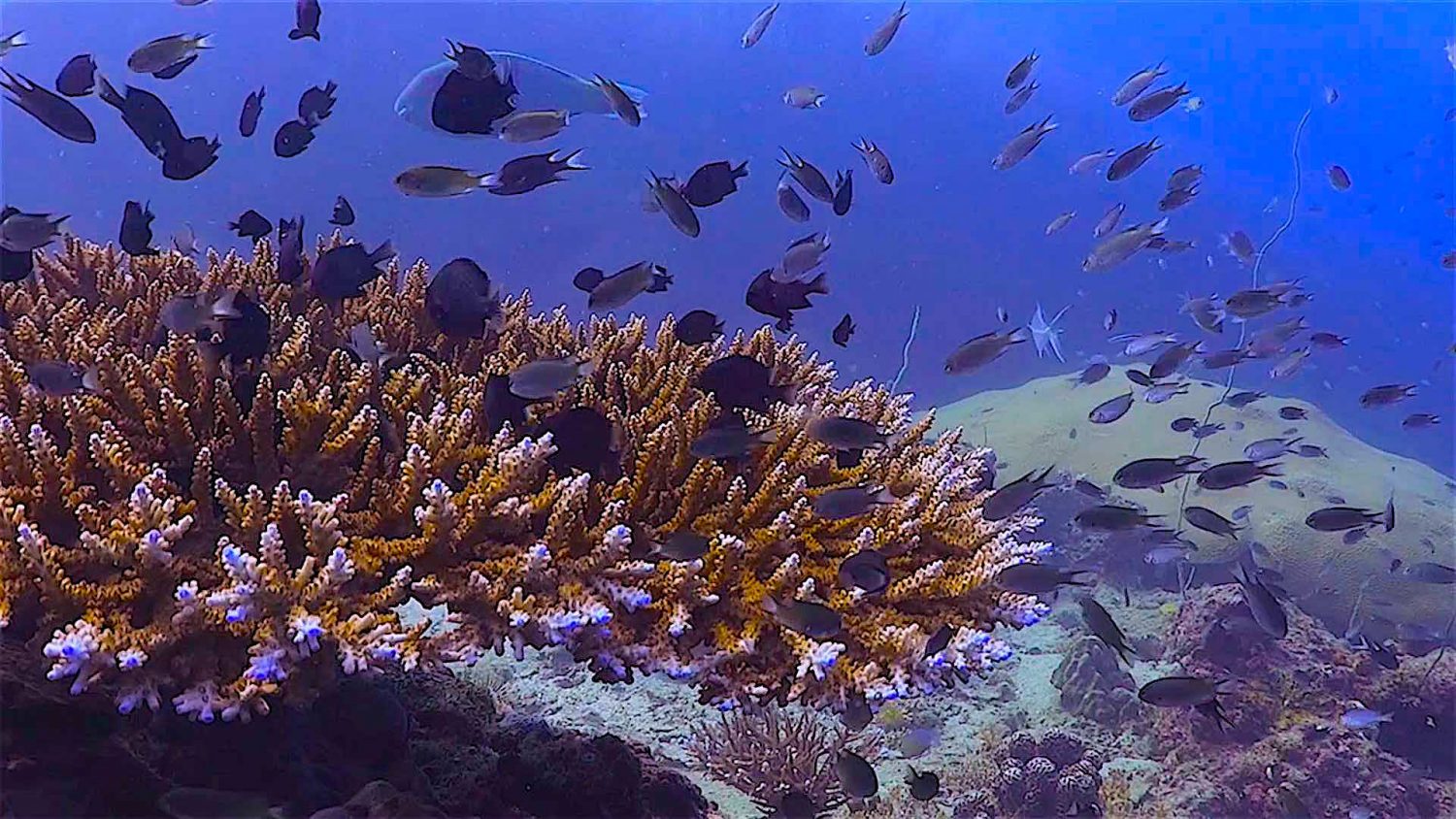 Laem Thian Cape
Laem Thian Cape is in the centre of the islands east coast. To access the bay, you can kayak from Tanote Bay, which takes around 30 minutes, or you can hike across land from Sairee.
The trail, which also goes to Mango Bay is considered one of the best hikes on the island and takes around 1 hour. There are no shops along the path, or at the cape, so be sure to bring your own supplies of water and energy snacks.
Once at the cape, you are unlikely to find many other people. The only resort in the area closed in 2011, although the buildings are still intact which provides an amazing, if somewhat spooky, photo opportunity.
The bay itself is popular with sea turtles as witnessed by the many dive centres who scuba dive here almost on a daily basis, especially from May – September.
Rock Jumping
The rock formations on the North side of the cape provide an excellent location for rock jumping, if you are looking for something a bit more exciting to do with granite boulders ranging in height.
Whilst the bay is not the best for swimming, underwater there are a multitude of rock formations that are perfect for scuba divers as they provide numerous swim throughs and tunnels to explore.
The snorkeling is great here too with an abundance of marine life and some species that are uncommon in other areas of the island.
Please take a look at our Laem Thian dive site page to discover the various types of marine life at this stunning location on the east coast.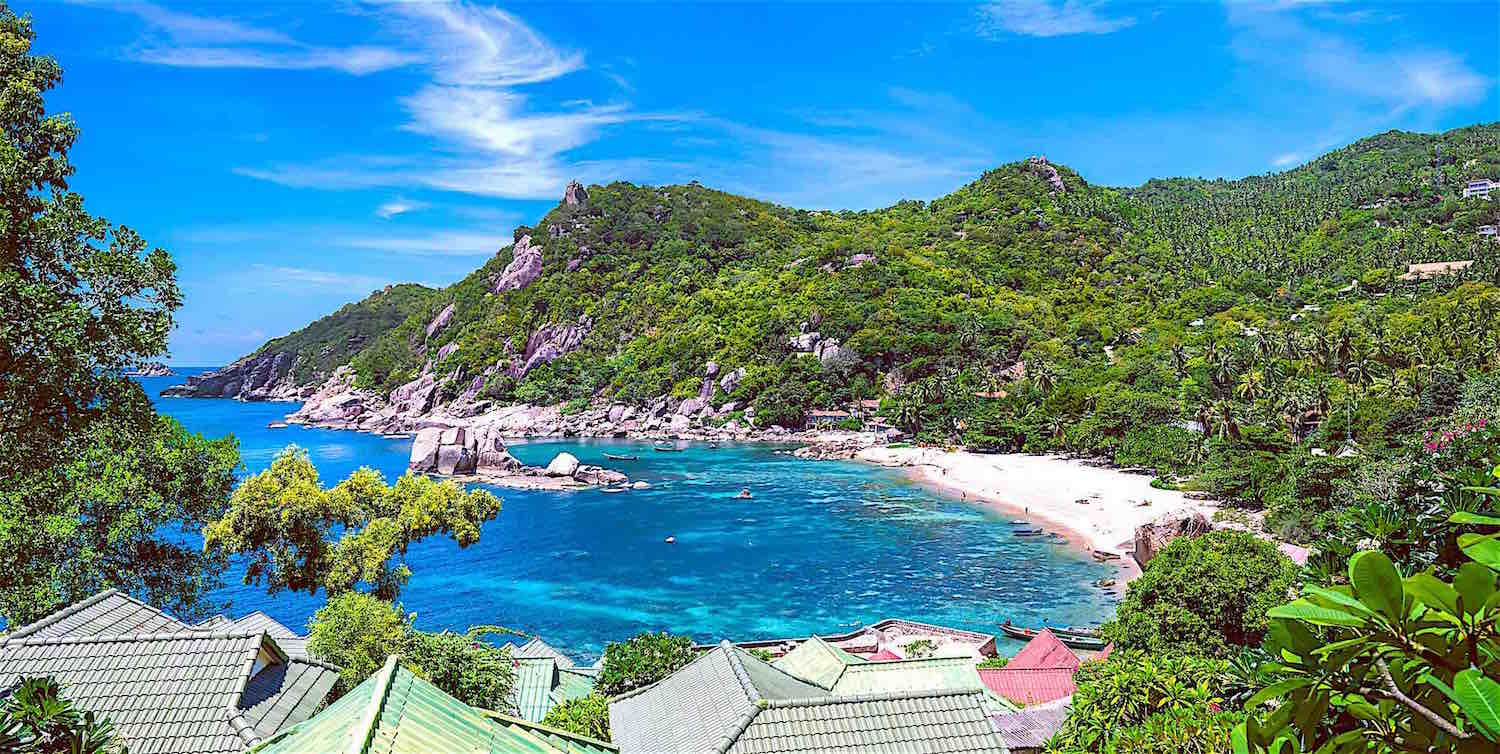 Activities at Tanote Bay Koh Tao
Ao Tanot "Tanote" Bay
Tanote Bay is located on the east side of the island, between Ao Leuk Bay and Laem Thian Cape.
The best way to reach the bay is via taxi-boat or motorbike. The route from Mae Haad takes you over the central mountain on Koh Tao, offering spectacular views of the East coast, and will take around 15 minutes.
The path down to the bay is steep, so it's probably not ideal for beginners who are not used to riding scooters.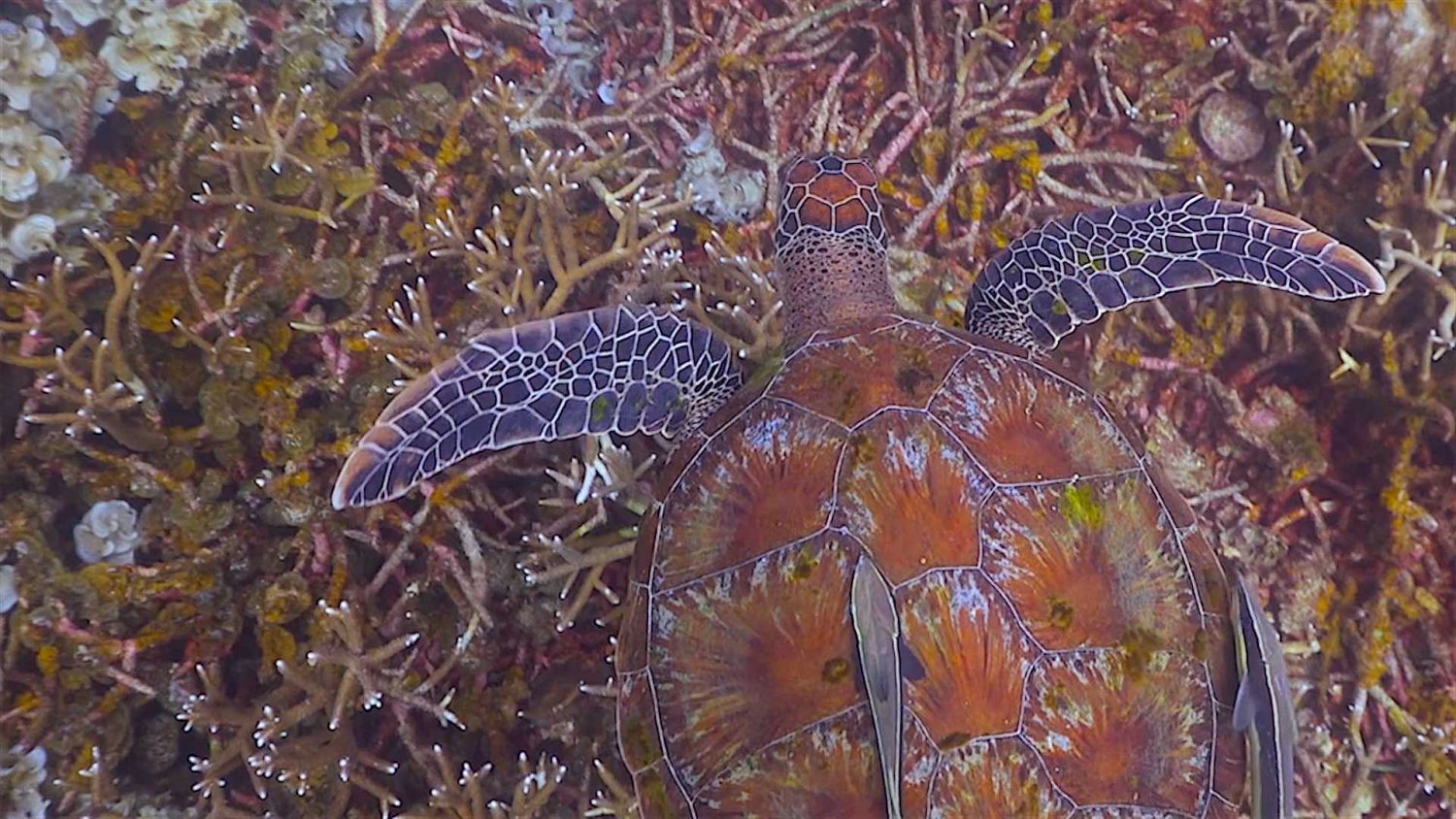 Popular for Scuba Diving
This is one of the most popular bays for scuba diving and it is a great location for beginners. It is also great for snorkeling and has a wide variety of coral as well as some large fish relatively close to the shore.
The underwater scenery is spectacular and as the shallow beach drops out and the water deepens, the view becomes ever more expansive.
The beach itself is large and surrounded by coconut trees, making it ideal for sunbathing, beach games or a picnic.
The buildings in the area are a long way back from the beach which makes for increased privacy but, despite the trees, there is very little shade available.
The terrain around the bay is hilly and there are a number of viewpoints in the area that are worth exploring.
You can also rock jump here into the water due to the large boulders located in the bay, one of which has a permanent rope ladder attached to it, allowing you to climb up and get an amazing view.
Be warned though, the only way back down is to jump so it's not an experience for the faint hearted.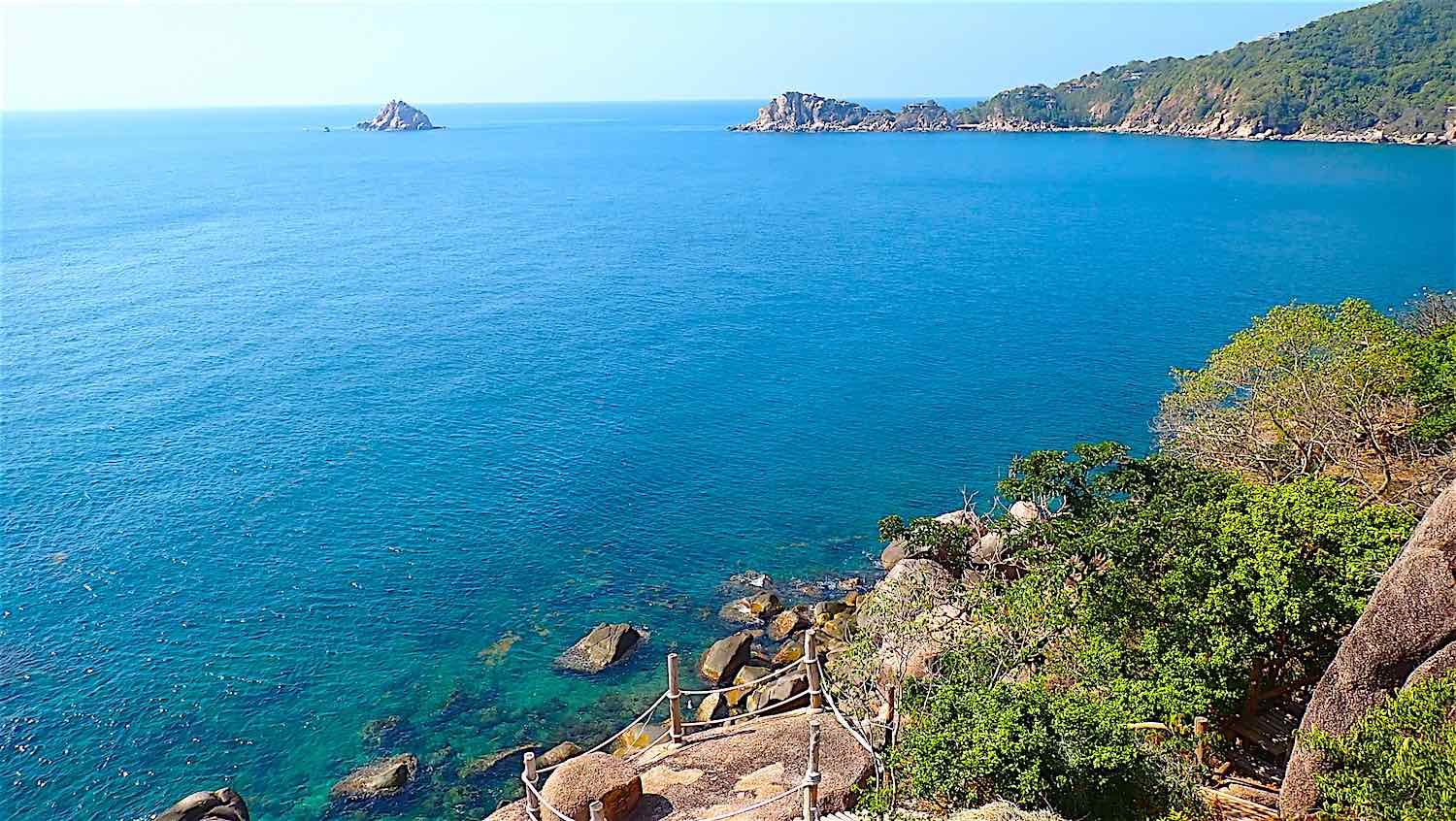 Lang Khai Bay
Lang Khai Bay is located on the east side of the island, just South of Tanote Bay. It is accessible by road and takes around 10 minutes from Mae Haad pier.
This location is actually two bays, known as Lang Khai and Lud and they are good for snorkeling, although less popular snorkeling locations due to their location.
There is a small beach in the bay that sits in front of the valley created between the hills behind the two bays.
Each end of the beach is dotted with granite boulders that are covered with hard and soft corals, but the best area for snorkeling is situated closer to the north side of the bay where the water gets deeper.
Lud Bay is the smaller of the two bays and has a single resort built on the cliff at the end of the road, which is accessible by scooter or 4 x 4 pickup.
From the resort there is an easy walkway that leads down to a delightful snorkeling area known as King Kong Rock, which is well known by locals.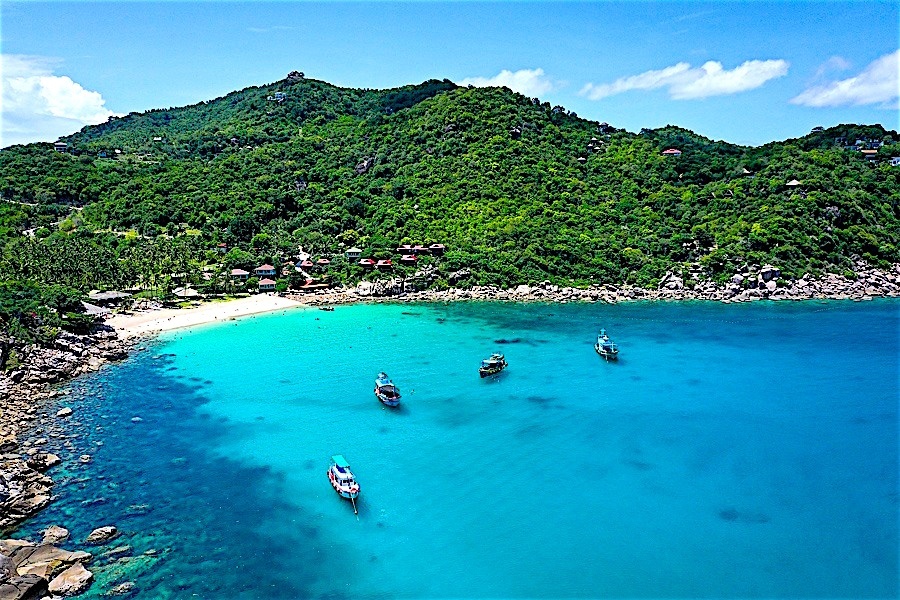 Aow Leuk "Deep" Bay
Aow Leuk bay is on the southeast corner of Koh Tao, between Lang Khai Bay and Hin Ngam Bay.
The bay is very popular with tourists and locals alike and known as "Deep" bay, which is in reference to the geographical features and concave shape of the bay.
The area is great for snorkeling in the shallow water either from the beach or in deeper water along the jagged rock formations on the coastline.
The bay itself is fairly secluded although it is only a 40-minute walk from Mae Haad pier, and less than a 10-minute drive.
The drive is simple with the exception of the path down to the beach, after you turn off from the main road, which becomes a steep dirt track that can be difficult if you are on a bike.
To access the bay, you have to pass through Aow Leuk Grand Hill Resort and pay an entrance fee, although this includes parking, the use of beach chairs and cold drinks.
It is worth paying the fee as the beach is one of the most scenic on the island with a white, sandy section down the centre that stretches into the water.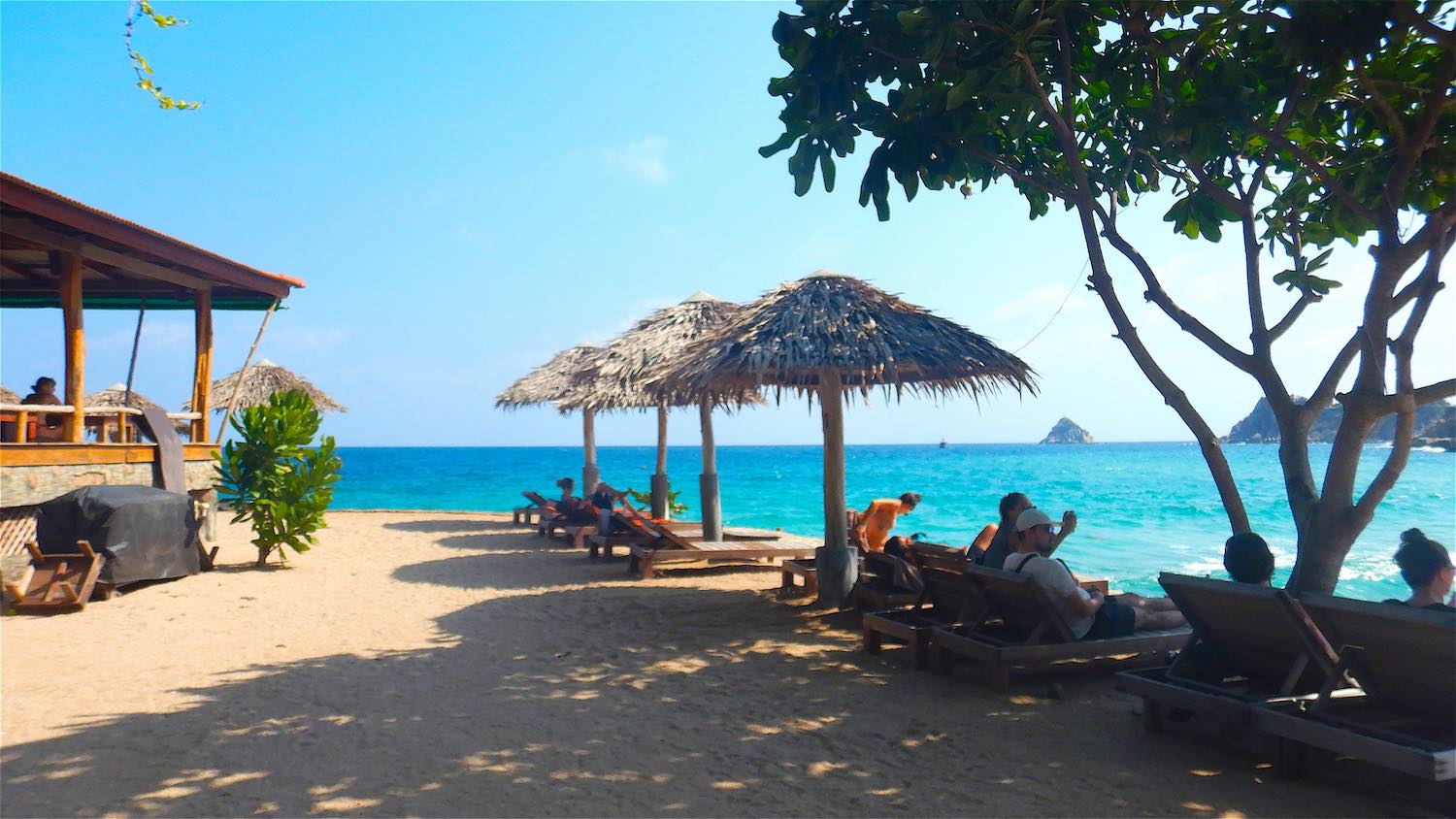 White Sandy Beaches
Aow Leuk enjoys a white, sandy sea floor and is perfect for swimming, snorkeling and it features regularly on the dive sites schedule of dive centres as it is a great location for scuba diver training.
Due to the coastal topography and underwater rock formations, the local area is teeming with fish, so you don't need to swim far to see an abundance of marine life.
If you choose the right time of year to visit, you may even be lucky enough to see the baby black tip sharks that use the shallows in the bay as their nursery environment.
The adult Black Tip sharks can be found in deeper water towards Shark Island off the shore, closer to Shark Island which provides part of the backdrop to the bay.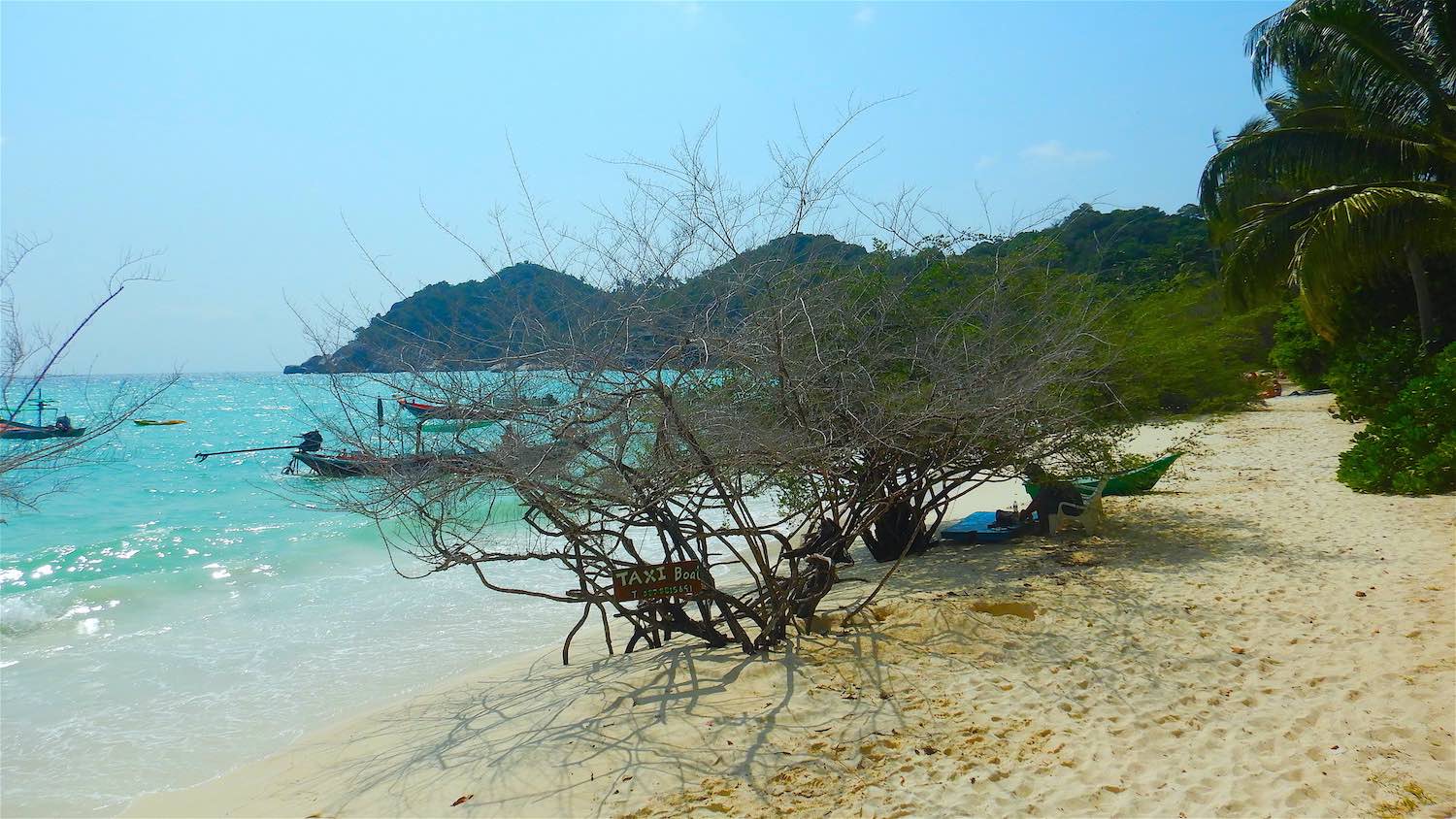 Thian Og "Shark" Bay
Shark Bay is located on the South of Koh Tao, a 15-minute drive from Sairee Beach. The best way to access the bay is to park in front of the Haad Tien Beach Resort and follow the signs.
The bay is private so there is a charge to enter through the resort, and it can get crowded as its very popular with tourists.
To access the bay without paying the entrance fee you can go by boat or kayak or stop at the road before the resort and walk down 100metres through the jungle to a small rocky and sandy outcrop.
Shark Bay is named after the black tip reef sharks that use the shallows as a nursery environment for their young.
You may be lucky to find an adult Black Tip Shark further offshore where the water starts to get deeper. It is also a good location on Koh Tao to see green sea turtles on a daily basis.
The turtles can be found around the coral reefs in the bay and they can be up to a metre long and are friendly and undaunted by humans.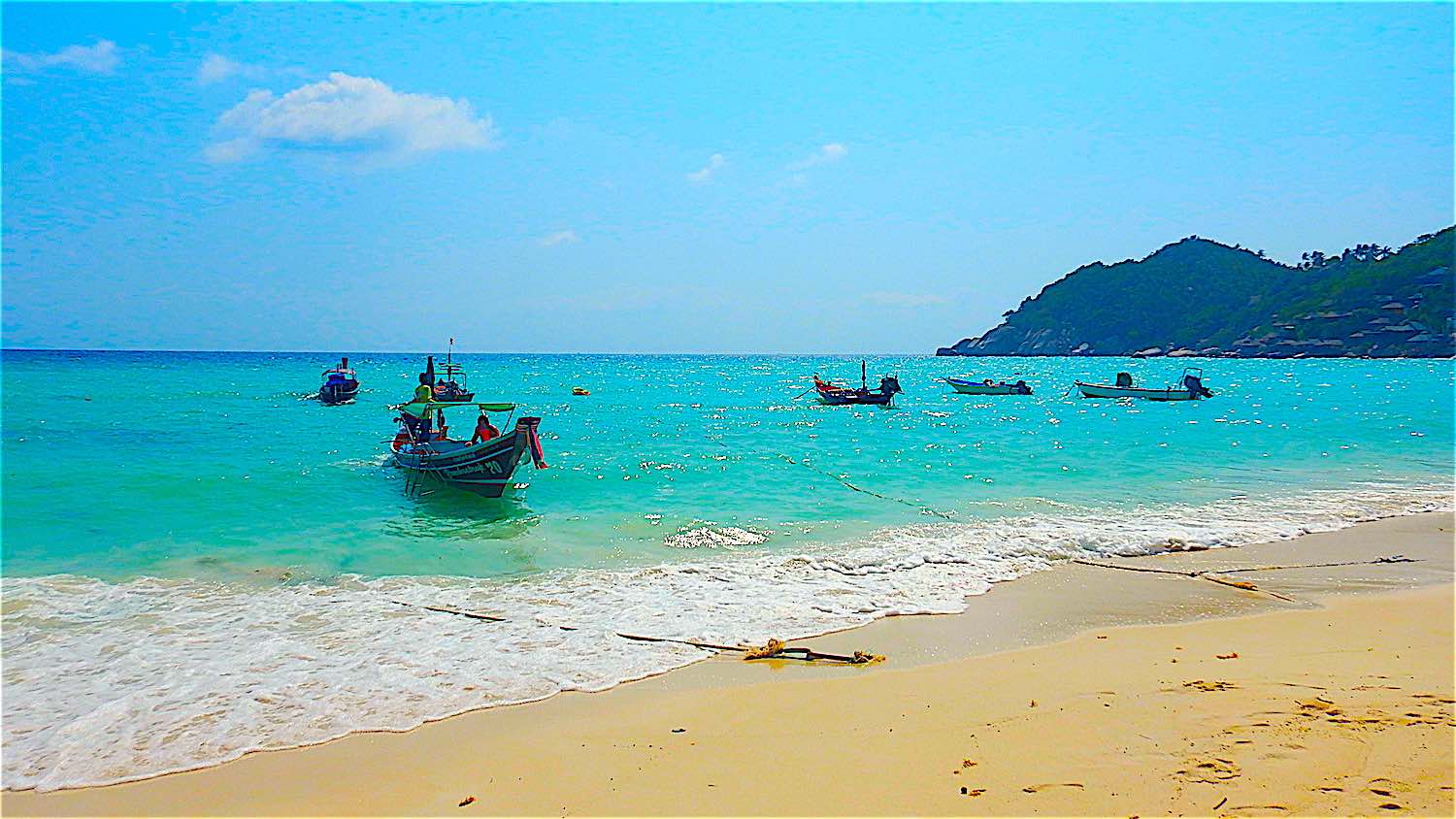 Great for Snorkeling
When you are snorkeling in the area and the turtles come close, you need to be careful not to touch them as the transfer of bacteria from human skin can harm them.
The beach in Shark Bay is shaded by coconut and pemphis acidula trees and covered with fine, bright white sand.
Despite the popularity, the area is peaceful and a nice place to relax. When you get hungry you won't have to travel far as there are a number of restaurants along the beach where you can grab food.
Some of these restaurants also rent snorkel equipment so you don't have to worry if you don't have your own.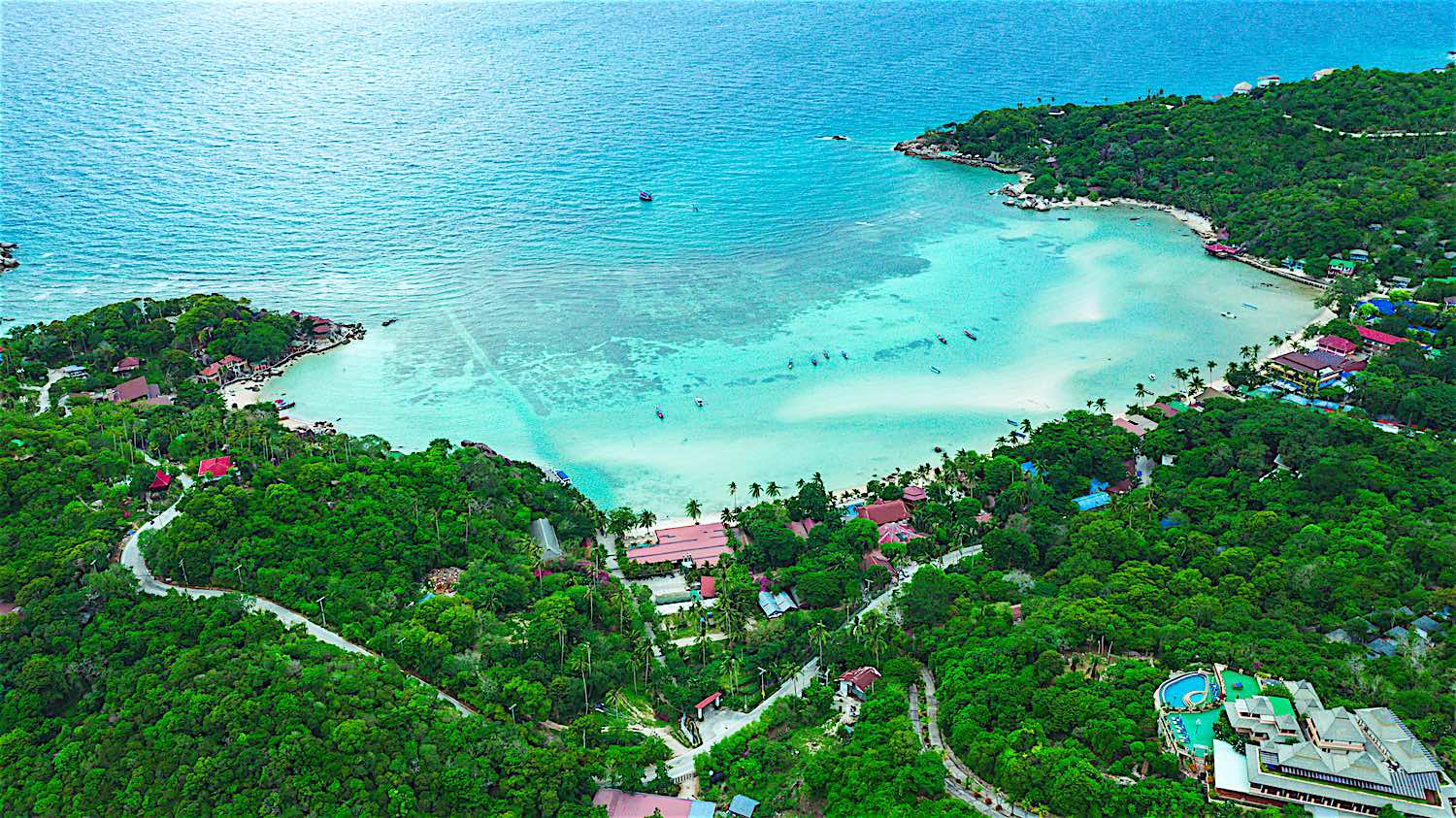 Chalok Baan Kao Bay
Chalok Baan Kao Bay is located on the South side of the island between Saan Jao Beach and Taa Toh Bay.
Easily accessible from the town of Chalok, it takes less than 10-minutes to travel from Mae Haad pier by vehicle and around 40-minutes by foot.
The bay looks out across the Gulf of Thailand towards Koh Phangan, Koh Samui and Ang Thong Marine Park and the cape on the east side provides a great view of the well known Buddha Rock.
There are a number of restaurants, bars and shops within easy reach making this a great place to stay if you want somewhere quiet but close to amenities.
The bay contains a large, white sandy beach (the 3rd largest on Koh Tao), which is very popular with visitors as it slopes gently down into the ocean.
Whilst it is not a great location for diving or snorkeling due to its depth, it is ideal for swimming or simply relaxing for the day, as despite its size, it is rarely busy and the water is very calm and shallow.
Many of the longtails around the island choose Chalok Bay to moor so, if you are looking to rent one and see the surrounding area, this is a great place to start.
With Freedom Beach, Taa Toh, Buddha Rock and Shark Bay within close proximity, there is plenty to explore in this area of Koh Tao.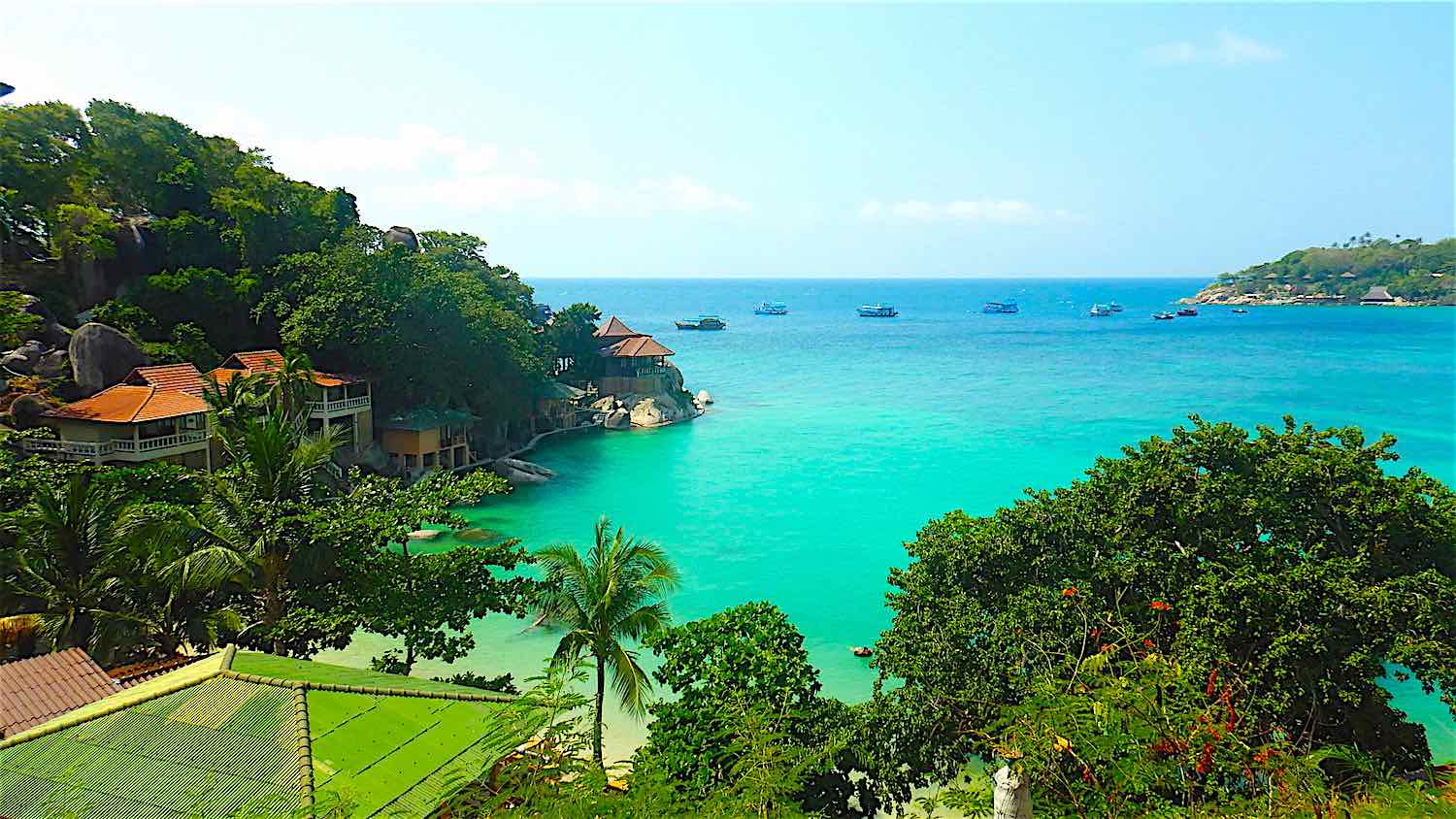 Taa Toh Bay
Taa Toh Bay is located at the Southern end of Koh Tao, just next to Chalok Baan Kao Bay. An easy drive, it takes around 15 minutes to get there from Sairee beach.
One of the more secluded bays, the cove is hidden under a palm-fringed forest, providing a great place to chill out in peace and quiet, as well an ideal place to watch the sunset.
The sandy beach is one of the smaller ones on the island and the water here is calm, making it perfect for swimming.
Although very few people choose to visit Taa Toh, there is still lots of other activities on offer including beach volleyball, hiking, snorkeling, kayaking and lounging in hammocks.
There is also a small restaurant for those who need to grab some refreshments throughout the day.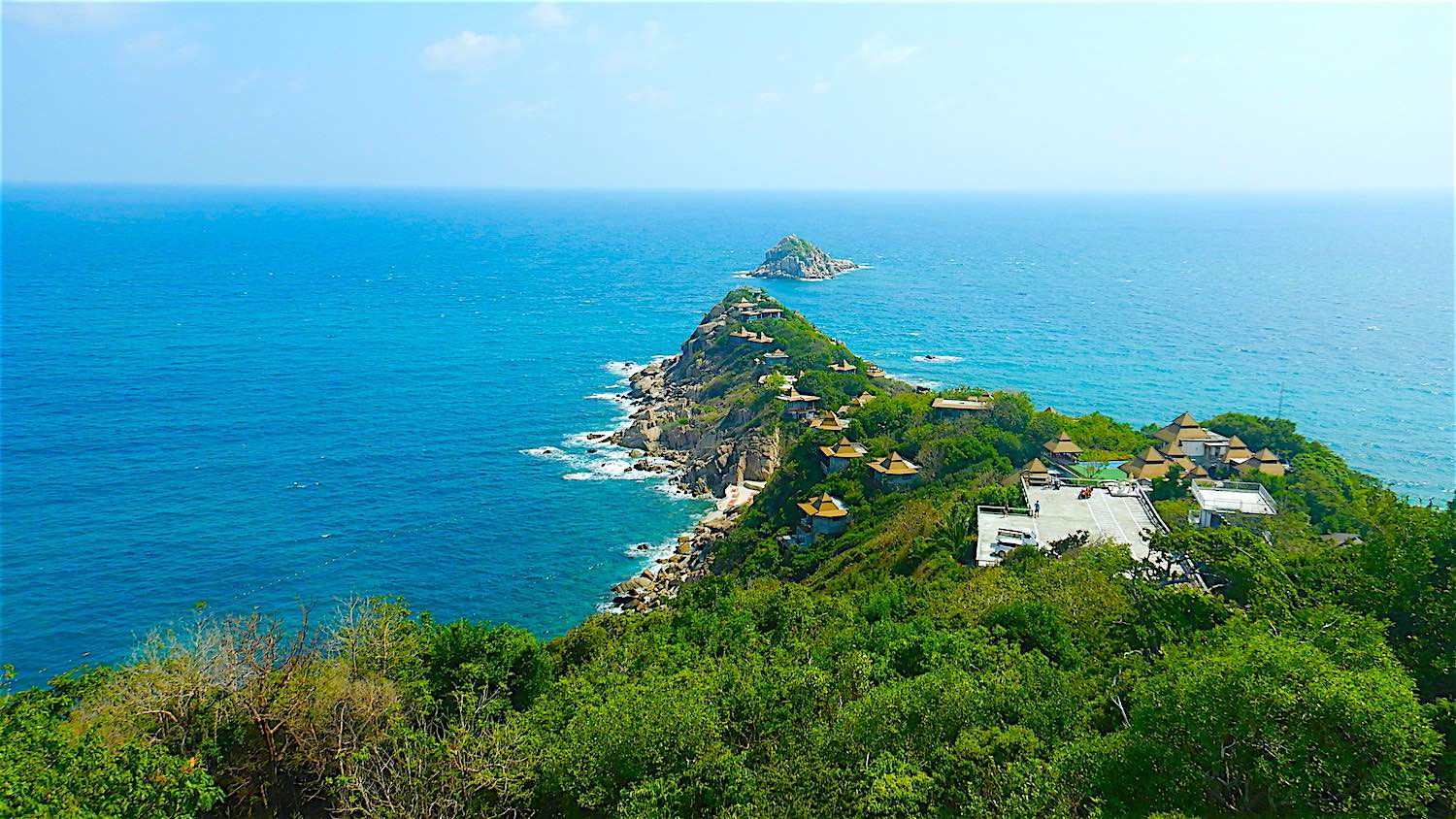 Hin Ngam Bay
Hin Ngam Bay is located on the Southeast corner of Koh Tao, next to Aow Leuk Bay. It is easily accessible from Sai Daeng Resort, where you just need to walk to the swimming pool and take the stairs down the left-hand side.
Alternatively, you can access the bay via boat or kayak.
With a name that translates to "beautiful rocks", it's not surprising that the bay has a rocky coast and no beach to relax on.
The rocks continue under the water and there is an abundance of coral and marine life, making this a good location for snorkeling.
The water is shallow so it is also a great choice for those looking to practice their beginner diving skills.
Of course, there are more beautiful peninsula's and bays around Koh Tao for you to explore.
With so much to discover once you arrive, its best to plan your itinerary and contact us before your arrival so you can fit it all in to your schedule.
Frequently Asked Questions
What are the best places to visit on Koh Tao?
Koh Tao has amazing beaches, bays, viewpoints, restaurants, bars and activities to enjoy. What you get to see and do while visiting, will depend on how long you plan to stay.
Our advice is to conduct research and prioritise what you want to see in the timeframe you have available and plan accordingly, or contact us to discuss your travel itinerary.
Are there day trips around the bays in Koh Tao?
Koh Tao offers visitors half day and full day snorkel trips and tours around the island and it is a great option for travellers who are short on time.
Snorkel trips will stop at 5 of the most popular bays, including Koh Nang Yuan island and you will get to spend time in the water at each location.
Organized snorkel trips include lunch and refreshments and provide visitors with a memorable experience that circumnavigates around the whole island.
For land based trips to viewpoints and beaches, most private resorts and hotels will organize taxi tour guides that can shuttle you around to pre-planned locations for a charge.
What are the best bays to visit on Koh Tao?
Koh Tao has over 21kms of rugged coastline interspersed with many expansive and smaller secluded bays, offering visitors both panoramic beauty and a range of activities.
The definition of the best bay is determined by what a visitor is looking for, from a sandy beach to underwater rock formations that line the sides of the bay with an abundance of marine life.
As the coastline is so diverse, each of the bays provide a unique opportunity to explore something different at each location.
Is it free to access the bays in Koh Tao?
Most of the bays on Koh Tao are free to access. However, some bays may require you to pay a small fee to enter.
Hin Wong Bay and Aow Leuk require a small fee to enter and this money goes towards keeping the bay clean and tidy.
Is it safe to swim in the bays in Koh Tao?
Yes, all the bays in Koh Tao are safe to swim in. Obviously, dependent on weather conditions we advise you not to swim too far out if it is too wavy or if you are not the most comfortable swimmer.
Taxi boats are commonly seen driving into the bays and beaches and it is best to check if the specific bay has a snorkeling or swimming section to remain inside the designated area.
What are the best bays to see a Turtle in Koh Tao?
The most commonly seen Turtles around the bays of Koh Tao are Mango Bay, Hin Wong Bay, Aow Leuk, Lighthouse Bay and Shark Bay.
However, sea turtles can be seen all around the coastline of Koh Tao.
When snorkeling with a sea turtle we ask you to respect these creatures and not to touch, feed, chase or harass these beautiful creatures.
What are the best Bays to see a Reef Shark in Koh Tao?
The most common Bays to see a black Tip Reef Shark in Koh Tao are Tanote Bay, Hin Wong Bay and Shark Bay.
Black Tip Reef sharks can be seen around various parts of the coastline of Koh Tao at certain times of year.
When snorkeling with black tip reef sharks we ask you to respect these creatures and not to touch, feed, chase or harass these beautiful creatures as they are highly vulnerable to stress at such a young age.
What are the best bays in Koh Tao for wheelchair access?
A lot of Bays and Beaches are wheelchair friendly. Depending where you are staying in Koh Tao may mean using a taxi to get there.
Mae Haad Bay and Chalok Baan Kao Bay are the easiest to access and are surrounded by a wide range of popular accommodation choices.
Both of these Bays have several access points and Mae Haad bay has two beaches.
There is north and south Mae Haad beach, which are popular locations for a stunning sunset whilst sipping a cold refreshment at one of the beachside restaurants.