The Best Snorkeling on Koh Nang Yuan Island
Each day hundreds of visitors travel to this famous location to enjoy the breathtaking scenery, to snorkel, swim, relax and climb the viewpoint.
Personal camera's click away as tourists collect memories whilst absorbing the phenomenal surroundings of these three small islands connected by a large, unique sandbar, which can disappear at high tide.
Koh Nang Yuan is one of the most popular locations for snorkeling experiences and offers a safe and fun water activity in three distinct areas.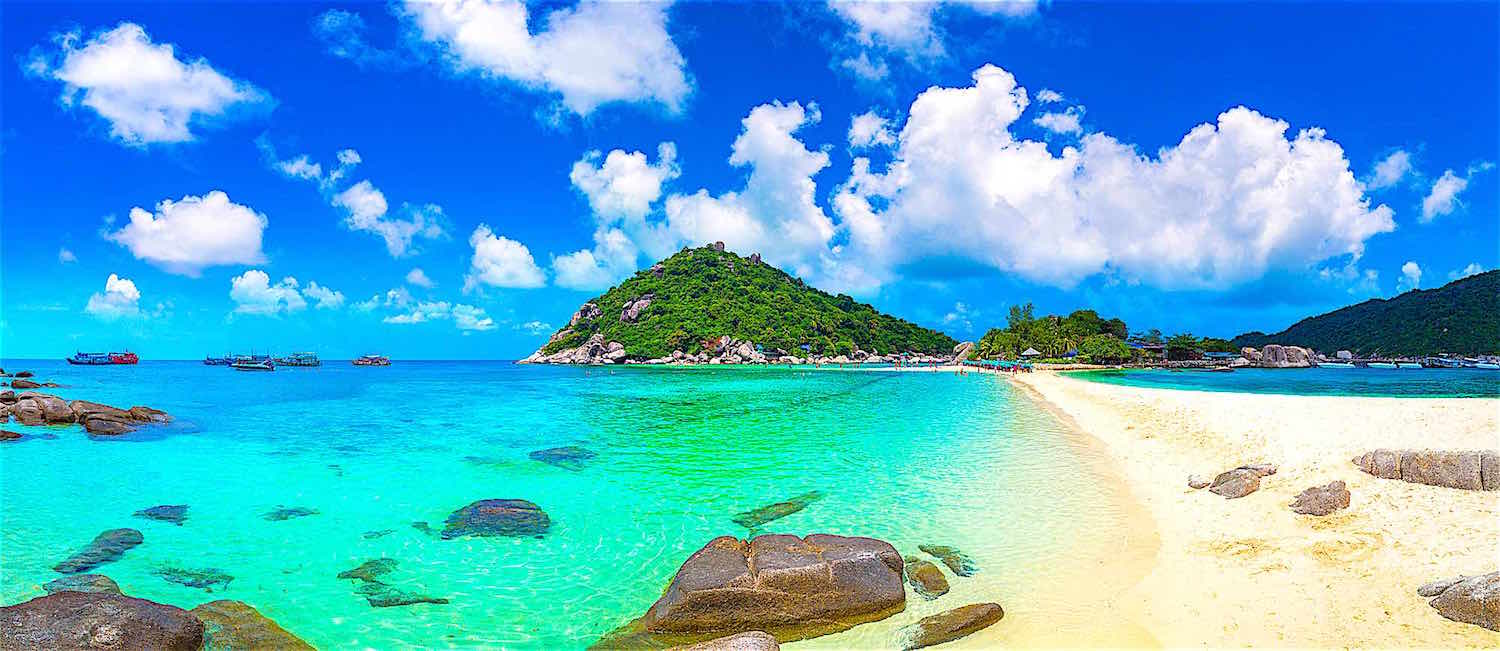 Snorkel Trips to Koh Nang Yuan
Visitors to this island paradise arrive in different ways but you can only reach Koh Nang Yuan by boat.  This island is a feature on the daily scheduled snorkel trips departing from Koh Tao.
Organised full day snorkel tours from Koh Tao generally arrive around 10:30am and will offer you the chance to spend approximately 2 hours on this tropical island getaway.
Once you arrive, how you spend your time is entirely up to you. However, most visitors on organised snorkel tours will start their short visit by making their way to the iconic Koh Nangyuan Viewpoint.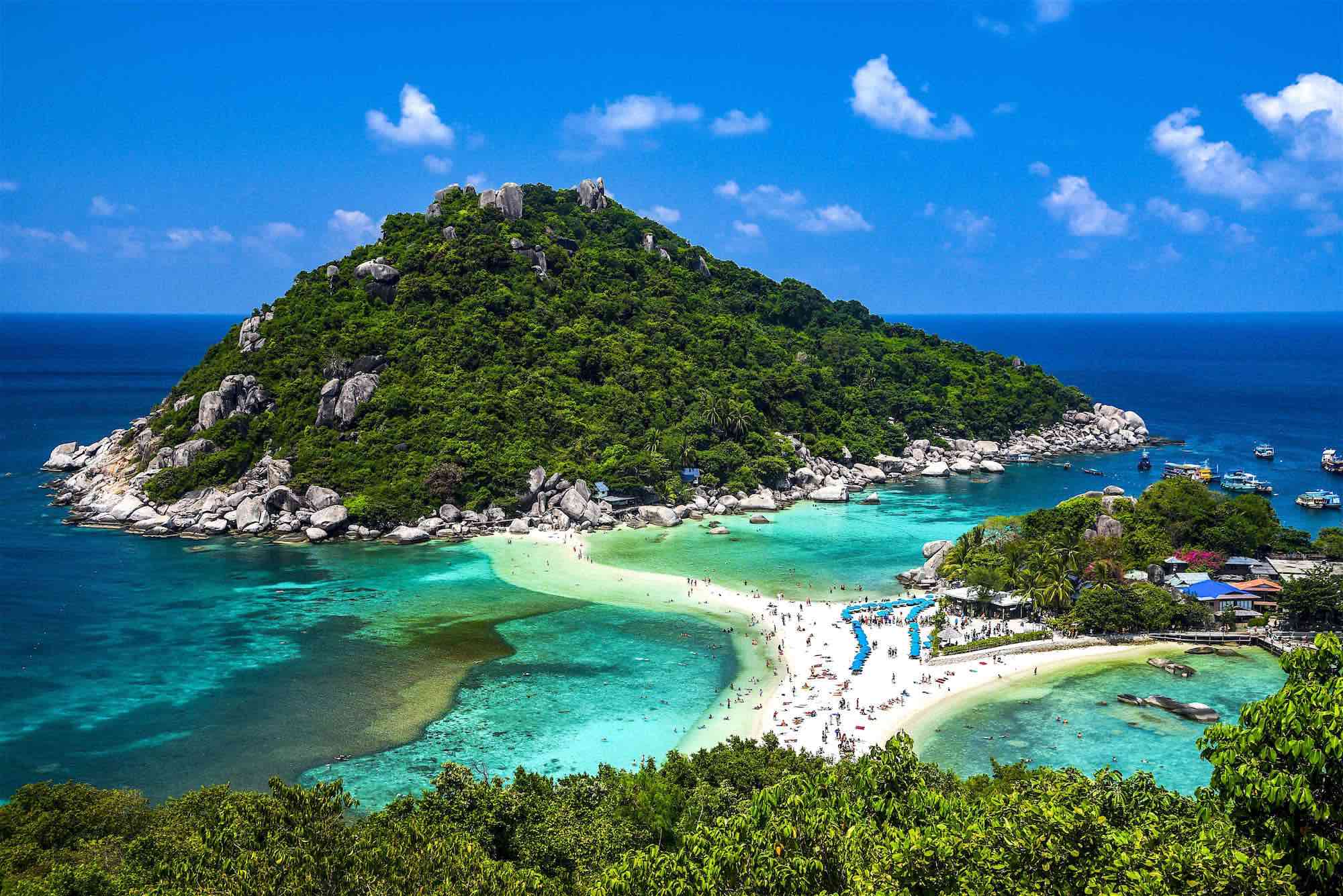 Snorkeling & Popular Viewpoint on Koh Nang Yuan
The Viewpoint can be reached by walking around the southern island and following the purpose built board-walk.
You will reach the viewpoint sign on your right hand side and can then start climbing the concrete steps through the jungle to the top.
Once near the top, the steps become more narrow and eventually you will need to clamber over some large boulders to pull yourself up.
There are usually other visitors there that can assist you in reaching the top, but wearing strong footwear is highly recommended.
The panoramic vista you are looking down on is well worth the climb to the summit and your camera will be clicking away to collect those memories that you can share with your loved ones on social media.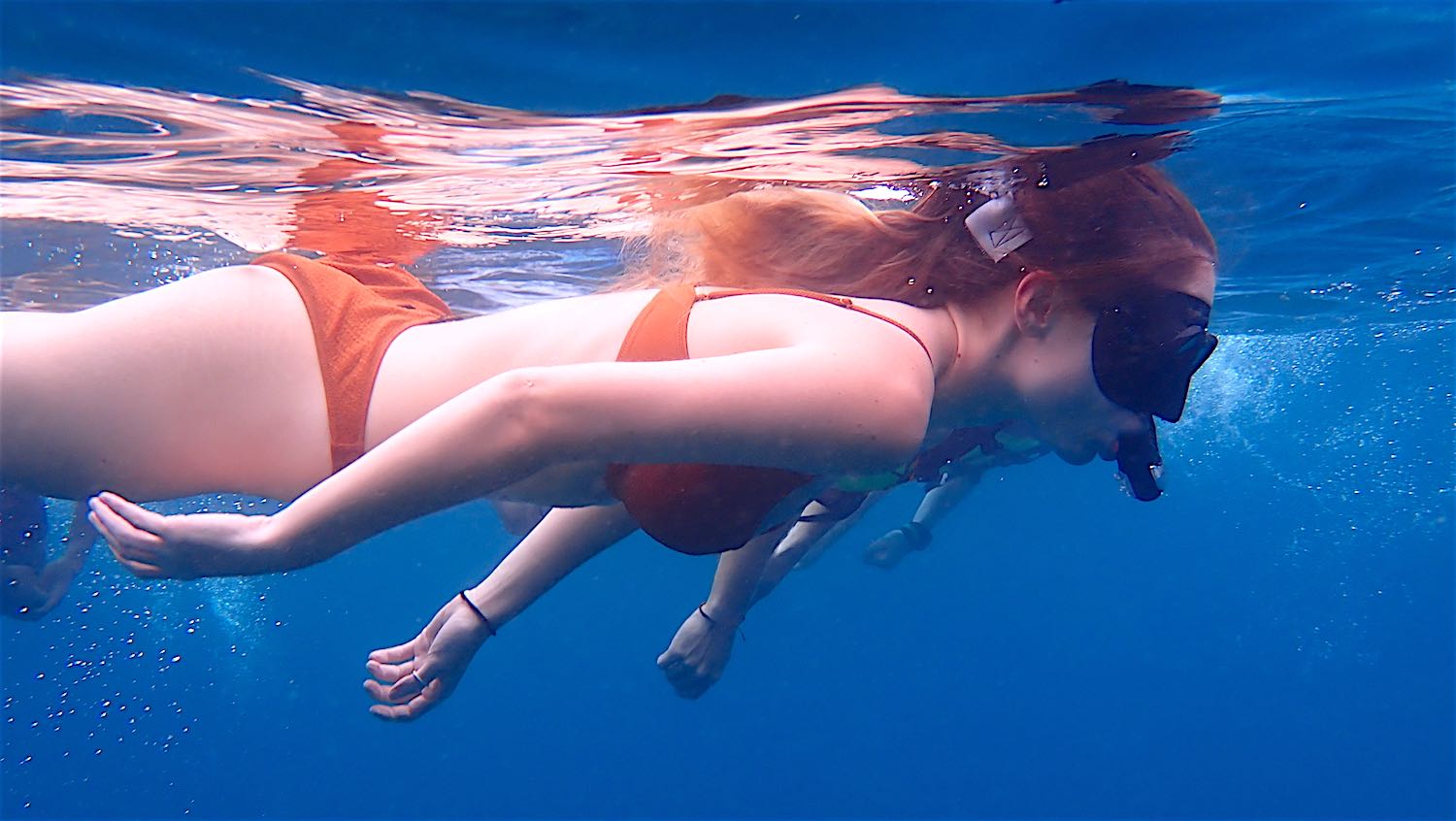 Snorkeling Adventure to Koh Nang Yuan
The beach itself is made up of white coral sand that submerges at high tide with clear, warm water lapping over the top of it.
You can snorkel on the west side of the main sandbar or the east side and you can also snorkel in the lagoon on the south eastern side.
However, the lagoon area is tide dependent as on occasions, the top of the coral reef can be visible at the surface of the water, making it too shallow to snorkel in.
Snorkeling off the beach is very popular and the water here is clear and warm with an abundance of marine life close to the shore.
On the east side of the large sandbar you can follow the underwater rock formations on both sides, but be aware that the water will start to get deeper the further away from the beach you snorkel.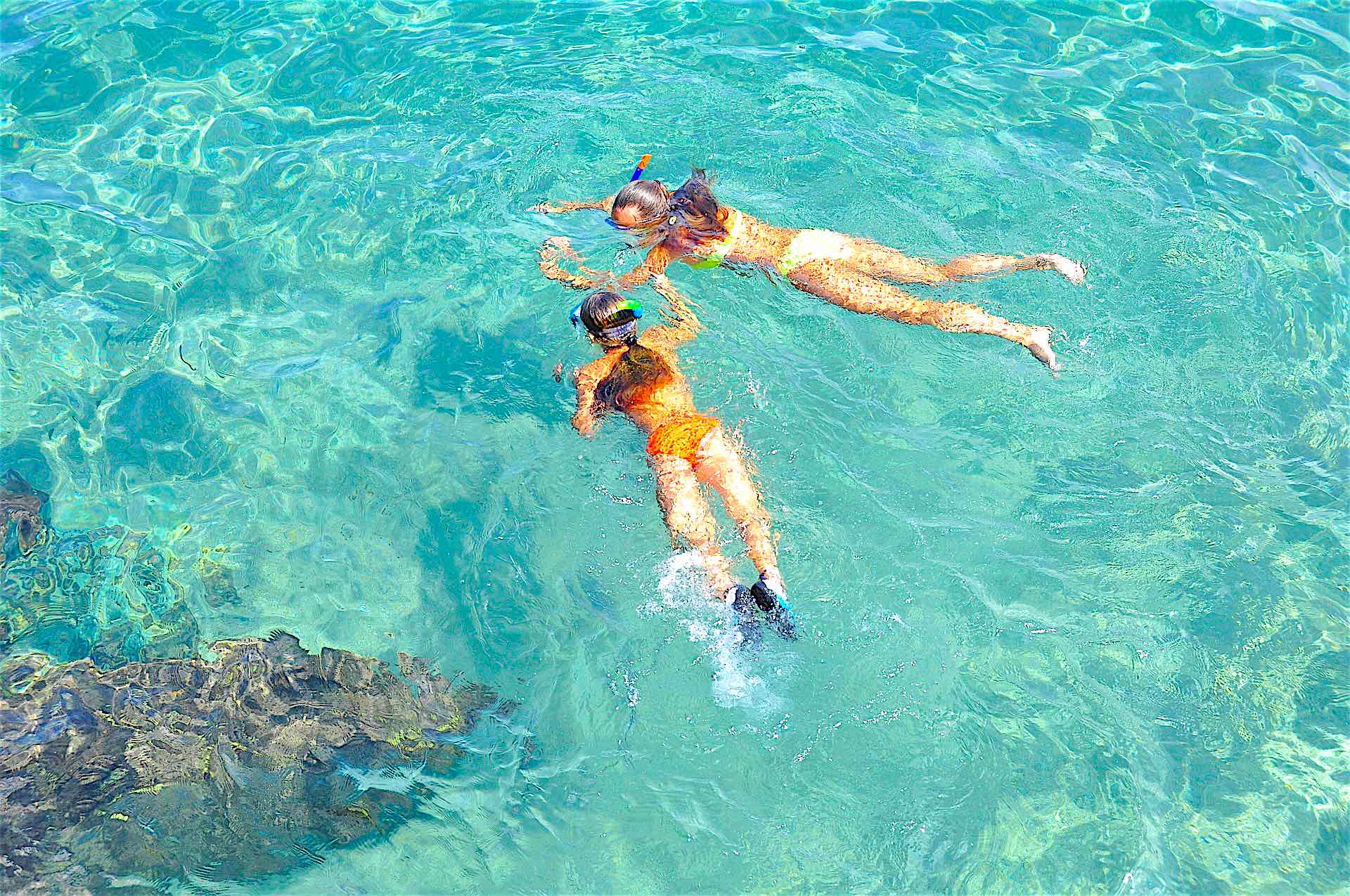 The Best Way to get to Koh Nang Yuan
Koh Nang Yuan island is situated just a short distance from Koh Tao, approximately 800 metres of the north western tip of Koh Tao.
The island can be reached by longtail boat from almost any of the beaches on Koh Tao, the most popular are Sairee and Mae Haad.
Koh Nang Yuan is also visited by the daily Lomprayah ferry service and offers great value one day return trips from Koh Samui.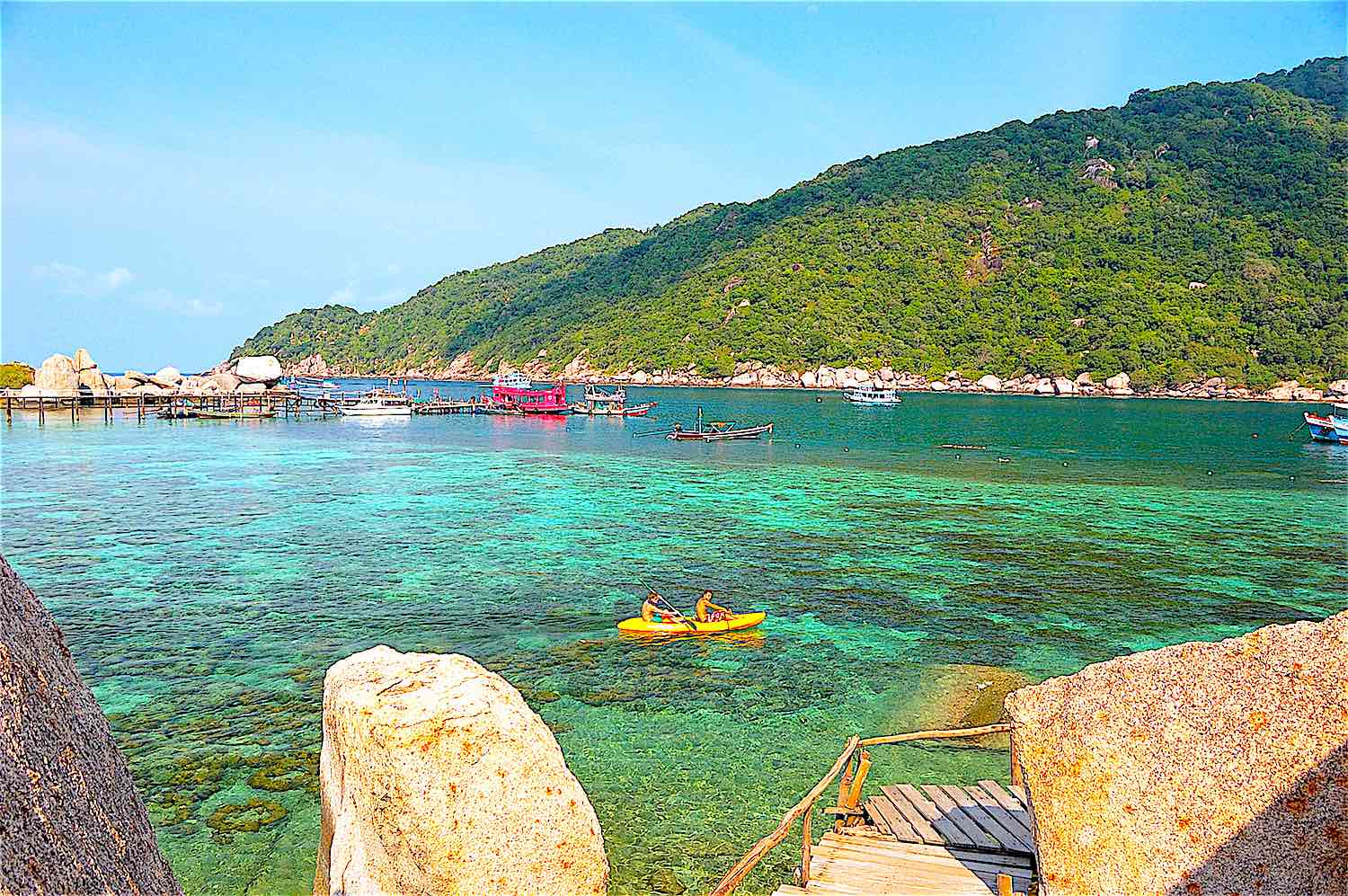 Best Travel Routes to Koh Nang Yuan
When the morning Lomprayah ferry arrives, a lot of visitors usually disembark to spend the day at the beach, although numbers can vary depending on the season.
Koh Tao snorkel trips stop at Koh Nang Yuan as a part of their daily half day and full day snorkel itineraries.
Koh Nang yuan Resort
There is a single resort on Koh Nang Yuan and for visitors who want to experience a true 'tropical island getaway' in every sense of the word, this is your best option.
If you stay at the private Nang Yuan resort, you get to explore the best of what this island offers without the crowds. You can expect to see both sunrise and sunset from the same beach, quite often to yourself.
An often misunderstood aspect to visiting Koh Nang Yuan is the additional entrance fee of 100THB when you arrive.
Koh Nang yuan Entrance Fee
This is a compulsory entrance fee for everyone that visits the island (except resort customers) and helps to maintain the upkeep of Koh Nang Yuan.
The entrance fee contributes towards rubbish removal, cleaning and providing facilities to its thousands of visitors.
It is important to know that organised visits with snorkel trips and Lomprayah may include this entrance fee in their advertised trip price, or it may be an additional charge, so you need to check this wth the operator.
Longtail journeys from Koh Tao will not include the entrance fee so be prepared to pay the extra admission fee once you arrive.
Koh Nang Yuan also forbids plastic bottles and any personal bags will be briefly examined upon your arrival to check for plastic bottles.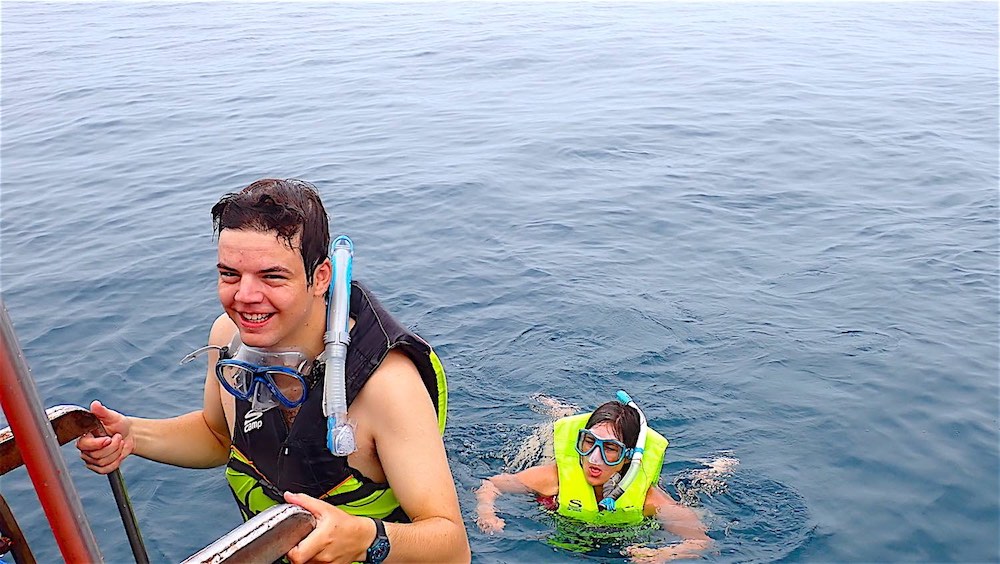 Why Choose Koh Nang Yuan for a Snorkeling Trip
Visiting this beautiful island for snorkeling is a great value, safe and a fun way to experience the best of what Koh Nang Yuan offers.
The island provides a restaurant and bar for refreshments, deckchairs on the beach and amazingly clear and safe water to snorkel in.
You can spend many hours swimming and snorkeling, relaxing on the beach and if you are staying the night, enjoy one of the island's memorable sunsets.
Exploring the safe, tropical waters of Koh Nang Yuan island is a perfect opportunity to appreciate and experience the wonders of this unique location.
Frequently Asked Questions
Do I have to pay to Snorkel at Koh Nang Yuan beach?
All visitors to Koh Nang Yuan have to pay an entrance fee to access the privately owned island. For non Thai nationals the fee is 100baht per person and for Thai nationals the fee is 30baht per person.
Once you have paid the entrance fee, you are free to climb the viewpoint and enjoy all the available beaches for snorkeling and swimming within any designated zones.
How deep is the water at Koh Nang Yuan beach?
The beaches on Koh Nang Yuan are unique in that they are interconnected and at high tide can be submerged.
Water depths gradually increase the further from the beach you swim or snorkel and can range from 1 or 2 metres deep to 8 – 10 metres deep and more.
Can I rent a mask and snorkel at Koh Nang Yuan beach?
You should be able to rent a mask and snorkel on the island and can use the deck chairs on the beach.
You will not be allowed to lay a towel on the sand as it is forbidden. Koh Nang Yuan is very popular every day with visitors arriving from Chumphon, Koh Samui, Koh Tao snorkel tours and individuals arriving by long tail taxi boat.
Is it safe to Snorkel at Koh Nang Yuan beach?
Koh Nang Yuan is considered to be one of the safest beaches to snorkel at and it offers visitors a unique snorkeling experience.
The interconnected sandbanks provide three main areas to snorkel within and they offer calm and clear water depending on the weather conditions.
How long is the journey to Koh Nang Yuan island from Sairee?
The journey from Sairee beach to Koh Nang Yuan island usually takes around 20 minutes by long tail taxi boat.
Visitors can hire a taxi boat driver and either use it for their sole use or arrange to share with other customers that are visiting the island to make it more cost effective.
Can I take my own food and drink to Koh Nang Yuan?
When you arrive and pay your entrance fee, your bag is subjected to a cursory check for plastic and you are not allowed to fly a Drone on Koh Nang Yuan.
You can take a reusable bottle and snacks and there is a restaurant and café where you can buy refreshments. Do not take plastic bottles with you to visit Koh Nang Yuan island.
How much does a longtail boat cost to Koh Nang Yuan?
The cost of hiring a long tail taxi boat driver from Koh Tao to Koh Nang Yuan island will vary depending on your departure point.
Journeying from Sairee beach or Mae Haad, fares will range from 250 – 500 baht per person and be cheaper if you share with others.
Long tail taxi boat drivers operate regular daily trips between the islands and whilst the price is negotiable, please remember that it is their job and livelihood so be courteous and respectful.