Best Beaches to Visit on Koh Tao
Koh Tao has over 20km of jagged coastline so it is not surprising that there are dozens of beaches tucked away just waiting to be explored.
With over half of the island undeveloped, some of the beaches can be tricky to get to but if you take the time to discover and explore them you will find some hidden gems.
Each beach has its own unique features so no matter what you are looking for, you will be able to find one that is perfect for you.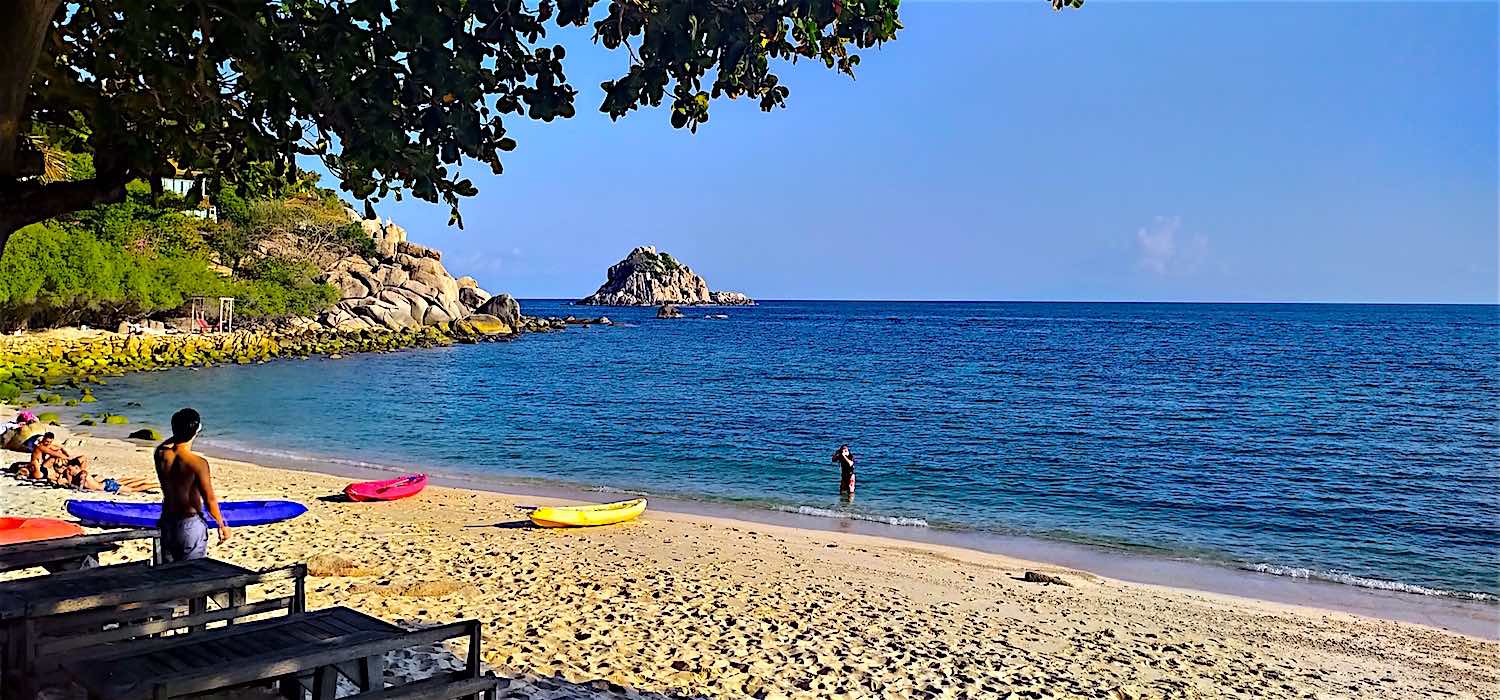 Sai Daeng Beach Koh Tao
Sai Daeng beach is located on the Southern tip of Koh Tao and can be visited by car or scooter. The journey from Mae Haad pier takes around 15 minutes and passes over the hills, through the old palm plantations and past an abandoned windmill.
You cannot access the beach directly from the road, but must walk through either Coral View Resort or Sai Daeng Resort.
The beach is sandy, white and the water here is crystal clear. Although there are no parasols on the beach, there are plenty of trees around the beach to provide shade.
There are a number of large boulders on the eastern side of the beach which provide a great opportunity to explore the headland and the two beach front restaurants provide an ideal spot to grab a reasonably priced lunch.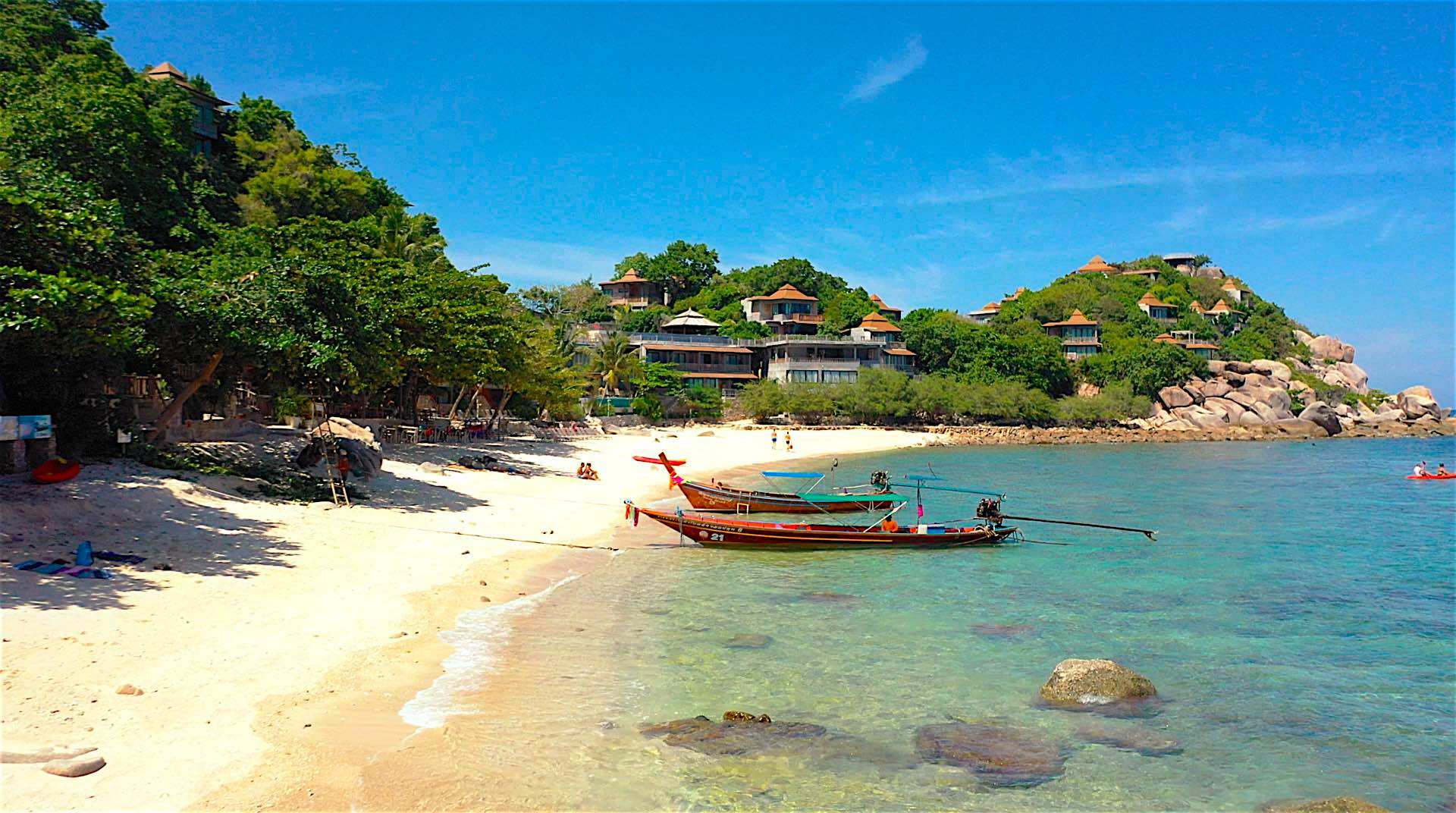 Kayak to Shark Island
Sai Daeng is the closest beach to Shark Island, which can be reached by kayak in 10 minutes on a calm day.
The kayaks can be rented on the beach and once at Shark Island, you can tie the kayak to a floating buoy, head into the water and take a look at the underwater marine life.
There are plenty of rocks and corals to be seen at either end of the bay and you should be able to spot sea turtles and even baby blacktip reef sharks.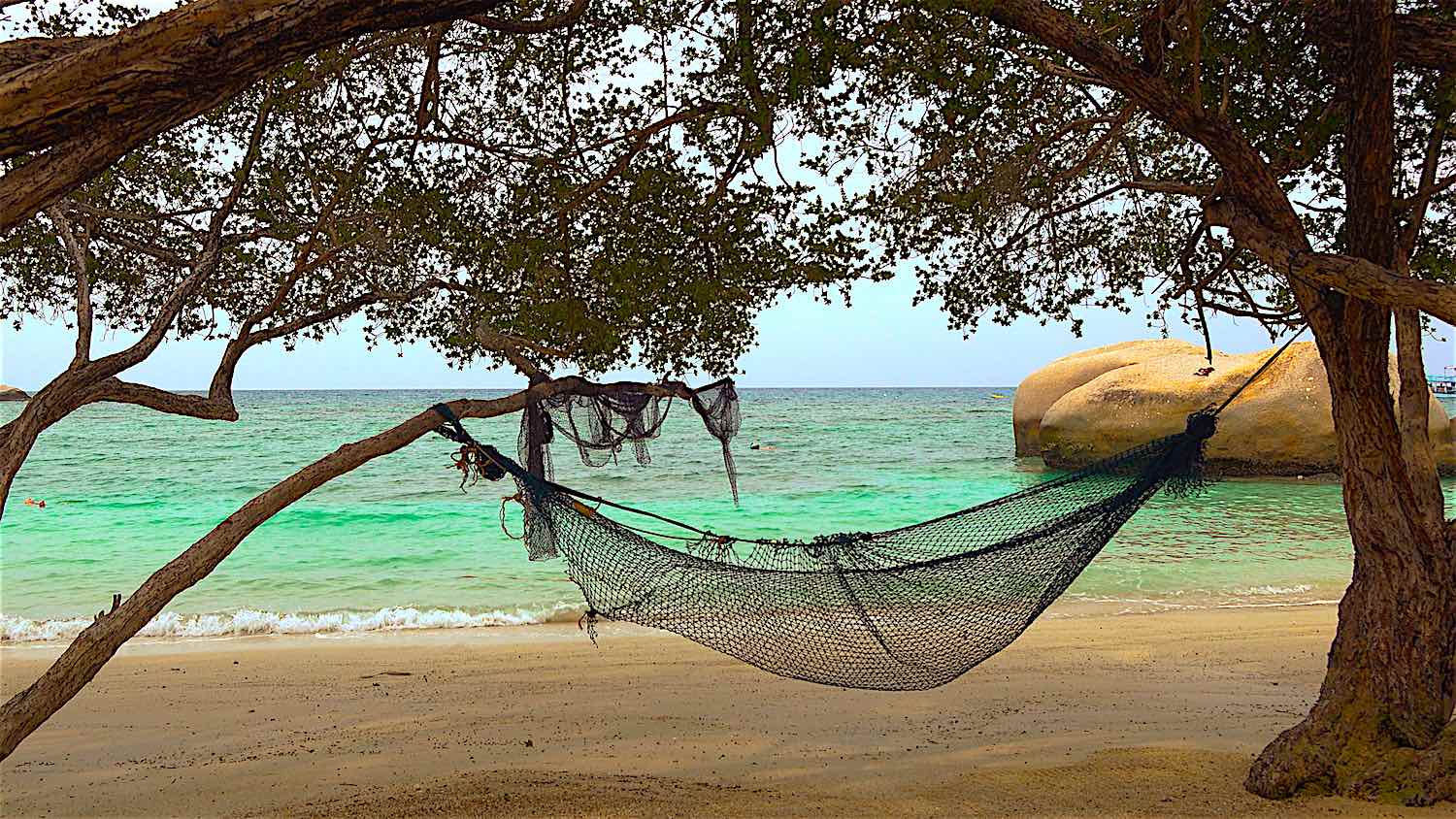 Freedom Beach Koh Tao
Located on the Southern tip of Koh Tao, Freedom beach is one of the most secluded and laid-back beaches, but is still accessible by a rough concrete road.
Roughly a 15-minute drive from Sairee, the beach is just a 2-minute walk from the car park.
Freedom beach is a small, private beach and you can buy refreshments from the wooden restaurant that is positioned at one end of the beach that overlooks the sea.
The beach has a row of hardy, evergreen Pemphis Acidula trees along the edge that are know to colonise beaches, just 2 metres from the shoreline, which offer visitors some respite from the hot sun.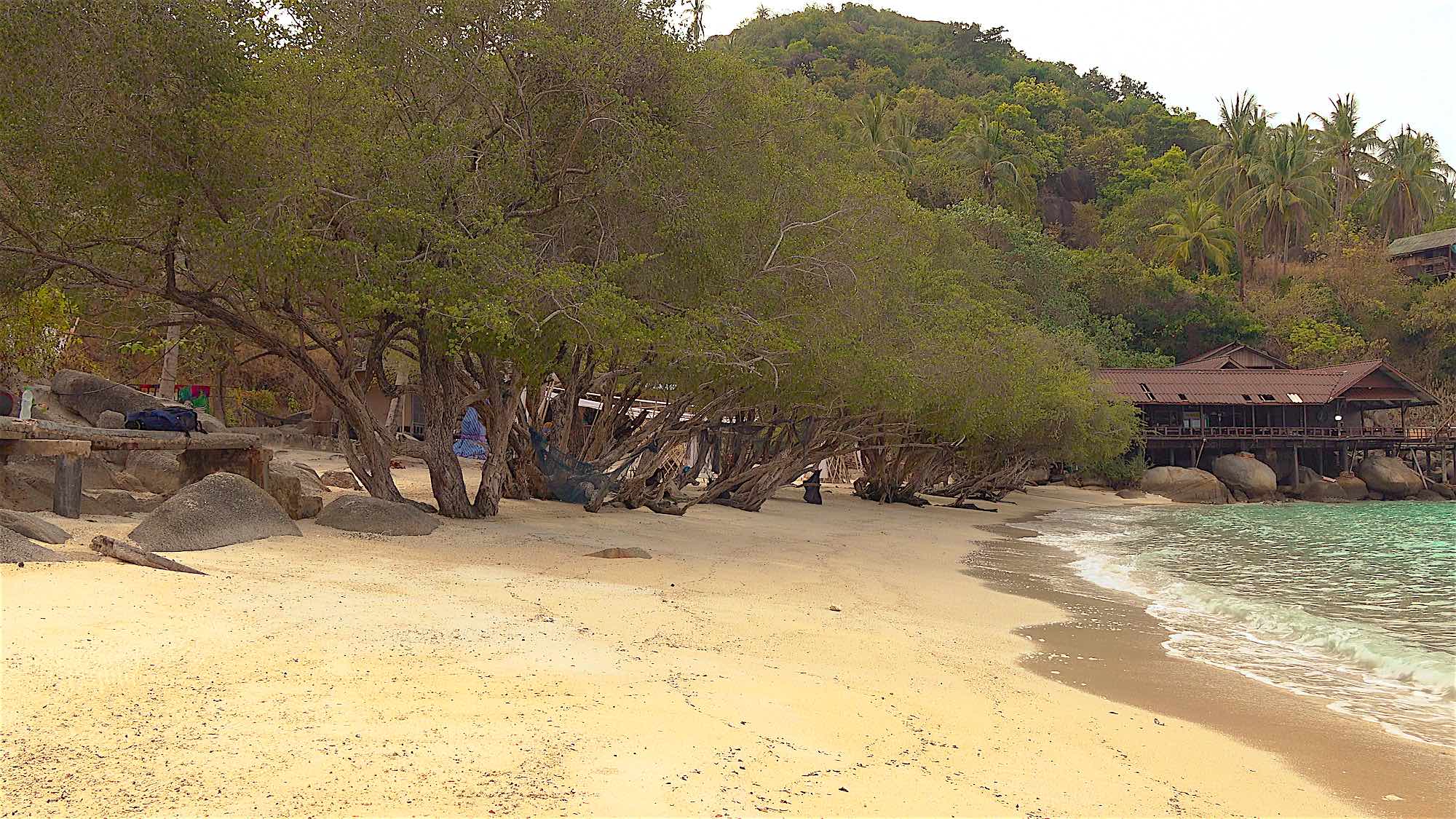 Secluded and Quiet
Freedom beach is very photogenic, peaceful and serene and the water like most of the beaches around Koh Tao enjoys great visibility, which makes it a great location to indulge in some swimming and snorkeling.
Due to its location on the Southern tip of the island, the water is in constant motion and there are often huge schools of fish to be seen just a few hundred metres from the shore.
Freedom beach provides spectacular views of Buddha Rock, one of the largest natural attractions on the island.
From Freedom beach when the tide is low, you can enjoy the hiking trail that will take you to Taa Toh beach, along a Coastal Viewpoint around the headland into Chalok Baan Kao Bay.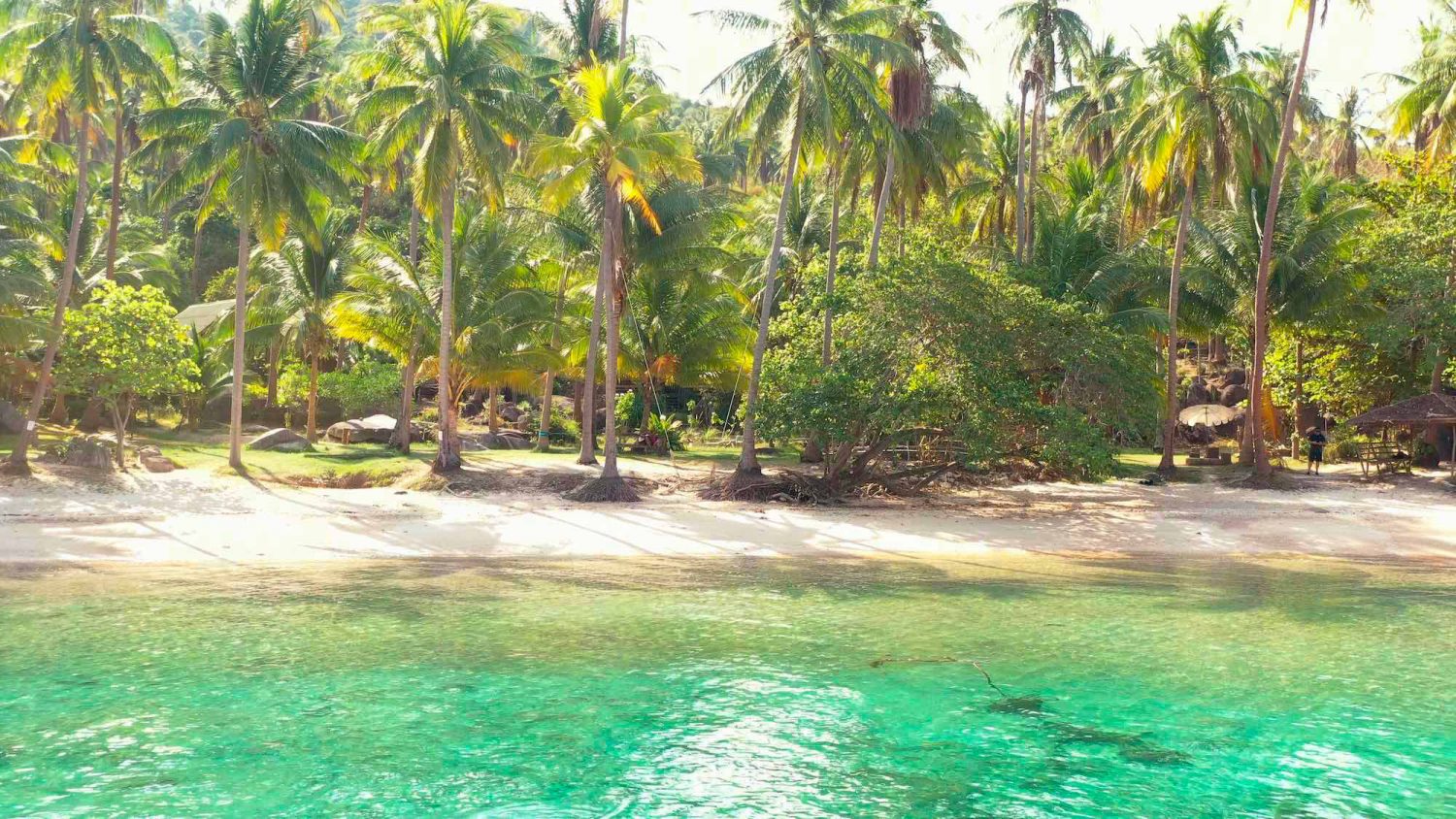 Sai Nuan Beach Koh Tao
Sai Nuan beach is made up of two beaches known as Sai Nuan 1 and Sai Nuan 2 that are approximately 75metres apart but both are easily accessible by foot from Mae Haad or by longtail boat.
You can hike from Mae Haad pier and walk South along the road parallel to the beach then follow the trail through Jansom Bay and Charm Churee Villas along the path through the jungle to arrive at Sai Nuan beach.
Sai Nuan is relatively unspoilt in comparison to some of the busier beaches on the island, and is less developed and more laid-back.
The atmosphere is very peaceful and serene which makes it popular with visitors who are looking for somewhere a bit quieter to spend the day.
The beach is covered in white sand with a handful of beach huts and hammocks strung between the coconut trees.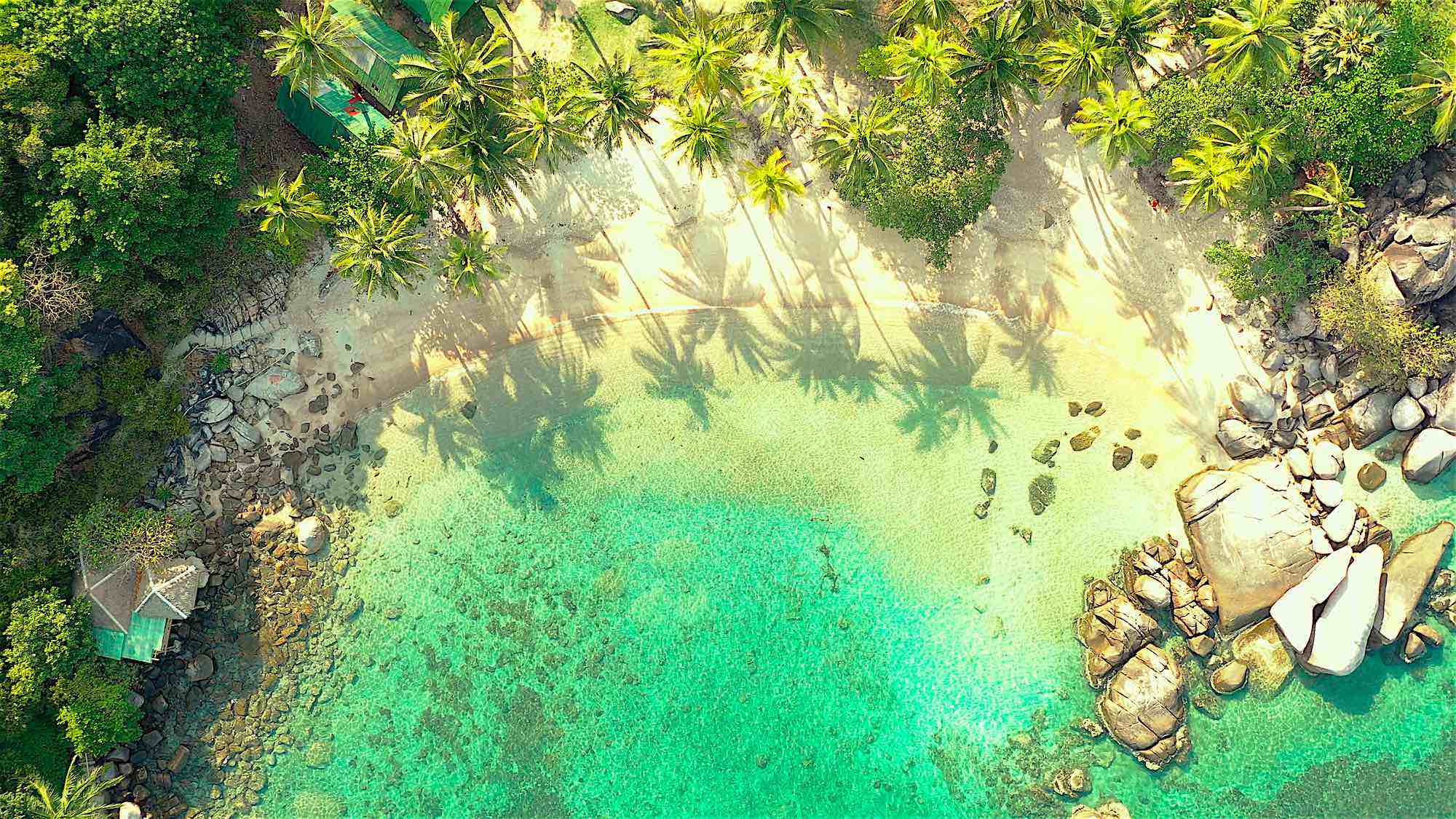 Banana Rock Bar
The beach is very popular with families and children. The Sai Thong Resort has its own restaurant where you can grab a bite to eat, or you can head around the corner to Banana Rock Bar.
As with many of the beaches and bays in Koh Tao, the area is ideal for snorkeling. There are many granite boulders of different sizes near the beach forming underwater habitats for a wide variety of marine life.
The bay is quite well protected and is another area where you may see turtles.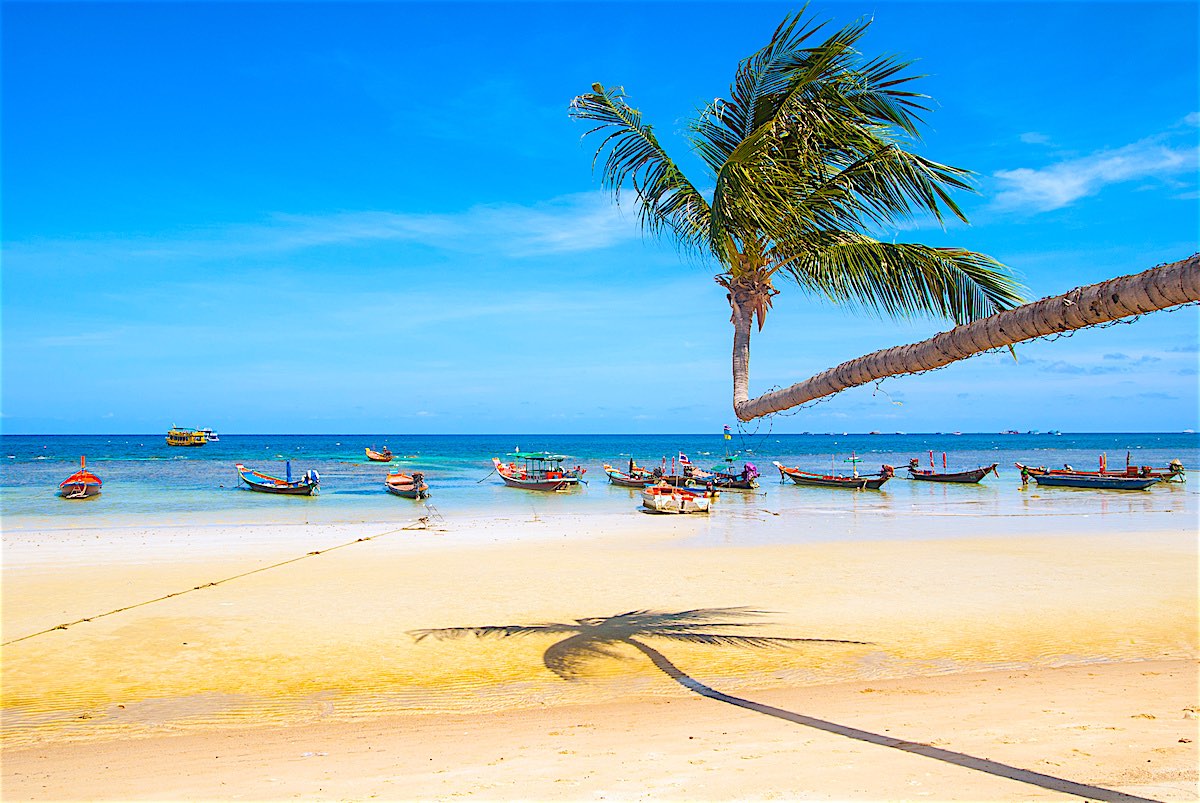 Sairee Beach Koh Tao
Sairee beach is the busiest, most accessible and most developed beach on Koh Tao.
Stretching for 1.8km along the West coast of the island, it is one of the first things you see when you arrive on a ferry from the mainland.
It is easily accessible by road, taking just 5 minutes to reach from Mae Haad, or you can walk to the beach in 15-20 minutes.
Despite its length, it is easy to explore the whole beach once you have reached the sand.
The beaches sandy shoreline and shallow waters make it ideal for children and if the tide is not too low, a coral reef just 20 metres out will satisfy those who want to snorkel.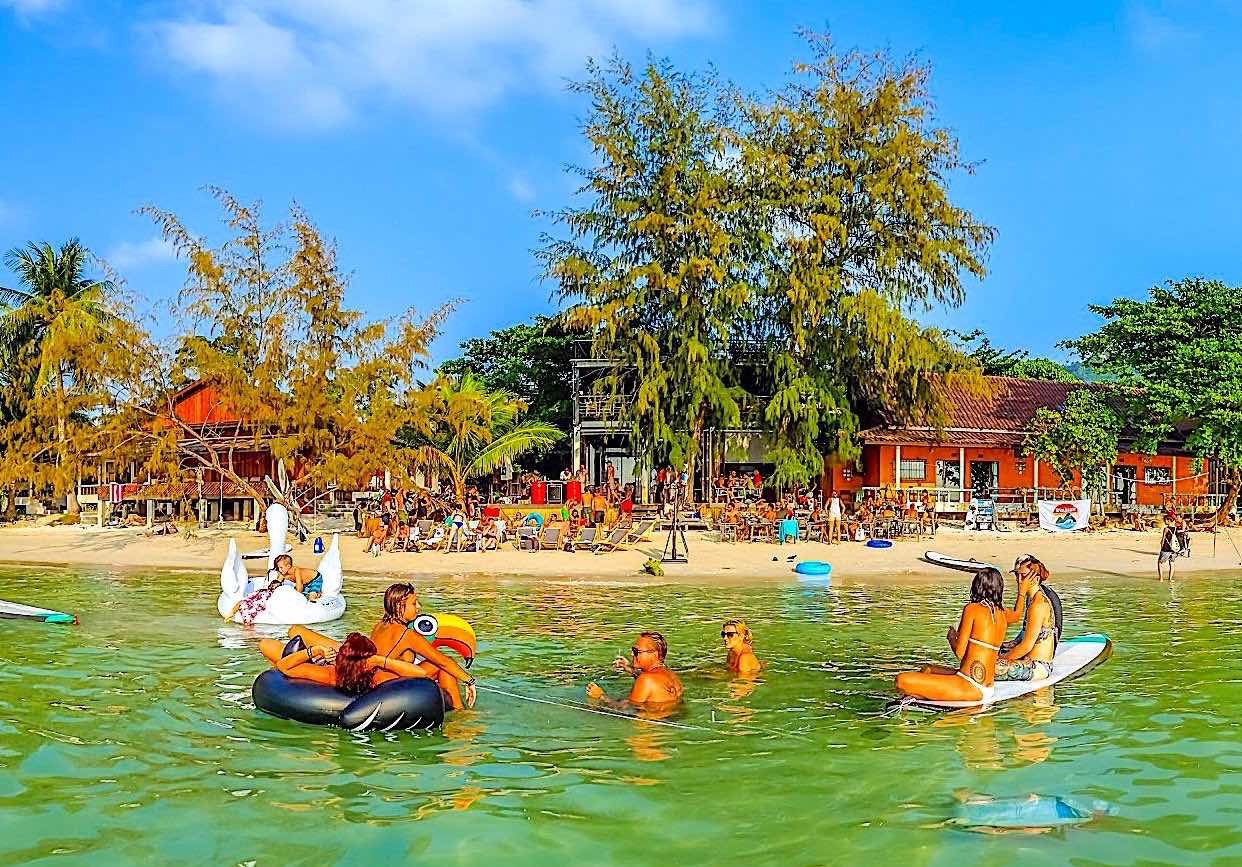 Beach Activities
There are a wide variety of dive schools located along the beach, as well as plenty of other beach and water-based activities, including volleyball, stand-up paddle boarding and frisbee.
Due to its proximity on the west coast, Sairee beach is one of the the best beaches to visit if you want to see the sunset.
There are numerous beachfront restaurants and bars to try if you want to enjoy a meal and a drink at sunset.
Alternatively, you can simply find a spot on the beach to sit down, chill out and enjoy the view.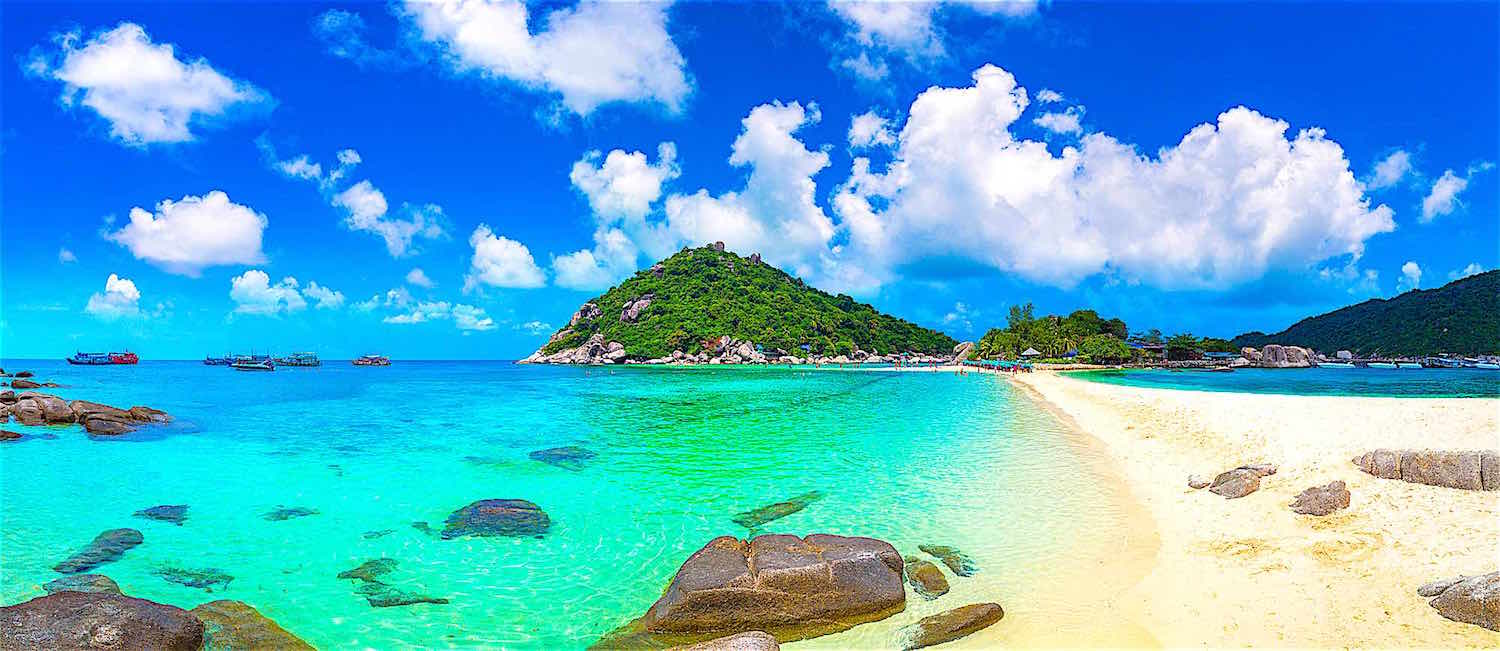 Koh Nang Yuan Island
Koh Nang Yuan is a separate island located off the North West coast of Koh Tao. A unique location and one of the most beautiful islands in the world, Koh Nang Yuan actually consists of three separate islands that are connected by a sand bar.
The island is accessible by a 30-minute long-tail boat ride from Koh Tao and there is a daily Lomprayah service from Koh Samui, Chumphon and Koh Phangan that drops visitors off.
A privately-owned island, Koh Nang Yuan offers the most unique beach around Koh Tao and is open to the public until 5pm at a cost of 100THB per person.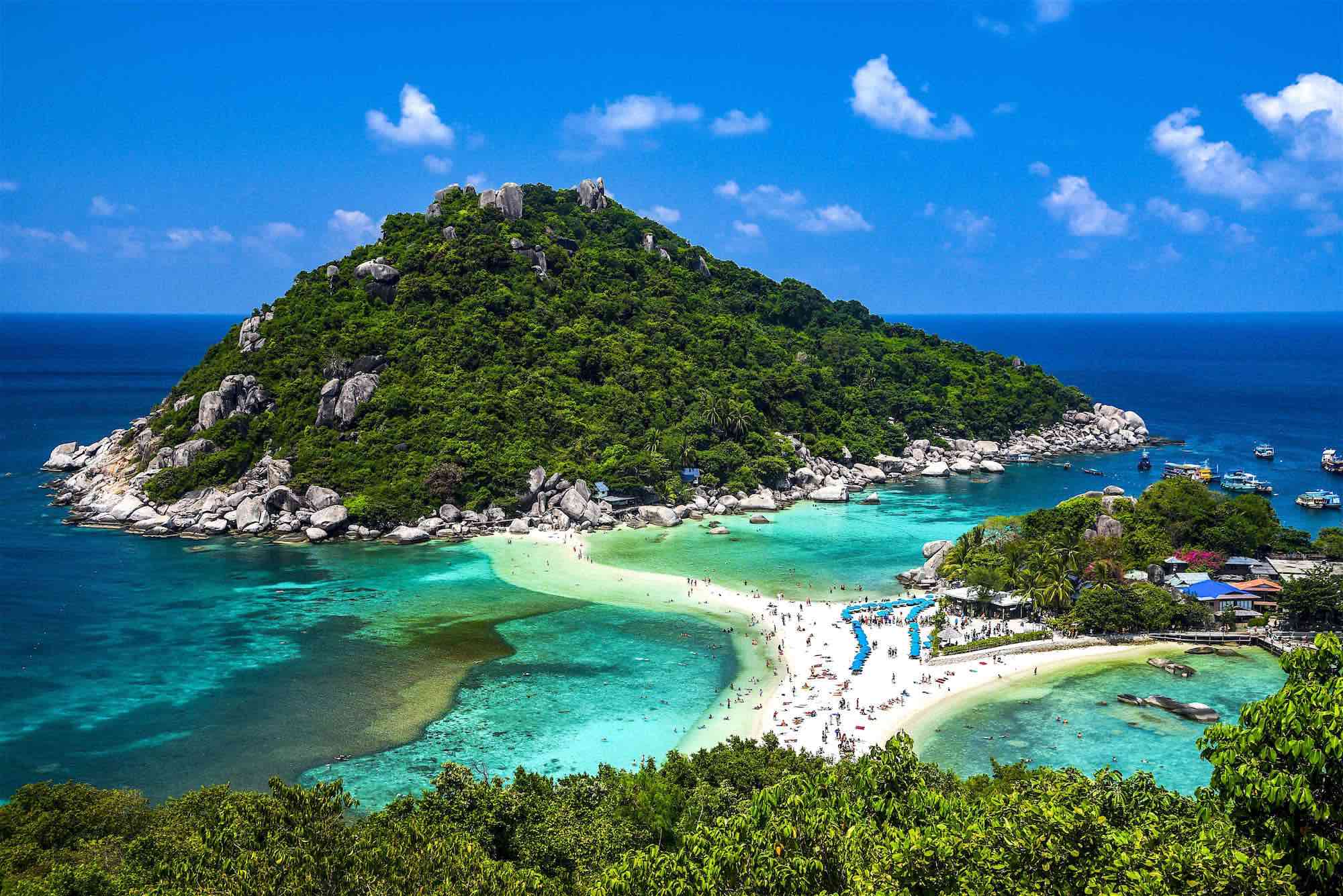 Great Beaches for Snorkeling
This iconic island also has a stunning viewpoint that is very popular and allows you a panoramic view of the islands connected by the sandbar.
There is only one resort on the island and this is also the location of the only restaurant. Whilst you can bring your own food and drink with you, plastic bottles are not allowed so be sure to bring your water in a reusable container.
Koh Nang Yuan is a very popular destination for day trips from neighbouring islands Koh Phangan and Koh Samui, snorkel tours stop here and most of the Koh Tao dive schools use the many dive sites around the island, so it can get busy.
The waters are great for swimming and snorkeling and there are several separate swimming areas around the island.
Saan Jao Beach Koh Tao
Saan Jao beach is located on the west end of Chalok Baan Kao bay and is approximately a 10 minute walk from Chalok.
To get there you just walk to the pier on Chalok beach and follow the wooden path, passing through a restaurant (remove your shoes) and a pirate bar until you reach the beach.
A genuine beach to relax, very few people visit Saan Jao making it another great place to go for those seeking some solitude.
The beach has fine sand, clear waters and trees to provide shade and there is also a good snorkeling spot to be found at View Point Rock.
The walk to Saan Jao provides a view of the local fisherman's lifestyle and once you are there you get a great view of Chalok Baan Kao Bay as well as Hin Taa Toh beach.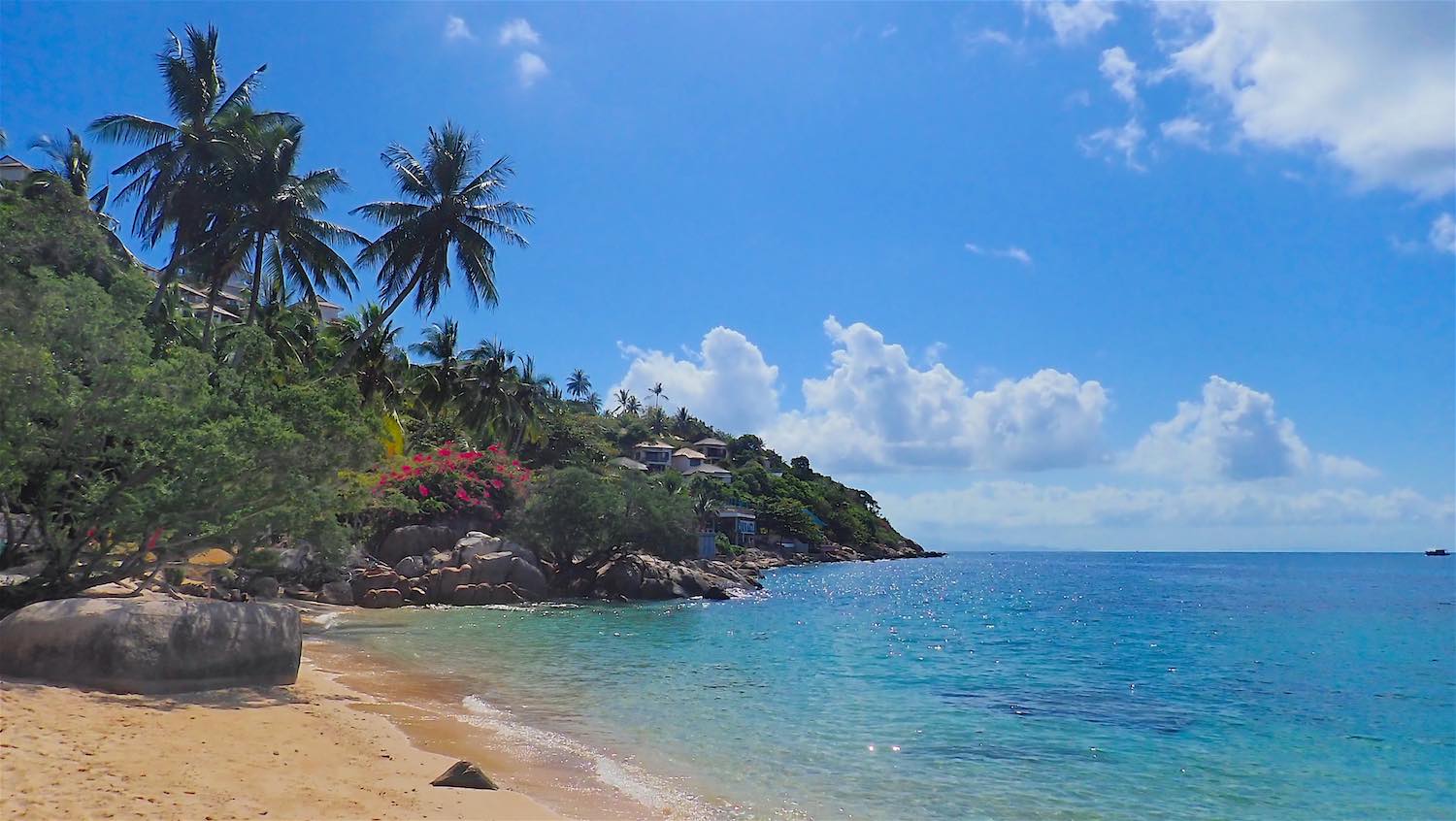 June Juea Beach Koh Tao
June Juea beach is located on the north side of June Juea Bay, which is in the Southwest corner of Koh Tao.
A remote beach, it can be accessed by the same route as Sai Nuan beach or by a 20-minute walk from Chalok Baan Kao bay and Saan Jao beach.
You can also access the P.D. Beach Resort by scooter and then walk to the beach.
As with many of the smaller beaches on Koh Tao, there are very few visitors to June Juea except those staying nearby.
The beach is made up of several broken patches of sand and there are plenty of places to find shade.
The waters are turquoise, clear and ideal for swimming and the rocks off the coast provide a good area for snorkeling.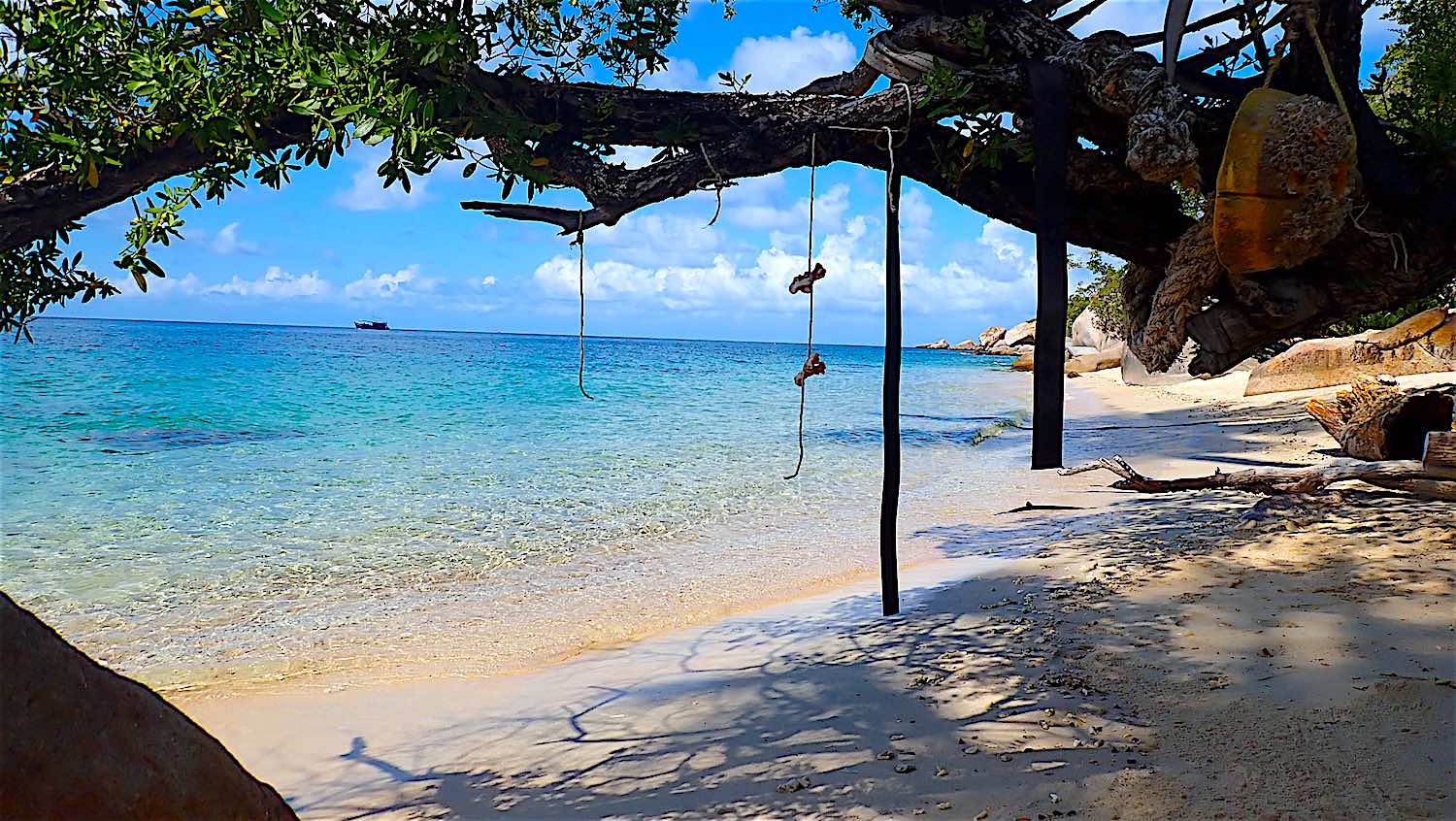 Stunning Sunsets
Due to its location on the south west, June Juea beach is known as a great place to watch stunning, peaceful sunsets away from any crowds.
Koh Tao is known for its amazing white sand beaches and a warm, tropical climate all year round. If you want to relax on a secluded beach or enjoy beach sports and activities, you will find it on Koh Tao.
The weather on Koh Tao can change quickly between seasons so make sure you check the wind direction and forecast before you head out to explore.
One of the advantages Koh Tao has over neighbouring islands is that there are secluded bays and beaches all around the island, so you can always choose a safe beach location to swim and snorkel at any time of the year.
There are many more beaches to visit on Koh Tao and we can help you decide what the best options are given the day to day weather conditions, tides and wind direction, so please contact us to discuss your plans.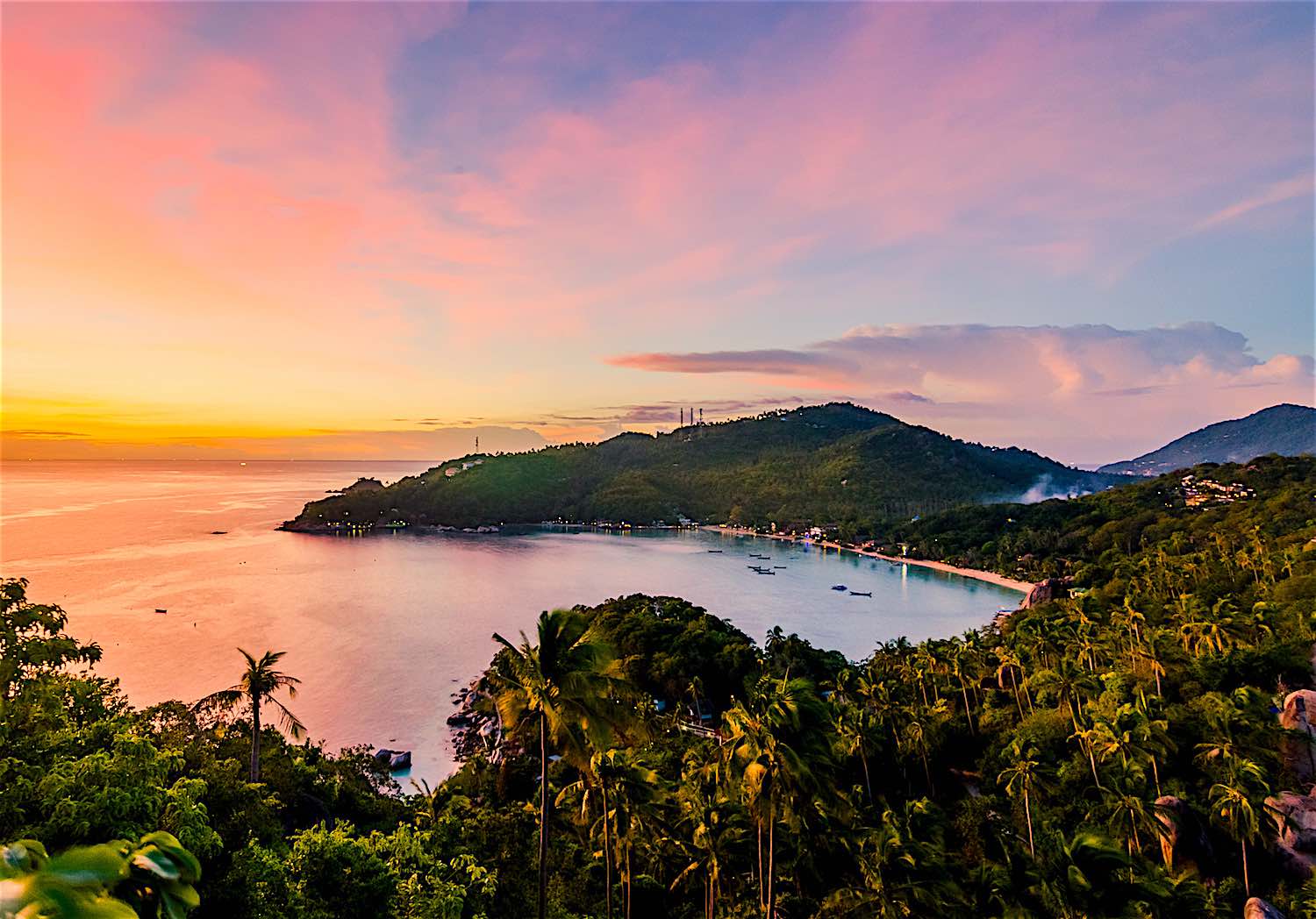 Frequently Asked Questions
Is it safe to snorkel from the beach on Koh Tao?
The sea and the beaches that surround Koh Tao are very safe, warm and calm for most of the year and perfect for snorkeling and scuba diving activities.
There are organized snorkel trips and tours daily around the island and this is possibly the best way of seeing more of Koh Tao, if you are limited on time. Organised snorkel trips offer extra safety with experienced tour guides, boat briefings as well as lunch and refreshments.
If you choose to explore the beaches and bays whilst snorkeling alone, please read our Top Tips for Snorkel Safety.
What is the best beach on Koh Tao?
Koh Tao has many beaches around the island that offer white sandy conditions set against a clear, warm tropical sea and blue sky.
The best beach will depend on your preference for a beach that has more people sharing it with you or a more secluded beach in a remote outlying bay.
Additionally, you may prefer a beach for beautiful sunrises or stunning sunsets and Koh Tao offers both choices.
Is it safe to swim on Koh Tao?
Koh Tao offers perfect conditions to swim at many of its beaches or even within the safety of your resort. The water conditions around the island are ideal for adults and children, offering shallow, clear and warm water.
If you prefer to advance your swimming skills or refresh them, we are able to offer swimming classes in the safety of a sheltered pool, before venturing into the sea.
Do I have to pay to access the beaches on Koh Tao?
There are beaches on Koh Tao that are free to enter and you can spend the day relaxing or snorkeling and bring along your own refreshments.
Some beaches offer refreshments that are available to purchase and accept the purchase of a drink or snack in lieu of a entrance fee.
There are other beaches that are only accessible by crossing through private land and the landowners allow access to the beach by charging a small fee, which could be 100baht or 200baht per person to enjoy a full day at the beach.
It is worth noting that all the beaches on Koh Tao need to be kept clean and some provide toilet facilities and rubbish bins to encourage best practice by visitors. You can contact us to discuss your itinerary and from that choose the best beaches to visit.
What is the best time of year to visit Koh Tao?
Koh Tao enjoys year round sunshine and a sub tropical climate. The November monsoon season lasts just a few weeks and quite often there can be lots of sunshine in between rain squalls.
The popular high season times are December through to April and July through to September when the weather can be dry and very hot. The island is close to the equator so enjoys the same amount of daylight each day all year.
Activities such as scuba diving, snorkel trips and swimming are popular throughout the year.
Are the beaches clean on Koh Tao?
The beaches on Koh Tao are kept clean in various ways. Popular resort beaches have staff that help to clean the beach and follow best practices for waste disposal.
Local community volunteer groups and businesses organize a visit to any particular beach in more remote areas that needs extra cleaning as a result of washed up sea debris.
There are also regular organized beach cleans and land conservation initiatives implemented by various by dive schools.