How to get to Koh Nang Yuan Viewpoint
The viewpoint on Koh Nang Yuan offers one of the most famous and photographed panoramas in Thailand.
Featured on postcards all over the world, it's well worth taking the time to pay a visit and to try snorkeling and hike up to the viewpoint.
World Famous
Koh Nang Yuan is a small island connected by a sandbar situated around 800metres off the north west coast of Koh Tao. It is said to be the only place in the world that has this unusual feature.
Although classified as an island, Koh Nang Yuan consists of 3 small islands. This topography provides a unique beach during low tide and becomes completely submerged at high tide.
The viewpoint is located on the peak of the highest of the three islands.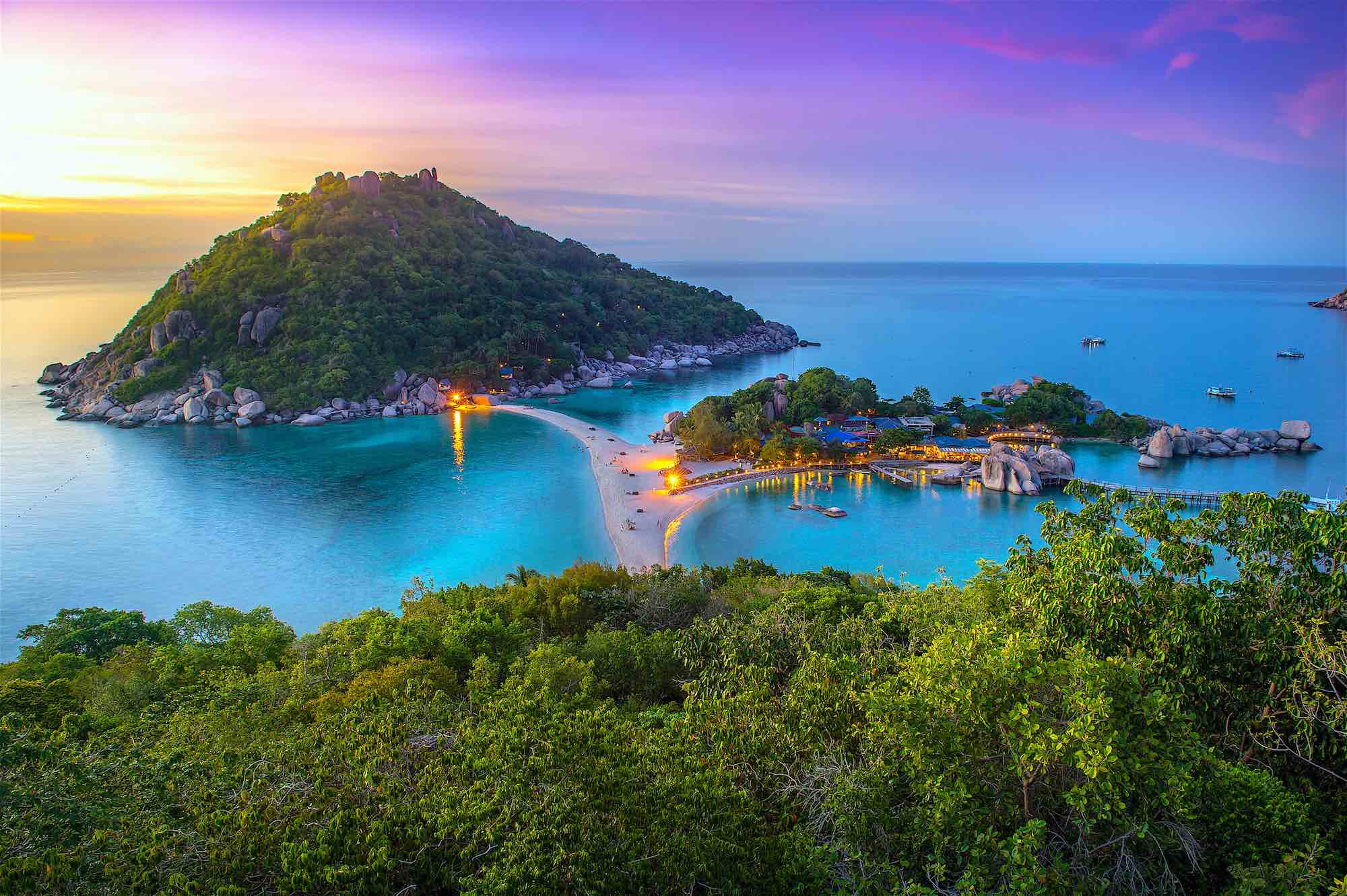 Travel by Boat to Koh Nang Yuan Viewpoint
To visit this viewpoint, you need to travel by boat from Koh Tao. You can either join one of the snorkeling trips or hire a private longtail from any of the beaches.
Longtail Boat
Costs for a round trip by longtail to Koh Nang Yuan are between 300-500 baht per person, as it depends where you depart from.
Mae Haad to Koh Nang Yuan Viewpoint
From Mae Haad the trip normally takes around 30 minutes and the driver will wait for you to bring you back to your departure point.
You need to explain this when speaking with the longtail driver and it will give you 2-3 hours on Koh Nang Yuan.
Longer times can be agreed in advance so you can spend the day snorkeling and hiking up the trail to the viewpoint.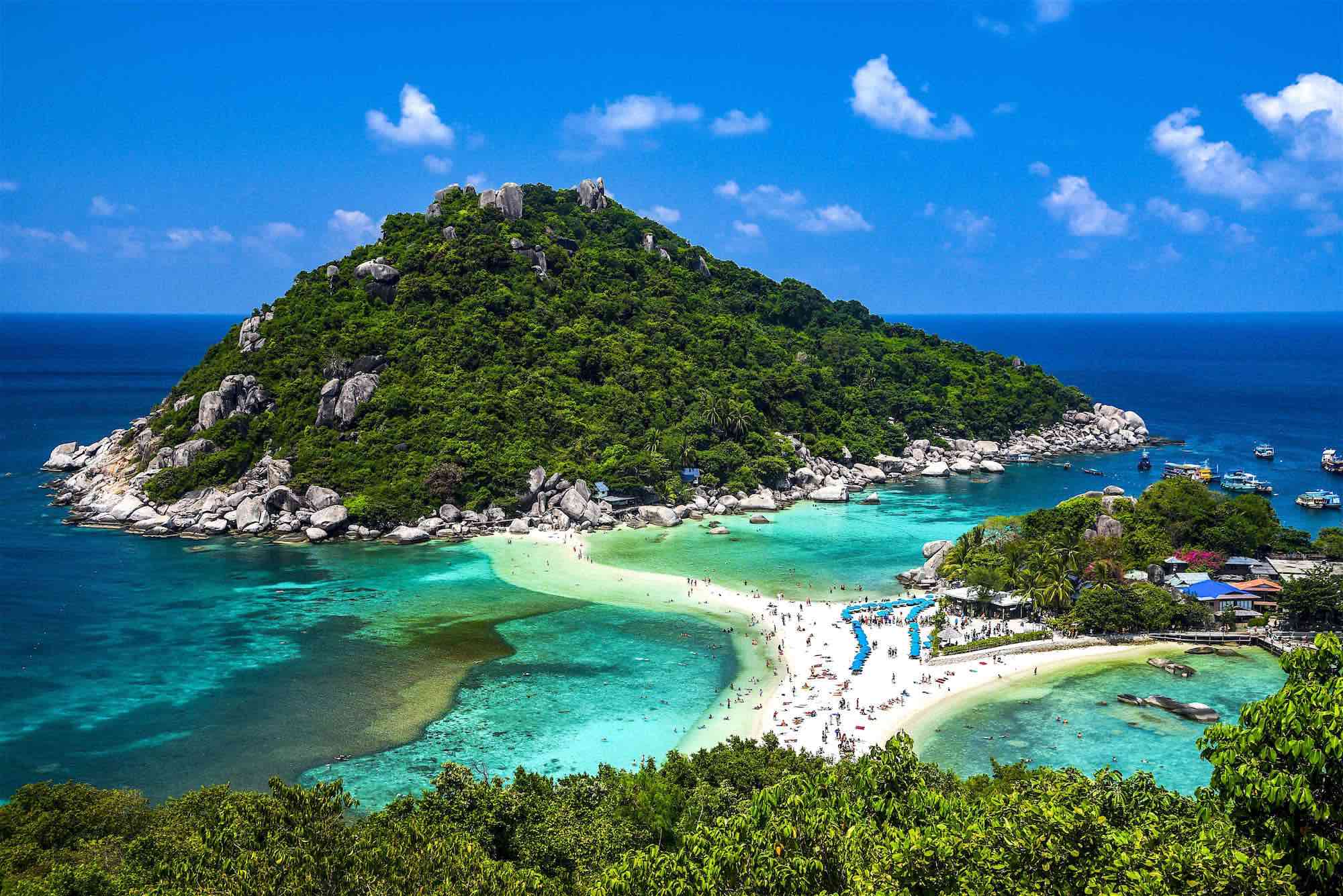 Sairee Beach to Koh Nang Yuan Viewpoint
Departing on a longtail from Sairee is an easy option as Sairee beach is lined with longtail boat drivers.
The journey to Koh Nang Yuan from Sairee will take around 15-20 minutes and the same rules apply in that the drivers will wait for you and you will need to negotiate the price per person.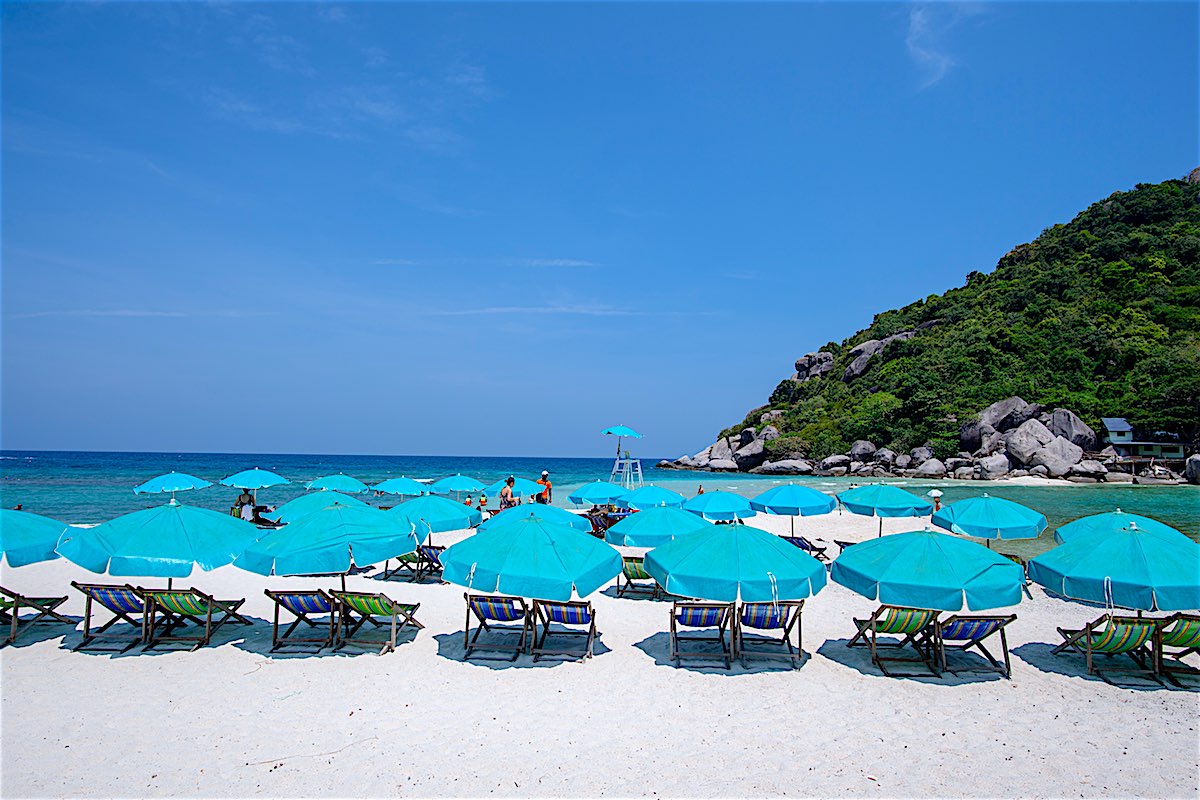 Entrance Fee to Koh Nang Yuan Island
When you arrive at the pier in Koh Nang Yuan you need to pay an entrance fee of 100THB.
This is compulsory for all visitors, unless you are staying at the Koh Nang Yuan Resort, as the island is privately owned.
No Plastic Allowed
You will also have your bags checked for plastic bottles as these are completely banned on the island.
If you want to take your own water you will need to buy it in a glass bottle before you leave Koh Tao or fill a reusable water bottle.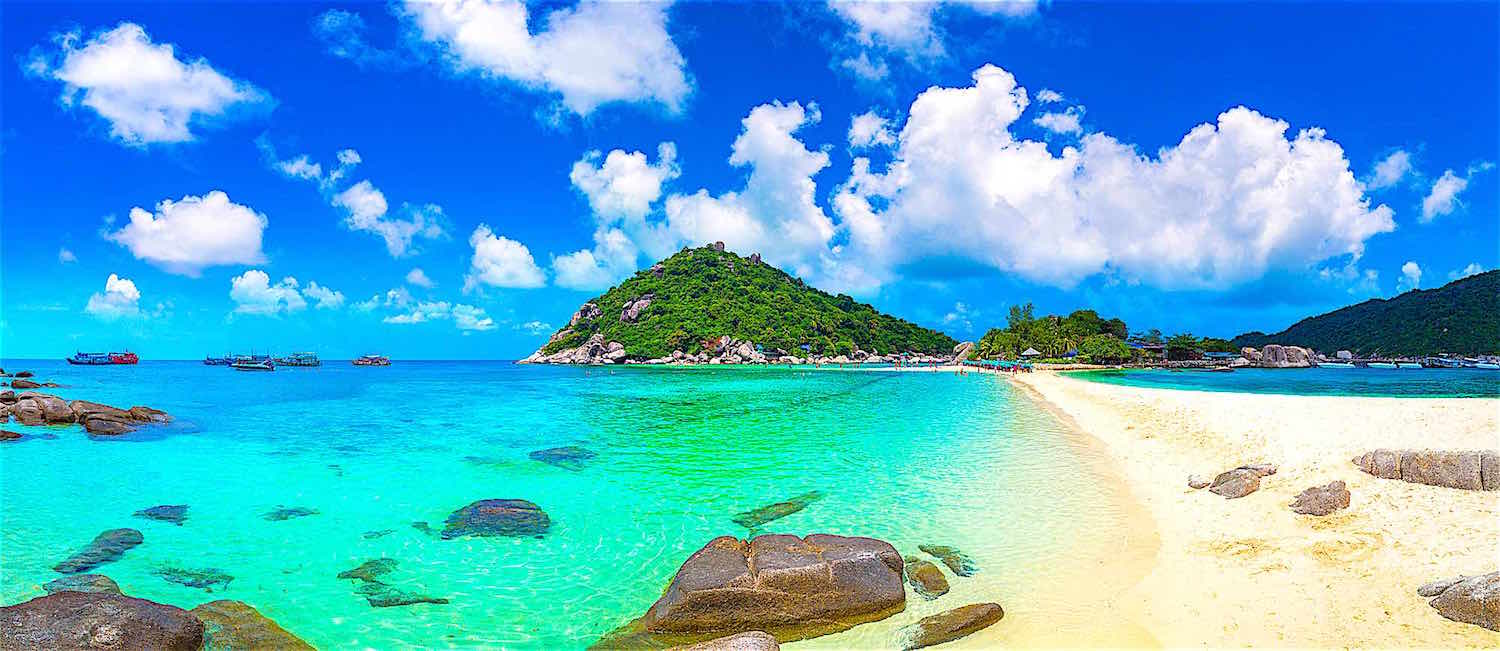 Café & Restaurant on Koh Nang Yuan Island
Alternatively, you can buy water and other refreshments from the café or restaurant on the island, which has an extensive menu with food and snacks.
Once you arrive at Koh Nang Yuan pier you can see the hill where the viewpoint is to your left and the viewpoint is well signposted from the pier.
Koh Nang yuan Viewpoint
If you follow the boardwalk that winds around the lagoon you will arrive at a set of steps on your right with a signpost that leads up to the top of the viewpoint.
It is an easy hike to the top, but you may need to stop and catch your breath, due to the number of steps and the humidity in Thailand. You will certainly be sweating by the time you reach the top.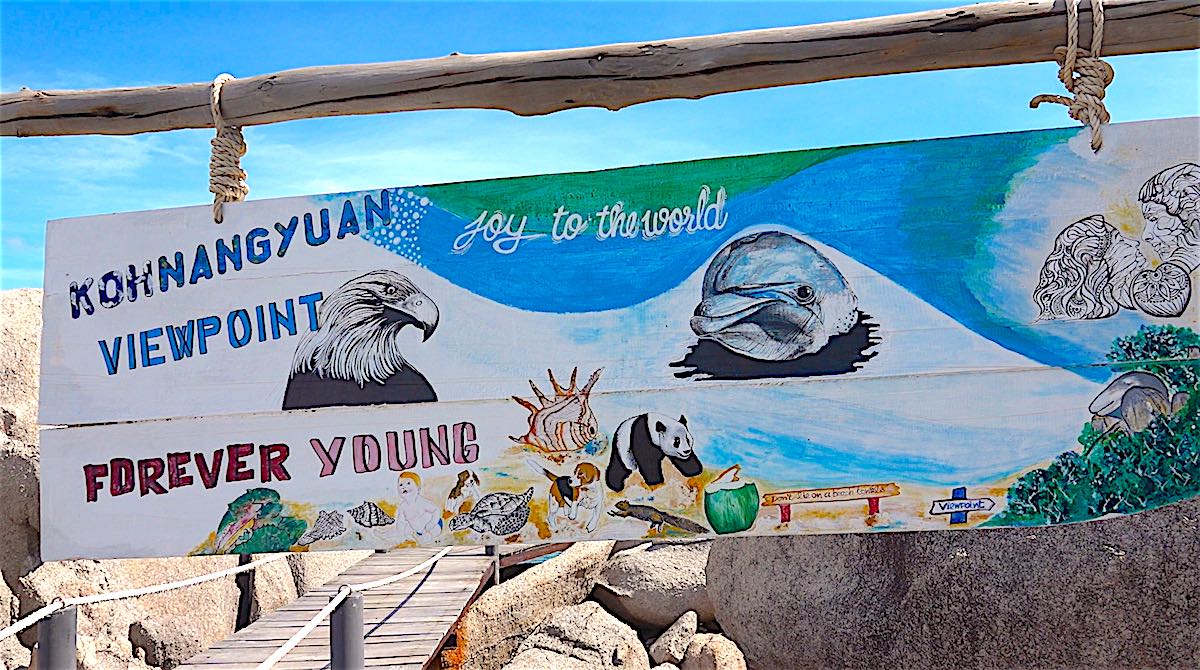 Hiking to the Top of Koh Nang Yuan Viewpoint
As you get close to the top you will need to squeeze through or scramble over a couple of rock boulders, but it is possible to complete the hike in flip flops.
The trek to the top itself takes around 20 minutes. There is nowhere to buy water, except the restaurant in the resort, so make sure you are carrying enough water with you.
Mosquito Alert
The path also passes through the jungle with mosquitoes in the shade so be sure to dowse yourself in Eco friendly insect repellant.
Once you have made it to the top of the viewpoint, you are rewarded with the perfect postcard picture aerial view over the three islands.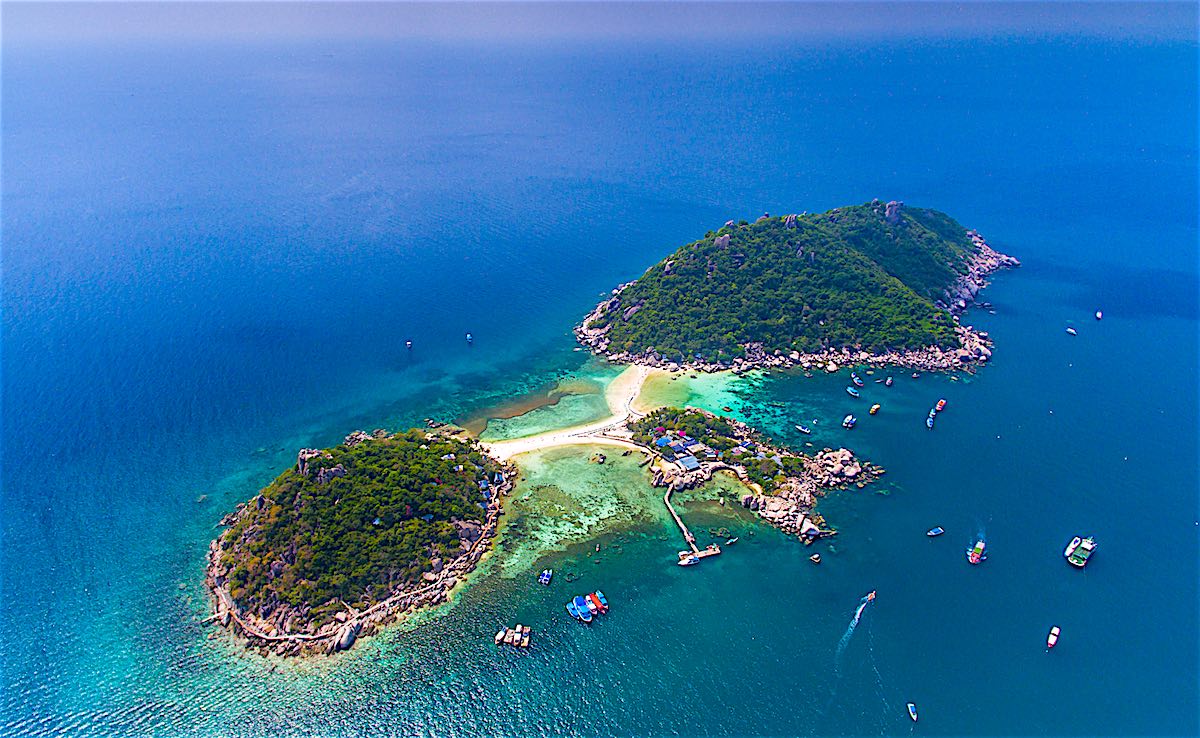 Panoramic Views from Koh Nang Yuan Viewpoint
The spectacular views include the white connecting sandbar and the clear blue waters that surround the entire island. You also get a stunning view over to the west coast of Koh Tao.

Opening Hours for Koh Nang Yuan Viewpoint
Koh Nang Yuan island is only open to the public from 10am-5pm, and gets large numbers of visitors on day trips, so the viewpoint can get very busy.
If you visit during this time, you may have to queue at the top to take pictures. You will also need to be careful both at the top and heading down as there is only a limited amount of hand rail to hold on to.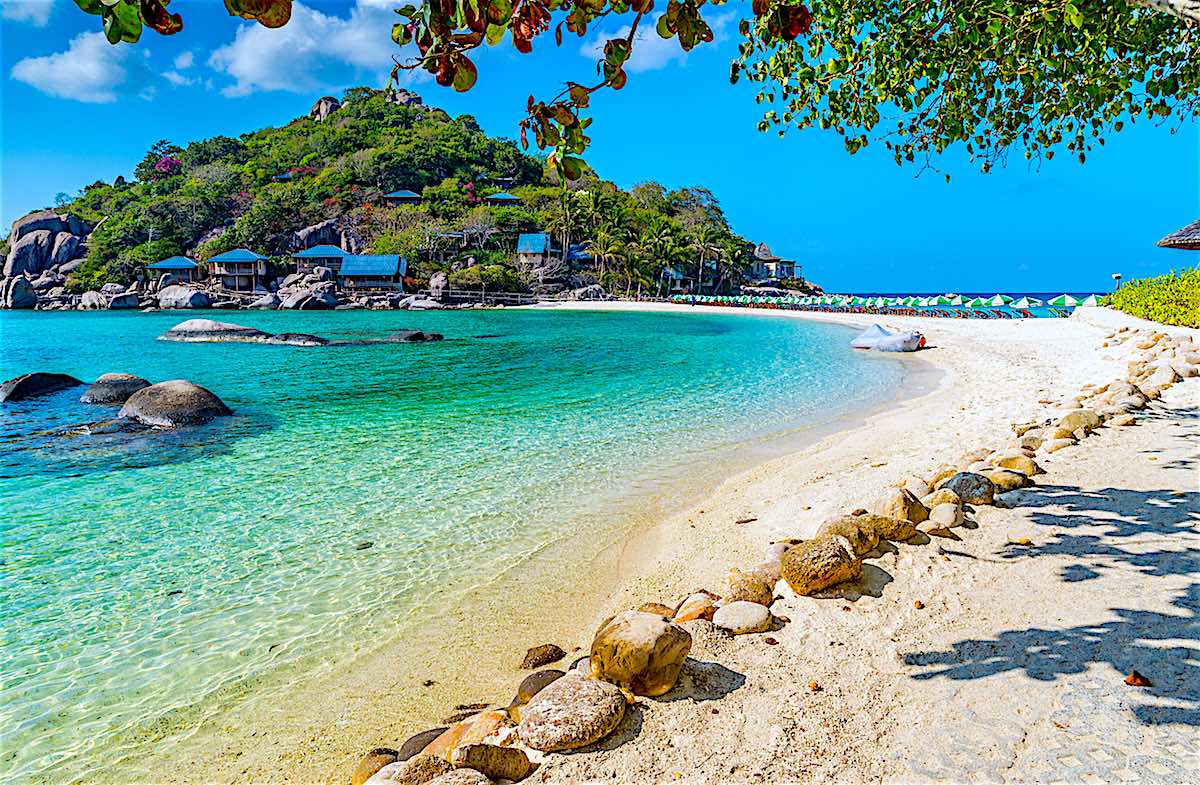 Memorable Photos
If you are hoping to get pictures without too many people on the beach below, you should try to arrive on Koh Nang Yuan as soon as it opens and head straight up to the viewpoint.
Another option would be to visit towards the end of the day but remember that the last boats leave for Koh Tao at 5pm.
For organised trips to Koh Nang Yuan for snorkeling or to visit the viewpoint, you can contact us to discuss your itinerary.
Frequently Asked Questions
How much does it cost to visit Koh Nang Yuan Viewpoint?
When you arrive at the pier on Koh Nang Yuan you pay a 100baht fee to enter the island if you are a non Thai national.
For Thai nationals the entrance fee is 30baht. The viewpoint, located on the peak of the highest of the three islands is a relatively easy hike to the top.
How do I get to Koh Nang Yuan Viewpoint?
From the beach it is an easy 15 minute hike up to the top of the viewpoint, although there are a few boulders you need to squeeze past and reach over.
Once at the top you are rewarded with a stunning view of the three islands connected by a sandbar that provides a memorable photographic opportunity.
Can I buy refreshments at Koh Nang Yuan Viewpoint?
Plastic water bottles are banned on Koh Nang Yuan and will be taken off you when you land and your bag is checked. There is a café and restaurant on the island where you can buy drinks and snacks.
Where is Koh Nang Yuan Viewpoint?
Koh Nang Yuan viewpoint offers incredible panoramic views and the opportunity to get that stunning photo you have seen countless times before. The viewpoint is located on the tallest of the three islands that make up Koh Nang Yuan.
Can I spend a full day day at Koh Nang Yuan Island?
Koh Nang Yuan island is open from 10am-5pm for people that are not staying overnight at the island resort.
However, 2-3 hours is enough time to explore this beautiful group of three islands, climb the viewpoint and try snorkeling plus relax on the beach.
Can I snorkel at Koh Nang Yuan Island?
The snorkeling around Koh Nang Yuan Island is amazing, offering easy, clear and warm conditions with lots of colorful marine life. You can take your own mask and snorkel with you if travelling to the island on your own.
Alternatively, contact us and we can organize a half or full day snorkeling trip that stops at Koh Nang Yuan and 4 other top snorkeling spots around Koh Tao.
Can I take my camera to Koh Nang Yuan Viewpoint?
Koh Nang Yuan Island offers amazing photographic opportunities with stunning beauty, scenery and a fantastic viewpoint.
Take your camera with you to ensure you get a perfect picture postcard memory.