Tanote Bay on Koh Tao
Ao Tanot Bay is the location of one of the free to access beaches on Koh Tao, (also called Tanote Bay) and is approximately in the centre of the island's east coast.
East Coast
One of the most popular locations on the island for scuba diving, the bay is also great for snorkeling, sunbathing, beach games and watching one of Koh Tao's amazing sunrises.

How to get to Tanote Bay Koh Tao
Finding Tanote Bay is relatively easy, although the path can be steep, as is the case with most of the bays on the eastern side of the island.
Tanote Bay
If you are travelling from Mae Haad, you need to head south from the main pier until you see the sign for Tanote Bay, almost opposite Chaiwat supermarket on the main road.
Once you see the sign, turn left and continue up the road. The road heads east for a while and then curves north along the east side of the island.
As you near the end of the road you will find a public parking area and both entrances to the beach are on the right-hand side.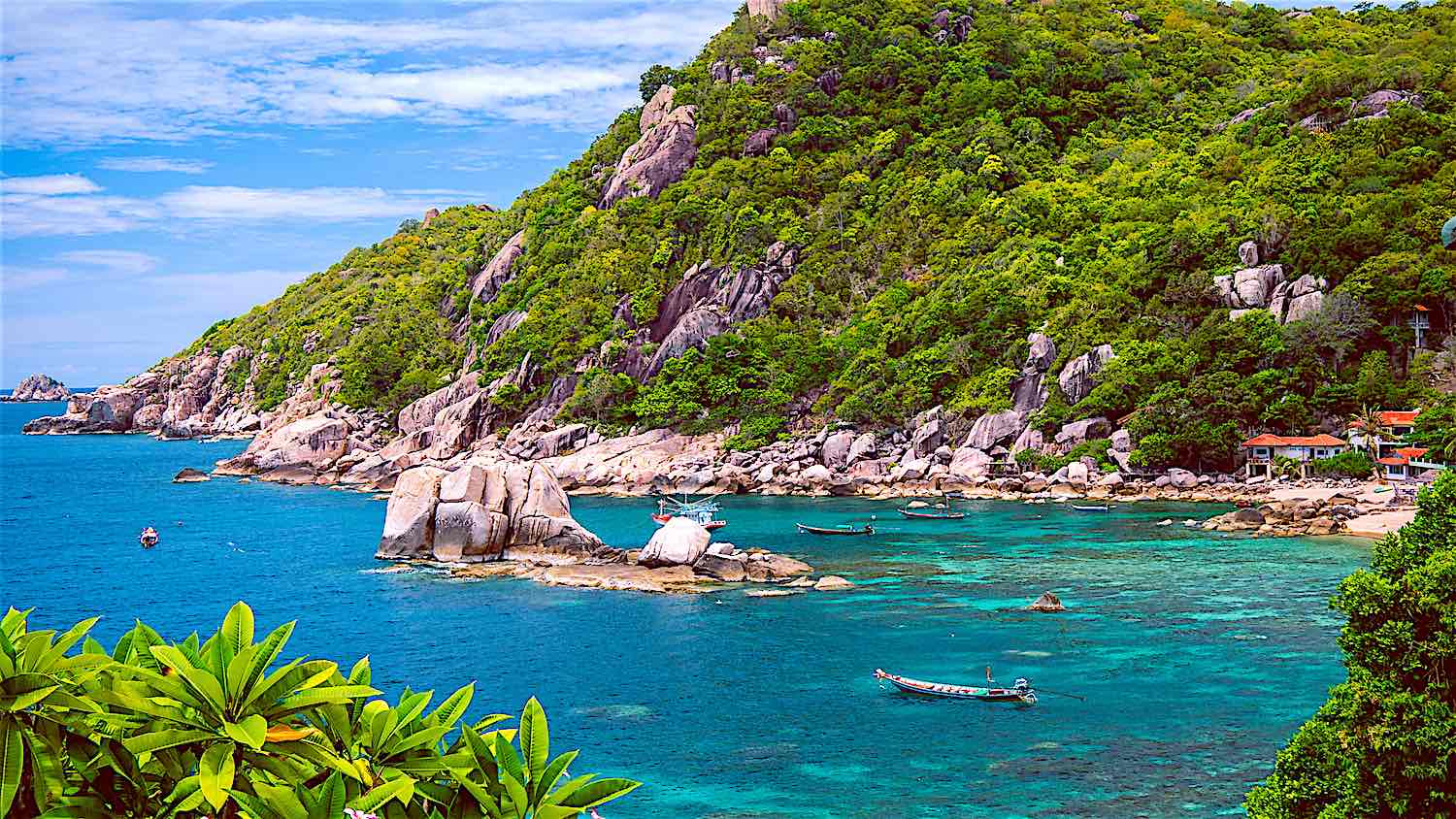 Beach Area at Tanote Bay Koh Tao
The beach area is quite large, as the buildings in this bay are set back, providing plenty of space for sunbathing or playing beach games.
However, this also means there is very little shade available and it gets very hot, so please cover yourself up with some Eco friendly sunscreen.
The size of the beach also means that the bay is rarely crowded, which makes it ideal if you are looking for a bit of privacy.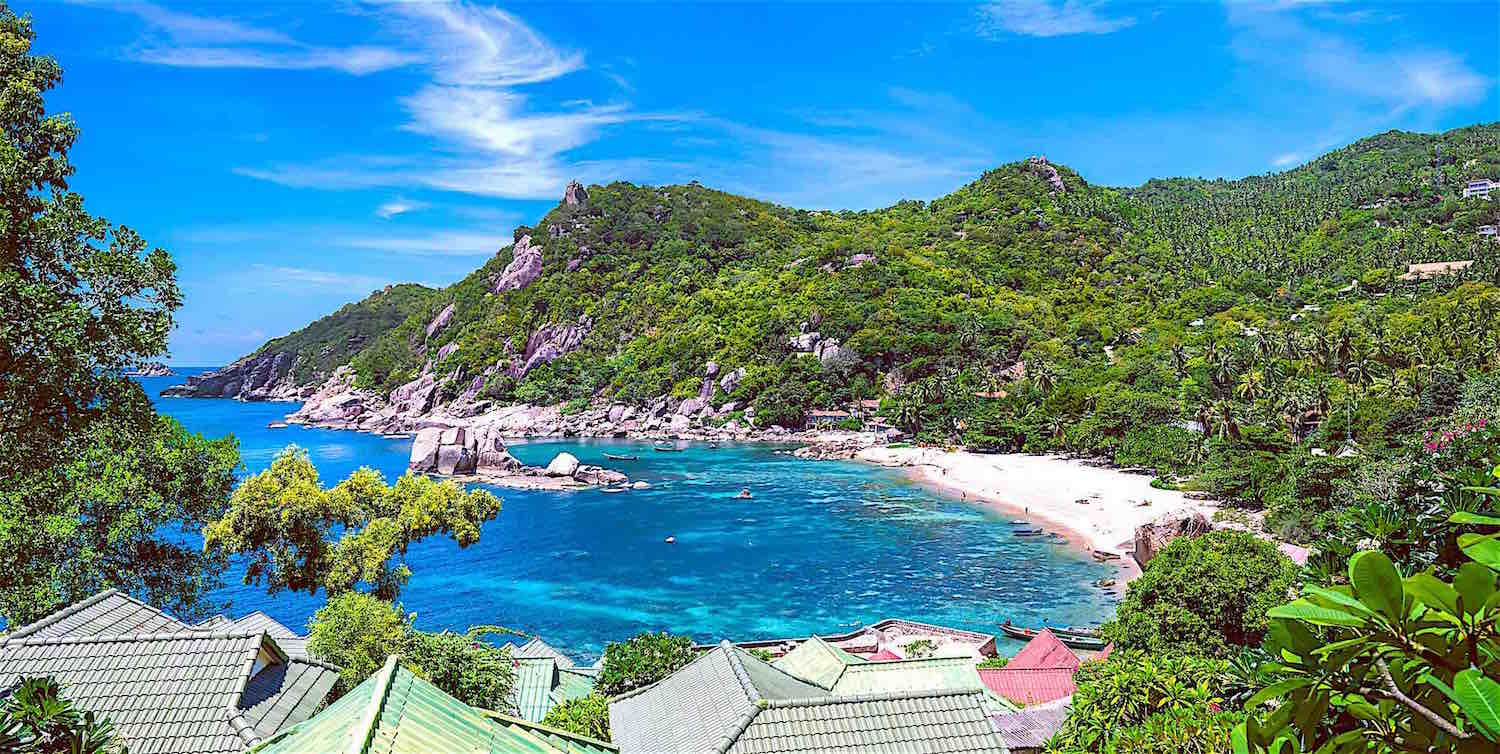 Ao Tanot Bay Granite Rocks & Boulders
The bay is surrounded by large boulders and high hills, which makes for great viewpoints in the surrounding area.
From here you can head to Tanote Peak, the reservoir and the West Coast viewpoint, where you can continue hiking to Sairee or to Laem Thian Cape.
Rock Jumping at Tanote Bay Koh Tao
The boulders also make Tanote Bay a great location for those who like the adrenaline rush of rock jumping.
The largest boulder in the water, which is 10metres high, even has a metal chain and rope attached to help you climb it.
Rock Jumping
The only way down is to jump, so make sure you want to do it before you start climbing!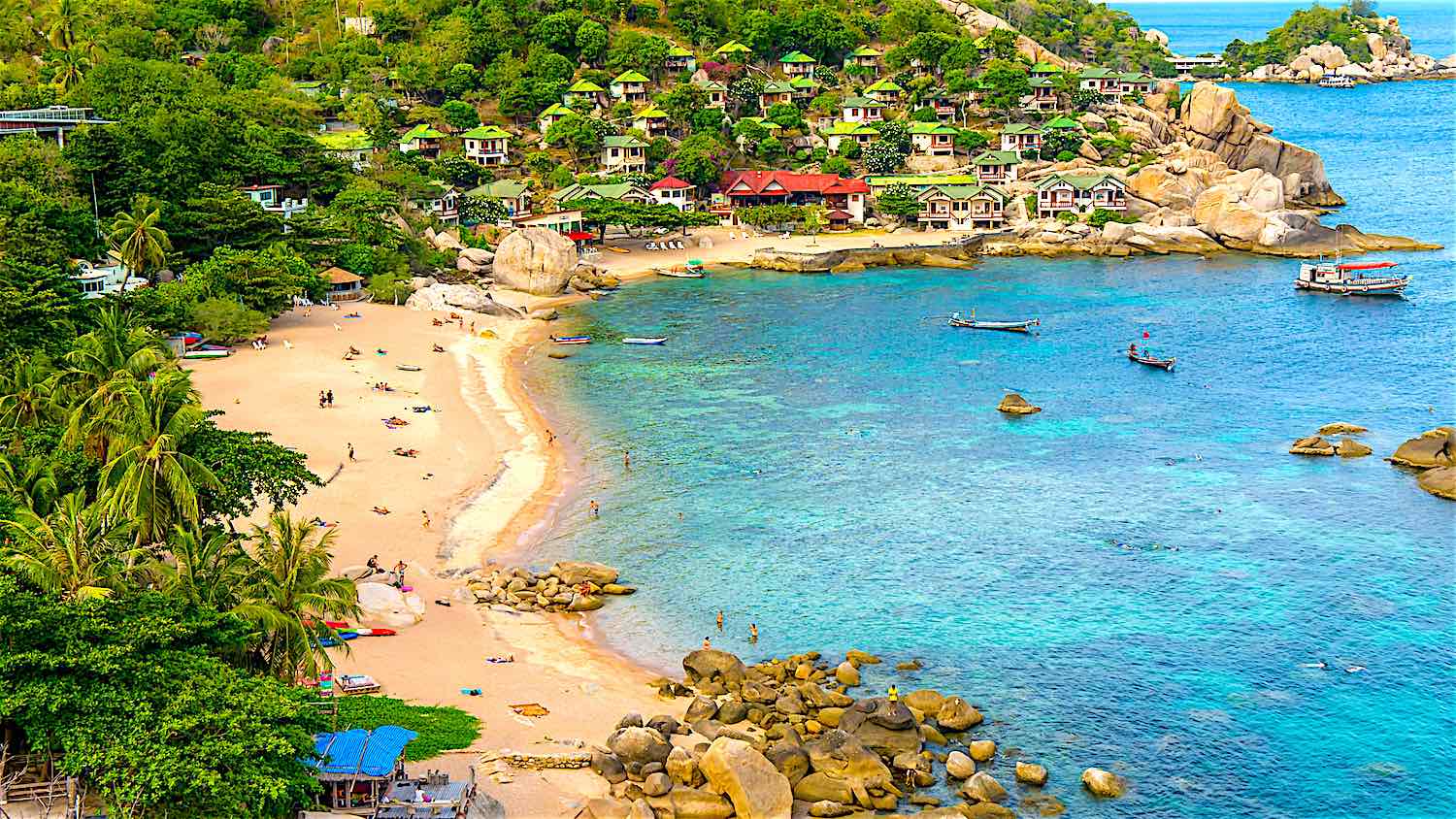 Tanote Bay is Popular for Scuba Diving
As well as being a great spot for rock jumping, Tanote Bay is also one of the most popular scuba diving locations around the island.
Ideal for all levels of divers, the water is teeming with marine life. You can visit a sunken catamaran, a Jenkins Whipray hiding, giant groupers, cleaner shrimp and a sunken motorbike with a very protective Damsel fish.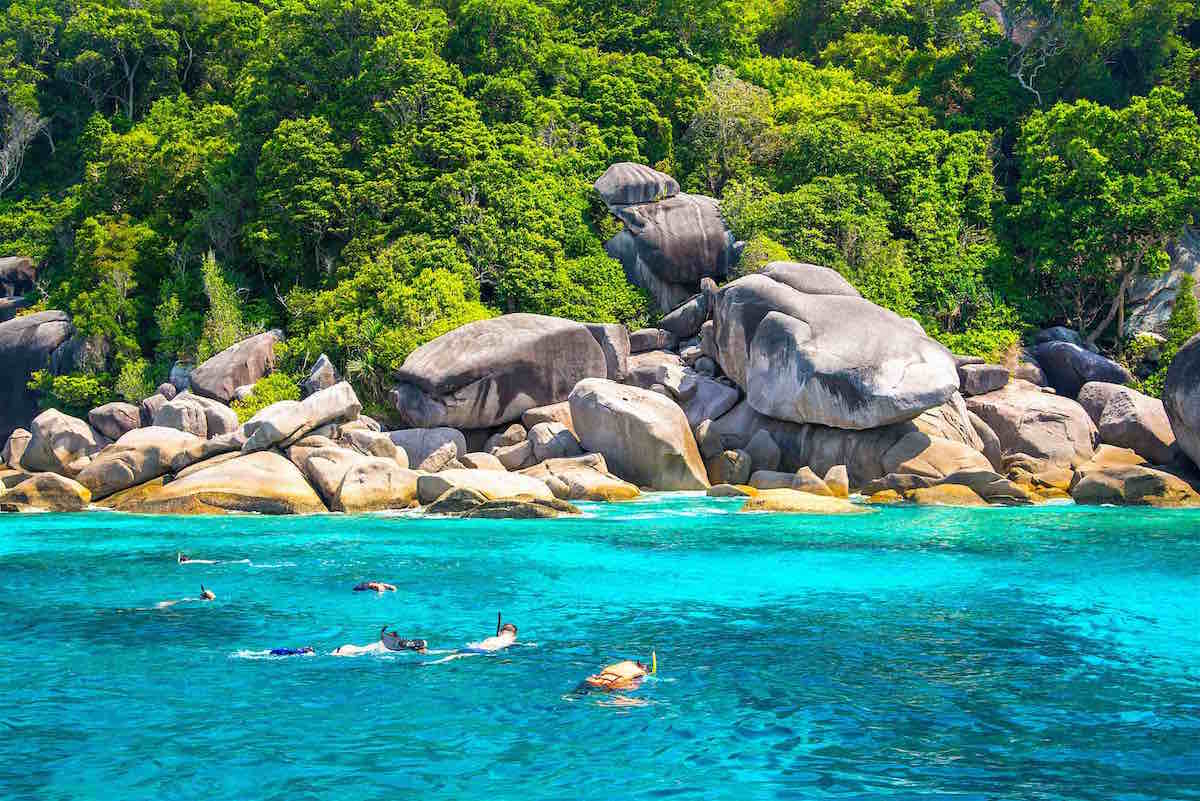 Tanote Bay is Great for Snorkeling
For those who prefer snorkeling to scuba diving, the shallow beach at Tanote bay drops off quickly, so you don't need to swim out far to see the spectacular underwater scenery.
The giant rock boulders within the bay are home to some of the best marine life as they are covered with corals that the fish love to hide in.
Laem Thian Cape
Tanote Bay is also a good location to head to nearby Laem Thian Cape, which is where turtles first returned to Koh Tao to lay their eggs in 2009.
If you hire a kayak from Tanote Bay, you can get there in about 30 minutes, which is the quickest way to get there, as it is inaccessible by car.
For more information about any of the bays when visiting Koh Tao, contact us to discuss your itinerary.
Frequently Asked Questions
How far is Tanote Bay from Sairee?
Tanote bay is located on the east coast of Koh Tao and travelling by scooter takes approximately 15 minutes to reach. You can walk from Sairee beach to Tanote bay in approximately 1 hour.
Do I have to pay to access Tanote Bay and the beach?
You do not have to pay to access Tanote bay beach itself and there are resorts there that you can buy refreshments at. You can swim, snorkel and have an enjoyable day at the beach.
Can I walk to Tanote Bay?
Yes, you can walk to Tanote bay from Sairee beach, Mae Haad or Chalok Baan Kao. Times will vary depending on which route you take by road and you can also walk to Tanote bay across the central mountain of Koh Tao. Crossing over the mountain route would allow you to take in 2 or 3 viewpoints on the way.
Is it safe to swim at Tanote Bay?
Tanote bay is considered to be a very safe swimming area and is a very popular beach. There is a good diversity of marine life in the shallow waters, which is perfect for snorkeling and swimming.
Can I get refreshments at Tanote Bay?
Tanote bay offers various refreshment options when you arrive. You can buy drinks and enjoy a meal at the resort restaurant that are available for visitors.
What is the snorkeling like at Tanote Bay?
Snorkeling at Tanote bay is highly recommended as there is a huge diversity of marine life within the sheltered bay. You can snorkel safely along the rugged coastline and see various fish species dashing about the coral and underwater rock formations.
Is the water deep at Tanote Bay?
Tanote bay is a relatively shallow bay within the confines of the bay itself and gradually increases in depth the further away from the beach you go. The depth range will vary between 5 metres to 18 metres within the bay and increase further outside of the bay.