How to get to John Suwan Viewpoint Koh Tao
John Suwan gets its name from local landowners as it was first discovered by Mr. Suwan and his friend Mr. John.
Located in the very south of Koh Tao, it is possible to drive most of the way to the viewpoint, but you will need to park your scooter and walk for the last section that goes up the hill.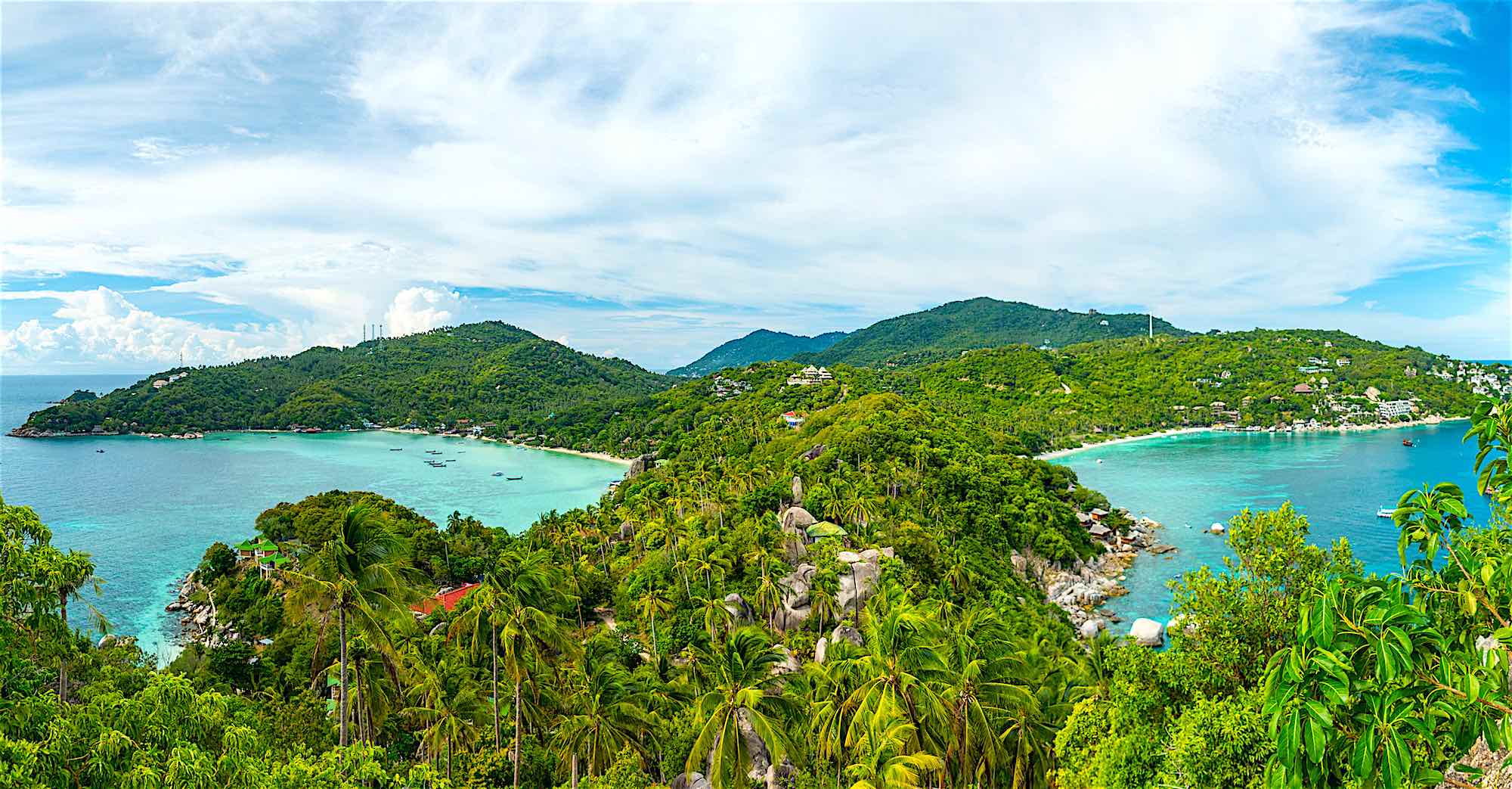 South Koh Tao John Suwan Viewpoint
Access to the viewpoint can be found opposite the Freedom Beach resort. If you choose to drive, it will take 15-20 minutes from Sairee, or less than 10 minutes from Mae Haad pier and there is a carpark here where you can leave your scooter.
Alternatively, you can walk from Mae Haad in around 45 minutes, depending on how many times you stop to take photos along the way.
Car Parking
Once you arrive at the carpark, you will see an arrow with "Viewpoint" written on it. If you follow the sign you will then arrive at an intersection of three roads where you need to take the middle road.
If you don't see the Viewpoint sign, you can always follow the signs towards Freedom Beach and turn left when you reach the fork in the road.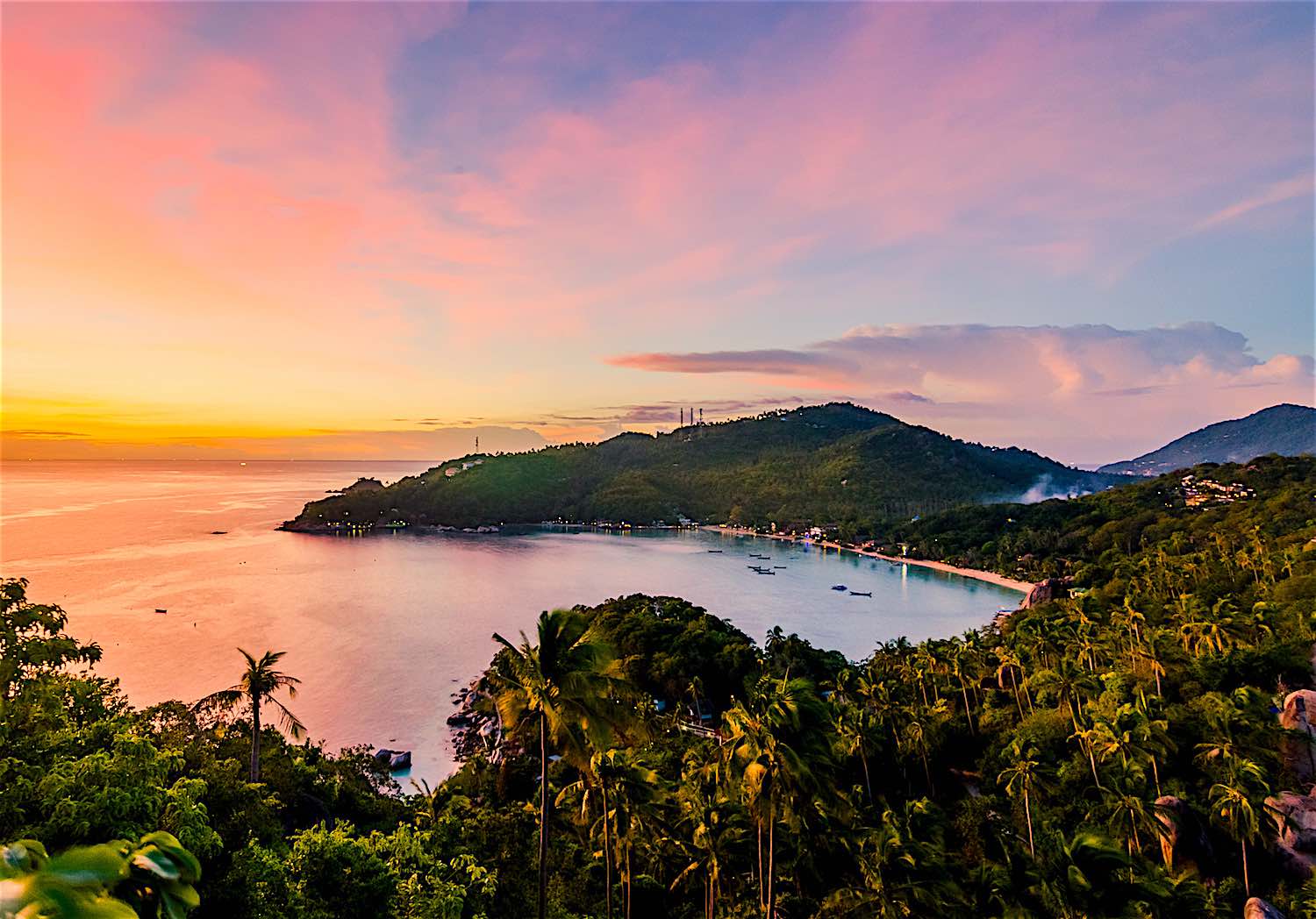 Entrance fee to John Suwan Viewpoint
About 200m up this path you will come to two ladies who collect the 100THB entrance fee for the viewpoint and give you a bottle of water from an ice box.
If you are visiting before 9am however, it is unlikely they will be there so you may not need to pay the charge. Once you have passed this point, it is about a 20 minutes hike to the top.
Keep Hydrated
Depending on the weather, it is really important that you have water with you as it can be extremely hot on the way up to the viewpoint and at the top. Temperatures in excess of 40 degrees centigrade are not uncommon.

Hiking Trail to John Suwan Viewpoint
The path up to the top is rocky, rigorous and uphill. It contains make-shift stairs, so its best to wear good footwear and not sandals or flip flops.
There are a number of boulders you will need to scramble over, although ropes have been attached to many of the larger ones to help you climb up.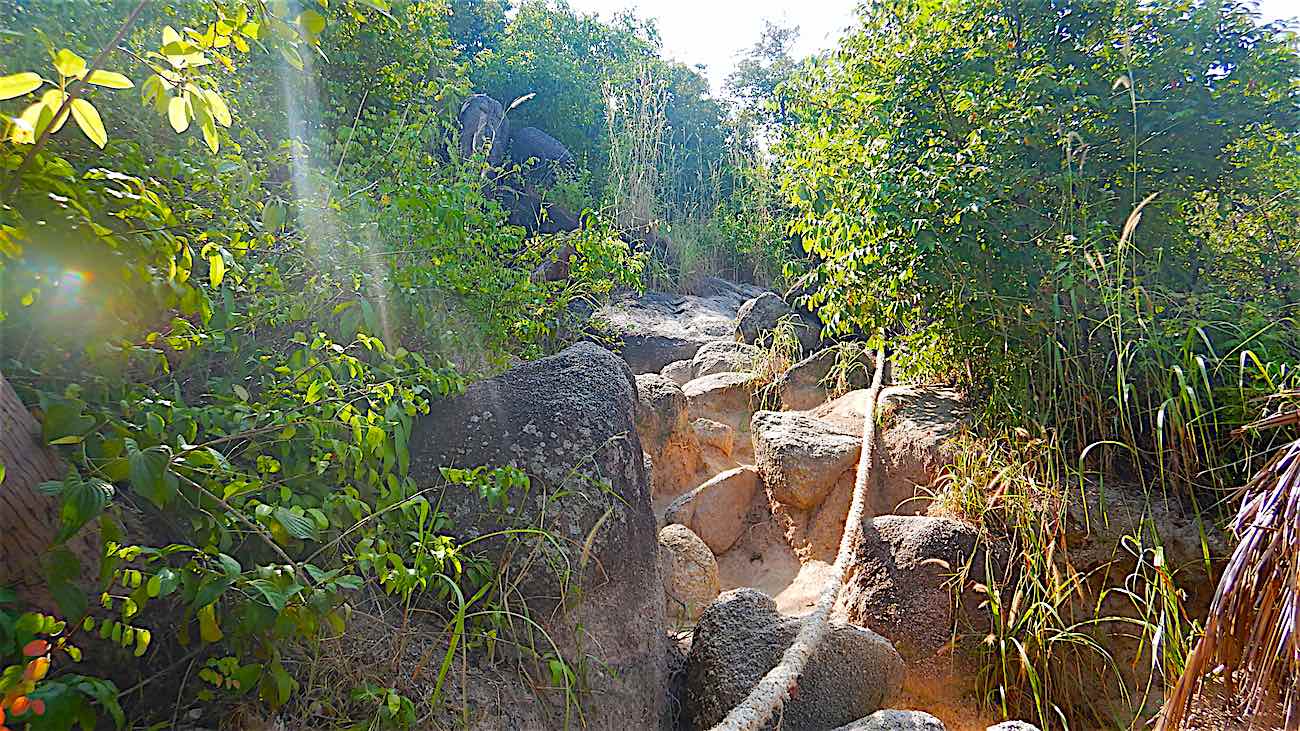 Panoramic Views from John Suwan Viewpoint
Just before you reach the summit you will also need to squeeze through a couple of boulders and then pull yourself up at the top onto the rocks.
The climb is considered to be relatively easy and any able-bodied person can make it, however, due to the heat and humidity it can be tiring.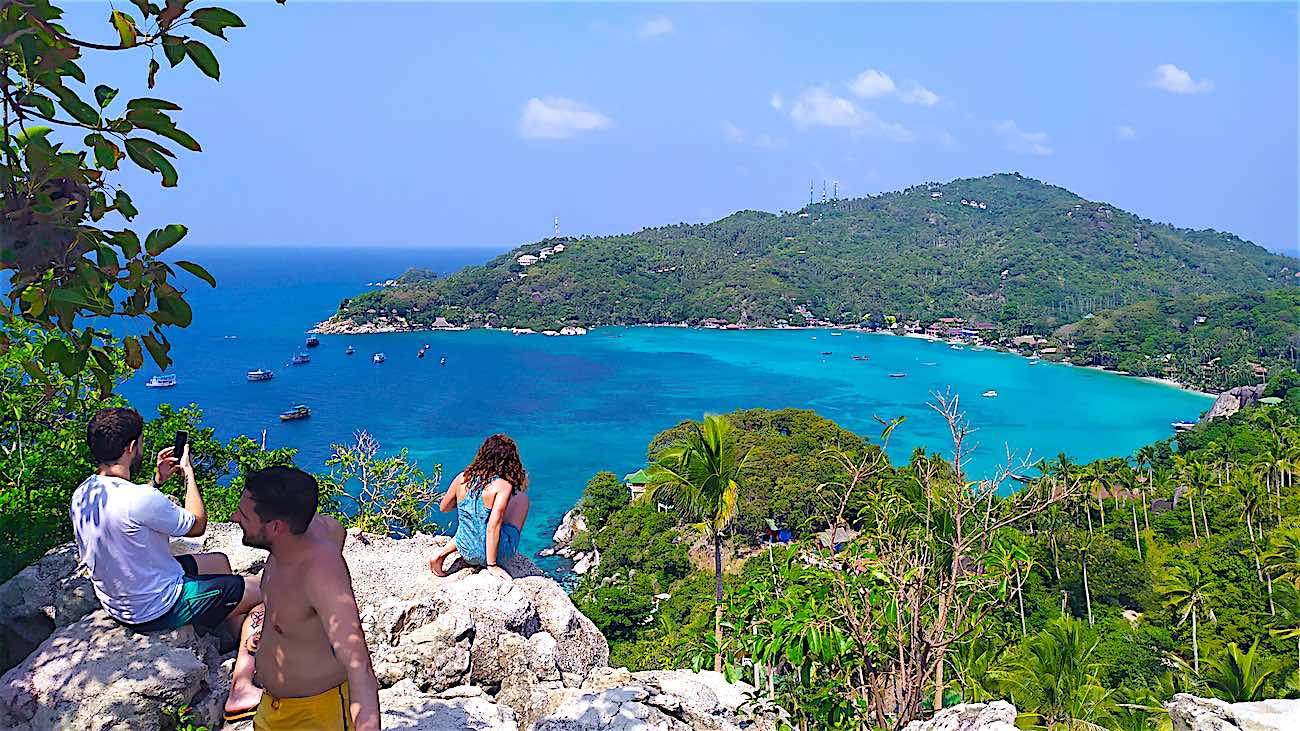 Early Morning or Afternoon
Making the climb early in the morning or late in the afternoon can be beneficial as the heat and humidity will be lower.
It will also help you to avoid the worst of the crowds as the viewpoint can be quite busy after 11am.
When you reach the top you will be rewarded with what is considered to be one of the most stunning views on Koh Tao – a perfect panoramic view of Chalok Baan Kao and Thian Og bays.
On a clear day you will also be able to see Koh Phangan, Koh Samui and Ang Thong National Marine Park in the distance.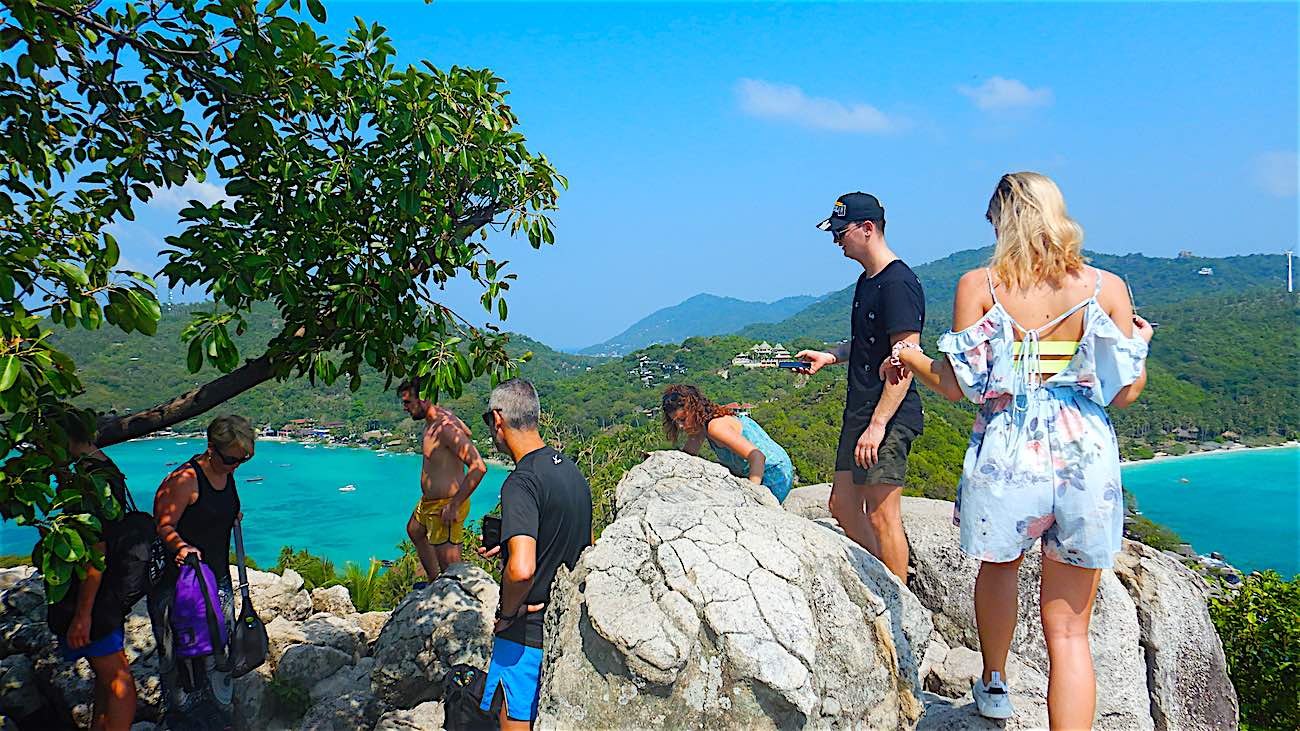 Mountain and Bay Views from John Suwan Viewpoint
The view over the bays allows you to take some great pictures of the turquoise clear waters surrounding Koh Tao and the shallow coral reefs beneath them.
Looking to the North from John Suwan Viewpoint, provides a view of the mountains to north of the island. John Suwan is a great viewpoint if you are looking for pictures across the entire island from the Southern tip of Koh Tao to the North.

Picture Perfect
John Suwan Viewpoint is definitely one of the best-known viewpoints on Koh Tao, but it is not the only one in that area of Koh Tao.
If you plan your schedule properly and as you explore Koh Tao, you will no doubt find many other amazing photo opportunities.
If you are in a hurry and decide to head straight back down from the top of the viewpoint, make sure to come down the same way you went up, or you risk getting lost in the jungle below.
For more information on Viewpoint walks, hikes and treks around Koh Tao, contact us to discuss your itinerary.
Frequently Asked Questions
How far is John Suwan Viewpoint from Sairee?
John Suwan viewpoint is approximately 4.5km from Sairee beach and offers breathtaking views of Koh Tao from the south side of the island facing north and looks over both east and west coasts of Koh Tao.
How do I get to John Suwan Viewpoint Koh Tao?
Travel to the south side of Koh Tao through Chalok Baan Kao and keep going until you arrive at the carpark that also offers access to freedom beach and Taa Toh bay.
As you walk towards Freedom beach, you will see a fork in the path and a sign for freedom beach that points to the right. If you follow the left fork 200 metres further there is a lady that will collect a 100baht entrance fee and point you in the direction you need to go.
It is a 20 minute hike and there are some ropes to help pull you up a few of the steeper parts but it's a fairly easy hike. When you get to the top of the John Suwan Viewpoint you will not be disappointed.
It is a stunning view, overlooking Chalok Baan Kao on one side and Shark Bay on the other. You can literally look right over the island from south to north.
Is there accommodation near John Suwan Viewpoint?
The two closest resorts to John Suwan Viewpoint are Freedom beach resort & Taa Toh seaview resort, which are located further down the hill from the viewpoint.
Do I have to pay to visit John Suwan Viewpoint?
The view from the top of John Suwan Viewpoint is fantastic and looks right across Koh Tao. You can see both east and west coasts in perfect view and well worth the small entrance fee of 100baht you have to pay.
Is there car parking at John Suwan Viewpoint?
There is a car park at the bottom of the land that provides access to John Suwan Viewpoint where you can park your scooter. It is also the same car park that you use to access Freedom beach.
Is it safe at the top of John Suwan Viewpoint?
It is a relatively easy and perfectly safe 20 minute hike from Freedom beach car park, where you can park your scooter and gain access to the trail that leads to John Suwan Viewpoint. This viewpoint is well worth a visit and has stunning panoramic views of the island.