Medical & Doctor Services on Koh Tao
As well as a Government run hospital – the Koh Tao Hospital – the island of Koh Tao has a large number of medical clinics in Chalok, Mae Haad and Sairee that are staffed by both Doctors and Nurses.
Accidents can happen and with so many activities taking place on a daily basis around Koh Tao, the island has many medical resources available for visitors.
Doctor's here will see visitors to Koh Tao for a range of checks and treatments related to scuba diving, snorkeling, viewpoint hiking injuries, scooter rental accidents or just renewal of medication.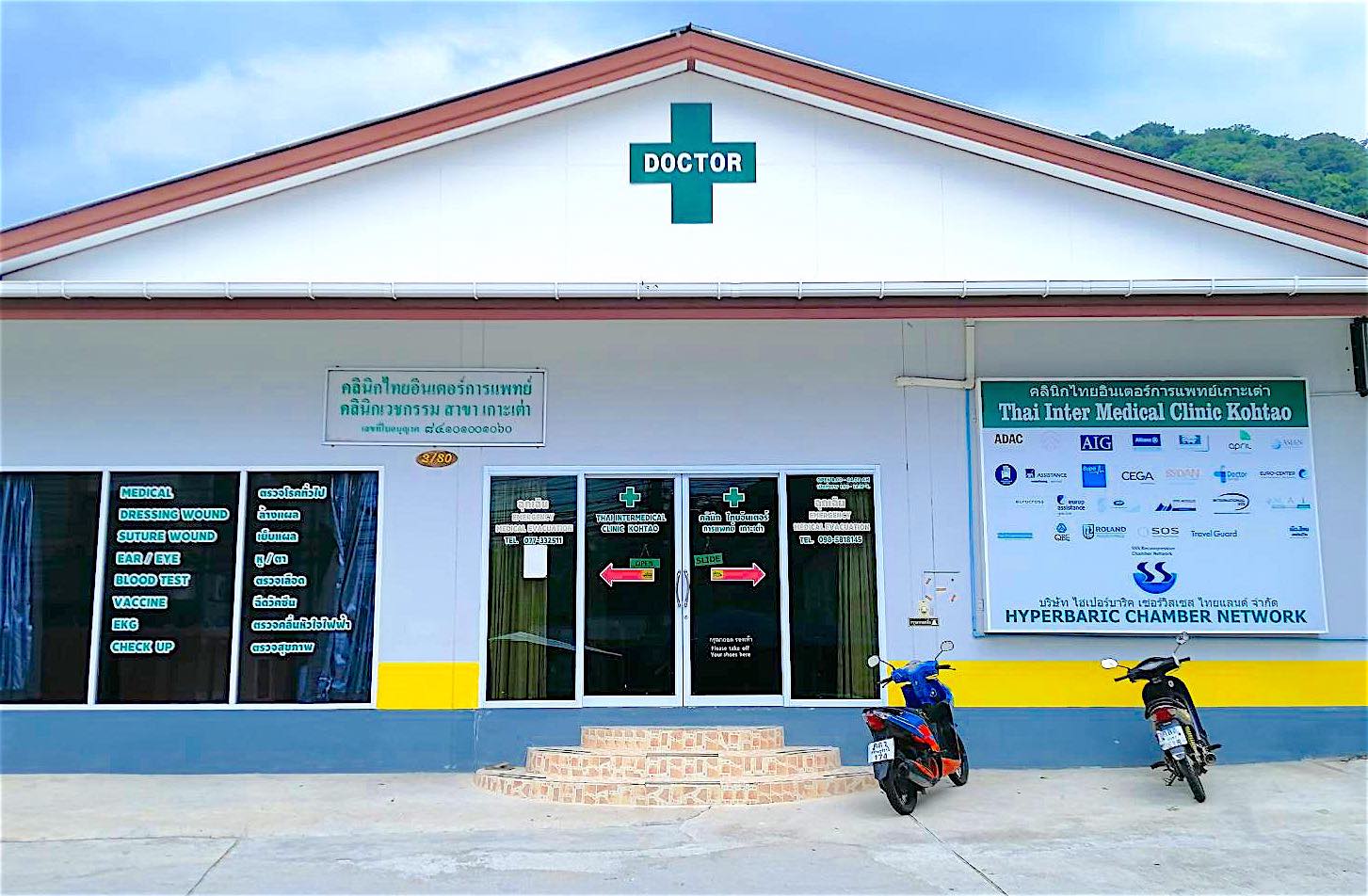 Treatments available on Koh Tao
Depending on the clinic, they can provide the following:
treatment for general ailments
wound and suture dressing
minor surgery
vaccinations
diving check-ups
lab and blood checks e.g. for dengue fever and malaria
issue of repeat prescriptions for existing conditions
Many of the Doctors and Nurses in these clinics speak very good English and have good connections with the mainland if any medication needs to be ordered.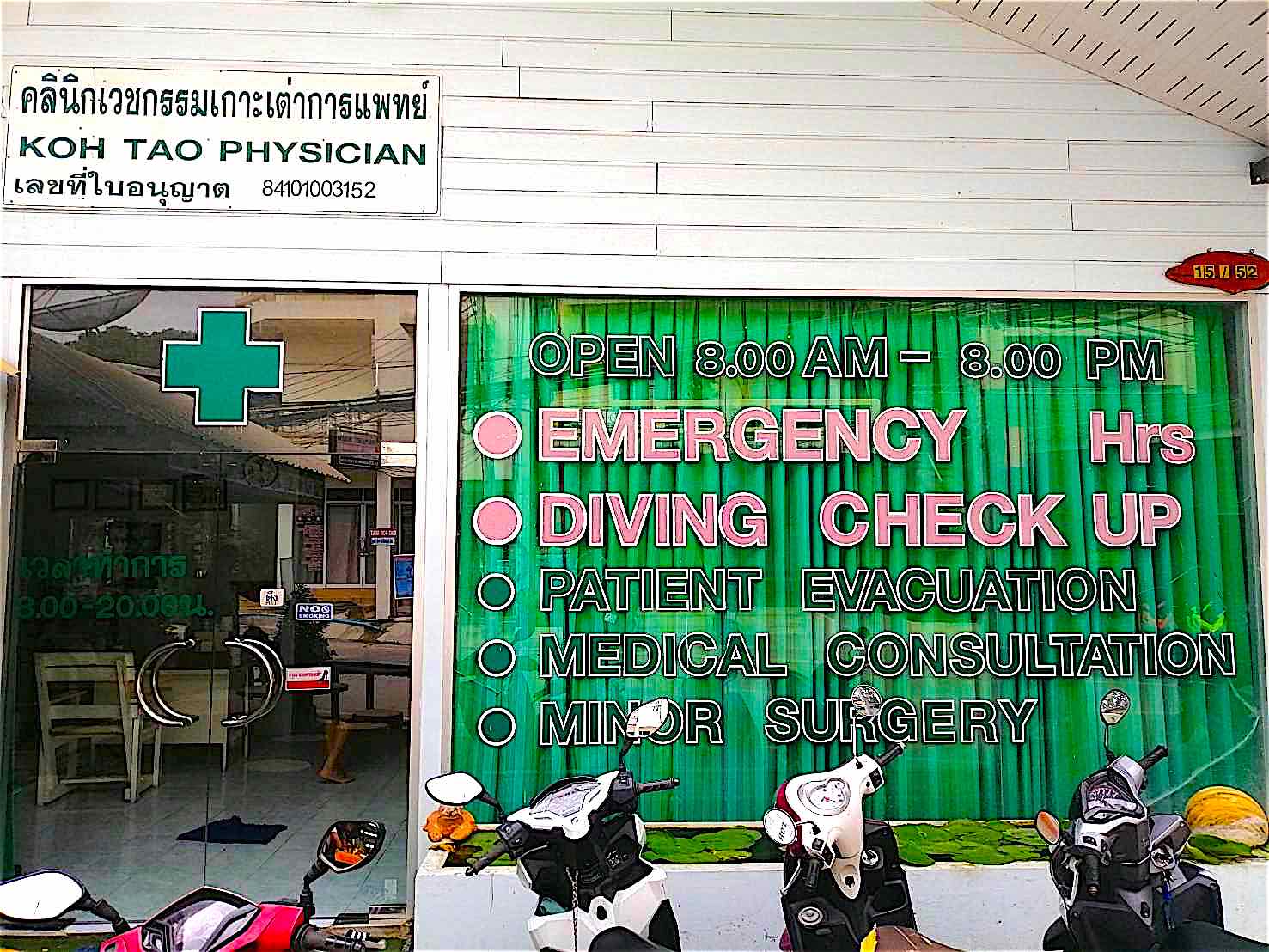 Payment for medical treatment on Koh Tao
They will all require payment upfront for your treatment, but some are able to help with the paperwork required by the insurance company for you to claim back the costs.
Each clinic offers different opening hours. Some open 24 hours a day, whilst others may vary their hours depending on the day of if there are any Thai holidays.
Doctor Opening Hours
You can walk in to most of the clinics during their opening hours, although some only offer certain services during set hours or require appointments, particularly on a Sunday.
For anyone who may require treatment for asthma, it is worth noting that all clinics carry nebulisers and medication to cover asthma sufferers of all ages.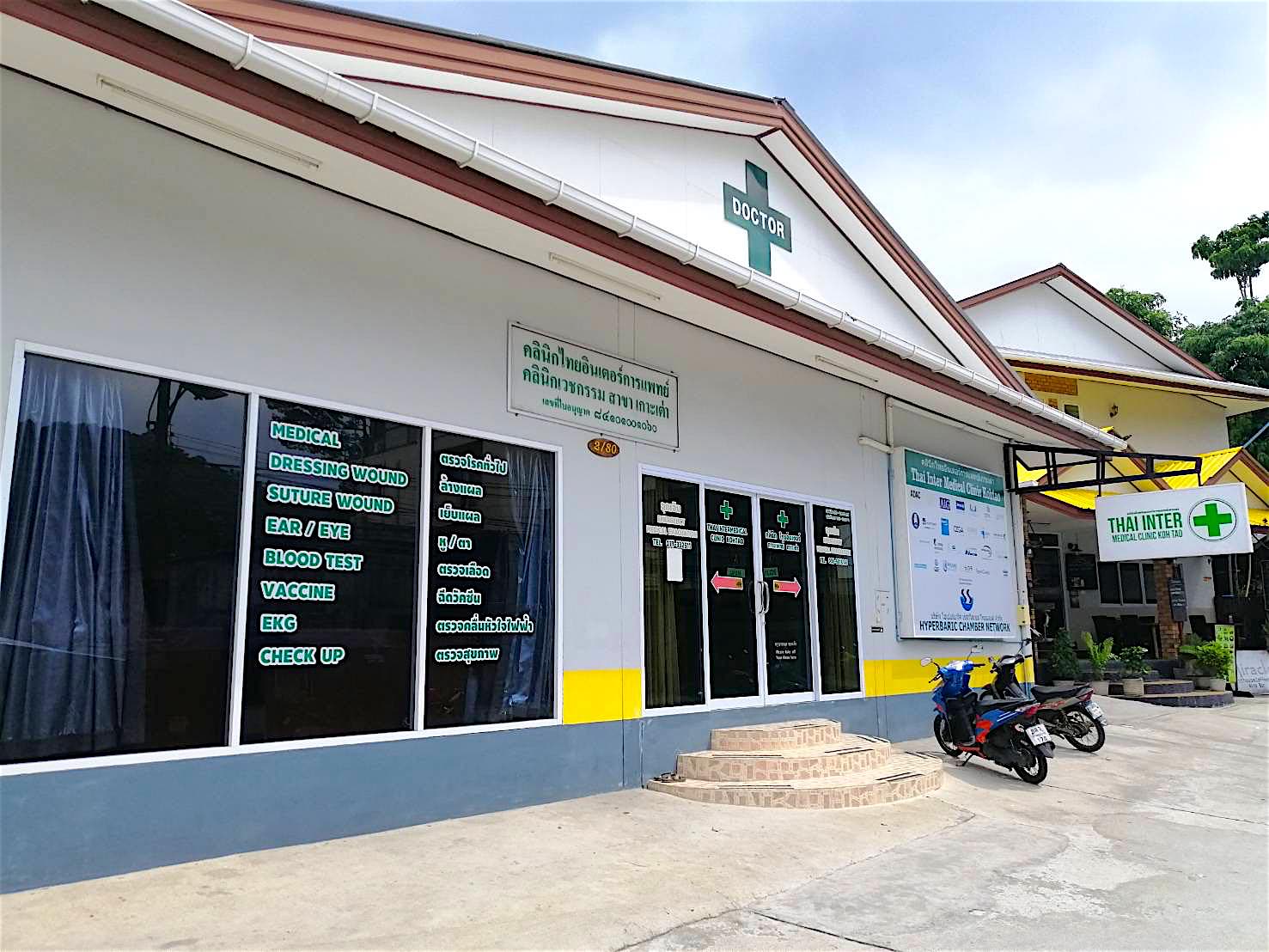 Emergency Treatment on Koh Tao
The Koh Tao hospital in Mae Haad has an emergency room for early intervention for more serious conditions, accidents or for patients who are being evacuated to Koh Samui main hospital or Surat Thani on the mainland.
The hospital itself has a very efficient and quick system for you to see a doctor and be prescribed any medication you may need urgently. The staff are very professional, friendly, helpful and can understand and speak English.
If you have any questions related to access to medical resources on the island, you can contact us for more information or friendly advice.
Frequently Asked Questions
Can I get to see a doctor on Koh Tao?
Yes, there is a government hospital on Koh Tao that you can visit for treatment. As a traveler or tourist you will need to show your passport and register to be seen by a doctor. There are also many private clinics that will see you who offer medical and treatment services based on health travel insurance or cash payment.
Can a doctor on Koh Tao prescribe the medication I need?
Yes, a doctor at the government hospital or one of the many private clinics can prescribe a wide range of medications. For more serious conditions or specialist care, you will be referred to the mainland hospitals in either Koh Samui, Chumphon or Surat Thani and in extreme cases, you may need to go to Bangkok.
How much does it cost for a prescription on Koh Tao?
The government hospital is a cheaper option for both locals and tourists and they now provide excellent healthcare services. Private clinics will be more expensive but appropriate healthcare insurance should cover these costs.
Are there private doctors on Koh Tao?
There are many private medical clinics that you can walk into without an appointment. The cost of treatment is dependent on the level of intervention required and if you have healthcare insurance you should be covered, but you should check with your insurer before obtaining treatment.
Do I need identification to see a doctor on Koh Tao?
As a foreign national travelling in Thailand, you should always have your passport with you for identification purposes. This applies for treatment at the local Koh Tao government hospital and private medical clinics, you will be expected to produce your identification.