Snorkeling at Shark Bay Koh Tao
Shark bay (Tien Og bay) is situated in the south eastern corner of Koh Tao and is one of the most popular locations to go snorkeling.
Popular Snorkeling
Many visitors come here to catch a glimpse of the baby black tip reef sharks that use the shallow water as a nursery at certain times of year or to see sea turtles in their natural environment.
Shark bay is one of the few places on Koh Tao that you can almost certainly get to see green sea turtles on a daily basis.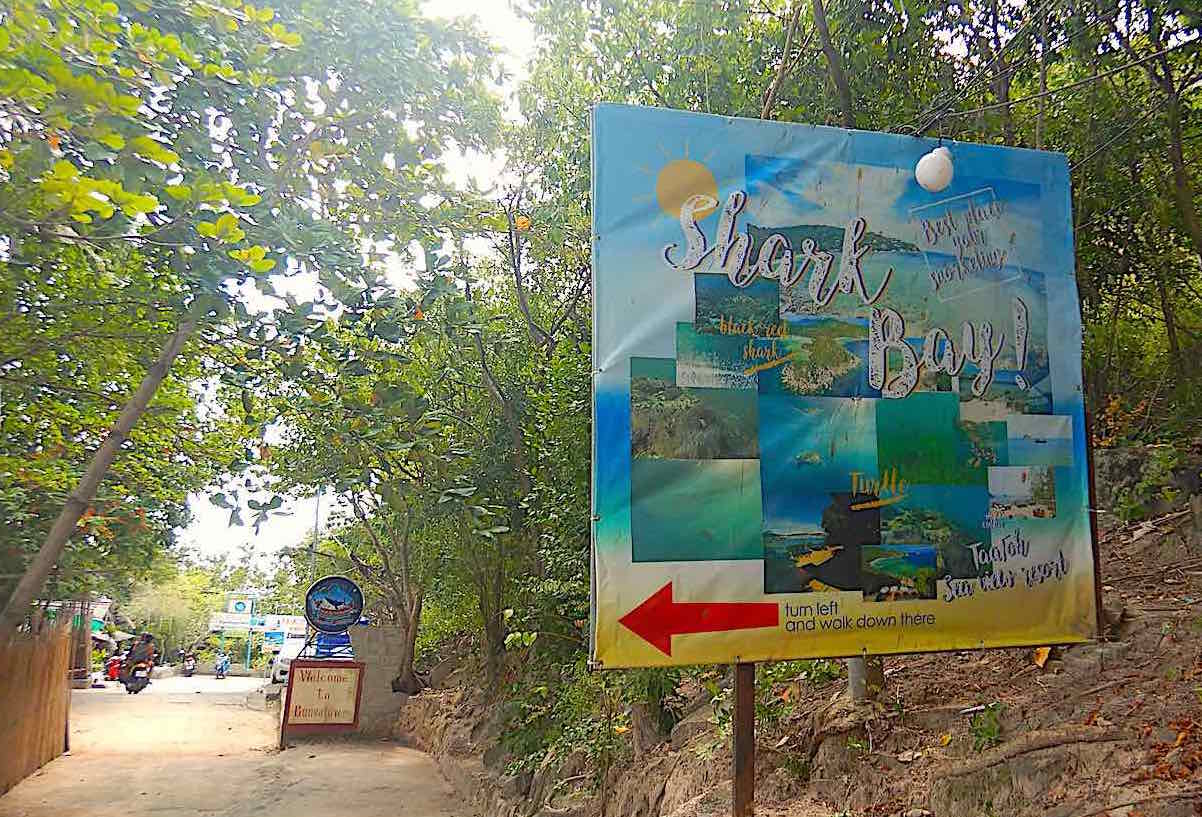 Green Sea Turtles
The bay itself is wide and expansive and has a rugged coastline lined with large boulders, Coral and underwater rock formations.
Coral coverage, particularly in the centre of the bay, has been damaged by 'mass bleaching' events in the past and has struggled to recover from it over the years since the last event.
However, areas along the eastern side of the bay towards Sai Deng and further along the western peninsula towards the headland, offer visitors an opportunity to see an abundance of marine life.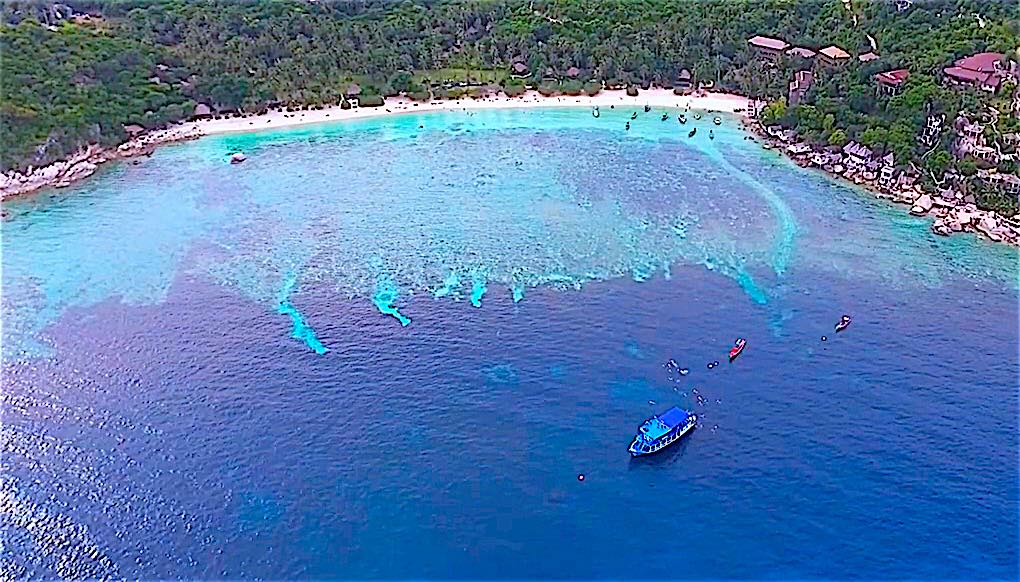 How to get to Shark Bay for Snorkeling
If you plan to visit and explore Shark Bay alone either from Chalok, Mae Haad or Sairee, you can travel there by taxi, longtail or by scooter.
You can walk there from any of the main villages and it will take you anything from 45 minutes to 1 hour, depending on your departure point.
You can access the beach area by land and go it alone, or you can visit Shark Bay on a guided full or half day snorkel trip.
If you plan to visit Shark bay by land for snorkeling, you can use the road towards Haad Tien Beach Resort, which you can follow from Aukotan supermarket on the main Chalok road.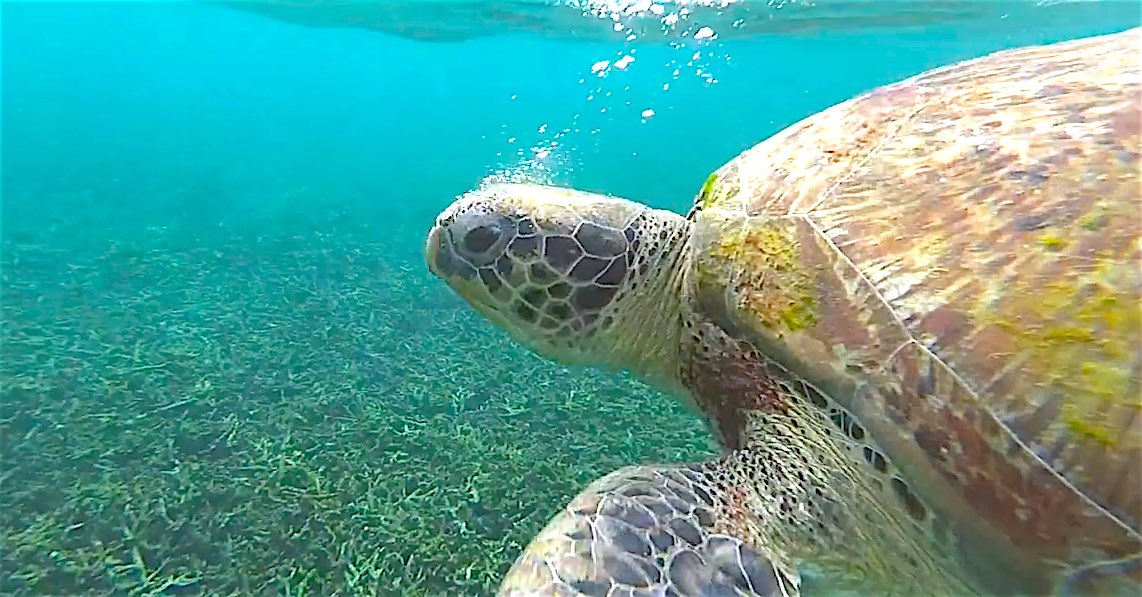 Private Bay
There is a path off the road that you can use to access the beach and there is an entrance fee charged to visit the beach.
You can access Shark bay via the resorts on the west coast but you will not be able to access the beach this way.
For the more adventurous, another option is to Kayak around the headland to explore the bay on the water.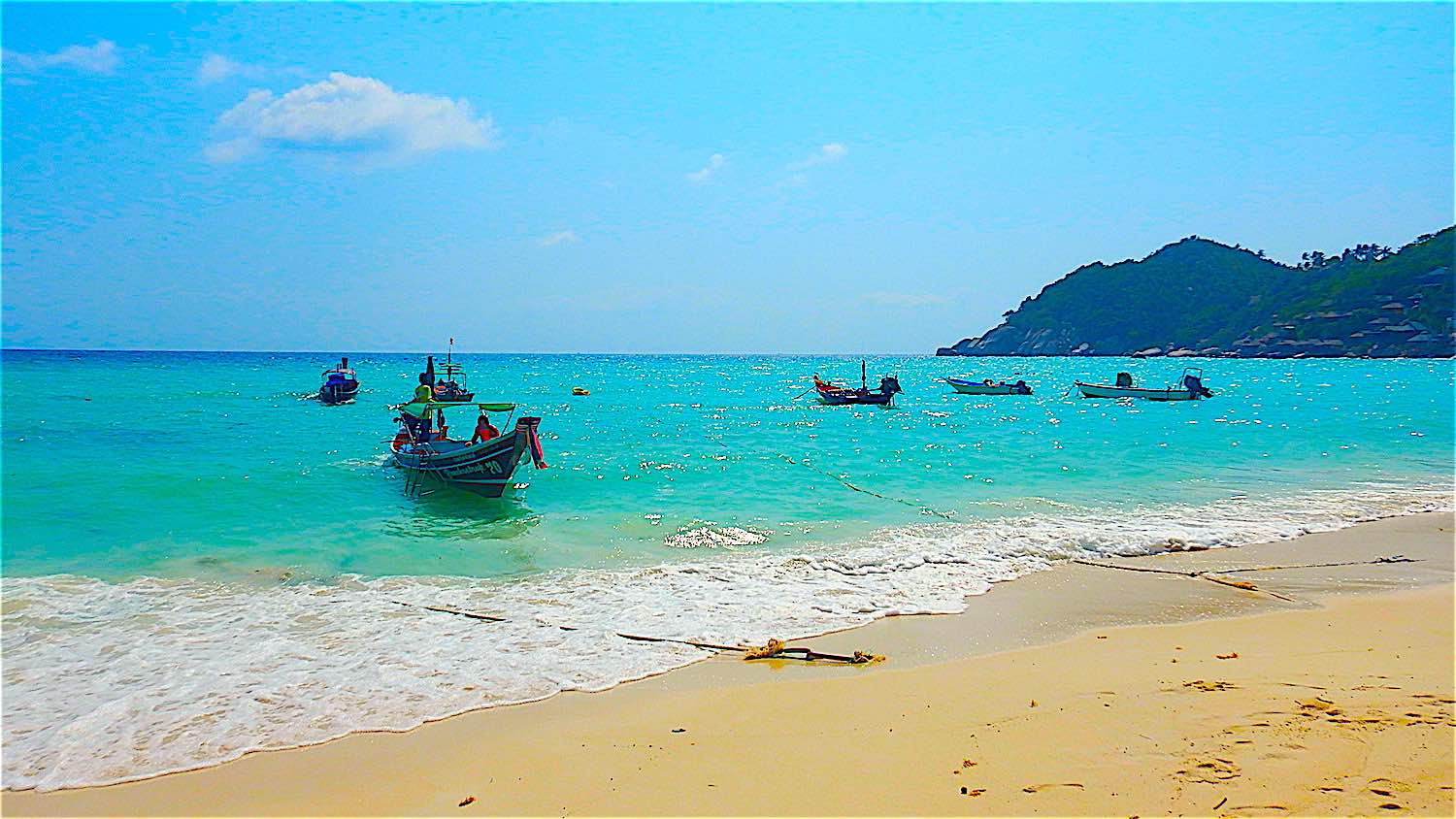 Best Snorkeling Tips for Shark Bay Koh Tao
If you are limited on time, the guided snorkel tours visit Shark Bay daily as part of their 5 stop tour around Koh Tao.
This is a great way to explore the water with a snorkel and mask for around 30 minutes, depending on the schedule.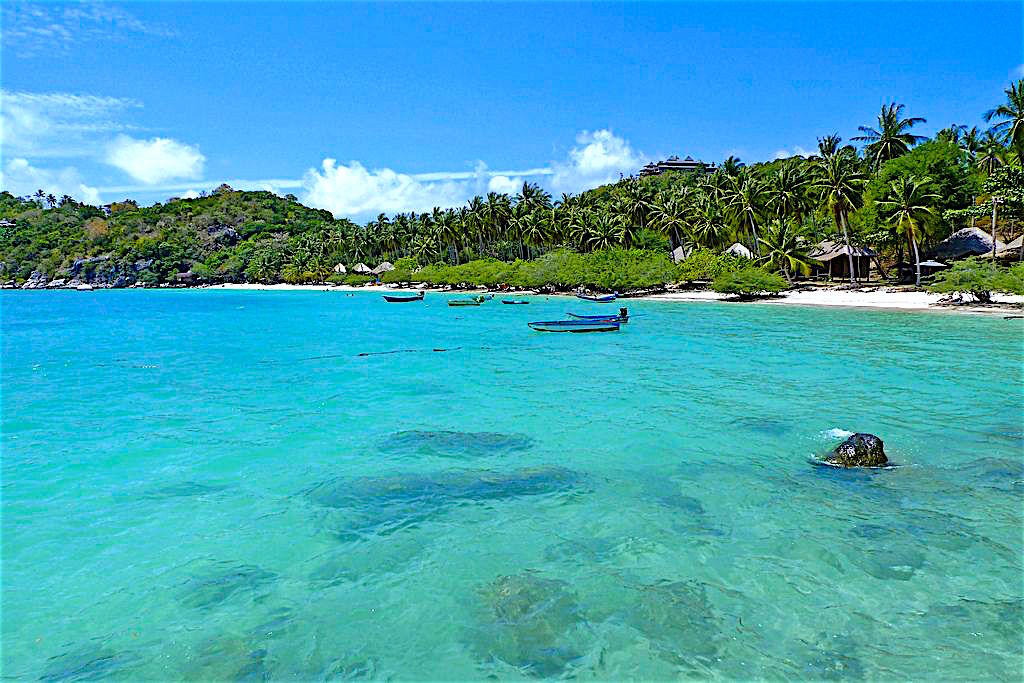 Explore Shark Bay
The advantages to this are that you get an opportunity to bring out the GoPro or underwater video camera and search for the mesmerising green sea turtles to capture those special moments from a safe distance.
The disadvantages are that the guided snorkel trip will only give you a limited amount of time in the water and Shark bay is a large bay.
Depending on the time of year, weather conditions and snorkel boat schedule, Shark bay can feature on the itinerary as the last stop, it is usually late afternoon.
There are times of year that Shark Bay can feature as the first stop on the tour, but the itinerary will need to be checked before booking.
Understandably, the exact route of snorkel trip stops are difficult to predict in advance, mostly due to the potential for a change in weather.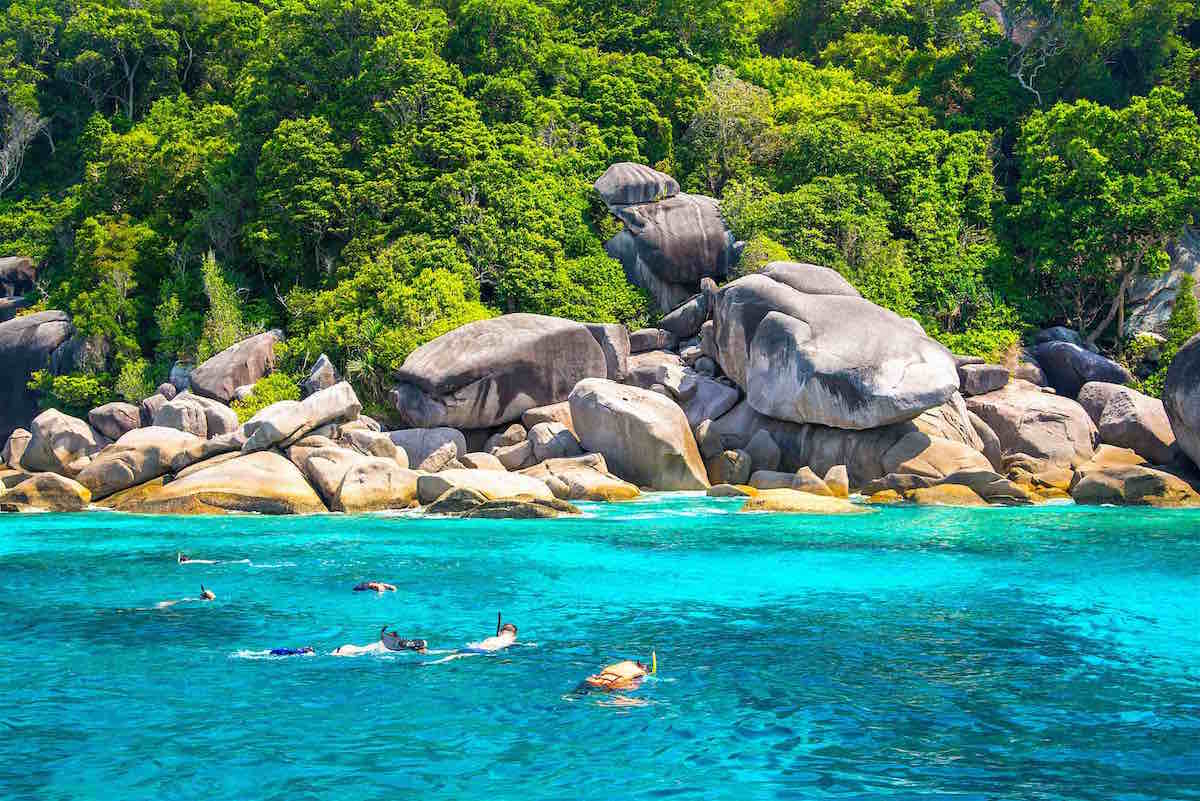 Snorkel Adventure around Shark Bay Koh Tao
The alternative to an organised snorkel trip, is to go it alone and make your way to the beach with your own snorkel and mask.
If you plan to stay the day and explore the east and northern coastline, make sure you take refreshments and some personal belongings with you.
Tall Palm Trees
The beach itself is made up of a white, fine coral sand and surrounded by tall palm trees that offer shade and some relief from the hot day sun.
For snorkeling, you can set off along the west coast and follow the coastline as though you are heading towards Sai Daeng peninsula.
This gives you the best chance to see baby black tip reef sharks and sea turtles, especially in the morning before the sun gets too high.
Marine Life
While you are exploring and looking out for the reef sharks and sea turtles, you can also see an abundance of other marine life pass you by as you head along the western coastline.
You can expect to see Pink Skunk Clownfish, Cleaner Wrasse, Sargeant-Major's, various Groupers, Damsel fish, Needlefish, Triggerfish, Parrot fish, various Anemones, Butterfly fish, Angel fish and an assortment of corals.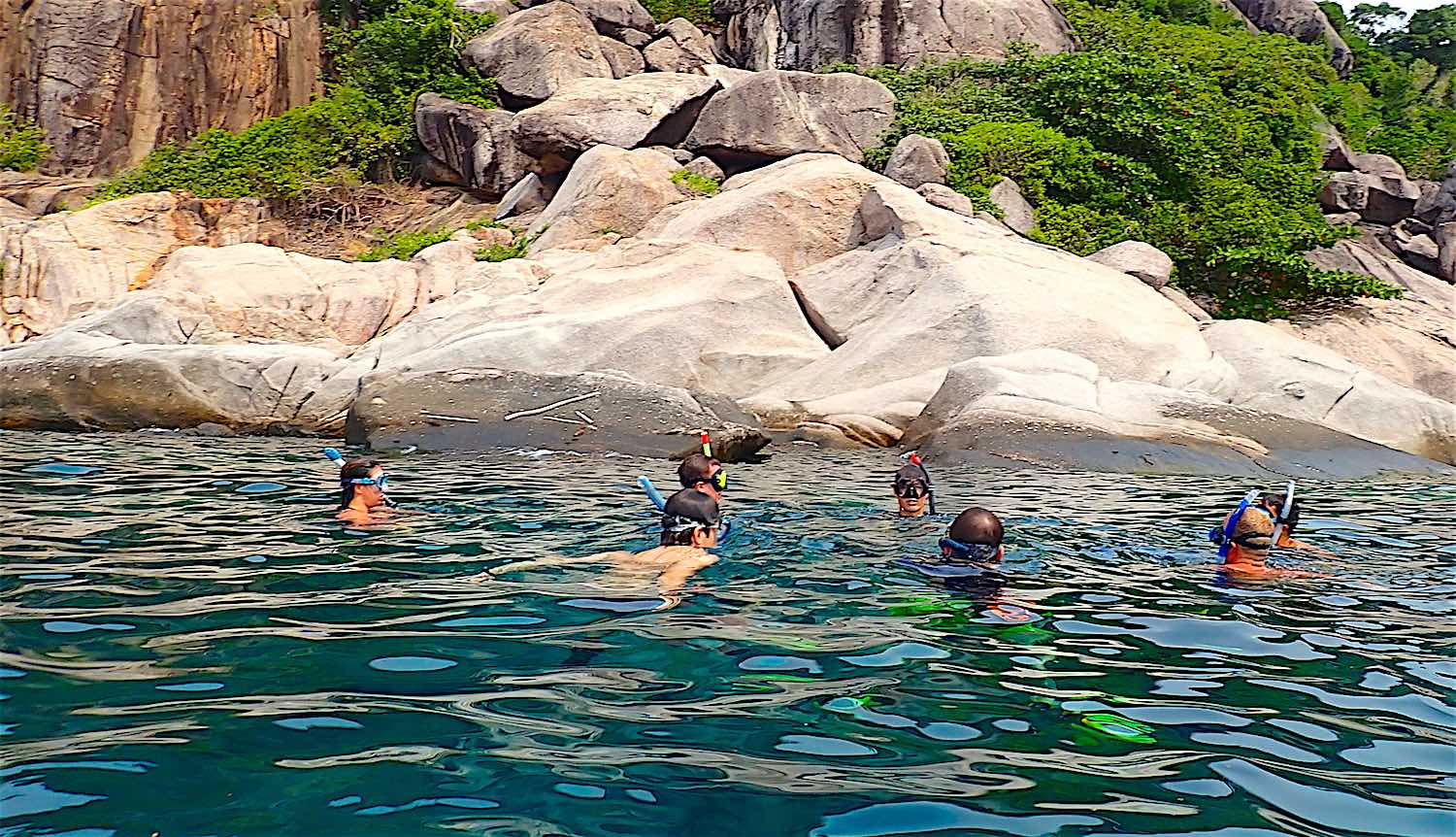 Recommendations for Snorkeling at Shark Bay
Whatever route you choose to visit Shark bay, the beach offers a superb location to relax away from the crowds.
If spending a few hours lying on a quiet beach and dipping your toes in the water occasionally is what you are looking for, Shark Bay is a great choice.
For snorkeling, set off along the east coast from the beach and visit in the morning, if you are able to get there before the sun gets too hot.
Don't forget to take an underwater camera with you, pack a bag and take the extra safety precautions as described on our 'Top tips for snorkeling' page.
Frequently Asked Questions
Do I have to pay to Snorkel at Shark Bay?
The best way to get to snorkel at Shark bay is by signing up for the full or half day snorkel trips as this location features on both trips every day. Alternatively, you can make your own way to the beach but will have to pay an entrance fee to access the beach and take your own snorkel and mask plus refreshments.
How deep is the water at Shark Bay Koh Tao?
Shark bay is a wide, expansive bay and relatively shallow within the confines of the bay itself, Water depth will vary from the shallows of the beach up to 8-15metres and beyond, depending on which part of the bay you are snorkeling in.
Can I rent a mask and snorkel at Shark Bay?
You may be able to rent a mask and snorkel at the resorts but if you are only a day visitor it is advisable to bring your own for a day of snorkeling. Once you pay the entrance fee to access the beach you will be able to buy refreshments at the restaurant and café.
Is it safe to Snorkel at Shark Bay?
Shark bay is a sheltered bay and can be considered a safe area to snorkel, however, like all the bays around Koh Tao, conditions change in the event of adverse weather so it is advisable to follow our Top Tips for Snorkel Safety.
How long does it take from Sairee to Shark Bay Koh Tao?
To get to Shark Bay from Sairee beach, you will need to head south towards Chalok Baan Khao and follow the signs for Haad Tien beach resort. There is a path on this road that leads down to the beach. You can reach this location by scooter or taxi. The easiest way to snorkel at Shark bay is to join an organised snorkel trip that visits and stops within the bay each day.
Will I see Black Tip Reef Sharks at Shark Bay Koh Tao?
Shark Bay is known for visiting Black Tip Reef Sharks and they seem to use the shallow water as a nursery for their baby sharks. The adults tend to stay further out in deeper water but can also be seen in the shallow water. In the morning time there may be more opportunity of seeing them before the sun gets too high. You can snorkel along the west coast of the bay as though heading towards Sai Daeng peninsula.
Will I see a Turtle at Shark Bay Koh Tao?
Shark Bay is a popular location to see Green Sea Turtles if snorkeling alone or on one of the daily snorkel trip boats that visit the bay each day. The best time of day will vary as they have been spotted at all times of the day, however, mornings and late afternoon either side of the hot midday sun may be the best time.