Information and Facts about Koh Tao
Despite only being a small island of 21km2 located in the Gulf of Thailand, Koh Tao has all the amenities you would expect to find in the 21st century.
If you arrive on Koh Tao and require any information on where to stay, what to do and need to exchange money, book tickets or rent a scooter, our office is a 1 minute walk from the main ferry arrival piers.
You can put your bags down, grab a drink and use the free wifi and get immediate answers to any questions you have. Our office is located opposite 7/11 in Mae Haad or you can check the Google map below.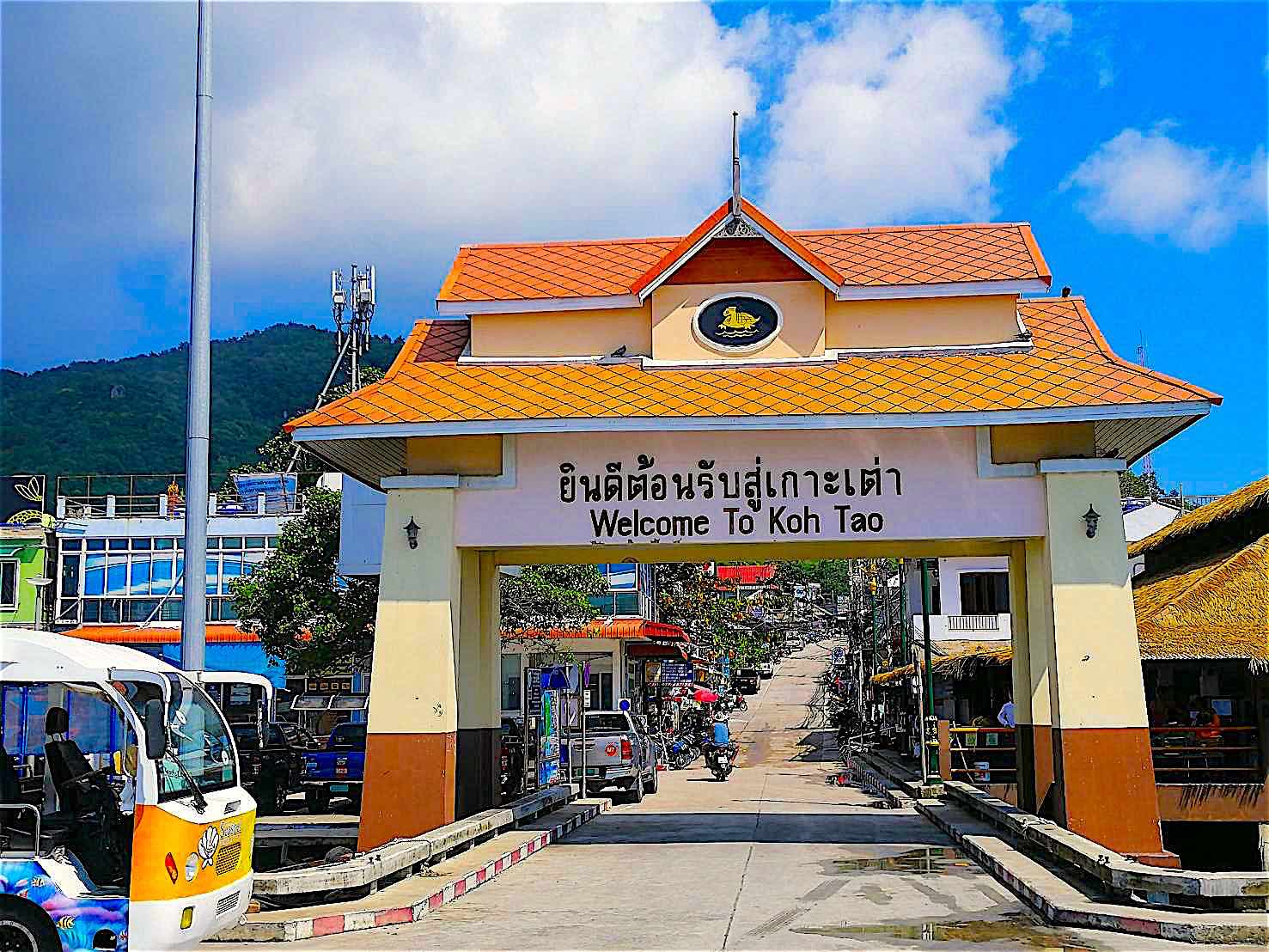 Fast Wifi on Koh Tao
There is fast Wi-Fi across the island, with many of the hotels, resorts and restaurants offering it for free to their customers.
TOT Thailand are a major provider of internet on Koh Tao and have a good infrastructure with top end fast broadband packages available and in many respects it's faster than European Internet provider networks.
200MBPS+ data download speed is available and significant data upload speeds. Of course, there are locations around the island with a poor signal in remote areas and this applies to 3G/4G networks as well.
For Technology requirements, there are computer sales, repair shops and freelance IT consultants in both Mae Haad and on the main road leading to Sairee.
If you need something fixing or replacing, Koh Tao has you covered, although it may be a little more expensive than the mainland due to Koh Tao being a remote tropical island.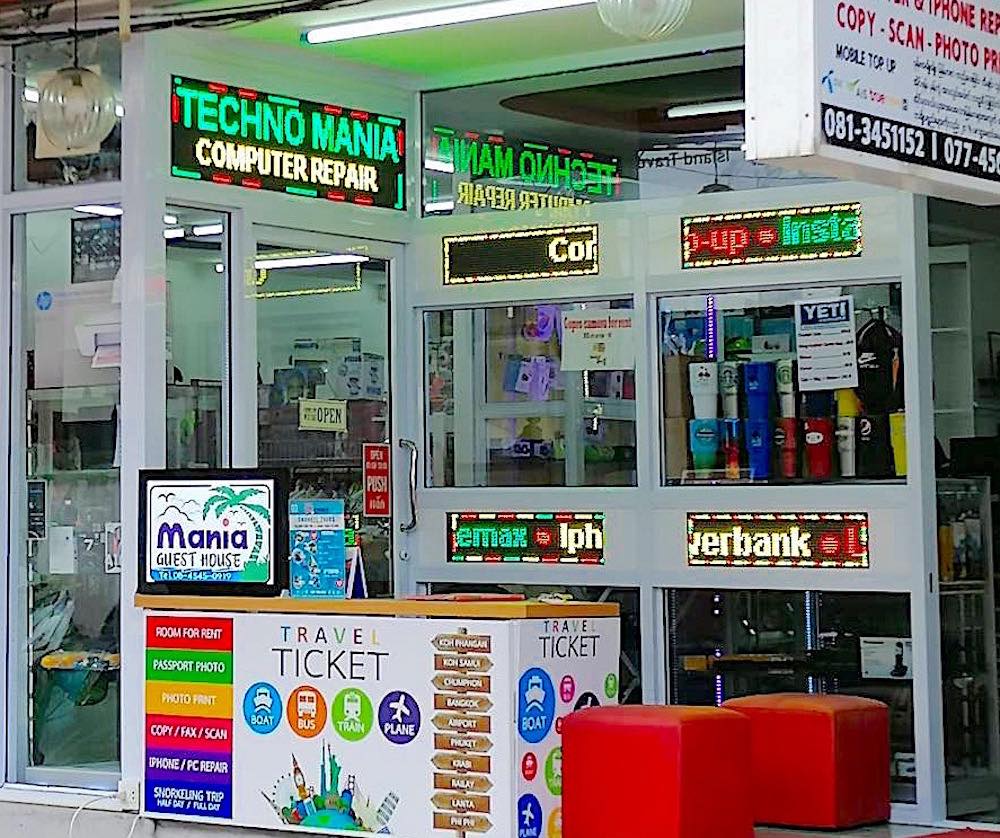 All the major telephone networks on Koh Tao
Thai telephone networks such as AIS offer SIM card purchases, phones and accessories but be prepared to show your passport when visiting their shop in Sairee village.
The new AIS shop location on Koh Tao is a 50 metres walk from Sairee junction, almost opposite The Beermasons Koh Tao craft beer bar.
DTAC & True mobile networks work well on Koh Tao but there are no dedicated service shops, so you will need to consider Koh Samui or Chumphon if you need a service centre for these two networks.
Additionally, there are many shops across the island where you can purchase SIM cards for any of the major telephone networks, however, you will need to show your passport to purchase a SIM card.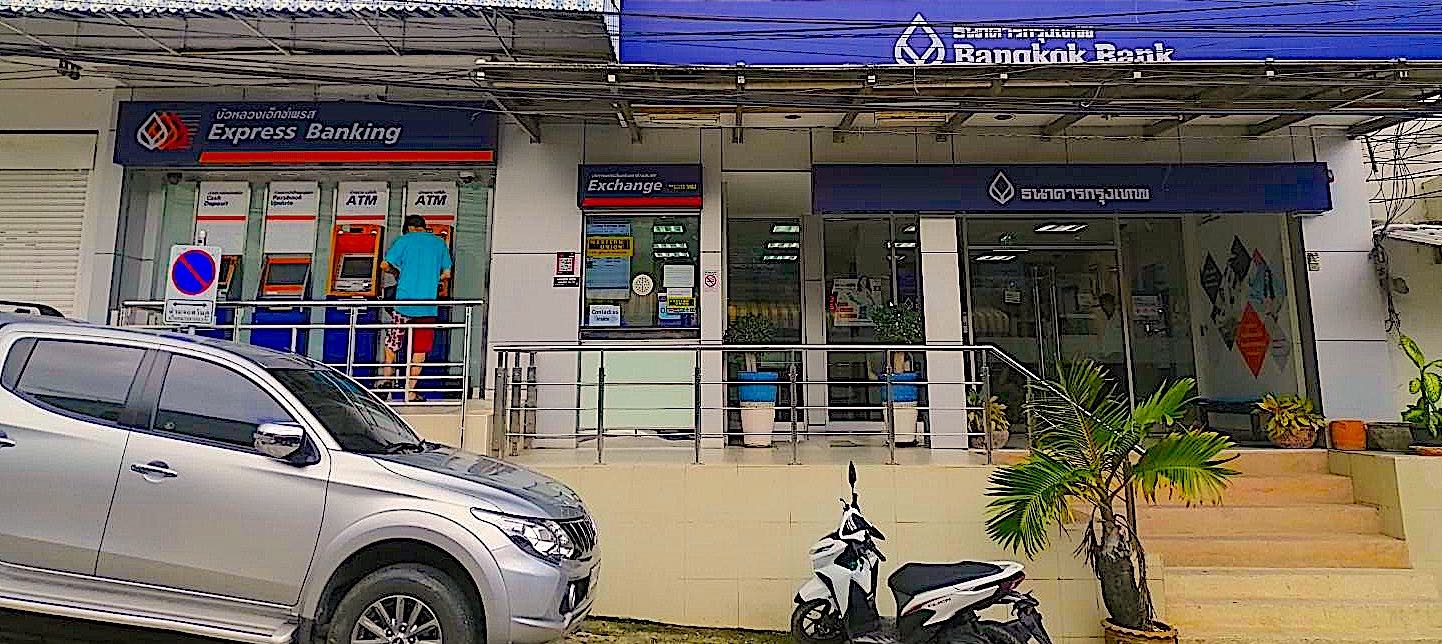 ATM's and Banks on Koh Tao
Sending or receiving money is easy, with over 100 ATM's across the island, as well as branches of three of the main banks and multiple Western Union counters.
If you need postal services, which are reliable and relatively fast via EMS, the main post office is located in Mae Haad and is open from 9am-5pm, Monday to Friday, and 9am-12pm on a Saturday.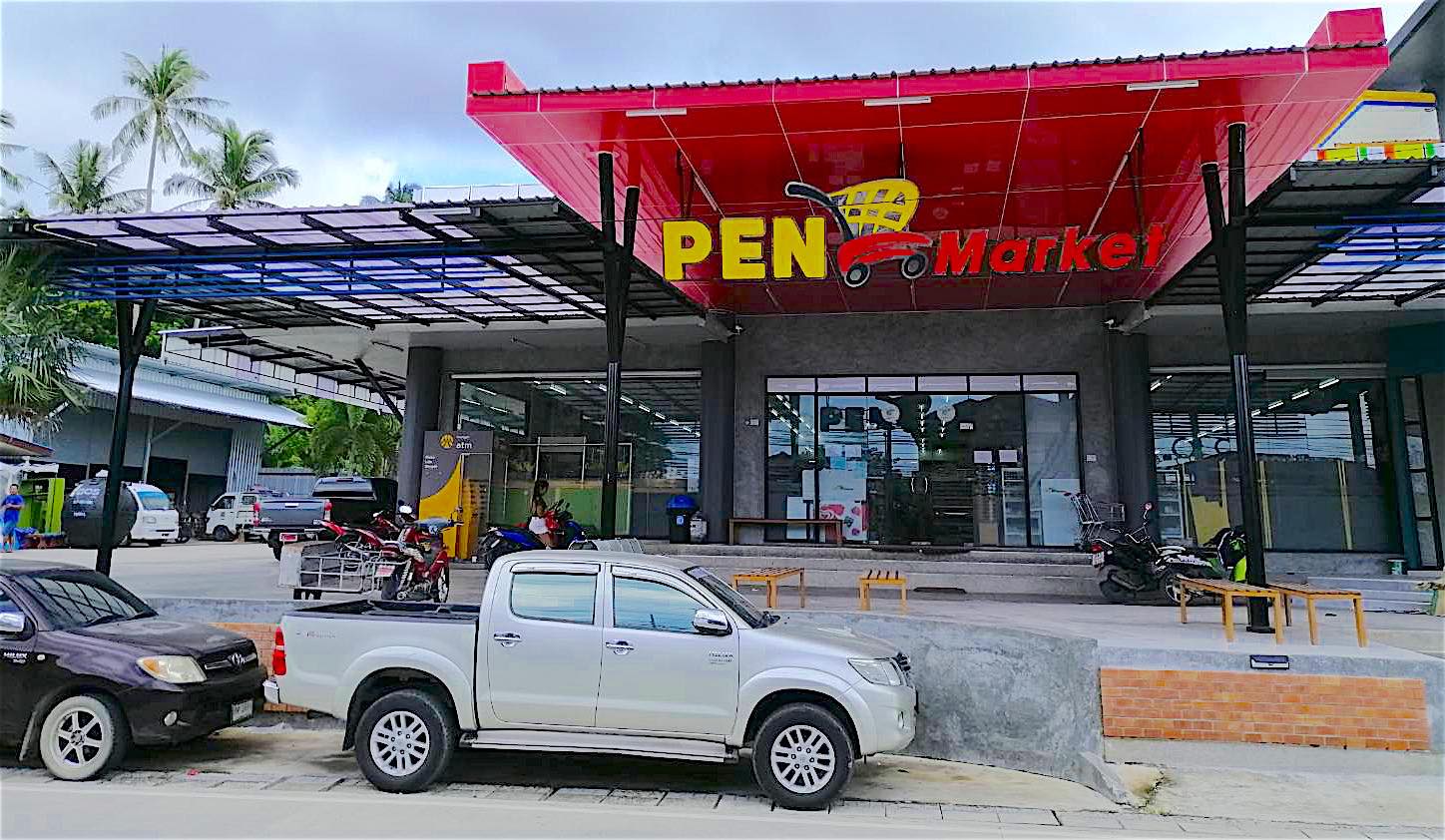 Shops on Koh Tao
Any of your shopping needs are well covered with a wide variety of stores available. These range from small family run stores to larger wholesale shops, which offer everything from food to construction and electrical supplies.
There are also numerous clothes and souvenir shops and any special purchases of larger items can be ordered online and delivered to the island via postal services or courier companies such as Kerry Express.
Lazada is very reliable, budget friendly and offers comprehensive online shopping and delivery to Koh Tao and is comparable to Amazon.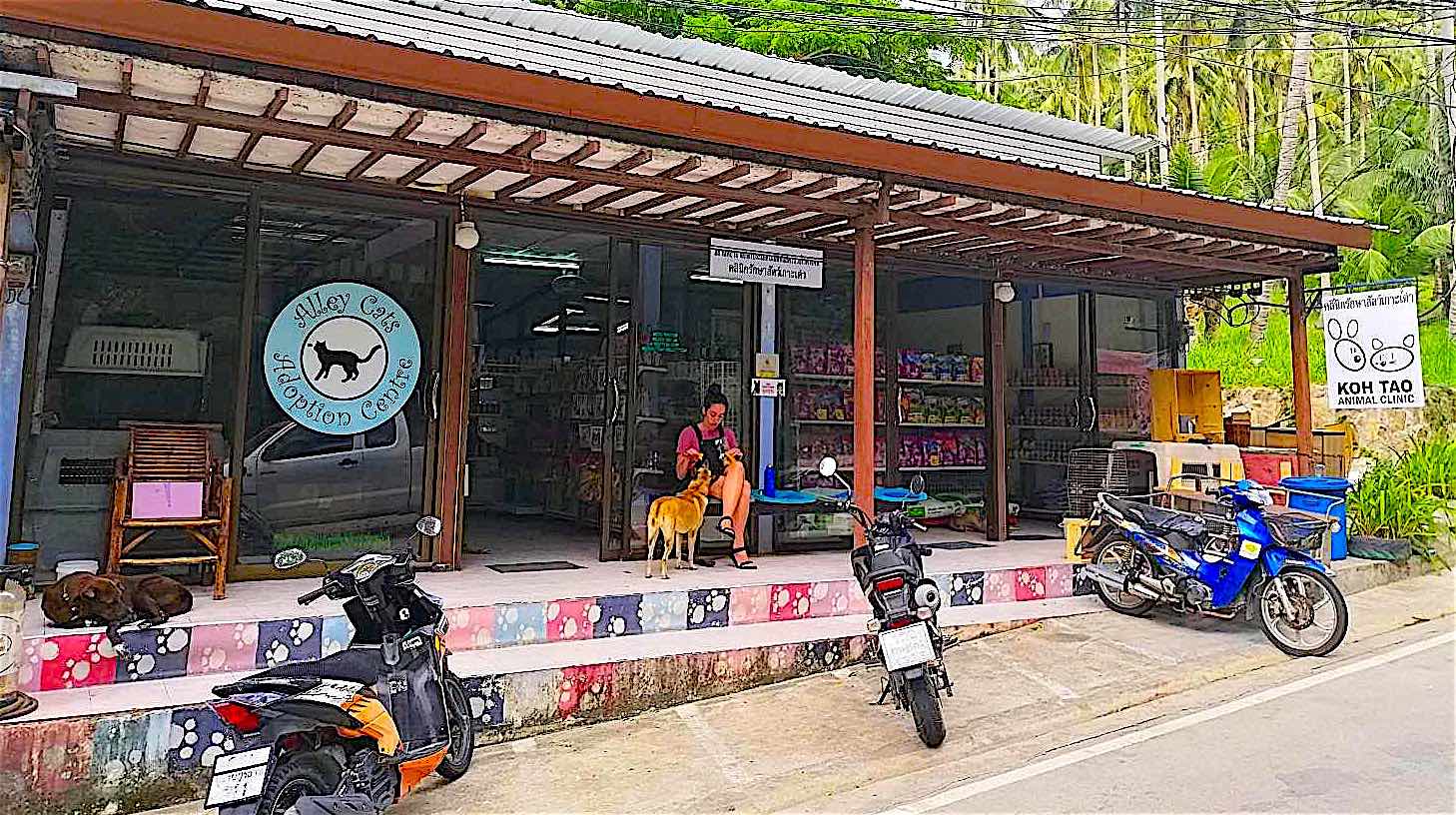 Kids Day Care and Child-minding services Koh Tao
If you are visiting Koh Tao with children and looking for childcare or schooling during your stay, there are options available for both short-term or long-term care for those aged under 12.
Anyone travelling with animals will be pleased to know that Koh Tao has a small animal clinic, which offers donation-based treatments for privately owned pets.
The clinic also provides treatment and neutering services to the large number of cats and dogs around the island.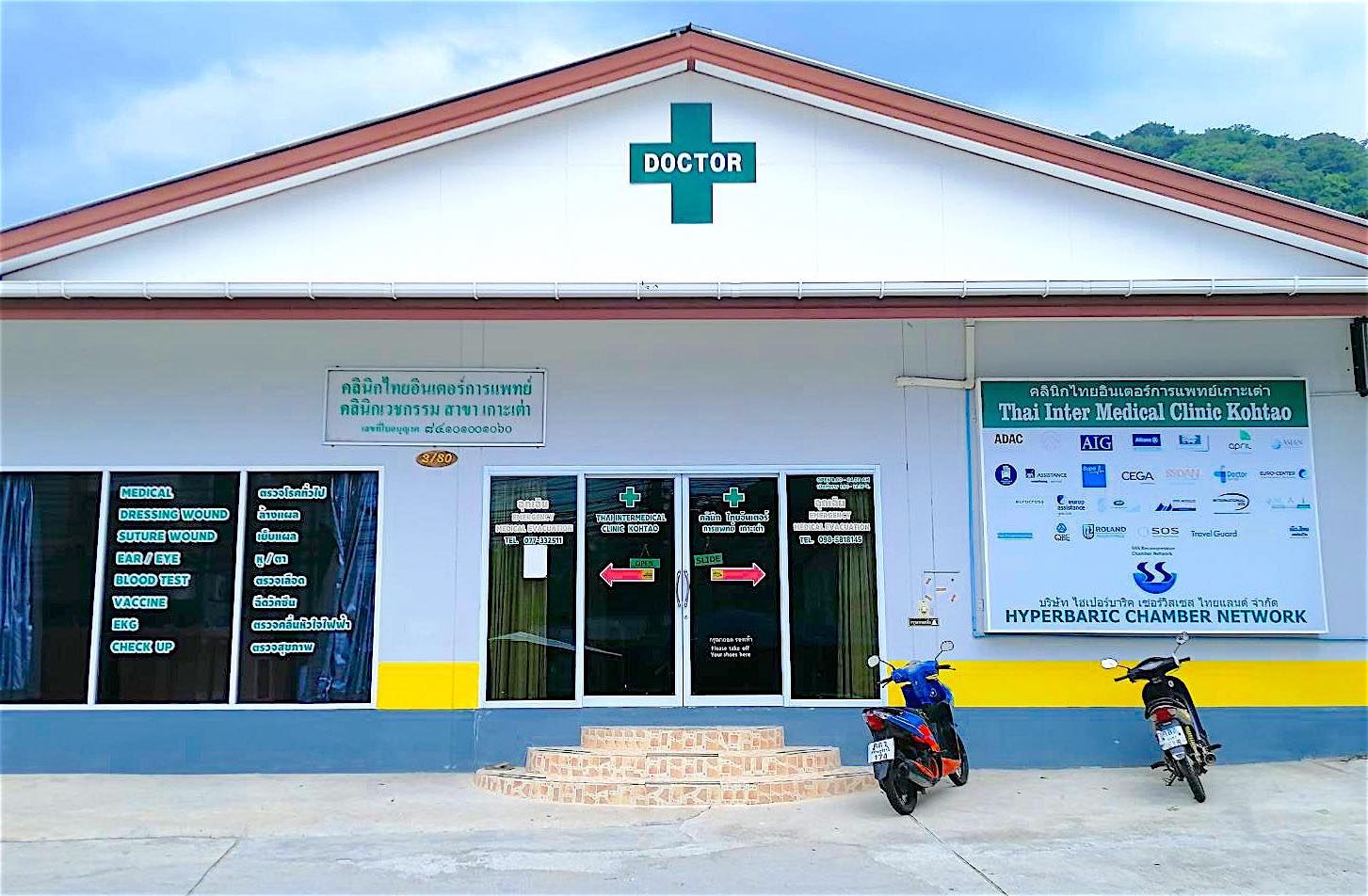 Medical and Dental Services on Koh Tao
Any medical and dental needs are well covered with a government hospital, as well as numerous private clinics that can provide treatment for both general incidents and emergencies.
Volunteer Rescue services
There is also a volunteer operated Koh Tao Rescue service that is available 24 hours a day to provide ambulance services and first response to incidents, as well as medical transfers off the island when needed.
All in all, Koh Tao has you covered for most eventualities that can occur, whether you are travelling here for a short holiday or planning a longer term stay.
Frequently Asked Questions
Can I buy a SIM card on Koh Tao?
Yes, many of the shops offer SIM card purchase but the regulations in Thailand stipulate that you must provide passport identity to register the card.
Is there money exchange on Koh Tao?
There are many travel shops and banks around Koh Tao that provide money exchange facilities and they use the variable bank rate to calculate exchange rates for the currencies that they offer.
Do International credit cards work on Koh Tao?
Yes, all the major credit cards work on Koh Tao and you can use them to pay for services in restaurants and hotels. Always check that your card is accepted before ordering or booking any services so there are no misunderstandings.
Are there banks on Koh Tao?
Presently, all 4 main banks are represented on Koh Tao and are located in Mae Haad village. These banks offer a full range of services as you would expect at a bank on the mainland, but you should always check beforehand.
Is there a Post Office on Koh Tao?
Yes, the main Post Office on Koh Tao is located in Mae Haad village on the down road next to Bangkok bank and offers local and international postal services plus additional services.
Are there child care services on Koh Tao?
Yes, there are trusted child care services available on Koh Tao. You should ask at your resort, hotel or private villa for contact details.
Is there a dentist on Koh Tao?
Koh Tao has a dentist that visits from their mainland surgery normally on a Saturday to Monday for emergency dental work. This schedule can change so you should contact them via our dentist webpage. The dentist offers limited services to locals and visitors and any major dental work will be referred to a mainland dentist.
Is there a doctor on Koh Tao?
Yes, there are medical doctors situated at the Koh Tao Hospital in Mae Haad and they are available for consultations to locals and visitors. The hospital operates 24 hours a day, however, normal doctor appointments are scheduled during daytime hours, unless it is an emergency. Throughout the island, there are many private medical clinics that offer consultations with a doctor. Medical and health care insurance will be required to cover any expenses or you will have to pay the fees in cash or on a credit card where applicable.