What is the Koh Tao Pub Crawl?
If you are travelling to Koh Tao alone or with friends, you will no doubt be looking to connect with a few like-minded people and have some fun and make great use of your time on Koh Tao.
Meeting new people from all around the world is easy on Koh Tao and you can join up and enjoy the laid back lifestyle with a variety of activities.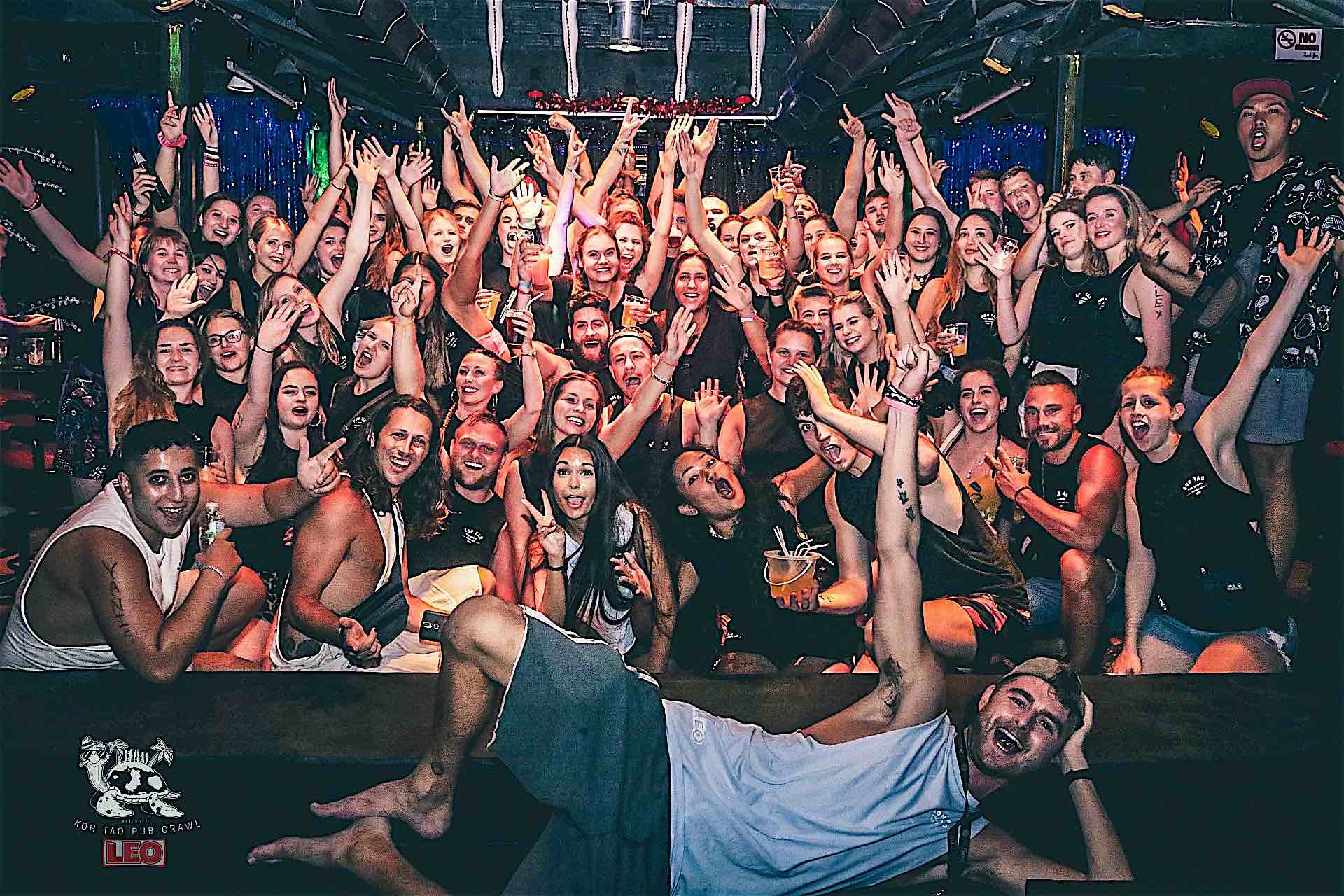 After a day of scuba diving, snorkeling or visiting the amazing bays, beaches and viewpoints, you can can look forward to the nightlife.
There are restaurants and bars all around the island offering a competitively priced range of cuisines, ambience and atmosphere.
With a multi cultural blend of international travellers, ex pats and locals alike, you have plenty of opportunity to meet and make new friends and one of the best places to start is the Koh Tao Pub Crawl.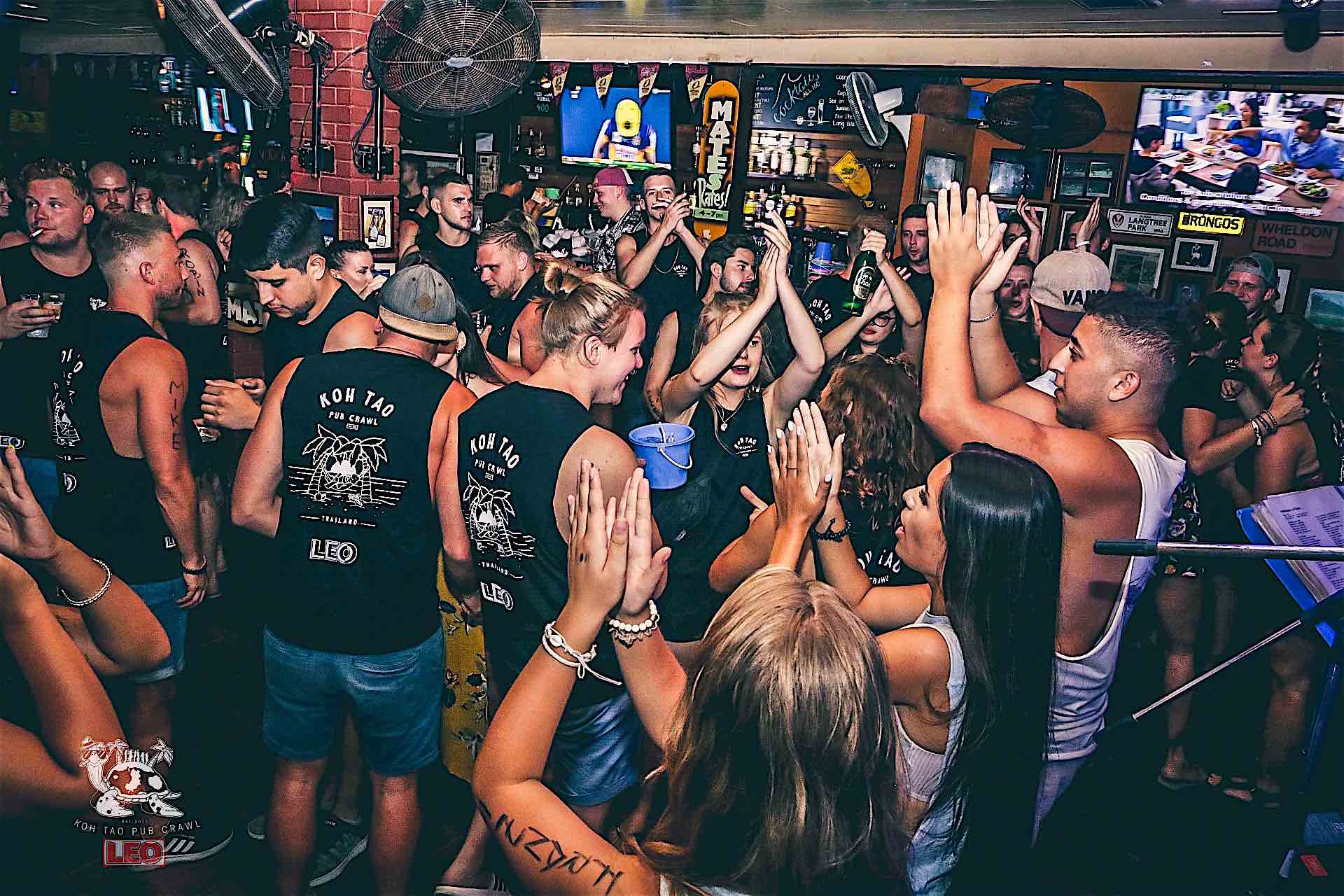 Asia's Best Pub Crawl
Well known as the biggest pub crawl in Asia, The Koh Tao Pub Crawl takes place every Mon, Wed, Fri & Sun.
The pub crawl heads to the best bars on the island and includes a Beach Party, Cabaret Show, Live Music & a Fire Show.When you join the crawl you receive:
Free Bucket
Free Shirt
Free Shots
Discount Drinks/ Happy Hour at all the bars on the crawl
Discounts on diving, snorkel trips, food & activities around the island
Prizes throughout the night
Games to get to know everyone
Professional photographer to capture all the memories
Tickets are ONLY 580 Baht!
Sign up starts from 6pm at Choppers Bar and the party kicks off around 8pm. The pub crawl attracts an average of 70-100 people per night.
Koh Tao Pub Crawl cost
If the island is busy, particularly around the time of the Full Moon party, the tickets can sell out quickly, so best to get there early to not miss out.  So always best to arrive early to make sure you don't miss out.
The pub crawl costs just 580THB per person and the evenings main activities generally get under way by 8:00pm.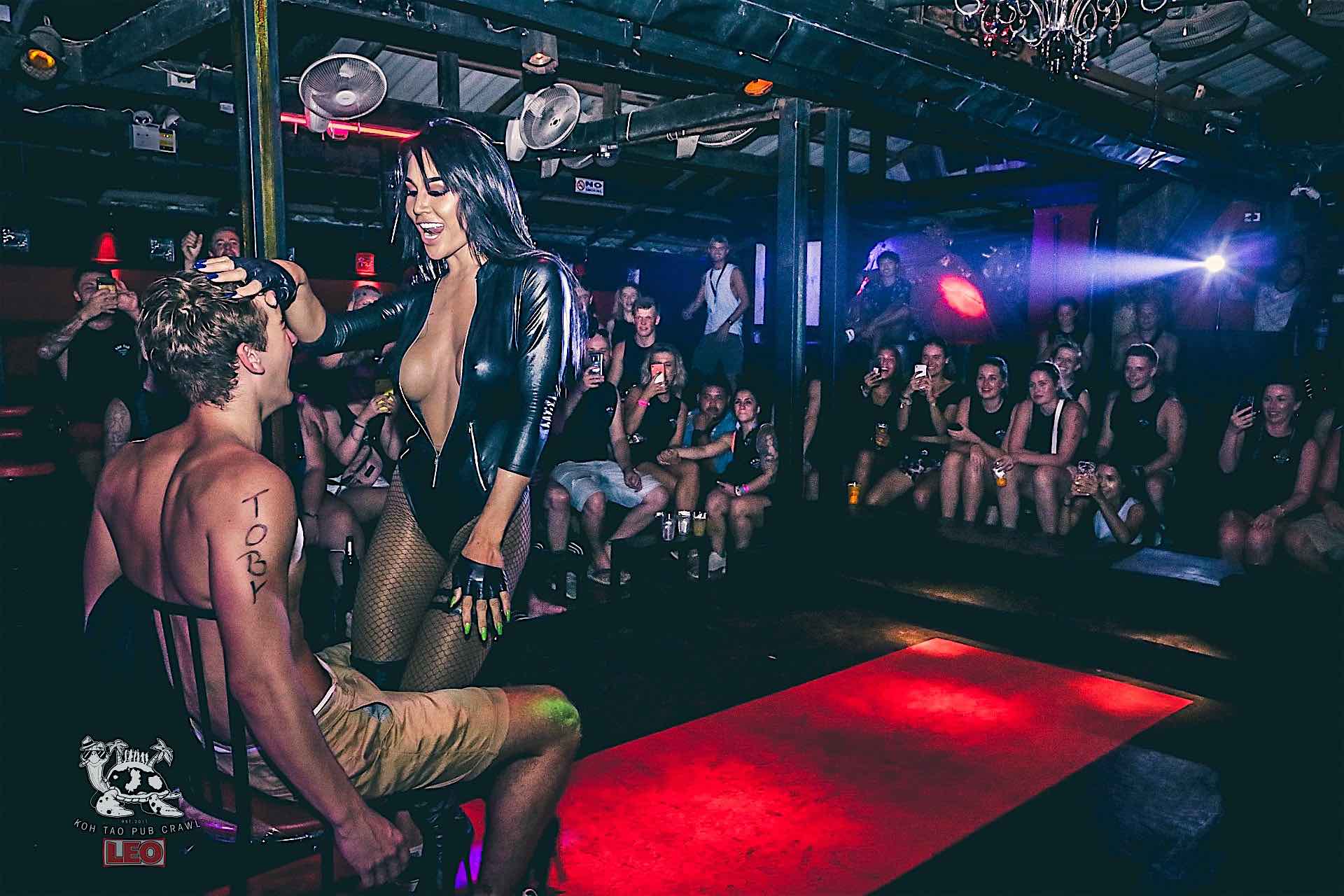 Visit Queens Cabaret Show
As part of the crawl, you will get to see The Queen's Cabaret Show (normally 150 baht entry) with an exclusive pub crawl – only performance.
The evening of fun also includes a beach party & one of Koh Tao's legendary fire shows, live music and world-class DJ's going well into the night.
You also have the opportunity to win some awesome prizes which range from mini golf to paddle boarding to a 1000 baht Adventure Gift Voucher for Good Time Adventures.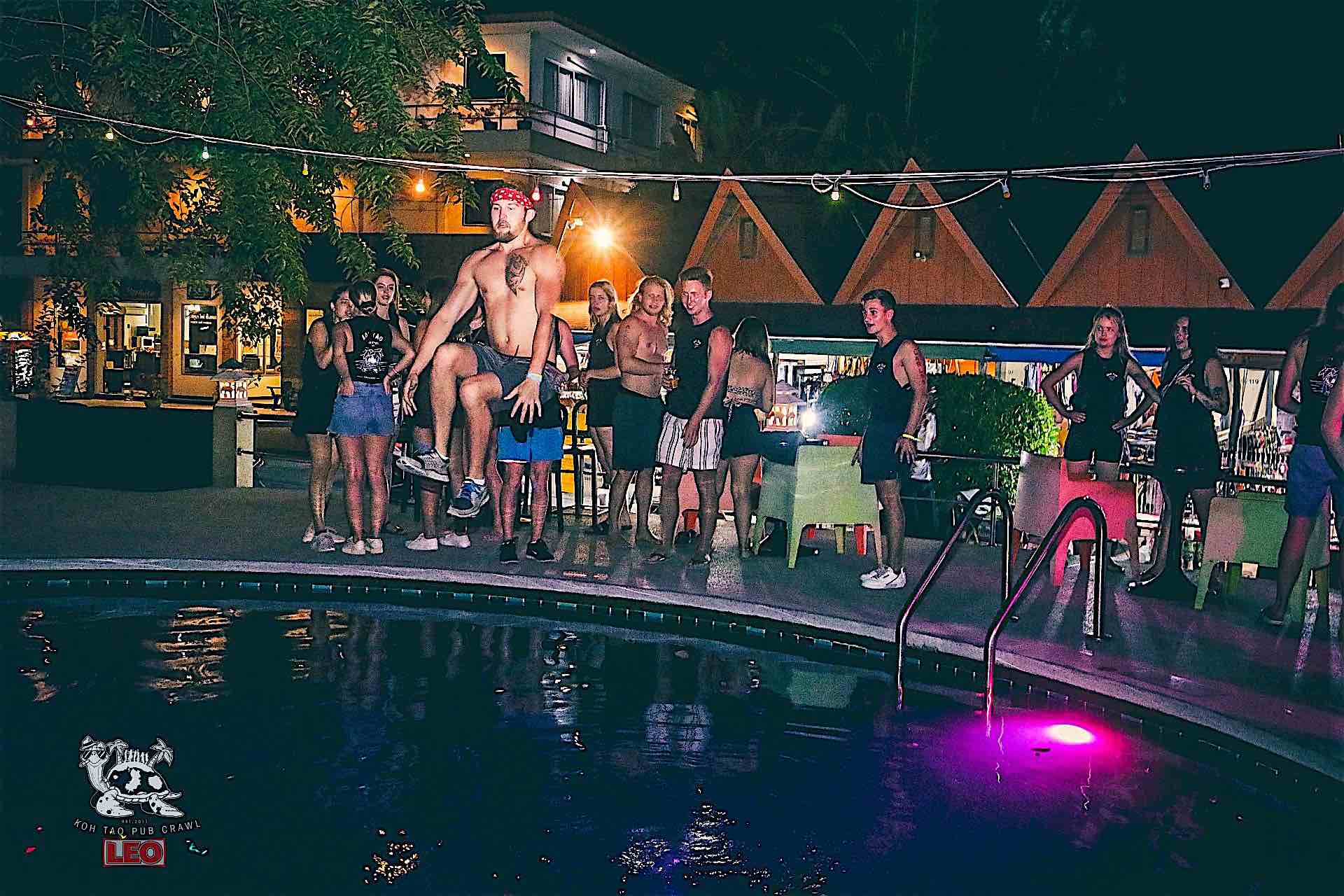 Get a discount card
And don't worry if you don't win any of the prizes, you get a discount card as part of the deal which provides access to a variety of deals at other businesses on Koh Tao:
10% off at Goodtime Adventures (diving, snorkelling, rock climbing etc)
Free ice-cream when playing mini-golf at Koh Tao Leisure Par
10% off Snorkelling Trips with Oxygen Tours
50THB off stand-up Paddleboarding at Maya Beach Club Sairee
Koh Tao Pub Crawl is operated by an epic group of party hosts who will ensure you meet people, get involved and have the best night out.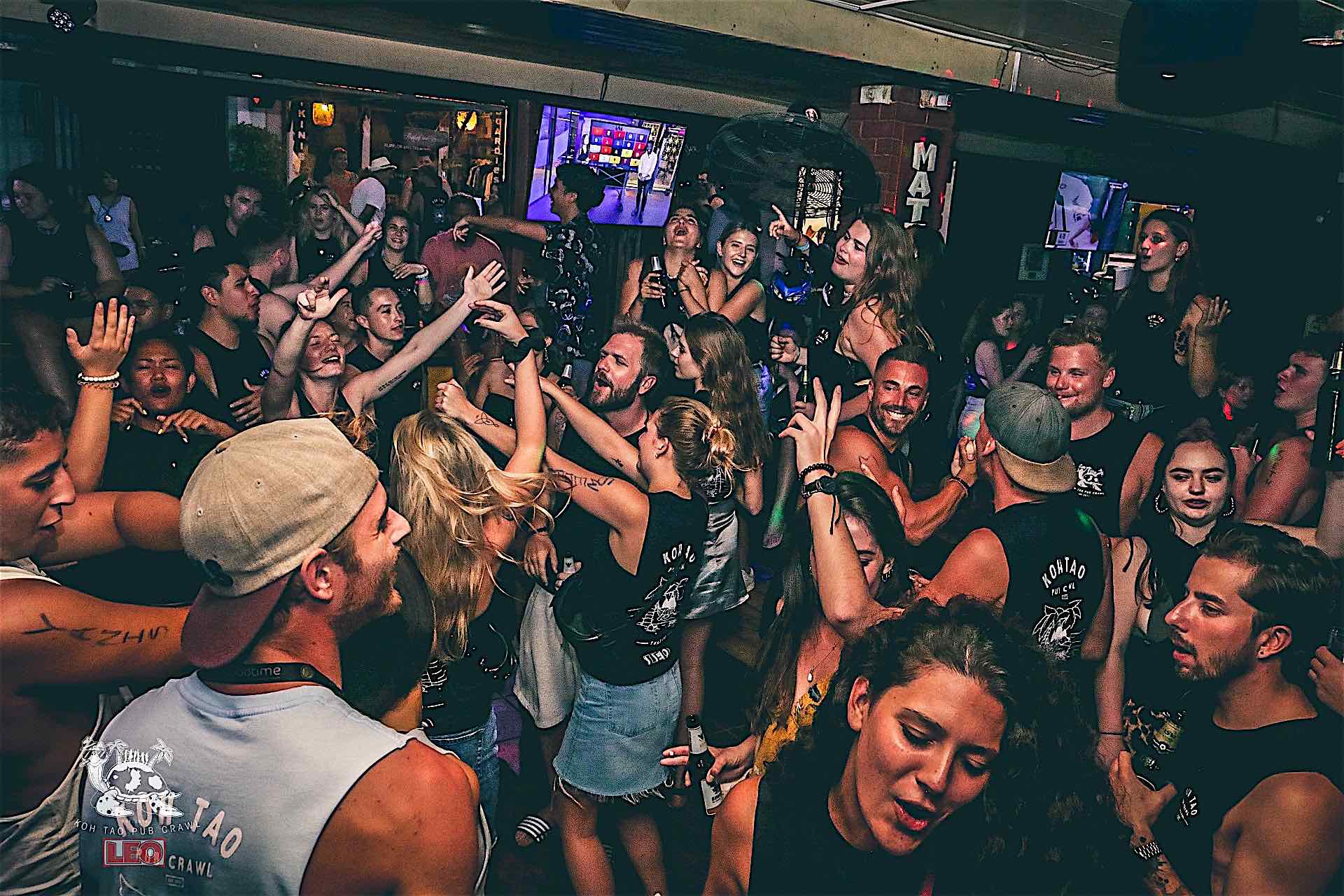 Frequently Asked Questions
How much does the Koh Tao Pub Crawl cost?
Asia's best pub crawl costs 580 baht per person, which includes a free bucket, drink at each venue, island wide discounts, games and a night to remember.
Where does the Koh Tao Pub Crawl start?
The Koh Tao pub crawls starts at Choppers bar and grill in Sairee village. Customers will meet here and enjoy drinks, games and get to know each other. The venue is a perfect location to get the party started.
What time does Koh Tao Pub Crawl start?
The Koh Tao Pub Crawl will get started at 8pm on a Monday, Wednesday, Friday and Sunday. We recommend buying your tickets ahead of time to avoid disappointment as there is a limit to the number of party-goers and during high season the demand is much greater.
Can I get a Group discount?
There are no group discounts available. The entrance fee to join Asia's best pub crawl is great value with lots of free goodies, games, fun and opportunity to meet people from around the world.
Can I get a refund if I can't make it?
There are no refunds available, however, as part of our booking terms we will hold your booking for a future date if there are genuine reasons that you cannot make it for your specific date. Booking a ticket for the Pub Crawl with us is a non transferable ticket for any of the other activities that we book. It can only be used for the Pub Crawl. Tickets issued are referenced at the point of entry when you arrive.
Is the Pub Crawl safe as a solo traveller?
The Koh Tao Pub Crawl is perfect for a solo traveller, couples or groups who want to have fun within the comfort of a group environment. Ultimately you are responsible for yourself and please remember to drink responsibly. The groups are almost always large but it is always safer in a group and lots more fun.