Lomprayah Ferry Services to Koh Tao
Lomprayah is the most reputable and popular ferry company that operates high speed services in the Gulf of Thailand.
The fast ferry passenger service was established in 1996. Their fleet of ferries from Koh Samui, Koh Phangan, Koh Tao, Chumphon and Surat Thani offers combined routes with bus transfers to and from the departure piers.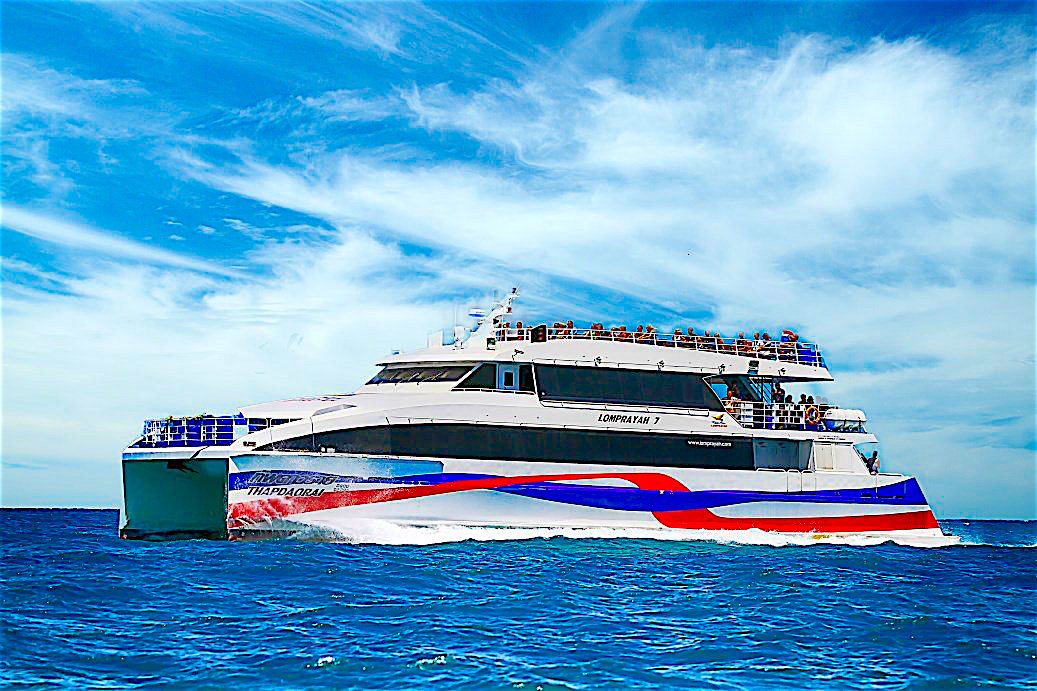 Lomprayah tickets for bus and boat Travel
Lomprayah typically will combine overland travel between their smaller mini vans and their larger double deck buses (often referred to as VIP bus).
Their mini vans hold approximately 8 people and are normally used to collect and drop people off passengers at hotels and resorts, although they can also be used on longer routes for onward journeys.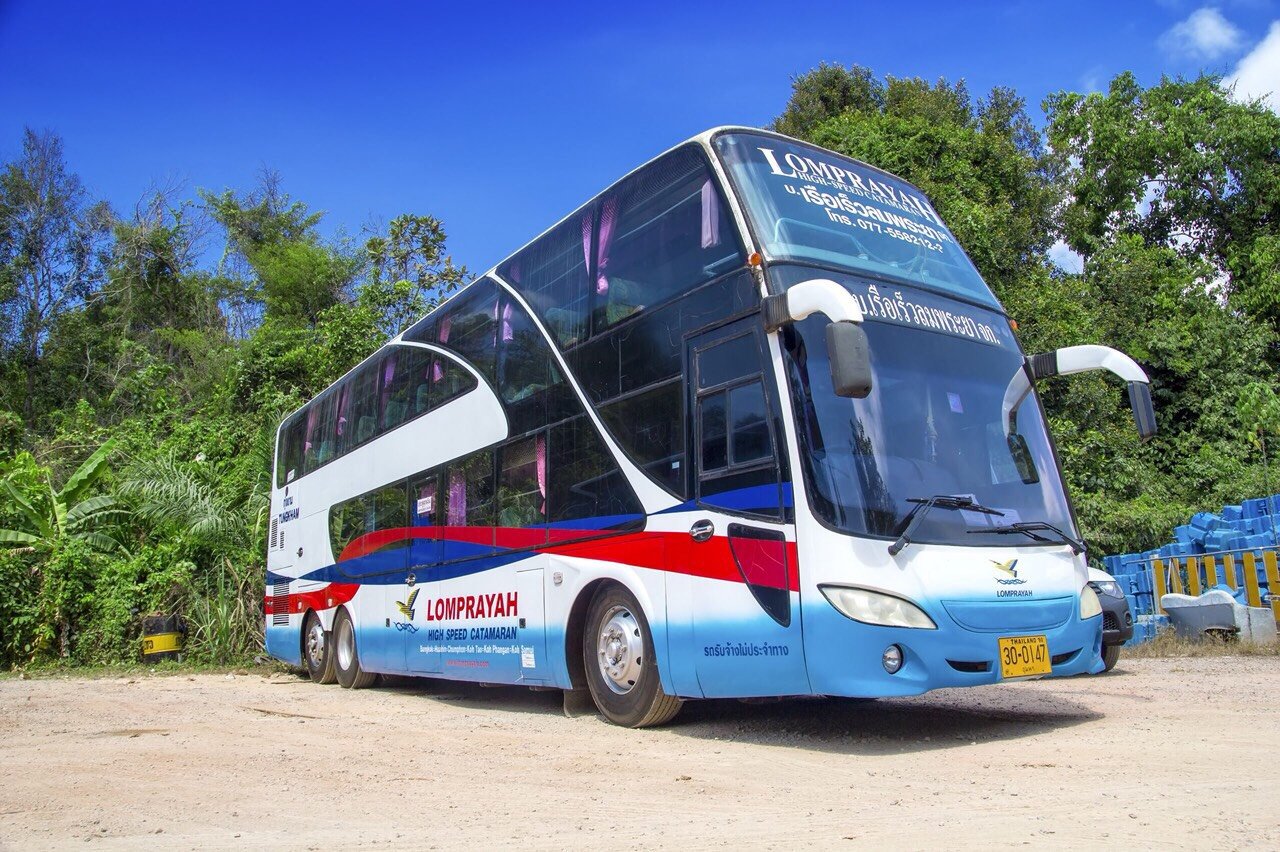 Lomprayah Mini Bus Transfers
The minivans normally combine multiple stops and collection of passengers and so it can become quite a squeeze at times as they will try to fill the vans to capacity.
Their mini buses are typically utilised for transporting people to ferry ports or their own private bus terminals for transfers.
Lomprayah bus terminals are usually open plan and apart from Bangkok (Khaosan Rd) there are waiting rooms available with plenty of seating, free WiFi and small shops.
The food and drink available at these terminals are very much like at 7-11, with limited hot food and drinks.
The seats on the VIP Buses are spacious with reclining seats. Luggage is normally stored in a hold in the bottom of the bus so you will have a comfortable amount of leg room.
They will provide you with clean blankets as it can become chilly onboard with the air conditioning. Curtains are available on each window, and there are reading lights and seat belts provided.
With longer road journeys you can expect to stop off for around 20 minutes mid trip for toilet breaks and food.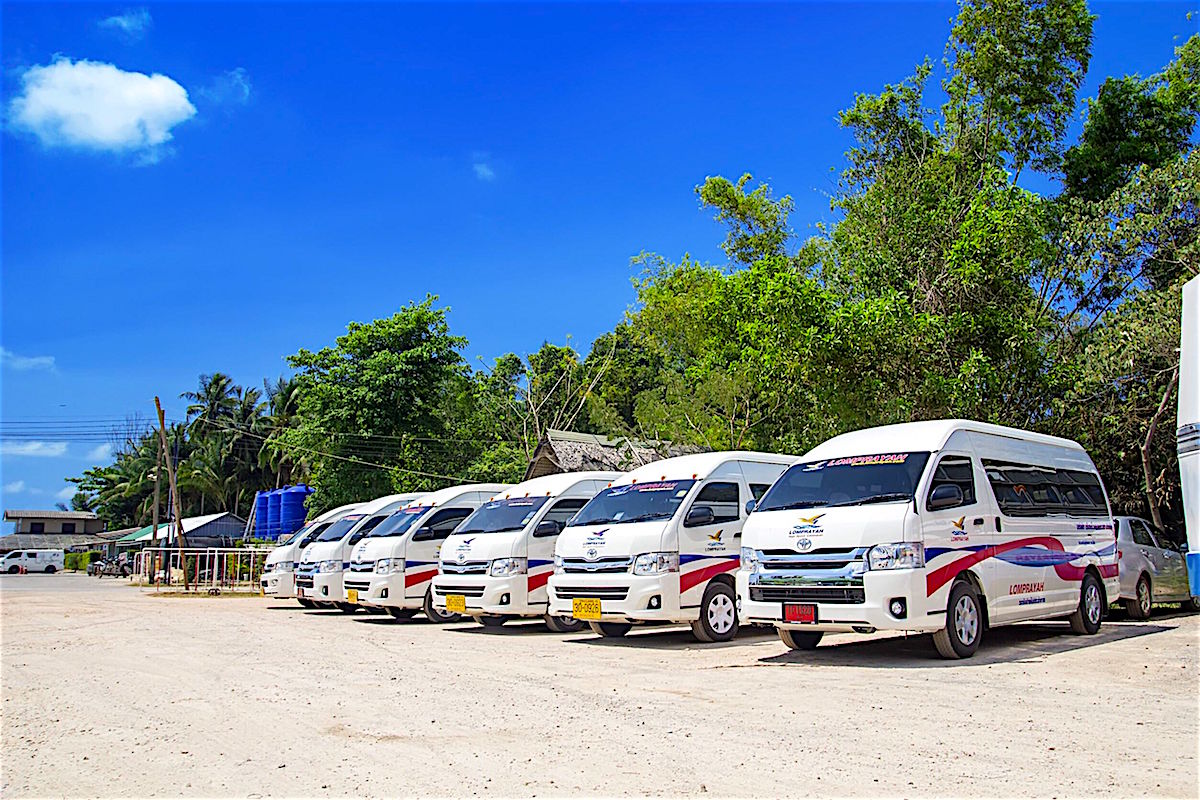 Lomprayah Fast Ferry Services in Thailand
Lomprayah High Speed Ferries operate fast and reliable routes, boasting the quickest crossings in the Gulf of Thailand.
This long established efficient passenger ferry service transports many thousands of satisfied visitors to the popular southern islands for snorkeling trips, scuba diving and day excursions.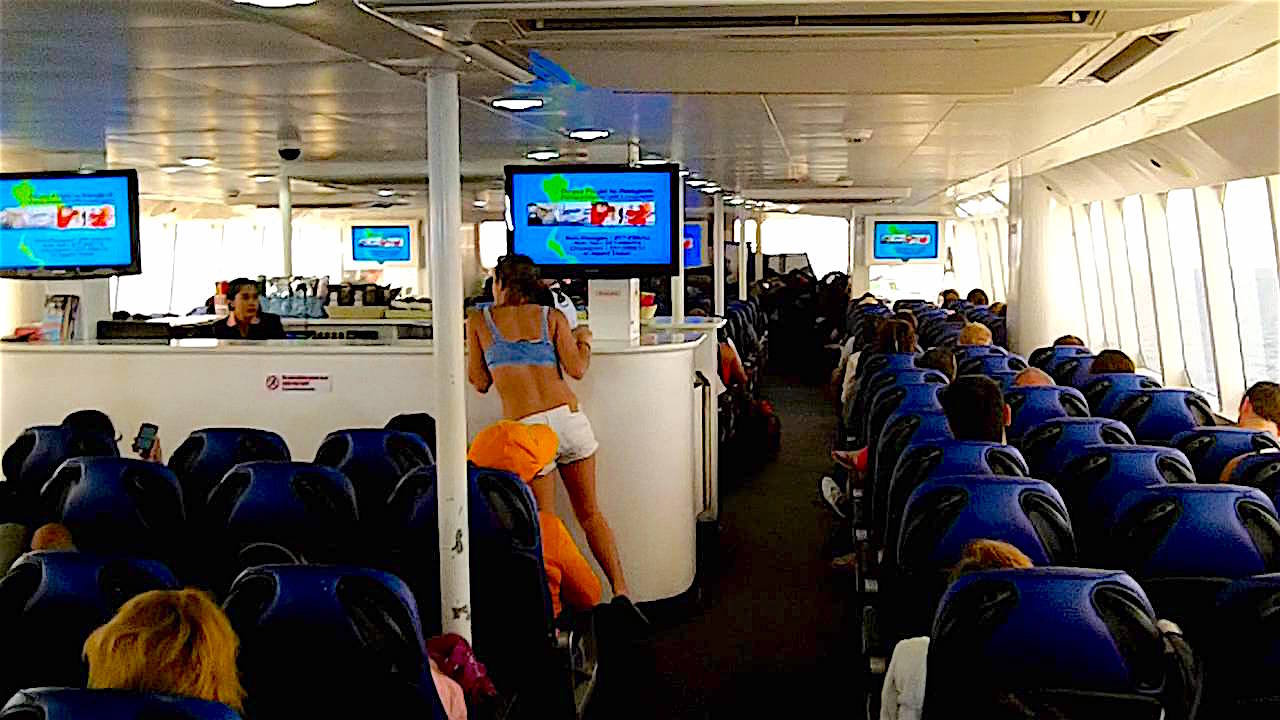 Lomprayah Ferry Koh Tao to Koh Phangan
The journey from Koh Tao to Koh Phangan takes just under 1 hour, one of the most travelled ferry routes in the country owing to the islands' popularity with Full Moon Party revellers and foreign visitors.
Lomprayah operate a fleet of modern, sleekly designed catamarans. These stylish high speed ferries can hold over 400 people and are agile with an efficient loading and unloading system, making the journey hassle free.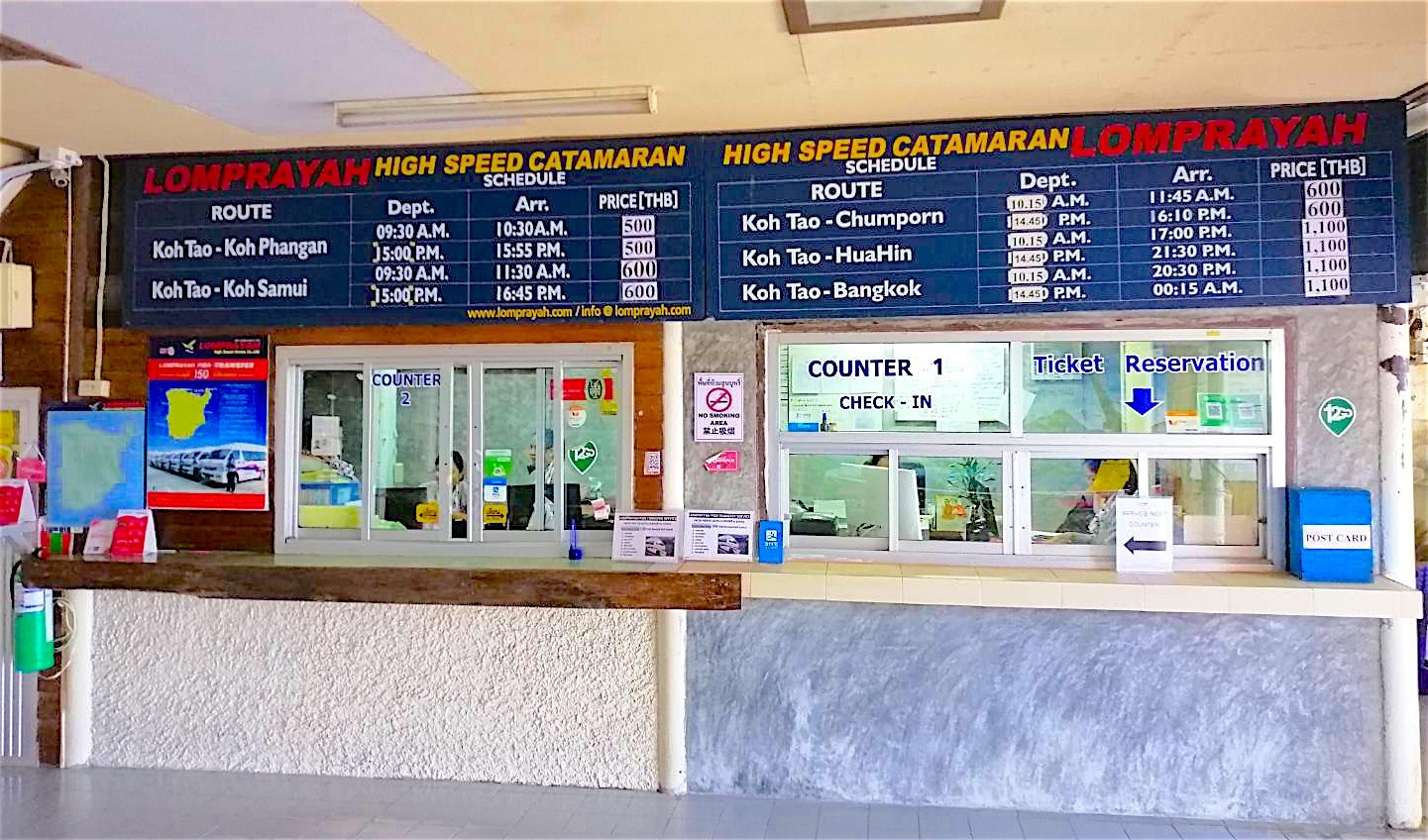 Lomprayah Ferry services onboard
Lomprayah ferries are comfortable and typically have basic seating in the main cabin on the lower deck in a 3 x 4 x 3 (smaller ferries) and 3 x 3 x 3 x 3 (larger ferries) configuration, with life jackets stored below each seat.
Onboard there is a full team of staff and engineers to assist their customers with luggage and guidance.
On the lower level you can find a small café which serves crisps, chocolates, drinks and sandwiches at reasonable prices.
The toilets are located to the rear of the main cabins and there are often people waiting in this area to use them. Also to the rear of the ferries are the stairs, which lead to the upper decks.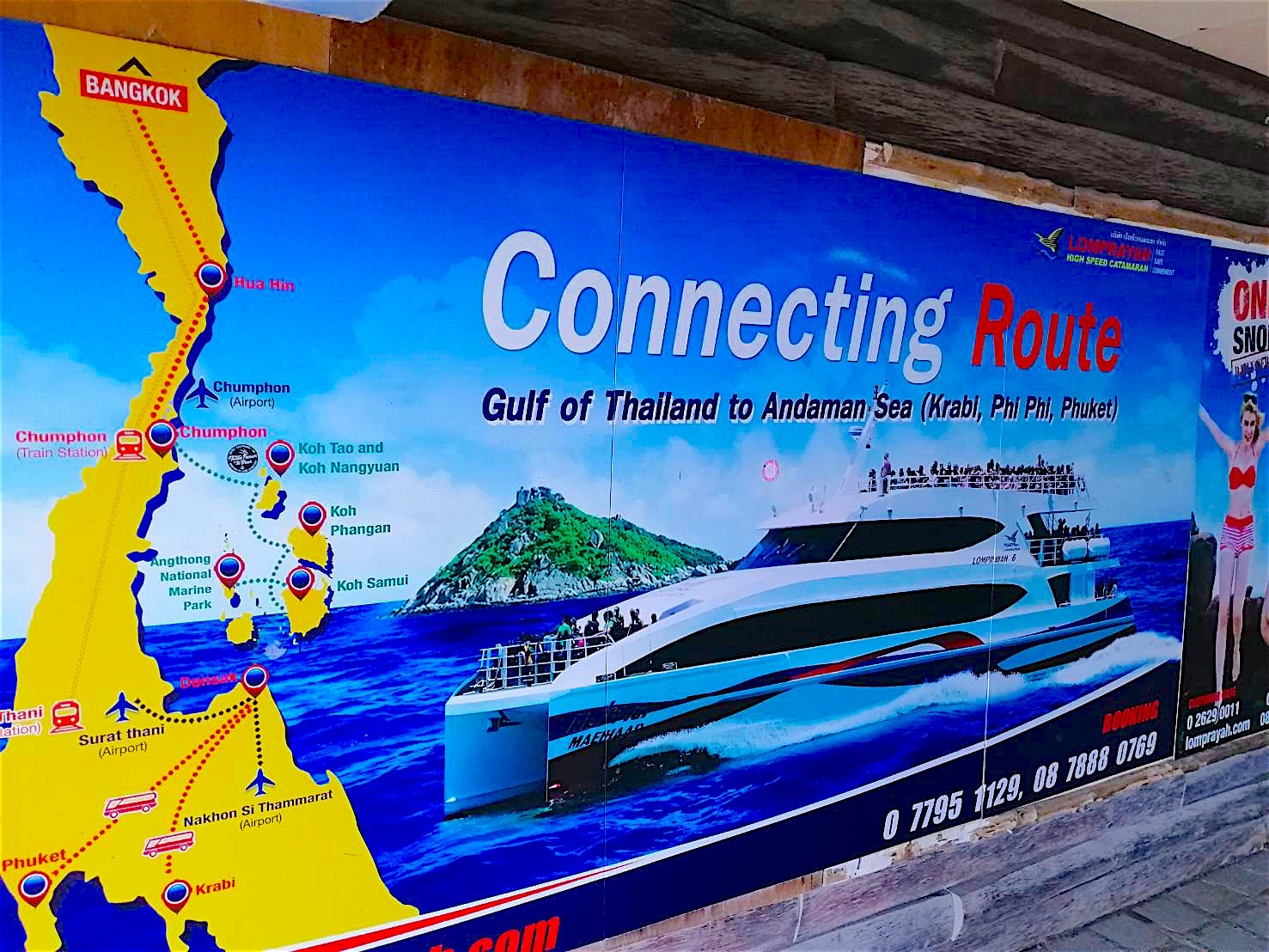 Air Conditioning
The middle decks are sheltered with less comfortable metal or plastic seating. There are VIP and Executive air conditioned rooms available on this level, which can be purchase at ฿100 and ฿200 extra respectively.
These rooms typically have better seating and TV available, to pay for the rooms just take a seat and an attendant will come around and collect the fee.
The top deck is open air and has lots of metal bench seats. If you choose to sit on the top deck, remember to secure any personal belongings, hats from the wind and protect yourself from the blazing sun.
The ferry crossing to Koh Tao is more often than not, smooth and calm but at times can be a little choppy and windy, so the top deck isn't always the most sensible place to be. However, on a typical day this is a great place to bask in the hot Thailand sunshine.
Frequently Asked Questions
How fast is the lomprayah ferry?
The Lomprayah high speed ferries are large catamaran style boats with powerful marine turbines. Journey times will depend on the weather and departure point and whether the sea is a little choppy or calm. The direct route from Chumphon to Koh Tao can take 90 mins or less via Koh Nangyuan island or 5 hours from Surat Thani, stopping at Koh Samui and Koh Phangan. Lomprayah from Koh Samui will stop for 10 minutes for passenger exchange at Koh Phangan and takes approximately 2 hours.
How many piers are there on Koh Samui?
Lomprayah high speed ferries mostly depart and arrive on Koh Samui from Maenam, Pralan Pier and Nathon pier on the west coast of Koh Samui. This may change in adverse or extreme weather events so it is always advisable to check on the website or by calling them direct. Lomprayah provide collection and drop off mini bus transfers to anywhere on Koh Samui for 150baht per person in addition to the ferry ticket cost, which is great value.
How to get from Koh Samui to Koh Tao?
To get to Koh Tao from Koh Samui you need to get a passenger ferry from either Bangrak pier, Maenam pier or Nathon ferry pier. There are multiple ferry operators that provide direct ferry services to Koh Tao from Koh Samui, every day.
How to get from Chumphon to Koh Tao?
To get to Koh Tao from Chumphon you need to get a daytime ferry or a night boat. Night boats are ideal for passengers who have an unusual schedule or have missed the day time connecting ferry. Lomprayah and Songserm Express both provide day time ferry services from Chumphon to Koh Tao. Please check the night boat schedules in advance to ensure they are operating on the night you plan to make the journey.
How to get from Surat Thani to Koh Tao?
You can get to Koh Tao from Surat Thani by day time ferry or night boats. Lomprayah, Seatran (Donsak) and Songserm Express have daily day time ferries and there are multiple cargo and passenger ferries that depart from Surat Thani to Koh Tao on different nights of the week. Different night boats operate on different nights, so this will need to be checked in advance so you can plan your itinerary.
How much does Lomprayah cost to Koh Tao?
Lomprayah ferry tickets to Koh Tao vary and depend on your departure point from either Chumphon, Surat Thani, Koh Samui or Koh Phangan. Tickets will be within the 500baht to 1000 baht (Surat Thani) range for the standard ticket and you can upgrade onboard to AC room for 100baht per person or 200baht per person for the small luxury extended legroom AC section upstairs. Additional transfer tickets will be offered onboard and are excellent value if you need to reach a connection point quickly.